Zakopane

Kasprowy Wierch, Gubalowka, Kotelnica, Polana Szymoszkowa, Butorowy Wierch, Antalowka, Koziniec, Nosal and Harenda are the main ski areas in Zakopane. A large number of green trails for beginners. Read more "
There are over 60 ski elevators in Zakopane, the total length of trails exceeds 65 km, the maximum vertical drop reaches 940 m.
Ski areas in Zakopane are scattered, located along the perimeter of the city, almost all hotels to ski areas need to get by cab, bus or minibus.
There is no single ski pass in Zakopane, as in most ski resorts of Europe. At each of the ski areas you can buy a pass for one, two days, a week, or just for a certain number of slopes, such as 10, 20, etc. It is convenient and economically advantageous, especially for beginners and not very confident skiers.
There are four main ski areas in Zakopane: Kasprowy Wierch, Szymoszkowa Polana, Harenda and Nosal. Besides the main ski areas there are also a lot of ski elevators in the city – Antaluvka, Kościeliski, etc.
Kasprowy Wierch The most popular "ski mountain" in Poland. The funicular railway from Kuznica to Kasprowy Wierch starts running at 9:00 am in November and the first half of December, from December 15 the carriage rides start at 7:30 am. Down in winter is possible until 16 – 17 hours. When buying tickets there and back provides time to stay on Kasprowy the Top for 1 hour and 40 minutes. Tickets can only be purchased immediately before the ascent.
The elevators are located on the northern and northeastern slopes of Kasprowy Wierch. This place is unique – skiers have the opportunity to ski on the natural trails of the Guralsky nature.
Travel to the top is carried out with a single transfer. For safety, the elevator is stopped when the wind force is 15 m/sec. Skiing season in Kasprowy begins in mid-December and continues until early May under favorable conditions.
Nosal
Nosal is one of the most famous ski resorts in Poland. It is fairly close to Zakopane center and is ideal for beginners, who like easy runs, as well as for demanding skiers who only have fast and steep slopes in mind. There are restaurants, bars, equipment rentals, service, a sports store, ski school, and parking lots at the lower stations of the elevators.
The Harenda ski resort is a quite modern, though traditional winter sports center, located in the Tatras at the entrance to Zakopane.There are 4 modern orchi-plate elevators in Harenda. Elevator "A" has a length of 900 meters, a speed of 3.9 meters per second and a capacity of 900 people per hour. Elevator "B" – 400 meters, 2.5 meters per second, 800 people per hour. Elevator "C" – 100 meters, 2 m / sec. In the peak season there is an additional small elevator "D", designed for children. On the territory of the resort there is an excellent snow park, ski school, two ski rental shops, ice rink, several large parking lots.
Bialka Tatshanska
The picturesque village Białka Tatrzańska is located at an altitude of 650 – 725 m in the valley of the Białka River. It is a modern center of winter recreation and geothermal center. It is located in southern Poland in the foothills of the Tatras and Pieniny. 100 km from Krakow and 25 km from Zakopane – the winter capital of Poland.
Białka Tatrzańska is becoming increasingly popular among foreign tourists thanks to the developed tourist infrastructure. There are about 20 ski elevators in Białka Tatrzańska, including chair elevators on the Kotelnica-Białczańska slopes. The modern ski resort Kotelnica Białczańska was voted the best ski center in Poland. On the slopes of Mt Kornikowa and on the slopes of Mt Bania there are over ten ski elevators with a total capacity of about 7000 people per hour. The complex offers a shared ski pass to use all the elevators – Białka Tatrzańska, Jurgów, Kluszkowice.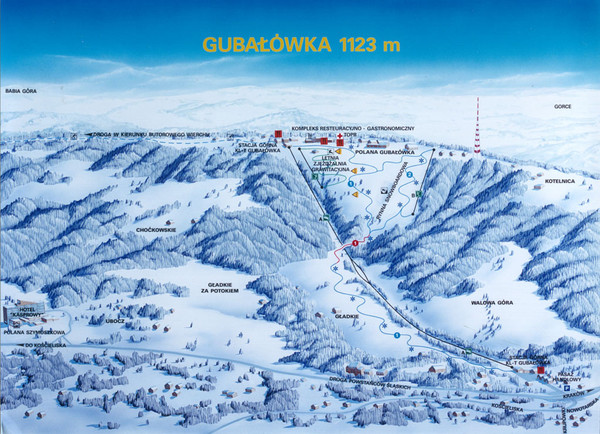 The main areas of skiing in Zakopane region – Kasprowy Wierch, Gubalowka, Kotelnica, Polana Szymoszkowa, Butorowy Wierch, Antalowka, Koziniec, Nosal, Harenda. A large number of green trails for beginners. Most tracks have artificial snowing system and lighting system for night skiing. The largest ski jump in the country – Wielka Krokiew – is located in Zakopane.
To difficult skiing with FIS slopes specialists classify the slopes of Kasprowy Wierch and the track on the northern slope of Nosal Mountain. There are 50 km of cross-country skiing tracks.
Zakopane ski resort (Poland, Małopolskie Voivodeship) – reviews
During the New Year holidays we vacationed in Poland. One of our vacation spots was the Zakopane ski resort, located in the High Tatras Mountains, on the border of Poland with Slovakia. Zakopane is a small cozy town. In the city.
The best pistes according to the feelings of a beginner.
Last year I went skiing for the first time. I did not have much time to ski because of traveling, but I still bought a ski suit) The beginning of this year I planned to spend somewhere warm a la.
Unforgettable place!
Hello to all the readers of my review! I, unfortunately, rarely travel, just do not have free time for it or the desire does not always coincide with the possibilities. But here it happened, and it happens very rarely, we have.
A resort with a fascinating nature.
Driving up a couple of kilometers to the resort, the sight pleases, majesty and beauty of the mountains that greet you with their mesmerizing, natural beauty. Driving into the town of Zakopane, you feel the comfort and not a real comfort, it is located at the foot.
It's a good place for New Year's Eve.
They say it is the winter capital of Poland. In general – the village, but nice, cozy, pleasant, all in lights and lights. The hotels are mostly 2-4 storey, like the residential buildings, wooden. It is beautiful there. But as a ski resort.
New Year's Capital of Poland – that says it all!
The Tatras, views, mountains, cheapness, a minimum of Russian tourists, friendliness of the local population, the absence of the language barrier, very tasty cuisine.
A wonderful cozy place to get out of Megapolis with family or friends. A place where the warmth of coziness in winter. Houses in the Gural style – that's the real flavor, the streets are decorated, in the center of Krupowka there is a church with a working one.
Christmas Adventures in Zakopane
I will tell you about our trip to Zakopane Poland, which turned out quite unexpectedly. Actually we were going to spend Christmas in the Carpathians somewhere in Dragobrat, but when we called hotels in this resort, we realized that spending 4 days on the road and paying.
Rest for the active
Unfortunately, the moderators of the site did not let me open a separate thread about New Year's Poland. There is New Year's Czech Republic, Germany, Austria and Italy. But there is no Poland. You should not underestimate Poland as a New Year's vacation. So I will tell you about it.
Perfect vacation for the whole family.
We decided to go somewhere to rest in winter. Our choice was the Polish ski resort Zakopane. So by car with the kids will not go far. I should say at once we liked it very much. Approaching the town offers very beautiful views, the road.
A winter fairy tale.
Went to the new year with his family. We loaded skis/sticks into the car and rushed. Snow fell in Zakopane two days before our arrival, and it fell a month's norm. Very nice, pleasant town, pretty quiet (except for New Year's Eve)).
Very nice, beautiful, nice ski resort.
One day I decided to try my hand at snowboarding. I went to the ski resort of Zakopane. I managed because the slopes there were not too steep. I had a very comfortable accommodation. Low prices are nice.
For recreation and sports – the best, you can not argue.
Very much! 1. The gorgeous nature 2. The mountains around give some inspiration – will appeal to all artists or fanfiction writers :") 3. I could list the pluses ad infinitum. It's not enough!
To say it's good here is to say nothing. For athletes, in which case I was – chic. Jogging around the non-threatening woods can be good, 10-15 circles :))) Very good is the fact that.
ski resort with a lot of color.
We have been to Zakopane three times, always at about the same time – the beginning of February. And every year there is less and less snow, so we came to the conclusion that as a ski resort, to visit Zakopane.
will be back again
I want to leave a general feedback about skiing and Zakopane. Didn't find anything like that, or maybe I wasn't looking hard enough. We are advanced skiers and were going for steep slopes and jumps. But there was no snow for 2016.
Pretty budget winter vacation.
Zakopane – a small town in southern Poland – is a great place for a family winter vacation. Here you can: – ski on one of the mountain slopes. There are tracks of different levels of complexity. Rent skis, snowboards and the necessary.
This is a real fairy tale.
At Christmas we always go abroad with my parents. And for a couple of years we go to Poland, namely Zakopane. It is a ski resort, but for all the time I have been there I did not ski.
I liked the city.
I and my friends went to Zakopane to ski, and only on the 2nd day we realized there was nothing to do with skis here. The tracks on the maps do not correspond to reality. On day 1 went to Harenda, thought there.
Nice surf!!!
I was there for New Year's 2014, this winter was snowless for everyone and most of the mountains had no runs, or a smaller portion worked. Drove up to Kasprowa's top once and was disappointed. One climb.
Great views, fresh air and delicious food – all this you will find in Zakopane!
Good day to all readers of my review! We almost came to Zakopane by chance, we decided to walk there for a couple of days from Krakow. We took the bus, good thing the buses leave often and go about 2-3 hours. Upon arrival.
Awesome, unforgettable.
I will begin with the fact that my wife and I are leaving our country for the New Year, celebrating at home is banal and ordinary. This time we decided to go to Zakopane for skiing (I am skiing very well, my wife is just learning).