Colmar, France
Colmar is the second most visited by tourists in Alsace (after Strasbourg). This town is not as big and diverse in terms of attractions, but it definitely has its own style.
The canals of the Loche River are called "Little Venice", the half-timbered houses are not inferior in their beauty to their older brother Strasbourg, the shop windows here – a work of art.
Colmar is a city of gourmets, every second restaurant is awarded by Michelin magazine, offering tourists excellent local cuisine and delicious wines.
In short, Colmar is a Must See in Alsace. What to see here, how to get here, and other tips next.
HOW TO GET TO COLMAR
Colmar is located in the East of France, in the region of Alsace.
BY AIR
The nearest major tourist centers with international airports:
Strasbourg, France – 70 km. (code SXB);
Basel, Switzerland – 70 km. (code BSL);
Baden-Baden, Germany – 130 km. (code FKB).
The most popular route for tourists from Russia is the arrival of our low-cost airline "Pobeda" to Baden-Baden airport, followed by a stopover in Strasbourg, the villages on the Alsace Wine Route and Colmar itself. How to get from the airport to the capital of Alsace (Strasbourg), I described in detail in the article about the city. We took this route. I recommend buying tickets with Aviasales.
Karlsruhe Airport:
IATA code – FKB
Official website https://www.baden-airpark.de/
FlightRadar 24 itinerary map
The other two airports (Basel and Strasbourg) currently have no direct flights from Russia. However you can fly to Frankfurt, Vienna and other European cities with one convenient connection. European cities. The prices of such tickets are higher than at Pobeda, but sometimes the carriers (Luftgansa, Austrian Arlines, KLM) have very good sales. Again, use the Aviasales aggregator.
BY TRAIN
The train connections to the nearest large cities are excellent in Colmar. Here are a few of the most popular directions:
Strasbourg – Colmar . Trains leave every half hour, cost per person from 13 euros. Travel time is only 30 minutes.
This is a great option for tourists without a car. Arrived in Baden-Baden, got to Strasbourg. Walked there for a couple of days, and then took the train to Colmar.
Basel – Colmar . This route is for those who plan to fly into Basel airport. There is a direct train to Colmar. Intervals are 30 minutes, travel time – 45 minutes, fare from 15 euros.
Paris – Colmar . The TGV connects the French capital with this city. If I am not mistaken, there are 2-3 trains a day. Travel time is 2 hours and 50 minutes. Price, quite impressive – from 60 euros.
See the current schedule on these routes on the official SNCF website. There you can also buy tickets. The timetable is as follows. The SNCF website has only three of the most popular routes and is complemented by suburban trains that take passengers to some of the villages and towns nearby. See the website for a complete route map.
BY CAR
The most convenient option is to rent a car. Thus you get rid of the headache of planning trips by train or bus. There is no need to keep track of the schedule, to be somewhere in a hurry and to be late. You're on your own, you get bored in Colmar, you go to the neighboring villages to taste wines and roam in the vineyards.
I will not tell you how to get from point A to point B, I think everyone knows how to use a navigator.
You can rent a car inexpensively through the aggregator Rentalcars. We took an Opel Astra automatic in Baden-Baden airport.
Parking in Colmar
The only thing you should take care about with a rental car is parking. In our special case, this point was solved simply, you could leave the car for free in front of our hotel. You can do the same by choosing an accommodation with free parking.
If this service is not available, no problem. In Colmar, there are many parking lots, paid and free. You can choose a place through the service Parkme. Click on the image.
WHERE TO STAY IN COLMAR
As cliché as it sounds, the best place to stay is in the historic center of Colmar. More precisely, in the area of Little Venice. This is the coziest and most beautiful place, lots of restaurants and bars. If you book in advance, you can settle for 100 euros per night.
You can find a suitable option, using the Booking card.
Be careful when booking an apartment. In the center of the bomb options at a price of 60-70 euros, it seems that here it is – the dream. A half-timbered house, a balcony overlooking the canal. However, then it turns out that this price does not include additional mandatory fees (cleaning, etc.), which increase the cost by half.
Colmar Hotel Booking Rating 9/10
If you want to save money, you can also choose a hotel on the outskirts of Colmar. The town itself is small. You can get around on foot and there is no need to use public transport. We took such a budget option – Colmar Hotel. To little Venice – 10 minutes walk. But the neighborhood is totally unremarkable.
MAP OF COLMAR
On the map below I marked the main attractions and tourist streets of the city. You can download it for yourself and upload the labels to the application Mapsme so you don't have to put them yourself.
THE SIGHTS OF COLMAR
Now let's walk around the city itself and see what it is all about, where to go and what to see.
Like the capital of Alsace, Strasbourg, historic Colmar is quite small. You don't have to take the subway or bus from one point of interest to the next. It takes only 2-3 hours to get around all the significant places. So do not spend a lot of time planning, to determine at what hour and where to go to get everything done.
Just wander around Colmar, enjoying its coziness and atmosphere. And here's what you'll see during your walk.
LITTLE VENICE.
The most touristy and most photogenic place in the city. This tiny neighborhood is incredibly beautiful. In common with Venice here, except the canal. The architecture is very different, Alsacian. And the scale is a little different. This area of Colmar is one canal of about 400 meters.
There's no promenade as such. The houses are right up against the water. To see all this beauty from the ground is possible only from the bridges, of which there are two. Marked on the map.
The best way to get acquainted with the little Venice in Colmar is to take a walk on the water. The tour is conducted on small boats with a capacity of up to 10 people. The cost is 6 euros. They leave about every half hour, from March to October (09:00 – 19:00) from the bridge of Saint Pierre.
POISSONRI PROMENADE
This tiny street is a logical extension of Little Venice. A few centuries ago, right here fishermen traded their fresh catch. Today the promenade – the center of attraction for tourists from all over the world. Each house is a work of art. You will not find a better place in Colmar to see half-timbered architecture.
There are many Michelin-starred restaurants here.
SAINTE-MARTIN CATHEDRAL
A traditional Gothic cathedral, five minutes walk from Little Venice. As far as I know, there are no observation decks at the top. You can go inside if you wish, admission is free.
It is difficult to photograph the cathedral completely, it is tightly squeezed by half-timbered houses on all sides. There is an excellent view of the facade from the Eglise Street.
On the Cathedral Square in front of St. Maarten, to my surprise, the usual city parking lot is broken up. This completely kills the attraction. Colmar needs to rethink its attitude toward the place.
COLMAR STREETS.
I'm not going to suck the sights of Colmar out of my finger further. On the general map above, the historic center area is highlighted. Feel free to walk around this area as you please. On your way you will meet cozy half-timbered streets and small squares. Be sure to stumble upon Saint-Matthieu Cathedral and the Dominican Church.
And the windows, in Colmar, are a work of art in their own right.
As I said before, a couple of hours will be quite enough to get around all the most interesting nooks and crannies of the city. Relax and enjoy. Be sure to stop by one of the many bars during your walk to have a couple of glasses of Alsace wine, and in the evening, make a reservation at one of the Michelin restaurants. A vacation in Colmar should be just that, lazy and laid-back.
ENTERTAINMENT IN COLMAR
Before planning a trip to this wonderful city of Alsace, be sure to check the calendar, maybe you'll catch one of the many themed festivals that take place here. Check out the full list at this link. The most notable event is the Colmar Christmas Fairs. Between November 20 and the end of December, the city is decorated with thousands of garlands. Hot mulled wine is poured and traditional snacks are offered in the plazas of the Historic Center.
MUSEUMS IN COLMAR
And finally museums. There are museums in Colmar. This kind of activity is still alien to us, but someone may find this information useful.
Here is a link to a complete list of Colmar's museums.
RECOMMENDATIONS FOR VISITING COLMAR
I think I've said all I need to say about this city. At the end of the article, a few more tips:
Come to Colmar for no more than one day. One evening will be enough. We arrived, went for a walk in the historic center, had a good evening meal, spent the night and then continued to drive around Alsace.
When is the best time to go to Colmar? If you start from the city, you can visit it at any time of the year, it is always nice here. If we talk about Alsace in general, the best time is in October and November (golden autumn), May and July.
Going to this region of France is not necessary to dwell only on the major tourist centers such as Strasbourg and Colmar. Be sure to pay attention to the Wine Road of Alsace. These are amazing villages, castles and wineries surrounded by vineyards, spread out on the hills.
Colmar is the most beautiful Christmas market in France
Colmar is a small town in France, sometimes called the Venice of France. This town is also famous for its half-timbered houses, Christmas market and magical atmosphere. A couple of days ago we visited Colmar and we would like to share with you a photo report.
1. What you need to know before going to Colmar. Colmar is the third largest city in Alsace. It is not only a city of beautiful old houses, but also the capital of Alsace wine.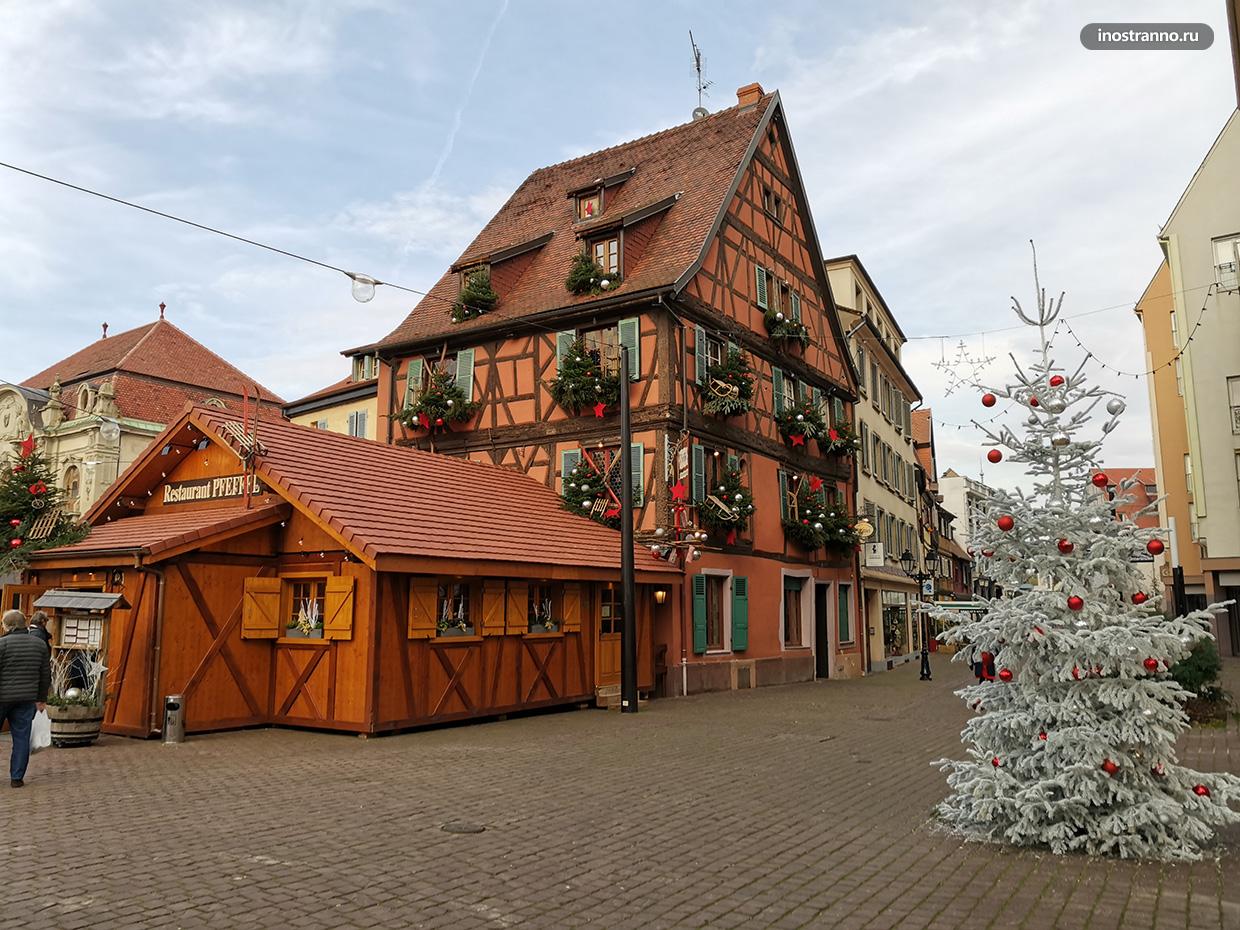 2. In fact Colmar is an open air museum with many architectural styles: late Gothic, baroque, classicism, Art Nouveau, eclecticism, and many others. But most of all tourists like the area of Little Venice (La Petite Venise) with its canals and half-timbered houses.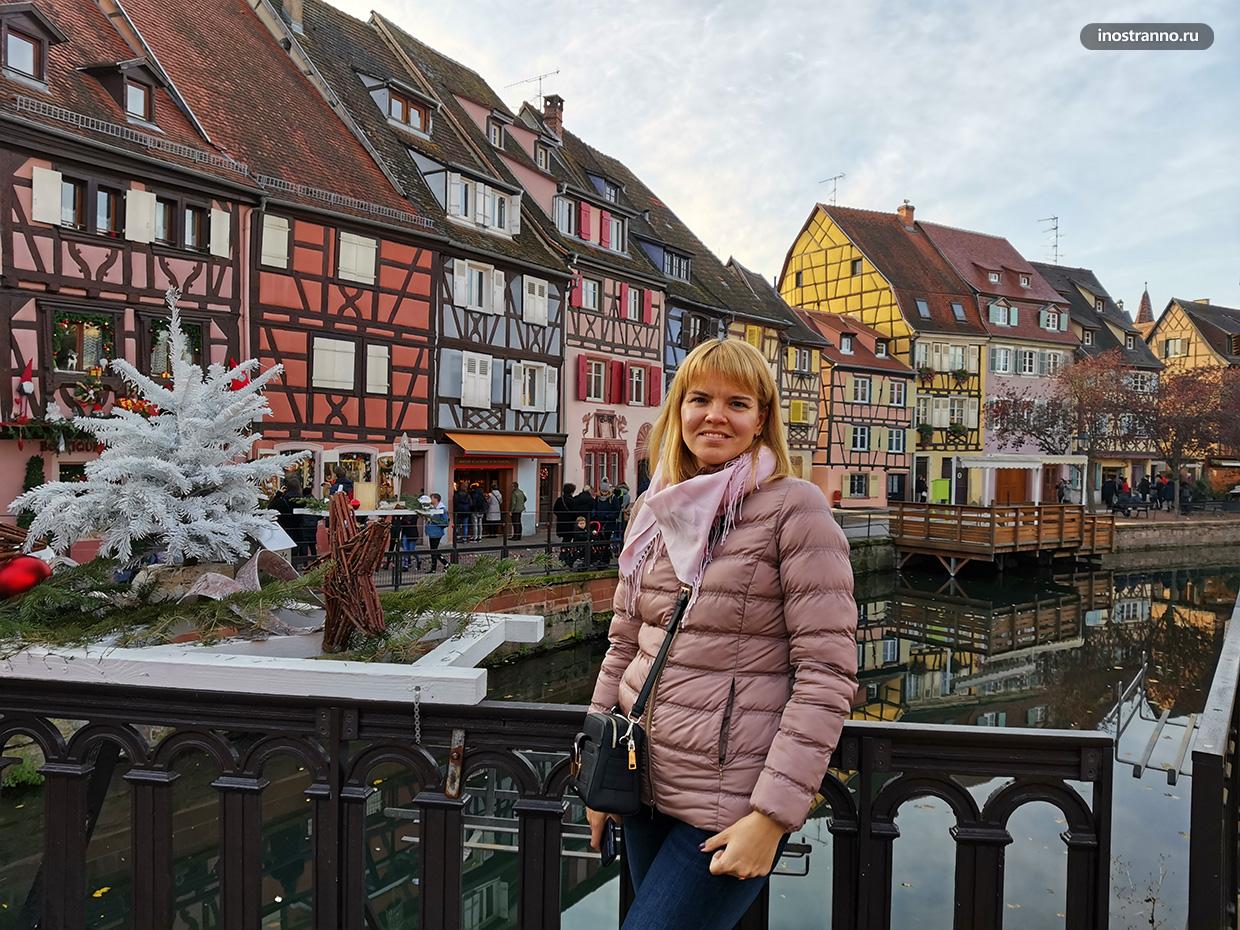 3. Weather in winter in Colmar is not very pleasant. But we were lucky – we visited the city at the end of November and it was +8 outside, the sky was nice blue and there was not a single cloud.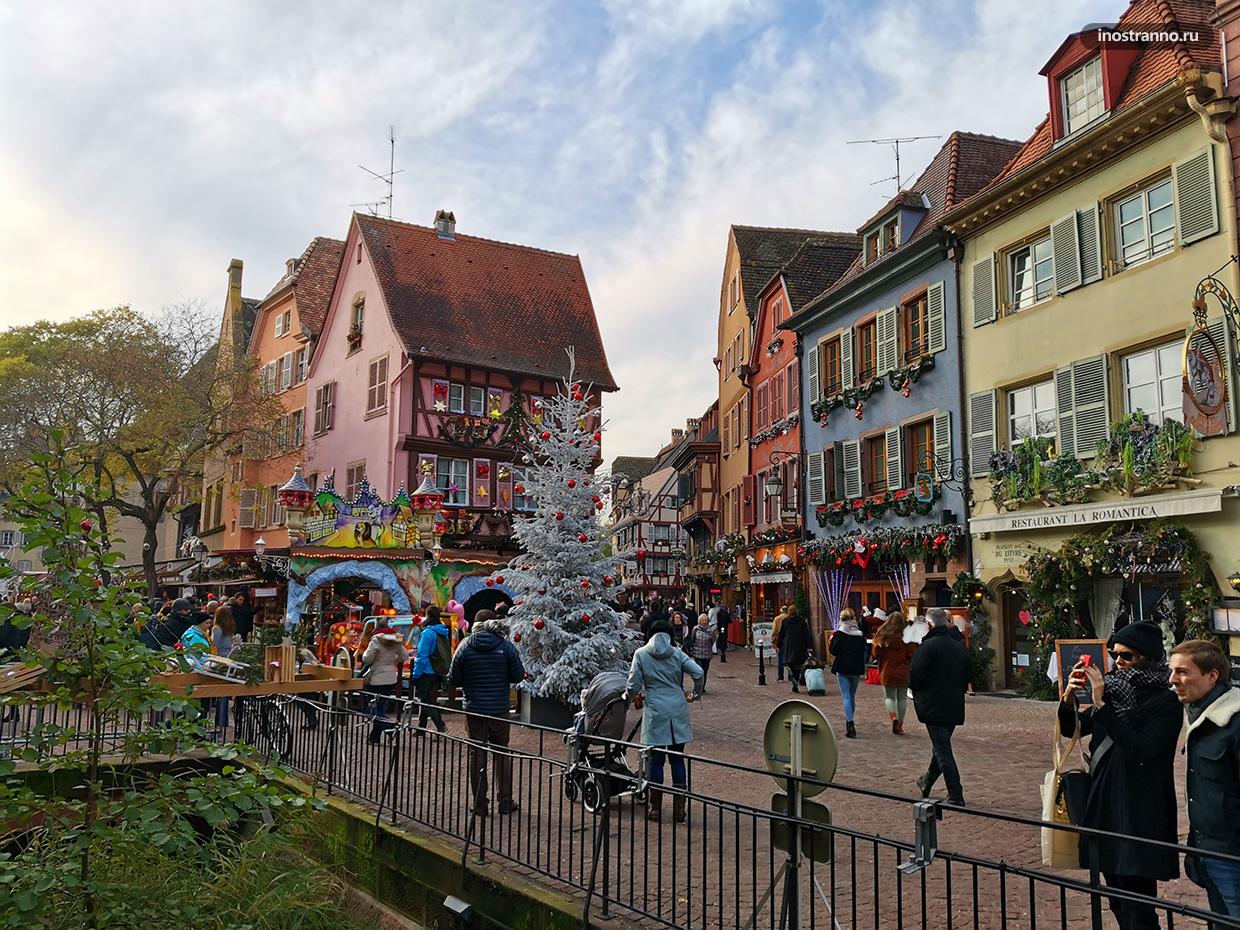 4. With hotels during the Christmas markets in the city is very tight, prices for overnight stays often exceed € 150, but even so hotels are sold out six months in advance, such as one of the best hotels in the city Novotel Suites Colmar Centre. So many travelers rent a car and stay somewhere in the neighboring villages. Or, like us, come to Colmar for a day from Strasbourg.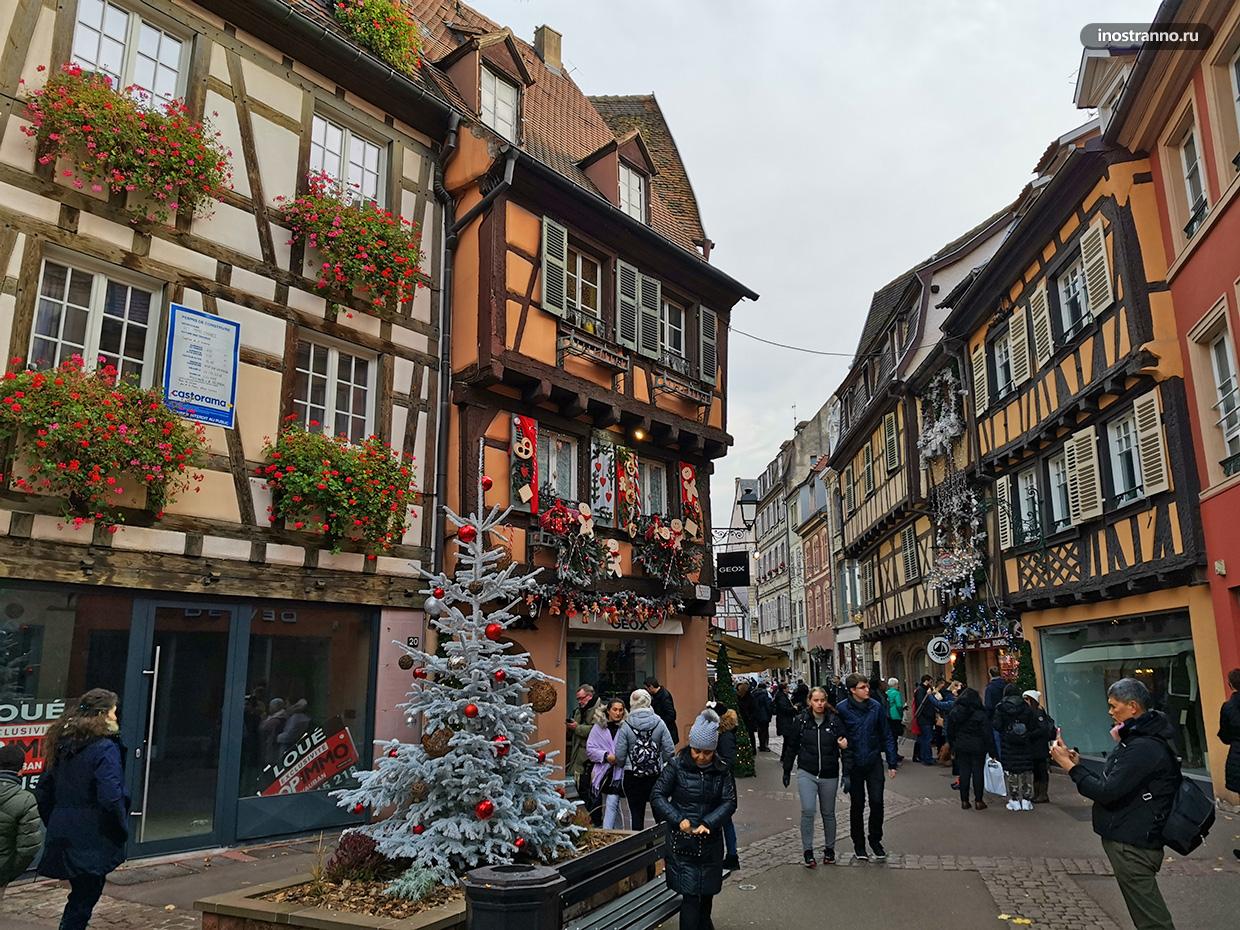 5. We arrived in Colmar by train on a Sunday at 10:30, and at that time there were quite few people in town. Most of the locals go out for folk festivities closer to lunchtime, and after a couple of hours, the crowds make it harder to get around the streets.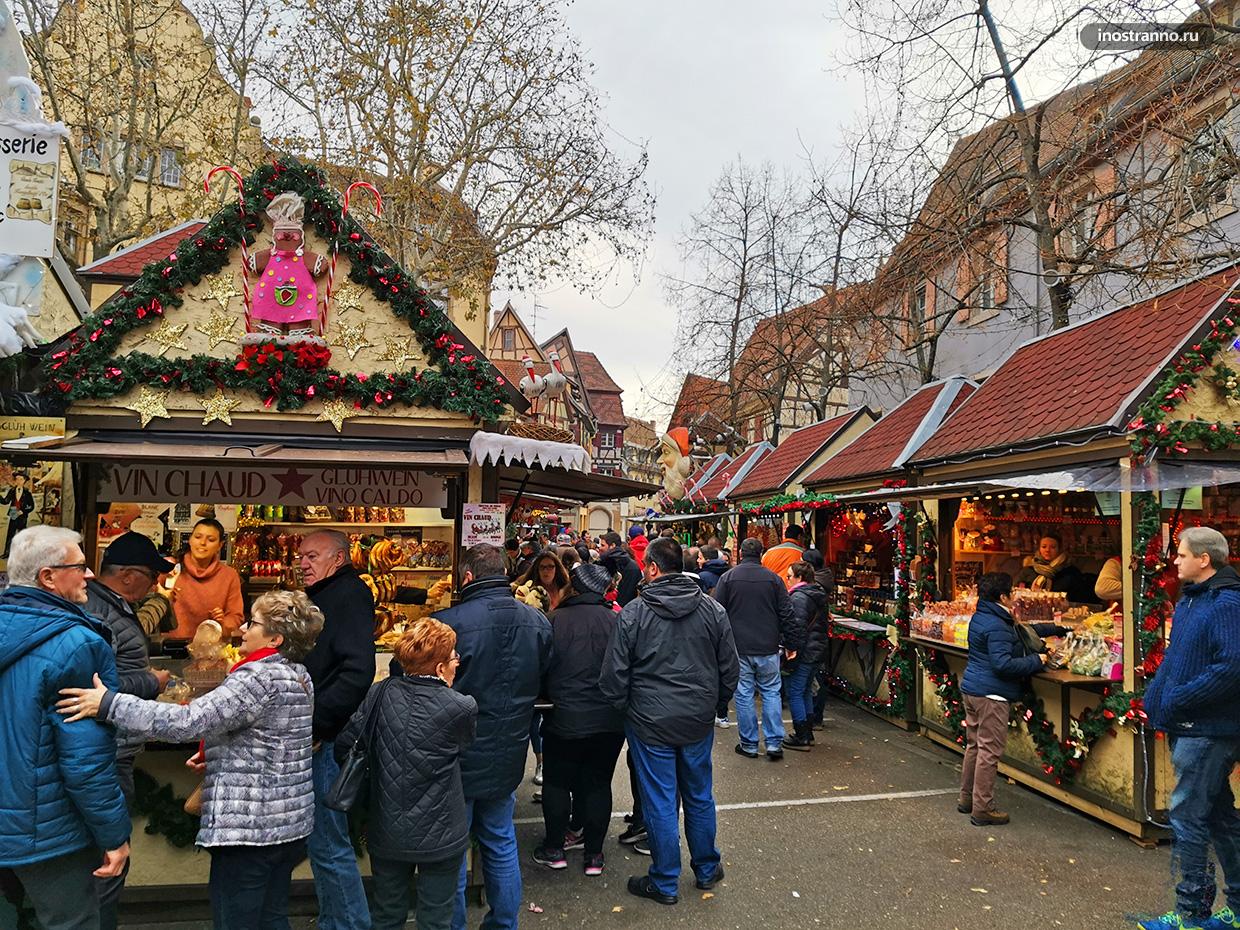 6. What do people usually do at Christmas markets? That's right: walking, socializing, eating goodies from the many stalls and drinking mulled wine. A little background, mulled wine is a wine heated in a certain way, to which citrus fruits and spices are added.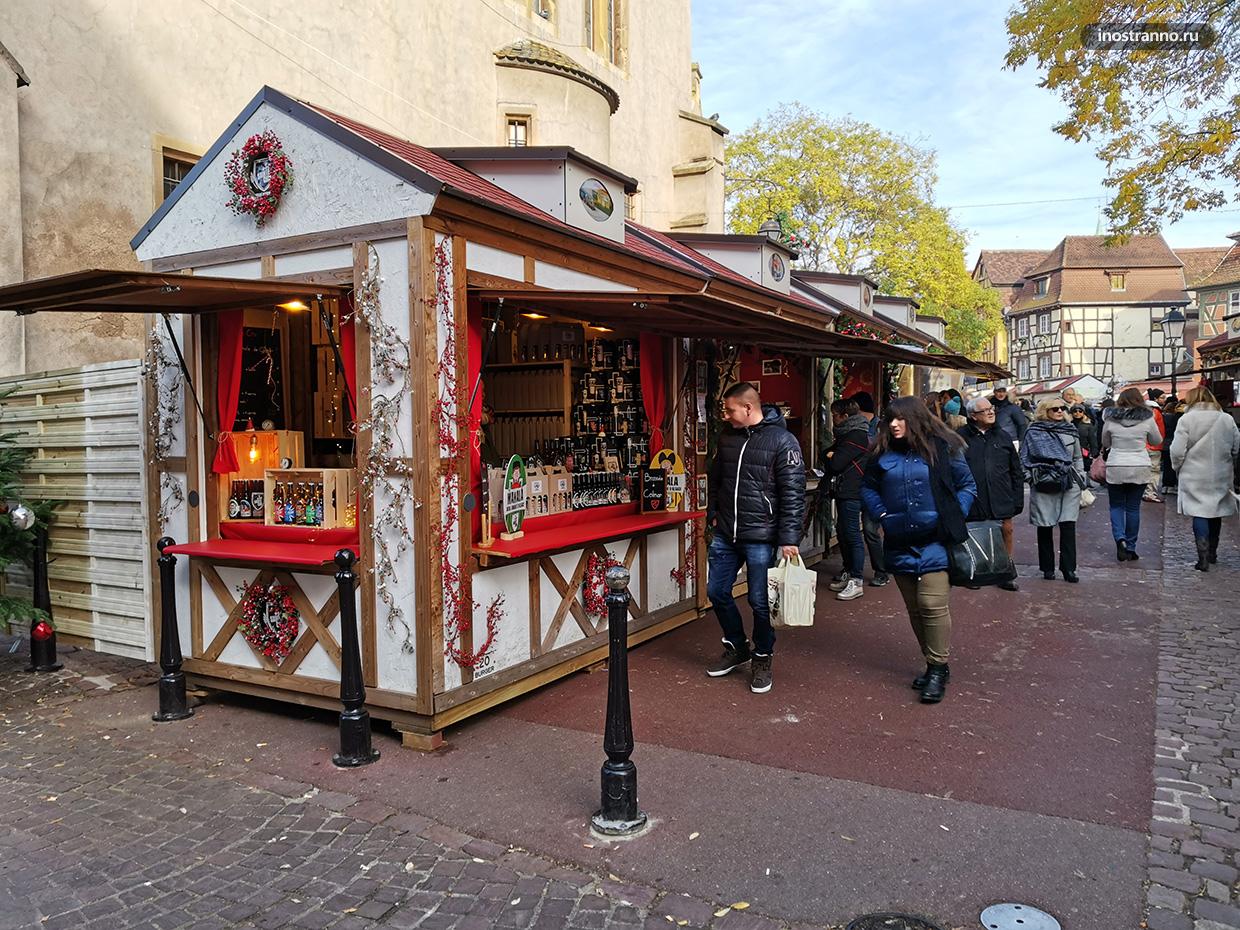 7. We decided to keep up, too, and bought mulled wine and brezzel to warm us up. Mulled wine in Colmar costs €2.5 – 0.2 liters, €3 – 0.25 liters, €3.5 – 0.3 liters. You must also leave a deposit for a plastic glass of €1. The glass is beautiful and very festive: it has a drawing with a Christmas theme on the walls. In Germany, for example, at the market in Nuremberg or the fair in Dresden you usually leave a deposit of €3-4 for the glass, but there are ceramic glasses. Mulled wine in Colmar is usually sold of white and red wine. Sometimes there is mulled wine with honey, but I don't like honey, and I'm allergic to it, so we bought the classic mulled wine of red wine. The mulled wine was very tasty, not like the Czech sour wine mulled wine at the Christmas markets in Prague.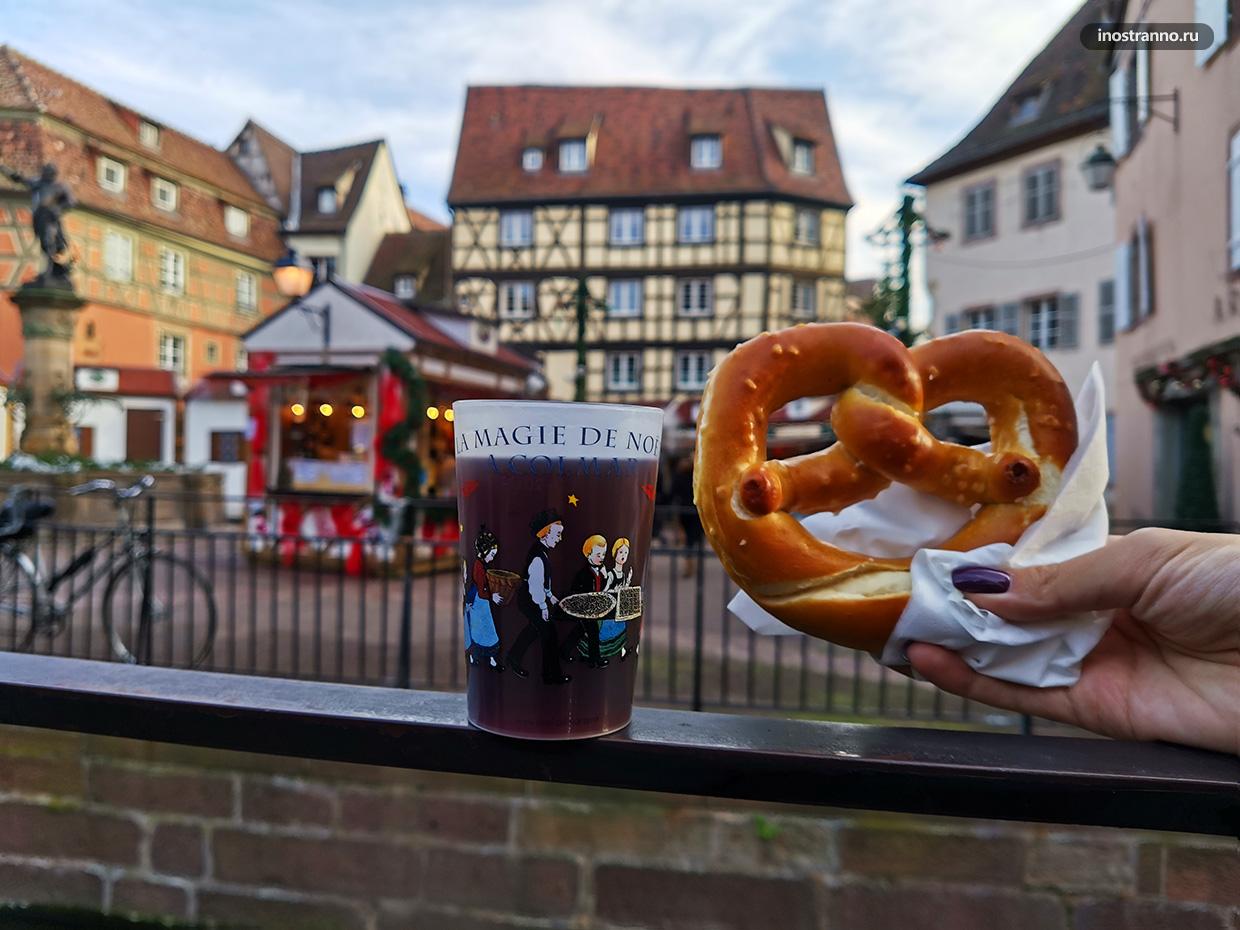 8. The house decorations create a special festive atmosphere. For example, on this house in addition to the garlands and stars on the windows placed plush polar bears and seals.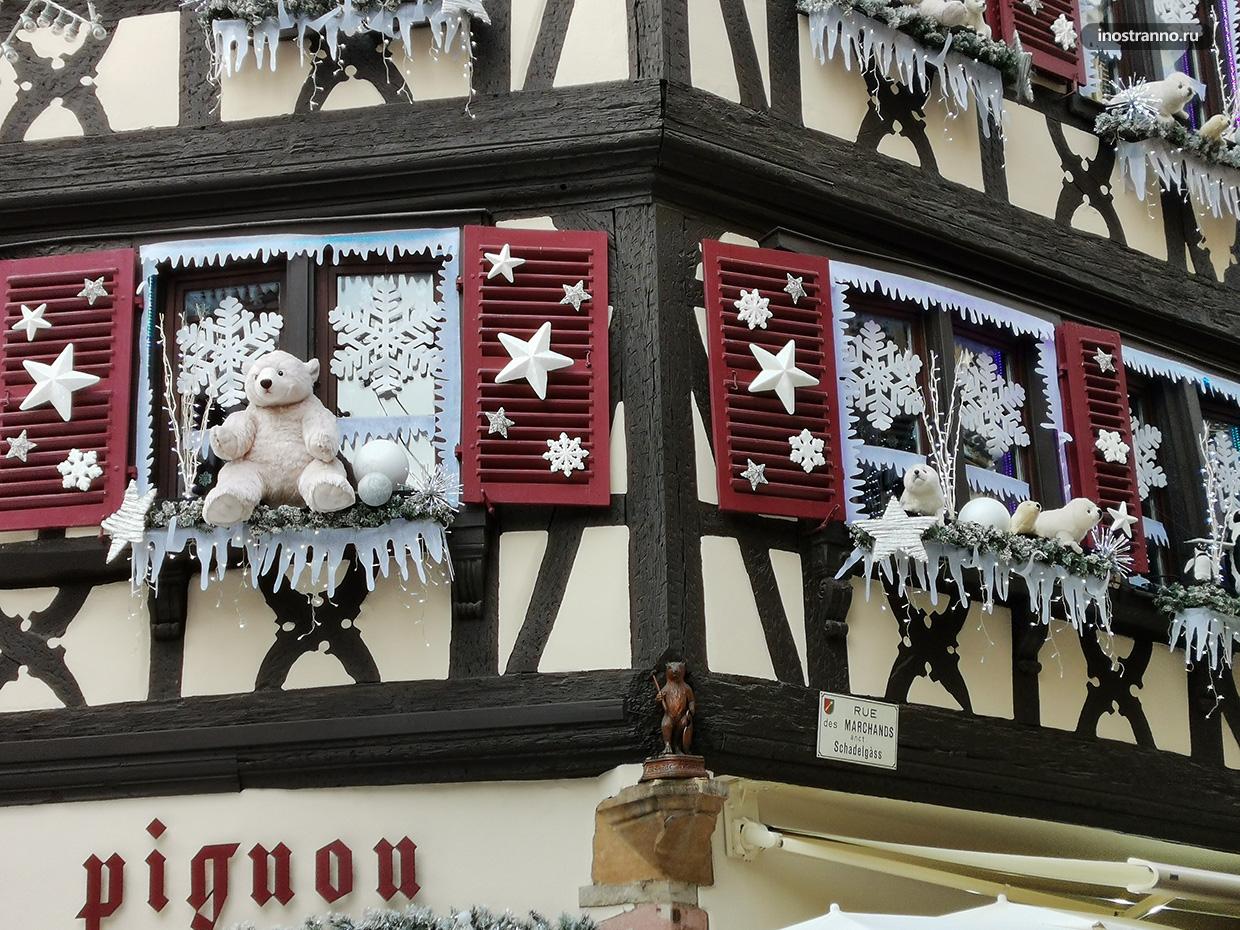 9. One of the symbols of Alsace is the stork, figures of which used to decorate many houses for Christmas, for example, in Strasbourg.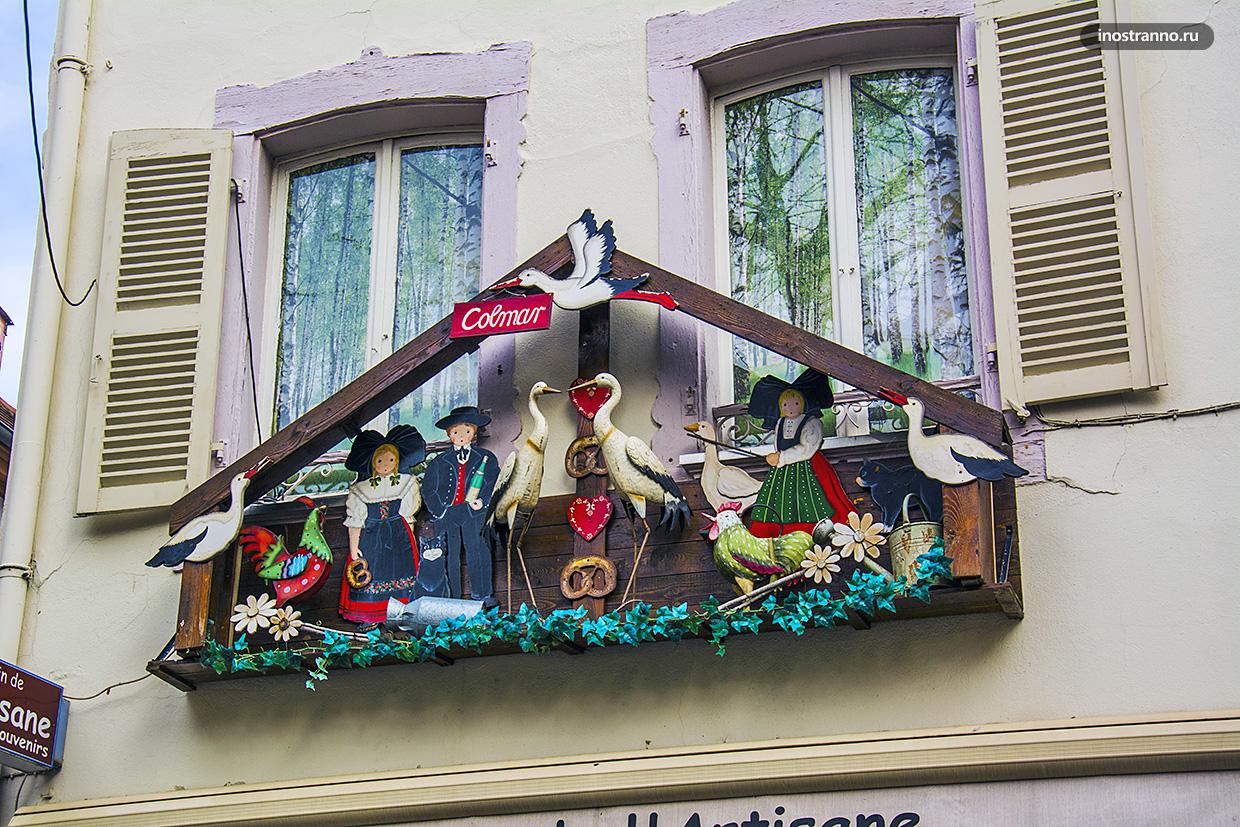 10. Nowadays, seals, polar bears, bunnies, reindeer and penguins are used.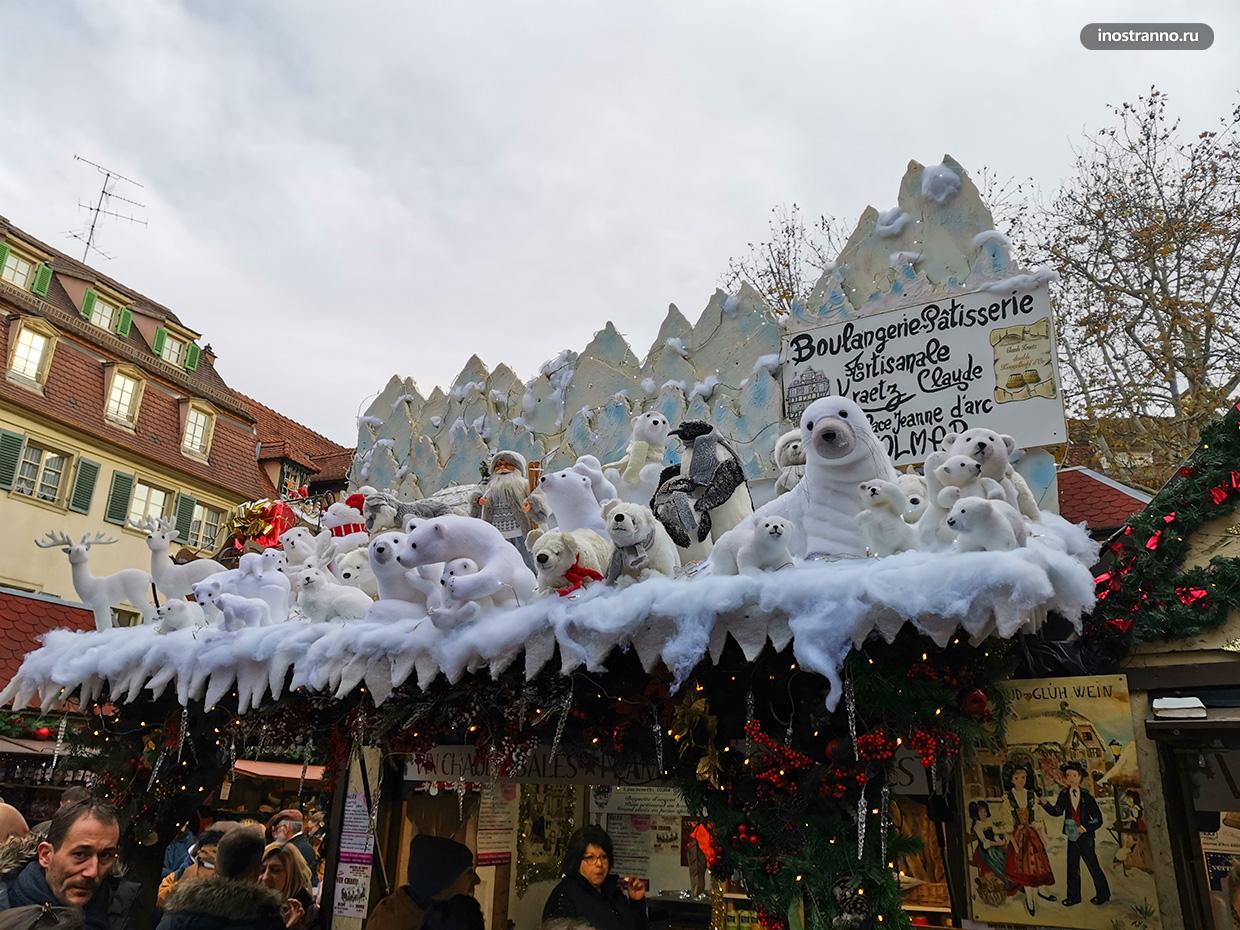 11. Christmas trees are sometimes decorated with brezels, a traditional German delicacy.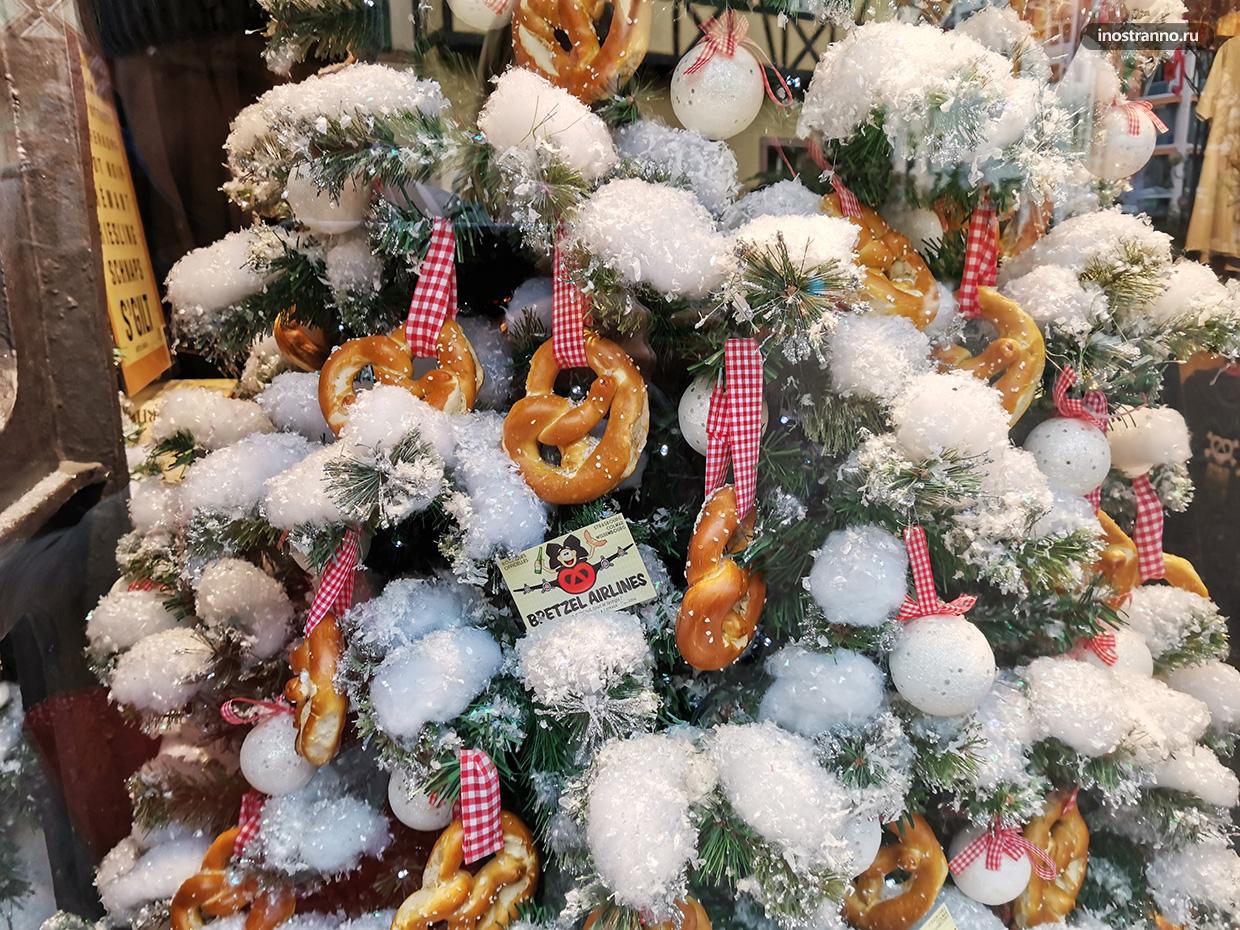 12 But in Colmar, most Christmas trees are decorated with imitation snow and simple brightly colored balls.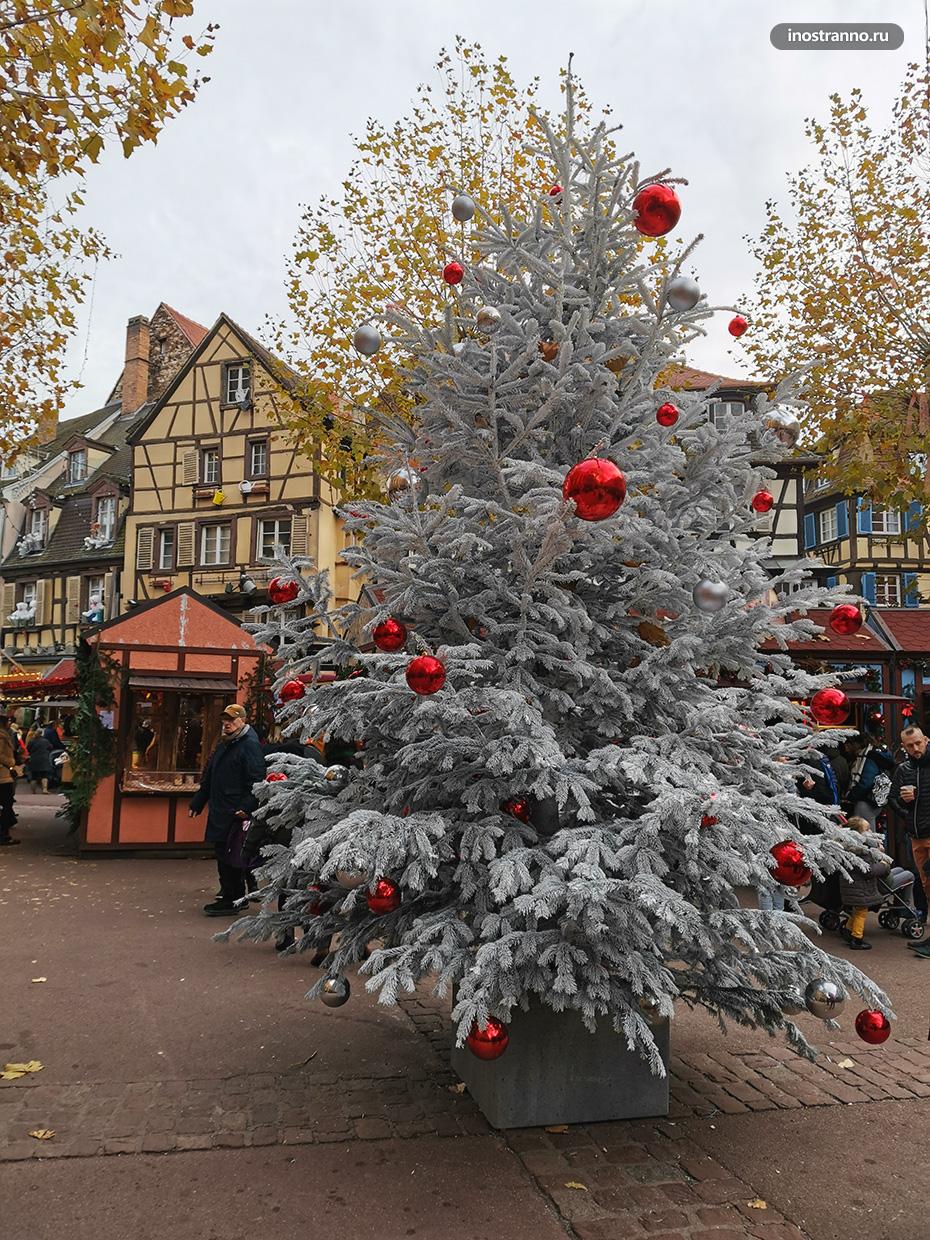 13. During the walk we realized that we were very hungry. But Alsatian cuisine in the form of pale sausages, cabbage, dumplings, or baguettes with bacon and cheese did not impress us, so we bought organic Angus calf burgers at one of the stalls. The burger was so tender and delicious that we were thrilled. The cost of a hearty burger is €9.5.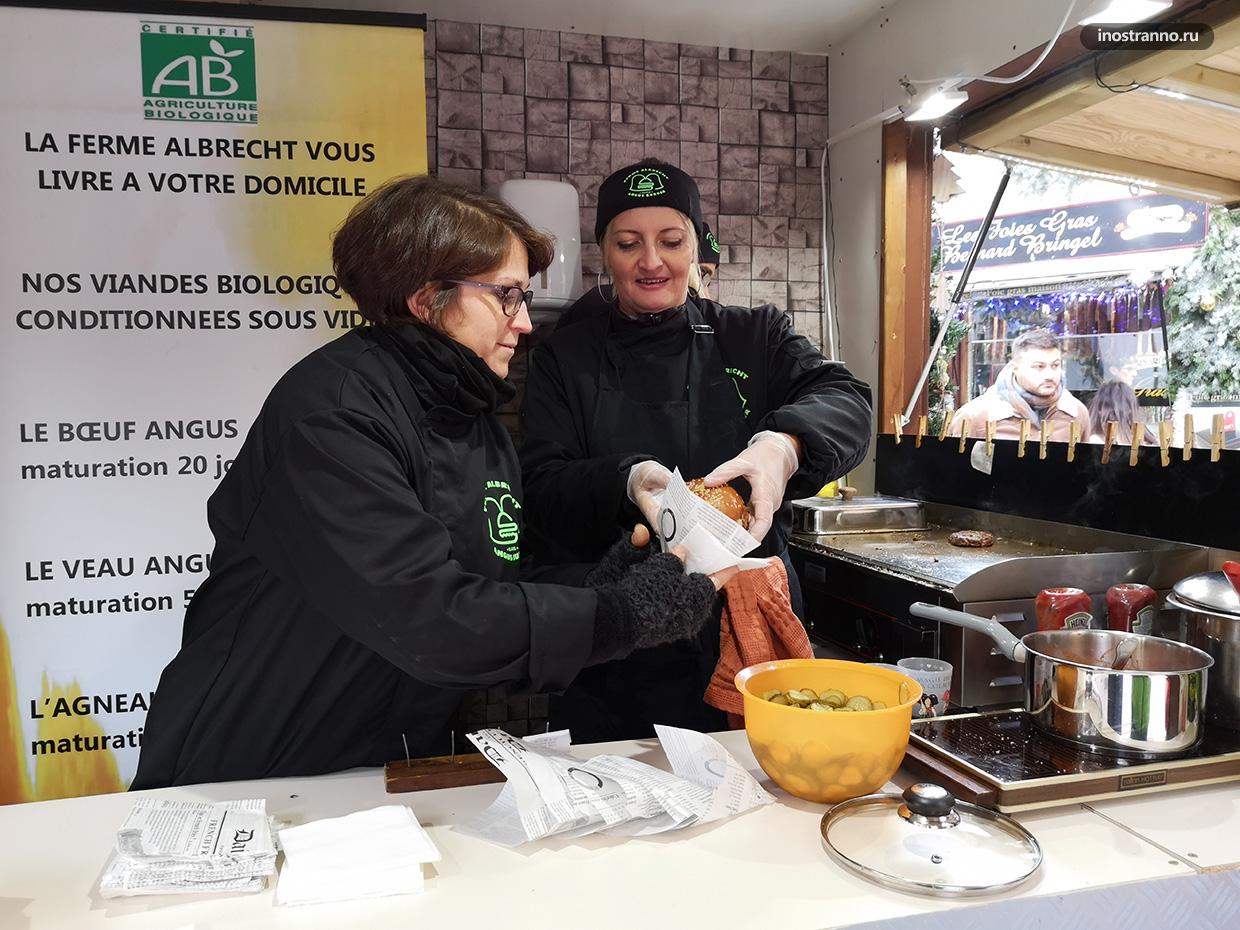 14. But back to looking around the tents and exploring the assortment. In addition to food, most of the stalls sell Christmas decorations, Christmas wreaths, and candle holders. But after last year's trip to Rothenburg an der Tauber and its Christmas Museum, most of the toys in the markets in Europe now we don't particularly like.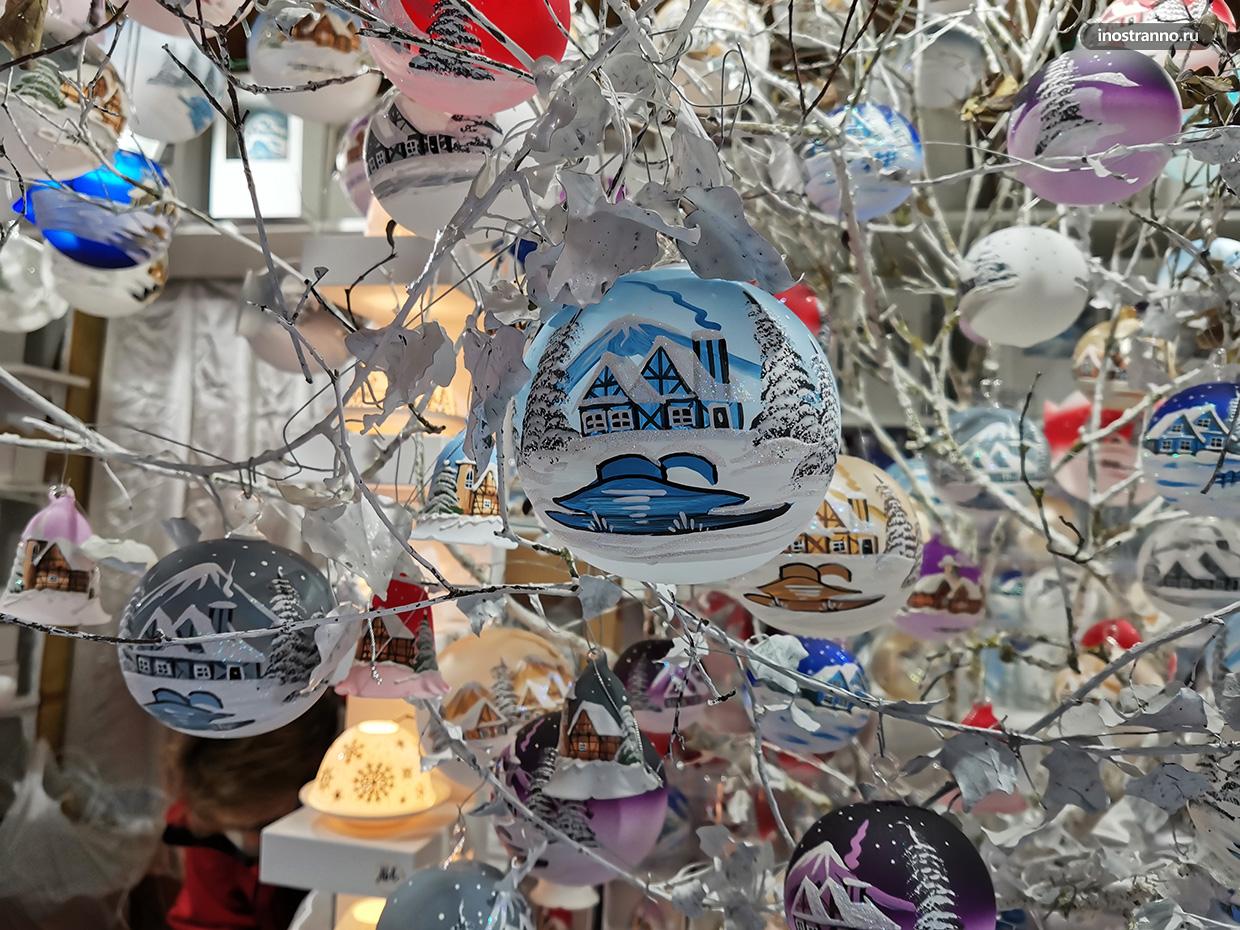 15. In addition to Christmas toys, the market sells a large number of trinkets in the form of gingerbread men, clickers, magnets and storks.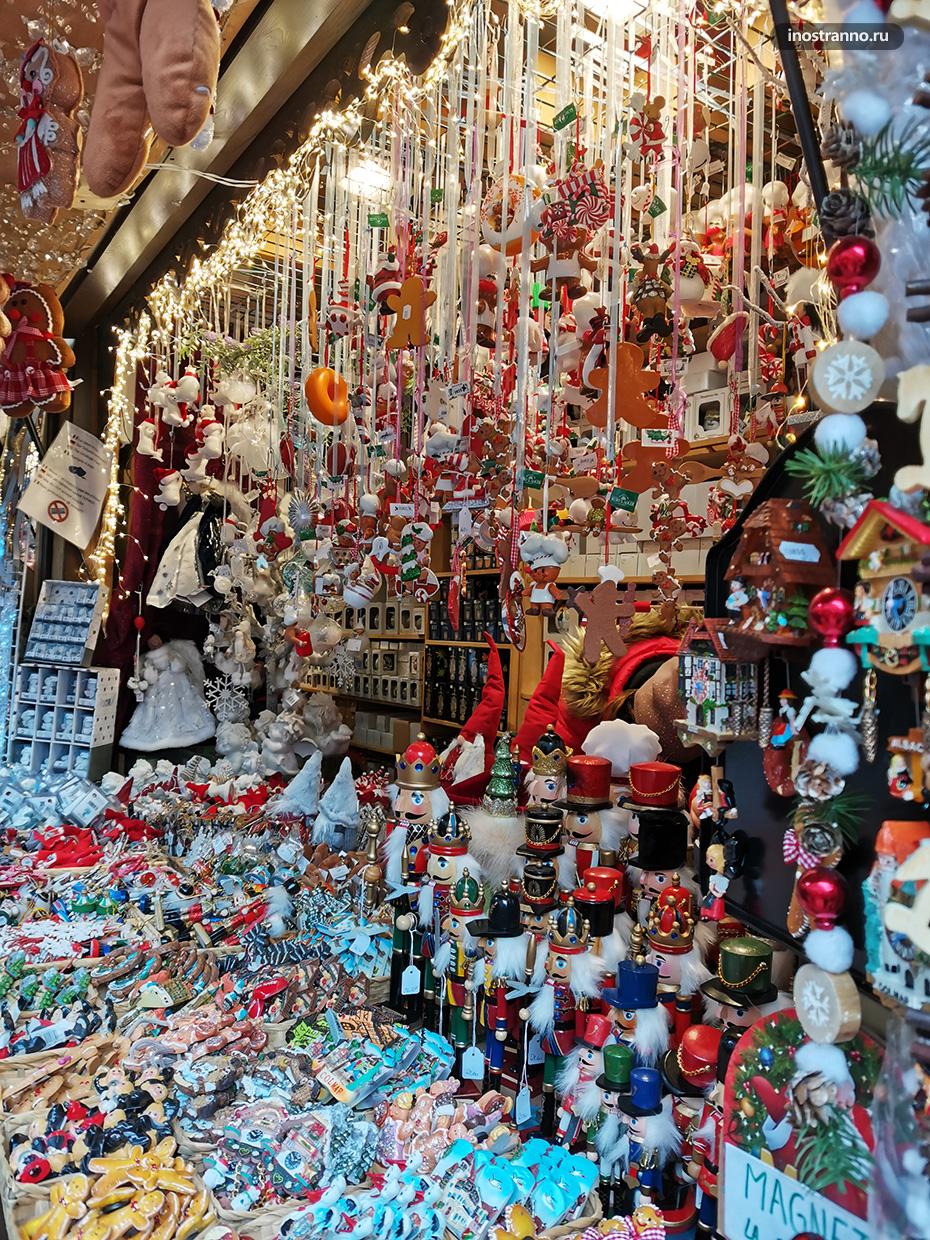 16. We bought a gingerbread man, which was the main prop for the photo shoot in Colmar.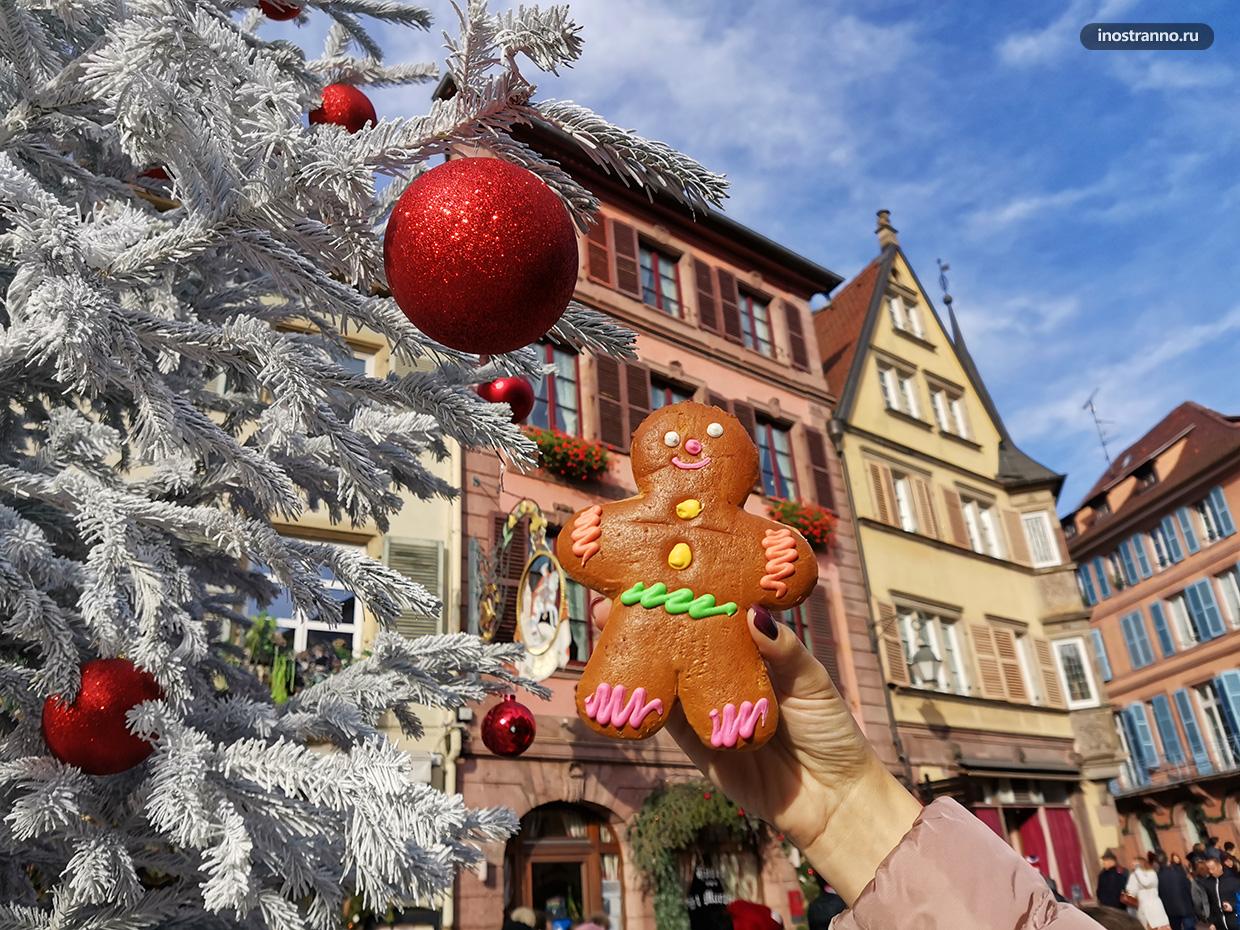 17. I forgot to tell you that the center of Colmar is completely pedestrian, the people here are mostly quiet and courteous, and the decorations help to create a really festive atmosphere of a fabulous Christmas.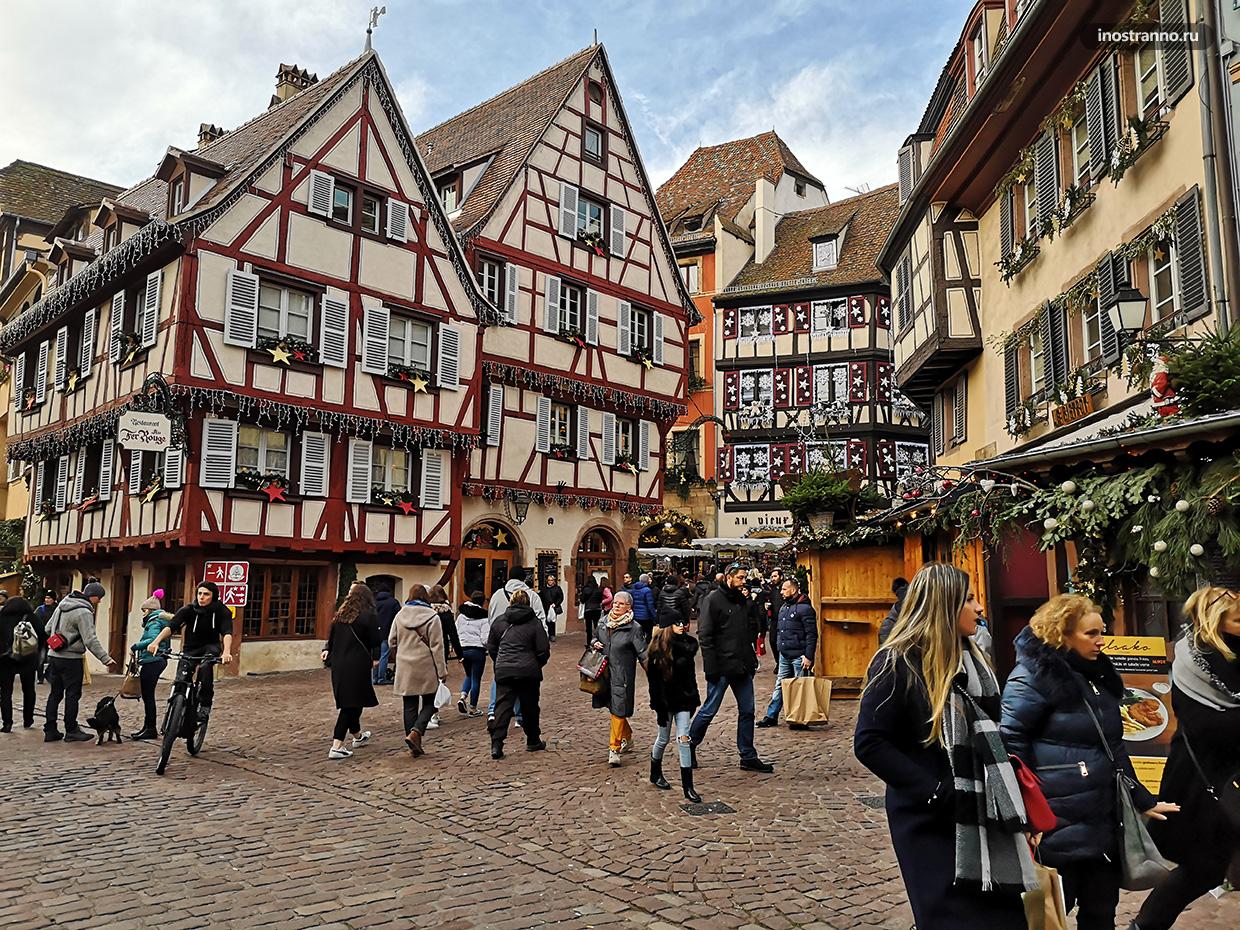 18. I know that some travel agencies still manage to sell trips to European Christmas markets for late December and early January. But in fact, most markets close as early as December 24, and the Christmas market in Colmar will be open in 2021 from November 26 to December 29.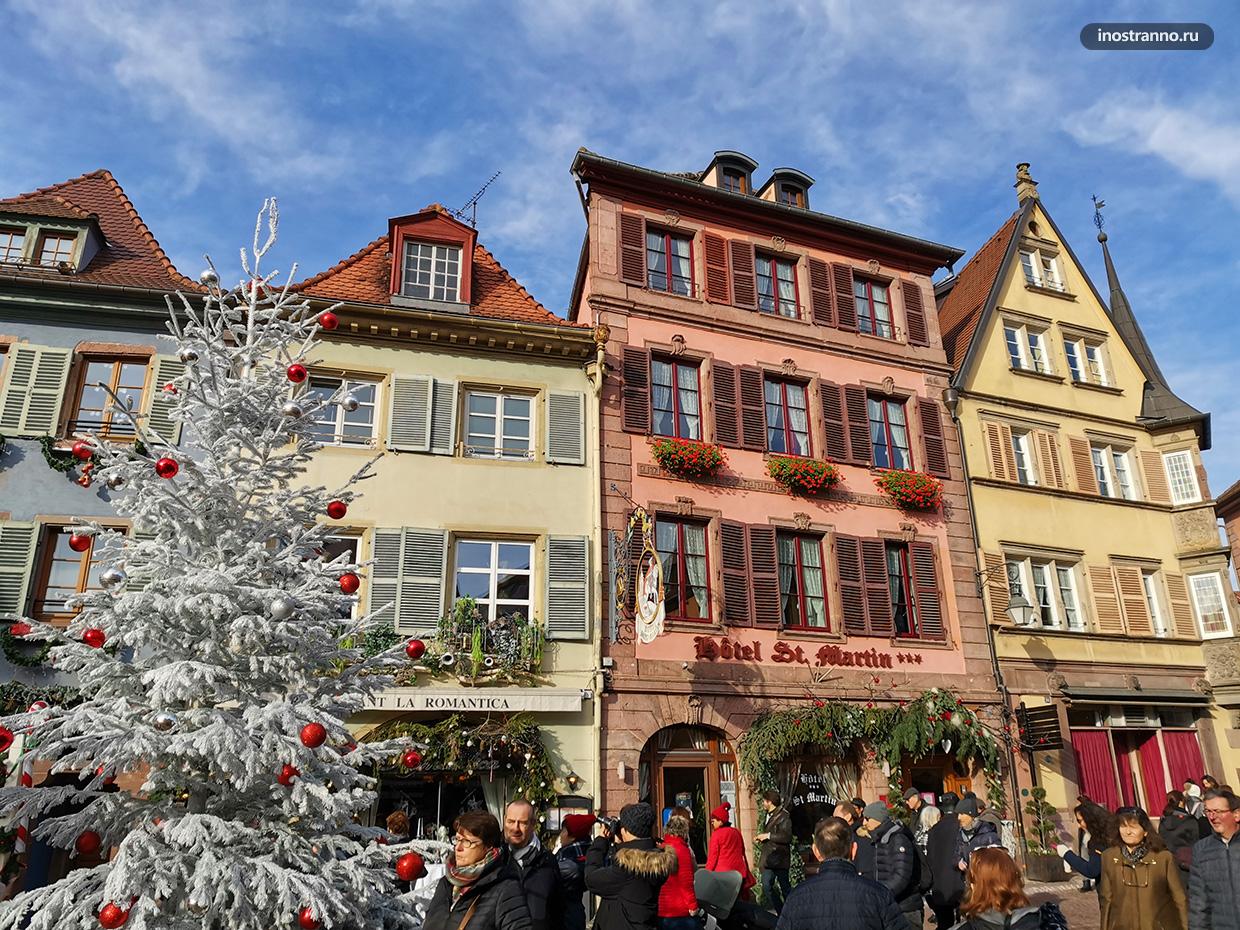 19. I can imagine how beautiful the city will look in the night illumination.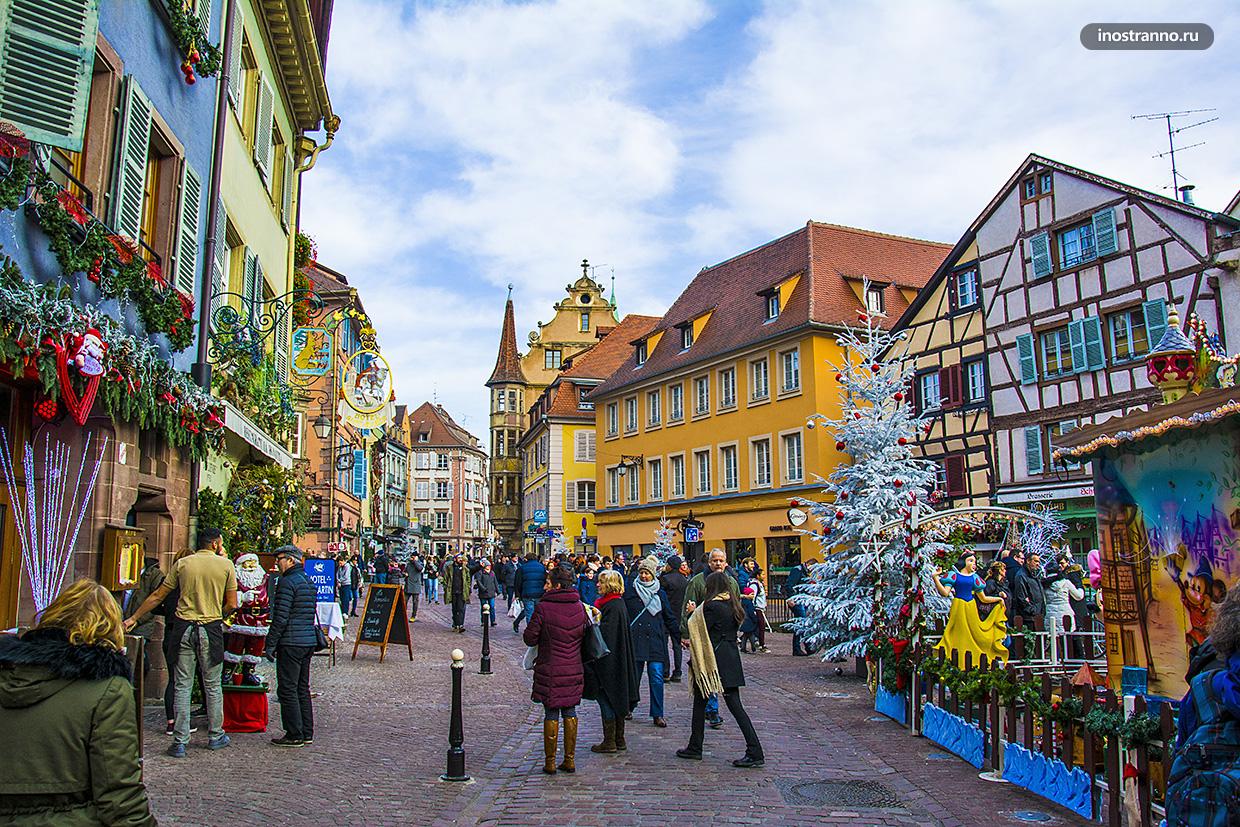 20. And the illumination in the city is not easy, because all 1150 light sources are controlled by computers, and a very unusual light show is created, which varies in intensity and color throughout the year. The light is chosen so that the natural colors of the facades are preserved. The light just adds to their charm and romantic outlines.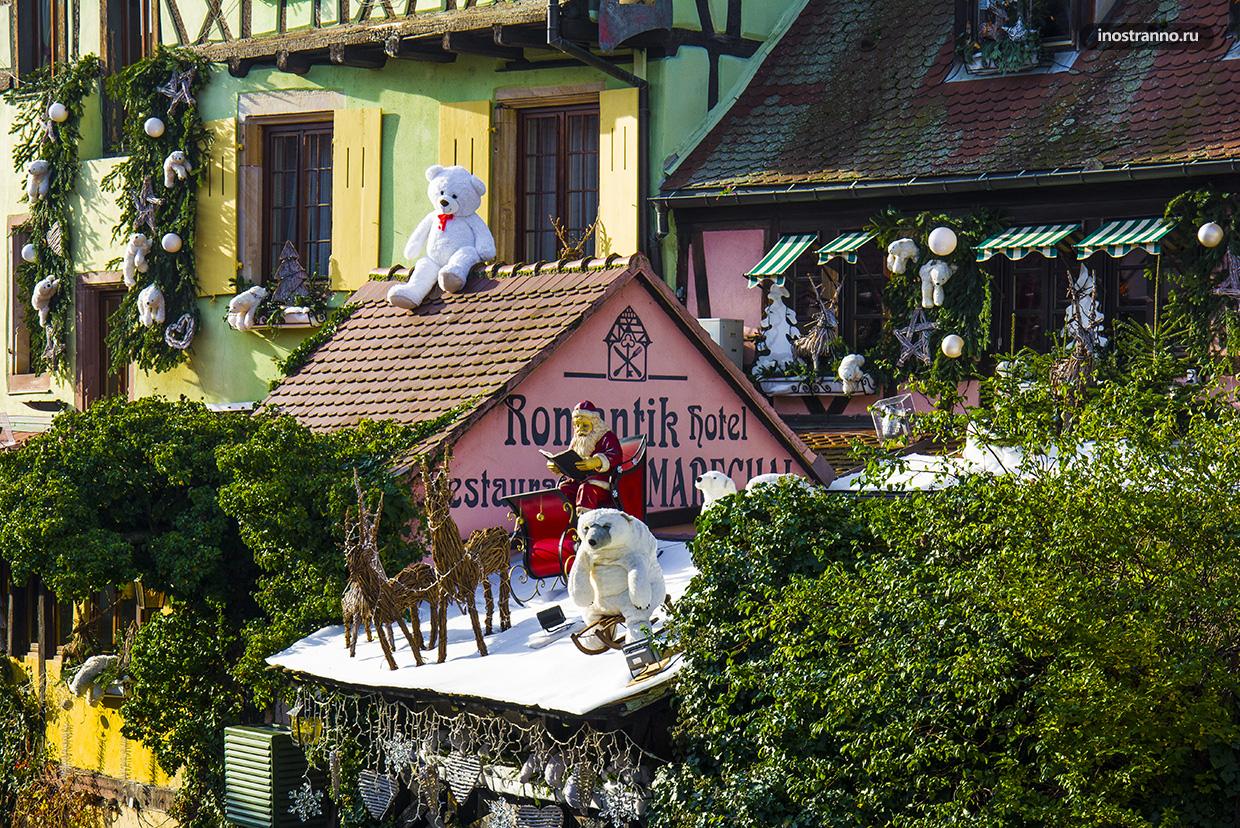 21. Our walk coming to an end, we ran into one of the Christmas stores to buy small souvenirs with sweets, because we have one more city waiting for us today before we return to Strasbourg.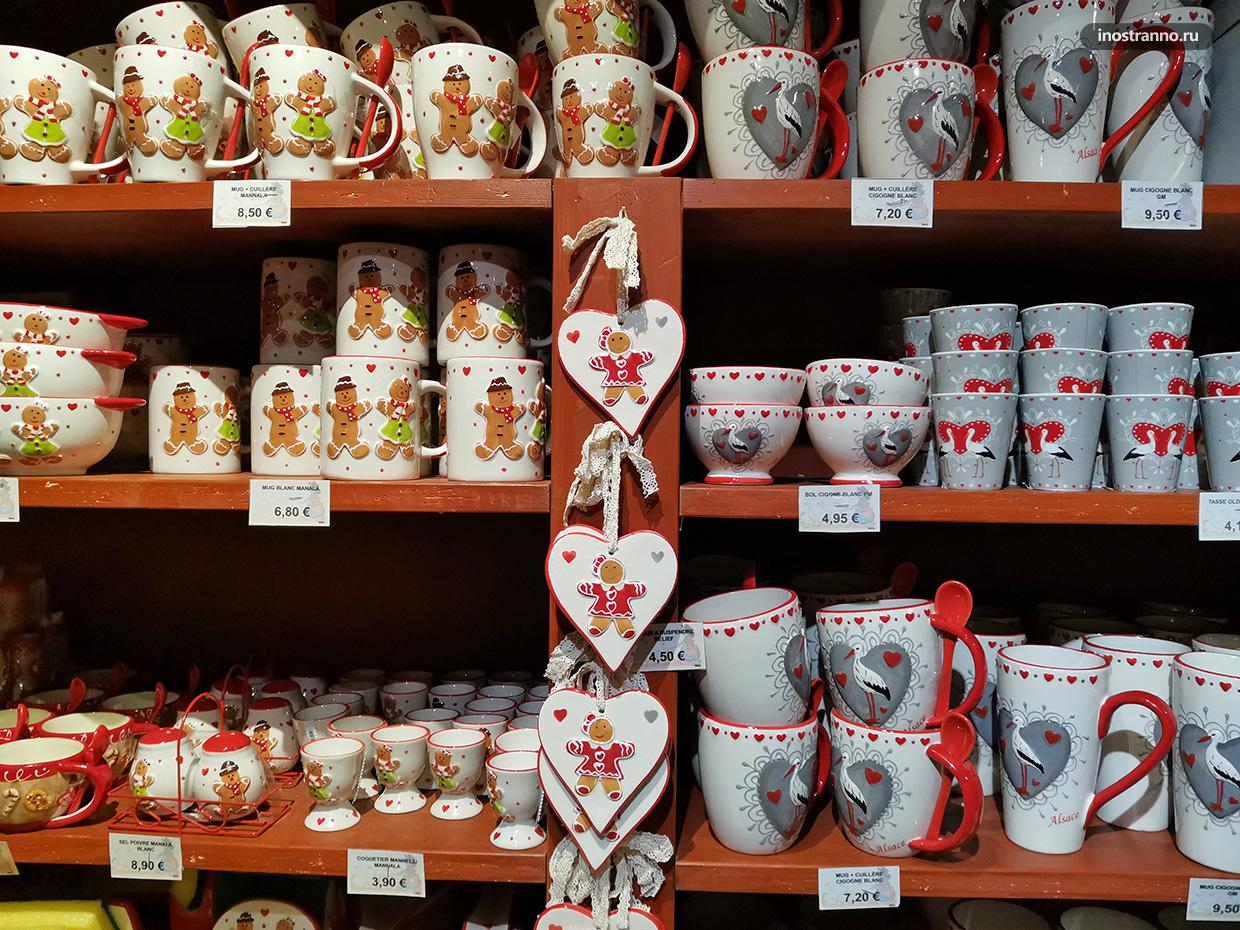 22. A bonus for those going to Colmar is a map of the city with sights and Christmas markets.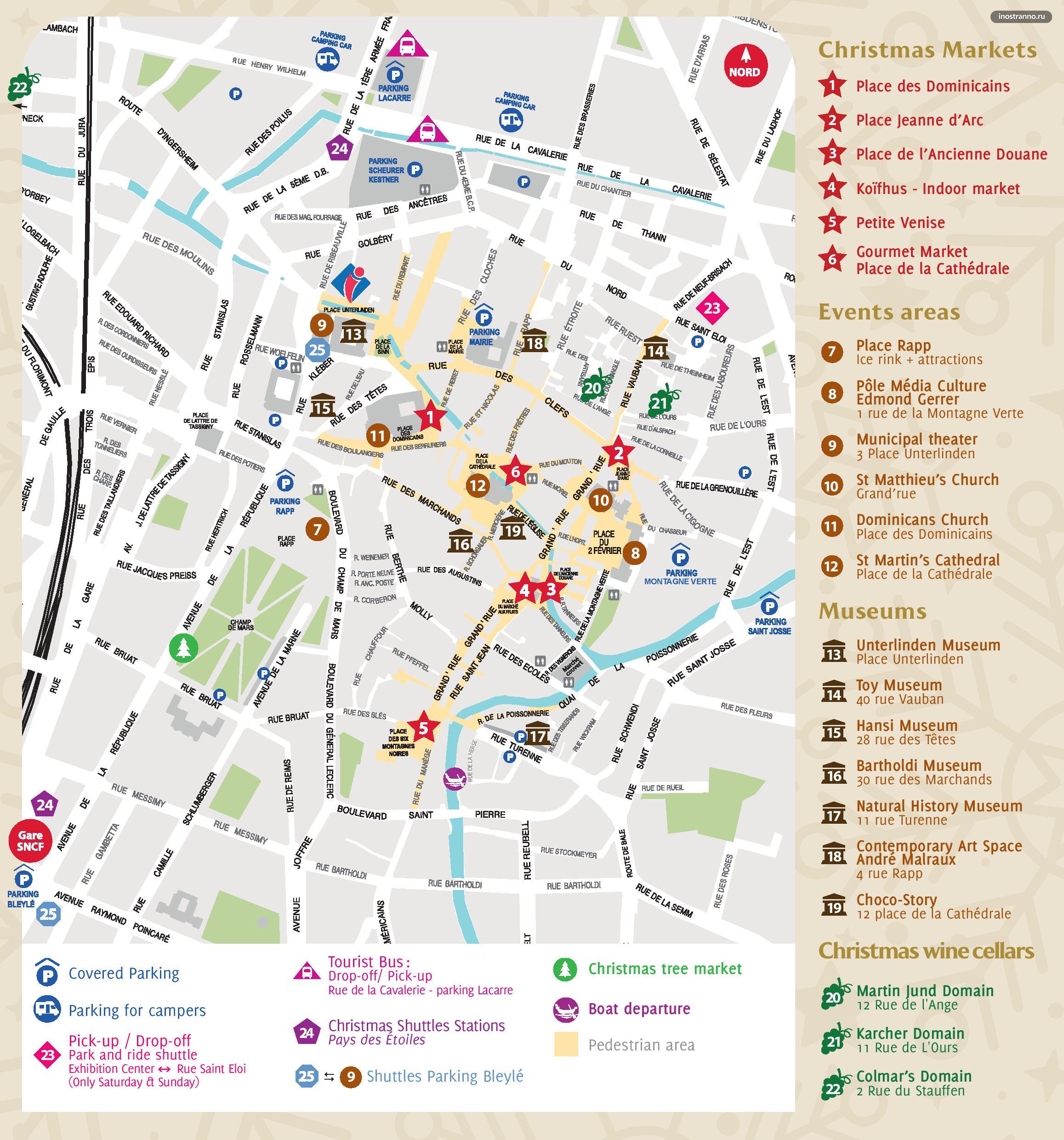 You may also be interested in
Sites for saving money when traveling!
Hotellook – Honestly compare prices and discounts on hotels and apartments in 50 booking systems (Booking, Agoda, Ostrovok.ru, etc.). Plan your trip in advance and save up to 40%!
Search the cheapest air tickets without extra charges from reliable agencies, official dealers of Aeroflot, S7, Ural Airlines, and all popular airlines worldwide.
Andrey Sekachev
I was born and grew up in Siberia and have been living in the Czech Republic in Prague since February 2012. In my free time I love visiting new cities and countries. To date, I have been to 36 countries and 400 cities. I love Italian cuisine, swimming in the sea and long walks. I am a bit afraid of planes, so I know how to travel by land.