Where to stay in Milan
Here are the tips for travelers: where to live in Milan. Learn about the different neighbourhoods of Milan and get useful information about the city before booking your hotel or apartment. Choose the right places! Talusha shares her experience.
Milan (Milano) is a city as interesting and varied as the capital of Italy, and just as big, noisy and crowded. The main thing, in my opinion, when choosing a hotel in Milan – decide what the purpose of your trip, because first of all it will depend on the area where you will be located. The purpose may be shopping, or viewing the city itself and its grand cathedral, plus a visit to the "Last Supper," or perhaps you want to use the capital of Lombardy as a base for the survey of the surrounding area. You should choose your accommodation according to your goals, not without considering the budget of the trip.
Combinations are also possible (assuming a long stay in Milan): let's say to stay in the center for a few days and see all the main attractions, and then move to the train station to visit nearby cities and not waste precious light time on the Milan Metro. There are always exceptions to every rule: for example, if you are going to the capital of Italian fashion in order to do some shopping, you don't have to stay in the Via Montenapoleone, you can live near the central train station and spend the money you saved on unnecessary things. If your trip is planned in the first half of January or in mid-July, it is worth to start booking hotels in Milan as early as possible, because on these dates in the city are on sale and the city is overcrowded.
In what area of Milan to stay?
Below we will discuss hotels in different areas of Milan. First of all, we will talk about the historical center of the city and the surrounding areas:
Hotels close to important sites such as:
Finally, this article will conclude with some attention to the issue of apartment rentals:
The area around Milan's Cathedral (Duomo
The area around Duomo is one of the most popular accommodation areas in Milan. Nearby, in a radius of 5-10 minutes on foot a lot of stores, to the theater "La Scala" about 10 minutes walking distance, to all the city sights – 5-30 minutes and the famous shopping area – about 15-20 minutes, and the active shopping starts right at the Duomo – in Via Vittorio Emanuele (Corso Vittorio Emanuele). At the same time, this area is relatively expensive, and it's worth thinking whether you're willing to pay 120-250 euros per room or better to settle a little further away and save a couple of hundred euros on a silk dress for yourself. The disadvantages of the area, in addition to high prices, can include some general "shabby" many hotels – their owners are apparently convinced that tourists will visit Milan anyway, to go anywhere else, and therefore do repairs not necessarily. In addition, hotels in the center are often characterized by such deficiencies as small rooms, where you can not turn around, tiny elevators (or lack of them), Internet, which is available only in the lobby (although promised in the room) and other unpleasant things up to outright deception – I particularly know cases when tourists were faced with additions to the bill, or even found that they were put in a higher category rooms without warning and were required to pay extra money for it when checking out. The area around the cathedral is also noisy, so when booking a room overlooking the courtyard and as high as possible (assuming the hotel has an elevator). Another nice thing about Milan is that even by Italian standards breakfasts are poor: the choice is small and there are often no hot dishes, and breakfast rooms can be so narrow that at peak times there are lines at the tables (however, this problem can be solved by getting up early). All these and other nuances are usually described in the reviews on the reservation sites, which is why they should be carefully read before you book and pay for a room in the hotel you like. In my opinion, hotels like Hotel La Madonnina or Hotel Spadari Al Duomo are interesting options for staying in the Duomo.
"Fashion Quarter
Just north of the Duomo is the so-called "fashion district" (aka Quadrilatero d'Oro or Quadrilatero d'Oro). Orient your map to Via Montenapoleone (via Monte Napoleone), which is its center, or to the Montenapoleone metro station. Here you can find the coveted boutiques of all kinds of fashion houses, and the Duomo and La Scala are only a 10-minute walk away. Some of the hotels here are owned by fashionable brands and claim to have designer labels for their rooms. For example, the Armani Hotel Milano, which in the corridors smells of the brand's different fragrances, is worth looking into if you are not afraid of the price tag of around 500 euros per night. Hotels in this area also have outrageous prices for parking, so you should think twice before renting a car in Milan or come here by car. Breakfast and even coffee in neighborhood bars are also expensive, so it is better to have breakfast somewhere nearby – for half the price and not worse than in the institutions of the "fashionable quarter. On the other hand, unlike hotels near the Duomo, there are many more or less modern buildings, and the hotel may well have all the amenities of civilization – for example, a wellness center with a modern fitness room, Turkish bath and whirlpool, as at the Hotel Manzoni.
Between the Duomo and Castello Sforzesco
Northwest of the cathedral, the Via Dante and the Cairolli Castello metro station is also a pretty neighborhood. Located between the Cathedral and Castello Sforzesco, you're still in the middle of the city, near both the Cathedral and the fashion district (the Piccolo Teatro, halfway between the Duomo and the Castello, is a great landmark). Hotels here are predictably expensive, but the area is greener than those described above – the fortress and the large park around it have an impact. One of the main problems of the area are noisy streets, so it is worth carefully reading the reviews to find out if the hotel you chose is soundproof and if there are no complaints about the noise from the street. The famous Milanese shopping continues here as well with endless rows of stores all the way to the Ducal Castle. Plus there are noticeably more nutritious establishments, and in terms of prices, they are more affordable than the Duomo. There aren't any "problematic" neighborhoods here, but as you approach the castle steer clear of the black guys waving colored string – they say they can entangle your hands with it and rip out your purse or wallet. And the Parco Sempione, which surrounds the fortress, should probably not be visited at night.
Surroundings of Milan University
If you want to live close to shopping, but at the same time not to overpay for hotels, you may want to pay attention to the east of the Duomo, where there are a number of hotels, including chain hotels, such as the NH President. The prices in this area are already lower and not as crowded as the cathedral, but all the stores and attractions remain within walking distance.
The University of Milan (Università degli Studi di Milano) is also located here, southeast of the Duomo. In practice, it often happens that when there are student campuses nearby, the neighborhood is noisy and dirty, but in Milan everything is relatively decent, and living in university districts is quite possible. The disadvantages are often the same as those around the Duomo – cramped rooms and breakfast rooms and very heavy traffic below the windows, so it's worth booking a room with a window facing the courtyard. The Best Western Hotel Ascot is one of the best hotels in the area.
Surroundings of Milan Central Station
Milan has several train stations, but the main one, where probably the largest number of tourists arrives, is Milano Centrale . There are a lot of hotels around the station and judging by the number of reviews on booking sites they are very popular. No wonder: prices of hotels in the area of the station are one and a half to two times lower than in the historic center, but at the same time to the center close – Milano Centrale Metro Station is right next door, and you can walk to the same Duomo (to walk about 30 minutes). The Citysightseeing sightseeing bus stop is also nearby. Finally, the Aeroexpress trains and buses to Malpensa Airport depart from here. Staying here is a great option if you want to save on hotel costs but not at the expense of quality, or if you plan to travel around Lombardy by train. On the downside, the station square is crowded and the traffic is heavy, but many hotels emphasize that their rooms are soundproofed, and it's true. In the building of the station are beggars and tramps, but outside the station I have not seen them, the station square is also quite clean. I stayed in a hotel near the central station – not a bad option. In particular, I advise to pay attention to Hotel Michelangelo or Starhotels Echo, located near the station, especially if you like to have a good breakfast and want good things like air conditioning and a TV with satellite channels.
If for some reason you do not want to live directly near the station, you can look at the area between the station and another shopping street – Corso Buenos Aires. You can orient yourself, for example, on Via Mauro Macchi. Once you pass a couple of blocks from the station, as the number of cars decreases sharply, and you find yourself in a quiet and very respectable residential quarter, where the station is only 5-10 minutes of walking and the shopping is about 10 minutes, and if you want you can even walk to the Duomo (about 30 minutes of walking through the shopping streets). There are also small cafes where locals go and even a Billa supermarket. In the area, Hotel Mediolanum is worth checking out for a reasonable price for Milan.
Corso Buenos Aires
In fact, Corso Buenos Aires is also a nice place to stay if the main purpose of your visit to Milan is shopping. The street is kilometers long and full of stores and you can easily stay in one place, especially if you take into account that there are a lot of small cafes and a quite decent supermarket "Pam" where you can buy at least some fruit. Hotels are also available, but consider that this is a busy traffic street and when checking in you should ask for a room that overlooks the courtyard so you can sleep peacefully at night. The railway station is about 15 minutes away on foot and there are regular buses to the airport, so from a strategic point of view these hotels are also quite conveniently located. In Corso Buenos Aires you can also walk to the Duomo, which again takes about 15 minutes. In Corso Buenos Aires I would advise you to check out the Hotel Cristoforo Colombo, Hotel Napoleon and Best Western Hotel Galles.
Surroundings of Porta Garibaldi Station
Another transportation hub of Milan is the Milano Porta Garibaldi train station, located southwest of Milan Centrale, between Milan's central station and the aforementioned Castello Milano. It is a relatively new neighborhood, where construction is still going on, including skyscrapers, so part of the quarter near the station is blocked by scaffolding and there is not much to walk around. At the same time, nearby is Corso Como street, which has a lot of cozy cafes, bars and clubs and a shopping center "10 Corso Como", so you can find something to eat or hang out. It's a 20-25 minute walk to Piazza Duomo and about 15 minutes to Central Station, plus there are shuttles to Milan's airports. The NH Grand Hotel Verdi and UNA Hotel Tocq are great options in the area. Despite the good transport links, I would advise staying here only if you have an early morning flight from Porta Garibaldi Station or if you arrive late at night.
Hotels near Milan's exhibition centers
Milan is one of the world capitals of exhibition. Here are held furniture, shoes, jewelry, and many other exhibitions. So it is quite natural that Milan has quite a lot of hotels targeted specifically to participants and visitors of these events. But still keep in mind that there is the old Fair Center FieraMilanoCity, located within the city (near Sempione Park) and the new Fair Center, in the suburbs of Rho and Pero, which, as a matter of fact, is called Fiera Milano Rho-Pero. A list of hotels near the old fairgrounds can be found here, and near the new complex in Rho-Pero, here.
The vicinity of the San Siro Stadium
For soccer fans one of the centers of attraction is Milan's Giuseppe Meazza Stadium (or simply San Siro). Of course there are hotels in its vicinity. It's hard for me to understand this fascination, but if "soccer" is not just a word to you, and "San Siro" is not just a stadium, then the following list of hotels is worth checking out. The stadium is quite far from the historic center, so it only makes sense to stay nearby if you are going to Milan specifically to watch a soccer match. In all other cases you shouldn't go for the local hotels.
The area around Malpensa and Linate airports
If you're flying into Milan from Malpensa airport early in the morning or arriving late at night, you'll have a choice: you can either splurge on a cab or stay overnight at a hotel near the airport. The second option for me personally is preferable, because the hotels near the airport are much cheaper than Milan hotels, and the next morning you can easily get to the city by train for three or four times less than the cost of the trip from Malpensa to Milan by cab. Near the airport I advise to choose from chain hotels (they try to keep their brand), which provide free shuttles from the airport to the hotel. At Malpensa Airport, for example, such an option for me is the Holiday Inn Express Milan-Malpensa Airport, where the more than reasonable price even includes a good breakfast. A more complete list of hotels near Malpensa Airport can be found here.
Also keep in mind the existence of the airport Linate, which is located almost in the city limits of Milan. Directly from Russia there are no flights to this airport, but flight connections are available. If you can fly through Linate, it's much more convenient than flying through Malpensa – in this case the question of finding a hotel for overnight stays near the airport disappears in principle. However, if necessary, you can also find hotels near Linate (see the list here).
Tip: If staying in a hotel in Milan itself is expensive, you should consider staying in large neighboring cities (e.g. Bergamo or Brescia) where hotels are cheaper and transport connections are not worse, especially if you plan to use Milan as a base point to explore the cities of Lombardy. This rule applies to almost all European capitals and major cities.
Renting an apartment in Milan
If you do not like hotels, Milan also has a large number of apartments scattered throughout the city. Milan apartments are usually real apartments in apartment buildings, where you can feel like a real local. These apartments are usually fully equipped: they have not only a kitchen with appliances and utensils, but also air conditioning and wi-fi. Perhaps the disadvantage for some will be the fact that, as a rule, cleaning in the apartment is made only before moving in, then you yourself clean and tidy, but sometimes there are apartments, where the cleaning is still there, but then again, as a rule, only on weekdays. But the dishes will still have to wash them yourself, as well as understand where and how to take out the trash (this is an important question, because in a number of Italian cities are strict rules of trash – often it is necessary to collect it separately by group: glass, tin, paper, organic waste, etc., so it is worth clarifying this issue for yourself or in advance, or when getting the keys). If you want to not only heat pizza in the microwave, and eat full Italian food, then it's worth scouting out where nearby supermarkets are, and if you like tea, then you'll have to either bring a kettle (in Italian apartments usually only coffee maker), or heat water in a pot. A nice and inexpensive option is, for example, the apartments of Residence De La Gare, located on a quiet street 5 minutes from the central station. Here is what to see more about Milan's apartment cities.
Milan neighbourhoods – where to stay
Milan is divided into 9 administrative districts with many constituent parts, but not all of them are suitable for comfortable tourist accommodation. Some are too noisy, some are dangerous and some are far from the center and public transportation stops. Choosing options for booking, be sure to pay attention to the area of Milan where the hotel or apartment is located. Otherwise the trip may leave unpleasant memories, despite the fact that the northern capital of Italy is beautiful and hospitable.
Map of Milan districts
In 1997-99 the authorities of the northern capital of Italy implemented a project of new division into zones. Before that there were 20, now there are 9. They do not have official names and are numbered with Arabic numerals.
Zone 1 – Historic Center (Centro Storico).
Zone 2 is the Central Station (Stazione Centrale), the quarters of Gorla, Turro, Greco and Cresencago.
Zone 3 – the school town (Città Studi), the Lambrate quarter, Porta Venezia.
Zone 4 – Porta Vittoria, the Forlani quarter.
Zone 5 – the quarters of Vigentigo, Chiaravalle, Gratosoglio, Ticinese.
Zone 6 – quarters of Barona, Navigli and Lorenteggio.
Zone 7 – De Angeli, the neighborhoods of Baggio and San Siro.
Zone 8 – Fiera, Gallaratese and Cuarto Ojaro quarters.
Zone 9 – Porta Garibaldi (Stazione Garibaldi), the Niguarda quarter.
Milan's best and most dangerous neighborhoods – overview
The most popular among tourists are considered to be: The Historic Center, the Navigli and Central Station neighborhoods. Each of them has its own benefits and certain nuances, so living here will not suit everyone.
Zone 1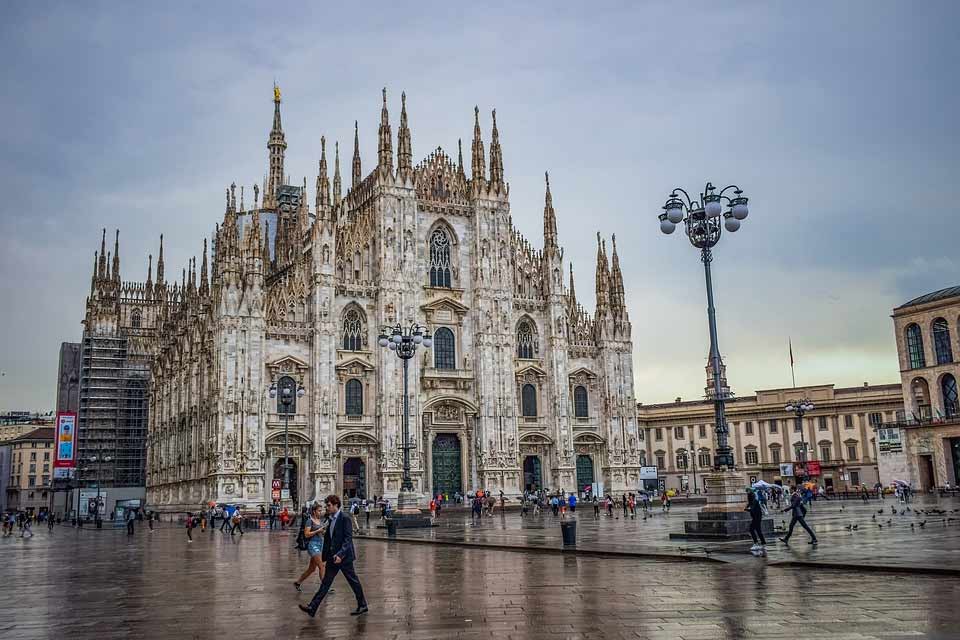 Districts: Duomo, Brera, Vigentina (viale Beatrice d'Este), Ticinese, Guastalla, Magenta-San Vittore, Parco Sempione, Giardini Porta Venezia, Pagano, Sarpi.
It is convenient and even prestigious to rent accommodation in Zone 1, but not everyone can afford it. By the way, in the evening in Sempione Park you can meet not too pleasant personalities, and in the square near the colonnade of San Lorenzo – representatives of the free lifestyle "under the degree and marijuana", so next to these places to stay is not recommended.
The area is bounded by the so-called "Spanish Bastions". This is where the main attractions of Milan are located:
; ; ; with the Sempione Park;
Brera quarter with the Pinacoteca of the same name; ; with the colonnade of the same name; ; with the famous "Last Supper" fresco; and much more.
Zone 2
Districts: Stazione Centrale-Ponte Seveso, Gorla-Precotto, Adriano, Padova-Turro-Crescenzago, Isola, Maciachini-Maggiolina, Greco-Segnano, Loreto-Casoretto-Nolo.
The Central Station is part of Zone 2, as is the historic quarter of Porta Nuova with its gate built over the ancient Roman road that connected the city to Brianza. Lodging near Central Station is suitable for those who, apart from getting to know Milan, plan day trips to other locations in Lombardy. But this option – to the amateur, because the station – is vanity, noise and congestion of inadequate individuals. In the neighborhoods of Gorla, Turro, Greco and Crescenzago quieter, but better to choose housing will be close to the metro stations.
In the same zone 2 is the famous Piazzale Loreto, where in April 1945 were exposed upside down the bodies of Mussolini and his mistress Clarice Petacci. The neighborhood by the Loreto subway station is noteworthy; here begins Corso Buenos Aires Street, which leads directly to the center of the city. The streets going the other way are not worth considering, although the rates are lower here. The stretch from Loreto Square to Cascina Gobba Metro Station is home to people from Africa and the Arab world.
Zone 3
Areas: Cimiano, Rottole-Quartiere Feltre, Buenos Aires-Porta Venezia-Porta Monforte, Città Studi, Lambrate-Ortica, Loreto, Parco Forlanini-Cavriano.
In this area of Milan is an educational town. It is not too suitable for tourists as it is inhabited by students, which indirectly affects the inflated prices of apartments. Porta Venezia is for shopaholics, because of its proximity to the famous Fashion Quarter. Further away Lambrate and Cimiano are not recommended for temporary stays.
Zone 4
Districts: Corsica, XXII Marzo, Umbria-Molise-Calvairate, Ortomercato, Taliedo-Morsenchio-Forlanini, Monluè-Ponte Lambro, Triulzo Superiore, Rogoredo-Santa Giulia, Lodi-Corvetto, Porta Romana.
Porta Romana area is adjacent to the historic center of Milan. Metro stations, public transportation and infrastructure. Forlanine is further away, close to Linate Airport. You're better off without it, even if rental prices are lower.
Zone 5
Neighborhoods: Porta Vigentina-Porta Lodovica, Ticinese-Conca del Naviglio, Scalo Romana, Chiaravalle, Morivione, Vigentino, Fatima, Quintosole, Ronchetto delle Rane, Gratosoglio, Missaglia-Terrazze, Quartiere Stadera, Quartiere Chiesa Rossa-Torretta, Conca Fallata, Tibaldi, Parco delle Abbazie, Parco dei Navigli, Cantalupa.
The best quarter of this district of Milan is Porta Ticinese, but only those streets that are closer to the historic center of Milan, or rather to the "Spanish ramparts". Here, by the way, surrounded by the ancient city walls there is a unique spa complex QC Termemilano, where you can relax after walking around the northern capital of Italy. The area is partially the quarter of Navigli.
Zone 6
Districts: Ticinese-Conchetta, Moncucco-San Cristoforo, Barona, Cantalupa, Ronchetto sul Naviglio-Lodovico il Moro, Giambellino, Porta Genova, Bande Nere, Lorenteggio, Parco dei Navigli, Washington.
Most of the neighborhoods are considered expensive to live in. There are many historic buildings and churches, including Saints Nazaro and Celso (14th century) and San Marchetto (mid-16th century). In addition, in Zone 6 is the famous quarter of Navigli, but if you want evening silence, it is better not to consider it as a place for overnight stays. At the same time, keep in mind that the Barona neighborhood is notorious for its criminal past and continues to be associated with danger.
Zone 7
Neighborhoods: Porta Magenta, Muggiano, Baggio-Quartiere degli Olmi-Quartiere Valsesia, Forze Armate, San Siro, De Angeli-Monte Rosa, Stadio-Ippodromo, Quarto Cagnino, Quinto Romano, Figino, Assiano, Parco Bosco in città, Pagano.
The area is the greenest in Milan, as there are the most urban parks. The De Angeli neighborhood is not a bad place to live. But San Siro and its stadium are not the best place to stay. Housing there is affordable, but the reason for that is its particular attraction for migrants. San Siro can be noisy on match days.
Zone 8
Districts: Tre Torri, Trenno, Gallaratese-San Leonardo-Lampugnano, QT8, Lotto-Fiera, Portello, Pagano, Sarpi, Ghisolfa, Villapizzone-Cagnola-Boldinasco, Maggiore-Musocco-Certosa, Cascina Merlata, MIND-Cascina Triulza, Roserio, Stephenson, Quarto Oggiaro-Vialba-Musocco, Parco Bosco in città.
It has Milan's Chinatown, the Fiera Milano exhibition center and two cemeteries – Cimitero Maggiore and Cimitero Monumentale with tombstones of amazing beauty. Here, too, is Quarto Oggiaro, Milan's most dangerous peripatetic neighborhood, a symbol of the city's post-war social fabric and a large hostel for migrants. It is not worth choosing an apartment there.
Zone 9
Porta Garibaldi-Porta Nuova, Isola, Niguarda, Ca' Granda-Prato Centenaro-Fulvio Testi, Bicocca, Bovisa, Farini, Dergano, Affori, Bovisasca, Comasina, Bruzzano, Parco Nord, Maciachini-Maggiolina, Greco.
The area has Milan's second largest train station Porta Garibaldi and the Vertical Forest housing complex. The neighborhood is for the lovers.