Where to stay in Malta?
This year we will spend our vacation in Malta. Now we must urgently decide on the choice of city where we stay. I know that the resort areas on the island is not so much. Please advise which city (and hotel) to choose for a family vacation. Thanks in advance for your help!

evaluate
Malta has many interesting places where you can have fun and have a good rest. Such places include the island of Gozo. It is one of the best Maltese islands, which is ideal for family vacations. Lovers of constant partying and nightclubs do not choose this resort. The island boasts beautiful nature, well-developed infrastructure and everything you need for recreation.
The island can please vacationers with stable weather conditions. In summer it is dry, precipitation is extremely rare, the temperature fluctuations, if any, are minimal. The average air temperature in the summer months is between 32-35 degrees. Beach season opens in May and lasts until mid-October. In winter, the temperature rarely drops below 10 degrees above zero.
Beaches are many and varied, everyone can choose the beach he likes best. In addition to sandy beaches, there are pebbly, rocky, rocky and even concrete beaches. The most popular are the beaches of San Blas and Ramla Bay. To get around the island is better to rent a car or take a cab. There is a bus service, but it is poorly developed, so do not rely on this type of transport (the size of the island is not small, so all the time walking is not an option). You can take the ferry yourself to other islands and save on buying excursions.
The island has a sufficient number of hotels of different stars, but the hallmark of all hotels is a high level of service. Each hotel on its territory has bars, swimming pools, terraces. Some hotels have their own tennis courts. In addition, each hotel has its own range of entertainment. And here we are talking not about the animation, but the gyms, spas, saunas, diving centers and more. Outside of the hotels, there are plenty of water rides, opportunities to go scuba diving, fishing, go to a nightclub, sit in a restaurant and much more.
In terms of attractions, there is plenty to see, but the most significant place on the island is the Citadel Fortress. For centuries, this structure has served as a defense against pirate raids. Inside the fortress are several museums that can tell you about the life, culture, religion and history of the Maltese state. There are the Folklore Museum, the Natural History Museum, the Cathedral Museum and the Museum of St. George. Besides the Citadel, you can also visit other places of interest, including the Palace of Justice, the Bishop's Palace, the blooming gardens of Randle and many others.
It is to this island I advise you to pay attention. Compared with other resorts here is not so noisy and, nevertheless, you can choose entertainment for all tastes and pockets.

evaluate
In terms of entertainment, a Maltese resort such as St. Julian's is the best. Previously, this town was an ordinary fishing village, but over time has turned into a great resort, while to this day here respects and honors the traditions of yesteryear. The city is considered the center of nightlife in Malta, there are several hundred restaurants, bars, nightclubs. It is here that one of the best and largest discos in the world – Axis – is located. Most hotels here are five-star (here is also located the residence of the President of Malta). In general, the question of the cost of recreation in Malta is a separate subject, but be prepared for the fact that it is expensive, at times very expensive (much more expensive than in Cyprus).
The city is located around the Bay of Spinola. This is a very beautiful bay, on the shores of which there are wild cats and ducks (these are the traditional inhabitants of this archipelago). St. Julians is located near Valletta, and the main income of the city's coffers is income from the tourism business. In the summer a huge number of tourists visiting the resort, but we are not talking about the Russians, but the young tourists from Europe (the Russians come too, but they are not many). Malta is known worldwide as the best place to learn a foreign language, so there are always a lot of young people who combine study and rest.
The beaches of the resort are in perfect condition and there are ideal conditions for a comfortable stay. In addition to nightlife, there are all kinds of entertainment, including the opportunity to fish (fishing has lost its relevance a little over the years, but the locals are well versed in this matter). You can also try your hand at scuba diving, bowling, horseback riding and many other activities.
The main attraction of the city is the palace of Sinola, which was built back in 1658 by Giovani Sinola – an Italian knight. There is a casino on the grounds of another historic building, Villa Dragonara. Tourists are also offered a wide range of excursion programs, though the prices for such trips are biting. But if you're going to go on holiday to Malta, you must be aware of local prices and prepare a few thousand euros (with less money there is nothing to do).

evaluate
Of all the cities in Malta, it's best to choose Sliema for accommodation. There are several reasons in favor of this. First, you will notice that the choice of hotels here is more than in other tourist areas, and the prices are significantly different in the favorable direction. The second reason is the very convenient location. You can reach the capital city of Valletta in about 30 minutes by bus or by ferry which sets off regularly from the Sliema Pier. And in the Sliema itself, there is something to see. There are lots of unique architectural masterpieces that are described in the guidebooks as the most interesting in Malta.
If you'd like to visit the famous beaches in the North of the island or indeed the islands of Gozo or Kamino, again this is very easy. From Sliema there is a bus service to Meliehi and the ferry to Gozo and Kamino. It's a little over an hour drive, but the time flies by while you're admiring the beauty of the local nature.
Of the hotels in Sliema, I recommend the Imperial Hotel. It is conveniently located in the center of the city and there is a bus stop for the airport express from Malta within walking distance from the hotel. The hotel is in an old building but don't let this scare you. Inside all communications are in good order and the staff is markedly courteous. Do not hesitate to make any request at reception, everything is guaranteed.

evaluate
We booked Sunny Coast Resort & Spa- AX Hotels for two adults and three children (one infant) and we were very happy with our stay. Three rooms including two bedrooms, living room with kitchen, bathroom, balcony with sea view in both bedrooms. Nearby dive center, went to Perched Beach bulk beach, aquarium nearby, but we rented a car and drove around the area.

evaluate
If you want to stay cheap, the Asti Hostel is situated on St Ursula Street, Valletta, the capital of Malta. It is five minutes walk from the bus station. There are not many places to stay, the night costs from 30 euros, breakfast included.
Of the hotels with an adequate price ($ 50 per night), I can recommend Osborne and Phoenicia. Queen Elizabeth II stayed at the last one.

evaluate
There is a wonderful resort in Malta – Sliema. Probably one of the most popular for tourists. In addition to beach rest Sliema can offer a large number of boat and diving tours, there are parks, as well as a huge number of for such a small area of entertainment.
As for the hotel, it all depends on your budget, if a hostel is not an option for you, then there is a wonderful hotel Imperial Hotel, the room which will cost you somewhere around 2500 rubles, also the Europa Hotel has a good reputation and the view from the divine rooms, located right on the beach, the room is around 3000 rubles. But again, the prices depend on the time you book the room.

evaluate
Malta is a small island country and its territory is very small. Choosing a place for recreation, you can be relaxed that from anywhere in Malta will be convenient to make excursions, walks and visit the sights.
The capital city of Malta, Valletta, in my opinion, is not suitable for a family vacation. The city itself is small and there are no equipped beaches. You can come here for a sightseeing tour by boat and for a walk in a real carriage.
The town of St. Julian is more suitable for a holiday for young people. After all, there are a huge number of pubs, clubs and bars, because not for nothing this town is called a club.
The area of Mellieha is famous for its great great big sand line, where you immediately feel the resort area. On the beach Meliha bay is good to rest with young children. Here the water is shallow, warms up quickly, and swim in it pleasantly.
Not a bad place for a family vacation is the town of Sliema. There are many modern hotels, which are located directly beside the sea. The town has a beautiful promenade, a good play area Playzone and a large shopping center The Point with a play area for children. But one downside to Sliema is that the beaches are rocky platforms.
If you want a comfortable family vacation in silence choose Bujibba or Aura. These resorts have a lot of different attractions for children, but the beaches are stony and are not suitable for small children, but the entertainment is great. In Aura there is a water park, aquarium, bird park and biopark.

evaluate
Most of all I liked the vacation in the capital of Malta – the city of Valletta. There are many beautiful buildings and squares. parks and shopping stalls, where you can not only enjoy the beauty, but also to buy everything you need: souvenirs, gifts, etc.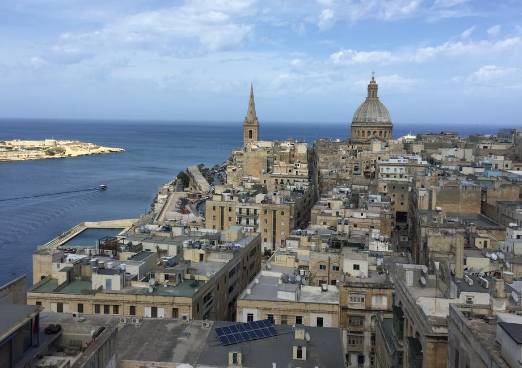 In choosing a hotel, you should pay attention to the number of stars, this will depend on service and services. On average, the price for a hotel room from 150 euros per night for two people I would recommend Osborne Hotel, clean, comfortable with a beautiful view from the window. Nice and courteous staff. The food is delicious.
Where to stay in Malta: The best areas and hotels
Soaked in Mediterranean sunshine almost year-round and steeped in the legacy of ancient civilizations, the balmy Maltese islands (Malta, Gozo and Comino) appeal to all types of travelers. Those who love culture and history should choose the elegant capital city of Valletta as their base, where discoveries of magnificent baroque palaces, magnificent churches and fascinating museums await. For visitors looking for old world atmosphere and pastoral charm, a few nights in Mdina will delight, with the magic of a medieval, walled hilltop town, completely untouched by modernity and surrounded by the picturesque Maltese countryside. If instead is a trendy tourist scene and seaside sunshine, Sliema near Valletta is the place to find a resort hotel or rooms in modern style. How about a classic beach vacation with a relaxing island vibe? Plan to spend most (or all) of your vacation in Mellieha, Malta's most expansive sandy coastline, or on the island of Gozo, where quaint villages dot the bucolic landscape and gorgeous coastline. To enjoy a deserted island getaway, take a ferry from Gozo to the island of Comino, famous for the crystal clear Blue Lagoon that dazzles many tourists.
Where to stay for sightseeing
The Street in Valletta
The most interesting and historic city in Malta is Valletta, and the best place to stay in Valletta is in the ancient ramparts of the city. Valletta City Centre is a UNESCO World Heritage Site , a great choice of accommodation here is La Falconeria . This stylish, modern hotel is within walking distance of St. John's Cathedral, the Grand Master's Palace, the Museum of Archaeology and other city attractions. The hotel has standard rooms overlooking the peaceful courtyard and suites with balconies or terraces. The Osborne Hotel is also centrally located in Valletta, in a convenient location for exploring historic sites. It has modern rooms (luxurious rooms with sea views), a traditional restaurant, a sun terrace and a small swimming pool.
Outside the city gates of the fortified city of Valletta, the Excelsior Grand Hotel is a five-minute walk from the historic landmarks in the city center. The hotel takes advantage of its location along Port Marsamxet with a lovely terrace, a superb outdoor pool and a small private beach. This large, modern hotel offers a wide range of rooms, from standard rooms to suites with harbor views.
For a truly magical experience, spending the night in the medieval town of Mdina. After tourists have left all day, the pastoral tranquility fills the twilight with enchanting silence and gives visitors the feeling that they have been returned in time. The Xara Palace is a Relais & Chateaux property but it is relatively affordable for this class of hotel. In this location on the ancient ramparts of the city, visitors can easily see the many historic sites of the UNESCO World Heritage City as well as the neighboring town of Mdana in Rabat.
In the tranquil rustic village of Zebbug , De Rohan B & B is a truly special place for an authentic Maltese experience. It features beautifully decorated, spacious rooms and a small swimming pool. The town offers many historical attractions and is within easy reach by car or bus to Mdina, a medieval town listed by UNESCO, and the traditional Maltese village of Siggievi with its impressive Baroque church and notable religious and cultural festivals throughout the year.
Where to stay near the beach
Ir-Ramla il-Hamra Beach, Gozo
The closest beach area near Valletta is in St. George's Bay in the district of St. Julian, The Radisson Blu Resort Hotel is located just 1.6 km from the center of St. Julian. It is one of the best beach hotels in the area. This modern five-star hotel boasts beautiful sea views; a sun terrace by the lagoon-shaped pool; and a private, sandy beach.
Overlooking St. George's Bay , Marina Hotel Corinthia Beach Resort pampers guests in a seaside paradise of activity and relaxation. Within walking distance of sandy St. George's Bay , the hotel has several restaurants; five pools, including a children's pool; a private beach with a safe-swimming area and beach volleyball court; snorkeling and water sports centers; a boat dock; and yacht charter services.
One of the most beautiful beaches on the island of Malta Golden Bay , In the higher-end price range, the Radisson Blu Resort & Spa, Malta Golden Sands is a five-star hotel just steps from the stunning Golden Bay beach, where sunbathing under bright sun umbrellas while listening to gentle waves. The resort is also within walking distance. Majlistral National Park , a great place for hiking and nature walks.
The pleasant seaside town of Marsalforn on Gozo has a lively promenade with restaurants and stores, a very small beach and picturesque views of the harbor. In this laid-back resort town, Hotel Calypso is a great choice, with modern rooms and a pool. Nearby (10 minutes or 30 minutes by bus from Marsalforn) is the best beach on the island of Gozo, Ir-Ramla il-Hamra Beach , ideal for sunbathing and swimming, thanks to its sheltered location, gentle waves and extensive coastline (the largest on the island) of fine reddish sand. Visitors will also appreciate the snack bar, public toilets, showers and umbrellas and lounge chairs.
The largely uninhabited Island of Comino offers a dreamy look of a deserted island. Depart by boat from the island of Gozo and spend a few nights in your own paradise at Hotel Comino (the only hotel on the island) overlooking the turquoise bay of San Niclau. Here, visitors enjoy peace and quiet as they discover the unspoiled landscape of the tiny island, with its pristine sandy beaches, secluded coves, fertile valleys and dramatic cliffs. Staying at Hotel Comino also has the advantage of avoiding the hordes of daytrippers who descend (by ferry or pleasure boat) on the island's famous Blue Lagoon daily, from 10 a.m. to 4 p.m. Early in the morning or late in the evening, visitors can experience the mesmerizing tranquility and crystal clear waters of the Blue Lagoon.
Where to stay in luxury
View from the Palace Hotel
In the heart of Valletta, opposite the Carmelite Church, Casa Ellul offers luxurious accommodation in an elegant neoclassical palazzo. This small boutique hotel has only eight guest suites (booked months in advance) – all exquisitely decorated and with stunning views of the courtyard or city. The magnificent Teatro Manoel, one of the oldest theaters in Europe, is just steps away, as are many excellent restaurants.
Another luxury hotel in historic Valletta next to the Teatro Manoel is the Boutique Hotel De Vilhena, an elegant hotel in a recently refurbished building with modern rooms and marble bathrooms.
Hotel Palazzo Consiglia is located on the lower end of the luxury category, in a traditional Balinese townhouse in historic Valletta, with a sumptuous marble entrance and atmospheric courtyard. Rooms are furnished with authentic furnishings and modern bathrooms. For truly pampering, take advantage of the hotel's wellness spa or head to the rooftop terrace, which offers breathtaking views and a small recreational area, including a mini-pool.
In Floriana , a community that is behind (within walking distance) the ancient ramparts that surround Valletta city center, Hotel Phenicia is a newly renovated hotel set in lively gardens with swimming pools. The hotel's lively, modern rooms offer views of Valletta's historic buildings and Grand Harbor. The hotel has a casual café-restaurant as well as an upscale restaurant serving gourmet dishes on the outdoor terrace or in the more formal dining room.
Sliema is the place to stay for those interested in sea cruises, boat trips and day trips from Valletta to Gozo or the Blue Lagoon on the island of Comino. In the heart of the bustling tourist area, The Palace is a five-star hotel with a modern, cosmopolitan feel. There's a trendy rooftop café and restaurant on site, as well as a pool with stunning panoramic views.
Within the medieval walls of Mdina , Xara Palace is a prestigious Relais & Chateaux hotel offering luxurious lodging with a fine restaurant and ornate rooms. The hotel is just steps away from the historic sites listed by UNESCO.
For those visiting the Island of Gozo, the Ta 'Cenc Hotel offers an oasis of charm and luxury in a delightful hilltop location. This five-star hotel is surrounded by lush gardens filled with fragrant flowers. The hotel has a gorgeous pool, a gourmet restaurant serving Mediterranean cuisine, and a gorgeous view of the countryside.
Where to stay for the best price
In the heart of the old fortress city of Valletta, Hotel Castille occupies a restored 16th century manor house. This noble architectural gem has been updated with a brightly colored facade, modern rooms and a rooftop breakfast area that provides exceptional views of the harbor. The location in Castile Square is fantastic, as it is a few blocks from St. John's Cathedral and just steps from the upper Barracks Gardens, which provide sensational panoramic views into Valletta's Grand Harbor. The Grand Harbour Hotel is also located in the historic center of Valletta. It is a comfortable medium-sized hotel with exceptional views of the city and harbor, especially from the rooftop terrace.
A resort hotel in the tourist hotel South District near Valletta, Corinthia St. George's Bay Hotel has a spa, hair salon, water sports center, yacht charter services and diving school. The hotel has eight different restaurants and six pools, including two adult pools and one shallow pool for little ones.
On the idyllic Island of Gozo , the Cornucopia Hotel in Xaghra offers plenty of charm and spacious accommodation at a price. The small village of Xaghra has a typical town square with a 19th century church and outdoor cafes. The main attraction in Xaghra is the UNESCO-listed Ggantija Temples, a remarkably well-preserved archaeological site dating from about 3600 BC to 3200 BC and considered older than other ancient heritage sites including the pyramids in Egypt and Stonehenge in England.
Where to stay on a budget
In historic downtown Valletta, overlooking Grand Harbor, the two-star Hotel British has small but comfortable rooms, a panoramic restaurant and a rooftop sundeck.
A short ferry ride from Valletta through Marsamxet harbor, Sliema is a tourist area with an expansive waterfront, many modern high-rise hotels and many restaurants.The Victoria Hotel is less than 1.6 km from downtown Sliema. It offers trendy, modern-style rooms at a bargain price. The 4-star hotel includes a rooftop terrace, swimming pool, gym and spa.
In the seaside resort of Birzebudge , Water Edge Hotel is a beachfront property with a restaurant and free parking. The town is prized for its picturesque cove and sandy beach, as well as its selection of stores and restaurants along the waterfront. Visitors can quickly reach Gar Dalam, a fascinating Neolithic archaeological site with evidence of Malta's earliest inhabitants.
On the Island of Gozo, in the historic fortress city of Victoria, the Gallerija House Hotel offers affordable accommodation in a large old stone building. It offers a charming decor and an atmospheric location in an old medieval street. In the picturesque village of Xlendi on Gozo, the San Andrea Hotel has quaint guest rooms, friendly staff and a desirable seaside setting, just steps from the beautiful waterfront.
Where to stay for families
Popeye Village in Anchor Bay
Overlooking the sparkling azure waters of St George's Bay and St Julian's Bay, the St Julian area is a good choice for families with children because of its proximity (about 10 miles) to the Splash & Fun Water Park at Bahar Ic Caghaq (near Naxxar) and to the National Aquarium of Malta at St Paul's Bay. Thoughtfully designed for families with children, the Hilton Malta is located in a spectacular setting by the marina at Portomaso in the St. Julian area. This upscale hotel offers babysitting services, a children's garden, a restaurant with a children's menu, a playroom, a playground and a pool with four pools and a sleeping pad for children.
In the town of Qawra about 30 minutes north of Valletta, DB San Antonio Hotel + Spa is a short walk from the sandy beach and has three outdoor pools overlooking St. Paul's Bay. This modern, Moorish-style resort hotel is great for families because the all-inclusive includes three meals a day buffet. The hotel has special rooms for families, a children's room, a children's playroom and a pirate ship children's pool. Children will also enjoy a visit to the nearby National Aquarium , a 10-minute drive from the town of Troika Trusserriere.
On the Island of Gozo, Kempinski Hotel San Lawrenz is a large, upscale resort hotel with a stunning swimming pool and outdoor sunbathing area. The spacious, contemporary-style rooms have balconies overlooking the bucolic landscape of San Lawrenz.
Meliha, on the island of Malta, is a popular seaside resort town that attracts many families because of its child-friendly attractions. The sheltered sandy beach at Meliha Bay, Malta's largest beach, is ideal for children because it has calm, gentle waters that are safe for swimming. A ten-minute drive from Mellieha Bay is Popeye Village Malta, a film set for the 1970s movie Popeye. Kids love visiting Popeye Village where they can meet their favorite characters and check out the highlights of the Popeye Comics Museum. The dB Seabank Resort + Spa is just steps from the beach at Mellieha Bay and a short walk from the ferry to Gozo Island. Ramla Bay Resort in Marfa (near Mellieha) is a four-star beach hotel with its own sandy beach and seawater pool. On the north coast of Malta, this hotel overlooks the island of Gozo with panoramic views of unspoiled countryside and the deep blue Mediterranean Sea. The beaches of Armiere Bay, Paradise Bay and Mellieha Bay are a short drive away.