Where to stay in Copenhagen
Advice for travelers: where to stay in Copenhagen for a tourist. The pros and cons of the different districts of Copenhagen, as well as other useful information about the city, with which it is worth to get acquainted, before booking a hotel or apartment. Choose the right places! Talusha shares her experience.
The Danish capital, though not the center of attraction of tourist traffic, such as, for example, Stockholm or Helsinki, is still quite a visited city, not least because of the competent PR of the local attractions – the Little Mermaid statue, Tivoli amusement park and the self-proclaimed "republic" of Christiania. On a tour of Copenhagen (København) is worth allocating a couple of days, and if you want to visit the surrounding area, like castles Kronborg (the Hamlet Elsinore), Fredensborg and Frederiksborg, or the ancient Danish capital Roskilde, then you can detain here and for a whole week. In this case, given the high cost of living in Copenhagen, it is important not to make a mistake with the choice of hotel. Actually, that will be discussed below.
Which area of Copenhagen is better to stay in
In Copenhagen, not only hotels are quite expensive, but also transport, so in terms of savings is optimal to stay in or near the area where you plan to spend most of your time. This, by the way, will not only optimize the travel budget, but also save a lot of time. For example, if your plans to visit the neighborhoods, it is worth considering as a place of dislocation the railway station area, if you want to make long walks through the center and visit all the city's attractions, but at the same time and the "shop", the ideal place, perhaps, street Stroget, if you prefer to live near the center, but at the same time in a more or less quiet place, you can look at the area of the Royal Palace Rosenborg.
Surroundings of the Central Station
Copenhagen Central Station (Københavns Hovedbanegård) is not as scary as some travelers say: it is quite large and noisy, but at the same time it is surrounded by a ring of hotels, the prices of which are slightly lower than closer to the center. Given that the surrounding area is well developed infrastructure (for example, there are supermarkets open until 20:00, but for Copenhagen and it's a long time), and across the street is a city tour bureau, you can well consider the station area nice place to base. At the tourist office you can not only get free advice, but also a lot of brochures and maps, buy tickets or rent bicycles, which are useful for walks in remote parts of the city. It is convenient to stay here with children: across the road from the station is an amusement park Tivoli, where you can go at least every day. It's worth bearing in mind, however, that in some places near the station there are remnants of the red-light streets, and on the first floors of some buildings are still running nightclubs and strip clubs, which can be very noisy at night. Avoid this not very desirable neighborhood by reading the reviews of tourists on booking sites – they (tourists) certainly will not be silent if there is something like that nearby. In my opinion, hotels like the Radisson Blu Royal Hotel Copenhagen, Hotel Alexandra or Best Western Hotel Hebron can be considered here.
Stroget Street
Copenhagen's busiest hangouts are Rådhuspladsen and the long pedestrian street Stroget, or Strøget, starting from the square. All city life revolves around it: the railway station is only 5-10 minutes away, Tivoli Park and the Glyptothek are only a short walk away, and a lot of transportation routes intersect here, making the square noisy and crowded. At night the noise continues unabated – the clock on the town hall tower chimes the time, police cars with sirens blare past, and the 70s window frames and glazing – which are still common here – offer little protection from noise. So I recommend staying on Stroget all the same, and the deeper into the neighborhoods the better. Settle in the part of Stroget that is closer to Town Hall Square is worth it if you want to be close to the train station. The farther down the street toward the harbor, the more prestigious and expensive – the attractions are closer, but you have to run to the station for about 20-25 minutes on foot. A good portion of the city's attractions are concentrated here: from the same Town Hall and the Andersen Monument to the Round Tower and the Christianborg Royal Palace, not to mention the Little Mermaid. Shopping is also here: virtually every building on Stroget has a store. The Palace Hotel Copenhagen seems like a nice option in the area.
Nyhavn
In the center of Copenhagen, the Nyhavn harbor area is nice and cozy, even though it has perhaps the highest density of partying tourists per square meter in Denmark. Nyhavn has the oldest and nicest houses in town, forming bright rows along the marina. The first floors of all the houses – cafes, bars, restaurants and hotels (prices in establishments Nyhavn, by the way, the highest in the Danish capital). The advantages of living here are obvious: it is very authentic, as if you find yourself in a fairy tale by Andersen (a couple of houses here, indeed, lived in the great storyteller) and in rooms overlooking the harbor, very picturesque views. It is convenient to stay here if your plans include a cultural program – for example, a visit to the Royal or Opera House. Right from Nyhavn, in addition, starts boat tours along the canals of Copenhagen. In terms of geography Nyhavn is well located: to the Royal Palace Amalienborg about 10 minutes walk, to Stroget – about 5-7 minutes, to the train station – about 20-25 minutes. To the possible disadvantages of hotels, in addition to high prices, can include small size rooms and tiny bathrooms (the cost of ancient buildings), often in the rooms may not be air conditioned, and the hotel – the elevator. The most interesting option here is probably the 71 Nyhavn Hotel, and the most romantic place in all of Copenhagen is the Donna Wood Hotel, located on a ship.
Among the areas where I do not advise to live, includes the famous Christiania – self-proclaimed quarter of hippies, formed here in the 70s of the last century. Even during the day walking alone here is not recommended, and living here and coming back after walking around in the dark is a sure way to get hit in the back of the head.
The vicinity of Kastrup Airport
Finally, if you leave early in the morning or arrive late in the evening and do not want to search for your hotel in the middle of the night, wandering through strange streets with luggage, it is worth considering staying near Kastrup Airport (Kastrup). From here, by the way, it is quite possible to visit not only Denmark but also a piece of Sweden – from Copenhagen airport to Swedish Malmo is about 20 minutes by train (to the center of Copenhagen – 12 minutes by subway). And if you ask for a higher room, you may get a view of the Øresund Strait. Hotels near airports, especially chain hotels, are usually equipped with sound insulation, so it is unlikely that you will be disturbed by the hum of aircraft. Given that the prices of hotels near Copenhagen airport are much lower than in the city center, it is probably worth staying in this area for the entire trip, especially if you are not planning to stay in Copenhagen for a long time. The Hilton Copenhagen Airport Hotel is, in my opinion, the most attractive option here.
What else to consider when choosing a hotel in Copenhagen
I will say a few words about the features of Danish hotels, so that for you to stay there is not a shock: how, for such money – and such poor service? To begin with you should consider (especially for those travelers who previously went only to the beach hotels, where the amount of service is much greater) that no one here will not run after you and offer to pick up your luggage or twice a day to clean your room. Most often the bathroom is only a shower (to save water), and there is no that set of small soaps, caps, nail files and other little pleasures, as somewhere in Spain or France – most likely in the bathroom will be only two wall bottles with multifunctional shower gel (aka shampoo and soap). Of course, with this approach to saving money in the room most often there will be no bathrobe or slippers. There will not be Russian channels in the room, and Russian-speaking staff is also unlikely. The design of many hotels is somewhat similar: as a rule, the finish used natural materials, and the environment is not superfluous, all fairly simple and functional, which may also cause a negative reaction from some travelers and emotions in the style of "as if you live in an Ikea. It is also common lately in Scandinavian hotels to sort the garbage: the room will either have a bucket with sections, each of which is supposed to throw a different type of garbage, or even a couple of buckets. Also note that if you drink beer in the room, the bottles should not be thrown out, leave them near the bucket, it's a kind of tip to the maid, because glassware in Denmark is expensive. But as a rule, in Danish hotels quality breakfasts: it is the traditional cereal and muesli with buns and hot porridge, and even a selection of fish and side dishes – you can get by until late lunch.
How to find cheap hotels in Copenhagen: 7 secrets to saving money
What can I tell you. Copenhagen is an expensive city. Therefore, even an ordinary hostel somewhere in the relative vicinity of its center can easily cost 40-50 euros (per bed in a shared room). Prices for good three-star hotels start from 100 euros (and that if the hotel is somewhere within a couple of kilometers of the historic center). Of course, the cost of hotel rooms is not static and you might be lucky to get some cool action. It happens, of course. But, all in all, here's how it is. So search for hotels in Copenhagen is worthwhile.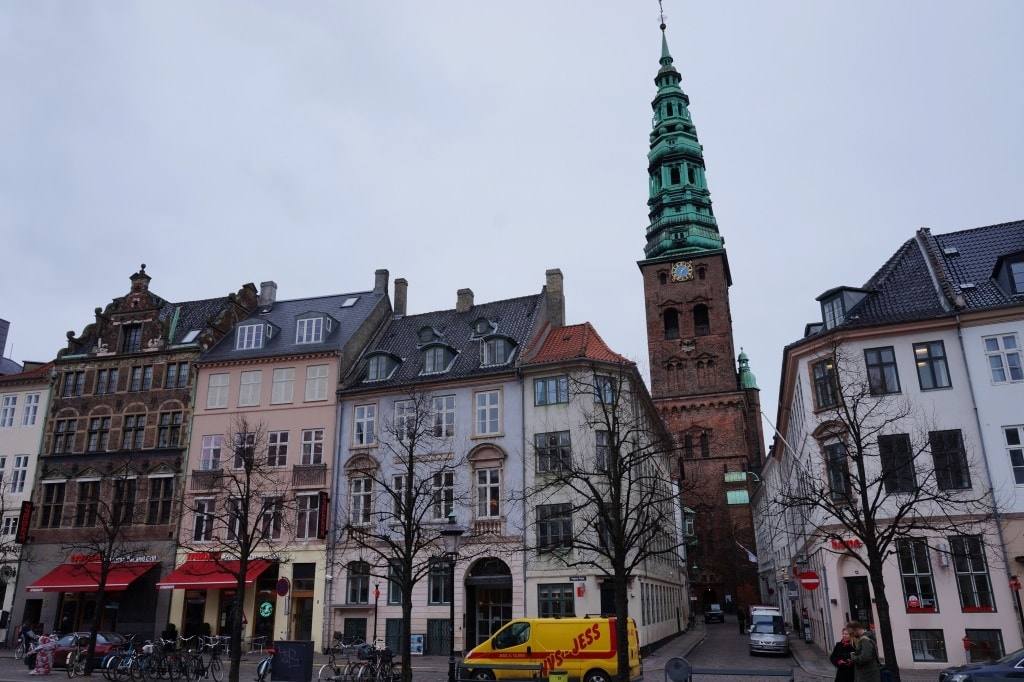 Further in this article I will tell you how to find the cheapest accommodation without compromising on quality and comfort, present my selection of the best hotels in the Danish capital (on the price to quality ratio), and give some tips on how to save money on hotels during the trip. I emphasize: I'm not going to suggest in this article that you stay in a tent or sleep on a bench in Tivoli Park. It's just that with the right approach, you can save money on almost everything. And hotels in Copenhagen are no exception.
Tip #1: Use metasearch engines to find hotels in Copenhagen.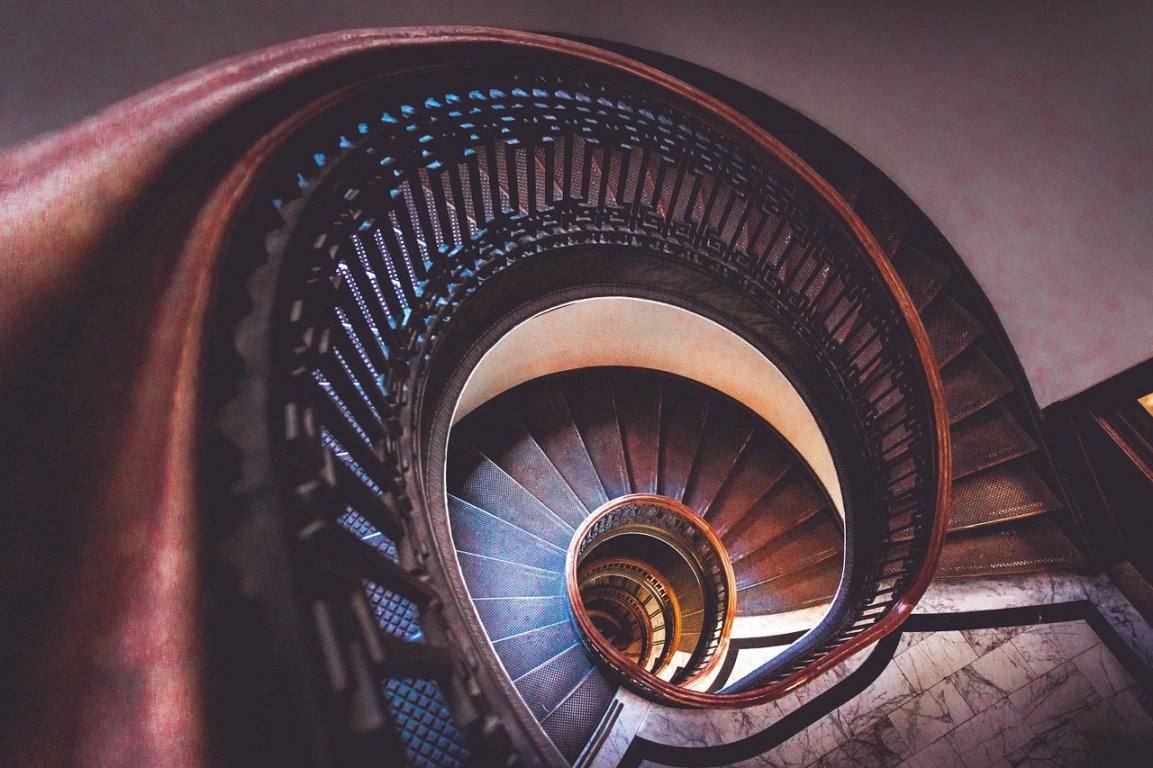 What is it? It is a special type of hotel sites that conduct a search on many reservation systems at once. The fact is that the prices of hotels are not static. They change constantly and may vary quite significantly on two different sites. That being said, the price of the same room may be different!
That's why we need such metasearch sites. Such sites do not rent anything themselves, they only allow you to see on which site this or that hotel in Copenhagen is cheapest. After that you need only go to the desired site and complete the reservation. Here everything is standard, in general.
On which sites to search for hotels: Trivago or Hotellook. There are other sites that work in the same way. But I usually use these.
Tip #2. Don't look for accommodation in Copenhagen itself, but in Swedish Malmö.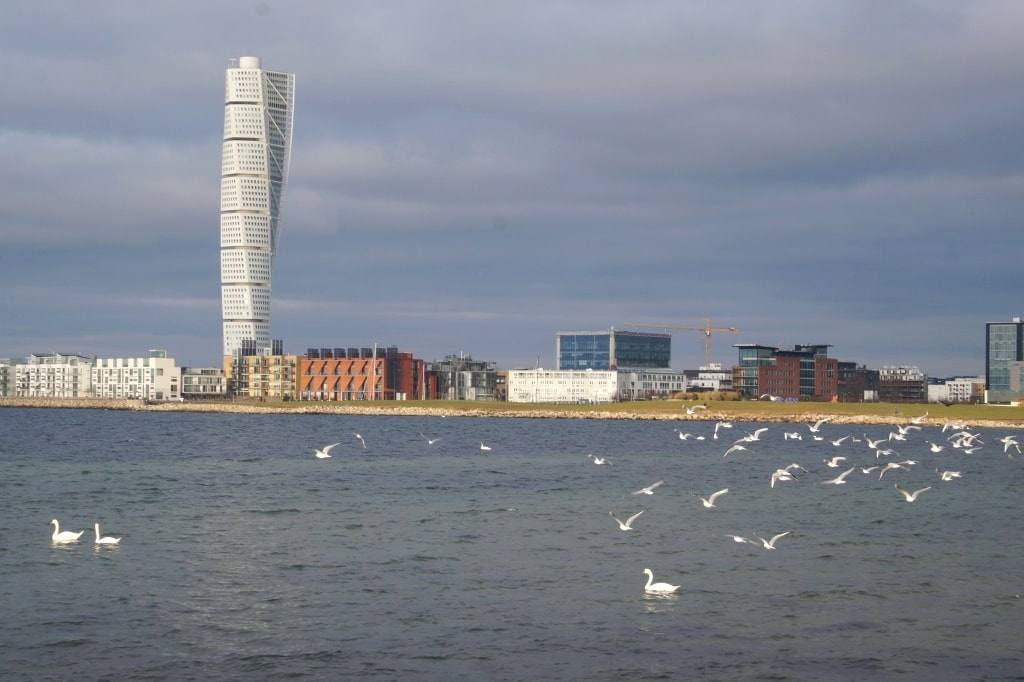 This is exactly the trick Tanya and I used on our own trip. Yes, yes, I understand, you want to live right in the center of Copenhagen with a view of Amalienborg. But in this article, we're talking about saving money. And in that regard, the housing option in neighboring Sweden is just fine.
The thing is that between Malmö and Copenhagen is only an hour away. If you take the train, even less (only 20 minutes). The bus ride back and forth is 10 euros. On the way you can see another important attraction of the region – the "diving" Øresund Bridge, which rises out of the water and stretches for almost 8 kilometers, connecting Denmark and Sweden.
Okay … Then we do some simple math. Hotel prices in Copenhagen start from 80-120 euros (for an average hotel). In Malmö you can find options and for 50-70 euros (at the same time, often higher level). Yes, Sweden is also an expensive country. But the price level Malmo is noticeably inferior to Copenhagen. So do not write it off. Check out options in cities on both sides of the Øresund Strait. After all, it's a great option to fit two countries and several cities in one trip at once.
Tip #3. Replace hotels with apartments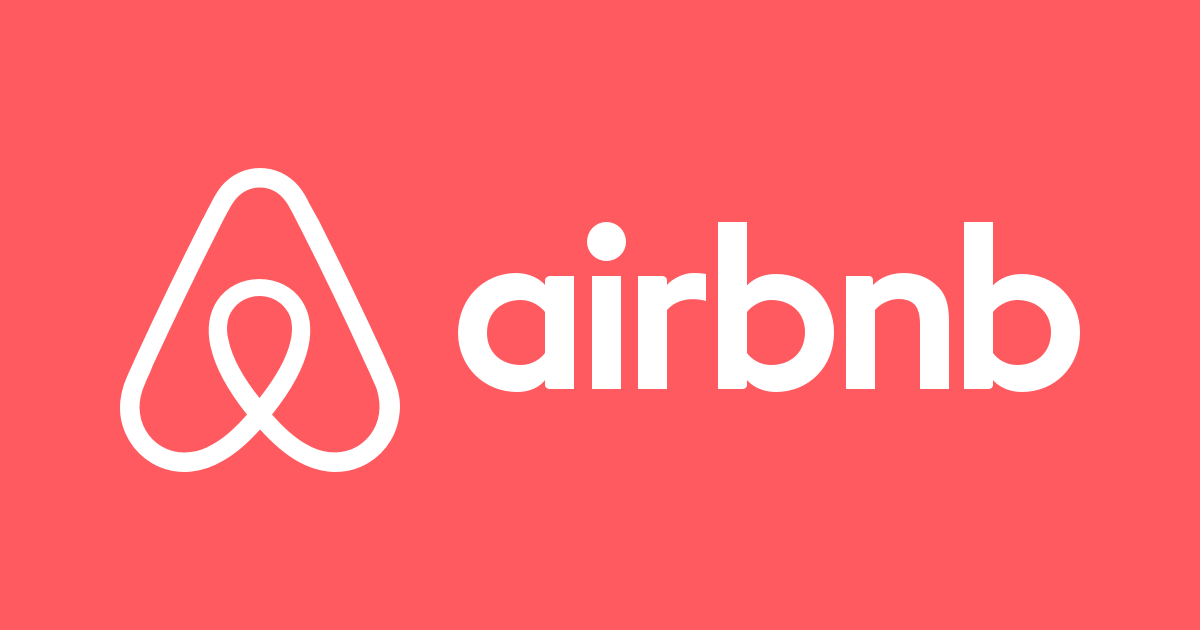 In this case I'm talking about the AIRBNB website. I really like this site. Here you can rent apartments, rooms, studios, or even unique things like boats and tree houses. All accommodation is rented by real people (its owners). Therefore, it costs markedly cheaper than hotels.
Personally, we rented for 35 euros a day a great room in the center of Malmö (with its own toilet and separate entrance). Read about it in the article below. And I'll briefly run through the other options.
Separate room in Malmö (comparable to hotel rooms) can be rented for 27-40 euros. Many of them have a separate entrance, their own shower or even some kind of balcony. If you are on a tight budget – this will be a great solution for you.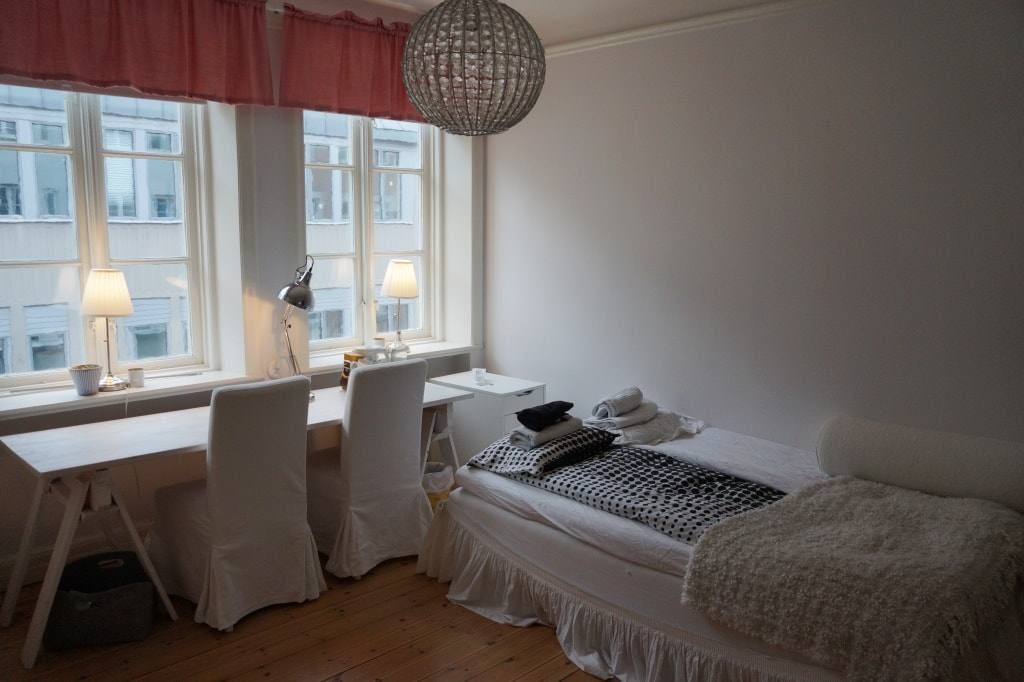 The room we rented in the center of Malmö.
Separate rooms in Copenhagen you can rent for 40 – 80 euros.
As a rule, landlords are pleasant and unobtrusive people. So do not be afraid that in the next room with you will live someone else (especially if your room has a separate entrance and everything you need). But if you don't want to rent a room, look into "whole accommodations"-that is, apartments/studios/apartments. The AIRBNB website offers apartments for rent for reasonable prices.
Apartments in the center of Malmö range from 50 to 120 euros.
Apartments in Copenhagen Copenhagen apartments for rent are slightly more expensive, ranging from 69 to 132 euros. But it is still usually cheaper than hotels.
A couple more tips to help you find cheap hotels in Copenhagen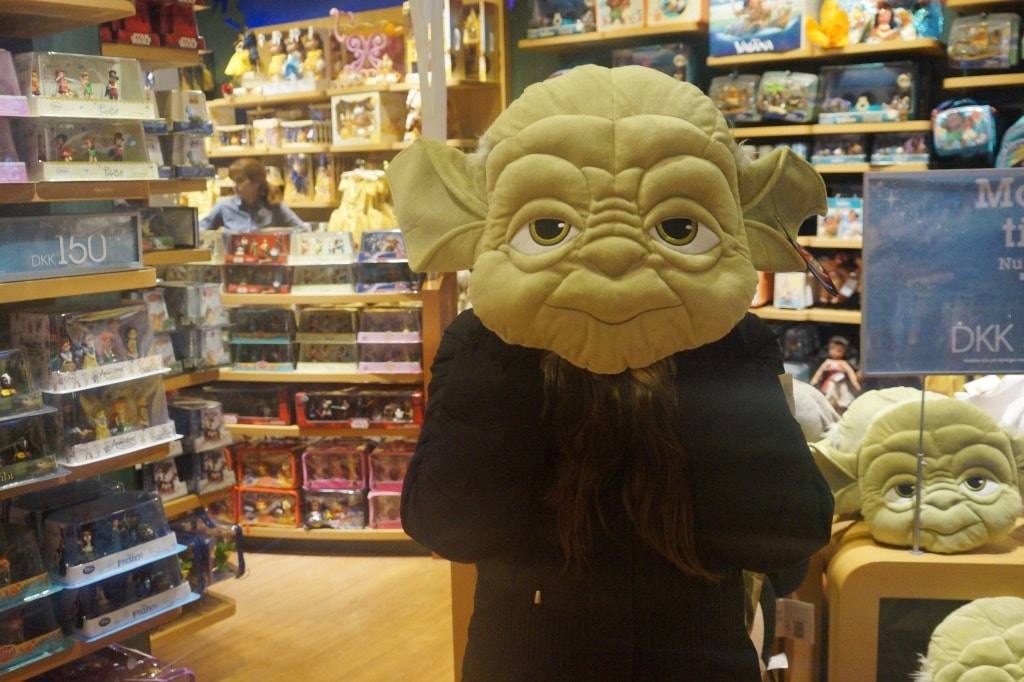 – Look for accommodation in advance (as early as possible). Cool options sell out fast. And that way you'll have a better chance of finding better hotel prices.
– Look for lodging not in the center of the Danish capital, but near metro stations. In any city, hotels in the historic center are much more expensive than in ordinary city neighborhoods.
– Make hotel reservations with cash-back cards. This will save you an additional 7-10 euros (depending on the terms of the card and the cost of the room).
– Do not forget about couchsurfing. If money is tight, you can always look for free accommodation in Copenhagen or Malmo. For those who do not know what couchsurfing, explain – it's an international system where ordinary people rent free of charge (less often – for a minimal help around the house). There is a chance that instead of a room you get a regular sofa. But on a limited budget – it's also not a bad solution.
From words to deeds
Below in this article I will present my own selection of the best hotels in Copenhagen and Malmö (value for money). Keep in mind: all prices listed in the review are current at the time of publication of the material and may subsequently change seriously. Take this selection as a tip, not as a clear guide to action. Check your dates. And keep in mind the tips above.
Malmö inexpensive hotels: Top 5
STF Malm? City Hostel & Hotel . Budget double room with 2 separate beds and shared bathroom.
Price at the time of publication.: 64 euros.
Pros of .: great location (everything in walking distance), nice staff, good reviews from previous guests, close to the train station (convenient for trips to Copenhagen). There is free wi-fi.
Minuses: linens are not included (bring your own). Shared shower and bathroom.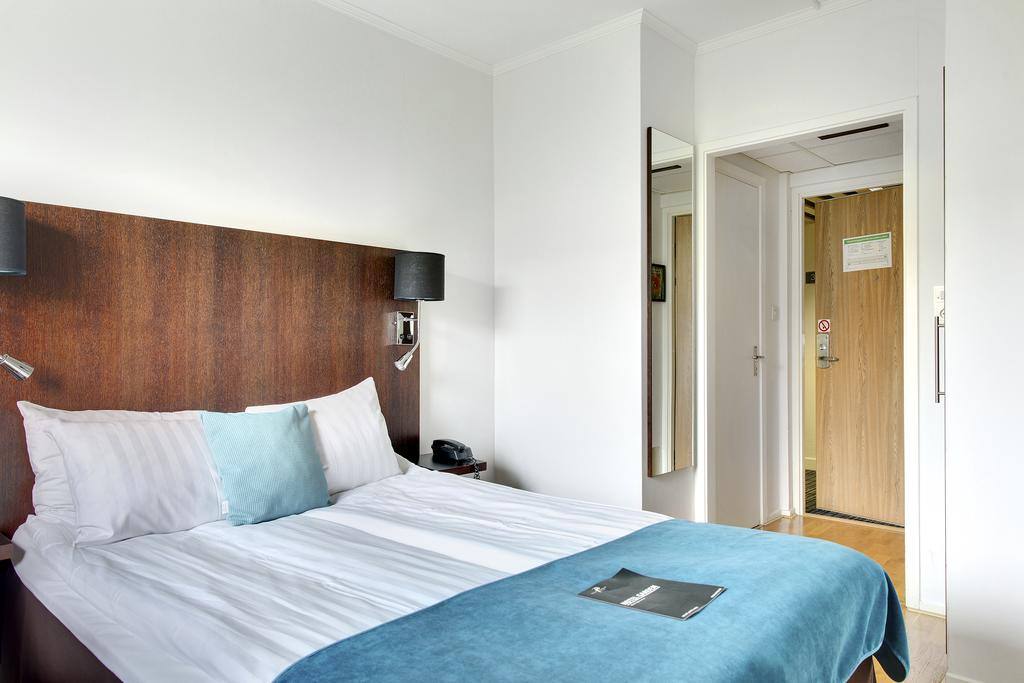 A small double room with 1 bed. Hotel Garden (4 stars).
Price at the time of publication.: 83 euros per night (special offer).
Pros of .: The hotel is 250 meters from the main square of Malmö. The bus stop to Copenhagen is within walking distance. In addition, it is worth noting the class of the hotel itself. The room has modern furniture, TV, private shower, closet, free toiletries. Also included in the price of the room is breakfast.
Minuses: a small room (12 square meters).
Economy double room with 2 separate beds without a window. Hotel Scandic St J?rgen (4 stars).
Pros of .: cozy rooms, there is wi-fi, own shower, TV and toiletries. The hotel is very close to Gustav Adolf Square, from which the buses to Copenhagen depart. The main sights of Malmö are a 10-minute walk away. The room rate includes breakfast (*at the time of publication of this article).
Minuses: Small room (14 m2). No windows in the room (separate rooms for smokers are provided).
Price at the time of publication.93 euros (on special offer, standard price 104 euros).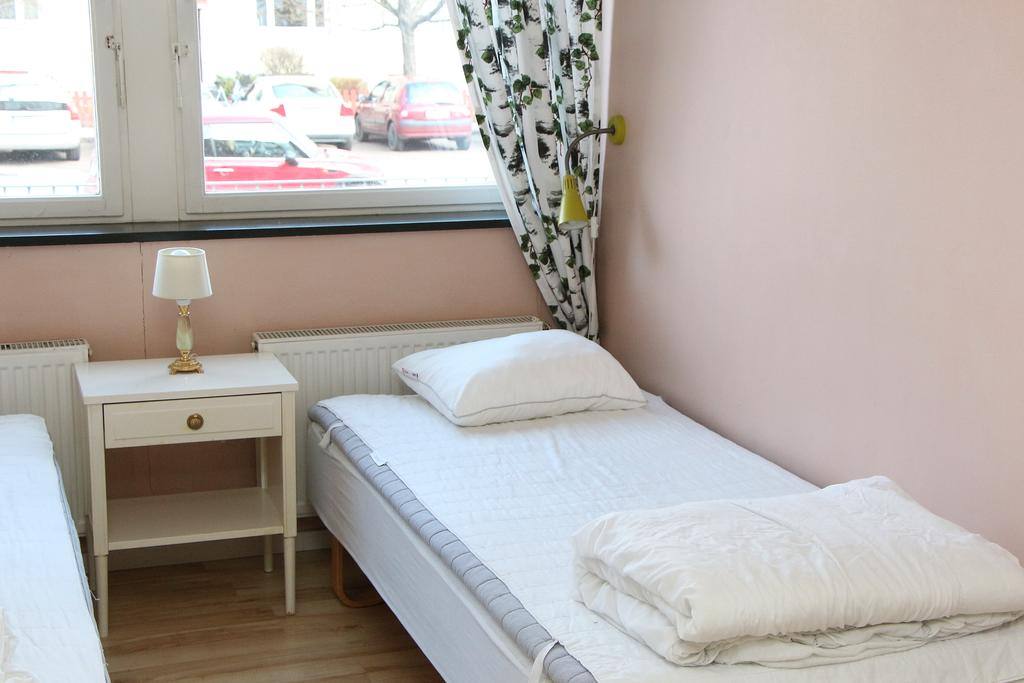 Double room with 2 separate beds and a shared bathroom. Hotel Rut & Ragnars Vandrarhem.
Price at the time of publication.61 euros.
Pros of .The hotel is a great value for money, cheap cafes and restaurants close to the hotel, good reviews from previous guests (note the cleanliness of the room and the friendliness of the staff). TV and wi-fi.
Minuses: a communal shower, to the city center – 20-30 minutes walk. We will be faster on public transport. If you buy a pass for 24 hours, you can also quickly get to nearby cities in the province of Skåne (Lund and Helsingborg). I highly recommend this to you.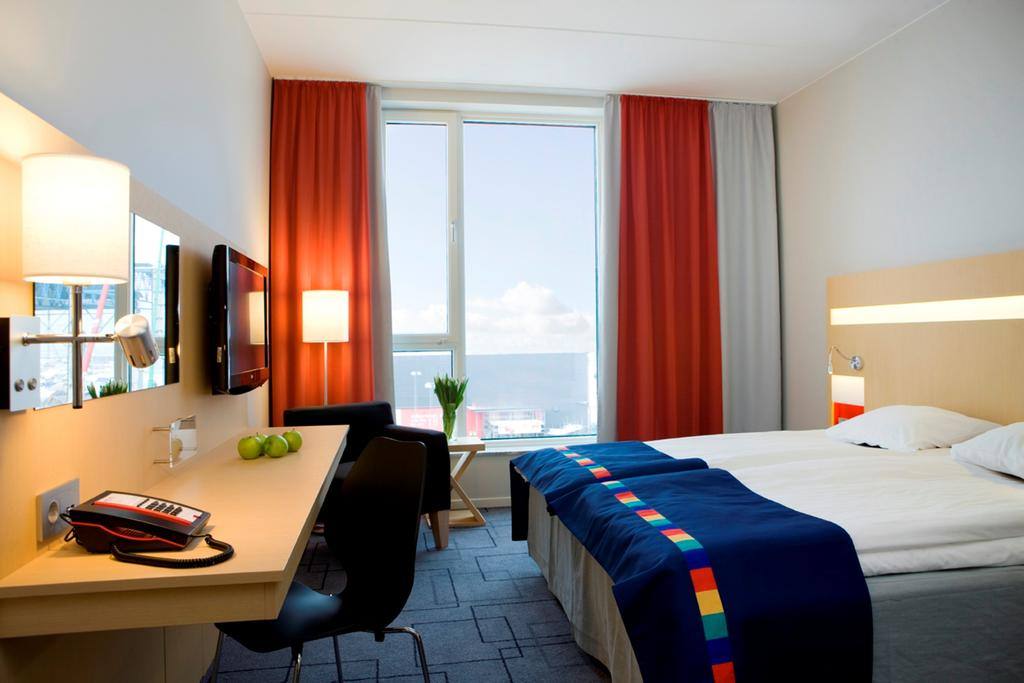 Double room at the Park Inn by Radisson Malm?
Price at the time of publication.: 85 euros.
Pros of .: very stylish rooms, modern furniture, breakfast included, there is everything you need to stay (shower, TV, linens, bathroom accessories, etc.). The picturesque beaches of Malmö are within walking distance. The hotel overlooks the Turning Torso skyscraper, which is one of Malmö's main symbols.
Minuses: It is 1.6 kilometers to the central station. To the city center even more (about 2 km).
Best hotels in Copenhagen: Top 5
Double room with 1 bed or 2 separate beds at Hotel Rossini (3 stars).
Price at the time of publication.: 90 euros.
Pros of .: relatively inexpensive. Stylish rooms, have a shower, TV, wi-fi. The room itself is quite spacious (23 m2). Good feedback from previous guests. Close to Copenhagen Zoo and Karlsberg Museum.
Minuses: The hotel is away from the center. You will have to take transport to the pedestrian street Stroget.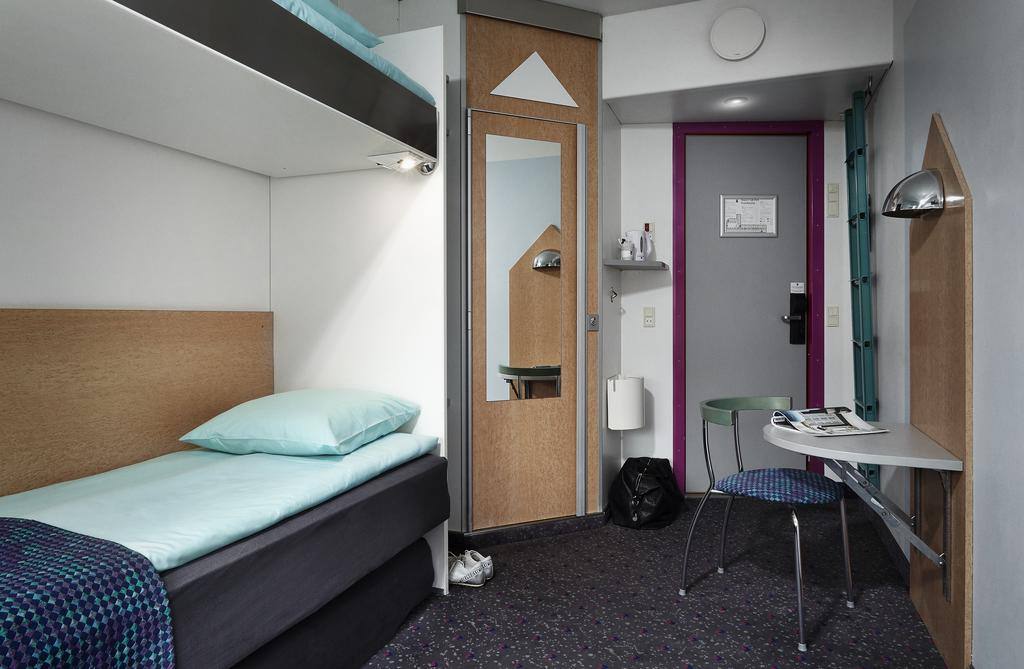 Double room at the Cabinn Scandinavia Hotel (2 stars).
Price at the time of publication.: 93 Euros.
Pros of .: Inexpensive hotel close to the city center. Tivali Park is a 15 minute walk away. Near the metro station. Plus there is free wi-fi in the rooms, shower, toilet, TV. For an extra 10 euros you can order your own breakfast. Considering the prices in Copenhagen – it is quite a good option.
MinusesBunk beds.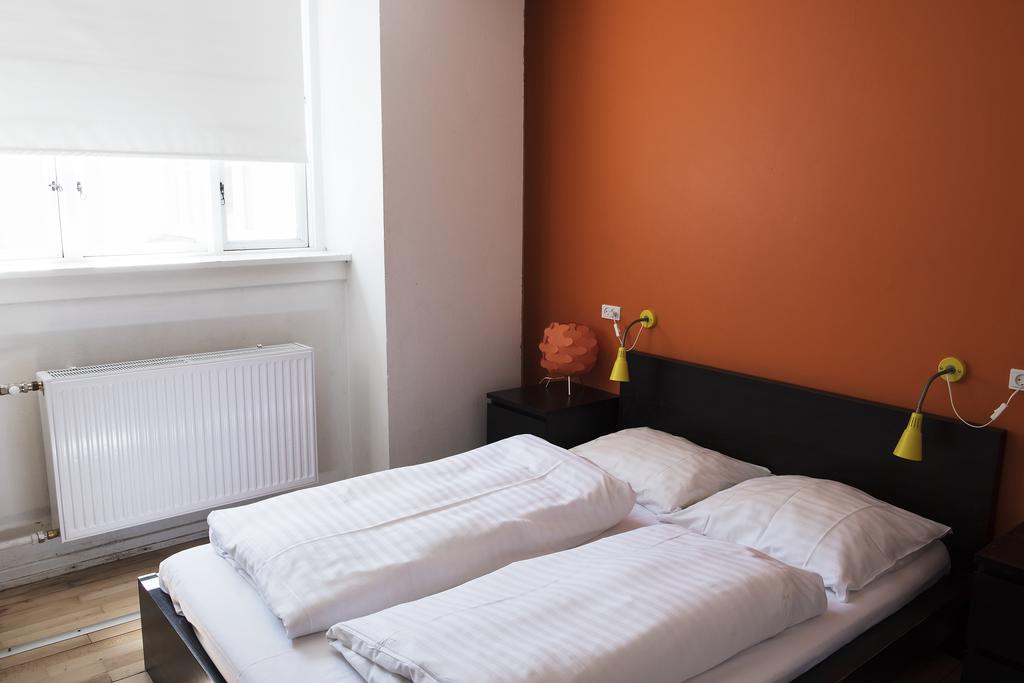 Separate room in the Sleep in Heaven hostel.
Price at the time of publication.: 93 Euros.
Pros of .: relatively close to the center (about 2 km to the train station and Tivoli Park). Rooms are ok. There is free internet. It has its own garden, bicycle rental and a pool table. For extra 8 euros you can order breakfast. Evaluation of past guests 8 out of 10.
Minuses: shared bathroom, small room area (10 m2).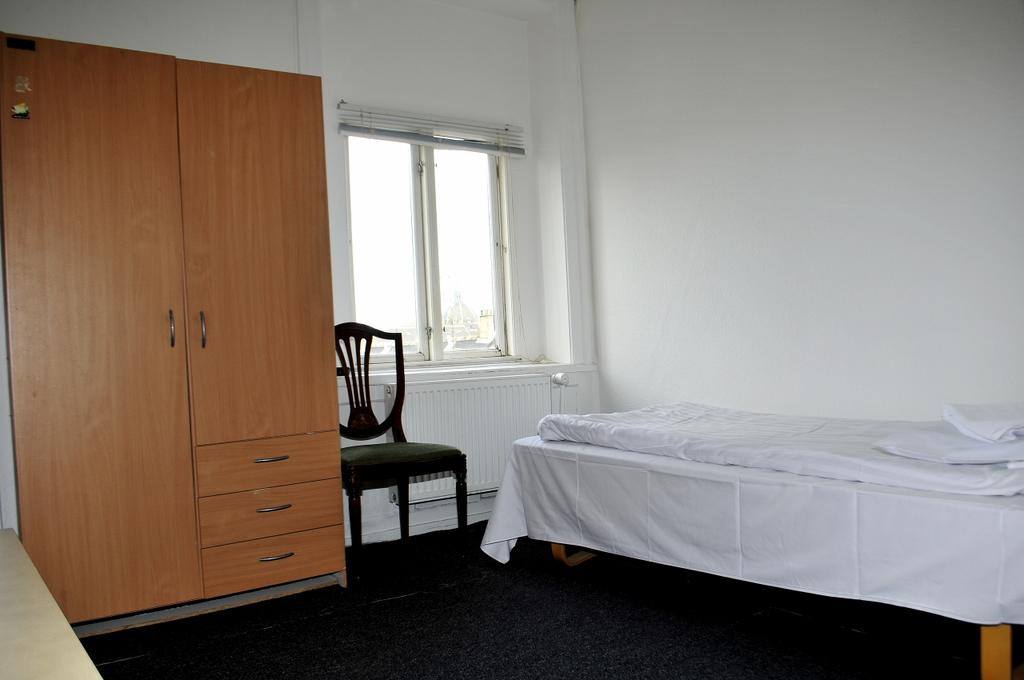 Double room with 1 bed or 2 separate beds and shared bathroom Hotel Euroglobe.
Price at the time of publication.: 78 euros (special offer).
Pros of .: Relatively close to the center (15-20 minutes walk to Tivoli Park). Clean rooms. Breakfast included. There is wi-fi and bedding.
Minuses: low reviews from previous guests (6.3 out of 10), simple rooms, shared bathroom.
Double room at Globalhagen Hostel.
Price at the time of publication.: 85 euros.
Pros of .: relatively close to the center (less than 2 km to Nyhavn harbor). Stylishly decorated rooms. There is free internet, bedding and other little things. Good guest reviews. Breakfast costs 7 euros.
MinusesShared bathroom and toilet. Small rooms (12 square meters).
P.S. That's it for me. But if you know any other interesting ways to save money on housing in Copenhagen – leave your comments below the article. I will be glad to add some new information to this review. Have a nice trip! Bye!