Hotels in Chiang Mai, which area to choose a hotel
Accommodation in Chiang Mai, even by very cheap Thai standards, is much cheaper than in the popular beach resorts of Thailand. The cost of a double room with a fan begins at 250 baht (Thai currency, exchange rate)! when booked in advance and ends with a decent five-star hotels for $ 500 a night. Single accommodation in a hostel-type Chiang Mai can be generally obtained for 100 baht. Moreover, the low price here does not mean the terrible quality of the hotel, ie dirty little windowless room under the stairs and a lot of insects. For a very small fee you can get quite a good clean room, and the low price will be due to minimal or no service and additional services (such as pool, restaurant, food). The cheapest rooms are not equipped with air conditioning (it is replaced by a fan), which is not such a big problem, since Chiang Mai, firstly, is in the north of the country and, secondly, at an altitude of 316 meters above sea level. Evenings and nights here are not so hot, so you can safely forgo air conditioning in favor of saving money.
Most hotels in Chiang Mai are densely concentrated within the city, which is relatively small. But there are also a small number of hotels on the outskirts of the city and outside in the suburbs of Chiang Mai. If you are looking to get to know the city and its attractions, it is best to choose a hotel closer to the center, in the midst of hotels, and in principle it does not matter which part of the city center you choose. If you have other goals, you may want to consider other districts for accommodation.
You can find and book accommodation in Chiang Mai on these websites or by using the search form. All sites have a Russian interface and Russian-speaking customer support, many reviews of real guests. And on Agoda and Booking have a bonus system:
Attention! Systems Booking.com, Agoda, AirBnB, Trivago and other foreign sites showed themselves as highly unreliable partners and completely closed the possibility of booking hotels and accommodation on the territory of Russia, including with financial losses for Russian citizens. If you need to book accommodation without consequences we advise you to use Russian search and reservation systems for accommodation and hotels and avoid using Booking.com, Agoda etc. Read more here.
Chiang Mai hotels on a map
You can download ⤓ from our map points of interest, important transport points (bus stations, airports, etc.), neighborhoods and beaches in KMZ/KML format. You can download these files to your navigator or smartphone for use with offline or online map apps like Yandex, Google, Organic Maps and others that support this format, and use them to navigate and get to know the resorts.
Chiang Mai districts. Where to choose a hotel
Chiang Mai districts
Old Town Hotel in Chiang Mai
Chiang Mai Old City . The most interesting part of the city is Old City. It is the heart of the city and its historical center (the position of the old city on the map of Chiang Mai). The Old City area is bounded by a square (the one so clearly visible on the map Goolge) of the remains of the wall around the old city and the canal with water.
It is an ideal place for hiking to explore the history and sights of the city, of which there are many. This place is also famous for its many craft workshops, stores and retail outlets, restaurants and bars. In general – it is a real tourist center of the city. If you can not find a place in the old city, you can safely choose a hotel in one of the nearby areas and walk to the old city on foot.
The backpacker zone of inexpensive hotels. Tha Phae Street and its alleyways are considered the backpacker zone, where a large number of small guesthouses are concentrated. If you are not planning to book a hotel in advance and want a cheaper place to stay when you get there, then this is the place to look when you get to the backpacker area along Tha Phae on the map. The cheapest hostels here are located in countless small streets (soi) around this street. And the more expensive ones are right along the main road to Tha Phae.
If you're planning on staying in expensive and luxurious hotels, the ones within the Old City can be found near Sunday Walking Street Market (Sunday Walking Street Market on the map).
Cheap Tha Pae Hotel Street in Chiang Mai
Night Bazaar . This area is right next to the old town, and is on the river (Night Bazaar on the map). There are most hotels of medium price level, a lot of restaurants and bars. Most of the stores and business centers of the city are also located here. Located in this area you can walk to the old town and easily get to the river.
Riverside area. The advantage of choosing a hotel in the Riverside area is that you can get a room with a view of the river. It's quieter and more relaxing than the Old Town and Night Bazaar. When choosing a hotel, try not to be too far from the center of the city, otherwise you'll be on the river, but far from the most interesting things.
There are other districts that are close to the city center, but they are not characterized by anything special. Feel free to choose a hotel in one of them if you are satisfied with the price, distance from the center of Chiang Mai, and travelers' reviews of the hotel.
Neighborhoods outside the city
If you like to vacation in quiet and peaceful places, closer to dense rainforests and breathtaking natural scenery, you can choose one of the suburban areas of Chiang Mai.
There are good and inexpensive hotels outside the city where you can spend a few quiet days or weeks in the countryside surrounded by forests, gardens, and mountain views. Most of the hotels here with their extensive grounds, swimming pools and other amenities for a serene vacation. One of the recreational activities here is hiking in the jungle and mountains.
Most hotels outside the city are quite far to reach, so almost all of them offer shuttle service from the airport, car or train station when you book a room with them. Some hotels offer a free shuttle bus to the city center several times a day, but it is rather a rarity.
❤ Join us on VK, Telegram, Viber or read the most interesting in Zen
Find and book tours online at Onlinetours.ru or Travelata.ru
✈ Buy airline tickets on a trusted search engine – Aviasales.ru
Book a hotel at Agoda.com or Booking.com
☂ Take out insurance to be safe at Sravni.ru or Cherehapa.ru
Rent a car at Rentalcars.com or Localrent.com
Book a transfer from the airport to your holiday destination on Kiwitaxi.ru
View tours online on tripster.ru
| | | | |
| --- | --- | --- | --- |
| CITY/DESTINATION | DEPARTURE DATE | RETURN DATE | FIND TICKET |
| Bangkok | 2023-04-09 | 2023-04-21 | FIND FROM 33,970 ₽ |
| Trat | 2023-04-28 | 2023-05-09 | FIND FROM 43,069 ₽ |
| Samui | 2023-05-08 | 2023-05-22 | FIND FROM 45,226 ₽ |
| Phuket | 2023-05-24 | 2023-06-03 | FIND FROM 45,784 ₽ |
| Krabi | 2023-05-31 | 2023-06-30 | FIND FROM 45,871 ₽ |
| Chiang Mai | 2023-06-09 | 2023-07-06 | FIND FROM 47,273 ₽ |
Re: Общие вопросы о Чианг-май omelnikov1 3 Декабрь, 2016 r>I disagree. I certainly wasn't in Chiang Mai before the mourning, but in mid-November it was impossible to walk quietly down the street where the establishments with the girls were. The clubs are open, but until 12. Bars are open, and after 12, the blinds just go down, but the buzz continues. .
Re: general questions about Chiang Mai Agatha 10 Jan, 2017 Were in Chiang Mai in June 2016. Incredible amount of experiences. Stayed at the small hotel MONA CHIANG MAI really enjoyed the service and the ambiance. the trip through the wats is a storm of emotions. You feel like a little person next to this majesty of history. Riding elephants, taking pictures with tigers in the TAIGER Kingdom, a two-day visit to the zoo (one day was not enough), shopping at the night market and weekend bazaar at the main gate. Fourteen days was not enough, because we alternated excursions with rest by the pool. Around the city before we rode on the sunteo 20 baht per person, outside the city went in a hired car, happened to come across the driver, on average 100 baht per person but with comfort. between the big hotels and shopping centers runs bestlatny shuttle, we took it to the nearby hotel to the right place and then walked 10 minutes. The schedule is in the hotels and the shuttles themselves. If you eat local food comes out very cheap at an average of 30 baht per person, but it is very spicy, when ordering the main thing to remember to say "no spice" (not spicy) but it can not save. If to eat more European cuisine comes out expensive on the average 100 baht per person. At the night market you can watch the national show. I did not have any problem with the tour, my kids will be very happy with it.
Re: General questions about Chiang Mai resuma88 September 1, 2017 Now planning a trip to Chiang Mai for January. And came across information that Qatar Airways is starting to fly there from Moscow and St. Petersburg via Doha starting December 6, 2017. Even the connections are short. Travel time is about 13-14 hours it turns out. .
Re: general questions about Chiang Mai admin 1 September, 2017 In principle you can also fly through Gongzhou with one connection, but through Bangkok+Airasia is still cheaper. Of course, of course, do not forget about the change of airport in Bkk, which causes some inconvenience and loss of time.
Re: General questions about Chiang Mai Maria01 September 20, 2017 Hello, I have a question. We are going to Chiang Mai, arriving from Bangkok on November 4 at 11pm. Researching information, found out that we get to the Yei Peng and Loi Kratong holidays. That's great, but we read that at this time in Chiang Mai they put air lanterns in the sky and may even close the airport for the occasion. We bought our plane tickets a long time ago and there were no restrictions for that day. Could it be that the airport will actually close in the evening due to the launching of the lanterns and our flight will either be cancelled or rescheduled? Thank you in advance. .
Re: Общие вопросы о Чианг-май admin 20 Сентябрь, 2017 r>These things are planned in advance, so if something suddenly changes, the flight will be rescheduled or cancelled in advance, not on the fly. Just keep an eye on your flight, check periodically, and everything is OK. .
Re: Общие вопросы о Чианг-май mayflower 13 Ноябрь, 2017 Добрый день, друзья!r>У меня вот такой вопрос: я бы хотела один из дней своего пребывания в Чианг Рае посвятить объезду приграничных городков: хочу в Мэ Сай хоть глазком глянуть на Мьянму, потому что изначально планировала побывать именно там, но не сложилось
И затем доехать в Соп Руак (Золотой Треугольник), обязательно(!) прокатиться на лодочке до лаосского острова, затем Чианг Саен, и назад в Чианг Рай. r>Как думаете – это реальный план на день?r> r>Первый автобус в Мэ Сай в 05:50, написано 1,5 часа езды. Ну часа 2 там погуляю. Затем голубое сонгтэо до Соп Руак, ехать, наверное, не менее часа?r>Там подольше задержусь – ведь только прогулка на лодке получается полтора часа, так? ну вокруг-да-около, да поесть еще полтора накину. Итого, если я выеду часов в 6 утра, тоr>где-то часов в 16 должна быть готова выехать из Соп Руак, так?r>Хотелось бы еще в Чианг Саен заехать, Гугл-карта показывает, что там совсем недалеко, только я не разобралась как добраться? Может просто мототаксиста взять? Сколько это может стоить?r>И последний вопрос – кто знает – во сколько последние автобусы из Чианг- Саен до Чианг-Рай отправляются? Когда надо уже выдвигаться на остановку автобусов?r>Спасибо заранее всем неравнодушным!r>Elena.
Re: general questions about Chiang Mai admin 14 Nov, 2017 In principle it's realistic to do it, just not sure about how things would work out in terms of transportation so smoothly. I would take a motorcycle for such purposes. As for Mae Sai, if you want to see Myanmar, be sure to go up to the scorpion statue (https://nashaplaneta.net/asia/thai/rai-chiangrai-mae-sai), it's a great view of Myanmar lands. And you can skip Chiang Saen, because you probably won't have time, and there's not much to see there, IMHO. .
Re: Общие вопросы о Чианг-май mayflower 14 Ноябрь, 2017 Спасибо за консультацию!r>я бы и сама с радостью взяла байк, если бы умела хоть немного водить
r>I'll make do with what I have!
Re: Общие вопросы о Чианг-май admin 14 Ноябрь, 2017 r>Then make it easy and don't torture yourself. In the golden triangle go with an excursion for a day, I think you'll find that on the way and take in other interesting places. Excursions sell a lot on the streets in travel agencies and hotels. On a separate day, go to Mae Sai. You will come to town, there will walk, look at the cave temple, have lunch, and then go back.
NashaPlaneta.net uses cookies. "Cookies" are small files on your device that store information about previous visits to the website. If, by reading this message, you remain on our site, it means that you agree to our use of cookies. Read more.
Follow low prices and our news on VK, Facebook, OK, and the Telegram channel
Chiang Mai: about the city, transportation, prices and lodging
Chiang Mai is my favorite city in Thailand. In total we have lived here for over a year, and I will try to adequately talk about Chiang Mai. This article will talk about various important questions that you ask when going to Chiang Mai for the first time. For example, when is the best time to go to Chiang Mai, what are the prices, what area to look for lodging, how to get around. I'll tell you about all this below, and you can read about the sights of Chiang Mai by following this link.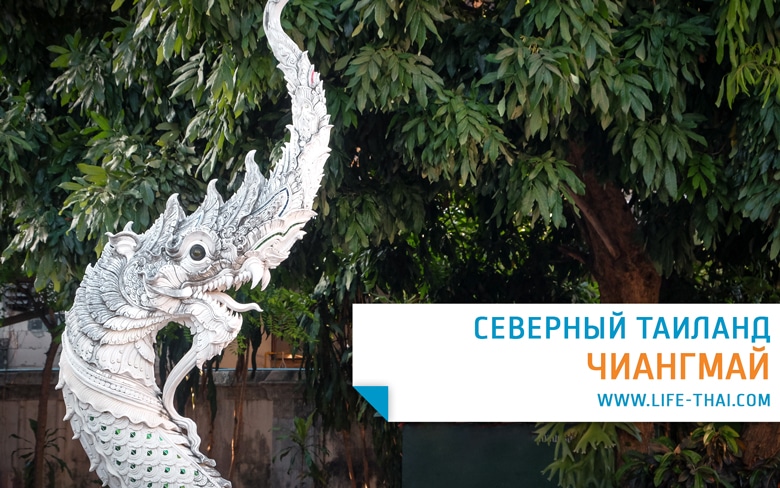 Chiang Mai: About the city and infrastructure
Seasons: When to go to Chiang Mai
Where to stay in Chiang Mai
Chiang Mai Transport
Chiang Mai Prices
Beaches of Chiang Mai
Chiang Mai: About the city and infrastructure
Chiang Mai is the gateway to Northern Thailand, the starting point for all travel in Northern Thailand, but Chiang Mai is also the capital of the digital nomads. The cost of living in Chiang Mai is much lower than in popular resorts – for example, Phuket, Samui or Hua Hin. And in general, Chiang Mai is very convenient and for life and travel. It is not for nothing that the Thai government chose Chiang Mai for the development model of "smart city".
There are no skyscrapers like in Bangkok, but there are large shopping centers with everything you need, there are hospitals – from cheap public hospitals to internationally accredited hospitals, there is an international airport, train and bus services to central Thailand and Bangkok. Local low-cost airlines can take you to Phuket, Pattaya or Udon Thani for only $30.
The heart of Chiang Mai is the old city, enclosed by a square brick wall and a moat of water. The square is clearly visible on the satellite map: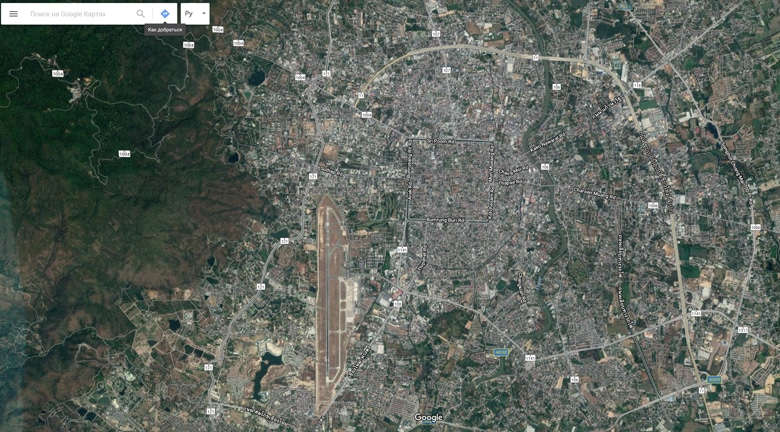 On the map on the left is Mount Doi Suthep, one of Chiang Mai's calling cards. The mountain can be seen from almost anywhere in the old city.
On the right side of the map is the Ping River. During Loi Kratong and the Yee Peng Festival, people come to the river to launch Kratongs and sky lanterns.
An unpleasant feature of Chiang Mai is the airport within the city limits. Because of the takeoff and landing of planes in some parts of the city is quite noisy. For example, the popular Nimman district is located right on the takeoff path. When we first lived in Chiang Mai, our apartment was in the flight path, and at first I woke up to the noise of the planes.
Seasons: When to go to Chiang Mai
There are three seasons in Chiang Mai:
Green season – the rainy season from June to October. Everything is green, beautiful and the temperature is pleasant, but there is a lot of rainfall. The sky is often covered with clouds. In September-October it rains less often, not every day, and these months can also be considered for a trip to Chiang Mai.
The cold season is from November to January. The best season to visit northern Thailand and Chiang Mai.
Cancer season – The hot season from February to May. During this season, farmers begin burning fields, and the air becomes unbreathable. The amount of carcinogenic particles goes through the roof. It's not a good time to visit Chiang Mai.
You can read more about what PM2.5 particles are and why they are dangerous to health at Habra https://habr.com/company/tion/blog/396111/.
Where to stay in Chiang Mai
I have read about the districts of Chiang Mai, their features and where to stay in Chiang Mai in a separate article "How to find accommodation in Chiang Mai".
If you're coming to Chiang Mai for a week or two, the best option is to book a hotel on Bookings or an apartment on Airbnb. Choose a hotel near the square (old town) or Nimman Road, you can even in these areas. There are a lot of boutique hotels in the old town, more youthful hotels on Nimman Road and close to bars/entertainment.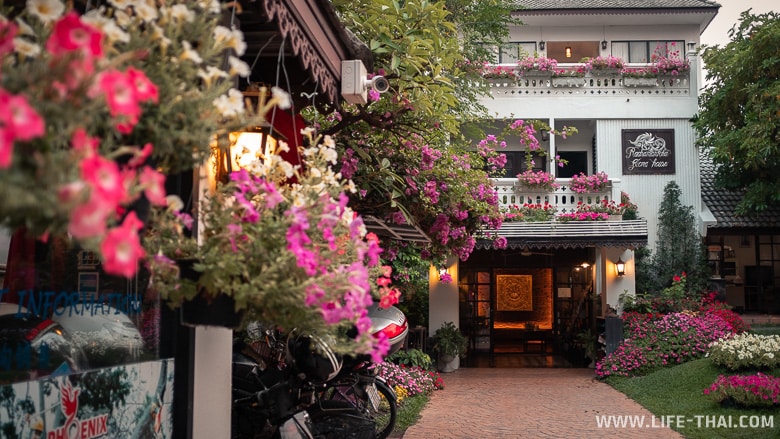 Here are some good hotels:
Plern Plern Bed and Bike is a hotel near the old town. For $30 a clean cozy room + bike. Rating on Bucking is 9.4.
3 Seasons – the hotel is close to Nimmerman and the old town. For $30 a clean double room, bike and breakfast. Rating on Booknig is 8.9.
Le Pure Chiangmai Hotel – Hotel in old town with breakfast for $40. Rating on Bucking is 8.2.
Arbor's house – The hotel is in a quiet nook off Nimman. Rated 9.3 on Bucking.
99 The Gallery Hotel – A classic hotel in the center of the old town. Great breakfasts. There is access to the roof. Price per night $50. Rated 8.2 on Bookings.
Chiang Mai Transport
Chiang Mai is quite a big city, and getting around here is convenient, of course, with your own transport. It can be:
Bicycle – very popular orange bicycles service Mobike, points with bicycles are all over the city;
Motobike – a lot of rentals, prices range from 99 baht for manual and 200 baht for automatic motobike. From me I can recommend Cat Motors (daily/monthly rentals, even a first aid kit in the rental bike), Chloe Motobike Rentals (monthly rent only, home delivery, there are new Nmax at 4400 baht/month and PCX at 4600 baht/month), Pop Riders (big bikes and serious machines, several rental points in town).
Car – not as convenient as a motorcycle if you go around town, but ideal for trips out of town. I can recommend Budget Catcher or RentalCars from me.
If you want to rent a motorcycle in Chiang Mai, make sure you have a driver's license (like we got our license in Thailand). There are many patrols in Chiang Mai that regularly check your license and stop you for riding without a helmet. The fine for now is 500 baht, but there are rumors of an increase in the fine to 5000 baht with confiscation of the motorcycle.
Unlike other Thai cities, Chiang Mai boasts a developed public transport and offers convenient ways to get around those who do not have a driver's license:
GrabTaxi – drivers don't try to scam like they do in Phuket. GrabTaxi instructions →
Songteo – red, yellow, blue shuttles. Each color has its own route. The fare starts at 20 baht. The most popular routes in the city are red songteo.
Tuk-tuks – small, skittish, loud, smelly tuk-tuks.
The buses are real modern air-conditioned buses with schedules and routes. There are several routes and there are signposted stops around the city. It even goes to the airport! You can track buses on the CM Transit by RTC app.
Chiang Mai Prices
Chiang Mai is one of the most inexpensive cities in Thailand to live in. There are expensive places, with meals starting at $10, and simple places, with meals for 40 baht.
The average cost of a meal at the food court is 60 baht ($1.8);
fish in salt on the grill at the market 120 baht ($ 3.8);
a portion of padtai at the market 50 baht ($1.5);
a portion of tom yam in the cafe from 100 baht ($ 3);
Motorcycle rental from 200 baht/day ($ 6.3);
car rental with automatic transmission from 900 baht / day ($ 28);
Travel by sngteo 20 baht ($ 0.6);
Condo rental from 8000 baht/month.
Food prices at the evening market not in the tourist spot of Chiang Mai. At the Maya Mall or the Sunday market in Old Town, the price tag for the same thing will be 2 times higher: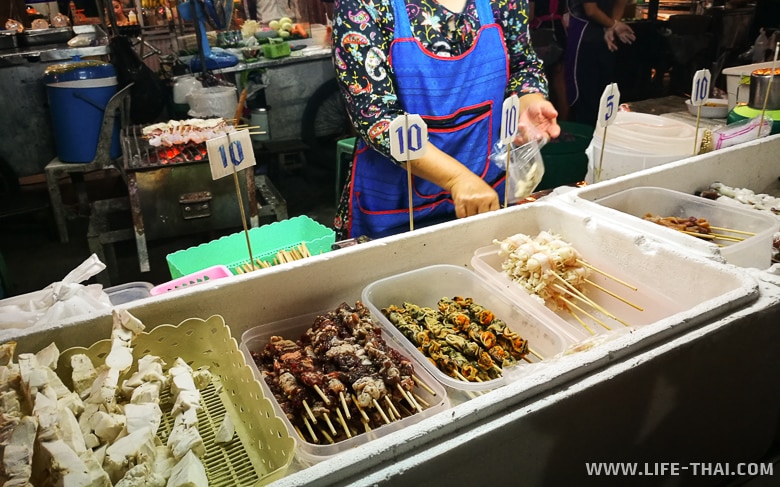 Food prices at an inexpensive eatery in Chiang Mai Old Town: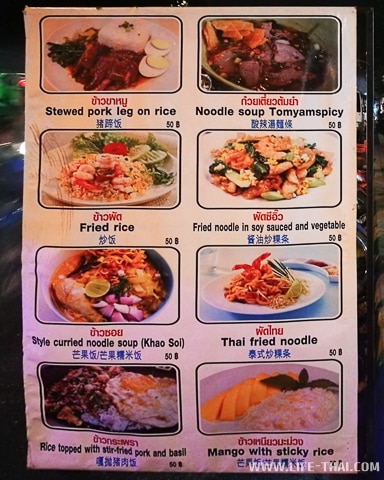 Speaking of food, we can't be silent about northern Thailand's most delicious soup, khao soy. You must try khao soi!
Also, Chiang Mai is a favorite place for coffee addicts. There are a huge number of coffee shops in the city, and in the district of Chiang Mai there are several coffee plantations. In the stores you can buy pre-packaged local coffee of different roast degrees and different manufacturers.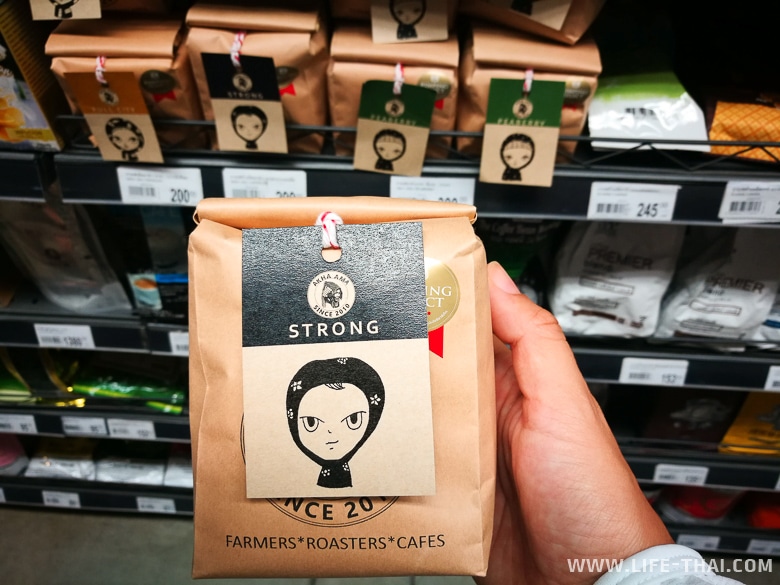 A satisfactory budget for two people to live in Chiang Mai is about $1,000/month. This figure includes housing, utilities, food, bike, and gasoline.
A good budget, at which you can live comfortably without saving, from $1,500/month. This figure also includes all household expenses, food, transportation, entertainment.
Beaches of Chiang Mai
The last topic I want to touch on in this article is beaches. You will laugh, but people often ask, "What are the beaches in Chiang Mai?" And you will laugh even more with the answer: the beaches in Chiang Mai are good! True, the water is fresh because these are the beaches of lakes, rivers and reservoirs.
There are several water parks and places to relax by the water and on the water near Chiang Mai:
Huay Tueng Thao Lake is not far from Chiang Mai. You can fish there and relax by the water. Detailed article →
Mae Ngat Reservoir – if you go, then the whole day. Rest in cabins on the water, almost like in Cheo Lan, only a little more modest. Read more here →
Grand Canyon – a huge water park in a flooded canyon. There is a wakeboard park.
Tube Trek Waterpark – Another huge waterpark with slides and a separate pool as a beach.
Hi, my name is Tatiana, and I'm happy to see you on the Life is Unpredictable! blog. I love to travel, and on the blog I share my experiences, tips and other helpful notes.