The best resorts in Turkey – our picks and tips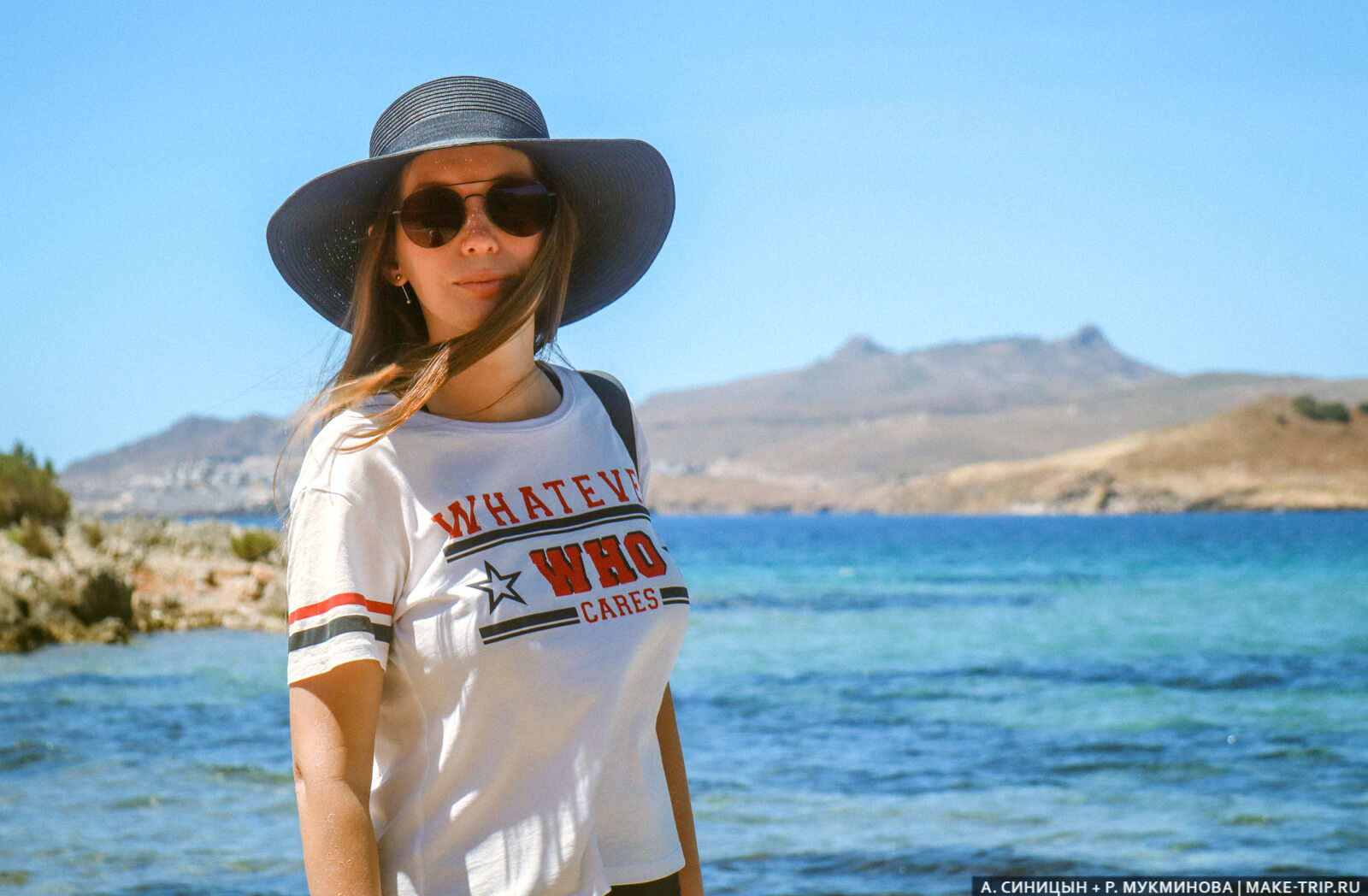 Choosing the best resort in Turkey – an impossible task, because each in its own way good! We personally visited all popular resorts of the Mediterranean Sea and Aegean Sea to compare them. In this article I will share my impression of each city and tell you where to go to vacation in Turkey. Find out which resort is right for you!
Take note:
And Travelata – here we buy tours.
Content:
Who and where it's better to go
Where it's not expensive. The most budget resort is considered Alanya, but we believe that at any resort in Turkey you can rest inexpensively – you just need to know how. The only resort where it is unlikely to save money is Belek, because there are a lot of elite hotels. Learn how to rest inexpensively in Turkey.
Where is the prestige. In the resorts of Belek, Fethiye, Didim, Kusadasi and Bodrum are mostly expensive hotels 4-5* with a large area, spa, golf clubs and other elements of luxury recreation. Find out about the best hotels in Turkey with pool access and heated pool.
Where to go with children. Alanya, Marmaris, Antalya, Side, Belek, Fethiye and Dalaman are suitable for holidays with children – there are comfortable beaches and entertainment. Read more about holidays with children in Turkey.
Resorts for young people. Kemer, Marmaris, Antalya, Alanya, Side, Bodrum and Dalaman are famous for nightlife, entertainment and active sports.
Resorts for the elderly. Choose a resort with flat terrain: Marmaris, Fethiye, Antalya, Alanya. It is important to choose a hotel close to the sea and to rest during the velvet season.
Icmeler
Of all the southern resorts of Turkey, Icmeler fell more in love with me – tiny, floral, fragrant, quiet and clean. Time here is drawn, like the local pine honey, which is worth a try. In general, the best resort in Turkey for a relaxed beach holiday! There are few entertainments: to walk along the promenade, breathe the pine air, go boating, but you can get to Marmaris by dolmusha or boat. Most of the hotels in Ichmelere are four. We stayed in a quiet city hotel Club Arya 3* with a swimming pool.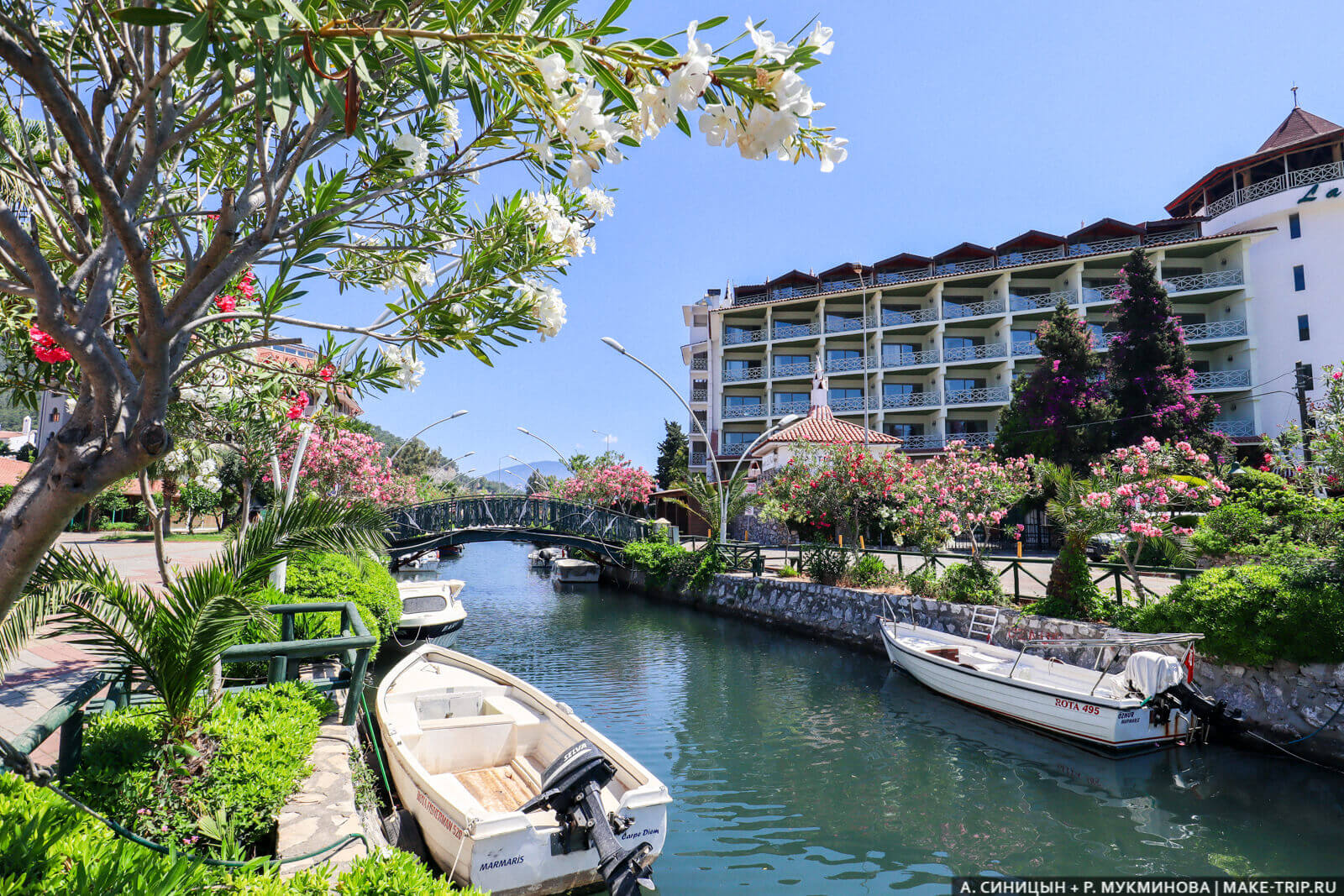 The main street of Icmeler leading to the sea. So many oleanders!
Marmaris
The Marmaris marina, bars and cafes, green mountains closing in a ring – Marmaris is a place for romantics. And photogenic Old Town a la Greece or Spain completely won me over. A completely different Turkey! All beaches are pebble and sandy-pebbly, with a smooth entrance, so you can go with children. The best beach is in Ichmelere.
We went up to the fortress, walked the streets of the Old Town and the waterfront, gazed at the luxury yachts, sailed on an excursion to Dalyan. Swim to Rhodes and Cleopatra Island, go to Icmeler and Turunç.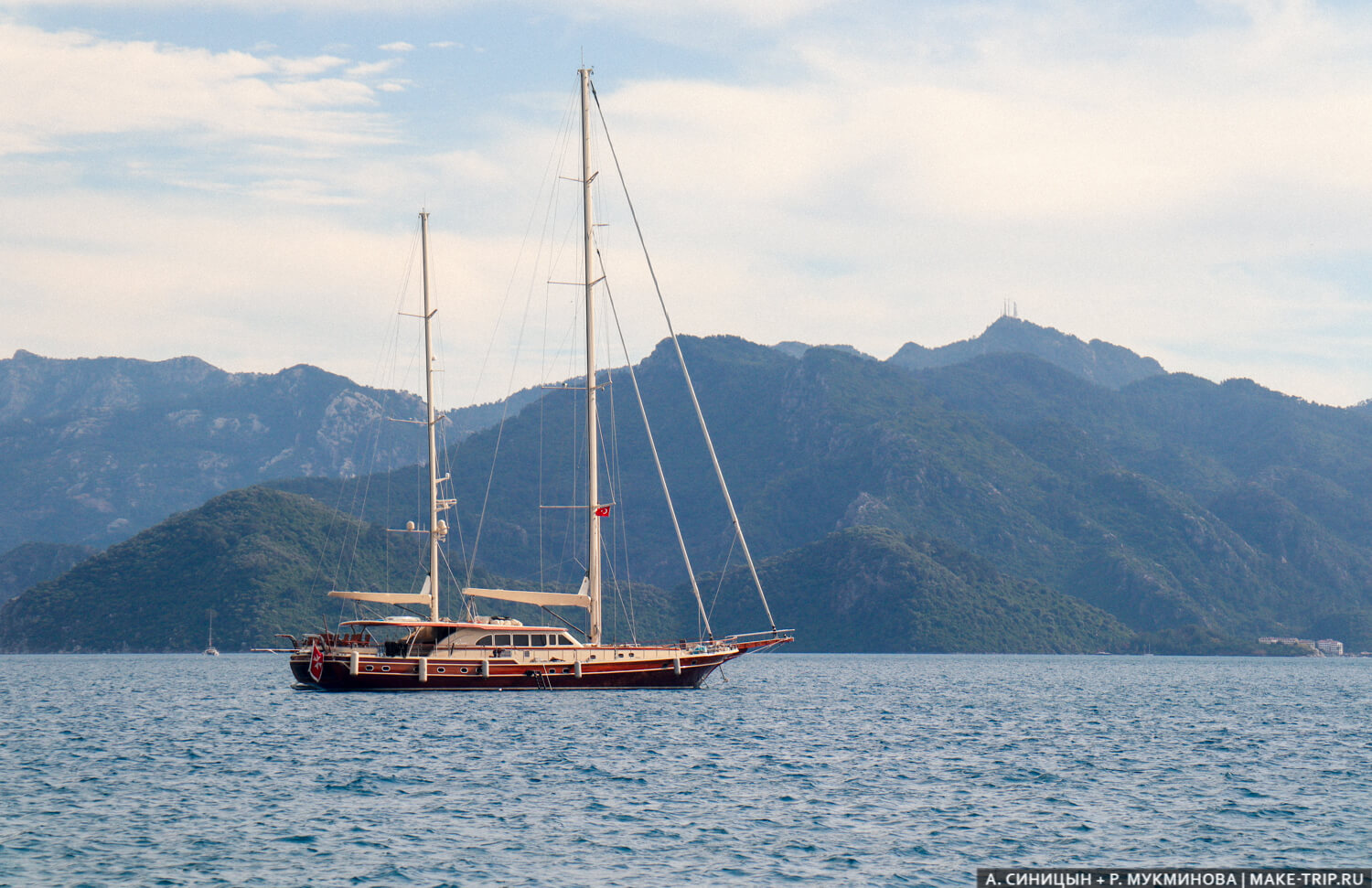 Boat in Marmaris.
Bodrum
Bodrum is also our favorite, one of the best resorts in Turkey. Once you see this photogenic town in the Greek style with neat white houses, you will not forget it. The resort is bohemian: artistic young people from Istanbul and Ankara sing guitar songs, write graffiti on walls, hang out in bars, and are simply inspired by the beautiful scenery.
In Bodrum we visited the fortress of St. Peter, went up to the old windmills, admired the views and went to the stunning beauty of wild beaches in Bitez. We stayed at the city's Costa Sariyaz Hotel 3*, but for a comfortable stay by the sea it is better to choose a country beach hotel.
| | | |
| --- | --- | --- |
| Type | Price in summer | Example |
| Hotel 3* with a pool (all inclusive) | from 65$ | Bitez Garden Life Hotel 3* |
| 5* hotel with pool | from 120$ | Bodrium Hotel & You SPA 5*. |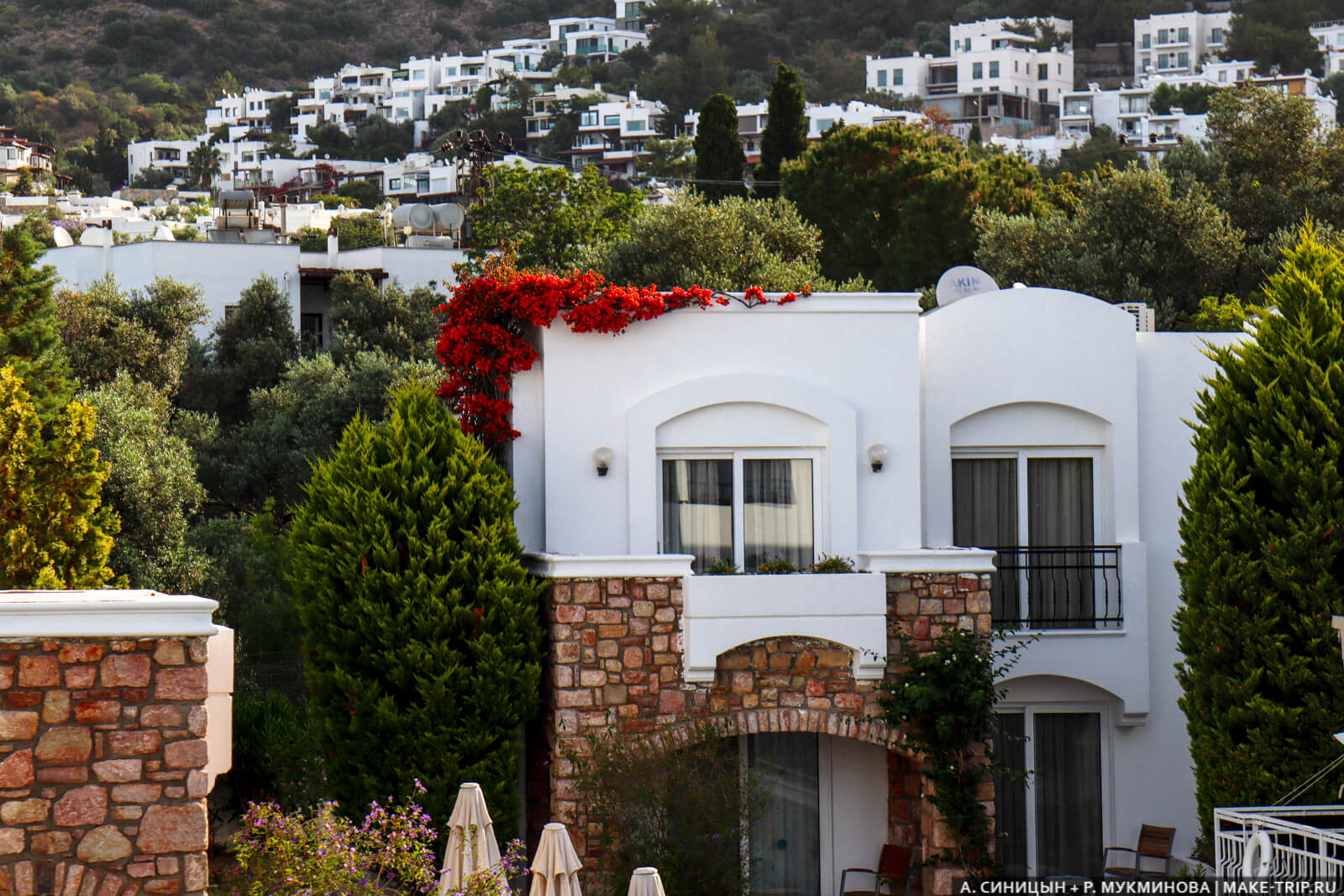 White Houses in Bodrum.
Permed by instagram bloggers Kash is really good. It's a slice of Europe in Turkey: the same white houses, decorated with flowers, picturesquely descend from the hill to the sea. Lots of trendy cafes, beautiful hotels with views, and an ancient Lycian tomb stands proudly in the center of the resort. One drawback – to some hotels in the heat to climb oh how not easy. Many people go to Kas for the best beach in Turkey – Kaputas. The beach is really good! Near Kas there is such a lovely resort Kalkan.
In Kas we stayed at the Ates guesthouse, which attracted us with amazing breakfasts and a great view from the terrace. It is suitable for young undemanding tourists, for the rest I advise to choose a more comfortable hotel.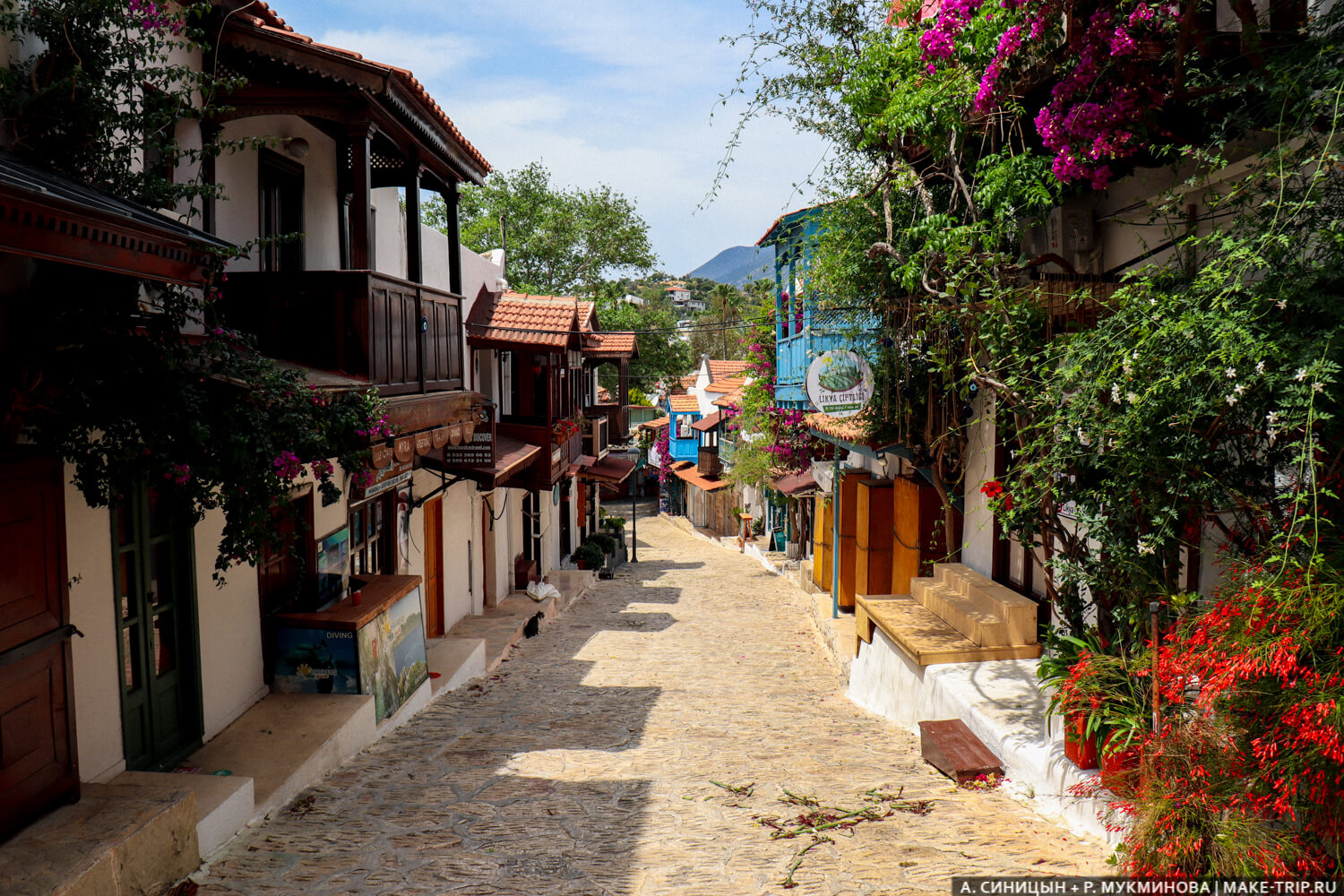 The main tourist street in Kasha.
Kemer
Azure clear water, pebble and sandy-pebbly beaches, pine scent and green mountains coming right up – this is how we remembered Kemer. The resort is generally quiet, but there are discos and nightclubs. In Kemer we rented a bike and went to the ruins of Fazelis and Olympos, swam at the picturesque turtle beach Cirali, looked at the mysterious lights of Chimaera, went to Chalish Mountain and swam to Antalya. Take the cable car up to Tahtali, see the Beldibi caves, and drive to Geynük Canyon. Learn more about what to see in Kemer.
If you want a quiet holiday, choose small hotels away from the center of the resort. Very quiet in the neighboring villages Chiraly, Olimpos, Tekirova, Kirish, Chamyuva – they belong to Kemer. We stayed at the Orange Garden aparthotel in Kemer and Queen's Park Le Jardin 5* in Kirish.
| | |
| --- | --- |
| Best hotels in Kemer | Price level |
| Garden Resort Bergamot 4* | $ |
| Kemer Barut Collection 5* | $$ |
| Rixos Premium Tekirova 5* | $$$ |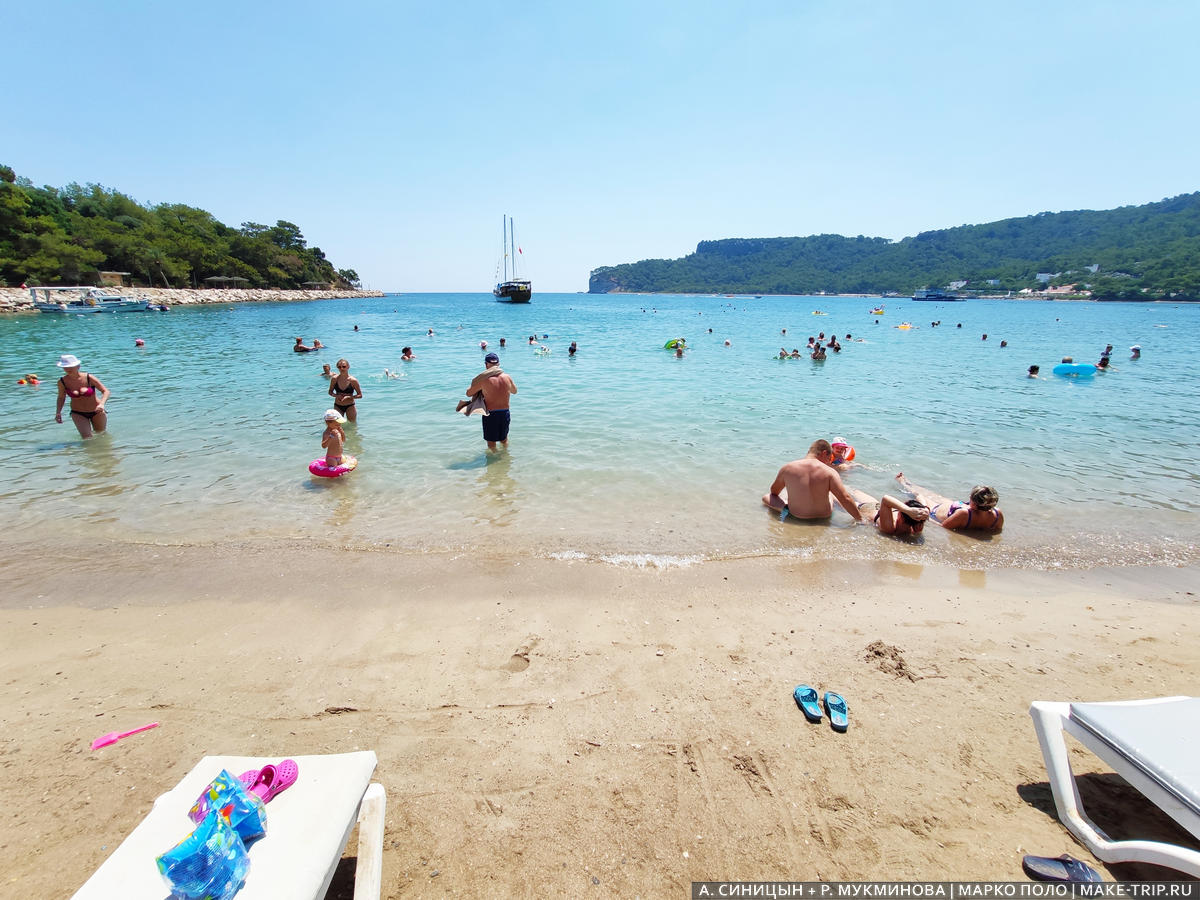 The sandy beach Moonlight Park in Kemer is very popular with families with children. Loungers are occupied from early morning!
Alanya
Where better to vacation with children in Turkey than in Alanya? This is a family resort – shallow water and sandy-pebbly beaches with a comfortable entrance are good for small children. Alanya is very popular with tourists for its affordable prices and good beaches. We too liked the resort: it is quiet, cozy, green, with a beautiful Cleopatra beach and spectacular caves Damlatas and Dim. We also went to the canyons of Sapadere and Green, checked out the chamber archaeological museum and saw the fortress.
Alanya is the most inexpensive resort in Turkey. We stayed at Kleopatra Atlas 4* and Sunprime C-Lounge 5* for very pleasant prices. And hotel Sunprime of all the hotels in Turkey liked the most – it is very cool and intelligent!
| | |
| --- | --- |
| Best Hotels in Alanya | Price level |
| Kleopatra Atlas 4* | $ |
| Sunprime C-Lounge 5* | $$ |
| Delphin Deluxe Resort 5* | $$$ |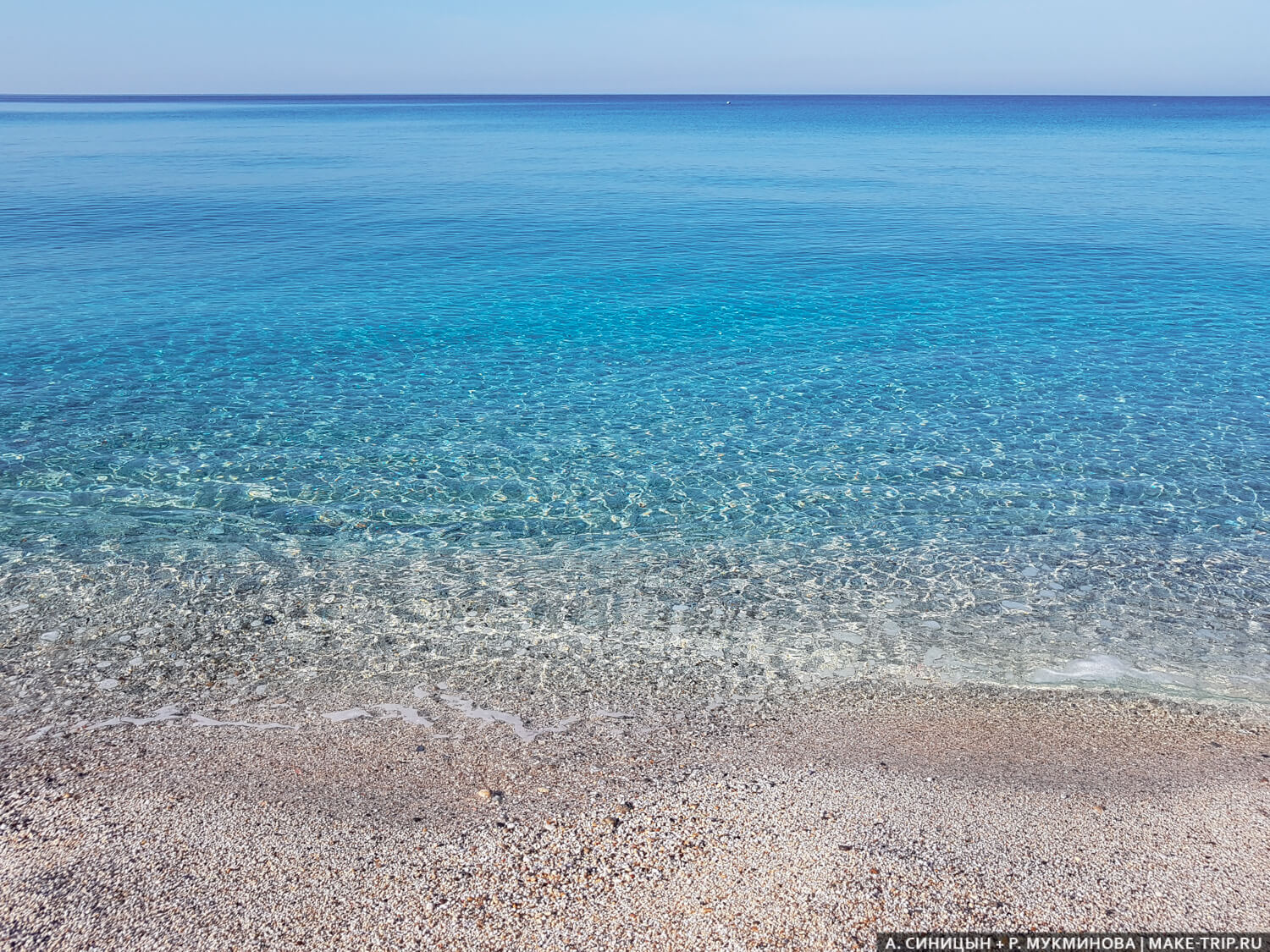 Damlatas Beach is a section of Cleopatra Beach in Alanya, under the rock. The transparency of the water is amazing!
Antalya
I am sure most tourists think that the best holiday in Turkey is in Antalya. I completely agree – Antalya is really extremely convenient for recreation. Judge for yourself: there are sandy and pebbly beaches, a wagon and a small cart of cafes and restaurants, a cozy old town, a lot of interesting places in the neighborhood and an endless line of hotels for every taste. A big plus of the resort is its proximity to the airport.
Antalya is a convenient point for sightseeing in the surrounding area. We were at the resort three times, so we saw everything, it seems: the old town with mosques, mansions and the Hadrian's Gate, different beaches, the fortress and port, the archaeological museum, the bazaar and the Düden waterfalls. We drove to the antique towns of Perge, Aspendos, Termessos, and Kibiru. For rest we advise our favorite Aska Lara Resort & Spa 5* – an excellent hotel with a large water park. By the way, the most expensive to rest on the beach Lara, and the most budget rest is in Konyaalti.
| | | |
| --- | --- | --- |
| Type | Price in summer | Example |
| Hotel 3* | from 38$ | Gurtas Hotel |
| 5* hotel with pool | from 95$ | Crowne Plaza Antalya |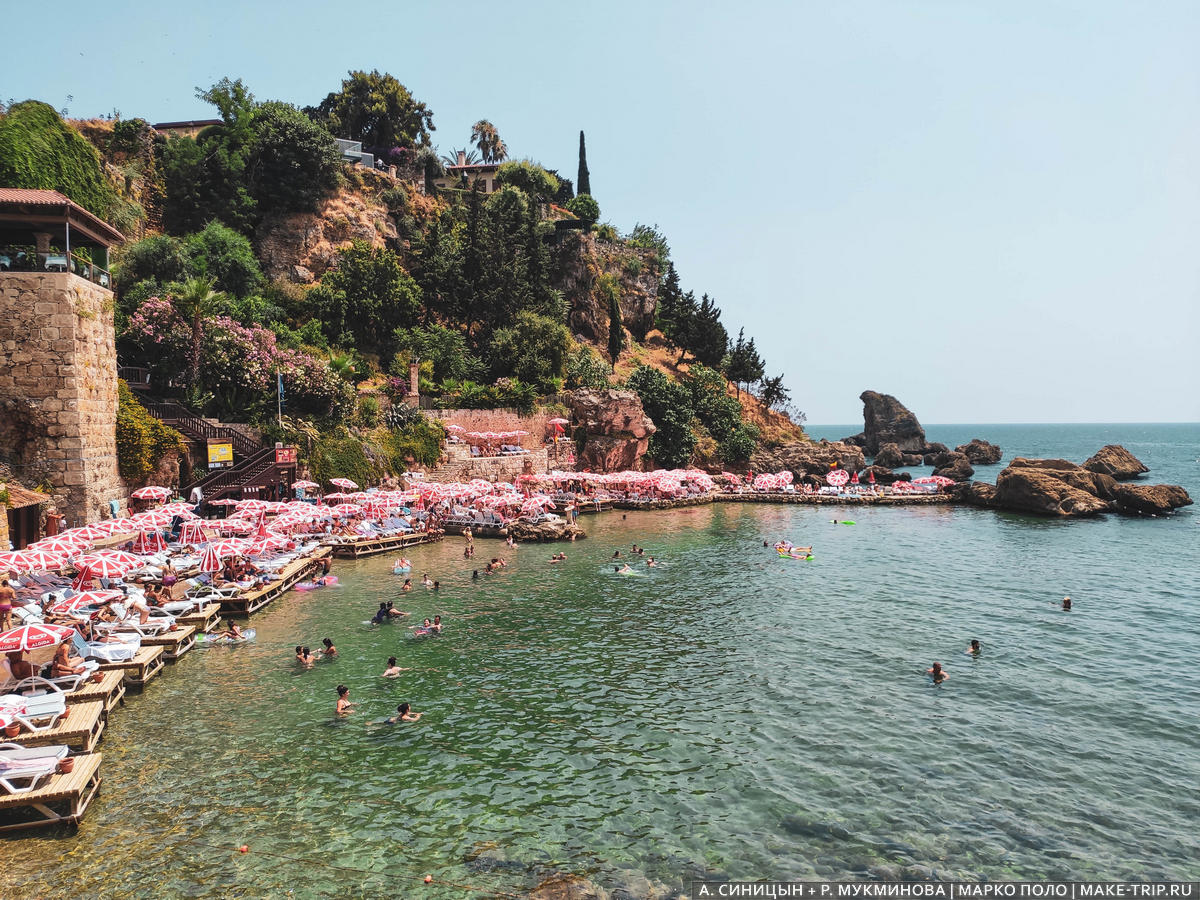 Cinematic platform beach in the center of Antalya with clear water.
Belek
Belek is the only resort we deliberately did not visit. Despite the fact that many consider it the best resort in Turkey for recreation, we found it boring and flat. Only luxury hotels and golf courses, not even anything to admire!
However, you can really have a great time and enjoy all the charms of Turkish service. Great food, well trained staff, perfect golf courses, fishing, spa and massage, water parks and beaches, plenty of excursions – relax and do not think about anything! True, and the prices are high. By the way, another plus Belek – all the beaches are sandy, wide and very clean, surrounded by pine and eucalyptus trees.
| | | |
| --- | --- | --- |
| Type | Price in summer | Example |
| Hotel 3* with a pool | from $55 | Ceres Hotel |
| 5* all inclusive hotel | from $165 | Altis Resort Hotel & Spa |
The pool at Club Asteria Belek Hotel on the beach in Belek. Photo: PercyGermany / flickr.com / CC BY-NC-ND 2.0.
Side is a cozy resort town with sandy beaches, very compact and simple. Remarkable for the ancient ruins in the center: the amphitheater, the temple of Apollo, the Agora, you can see them in a couple or three hours. From Side we went to Manavgat waterfall and the epic Green Canyon. The beaches are sandy and good. Hotels are concentrated on both sides of ancient Side, we stayed at the stylish Bosphorus Sorgun 5* hotel.
| | | |
| --- | --- | --- |
| Type | Price in summer | Example |
| Hotel 3* with a pool | from $40 | Victoria Princess Apart Hotel |
| 5* hotel with pool | from 120$ | Side Kum Hotel |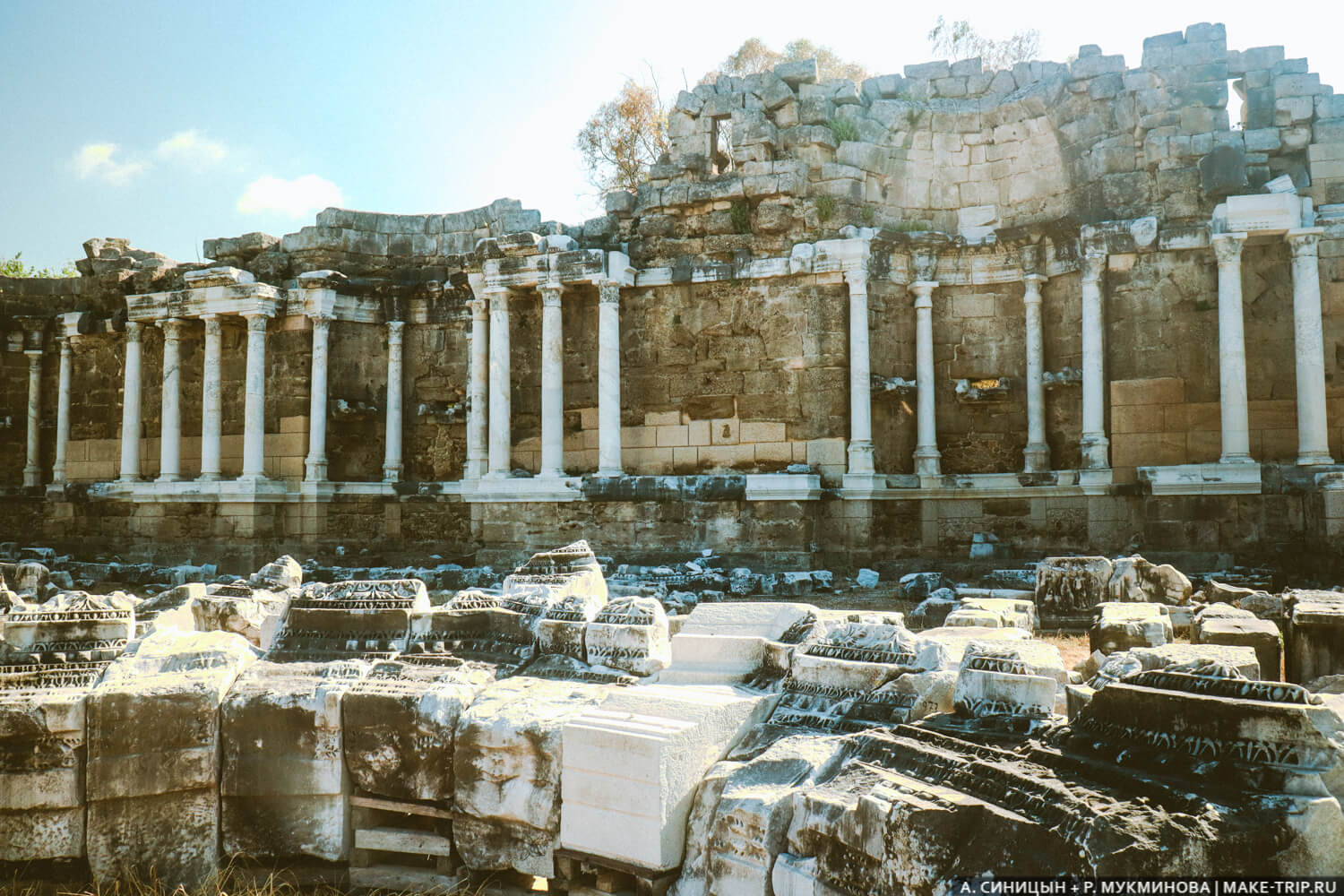 Nymphaeum ruins in Side.
Oludeniz
They call it Maldives in Turkey! Here and Oludeniz was awarded this title, although it does not look like an exotic island. A wide and long sandy beach, high mountains, coniferous air, blue water – actually a typical landscape for this part of Turkey, and we saw a wild beaches of Bodrum and the water was a bit bluer.
The place is good: peaceful, beautiful and interesting. We came here for a day from Fethiye by car to swim in the famous Blue Lagoon, look at the Valley of Butterflies from above and have a short walk along the Lycian Trail. The village itself is unremarkable – hotels of different levels, cafes, stores. It is divided into upper and lower levels. I think it's nicer to live at the bottom, by the beach.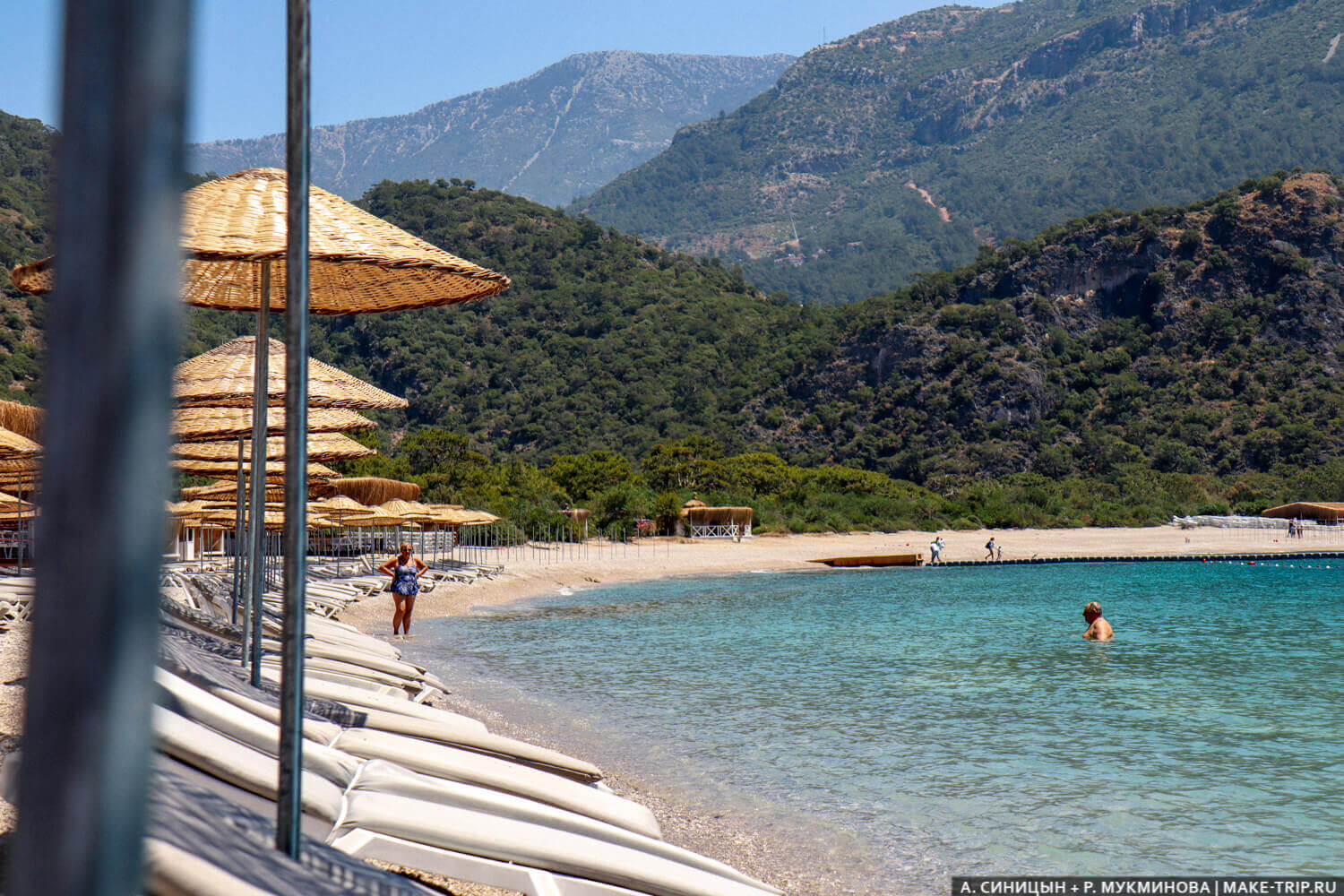 Oludeniz.
Fethiye
When they say "Fethiye", they often mean Oludeniz and its excellent beaches. But Fethiye is a separate resort with its own beach, and it is not impressive: gray sand, stones and corals, muddy water. I would not swim, it is better to go to other beaches, of which there are plenty. However, the resort is nice, quiet and pleasant for a rest. There is a center with a bazaar, cafes and a beautiful marina, Lycian tombs in the rock, the ruins of a fortress, a museum and a long promenade!
In Fethiye it is convenient to live not in a hotel, but to rent a house – we did so. From the resort we drove by car to Oludeniz and the Valley of Butterflies, the ghost town Kayaköy, the ancient cities of Xanf and Tlos, in the gorge Saklikent.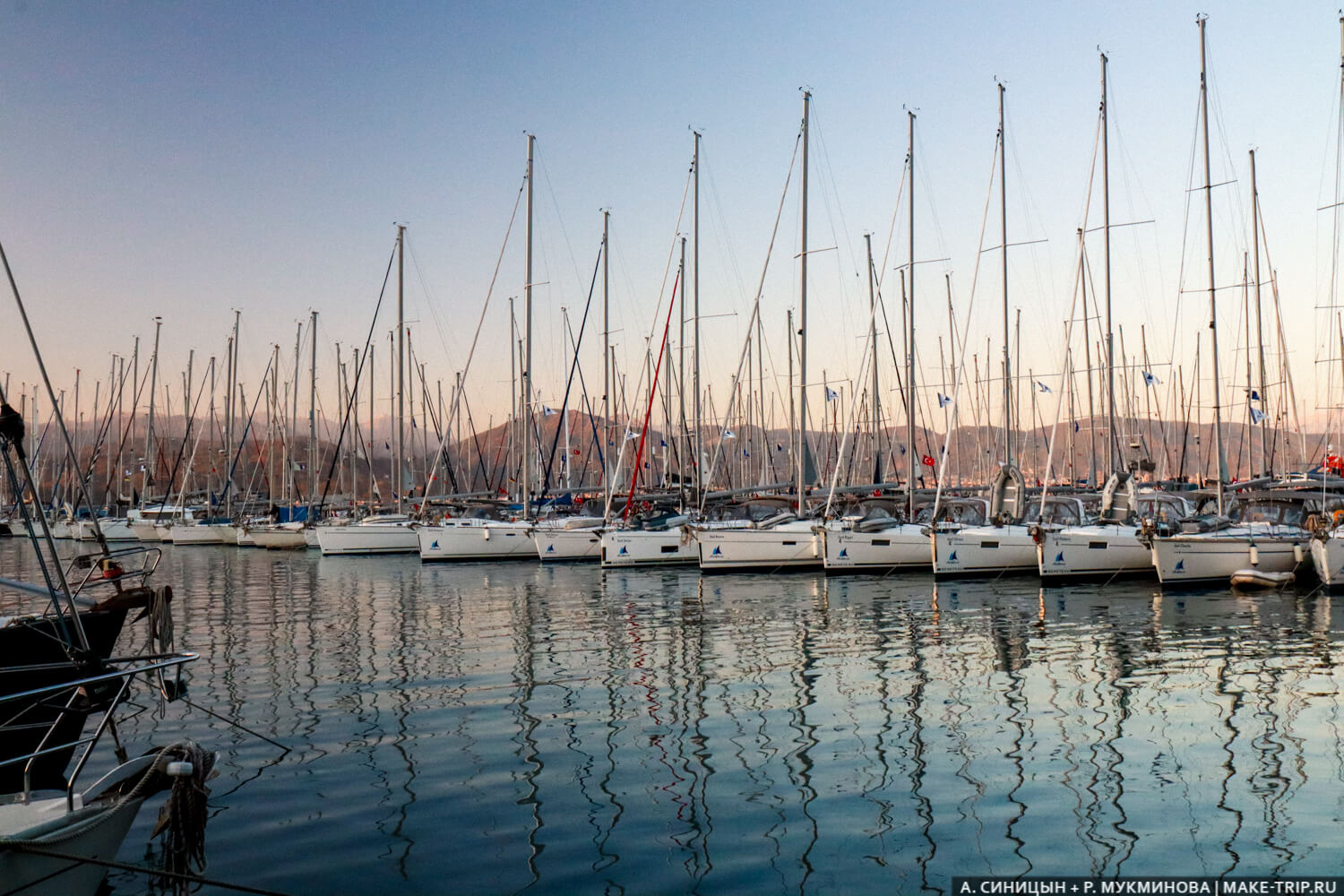 A sunset stroll around Fethiye Marina is a special treat!
Kusadasi
This resort surprised me with its gigantic size – I thought it was small and chambery, like Icmeler or Kas. It left a pleasant impression: a good promenade, a fortress on the island, a caravanserai, lots of cafes, a bunch of hotels of different levels, entertainment, a cool national park Dilek with wild boars, Zeus Cave, but most importantly – a convenient location. There are antique cities Ephesus, Selcuk, Miletus, Didim and Izmir nearby.
You can swim better in Dilek or Ladies Beach. We stayed at Demir Suit Hotel 3*, but it is high up. As the relief of the resort is hilly, I advise to live below, because it is hard to go up on foot.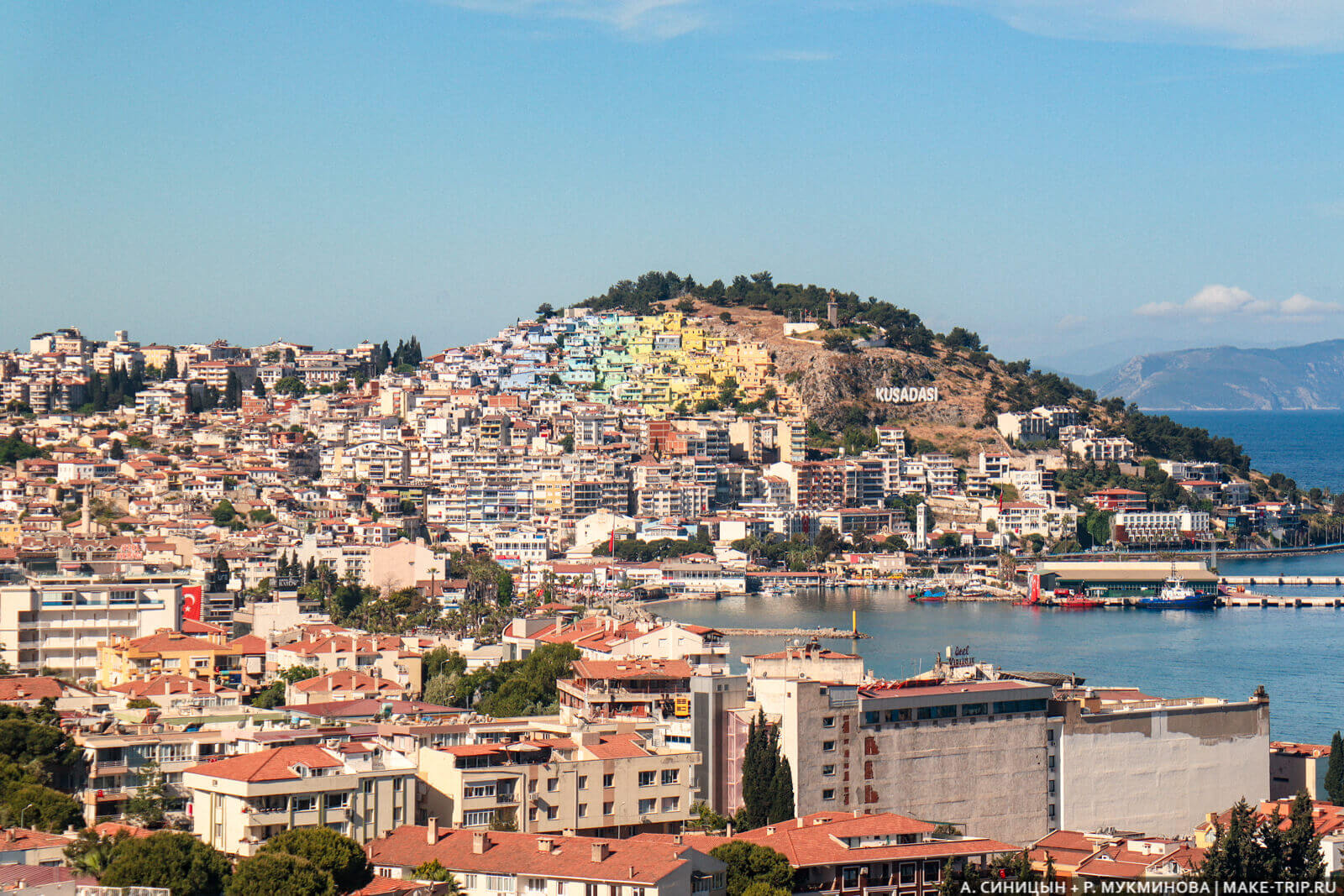 The view over Kusadasi from the balcony of our hotel is gorgeous.
When is the best time to go
The high season in Turkey lasts from May to October, but the beach holiday is ideal in June and September: daytime +30 ° C, night +20 ° C, water +26 ° C. We do not advise to go on holiday in August, especially with children: the daytime temperature is about +40 ° C, and you'll spend half a day in the room under air conditioning. If you do decide to go in the summer, you should choose Bodrum. There are fresh breezes, so the 35-degree heat is surprisingly easy to endure.
We were in late June – early July in Kemer and Antalya: during the day is such a heat that even the shade is not saving. But the water is refreshing! Come to the beach before 11:00 and after 16:00, otherwise you will burn. And in the daytime it's better to stay in the hotel room. See what the weather in Turkey in each of the months.
Come to Turkey in winter or in November to rest inexpensively in excellent hotels with a spa – in the low season the prices are reasonable!