The most budget resorts of the Black Sea: how to have a good rest and not to spend too much
If you are reading this article, you are probably thinking about spending your summer vacation at the sea. Take your family and children to improve their health. And it is fine. But how to combine the desire to rest at a decent clean resort and a salary that does not keep up with the rapid growth in prices, as the African skier for Bjorndalen?
It would help not to spend too much money if you plan your trip in advance, look at the prices and choose your vacation spot wisely. Now is the time to think about your budget and where to stay, because accommodation is one of the most important expenditures for traveling. And our recommendations will help you decide on the most budget resorts of southern Russia.
Hello, sea, it's been a long time
Black Sea coast of the Caucasus.
Traditionally, the most inexpensive Black Sea resorts are considered to be the villages of Tuapse region. This is due to the location of the railroad close to the beach line. Tourists are few, respectively, the prices for housing and products are low. At the same time the villages are very green, the water is clean and if the rails, rails, sleepers, sleepers do not embarrass you, feel free to choose resorts from the list below.
Vishnevka
Vishnevka village, surrounded by vineyards and orchards, is a paradise for quiet beach vacation lovers. Transport accessibility, clean sea, a wide range of inexpensive lodging and cafes, and hospitality of the locals make Vishnevka one of the best options for family vacations. Vishnevka is located on the Black Sea coast, between Tuapse and Lazarevskoye. It is 15 km to Tuapse and 20 km to Lazarevka. To get to the resort is easy.
It is never crowded on Vishnevka beach.
How to get there
By car: take M-27 highway from Dzhubga to Sochi. You will manage even without navigator, because there is only one road here and it is simply impossible to get lost.
By train: you can get out in Tuapse and get transferred to a local electric train, because trains don't stop at the small Vishnevskaya station. You can also choose a minibus, a regular bus or a cab.
By plane: the nearest airport is in Adler. From there, the easiest way to get to Vishnevka is by train: by fast-speed Lastochka about 2 hours, by an ordinary electric train – a little over 3.
Where to stay
There are no big hotels or any other kinds of stars in the village, so the main part of tourists stay at private accommodation. But inexpensive does not mean bad. Vishnevka has a lot of cozy guest houses with all conveniences, well-groomed territory and good reviews.
Tucked away in the green guest house "Marina" offers options from 700 rubles for double economy to 2,000 rubles for a separate suite, and this in high season. Terrific air, 7 minutes from the sea, and the hostess treats you with fruit from her garden! You can stay here for about 400-600 rubles per person, depending on the room. "Guest House at the Sea" boasts a private pool in the yard, and a minimum distance to the sea, and a pleasant summer price of 800-1000 rubles for double occupancy. Find more housing options in Vishnevka on our website.
What to do
In Vishnevka there are no noisy entertainment, parks with amusement rides, nightclubs. This is a place for a quiet beach holiday. The beach here is pebbly and small, but there is always enough room, because there are few vacationers even in the season. The beach in Vishnevka, as well as all along the coast from Tuapse to Adler, is separated from the village by rail, and you can get there only in certain places. Take this into account when planning a vacation.
But there are even in such a small village its own attractions. In 1.5 km from Vishnevka there is a beautiful waterfall "Laura's tears" with the height of 16 meters, near which the brave ones can take a dip in a natural bath with mountain water. You can reach the waterfall by car or on foot (from the village there is Kazanskaya street), so feel free to include this mini-trip in your vacation plan. Only beforehand ask the locals to tell you a touching legend about the birth of the waterfall.
Diving lovers will find Vishnevka interesting. Not far from the coast, at the bottom of the sea since the Great Patriotic War lies a ship "Azov". What if you are lucky enough to discover the secrets of the shipwreck?
Sovet-Kvadje
Soviet-Kvadzhe is a small resort village, famous for its clear sea, spacious free beaches and luxurious southern vegetation: there grow pitsunde pines, palms, bamboos, but its main attraction are slender cypresses. It is beautiful nature, clean air, filled with aroma of conifers, an atmosphere of tranquility and solitude attracts Council-Kvadje. And the opportunity to rent really cheap accommodation makes holiday in the village even more attractive.
The village is immersed in greenery.
How to get there
By car: everything is simple here: take Dzhubga – Sochi highway. You won't miss it.
By train: to Tuapse or Lazarevskoe, and from there you can get to Sovet-Kvadzha by cab, bus or train. From Tuapse – 18 km, from Lazarevka – 11 km. The bus stop in Sovet-Kwadje is called "Smena", the bus will stop on the main street Sibirskaya.
By plane: you fly to Adler, there you change to an electric train. There are also regular buses, but the train will take you to Sovet-Kvadzha faster.
Where to stay
There are several boarding houses and sanatoriums for adults and children in Sovet-Kvadje, but most choose the private sector all the same. It is inexpensive and always close to the sea. The settlement stretches along the sea, and so even from the most highly located housing to the sea no more than 10 minutes.
For example, from the guest house "On Sibirskaya" to the sea only 7 minutes. The prices will also be pleasant: starting from 1200 rubles for a room in the summer months, and for 2000 rubles a day you will be offered a two-room room with a sauna. Hospitable hosts help with the organization of excursions. Xenia" guest house offers rooms at a price of 300-400 rubles per person, a cozy recreation area and a swimming pool, and in the guest house "Svetlyachok" you can rent a separate house with amenities for only 1200 rubles.
What to do
Swim. Get a tan. Walk around the village, as if on a huge arboretum, enjoying the nature and clean air. Go to a real arboretum at the sanatorium "South", which gathered more than 1000 relict subtropical plants. Look at the bird nursery, which is in the pension "Romashka". Go for a boat ride along the coast, the boats leave directly from the beach.
In the village there are several good sanatoriums, so you can combine vacation with treatment. The sanatorium "South" has a hydropathic clinic, and the children's sanatorium "Smena" deals with cardiology.
In order not to make your rest seem monotonous, go on excursions around the area. Waterfalls "Tears of Laura" and "Forest Tale", ancient dolmens near Soloniki, infinitely varied entertainment Lazarevsky and Tuapse – many interesting routes start in Sovet-Kvadzha.
Trip to Lazarevskoye from Sovet-Kvadze
Dederkoi
Dederkoi is a tiny village at the mouth of the river of the same name. It is located perpendicular to the sea, so from the far corners to get to the beach all the same decent. But here, as in any river valley, the air is delicious and fresh, and the slopes of the mountains surrounding the village are covered with dense emerald carpet of subtropical vegetation. You will live like in a park and wake up to birdsong and river murmuring.
How to get there
By car: the normal route is M-4 from Krasnodar to Dzhubga, then you have to drive straight to Dederkoi on M-27.
By train: Dederkoje is in 17 km from Tuapse, so you have to get off the train here. Though some trains stop in Dederkoje, so it is better to check this point beforehand. From Tuapse you can get by train, by bus, by fixed-route taxi.
By plane: from Adler airport it's quickest and easiest to get there by high-speed electric train "Lastochka.
Where to stay
Accommodation in Dederkoe is one of the most inexpensive on the coast, the price depends on the distance from the sea. The village is built up with small private houses, among which you are sure to find an option for your liking and means.
The guest house "Tatiana" offers rooms at an amazing price for a southern resort at 250 rubles per person. A bonus – the green area and a gorgeous view of the mountains. Guest House "U Larissa" is located on the main street of the village, to the sea – 5 minutes, with a person – 300-600 rubles, depending on the season. For the same amount of money you can remove the room in the guest house "At Susanna" with a beautiful terrace overlooking the river and mountains. There are even more options for nice prices on our website.
What to do
The main entertainment of Dederkoi is, of course, a beach holiday. The beach in the village is interesting, studded with breakwaters, like a giant piano with black keys. Fishermen (by the way, fishing in Dederkoe excellent) and lovers of diving took a fancy to the breakwaters. And how only they do not interfere with each other? A full range of beach entertainment is also at your service.
Cozy Dederkoi
At 6 km from the village is a cascade of waterfalls – "Blue", "Azure", "Graybeard" and others. Journey to the waterfalls will give unforgettable emotions and relaxation, which is so lacking in the bustle of cities. To the mineral springs of Nadzhigo from Dederkoi only 7 km: it is an opportunity to walk through the ancient Colchian forest and taste the healing water, which is probably the reason for the longevity of local residents.
Annunciation
Prefer pebble beaches to sandy ones? We advise to pay attention to the village Blagoveshchenskaya – the most budget resort of Anapa. Blagoveshchenskaya (or Blagoveshchenka, as it is called by tourists and locals) is chosen for a quiet family vacation, but young people won't be bored here either.
A lot of sun, endless sandy beaches, a huge choice of inexpensive accommodation, fresh local fruit and wine make Blagoveshchenka popular holiday destination. Add to that the many excursions and activities, including popular diving and various types of surfing, and you can see why booking accommodation in Blagoveshchenskaya is best not delayed.
Blagoveshchenskaya Central Beach
How to get there
By car: we focus on Krasnodar and Anapa. From Anapa it is about 40 km through Vityazevo.
By train and plane: they arrive in Anapa, from there – by shuttle bus, regular bus or cab.
Where to stay
Blagoveshenka is very interestingly located – between two estuaries, Vityazevsky and Kiziltashsky. To the sea you will have to walk a little through the dam of Vityazevsky estuary, take this into account when choosing an accommodation. Despite the popularity of the resort, you can rent an accommodation here very inexpensively, because there is really a lot of it. For example, in the guest house "Santa Barbara" with a playground and its own cafe double economy can be rented for 800 rubles in June, and a four-bed room with amenities in the high season will cost 2300. You can get a room from 1300 rubles at Marina guest house, and that includes the pool! Find more options at our website.
What to do
Besides beach recreation, Blagoveshchenka has a lot to do. This is a popular place for diving, kite and windsurfing. Special schools with equipment rentals can be found right on the beach.
In Blagoveshchenskaya excellent conditions for kitesurfing
Also experience all the advantages of mud baths, and for free. Vityazevsky and Kiziltashsky estuaries are famous for deposits of curative hydrogen sulfide mud, and many vacationers go there, as on sanatorium procedures. And for popular entertainment such as a water park or amusement park can always go to Vityazevo and Anapa.
In order to have an inexpensive vacation in the Crimea you should plan your budget wisely and choose the most affordable accommodation. We reveal the secrets and passwords, and tell you about the most interesting and inexpensive places to rest.
Ordzhonikidze
Ordzho, as the tourists lovingly call Ordzhonikidze – quite a young resort. In Soviet times it was closed because of the military factories located here, and only in the 1990s began to develop. No highways and railroads nearby, no noisy entertainment and crowds of tourists. Only practically untouched by civilization, the sun and a lot of sea, because Orjo is washed by them on three sides.
Nature and species Ordzhonikidze nothing to compare, because here the steppe Crimea passes into the mountain. The village stands on a cape washed by the waters of the bay and Dvuyakornaya Provato bay, and we can say that the beaches in Ordzho more than people resting. The village is only just gaining popularity, so we recommend you to visit here before mass tourism has not yet touched this wonderful corner of nature.
Orjonikidze Landscapes
How to get there
By Car: through the Crimean bridge, the landmark is Feodosia, then to Ordzho 14 km.
By train: to Feodosia again, there you can take a cab, a shuttle-bus or a regular bus, they go often.
By plane: to Simferopol, then a cab or a bus. But be ready that the travel time will be about 2 hours.
Where to stay
Rest in Ordzhonikidze is inexpensive. Resort infrastructure is just beginning to develop, so many guest houses are quite freshly built. Also in the village there are boathouses, you can also rent an apartment. For example, you can rent a room in the "Sea Breeze" guest house for 1200 rubles in the summer. Rooms in boathouses are more expensive (from 2500 rubles in the boathouse "Katran" and boathouse "Svetlana"), but you'll live right on the beach.
What to do
To have a walk. To breathe. To explore all local and wild beaches, though there are so many of them here that the vacation might not be enough. Admire the breathtaking panorama of the surrounding hills. Also try sea fishing, diving and underwater hunting, you will discover a lot of interesting things.
Not far from Ordzhonikidze are the ruins of the ancient fortress of Kaigador. Take a walk there. Touch history. They say that you can still find thousands of years old artifacts there. And if walks and beaches already do not inspire, rush in Koktebel or Feodosia.
Nikolaevka
On the south-western coast of Crimea, approximately in the middle between Sevastopol and Evpatoria, is a small resort village Nikolaevka. And if you are attracted by this direction, but you do not plan to stop neither in a quite crowded Evpatoria, nor in a completely beachless Sevastopol, we recommend you to consider this option.
Mykolaivka Beaches
In terms of ecology Nikolaevka – an excellent choice. No industrial productions, no tracks and even less so railroads, the clean open sea and few people. Sightseeing, however, also no … But also for them do not come here. Comfortable beach vacation, budget housing, good transport accessibility – that's what people value Nikolaevka.
How to get there
By Car: You can get and from Sevastopol (70 km), and from the Evpatoria (about 60 km). But if you are driving on the Tauride, your route will go through Simferopol. The distance between Simferopol and Nikolaevka is 40 km.
By train and plane: arrive in Simferopol, and from there take a cab or a regular bus.
Where to stay
Indeed, the budget and with good conditions of housing in Nikolaevka enough. This is due to the fact that it was Nikolaevka choose the inhabitants of the Crimean capital for a beach holiday. A lot of housing with a swimming pool, with playgrounds and at the same time not far from the sea. For instance, in the cottage "Altyn" with its own beach you can rent a room for 1200 rubles. And in a cozy guest house "Greek" for the same amount per person you will be offered accommodation with three meals a day. Great accommodation options in Nikolaevka directly from the owners are waiting for you on our site.
What to do
Any local attractions in the village are absent, but Nikolaevka can boast of the sea, clean comfortable beaches and a full range of beach attractions. Therefore we sunbathe, swim, go for a drive on any water things, stock up on Crimean fruits at local markets, and all this near, pleasantly and cheaply.
And if a lazy beach holiday suddenly bored, you can pull away with the kids at the local amusement park or take a couple of lessons in a diving center. And be sure to set aside a day to visit Sevastopol: excitement and emotions to the goosebumps are guaranteed.
A trip to Sevastopol does not leave anyone indifferent.
It is quite possible to have a rest on the Black Sea inexpensively. Planning a trip (budget, transportation, program), plus the right holiday destination plus early booking – here is a recipe for a great vacation, which will not hurt the wallet.
10 places for the cheapest vacation at the sea in Russia
Most people associate the words "vacation and vacation at sea" with a lot of money. Indeed, a couple of weeks spent at some popular overseas resort will cost a pretty penny.
In order to have a good rest, do not necessarily go abroad, you can save a lot by choosing the Russian south. In addition, this option is perfect for people who have restrictions on exit due to the specifics of the profession.
Again, the choice of location should be based on your preferences. Many tourists go to a quiet village, and then complain about the unbearable boredom, and vice versa.
If you dream of a quiet holiday, it is better not to choose a major resort town. To have a perfect vacation, pay attention not only to the cost, but also to other factors. Below is the rating of places for the cheapest vacation at sea in Russia in 2021.
10. Kuchugury
A small village in the Krasnodar region. The location is the Azov Sea. It is located 35 kilometers from Temryuk.
Kuchugury is a great place for a relaxing family vacation. The beach is the hallmark of the village, it is called one of the best on the Azov coast. The sea is gentle and shallow suitable for bathing small children.
Even 10 years ago, Kuchugury was not very popular, but now people are happy to return here again and again. Lodging is inexpensive, a hotel room costs from 1500 rubles (for two adults). Lodging in the private sector is even cheaper.
You can buy food at local markets. If you are not going to spend time on cooking, you can choose from a variety of cafes and restaurants. However, the choice of attractions here is not great. Mud volcano Plevak, the beach and the sea – that's what you can count on here. However, it is quite enough for a good rest.
9. Bolshoy Utrish
This small village is located in a protected area. Clean air, singing birds, picturesque scenery, pristine beaches and warm sea – that's what tourists come to Bolshoi Utrish for.
Rest here is not only economical, but very rich. To explore all the territory, not enough vacation. Beach length of about 18 kilometers. Tourists can walk around the reserve, engage in recreation, visit the dolphinarium. The area here is very beautiful, mountainous.
The only drawback – when returning from the beach will have to climb the mountain. For this reason it is better not to choose Bolshoi Utrish for recreation with small children and older people.
Lodging is cheap: the economy option in the guest house (2 – 3 places) – only 1000 rubles. That's just better to book it in advance, as in the season it is difficult to find a free room or room.
8. Vityazevo .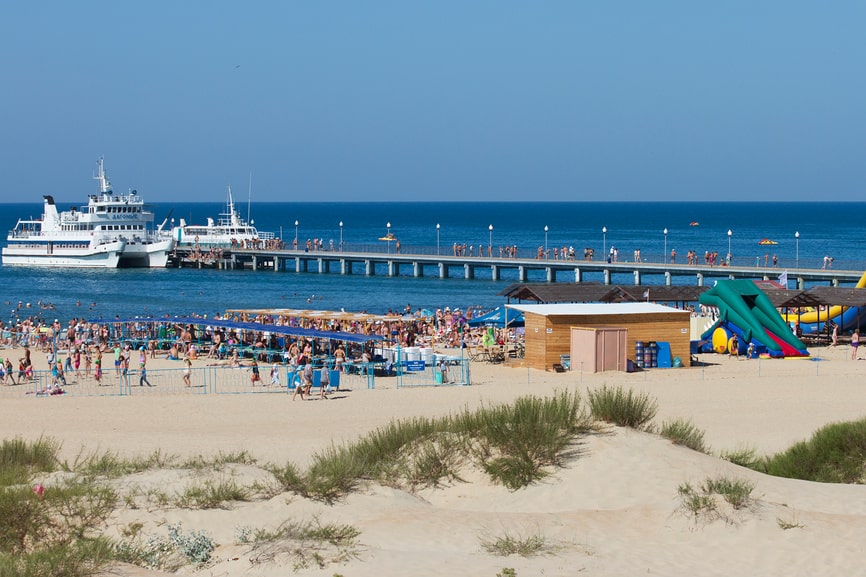 Paradise place, which is located just a couple of tens of kilometers from Anapa. There are all conditions for comfortable rest: well-developed infrastructure, beautiful nature, the sea.
Vityazevo unique beaches, long with fine sand. And the width of the coastal strip of about 100 meters.
Vityazevo is famous for its curative mud, so you can go here not only to rest, but also to be treated. This place is perfect for recreation with children, there is a good amusement park.
Young people will also like it: the promenade Paralia, a lot of nightclubs, cafes and restaurants. The cheapest room in the guest house costs about 900 rubles for two people.
7. Blagoveshchenskaya village
This place is considered one of the cheapest among the entire group of Anapa resorts. Blagoveshchenskaya stanitsa is suitable for families with small children, for the elderly, as well as young people who prefer an active holiday sitting in bars and partying in nightclubs.
Excursions, water sports, water park, trips on quad bikes – everyone will find entertainment to his liking. The pride of a village – the clean sea and magnificent sandy beaches.
Lodging is very cheap, there are even options with a shocking price – from 300 rubles per day per person. Of course, one can't speak about comfort for such a price.
6. Arkhipo-Osipovka .
The small village is located on the Black Sea coast, in the Greater Gelendzhik area. On three sides it is surrounded by mountains, on the fourth side it frames the open sea. In total there are four beaches covered with fine and medium pebbles.
Despite the fact that the village has a fairly modest size, there are many options for an interesting pastime. Beach recreation and water sports are not the only entertainment offered to tourists. Oceanarium, dolphinarium, museums, amusement park, water park, crocodile farm…
The price for a budget room in a guest house ranges from 1000 – 1500 rubles. In the private sector of Arkhipo-Osipovka you can rent even cheaper housing.
5. Novorossiysk .
Fans of "urban" recreation can opt for Novorossiysk . However, remember that this is not a resort city, the sphere of tourism is not very developed. But it is not difficult to get here.
There are a lot of attractions in the city, so you won't get bored. Of course there is a well-developed infrastructure. Young people can have a great rest, visit cafes and night clubs of the city.
Plenty of beaches, but from central areas of the city to get there by transport. The cost of bed places from 400 rubles, rooms in apartments from 900 rubles per day.
4. Gelendzhik .
This is the most popular resort on the Black Sea coast. The sphere of tourism here is of paramount importance, so everyone will be able to relax as he likes. The city has all the conditions for that. Of course, first of all tourists come here for the sea.
There is a great variety of beaches, both with pebble and sand. Stores, night clubs, restaurants, active sports, excursions. If you prefer a quiet holiday, do not doubt, you too can enjoy it in Gelendzhik.
A room in a guest house will cost between 1000 and 1500 rubles, just need to take care in advance and book accommodation. During the season the cheap accommodation is in great demand.
3. Sochi .
The largest resort in Russia is located on the Black Sea coast. It has a bizarre shape, it stretches along the coast for 140 kilometers.
The number of local residents here does not exceed 400 thousand people, but because of the tourists this figure increases several times. Do not worry – there is enough room for everyone.
There is a very large selection of housing, from economy-variant to luxury apartments. The cost of a budget room – 800 rubles per night for two people, if a little extra, you can find a pretty good options.
In Sochi there is no question about the pastime. When beach vacation bored, you can find a lot of other entertainment: a lot of excursions, movies, restaurants, museums, dolphinarium, the aquarium, various music festivals. Everyone who at least once has been to Sochi, dreams to return here again.
2. Yeisk
This resort city is situated in the west of the Krasnodar Territory. It is famous for its therapeutic mud, which can cure all kinds of diseases. That is why there are so many resorts and pensions in Yeisk. Most tourists come here to improve their health.
The city is ideal for family holidays: sandy shell beaches, shallow warm sea, dolphinarium, amusement park, cinemas, children's cafes. There are a lot of attractions, be sure to visit the historical museum named after Samsonov. Squares, parks, stores…
In Eisk are many historical buildings that stand out against the background of modern buildings. The prices for lodging will impress you: you can rent a three-bed room in a guest house for 800 rubles per day.
1. anapa
The most visited resort city in the south of Russia is located in the Krasnodar region. In Anapa it is possible to choose recreation even for the most demanding clients. The length of the beach is 54 kilometers (pebble – 12 kilometers, sand – 42 kilometers).
The town is an ideal place for family and youth recreation. There is a lot of entertainment for children of all ages: a zoo, "Dinopark", penguinarium, a safari club, a water stadium. Lovers of outdoor activities can do diving or any other water sports, horseback riding.
A beautiful promenade, an abundance of nightclubs and restaurants will not let young people get bored. Again, if you want to relax here, prepare for the fact that there will be too many tourists. Tranquility and solitude – this is not about Anapa.