The 80+ best places of interest in Sochi
Status of one of the most popular Russian resorts obliges! Sochi tries to please all holidaymakers so that everyone finds an interesting thing to do. Therefore, no one will be bored here.
Shady parks with exotic plants accommodate everyone. It is a real pleasure to walk around and breathe the fresh air. Go up to the observation deck, where the panorama is breathtaking, or take a ride on the "roller coaster".
The best shopping and promenade with a view of the beach, of course, on Primorskaya Street. From here it is more convenient to get to the most popular tourist spots.
Tour guides offer dozens of routes around the city and its surroundings. Mountains, waterfalls, lakes, towers with fascinating legends… And how can you refuse a boat trip at sunset and see Sochi in a completely different light: bright, twinkling with colorful lights. It's a holiday you'll definitely want to come back to!
Which district to buy an apartment in Sochi
The unique microclimate, proximity to the mountains and the sea, the worldwide fame after the Olympics in 2014 – all this makes Sochi one of the most expensive cities to buy real estate, second only to Moscow and St. Petersburg. The Sochi market offers a lot of options – from "secondary" and modern new buildings with a sea view to townhouses in the mountains. We tell you how much real estate in Sochi and in what area it is better to buy.
The sights on the map of Sochi
Be sure to see
1. Sea Station
Working schedule
Log in
Sea Station is Sochi's calling card. From here every day during the beach season motor ships take tourists to the sea to look at dolphins and to admire the coast. By the way, here was filmed the scene of farewell to Semen Semenovich Gorbunkov's family in "Brilliantovaya ruka".
2. The main city lighthouse
Working schedule
Entrance to the building
One of the oldest buildings in Sochi with a rich history. It was installed under the project of a French firm back in the late 1800s. It is hard to believe but it is still working! However, at one time the lighthouse was signaling with different lights. Now you can only see green lights in the dark.
3. Winter Theater
Opening hours of the ticket office
The Winter Theater in Sochi is always a lavish celebration, whether you came here for a play or a music festival. In June it is also the famous red carpet, on which the stars of Kinotavr walk. And in January, the theater gathers fans of the hilarious KiViN competition.
4. Stalin's Dacha
Working schedule
A large green mansion surrounded by a luxurious garden was built in the 1930s on the site of the industrialist Zenzinov's abandoned estate. It is believed that the Sochi cottage was Stalin's favorite and frequently visited, and he had a total of 18 country residences.
5. Akhun Mountain
Working schedule
Akhun Mountain is not the highest mountain in Sochi, but certainly the most popular among tourists. People come here to climb up to the famous observation tower or recently appeared here Ferris wheel, to see the city from the highest observation point and then to descend to Agurskoye gorge or to have a walk in yew- boxwood grove.
6. Observation tower on Mount Akhun
Working schedule
The tower on Mount Akhun looks like a medieval castle. It seems to be more than a hundred years old, although it was built less than a century ago. Nevertheless, this small structure is an architectural monument of federal significance. Tourists come here not only for the romantic atmosphere, but also for the breathtaking views: the panoramic view from the observation deck on the tower is almost 70 km long.
7. Olympic Village
Working schedule
The Olympic Village, home to athletes from all over the world in 2014, has now been transformed into a real beachfront resort area with its own streets, quarters, promenade, cafes and restaurants. The balconies offer wonderful views of the sea, the mountains and the Olympic Park, which is just a stone's throw away.
8. Fisht Stadium
When you get to the Fisht Stadium, your heart sinks with delight. After all, truly iconic sporting events have taken place here. In 2014, the stadium hosted the opening and closing ceremonies of the Olympic Games. In 2017, Fisht hosted the Confederations Cup, and in 2018 – the FIFA World Cup. Even if you are not a fan of soccer, it is worth coming to the stadium at least for the beautiful evening lighting, similar to the light show.
9. Ordzhonikidze Sanatorium
Working schedule
This sanatorium is more like a sultan's palace, even now, despite the desolation. Until now, the structure in the style of the Stalinist Empire and everything that surrounds it strikes the imagination. Unfortunately, this landmark has long lost its owner, and today only tourists stroll through the overgrown park, marveling at the scale and luxury of the monument of its era.
Parks
10. Park "Arboretum".
Working schedule
Log in
Arboretum will be a must for your vacation in Sochi! This is the starting point for all the tourists who can't sit still. Exotic plants, rich history, cascades of snow-white stairs and the culmination of everything – viewing platform. Great walks at any time of year.
11. Riviera Park
Working schedule
Log in
Get lost in the mirror maze. Squeal with delight while riding a roller coaster. Look into the eyes of a shark and stroke a dolphin. See the world around through the eyes of a child! In the park "Riviera" there is a huge variety of entertainment for the whole family – such that you will not want to leave.
12. yew and boxwood grove
Working schedule
Nothing is impossible to travel to the distant past and walk through a relic forest. For this you need to come to Sochi and get to the famous yew and boxwood grove, a real natural monument. The ancestors of these trees grew on the planet millions of years ago. Visitors can see boxwood, the smell of which is healing, yews, among which is a thousand-year-old giant, and many other rare plants.
13. Skypark
Working schedule
Dare to jump from a height of 207 meters? And walk across the bridge at a height of 330 meters? However, even if you are not an extreme person, you will find entertainment in Sochi Skypark. You can admire the picturesque views from the observation deck or drink coffee with a view of the snow-capped mountains.
14. Solohaul Park
Working schedule
Active tourists come here to go rafting, fly in a hot air balloon or even take a ride on an APC. There are activities for children and adults. And if you want, just make a family weekend with barbecues, there are places for that. About the beauty of Solokhaul Park is not necessary to say: the mountains, the noisy river and the tea plantations nearby.
15. Olympic Park
Working schedule
A unique project implemented on the wasteland by the Black Sea coast for the Olympic Games 2014. Stadiums, ice palaces, sports complexes, Formula 1 track. Guests of the resort necessarily include the Olympic Park in the top places they must visit.
For children
16. "Sochi Park.
Working schedule
The best rides of the country are gathered in Adler. Here is the highest roller coaster in Russia, as well as giant swings, which will make you spin at the height of 18 meters, and a freefall attraction from 65 meters. Even the smallest visitors will find something to do – there are plenty of merry-go-rounds, master classes for kids, dolphinarium and contact zoo.
17. Oceanarium "Sochi Discovery World Aquarium
Working schedule
The largest oceanarium on the Black Sea coast – Sochi Discovery World Aquarium. In 30 aquariums with five million liters of water live more than 100 species of freshwater and marine life. Underwater reefs, rocks, sunken ship – all the exhibits are beautifully decorated. There are different show-programs, for example, underwater shows.
18. Circus
Working schedule
Sochi State Circus is located in the center of the city and pleases the audience with show programs that change throughout the year. It accommodates two thousand people at once, and therefore even in the peak season you can get to an amazing performance with acrobats, jugglers, clowns and wild animals.
19. Dolphinarium
Working schedule
Dolphinarium in the park "Riviera" in Sochi is considered to be the largest in Eastern Europe and one of the best on the Black Sea coast. Its hall can accommodate 1,300 people, and the huge pool, in which the performances are held, is about seven meters deep. In addition to dolphins, you will see white whales, sea lions and walruses.
What else to see in Sochi
In Sochi, come not only to bask on the beach and swim in the sea. Many tourists come here to see dozens of interesting sights. We have collected for you a list of 82 places that can and should be visited in Sochi and its environs.
20. Cableway Rosa Khutor
21. Vorontsov Caves
22. Agur Gorge
23. Eagle Rocks
24. Dendrological Park "Southern Cultures
25. Orekhovsky Waterfall
26. 33. waterfalls
27. Navalishchenskoe Gorge
28. Mamedovo Gorge
29. Crab Gorge
30. Volkonsky dolmen
31. Svirskoe Gorge
32. Khmelevskie Lakes
33. Polykarya waterfall
34. Matsesta Sochi
35. Navaginskaya pedestrian street in Sochi
36. Sochi Autodrom
37. Abandoned restaurant on Mount Akhun
38. Tea Houses in Sochi
39. Canyon Psakho
40. Waterfall "Dragon's Mouth
41. Psidakh waterfall
42. Water Falls
43. Sochi Art Museum
44. Tea Houses in Sochi
45. Cathedral of the Archangel Michael
46. Cathedral of St.
47. The Temple of the Savior Not Made by hands
48. Church of the Assumption of the Blessed Virgin Mary
49. Church of St. Andrew the First Called
50. Church of St. John Chrysostom
51. Canyon Devil's Gate
52. Cave of witches
53. Akhshtyrsk cave
54. Tiger Cave
55. The Achipse Fortress
56. The plane-tree avenue
57. Tulip Tree
58. The ruins of the Byzantine temple
59. Arts Square in Sochi
60. Maiden's tears waterfall
61. Akhtsu Gorge
62. Monument "The Horse in the Overcoat".
63. Garden-museum "Friendship Tree".
64. Zmeykovsky waterfalls
65. Museum of sports and classic cars
66. Nikola Tesla Electric Museum
67. Museum of the USSR in Sochi
68. Observation tower on Mount Battery
69. Colonel Kvitko's dacha
70. Leonardo da Vinci Museum in Sochi
71. Remains of the fortress wall of Lazarev fort.
72. Literary-Memorial Museum of Ostrovsky
73. Museum of Sports Glory in Sochi
74. Organ Hall in Sochi
75. Dacha doctor Jakobson
76. Sculpture Ear "Make a Wish".
77. Museum "More Spices"
78. Shoe Gallery
79. Southern Residence of Santa Claus
80. Monument Sochi teacher
81. Art object "Diamond Arm".
82. Neptune" sculpture on Sochi's Primorskaya Embankment
Taking a train from Tuapse to Gagra to the filming sites of The Diamond Arm
The legendary Soviet comedy "Brilliantovaya Ruka" was filmed in Gagra and tourists have an opportunity to go to the filming place in Abkhazia on a comfortable tourist train of Russian Railways. Carriages are modern, but decorated in retro style: with wicker bags on hooks and still lifes on the walls. The train follows the route Tuapse – Lazarevskoye – Loo – Dagomys – Sochi – Adler – Imeretinskiy resort – Gagra. Goes 6 times a week.
How to find a good realtor in Sochi.
More than 86% of transactions on the site Domklik are with the participation of a realtor. The client in this case saves 12 days of time, because all the hassle of paperwork and interacting with the bank takes a professional. Find out how to find a good realtor and where to read reviews about his work on the real deals.
Three Reasons Why It's Winter to Go to the Resorts of Krasnodar
The winter holidays are a great chance to be with your loved ones, to relax, to relieve stress. You can do it at the well-known resorts of the Krasnodar region. We found at least three good reasons why you should go to local resorts and recreation in the winter. At this time of year, the resort towns will appear in a new way, and the beginning of the new year will be remembered for a long time as a time spent with health benefits and interesting. Take a look at how and where you can rest in winter at the resorts of Krasnodar Krai.
Top 30 ideas for places to visit in Sochi in 2022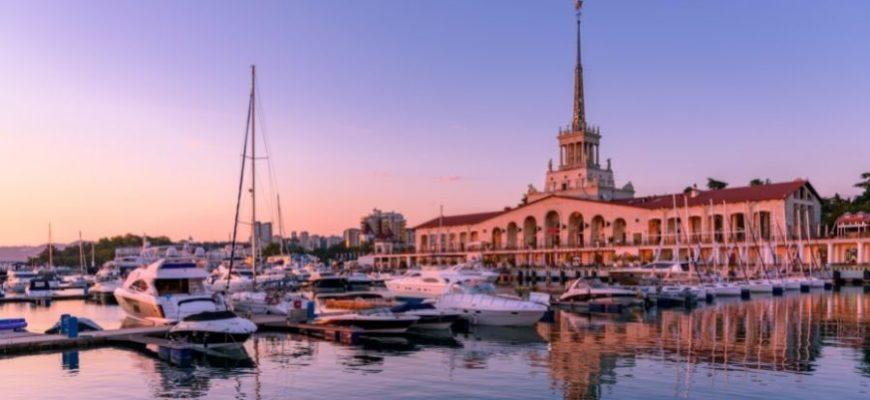 Reviews
Where to go in Sochi in summer or fall 2022? We offer you a huge number of places where you are sure to enjoy and do not have to be bored at all. We have information about the most famous and little promoted locations that you should definitely visit to have a great time.
All places to go in Sochi, on the city map
The central area of Greater Sochi is liked by tourists because it lies on the Black Sea coast and is surrounded by the Caucasus Mountains. This resort is known for its excellent climate and many historical and natural attractions.
Where can I go to Sochi? This map shows all the significant places worth going there.
If the map is not showing, CLICK ABOVE
Where to go in Sochi in the summer of 2022: 5 ideas to choose from
Where can I go in Sochi? Here are a few ideas that will bring you a lot of positive emotions and will stay in memory for a long time. Then, when winter comes, it will be a long time before you go through these happy moments and think about unforgettable summer holidays in Sochi.
Riviera Park of Culture and Recreation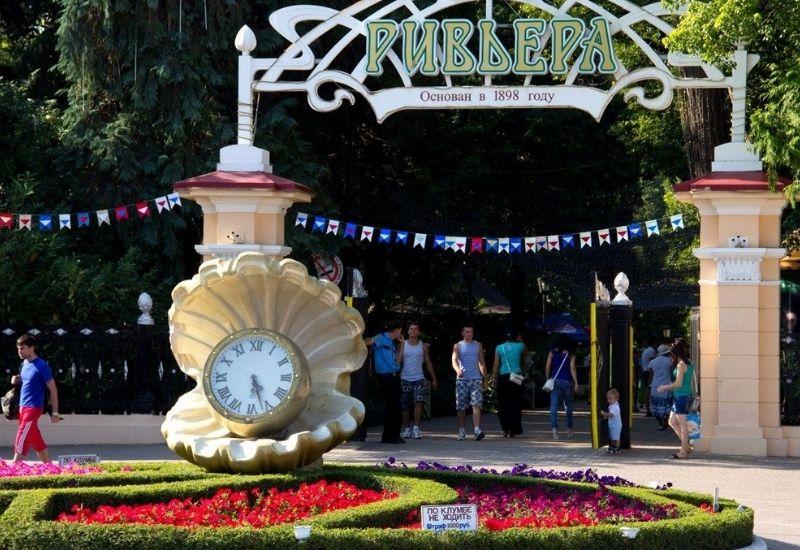 Riviera Park of Culture and Recreation
This place is considered a calling card of the city. Not so long ago the park celebrated its 120th anniversary, it was founded in 1898 by V. A. Khludov for family recreation. "Riviera" lies near the Black Sea, occupies an area of 14.7 hectares. There are a lot of entertainments that will be appreciated by all members of the family.
What's interesting: rich vegetation, green theater with a capacity of 1601 seats, equestrian theater, oceanarium, dolphinarium, RIO zoo, penguinarium, robot museum, and amusement rides.
Agur Waterfalls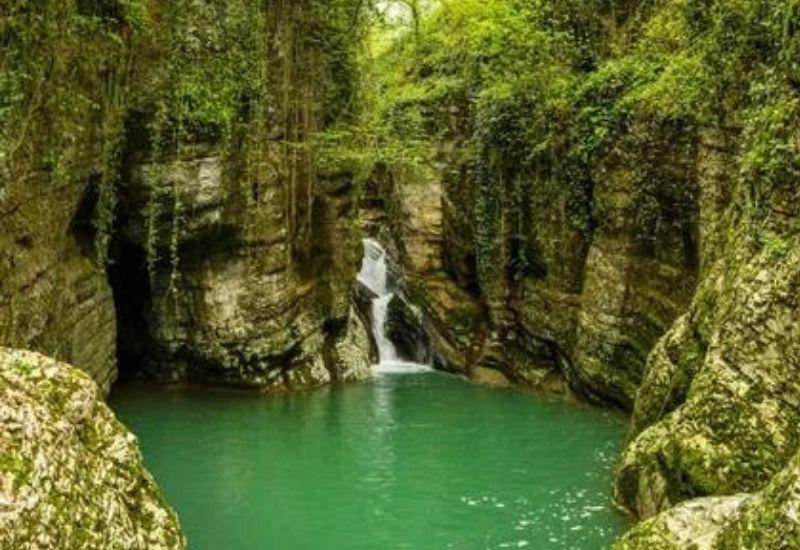 Agur Waterfalls
A great hiking route that allows you to enjoy the beauty of the surrounding nature, to move actively and to admire the majestic streams of waterfalls. There are three of them in total – the lower one with a height of 12 to 18 meters, the middle one – where the water falls from 23 meters and the upper one – where the water falls to the ground from 20 meters.
Address: 1, Agurskoye gorge, Khostinsky district. How to get there: by bus №3, 120, 123, 2, or by train to the station "Matsesta".
Interesting things to see: to have a walk among relict trees and untouched nature, to admire waterfalls.
Akhun Mountain and Lookout Tower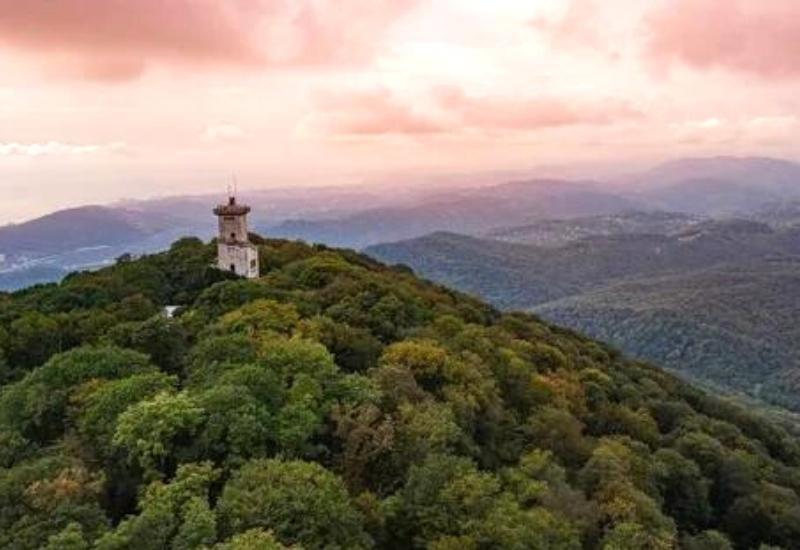 Akhun Mountain and Lookout Tower
If you go to Agur Waterfalls, don't forget to include this point in your itinerary. The mountain rises 663 meters above sea level, and the observation tower was opened here in 1936. After seeing the beauty of the place you can go to the Prometheus Monument, which will be described below.
Address: Big Akhun. Getting there: Take bus number 2 to the stop "Microdistrict Maly Akhun", then walk 8 kilometers to the top of the mountain.
Admission: to the observation deck for children under 7 years old – free of charge, for adults – 100 rubles. On the observation wheel for children under 4 years – free of charge, for children from 4 to 12 years – 200 rubles, for adults – 300 rubles.
What's interesting: a unique panorama of the mountains, the sea and Sochi, a cafe, a Ferris wheel 701 meters high, an observation tower, a tasting room, souvenir shops, the ruins of a ghost restaurant.
Eagle Rocks and Prometheus Monument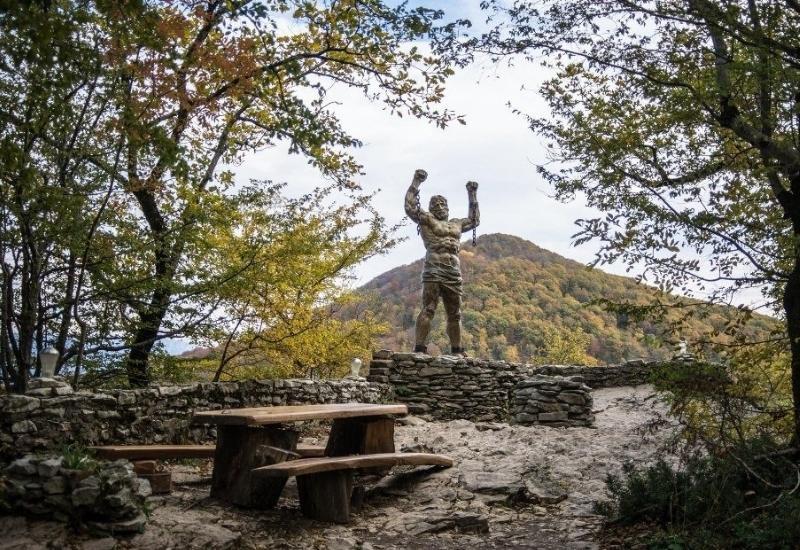 Eagle Rocks and Prometheus Monument
Where to go in Sochi inexpensive? Go to the mountains, here you only have to pay a fee to enter the protected area. Eagle Rocks rise up to a height of 379 meters, they are covered with yellow sandstone and limestone. Climbing the mountains is a separate adventure that you will enjoy, but make sure you have water and sturdy shoes, as it is a steep slope. Reward you will be a magnificent viewing platform, on which stands a monument to Prometheus, breaking his chains.
Address: Khostinsky region. Getting there: Take bus №120, 3, 43 to the stop "Staraya Matsesta", then go 2 kilometers into the mountains.