Ushuaia
Ushuaia is the southernmost city in Argentina (and according to some, the entire planet) and is often referred to as "the edge of the world". Located on the coast of the Beagle, just 900 kilometers from Antarctica, Ushuaia is surrounded by a beautiful unspoiled landscape full of majestic mountains, pristine forests, and pristine glaciers. Despite its remote location, Ushuaia is a famous tourist center and a very prestigious ski resort, which is known for its excellent service and developed infrastructure.
Save on your trip to Ushuaia!
Video: Ushuaia
Climate and weather
Ushuaia is dominated by a circumpolar oceanic climate, but it's not as harsh as is commonly believed. The summer, which lasts from December to January, is quite comfortable (about +16 ° C). And in winter the temperature ranges from +1 … -6 °С. The average in the city is about 200 rainy or snowy days, which is quite high. In summer the average length of a day is 17 hours and in winter – 7 hours.
The weather in Ushuaia is unstable and can change drastically several times a day. Therefore, visitors are advised to always carry warm clothing.
Nature
Ushuaia is located in the Tierra del Fuego Archipelago and is the southernmost city of Argentina and the entire planet. Surrounded by snow-covered granite cliffs and mountain ranges, the city lies on the picturesque Beagle Strait. The area around Ushuaia is known for its beautiful northern scenery of forests, mountains, glaciers, and sea coast.
Attractions
The city of Ushuaia used to be a whaling town and later served as a convict colony where Russian anarchists served their sentences. It was these convicts who built the railroad, which today is a popular route of the tourist train called "Train to the End of the Earth". And this retro train goes to the most picturesque and wild places of the province. However, the main point of pride of the whole city is Tierra del Fuego National Park, which has become the most visited place in the region. Thanks to its pristine nature, lakes, glaciers, rocky beaches, and fauna and flora, an incredible number of travelers come here every year.
Another iconic landmark of Ushuaia is the exotic Faro les Eclaires lighthouse, which stands right by the ocean. It is the only lighthouse in the city and is recognized as one of the southernmost structures on the planet. Other places to visit are the Main Street of San Martin, the Maritime Museum, the Museum of the End of the World, which is housed in the old jail, and the Harjerton Ranch.
Nutrition
In Ushuaia, as in the entire province of Tierra del Fuego, local cuisine differs significantly from Argentine cuisine. For example, seafood such as black whiting, cod, bream, and shellfish of all kinds are very popular here. Also due to the high level of developed sheep breeding, all sorts of dishes from Patagonian lamb are widely spread here. In addition, goat meat, pork and venison can be tasted in local restaurants. The main dish, which has become the trademark of local chefs, is "asado" – meat cooked on a spit. Also worth checking out are all sorts of pâtés, cazuela (stew with vegetables), niaco (porridge made from corn, wheat and barley), aromatic bread made from araucaria seeds and chimichurri garlic sauce. In addition, some restaurants in the city specialize in quite exotic menus, the main ingredient of which is the meat of armadillos, ostriches and viscash.
Also interesting are the local desserts, which are also slightly different from the traditional Argentine delicacies. Thus, here you will mostly be offered pastries with various spices or walnuts, "alfajores" (pies with caramel and chocolate) and "flans" (puddings). In addition, all sorts of seasonal fruit (especially quince) and chocolate treats are common.
Well, all the above treats are washed down with invigorating mate tea, which is the national drink of the country. As for alcohol, here the palm is dominated by excellent Argentine wines. Local beers (Quilmes and Isenbeck) and Fernet (strong herbal liqueur) are also popular.
Accommodation
Despite the fact that Ushuaia lies in the south of the country, the hotel infrastructure is at a high level. The city has a variety of hotels, from simple hostels to luxury luxury luxury hotels. Among the best hotels are Lennox Ushuaia (from $ 183), Hotel Albatros (from $ 127) and Las Hayas Resort Hotel (from $ 204). There are also many mid-range hotels (Hostería Via Rondine, Hotel Villa Brescia) and hostels (Hostal de la Laguna, Hostel Yakush). Remember that as a rule the decent accommodation must be booked in advance and a place in a cheap hotel or hostel can easily be found upon arrival.
Entertainment and Recreation
First of all Ushuaia is famous for its unique unspoiled nature, so the most popular entertainment here is all kinds of trips outside the city. For example, numerous yachts and cruise ships depart daily from the city port for excursions to Antarctica. Also several times a week, organized trips to Tolhuyn Hill, which is recognized as one of the most beautiful in the world, to the clearest lakes Fagnano and Escondido, as well as the famous Martial Glacier and the island of Los Lobos. In addition, it is recommended to go on a fascinating excursion by catamaran on the Strait of Bengal. And of course, you must visit the national park Tierra del Fuego, which is located near the city. In this park you can see many wild animals and birds, as well as enjoy the sight of fascinating landscapes, clean lakes, exotic trees and flowers.
Other popular activities in Ushuaia include horseback riding (especially polo), sport fishing, mountain biking, jeep rides, catamarans, and sailing boats. No less popular here is soccer, only oddly enough, not European, but American (rugby). Also in the city there are several dozen entertainment and cultural institutions (cinemas, nightclubs, museums, etc.).
To top it all off, Monte Castor ski resort is a 15 minute drive from Ushuaia with excellent pistes and the latest equipment. And the town itself is also a prestigious winter resort with a developed infrastructure and unparalleled service.
Shopping
Ushuaia is a free trade zone, so shopping here is not only pleasant, but also very profitable. The main shopping place of the city is the central street of San Martin, which is like a real open-air department store. It is here you can buy duty-free electronics, which are made in new local factories. There are also many clothing stores, sporting goods, furniture, accessories, and household items, as well as a large shopping center with fashionable boutiques and jewelry salons. Throughout the city are scattered numerous souvenir stores and small street markets, where you can find interesting gifts to friends and family.
If we talk about specific purchases, the most popular and most purchased goods among tourists are Navajo knives, silver mouthpieces, clothing made of vicuña wool, sheepskin products, electrical appliances, tea-mate and a special set for it, Argentine wines, guitars, as well as leather goods and fur coats. And among the souvenirs are ponchos, various things with symbols of the city and products made of rhodochrosite stone.
Transportation
Ushuaia's only means of public transportation are buses, but they are well-maintained and very comfortable. Tickets are sold at special kiosks and drivers and cost about $0.4. Almost all bus stops have a schedule of bus routes, but at some of them the drivers stop only with a wave of the hand. You can also take a cab in the city and the rates are quite low: about $0.4 – $0.7 per kilometer.
Also in Ushuaia is well developed water transport, so here are constantly running numerous sightseeing ships, catamarans, yachts and boats.
Connections
Since the city is a popular tourist destination, there are literally on every street telephone machines with access to international lines. Such machines work on special calling cards, which are sold in street kiosks, gas stations, as well as in most stores and the post office. In addition, any call can be made from a hotel or restaurant, but it must be noted that in this case, you will have to pay a substantial fee.
Cell phone service in Ushuaia, despite the remote location of the city, works without interruption. It is carried out in the standards of GSM 1900 and CDMA 800, and roaming is available to all guests of the city, who have connected this service in their home country. Also for local calls, the Argentine operators (Telecom Personal or Unifon) offer the purchase of a temporary SIM card.
Dozens of Internet cafes and wireless access points are available for Internet access in the central part of the city.
Security
Ushuaia has a low crime rate and little to no threat to the personal safety of tourists. However, despite this, here, as in other unfamiliar cities, you must exercise basic caution and be guided by common sense. For example, during registration at the hotel can not leave your luggage unattended, and valuables and large sums of money should be locked in a safe. Also, do not carry all the money in a purse (it is better to put them in pockets), and during shopping do not recommend demonstrating the presence of large sums of money.
Business climate
The city's economy is based on fishing, animal husbandry, oil and natural gas production, and ecotourism. In addition, Ushuaia is a free trade zone, so there are many stores that are owned both by locals and large companies. And the city is home to the largest electronics factory in the region, Grundig Renacer, whose products are one of the most popular products here.
The best way to invest in Ushuaia is to invest directly in the tourism business, since the city is a unique resort, which annually seeks a large number of wealthy travelers.
Real Estate
Due to the considerable remoteness of the city, local real estate is not very popular among foreigners. However, since Ushuaia is a prestigious ski resort, the rental market is very active during the tourist season. Therefore, during this period, prices markedly fly up. The most popular here are small apartments in the central part of town, as well as the elite country villas.
Tips for the Tourist
In Ushuaia, the tourist season is the period from December to March. It is during this time of year that a huge number of travelers flock to the city, and all the hotels, cruise ships, and travel agencies offer very tempting and interesting deals. However, due to the influx of holidaymakers, hotel accommodation must be taken care of in advance, otherwise there is a risk of being left without acceptable accommodation, which can greatly spoil the impression of the holiday.
The End of the World – Ushuaia | Argentina
Ushuaia is a small port city on the Argentine side of Tierra del Fuego. It's a cherished spot on the map for many travelers who dream of getting to the ends of the earth.
Ushuaia is where, for many, the journey comes to a close as the continent skirts the endless ocean. Only 900 kilometers remain to Antarctica.
In Ushuaia, cyclists from Alaska ride, others walk or gallop on horseback. Backpackers slow down their cars on the side of the trail, someone lives in a motorhome for months on end. Everyone's goals are different, but they all end up meeting in this little town on the shores of the Beagle Strait.
Where is the end of the world?
There is no end of the world in Ushuaia, although numerous "Fin del mundo" signs claim otherwise. Ushuaia was considered the southernmost city on Earth until 2019, but the territory of Argentina and Chile extends further into the islands.
Other "southern records" belong to:
Puerto Williams on the neighboring island of Navarino (until 2019, the southernmost settlement on the planet, now the southernmost city on the planet) (the southernmost point on the continent)
Diego Ramirez Islands (southernmost point of South America as a whole, including the archipelagos)
History of Ushuaia's settlement
The first settlers of the island were the Selknam and Haush Indians, who came on foot from Patagonia 11,000 years ago, at a time when the island was connected to the continent. From the archipelago of western Patagonia came the Yaman and Cavescar sailors. Only a couple of these peoples survived: Grandma Cristina Calderon on Navarino Island (the last of the Yagans), and a pair of mestizo Selknams on Fangano Island near Ushuaia. The others were killed in the Indian genocide of the 19th century.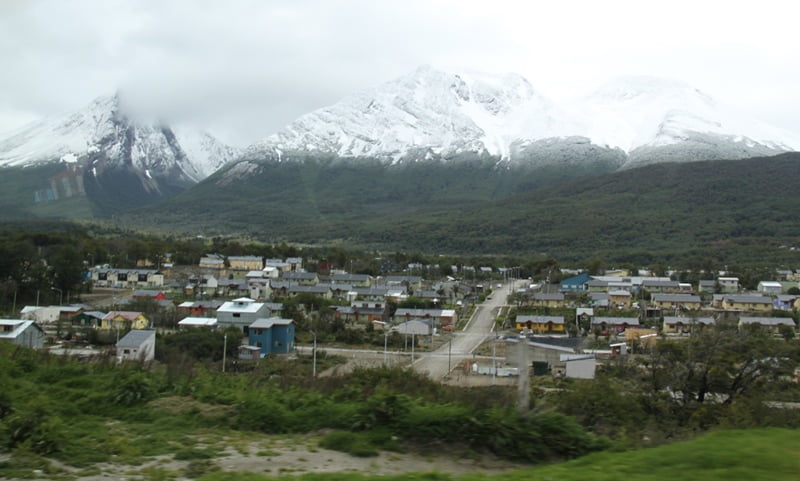 The city of Ushuaia was founded in 1869, on what is now Plaza Cívica 12 de Octubre. The town used to have only a whaling station and a prison. The prisoners lived in wooden huts, and later they built themselves a stone prison. Now there is a maritime prison museum and art gallery. The railroad connected the prison with the labor camps in the Tierra del Fuego National Park – a tourist steam train runs on these rails.
What to do in Ushuaia
This is one of the most expensive cities in Argentina. With some difficulty I found a hostel where they let me pitch a tent under a tent for $10. Ushuaia over the past 20-30 years has become the main tourist destination in the country with casinos and five-star hotels. Restaurants offer seafood delicacies: king crab (centolla), giant mussels (cholgas), and perch (merluza negra). And, of course, there is the magnificent Patagonian lamb on a spit and the Argentine wines: pinot noir and malbec.
There are cruises to Antarctica and whale watching in the middle of the archipelago, helicopter tours to glaciers in the mountains and even diving tours in icy Antarctic waters. The choice of exclusive entertainment is huge, but it is designed for a wealthy client: for example, the cheapest tour to Antarctica costs from $ 6,000, and a day trip on the Beagle Channel – about $ 800. Martillo Island is home to a colony of Magellanic and Subantarctic (Papuan) penguins – they take relatively inexpensive excursions to it.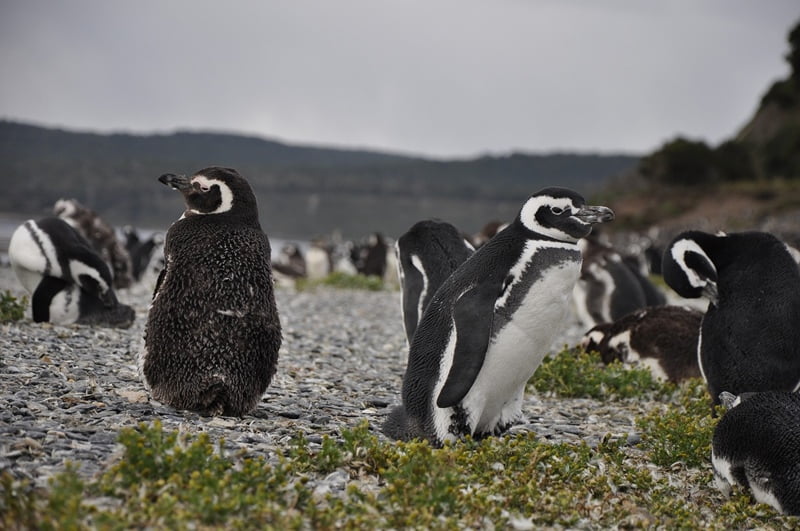 Trekking in Ushuaia
At 12 km from the city, in the foothills of the Andes is a national park, Fin del Mundo, which stretches all the way to Chile. The Argentine side is equipped with trails and signs, but you have to pay 350 ARS. The ticket is valid for 2 days, and camping in the park is free. The bus to the park entrance costs about 500 ARS. The Chilean side is completely wild, but free.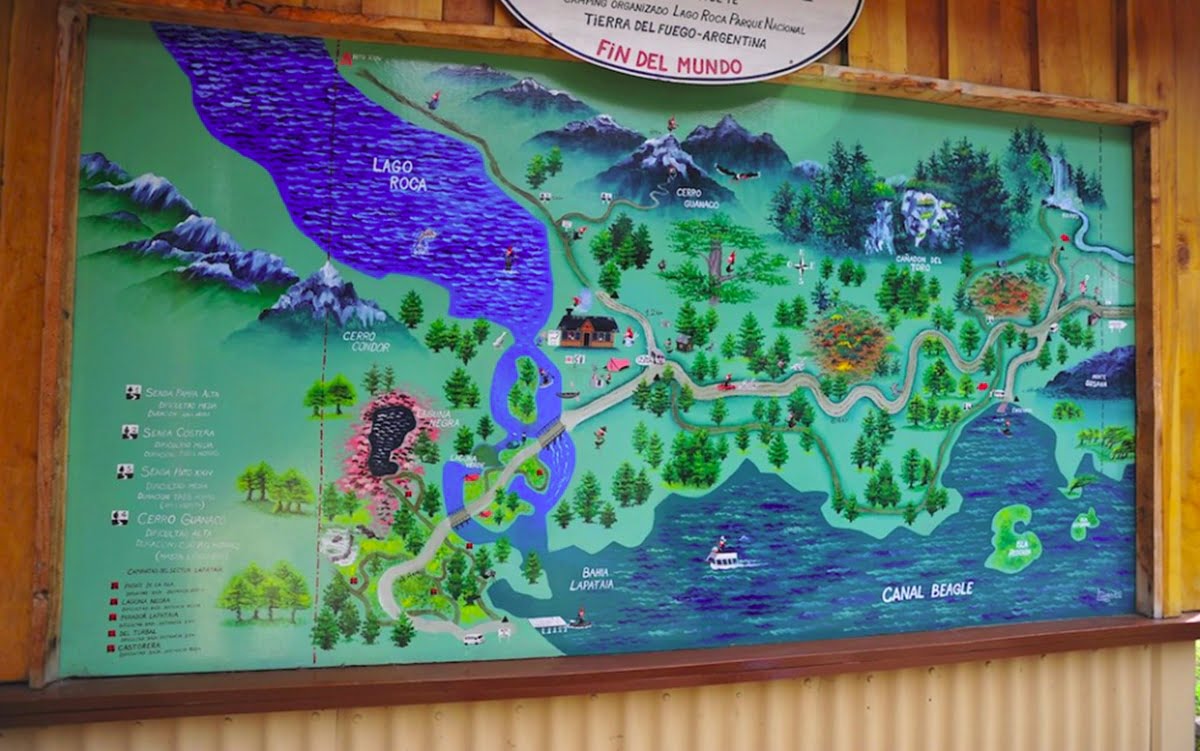 There are trails in the park:
Laguna Verde Lake.
Senderj Castorera, where you can see beavers
Sendero Costera (7.5 km | 2-3 hours) is the longest and most interesting route of the park. It leads to Bahia Lapataia, a bay where the main trail ends and overlooks the Beagle Strait, and another bay, Bahia Ensenada Zaratiegui.
Cerro Guanaco Trail (15 km | 5-6 hours) – conquering the summit of Guanaco with spectacular views of the snow-capped peaks of the Andes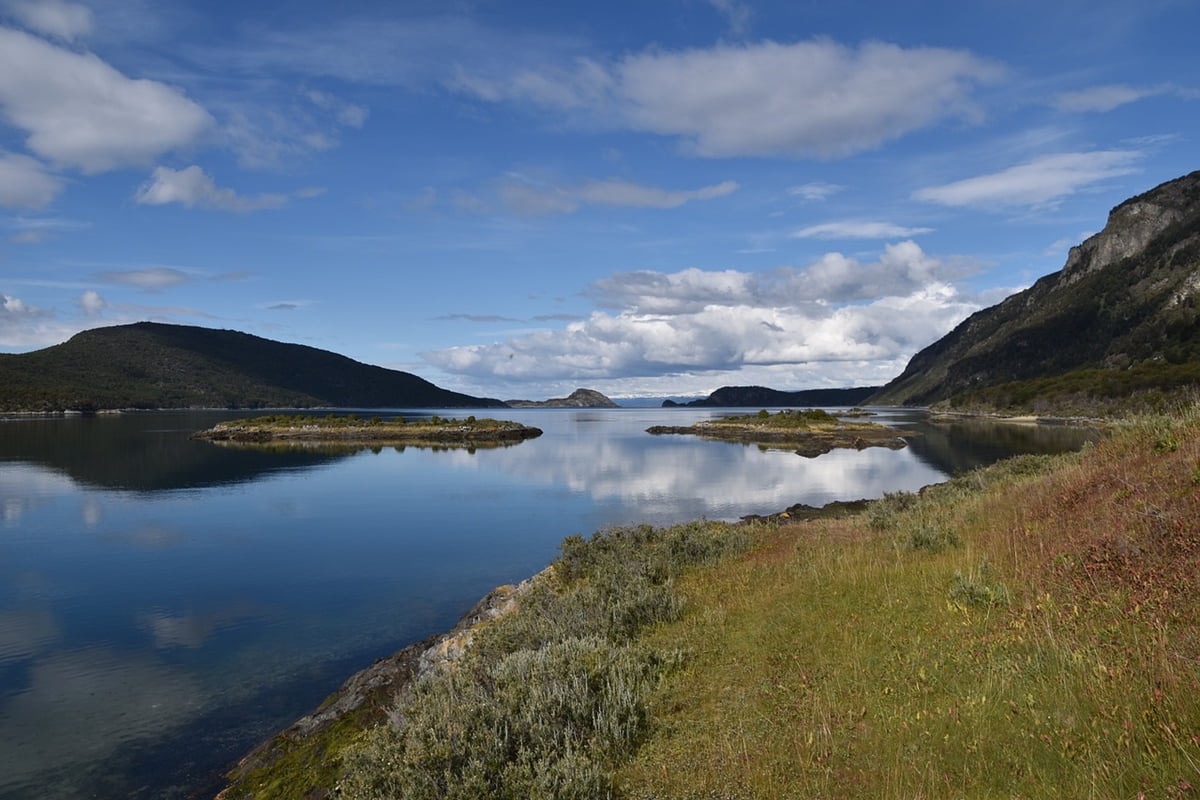 Nature in the vicinity of Ushuaia
Other interesting hikes:
Martial Glacier (7 km). You can continue hiking around Mount Montes Martial through the Paso de le Oveja Pass. It is a 26 km hike that usually takes 3 days.
Vinciguerra Glacier (15 km | 5 hours) – you can walk on the surface of the glacier in appropriate equipment
Lake Esmeralda (9.5 km | 4 hours) and Zero Turquesa (6 km | 2.5 hours) – both trails start at the same point, but run in opposite directions. You can visit both places in one day, or stay overnight in a tent and continue the hike the next day.
To the east is Lake Fangano, where the descendants of the Indians live, as well as many hiking trails. The most interesting, in my opinion, is the Sierra Valdivieso Trek (51 km | 4 days). It is a wild trail, poorly marked, with no rammed trail – a real wilderness! There you will find Haberton Station, the first settlement of the missionaries, where their descendants still live.
Lookouts Carbajal Valley and Punta Chloe (10 km | 6 hours), from where you can continue hiking to Valle de las Lagunas (+ 6 km | 6 hours)
The above trails are outside the national park – and therefore completely free.
Elena
I live a life of travel, moving slowly between countries. I already have 47 countries and 4 continents under my belt.
My first travel experience was a package trip to Turkey back in my childhood, where I was fascinated to the point of goosebumps by ancient ruins. I started traveling on my own in Europe when I was 16, hunting for Ryanair sales. St. Petersburg's proximity to the Baltics just didn't leave me much of a chance.
In the 2010s there was a boom of round trips and wintering in warm countries. I learned about couchsurfing, hitchhiking, and volunteer programs. I began to wonder: why go back to one place when you can live on a journey?
Pretty soon I was drawn to countries where nothing was clear: China, Kenya, Morocco. I slept in a tent next to hippos, climbed sacred Chinese mountains, bravely traded with Arab traders, ate crocodiles and snakes – and less and less wanted to return to "normal life.
In 2016 I lived briefly in Canada, where I learned English and French, but quickly became bored with the measured rhythm of Canadian life. The troubles that had fallen on my head made me realize that it was time to start living my own life, without looking back on other people's ideals.
I bought a one-way ticket to Cuba, and set out to explore Latin America with no plans and a tiny budget. Hitchhiking, tenting, couchsurfing, and volunteering became my daily life. I lived with real Indians, met Amazon shamans, backpacked through the mountains for ten days at a time, and lived more than a dozen vivid adventures.
The journey lasted two years. On a private island in the Caribbean, I met my future husband. We have been traveling together ever since.
In the pandemic, I didn't betray myself, and I continued to travel. I got married, got a dog, climbed a six-thousand-pound mountain and started rock climbing. Although I have to adapt to constantly changing conditions, this pace of life suits me.
Briefly about my hobbies:
Hiking, climbing, and rock climbing. I always carry a tent with me.
I love Indians and other small peoples. For the sake of meeting the natives I climb into the depths of the jungle, hike for a week in the mountains, and go far beyond google maps.
I like to eat tasty and unusual food. I don't mind grasshoppers, bugs, crocodiles, armadillos, and beer made from Indian saliva. But I also explore normal country cuisines with enthusiasm.
I appreciate good wine and love experimentation. I try local wines, even if they are Morocco and Egypt (don't take my example).
Apart from traveling I am engaged in diving, have been boogie-woogie dancing, pulling weights in the gym, doing yoga and acro yoga, riding a shattered bicycle for a hundred kilometers, writing articles and stories. I used to be into photography and worked with underground rock bands.