The best time to go to China
China, with its vast territory, is great for traveling all year round. It is a country where at any time of the year you can comfortably enjoy visiting cultural and historical sites.
Given the impressive size and length of the country, it's not surprising that climatic conditions vary from region to region. To summarize, the most favorable weather in China comes in the spring (April – May) and autumn (September – October).

Trip to China in Spring (April-May)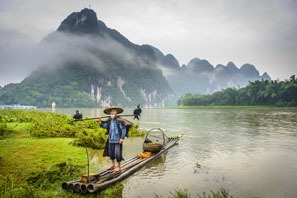 Spring is a great time to travel China, especially for those attracted to the beauty of nature. Everything is in full bloom and the weather is cool, but the air is already beginning to warm up.
Weather: warm and comfortable. The average temperature is +10+23 °C. Although in Northern China (Beijing, Xi'an) the climate is relatively dry, in the south the rainfall increases as summer approaches.
But don't be alarmed by the rainy weather in South China. After all, the wet climate and fog appearing at this time of year give a special charm to local landscapes, as if taken from the paintings of Chinese paintings. For example, on the Li River in Guilin or Huangshan Mountains..
Not too crowded: April and May precede the high tourist season in China, and not many tourists come to visit the sights.
Don't plan a trip on Labor Day (May 1-7). Many people in China choose to travel on public holidays, which leads to crowds at airports, train stations, tourist attractions and the beach. In addition, the prices of accommodation in hotels at least double.
Air and railway tickets are cheaper in April-May than in June-October, but more expensive than in the low season (November-March). The exception is two weeks before and two weeks after The exception is the two weeks before and two weeks after the Chinese New Year.When prices go up most).
Traditional holidays of ethnic minorities in Guizhou province are held in April and May (such as the Sisterhood Food Festival). If you are curious to learn more about the cultures Miao peoples и DongIt is a good time to travel to southern China.
Tip:
If you prefer to avoid overcast weather and heavy showers during your trip, we suggest you choose a tour to Beijing and Xi'an where rainfall is unlikely at this time of year. For more useful information, read our article 5 Top Tips Before You Go to China.
Summer tours in China (June – August)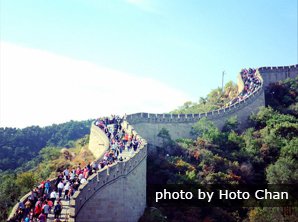 Weather: Hot. Throughout the country, except for the northeastern provinces and mountainous regions, the average temperature in June, July and August reaches +25+33 °C. Almost all areas of China are in the rainy season, especially in the south and east.
The best time to visit the remote areas of China: TibetTibet, Inner Mongolia, the northwest of the country and the mountainous regions are best visited in summer (or late spring/early fall), before it gets colder.
High tourist season: Although summer is a good time to travel, remember that during this period there are vacations for Chinese students and schoolchildren, and in addition to the heat and stuffiness in any part of the country you will encounter a large flow of tourists. It can be problematic to buy air and rail tickets, they are sold out in advance, and hotels are overcrowded. In addition, this is the most expensive time to travel in China.
Important:
If you are planning to travel to China in summer, we strongly recommend organizing your tour in advance. This is especially true for cities such as Beijing, Xian and Shanghai .
Monsoons and typhoons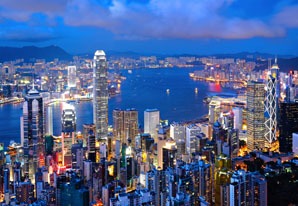 When traveling to China in summer, it is important to remember that this is the season of heavy rains, probable monsoons and typhoons. And climatic conditions can affect your trip. For example, in the event of a typhoon, flights are postponed, and if the water level of the Li or Yangtze Rivers rises significantly, cruises are suspended.
Monsoons tend to occur in southeastern China or in the mountains. If you are planning a trip to southeast China, for example to Hong KongIf you are traveling to southeast China, for example Hong Kong, be prepared for possible typhoon-induced delays or cancellations.
We understand that summer is often the most convenient time to travel and that's why we will organize your trip so that you will fully enjoy your rest even in that period. One of the main advantages individual tours One of the main advantages of Customized Tour is that we make it for you, we take care of your comfort: we organize convenient time of visit, services of private guide, air-conditioned transport and so on.
Autumn in China (September-October)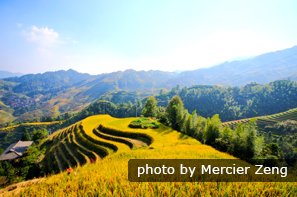 Autumn is the perfect time to travel to China, a time of better weather conditions – the summer heat has broken, there is less rainfall than spring or summer, and the days are clearer.
Weather: Warm or slightly cool. The average temperature is +15+27 °C, the days are clear, and there is less precipitation than in the summer.
Do not plan a trip on PRC Education Day (first week of October). During the so-called "Golden Week" the whole country is in motion – many Chinese prefer this time to travel, so airports, railway stations, sights and the beach are incredibly crowded.
Best time to go:
September and October are good times to visit cities such as Beijing, Xian, Shanghai, Guilin, Hong Kong, and Chengdu.
In autumn, nature in China is transformed, giving many places of interest an incomparable charm. If you are attracted by the autumn scenery – October is undoubtedly the best time to travel to the Celestial Empire.
Tours in China in winter (November-March)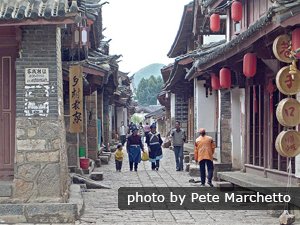 Weather: The average temperature is +8 ° C, but in North China is usually below zero.
Winter is the low season in China and lasts from November to early March. At this time of year the weather is noticeably colder, but hotels offer low room rates , and you can save on entrance tickets to attractions, airfare, and avoid the crowds of tourists . Cities in northern China like Beijing, Pingyao and Harbin look great when it snows.
If you prefer a milder climate,
We recommend choosing southern China, such as Hong Kong, Macau, the south of Yunnan Province and of course, Hainan Island.
Early March: A great time to travel to northern China, where the frost has already receded and rainfall is rare. Spring in the south of the country is usually very humid, but at the same time travelers have a great opportunity to see the first blooming flowers and plants.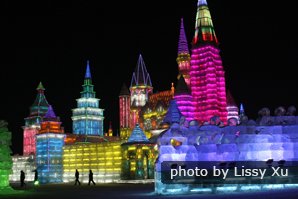 December-February: In winter you can enjoy winter scenery and winter sports. In addition, this is the best time to visit China's most famous landmarks, which at any other time of year are always crowded with tourists. The exception is the very popular Harbin's Ice and Snow Festival..
Do not plan your trip for the Chinese New Year: from January 24 to January 30, 2020 as well as the 2 weeks before and 2 weeks after the holiday itself all over the country will be extremely crowded. It is the main national holiday in China.
Important:
When planning your trip to China, try to avoid the period of public holidays!
Travel to China with China Highlights!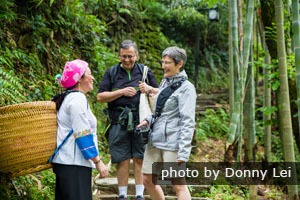 Tours to China – Where to start: The following popular tours to China will guide you. And we are always happy to advise you on how to make a more logical itinerary if you have any questions. To do it you just Write to our consultants.
Weather in Beijing by Month
What's the best season for sightseeing in Beijing? The answer to this question depends primarily on the weather. This article will tell you about the climate in China's capital city.
Every season in Beijing has its pluses and minuses, except for mid-autumn, when there are only pluses. We will first talk about the climate in general terms and then elaborate on each season.
Climate in Beijing
If you look at the "dry" numbers, Beijing may seem like a paradise: temperatures around 0 in winter and warm in summer. In reality, the climate here is not so pleasant.
The first problem is the constant winds. Even a wind speed of 10 meters per second in Beijing is not considered something extraordinary. Walking through the narrow streets of Beijing hutongs, the wind is not felt. But in open spaces, such as Tiananmen Square, it gets to the bones.
The strongest winds blow from the northwest, and the city is protected from these winds by the hills. To the north of Beijing, on the sections of the Great Wall open to tourists, the wind can be called "hellish." See the photo next to it, click on the photo to enlarge. The photo was taken in November, these people are clearly uncomfortable.
The second problem is the summer precipitation. Beijing is in a continental monsoon climate zone. The rainy season is pronounced here – summer, when 70% of the annual rainfall falls. As a result of this rainfall, the summer is very humid, and the heat is very hard to bear.
See the table below for averages of climatic indicators for Beijing.
Consider each season in detail.
Winter in Beijing
Winter is not as cold as here – temperatures are not as low, humidity is not high.
It doesn't snow every year, and there isn't much snow. In 2010, on January 3, 7.5 centimeters of snow fell, which was the record since 1951. There was almost a disaster in Beijing. Ninety percent of the flights from Beijing Capital Airport were canceled or delayed, and some Beijingers rushed to the stores to buy food. The panic of the Russians is hard to understand; we have 20 or 30 or even 40 centimeters of snow, and no one is scared of it.
The main danger in Beijing in winter is wind. Half of the winter days there is a strong wind blowing with a speed of more than 4 m/sec. This wind is very unpleasant, especially for long walks, for example, in the Forbidden City, the Summer Palace or the Temple of Heaven.
Clothing recommendations . Warm pants, sweater, winter jacket, warm hat, gloves and warm socks are a must. Foreign travel guides also recommend a face mask to protect you from the wind, and we echo that advice!
In Russia, it's a little easier to survive the cold, because you can go into any store or shopping mall to get warm. In Beijing, the heating is not everywhere, and it's not warm at all. It's worthwhile to focus on this point.
The problem with heating is how not to get cold!
Some of those who have been to Beijing in winter say that the heating is fine. Some say they are not heated at all. As is usually the case, the truth is in the middle.
Beijing has heating systems, but local laws do not require that all rooms be heated. The living quarters have to be heated, the rest do not have to be. And since they don't have to be, the owners don't do it, they save money. As a result, most offices, stores, and shopping centers are not heated.
In addition, the temperature standards in China are lower than in Russia. We have State Standard 51617-2000 in the premises with heating should be kept from 18 to 25 degrees.
In China under standards JBJ26-86 and GBJ19-87 the temperature in bedrooms and living rooms should be 16 to 20 degrees, in other rooms from 14 degrees. As a result, the Russians often feel that the rooms are not heated.
Keep in mind that not every store, restaurant, cafe, or mall can be heated as we are used to in Russia. Even the subway in Beijing can be very cold.
The heating season in Beijing begins on November 15 and ends on March 15.
Spring in Beijing
At the beginning of spring comes the main Chinese holiday, the "Spring Festival", aka "Chinese New Year". Whatever the weather, rain, snow or hail, the prices of tickets and hotel rooms always skyrocket, and the traffic is in a mini-collapse. Going to any city in China at this time is clearly not worth it, regardless of the weather. Read our article "New Year in China.
The temperature in Beijing rises in spring, there are no more sub-zero temperatures at night. You can dress lighter.
But spring is the season of winds here! Several days a month there are winds blowing at over 8 m/s. Winds of 5 to 8 meters per second are common in the spring. Winds of 3 to 5 m/s are blowing all the time.
Sandstorms occur in spring. The most recent one (at the time this article was published in the summer of 2018) was on March 28, 2018. All residents walked around wearing masks, Beijing looked like the setting for Hollywood zombie epidemic movies. Trees are being planted on the outskirts of the city to protect against storms, a project they called "The Great Green Wall," but it doesn't help much yet.
Spring is interesting first of all because of the low prices of airline tickets and hotel rooms. This is the least popular season for tourists, and hotels are struggling for occupancy.
Clothing recommendations . From warm (in early spring) to casual (in late spring) pants, a sweater, windbreaker or light jacket are a must. A dust mask is desirable.
Summer in Beijing
Summer is the rainy season. In June and August, one-third of the days are rainy, in July, half of the days are rainy. About 600 millimeters of precipitation fall in Beijing per year, of which 420 falls during the summer months.
The rain itself is not very bad for tourists. Most of the time it rains at night and then dries up in the morning. Rain causes a lot of humidity. During the summer months, the humidity in Beijing is 75-80%. With such humidity, the +30-35 degree heat is very hard to bear.
The winds die down in the summer, and all the exhaust fumes and smog remain a cloud over the city. Only the rains clean it up a bit.
Summer is clearly not the best season to travel to Beijing.
Despite the unfortunate weather, summer is the peak tourist season. Summer is the time of children's vacations and vacations. Many Chinese from the provinces travel to the capital to experience the cultural heritage of their people.
In summer, airfare and hotel prices are at their peak and there are crowds of people at the sights.
Clothing Recommendations . Light pants, shorts or skirts, blouses, short-sleeved shirts. Be sure to carry an umbrella and don't forget hats!
Autumn in Beijing
It's the best time to visit Beijing. The heat of summer, low humidity, and no more summer rains. The flow of tourists decreases as the vacation season is over. There are no crowds at the sights, the prices of hotel rooms and airline tickets are slightly falling.
The best period is from mid-September to the end of October.
From October 1 to 7, the PRC Education Day is celebrated. On the one hand, at this time in Beijing is very interesting – fireworks, parades, entertainment events. On the other hand, prices in hotels jump by 1.5 times, and some hotels are fully booked for another six months. Sightseeing during the celebration period is crowded.
November is a controversial month, and the weather in November varies. Sometimes the autumn grace continues, and sometimes in November is the real winter with cold and winds. It's a little bit of both.
Have a great trip to Beijing, and read our interesting articles about China (list below).