Weather in Alghero by month
Tourist season in Alghero: when is the best time to relax? When does the beach season start and when does it end? When is the best time to go with children? Alghero – weather by months and resorts: average sea and air temperature, humidity, places with the driest climate, precipitation and daylight hours by month, sunrise and sunset times, average annual water and air temperature on the map of Alghero. When is the cheapest time to travel to Alghero? High and low seasons. Holidays in Alghero in spring, summer, autumn and winter – reviews of tourists about the weather and not only.
Water and air temperature by month
Average air temperature
Air temperature during daytime
Air temperature at night
Water temperature
Jan.
8 C°
11 C°
5 C°
–
Feb.
8 C°
12 C°
5 C°
–
March
10 C°
14 C°
6 C°
–
Apr.
12 C°
16 C°
8 C°
–
May
16 C°
20 C°
11 C°
–
June
20 C°
25 C°
14 C°
–
July
23 C°
28 C°
17 C°
–
Aug.
23 C°
28 C°
18 C°
–
September
20 C°
25 C°
15 C°
–
Oct.
16 C°
21 C°
12 C°
–
Nov.
12 C°
15 C°
8 C°
–
Dec.
9 C°
12 C°
6 C°
–
Precipitation, humidity, and daylight hours by month
Precipitation
Rainy days
Humidity
Dawn
Sunset
Average daylight hours
Jan.
76 mm
–
80 %
07:46
17:25
10 ч
Feb.
77 mm
–
79 %
07:20
18:00
11 ч
March
63 mm
–
77 %
06:38
18:35
12 ч
Apr.
57 mm
–
76 %
06:48
20:05
14 ч
May
36 mm
–
74 %
06:10
20:36
15 ч
June
23 mm
–
70 %
05:56
20:57
16 ч
July
6 mm
–
66 %
06:09
20:54
15 ч
Aug.
11 mm
–
69 %
06:37
20:22
14 ч
September
39 mm
–
72 %
07:06
19:35
13 ч
Oct.
84 mm
–
76 %
07:28
18:36
12 ч
Nov.
109 mm
–
79 %
07:12
17:09
10 ч
Dec.
93 mm
–
80 %
07:41
17:01
10 ч
Is the climate in Alghero dry or humid?
The average annual rainfall in Alghero is 672 mm. This type of climate can be classified as moderately humid.
When is the best time to vacation in Alghero?
There is no definite answer to this question. It all depends on the purpose of the trip, the vacationers and budget constraints.
Beach season in Alghero
The best season for a beach holiday is June, July, August and September, as the water is already warm enough and you can swim in the sea. But it is worth noting that the opening of the beach and swimming season is in May and the end in October, as in these months the sun, usually enough for a nice tan, and the toughest swimmers and swimmers.
Thus, the beach season in Alghero lasts from May to October, which is 6 months.
High season in Alghero
April, May are the months most favorable for sightseeing. If you plan to visit museums and take the vagaries of the weather calmly, it is better and cheaper to visit Alghero at other times of the year.
When is the cheapest time to vacation in Alghero?
The low season in Alghero is January, February, March, June, July, August, September, October, November, and December. Although sunbathing and swimming during this time of year is unlikely, a trip to Alghero during the low season is a great way to see the sights without spending a lot of money. And to find out where to go, you can read our review "Sightseeing in Italy: the most unusual and interesting places of the country".
The best time to vacation in Alghero


Antalya Suite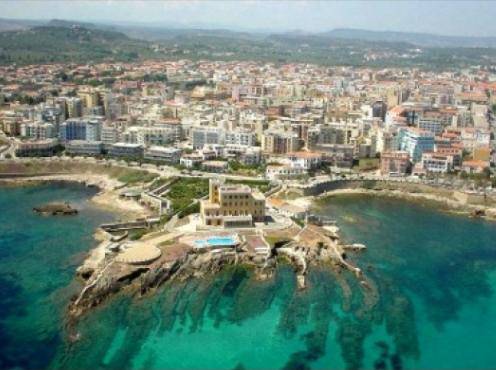 If you've decided to spend your vacation in Sardinia, specifically in Alghero, you first need to figure out what you expect from your vacation. I mean, everyone has their own preferences and tastes. Some people like to relax in the mountains in summer, while others prefer winter ski resorts. It's about the same with rest at the seaside. Some are not strongly enticed by high temperatures and beach holidays, and they like to spend time walking and breathing the cool sea breeze in the winter. But the bulk of tourists all the same prefers a summer vacation when you can not only enjoy the gentle rays of the sun, but also to combine it with swimming in the warm sea, and without this, they do not think that the rest can bring the greatest satisfaction. Therefore, we will talk about this, the beach season, and about what time and why, it is better to rest in Alghero.
Who has not been to Sardinia before, may imagine that it is quite hot and exotic island, because most of the programs show exactly the summer vacation and life of the Sardinians themselves. But I can disappoint you a bit, that in winter it can also be quite cool. Of course, there are almost no minus degrees, but nevertheless during the winter months it is quite cool and wet. And the sea cools down to thirteen degrees. And if so, then to warm up the water, too, will need time. And it turns out that if we are talking about a really good beach holiday, when you can not only sunbathe, but also normally swim in the sea, and by this I mean a water temperature of not less than twenty degrees, then you should come to Alghero not before June. If of course you're more attracted by the lower cost of travel or accommodation in May, then you can choose this month, because you can also sunbathe, but to swim in the sea is not everyone, and this must be taken into account. So if you decide to go on a May trip, focusing on prices, or to spend the May holidays, at least look for a hotel, which will be either an indoor pool or at least with heated water. It is worth knowing that the weather in May is not yet fully established and there may be not only cloudy and rainy days. In this case, better than just sit in a hotel and resent the weather, you can drive around Sardinia and enjoy its sights and beauties, and see this island, I assure you, there is a lot to see. So, and the time is not wasted and get the pleasure in full. But let's return all the same to the normal time for rest.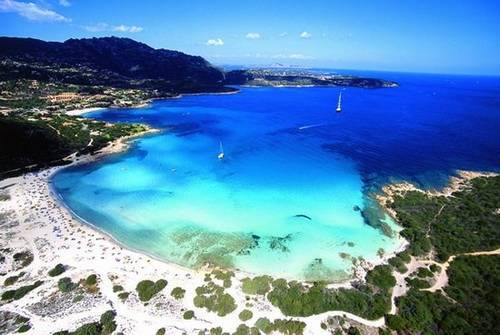 So, as for a really comfortable beach holiday, I think it's better not to come to Alghero earlier than mid-June, especially if you are going to do it with the whole family, including children. Firstly at this time and with the weather is practically no surprises, because it is, as they say, is established, and the water temperature at the coast of the resort will be around twenty-two degrees, and this is already a good indicator for bathing. And the air itself in the middle of this month reaches thirty degrees. In a word, for real beach rest, just what is needed. Such indicators are probably kept up to the middle of the next month, the only thing is that the sea is heated even more and in the middle of the summer comes to twenty-five degrees. Vacationers in June is still relatively small and can be called it a good month for a holiday.
As for the next two months, it is the most visited period, not only for Alghero, but also the whole of Sardinia. Probably the lovers of high temperatures and warm sea are still the most. Here and with places in good hotels can be a problem, so, if you decide in advance to go at this time, it is better about the tickets or seats, take care in advance.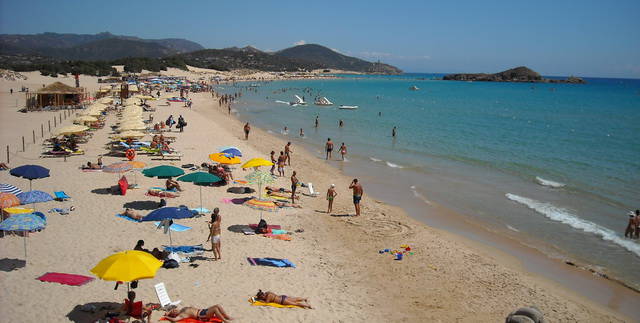 The hottest month at this resort is August. The air sometimes reaches thirty-five degrees, but the sea can get warm up to twenty-seven. So lovers of warm sea, you can not think of a better time.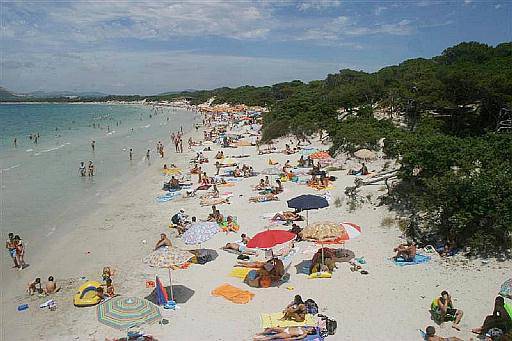 But, as perhaps in all resorts of the Mediterranean basin, the best time for recreation can be called September. First of all the temperatures are getting milder. It's about twenty-eight during the day and just five degrees below in the evening. And at the same temperature of water, as the evening air. You can walk for a long time and breathe the sea breeze and evening swimming brings indescribable pleasure. I must add that the number of holidaymakers is noticeably less, because there are not so many children, the resort calms down a little, going to a more measured rhythm of life. It is nice to spend the evenings on the terraces of small and not noisy restaurants of Alghero, listening to live Italian music with a glass of fine Sardinian wine. In a word, romance and nothing but romance. Holidays can be enjoyed throughout the month, as the weather in September is quite stable. For a holiday with small children, too, perhaps it's better to choose September, and the temperature readings and a calmer atmosphere. Newlyweds and couples in love may also like this time the best, though there are those who are more attracted to the wild nightlife and in September they may feel a little bit bored.
In October there are even fewer tourists, and it becomes clear that the season is coming to an end. But up to the middle of the month you can still rest, because the temperature and the weather is quite possible to do this. But it is not worth to take too long to rest, as in the second half of the month the weather can slowly start to deteriorate. Therefore, I think the middle of October, the summer season in Alghero can be closed. Sightseeing prices in this month can be quite tempting, especially in its second half, but I think it is better not to take a chance and limit yourself to just the first two weeks of October. And then we can say the winter season replaces the summer one and we're not going to talk about that anymore.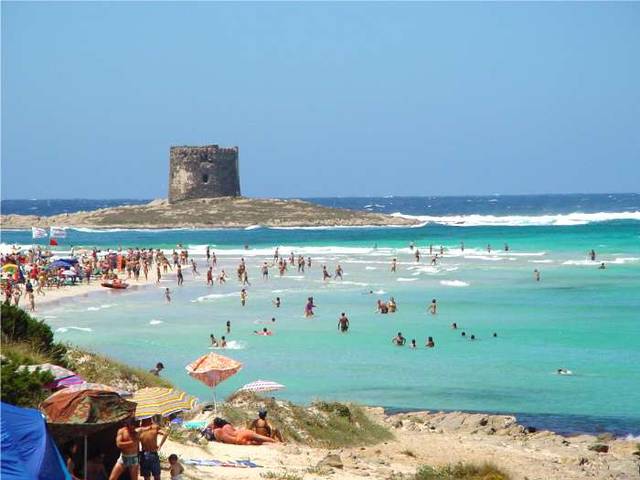 Here is a rough breakdown of the weather and temperatures during the summer beach season, and you can choose the best period and rates for you. So decide on the time, book hotels or other properties for accommodation and go to a new and uncharted land, Sardinia you will love.