6 cool places to visit in Malaysia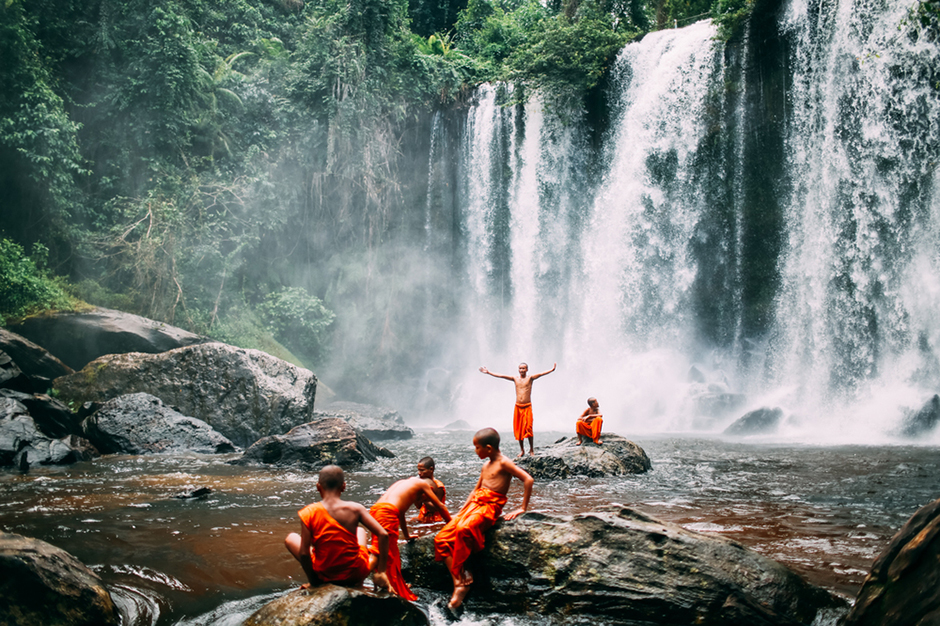 There are several reasons travelers end up in Kuala Lumpur sooner or later: 90 days of visa-free travel, Air Asia with its cheap tickets to all over Asia (most flights at enviable prices fly from Kuala Lumpur) – and the city itself with its breathtaking views, gastronomic delights and mix of cultures.
So, have you explored Kuala Lumpur thoroughly, and the 90 visa-free days in Malaysia haven't yet expired? Or maybe you're waiting out a long layover before heading on to Bangkok? Either way, why sit in shorts at the airport or the tenth bar in a row when the outskirts of Kuala Lumpur are ready to give you a whole new world? Here's a look at 6 fun vacation options that take you 1-3 hours to get to.
Journey down the river with fireflies

Kampung Kuantan
Jalan Club, Kampung Kuantan, 45000 Kuala Selangor, Selangor Travel time: 1 hour by car from Kuala Lumpur Price: €10 per boat (4 people) Open 19:30 – 22:30
Taking a boat ride on the river at night along the trees dotted with flickering firefly lights is a great way to spend an evening and relax after a flight. This place is relatively cheaper than others near Kuala Lumpur. Another advantage is using a boat without a motor, so you can enjoy the sounds of the night nature. You do not have to paddle yourself: there will be a special person for that. On the downside: it's almost impossible to take good quality photos with your phone or camera (only using slow shutter speed on the camera – which is difficult, because you're swimming all the time). So you have to remember everything, but the spectacle is worth it.
For those who don't want to bother, there are ready-made tours from Kuala Lumpur that include transfers, hotel, river trip and dinner. They cost in the neighborhood of €40-50.
Lucky Elephant Sanctuary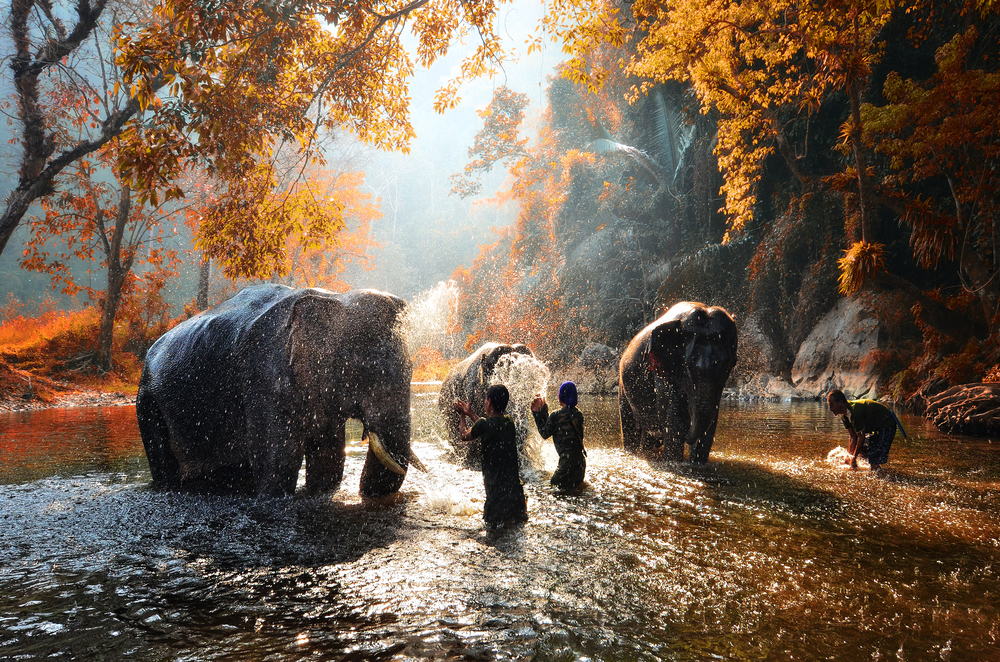 Kuala Gandha
28500 Lanchang, Pahang Travel time: 1.5 hours by car from Kuala Lumpur Price: free
Being an elephant in Malaysia is not easy: the jungle is being cut down and there is less and less natural habitat. Because of this, elephants come to the fields and vegetable gardens of villagers, and they fight them like pests, with all available means: the damage from a stray elephant is very high. This is why the Kuala Gandah Elephant Conservation Center was established, where elephants are treated and trained to help their congeners and lead them out of dangerous territories. Elephants trust their own more.
This is the only place among all the zoos and elephant farms where you can see happy elephants – and it's very striking. Here they are treated with care, they don't offer elephant rides and other attractions, but allow you to observe them in near-natural conditions. Admission is free, you can watch the elephants, treat them to something delicious (food can be bought on the spot), walk around the park, watch a movie and a mini show (of course, no circus violence).
And for an extra fee you can swim in the river with the elephants (€2 per person) – so take a change of dry clothes with you. Girls should not wear swimsuits, but a T-shirt and shorts.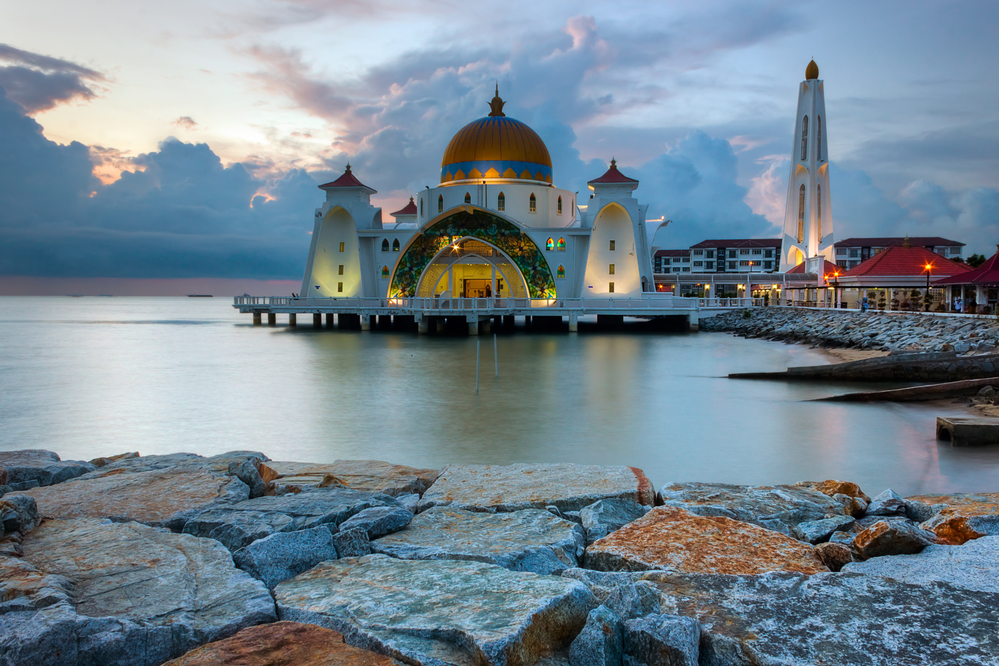 Malacca
Travel time: 2.5 hours by car
Malacca, one of the oldest cities in Malaysia and a UNESCO World Heritage Site in its entirety, is very colorful, beautiful and diverse. Residents use a variety of colors to paint their houses, so the photogenic nature of Malacca is off the charts. The city is also the city of cats: almost every corner is filled with these purring creatures.
Of note in Malacca:

Jonker Walk Street is a night market every Friday and Saturday. You can buy gifts and try a variety of Malay food at low prices (€ 1-2 per dish).

A'Famosa Fortress (Jalan Parameswara, Bandar Hilir, 78000 Alor Gajah, Melaka) – you can climb the ruins of an ancient fort built by the Portuguese during colonization in the 16th century.

Rickshaws – The city is famous for its rickshaws. Each driver adorns the vehicle according to his taste and, of course, trying to outdo the others. You can see everything from Hello Kitty to seven rows of artificial flowers proudly wrapped around the steering wheel.

Buddhist Green Cloud Temple (25, Jalan Tokong, 75200 Melaka) is a beautiful Chinese temple dedicated to three religions at once: Buddhism, Taoism and Confucianism. All are welcome here: you can go inside, have a look around and take some unobtrusive photos.
Surfing and Kayaking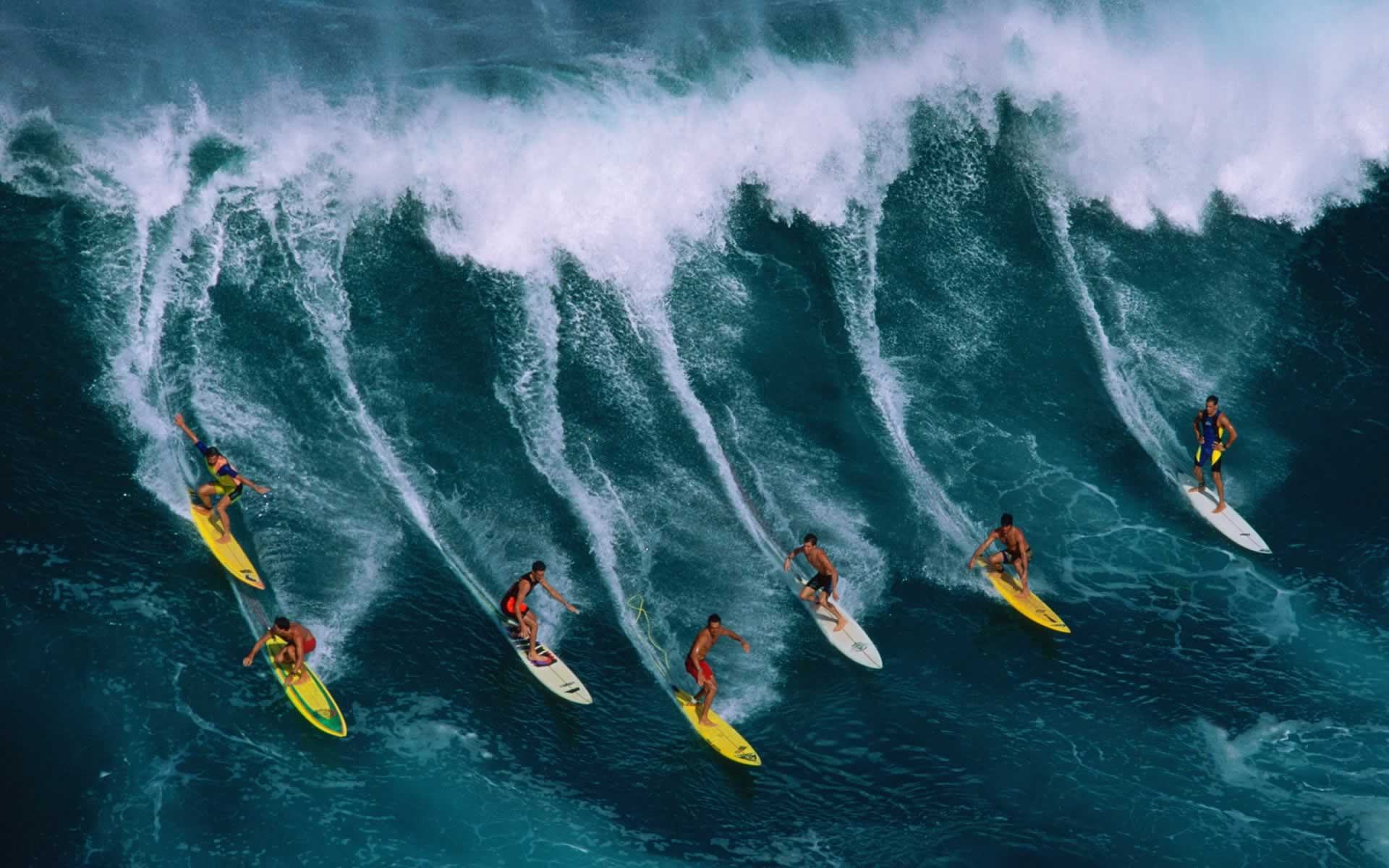 Cheering
Travel time: 3,5 hours by car Price: € 7-25
Cherating is a small town for those who love water sports and relaxed atmosphere. It is located on the coast of the South China Sea, but it is not always suitable for swimming: it depends on the season.
The main activities in Cherating:

Surfing (November – March, you can rent a surfboard and book a lesson for €23)

Kitesurfing (May – October)

Mangrove River Kayaking (all year round, price €7 for 3 hours for 2 people)
After all that activity, you're sure to want a snack.
A few ideas:

Ombok (Kampung Cherating, 26080 Balok, Pahang) – come here for breakfast with a cup of good coffee (the place is open until lunch). Costs about €3.

Eco-bar (Ranting Resort Kampung Cherating Lama, Kuantan 26080) – A bar with good European food, open in the evening. Average bill: € 5.

Beach bar is a bar for evening gatherings with alcohol. The bar just stands on the beach, so there is no exact address – just ask a local and they will tell you everything.

Monkey bar – for last you can check out this slightly trashy bar for locals with free billiards.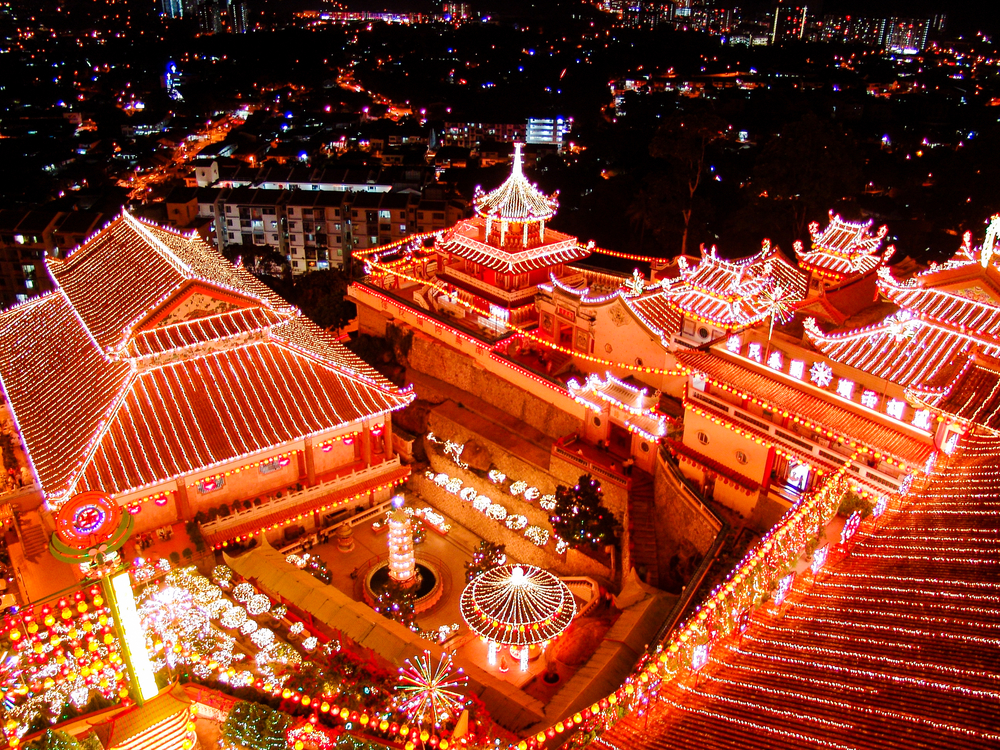 Penang (Georgetown)
Travel time: 4 hours by car or 1 hour by airplane Price: from €10 one way by airplane
The island of Penang is located west of Kuala Lumpur and like Malacca is listed as a World Heritage Site. That means you can't tear anything down on the island: you might as well see a mall built on top of an 18th century building. All the most interesting things are concentrated in the island's capital, Georgetown. The city is known for a variety of works by street artists, but the most famous is children riding bicycles. You can find her and others on Cannon Street, Armenian Street, and Queen Street. If you have the time and desire, pick up a graffiti map at local tourist spots and try to find them all.
A few more ideas for a day on the island:

Climb Mount Pinang. You can walk, but that is an option for the most athletic and desperate. For the rest there is a nice cable car (looks like a streetcar that can ride at a 45° angle – by the way, it is the oldest cable car in Asia). At the top, enjoy the opening views of the city and the entire island and walk around the green area.

Take part in a horse race (10450 George Town, Pinang) . Feel like Henry Chinaski and bet a few Malay ringgit on the horse with the funniest name – or study the results of previous races and make an intelligent choice. Either way, the spectacle is fascinating. Don't forget to come early to get the best seats.

Meditate at the Dragon Mountain Temple (Khoo Kongsi) (18, Cannon Square, George Town, 10450 George Town, Pulau Pinang) . It is a temple-museum with a colorful interior, exquisite carvings and cool statues. Especially impressive in the evening. During the Chinese New Year you can get a prediction for donation. Admission costs € 2.
The city of good food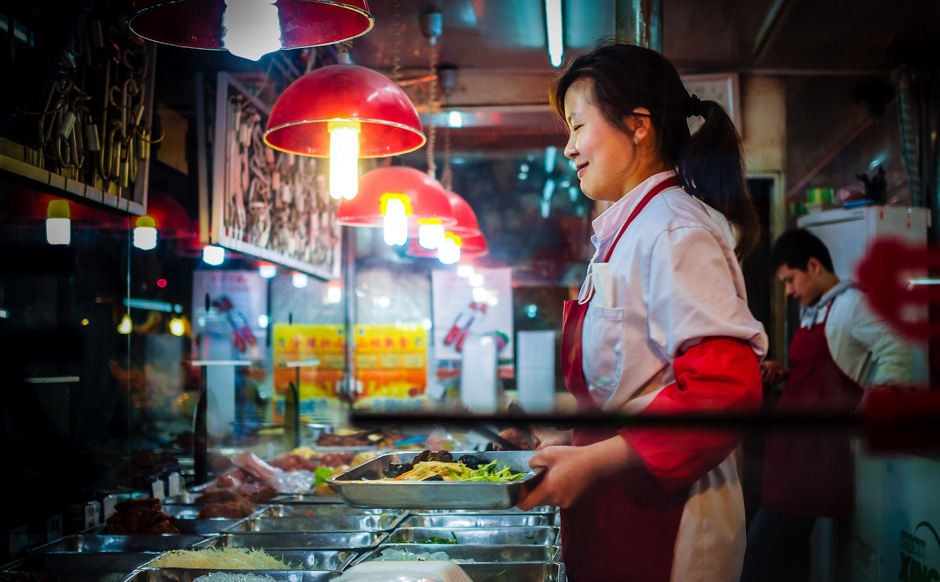 Kuala Terengganu
Travel time: 6 hours by car from Kuala Lumpur or 1 hour by plane Price: € 10 for a one-way ticket
A neat and pleasing to the eye city that offers bread and circuses, namely lots of street art and delicious inexpensive food.
Where to go in Kuala Terengganu?

Chinatown – a lot of different street art: just walk around and take pictures and enjoy the bright colors of the houses and the imagination of the artists.

Pasar Payang Bazaar – open every day. Here you can buy gifts for friends and relatives: clothes, fabrics and souvenirs. And of course, what market without a cheap delicacies of national cuisine! Look out for fish chips (keropok) and all kinds of puff pastry, sweet and salty (roti). On the second floor you can sit and have a breakfast of rice cooked on a coconut with fish. Average check € 1-2, the hottest days are Friday and Saturday.

Crystal Mosque (Pulau Wan Man, 21000 Kuala Terengganu, Terengganu) is a mosque more like a palace from fairy tales: everything shines and shimmers. Girls should wear a headscarf, a low-cut, long skirt or loose fitting pants.

Oliva (1102-d, Jalan Sultan Sulaiman, 20000 Kuala Terengganu) is a restaurant where absolutely everything on the menu is delicious, the portions are generous and the flavor combinations are not trivial. Many people attribute the good food to the fact that the place is run by an Australian chef. In any case, this is a restaurant where you want to dine every day. Opens at 5 p.m., average bill €5.

Dinnie Café (Kampung Ladang Sekolah, 20000 Kuala Terengganu) – This place is famous for its huge seafood plate for €10. One serving is enough for two or even three people. The range includes crabs, shrimp, oysters, clams and mussels.
What to visit in Malaysia
A true work of modern art, skyscrapers made in the Islamic style, the tallest twin towers in the world, the symbol of Malaysia. All this is about the Petronas Towers, which are located in the capital of the country – Kuala Lumpur.
Sultan Abdul-Samad Palace
Sultan Abdul-Samad Palace is considered one of the most recognizable and visited sights in Kuala Lumpur. The building is located in Independence Square and fully justifies its royal name.
Jamek Mosque
The Jamek Mosque was built just over a century ago – in 1909. – And today is considered the oldest mosque in Kuala Lumpur. Tourists visiting the shrine are usually impressed by several things at once.
Niah National Park is located in the state of Sarawak in an area of jungle and limestone cliffs. Here are the world-famous Niah Caves, where traces of early human settlements have been discovered. The so-called Big Cave covers an area the size of 13 soccer fields.
Batu Caves
The Batu Caves are one of the most popular attractions in Malaysia. Long serving as a hunting refuge for the local Besisi tribe, the Batu Caves were discovered in 1878 by American naturalist William Horneday.
Sri Mahamariamman
Sri Mahamariamman is the oldest Hindu temple in Kuala Lumpur and one of the main Hindu shrines of all Malaysia. It was begun in 1873 and built at the request and with funds of the head of the local Tamil community, migrant workers from South India, who came to the country in large numbers at that time.
The small Bako Reserve is located in the west of Sarawak, at the mouth of the Bako River. The park is famous for its interesting caves, rocky promontories, and sandstone cliffs. There are rock arches and piles of blocks carved by waves and wind.
Gunung Mulu
Gunung Mulu is Sarawak State's largest nature reserve, with an extremely diverse landscape ranging from peat bogs to jungle-covered hills where about 1,500 species of flowers grow, 10 of which are carnivores.
Yendau-Rompin
Yendau-Rompin is a reserve on the East Coast of Malaysia, located in the jungle on the watershed of the Endau River in Johor and the Rompin River in Pahang. Covered in lush vegetation, this unspoiled park is one of the few remaining islands of Sumatran rhinoceros habitat.
Bukit Bintang Quarter
Bukit Bintang is considered one of the major shopping areas of Kuala Lumpur. Often dubbed the "golden triangle", it is bounded by three bustling streets and has hundreds of stores, restaurants, bars, nightclubs and hotels.
Kinabalu
Mount Kinabalu is one of the highest peaks in Southeast Asia, rising 4,093 meters just 138 kilometers from Kota Kinabalu, the capital of Sabah. The ascent to Kinabalu usually takes two days with an overnight stay in a shelter near the summit.
Kuala Lumpur Bird Park
Kuala Lumpur Bird Park is a ten-minute drive from the city center, in a picturesque setting that lives up to its name, Lake Gardens. The bird park is one of the most visited attractions in Malaysia and is unlike any other zoo in the world
Kuala Lumpur Oceanarium
Explore the depths of the ocean without getting your feet wet and meet the sharks by successfully surviving the encounter at the Kuala Lumpur Oceanarium. Its official name is Aquaria KLCC and it is located in the center of the Malaysian capital on the lower level of the Petronas Twin Towers.
Taman Negara
Taman Negara is Malaysia's best known national park with its mixture of flat forests, rugged peaks, and lush green valleys. The waters at Taman Negara are home to over 200 species of fish, mainly from the carp family.
Menara TV Tower
Even after its construction, the Menara Tower would not be the tallest TV tower in the world: it is 421 meters and is inferior to, for example, the Ostankino Tower. But at the same time you can not climb higher in all Malaysia – as far as man-made structures are concerned.
Kuala Lumpur Central Market
Kuala Lumpur Central Market dates back to 1888, when it served as a marketplace for fish, fruit and vegetables. Today, however, the main products that pepper Kuala Lumpur Central Market are all sorts of souvenirs, clothing and accessories.
What else to see in Malaysia
The geographical map of Malaysia is as rich as the resources of this eastern country: islands, mainland land, sea expanses, impregnable mountains, jungles and exotic forests. Water activities and informative excursions to natural and historical monuments of Malaysia make the vacation rich and unforgettable.
Kuala Lumpur
Meet the greenest capital of Asia! Despite the abundance of ultra-modern buildings, the number of ancient temples, monuments, green avenues in Kuala Lumpur is amazing. Unique is the oldest mosque in the country – Masjid Janek, no less picturesque mosques Jamek and Masjid Negara. The enormous Hindu temple of Sri Mahamariamman completes the religious map of the city.
It is impossible to take your eyes away from the "double" skyscraper – Petronas Towers, the symbol of the city that is often seen on souvenirs. Complement the image of Kuala Lumpur amazing Hindu temple in limestone caves, the Lake Garden, landscaped Temple Park, Park of strange birds, Orchid Garden.
At 200 km from Kuala Lumpur is the "tea capital" – Cameron Plateau (Cameron Highlands). Here is one of the most popular, despite the lack of sea and beaches, resorts in Malaysia. In addition to tea plantations, you can see strawberry farms, a park of butterflies and flowers, mountains and waterfalls, as well as doing trekking.
Malacca
The historical center of Malaysia, Malacca is 150 km from the capital. You can watch the influence of other civilizations here: the most ancient Christian church in the country – St. Paul's Church, the Portuguese A'Famosa Fortress – one of the oldest surviving European buildings in Malaysia, the Cheng Hung Teng Temple – the oldest Chinese temple in the country. Museum treasures are represented by the Malacca Historical Museum and the Malacca Cultural Museum. Not far from the city, the expensive resort of Port Dickson with its beautiful beaches buzzes at night.
Penang's most colorful sanctuaries include the Dragon Mountain Temple, the Snake Temple, where dozens of poisonous snakes lie on the altars, the Ayr Hitam ("black water") Temple or the Temple of the Ten Thousand Buddhas.
Penang Island
Penang (or Pulau Penang in Malay) is an island near Malacca connected to the mainland by the Penang or Jaenakg Bridge. The island's capital, Georgetown, is built on the remnants of British Fort Cornwallis, fragments of which remain in the city center. Worth a walk through the Chinese Quarter, touch the "miraculous" cannon "Seri Rambai" for good luck, look into the "big house" Hu Kongsi. There is its own temple Kuan Ying Teng and the Anglican Church of St. George. There are exotic sanctuaries on the island: the Mountain Dragon Temple, the Snake Temple, where dozens of poisonous snakes lie on the altars, the Temple of Ayir Hitam ("black water") or the Temple of Ten Thousand Buddhas. About stormy sea life of the town tells the story of the cemetery with the graves of sailors from the Russian cruiser "Pearl".
Langkawi Islands
The archipelago, which includes 104 islands, borders Thailand and has a huge number of natural attractions:
Telaga Tujuh Waterfall ("Seven Wells") in the northwest of the island,
Telaga Ayr Panas hot lakes,
Gua Cherita Cave ("Cave of Legends"),
Pulau-Dayang Bunting Lake ("Pregnant Woman"),
Pulau Singa Besar Nature Reserve ("Big Tiger Island").
And also on Langkawi, in Pantai-Chenang, is the largest aquarium in Asia, "The Undersea World of Langkawi".
The sands of Langkawi are no less unique. For example, the Black Sands are blue-black in color, the Wet Rice Islands are known for their snow-white sand, and the sand on Payar Island is rosy.