Tibet Attractions
Everest Pelkhor Chode Monastery Palkhor Chode Monastery Mansarovar Lake Darchen Astapad Guru Rinpoche Cave Chiu Gompa Monastery (Bird Monastery) Kyunglung Monastery
The site contains Tibet attractions – photos, descriptions and travel tips. The list is based on popular travel guides and presented by type, name and rating. Here you'll find answers to questions: what to see in Tibet, where to go and where are the popular and interesting places in Tibet.
Everest
Everest or Jomolungma (Tibetan for "Divine") is not only the highest point of the globe, but also a kind of magnet, constantly attracting climbers from all over the world.
The first attempt to ascend Everest, however, was in 1921.
a group that consisted mainly of Englishmen. But that and several subsequent assaults on the mountain ended in failure. For a long time, Dzhomolungma was an impregnable bastion.
And only on May 29, 1953 Sherpa Tenzing Norgham and New Zealander Edmund Hillary climbed the world's top. To date, some 900 climbers have conquered Everest.
Each year more than five hundred people try to climb the mountain, but most of these attempts are in vain. Many cannot endure inhuman conditions at an altitude of over 8,000 meters above sea level, where wind gusts reach as much as 200 km/hour and air temperature at night drops to minus 60. The romance of climbing at this altitude ends and the harsh realities begin. What does a climber, who has conquered the highest peak in his life, feel? Joy or disappointment, that the main goal is reached, and further there will be "smaller" mountains?
Coordinates: 27.98955100,86.91627500
Pelkhor Chode Monastery
Pelkhor Chode, the spiritual center of Gyantse, is a remarkably loyal monastery. The stuffed animals above the gate of the monastery symbolize the riding animals on which the gods arrive here for services.
The calling card of Gyantse is a multicolored stupa Kumbum ("thousand". 1000 images of Buddhas, deities and bodhisattvas) 32 meters high. A typical Nepalese stupa symbolizing the worship of the basic elements of the universe: Earth-Water-Air-Fire-Ether. There are five floors, many rooms, statues and altars in which to stand in silence and darkness beautiful statues of Buddhas, thars and defenders, the walls of rooms painted with colorful murals. The stupa is surmounted by a golden top. It rises like a crown over the four images of eyes that look at all four corners of the world.
One can make wishes here. They say that it will come true for sure.
Coordinates: 28.92643900,89.60861200
Which sights of Tibet did you like? There are icons next to the photo, by clicking on which you can rate this or that place.
Palkhor Chode Monastery
Huge monastery Pelkhor Chode was founded in 1418 in Tibet. It is located at an altitude of 3950 meters above sea level, and in fact it unites fifteen monasteries of three different schools of Tibetan Buddhism (Gelug, Sakya, Budon).
In its best days, Pelkor Chöde was home to 3,333 monks. Unfortunately, today many courtyards of the monastery complex are empty. The most striking structure in Pelkor Chöde is the Kumbum Stupa (aka Pagoda of 10,000 Buddhas, Deities and Bodhisattvas).
Several times in its history Pelkor Chöde was forced to become involved in battles. During the Chinese Cultural Revolution many statues were damaged but they have now been restored.
Coordinates : 28.95001600,89.63339400
In photo mode, you can view landmarks in Tibet by photo only.
Lake Mansarovar
Lake Mansarovar is often referred to as the lake of living water. Here, on the world's highest freshwater lake, swans live. The lake stretches for many miles and is encased in ice most of the year. But when the ice melts, the birds return here. The area around the lake is considered rich in minerals, hot springs gush out of the ground, and there are hundreds of wildlife in the vicinity.
About an hour's drive from Mansarovar at an altitude of 4760 meters is the village Darchen – the starting point before climbing the great Tibetan shrine – Mount Kailas. The village's proximity to the summit was the reason for its rapid growth in popularity. It is the last bastion of civilization before travelers embark on the three-day kora, as the ritual circumambulation of Kailas is called. The village has a small monastery, guest houses, and small restaurants with traditional cuisine. To comprehend the greatness of Tibet, it is worth starting from here.
Coordinates: 30.61427700,83.63809200
Darchen Astapad
The Darchen-Astapad route is the beginning of the journey to the greatest shrine, Mount Kailas, shrouded in many myths and legends. In the four religions it is the center of the universe. The ritual circumambulation of the sacred mountain, the Outer Kora, begins in Darcenus. And one of the first to be seen by tourists is Mount Astapad, the southern face of Kailas.
I must say that you can hardly travel along the Darchen-Astapad route so easily – you need a special permit from the authorities. After leaving Darchen travelers make a training ascent to Gandrak monastery, located at an altitude of 4,700 meters, then you can climb to a mark of 5,300 meters. From this point there is a magnificent panorama of Mount Astapad and Mount Nandi. It is here, through the pass between the southern tip of Kailas and Nandi, that the difficult route of the inner crust runs. Only those who have traversed the 13 outer crusts can follow it.
Coordinates: 30.61900500,83.64358500
Guru Rinpoche Cave
The cave at Chiu Gompa Monastery. According to legend, Guru Rinpoche, the founder of Buddhism in Tibet, once came from Nepal, spent the last seven days of his life here. Guru Rinpoche is revered by his followers as the second most important figure after the Buddha.
The cave is small and can accommodate no more than five people at a time. Opposite the entrance to the cave there is a makeshift altar in which stands a bronze figure of Guru. He is flanked by figures of his wives, a Nepali and a Tibetan.
It is believed that it was Guru Rinpoche who taught the Tibetans the mystery of meditation and the art of enlightenment. Therefore, many pilgrims believe that if one sleeps overnight in this cave, one can attain enlightenment. But it is not easy to do – you need to get permission from the monks of Chiu Gompa monastery.
Coordinates: 30.76387200,81.37006400
Chiu Gompa Monastery (Bird Monastery)
A small monastery in the mountains of Tibet and a very important shrine for followers of Buddhism. It houses a life-sized sculpture of the Buddha Chomdente.
From the top of this monastery you have magnificent views of Rakshas Tal and Manasarovar lakes, as well as the snow-capped peaks of Kailas and Gurla Mandata.
The name of the monastery means "little bird. Apparently, this name was given to it for its small size and high precision of location. Only three or four monks live in the monastery.
Next to the monastery is another shrine, the cave of Guru Rinpoche, the founder of Buddhism in Tibet. According to legend, he spent the last 7 days of his life there.
Coordinates: 30.76387200,81.37006400
Are you curious to know how well you know the sights of Tibet?
Kyunglung Monastery
Kyunglung Monastery is located northeast of Tsparang. There are high cliffs with numerous caves. One of them is the residence of the chief teacher and practitioner of the ancient Tibetan tradition Bon-po, the famous healer. Above the entrance to the monastery is the main symbol of the Bon religion, the left-handed swastika. At the entrance to the main monastery hall is an ancient bastard map-scheme of Shambhala, on which dozens of monasteries are schematically depicted. Once inside, visitors find themselves in the main hall, where there is a stupa with relics.
The Kyunglung Monastery looks austere, like a guardian at the entrance to a narrow gorge at the head of one of the Indus' tributaries, the Sutlej River, which opens the way to secret valleys where mountain spurs are covered with settled salt from hot springs. Even ancient treatises mentioned the salt springs in the Sutlej valley.
Coordinates: 31.48489300,79.66021700
The most popular attractions in Tibet with descriptions and photos for all tastes. Choose the best places to visit famous places in Tibet on our website.
More Sights of Tibet
Mount Nandi, Tibet, China Tibetan Lake Manasarovar, Tibet, China Leaping Tiger Gorge, Hutyashchaya, Tibet, China Ruins of Tsaparang City, Tibet, China Toling Monastery in Lhasa, Tibet, China Caves of Tibetan Yogi Milarepa, Nyalam, China
Traveling to Tibet – sights and personal travel experiences
Tibet seems to be shrouded in a mysterious and mystical halo, it seems to be the most mysterious country of all really existing. Believers looking for spiritual strength and change for the better want to come here. But if you forget the mystical background for a moment, you can find many more real reasons to go to Tibet:
The beautiful mountain scenery, mesmerizing to the eye;
the hundreds of unique passes and roads among the cliffs, which are incredibly interesting but difficult to walk;
the architecture of Buddhist monasteries and their colorful decorations;
Sites with centuries of history;
An introduction to the local culture and customs.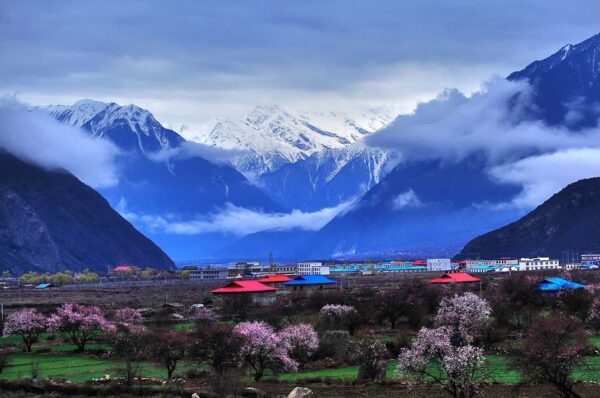 Go to Tibet just for the beautiful pictures is probably not worth it. You go there to be alone with nature, to dream, to think about eternal things, to enjoy a healing atmosphere and somewhere deep down to understand something important for yourself. No, only yogis and meditation-turned people don't go to Tibet, but still before the trip you should tune in to serenity – so you can better feel a rush of happiness and strength.
Cheapest tickets from Moscow to Lhasa and back
| Flight Date | Return date | Change of plane | Airline | Find tickets |
| --- | --- | --- | --- | --- |
| 14 April 2023 | 28 April 2023 | Direct flight | | Flights from 385 002 |
Worth seeing in Tibet
In addition to the special atmosphere (you will feel it immediately after arrival), Tibet has an abundance of attractions. They are quite different from the historical sites in Europe or Russia, but they have hidden underneath dozens of generations and hundreds of years, so they are 100% worth seeing. What to see in Tibet?
The Potala Palace in Lhasa is a huge complex nestled among the mountains. There are countless treasures and decorations inside, and unique architecture and preserved grandeur outside.
The Jokhang Temple in Lhasa is the main sacred temple in Tibet, with a statue blessed by the Buddha inside. Pilgrims from all over the world come here.
Mount Everest (Jomolungma) – located on the border with Nepal. Only experienced climbers can climb to the top, but ordinary travelers are invited to visit the foot and enjoy the views.
Namtso Lake or Heavenly Lake – is located in the heart of Tibetan Plateau and amazes with its landscape (around the mountain), clear water and beautiful scenery. There is also a nature reserve with rare animals and birds.
Sacred Mount Kailash – I have told you about it before, it is a place of powerful spiritual practice, from where, according to legend, the Buddha himself descended.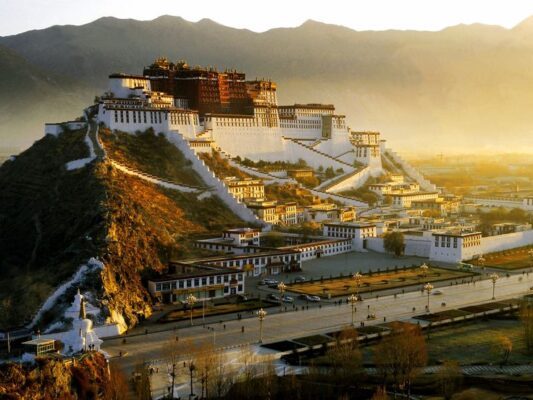 This is not the end of Tibet's attractions – I recommend visiting the Guge Kingdom in the West, Samye Monastery and Tashilunpo, as well as Lake Ravok, surrounded by forests and glaciers.
Traveling to Tibet – what do I need to know?
Tibet is quite a specific tourist destination and without detailed information about prices, hotels and the direction of the route is not worth going, before you need to get complete information about the chosen route. Where can this be done most fully? Of course, on the Internet! Read reviews, look at different versions of tours at different sites, compare. In general – do not hurry to buy the first available tour, there is a risk and overpay and get not what you need. If you buy a package tour, make sure that the price includes air and rail tickets, hotels and special basic passes to travel in Tibet.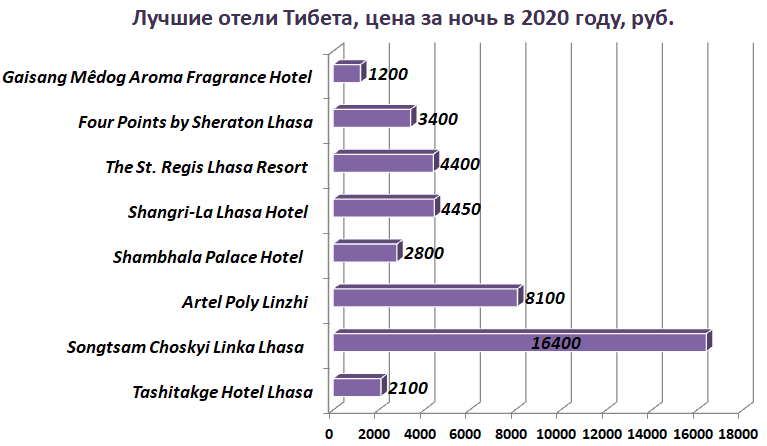 We had an English speaking guide (if necessary, I'll give the contacts in the comments), who knew a little Russian, also you can find a 100% Russian speaking guide without problems. It would be better if this person is not a visitor, but a native of the region. Of course, the first excursion was to the mountains. The Himalayas are incredibly huge, especially in the evenings, when the clouds begin to gather on their slopes. They are four or five kilometers high and the most striking thing is that above them life goes on, people live and yaks graze. A yak in Tibet is like a cow and a horse for the Russian person at the same time: people ride them, carry things, plow, use their wool for clothing production, and meat and milk for food.
What to bring from Tibet – TOP of my finds
No matter what your purpose for visiting Tibet is: whether you're looking for adventure, dreaming of solitude or going on a planned family vacation, the question of buying souvenirs will still arise. What do you buy in Tibet as a souvenir of your trip?
Buddhist-themed souvenirs – flags, mantras, rosaries, bracelets;
coats, boots and hats made of wool – beautiful national attributes, though I do not really know how to wear them in the Russian metropolis;
tea – a lot of varieties of real tea from the mountain plantations, the disadvantage – packages weigh quite a lot, you can not buy in bulk, the luggage will be overweight;
Cosmetics – Chinese face masks, creams and other products are said to be very good;
fish from Lake Manosarovar – the usual taranka, but with teeth in the throat instead of the mouth, it is bought by women who want to get pregnant (you have to boil it and eat it), so it is a great gift for childless ladies.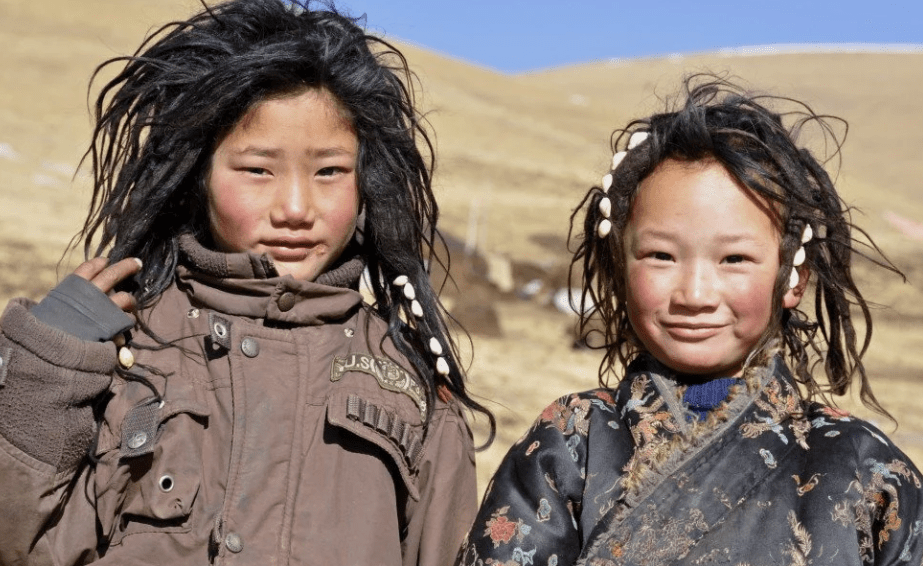 Be sure to bring souvenirs from Tibet, you can't buy such things anywhere else in the world: cups made of skulls (human), how do you like such a gift for the New Year to your friends? Ritual masks, products of turquoise and coral. Naturally, for tourists the prices are exaggerated many times, so trust your guide, provided by the tour company, and you will not be left short of money.
Tibet impresses at first sight, and not only the unique atmosphere. It really is an amazing country, where the sights of architecture coexist with a wilderness of incredible beauty. Just imagine: a mountain plateau, forest thickets, lakes, and among them, like oases, majestic temples, colorful palaces, the ruins of entire cities – and it's everywhere! Let me tell you honestly, the trip to Tibet changed my inner world and gave me a new impetus for self-development.
Find a good, inexpensive tours will help you operators: