Mombasa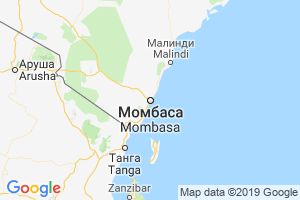 Mombasa is the main port in East Africa, Kenya's second largest city and the former capital of the country, and the administrative center of the Coastal Province. It is one of the oldest cities on the continent and was the capital of Kenya until 1906. At the time of the Great Geographical Discoveries this city was one of the richest ports. Mombasa still retains its medieval appearance, combining both European and Arab-Persian traditions. Although the city is based on an island, it is connected to the mainland by causeways. Tourists are primarily attracted by the many kilometers of beaches on the shores of the Indian Ocean. The city's population according to the latest figures is about a million people.
The history of the city goes back more than 900 years. This Arabian port city was first mentioned in 1151 by the famous geographer Al-Idrisi. At that time, it was the location of the largest center of the slave trade. The next mention dates back to 1331, when the famous traveler Ibn Battuta stopped in Mombasa. He was impressed by the skill of local architects and the beauty of the wooden mosques. At the end of the XV century, Vasco da Gama himself stopped here on his way to India. In the first half of the 16th century the city was repeatedly attacked by the Portuguese. In 1593 a stately fortress, Fort Jesus, was built in the town. This Portuguese structure subsequently became the main attraction of Mombasa.
Founded: 11th century Area: 294.7 km 2 Population: 1,208,333 (2019) Currency: Kenya shilling Language: English, Swahili Official website: https://www.mombasa.go.ke/
Flight time: from Moscow – from 15 hours (1-5 transfers) from Saint-Petersburg – from 18 hours 45 min (2-4 transfers) from Kazan – from 21 hours 15 min (2-3 transfers) from Ekaterinburg – from 21 hours 30 min (2-4 transfers) from Novosibirsk – from 17 hours 30 min (2-4 transfers)
The old part of the city consists of a narrow labyrinth of streets and many workshops. This place is a real treasure house for tourists. Here you can spend hours admiring the old colonial houses, carved doors, etc. In addition to the Fortress of Jesus, special attention should be paid to such places as the summer residence of the President of Kenya, the second largest seaport in Africa, the old mosque Mandri, the Hindu temple of God Shiva, Heller Park with butterfly pavilion, the oceanarium. Next door to Mombasa are marine parks Mpunguti and Kisite. The colorful underwater world of the local reefs attracts snorkelers from all over the world, and the numerous beaches are great for all kinds of water sports.
How to get there
The city has its own airport, which takes both domestic flights and flights from many European countries. The domestic flight from the capital is about 45 minutes. In addition to air transport to Mombasa from Nairobi, there are rail, buses and matatu shuttles. The city's tourist infrastructure is excellent. There are a lot of hotels along the coast to suit all tastes and wallets. The northern resort coast, which connects to the Old Harbor, is full of restaurants, casinos, nightclubs and discos. To get to the southern resort coast, you need to take a ferry.
Searching for air tickets to Mombasa
We compare all available flight options for your query, and then direct you to the official airline and agency websites for purchase. The airfare you see on Aviasales is the final price. We've removed all the hidden services and tick boxes.
We know where to buy airline tickets cheaply. Airline tickets to 220 countries. Search and compare airfares among 100 agencies and 728 airlines.
We cooperate with Aviasales.ru and take no commissions – the cost of tickets is absolutely the same as on the site.
Get to your destination without changing flights. When traveling with a travel companion you won't have to worry about lines and hours spent waiting at the station.
We cooperate with Blablacar and we don't charge any commissions – the cost of the trip is absolutely the same as on the website.
Showing transfers from Mombasa
| | | |
| --- | --- | --- |
| Mombasa airport Moi | Mombasa | from 3698 p. |
| Mombasa Train Station | Mombasa | from 3698 p. |
| | | |
| --- | --- | --- |
| Mombasa | Mombasa Train Station | from 3698 p. |
| Mombasa | Mombasa airport Moi | from 3698 p. |
We cooperate with kiwitaxi and do not take any commissions – the rental price is absolutely the same as on the website.
Transportation
Mombasa Airport receives both domestic flights and flights from many European countries. Domestic flights from the capital of Kenya.
Photos of Mombasa
Where to go in Mombasa
Fort Jesus in Mombasa is one of the most visited attractions in Kenya. It is a fortification.
The Kaya Mijikenda forests are sacred forests on the coastal strip of Kenya. They stretch for about 200 kilometers.
Mombasa National Marine Park (not to be confused with Mombasa Marine Reserve) is part of the same name.
Interesting places in Mombasa
Also.
Private guides in Mombasa
Russian private guides will help you to get acquainted with Mombasa in more detail. There are 2 registered Russian guides in Mombasa.
| | |
| --- | --- |
| | Konstantin Prokopyev 30 tours |
| | |
| --- | --- |
| | Vyacheslav Kulikov 8 tours |
Buying
In the cities and towns of Kenya you can find a large number of souvenir stores and stalls, as well as markets with handicrafts. Among the authentic souvenirs tourists especially appreciate clay animal figurines, paintings by local artists, ebony and teak wood ornaments, leather goods, ethnic masks, handmade carpets, weavings, drums. Equally popular are Kenyan tea and coffee, which are sold in all supermarkets in Mombasa. The jewelry and details of the national Maasai clothing are extremely beautiful. However, prices in local markets are often unreasonably high, so tourists can and should bargain. Sometimes by haggling you can get as much as 50% off the price. The export of ivory products from the country is prohibited, and the skins of wild animals can be taken out only with special permission.
The range of souvenirs in all stores is almost the same. In large cities there are shopping centers and stores with products of famous brands. In Mombasa, the stores and the market of the Old Town are especially appreciated. Almost all outlets are open Monday through Friday from 8.30 am to 5 pm with a lunch break, and on Saturdays from 8.30 am to 12.30 pm. In tourist crowded areas stores may be open until 8 p.m. without a lunch break. Supermarkets are open until about midnight. There is no tax free system and credit cards are accepted only in large stores. Many Kenyan stores sell safari clothes made of special materials and covering the entire body. You can also buy precious and semi-precious stones in Kenya, such as tanzanite, ttsavorite, malachite, and tiger's eye. However, exporting gold and diamonds from the country is prohibited.
Link
Internet
Internet has become widespread in Kenya, thanks to a large number of Internet service companies. Today, tourists can find internet cafes in almost all towns and most hotels, lodges and restaurants offer their own Wi-Fi. You can also use international tourist SIM cards to access the Internet. Rules of connection and tariffs need to be clarified with the operators.
Cellular phones
Kenya uses the international standard GSM-900. In urban areas the connection is good, but in some remote areas the connection may be lost. Local SIM cards are sold at the offices of Safaricom and KenCell. They can be purchased when you arrive at Nairobi airport or in one of the mobile phone shops found in almost every major town or city.
Telephone Connections
Not the best telephone service in Kenya. For example, pay phones are found only in the major cities of the country. Some of them work on coins, and some – on special cards. These cards can be purchased at post offices. A central international call center is located in Nairobi. From this station, you can make direct calls abroad. It is also possible to make a call from a hotel, but at double the rate. To call local numbers you need to dial Kenya's international code – 254.
Security
Kenya is a country with a mixed security situation. On the one hand, Kenyans are very friendly to foreigners, but on the other hand, being in some peripheral areas can be unsafe. Usually these are areas outside the tourist centers. The outskirts of Nairobi and Mombasa are not safe either. Pickpockets, crooks and even armed gangs can operate in such areas. Evening walks alone are best avoided and, if necessary, you should use a reliable cab service. Gangs of separatists are not uncommon in the north of the country, and poachers in protected areas. The situation on the border with Ethiopia and Somalia is particularly bad.
Compared to other African countries, Kenya is relatively safe in terms of epidemiology, but one should not forget about the risk of contracting malaria, various forms of hepatitis, HIV infection, yellow fever. For this reason, increased precautions are recommended. In particular, tourists at entry into the country may be required to have a certificate of vaccination against yellow fever. To prevent malaria, you should take a course of certain medicines prescribed by your doctor. Vaccinations against tetanus, polio, hepatitis A and B are also recommended. Timely arranged insurance will reimburse the costs in case of force majeure.
It is not safe to drink tap water or eat food bought from street vendors in Kenya. Fruits and vegetables must be washed with boiled water. Smoking in public places is strictly prohibited, but there are designated places for this purpose. Fines for violating this prohibition can be quite high. Kenyans do not very much like when foreigners take photos of them without permission, but for a special fee may agree. Border posts, people in uniform, military installations, the central square of Nairobi and the area near the Jomo Kenyatta mausoleum are forbidden to photograph.
On safari trips, you cannot get too close to wild animals, and in many national parks it is even forbidden to move around on your own. It is best to explore the protected areas in jeeps and accompanied by a professional guide. Feeding national park animals is also forbidden and is fraught with a hefty fine. In lodges and campsites it is recommended to monitor the state of mosquito nets. For a trip to the reserves it is better to choose clothing, covering all parts of the body as much as possible. It is strongly recommended to take wide-brimmed hats, high but comfortable shoes, sunscreen, repellents and plenty of drinking water.
Where to stay in Mombasa
The company Ostrovok.ru offers for booking more than 220 hotels in Mombasa. You can choose a hotel using various filters: hotel category, hotel type (hotel, apartment, villa, hostel, etc.), price, hotel location, reviews of people who visited the hotel, availability of Wi-Fi and more. Go to the service for selecting and booking a hotel in Mombasa.