Yerevan in 48 hours: the most rapid guide to the Armenian capital
It is almost impossible to thoroughly get acquainted with Yerevan in a short time: many of the sights are striking in their monumentality and are visible from different corners of the city, but not many of them are hidden behind the facades of houses, in the yards and even in the garages. If you have only two or three days to find some of them, we recommend using our quick tour guide of Armenia's capital.
First day
Start your first morning in Armenia with breakfast at "Jazzve" coffee house. It's the nearest place in the city center with good coffee on 2 Abovyan Street. Eastern coffee here costs 600 drams (about 100 rubles at the June 2022 exchange rate), cappuccino – 1500 drams (about 250 rubles), tomato omelet – 1500 drams, Armenian breakfast set with basturma, suzhuk, vegetables, mushrooms, eggs and pita bread – 2000 drams (about 330 rubles), waffles or pancakes – from 1800 drams (about 300 rubles).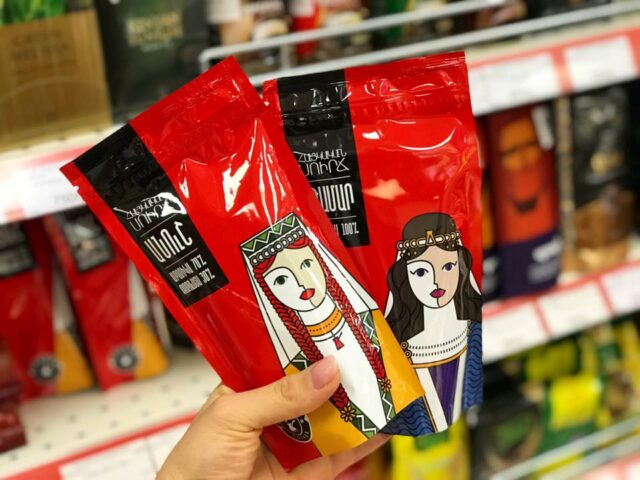 Coffee from Jazzve
If you like coffee at Jazzve, you can immediately buy ground beans of the coffee house's own production. Named after the characters of Armenian poet Hovhannes Tumanyan, the Gohar, Anush, and Tamar varieties with girls in traditional costumes painted on the packs are also sold in large supermarkets, such as SAS, Yerevan City, and Carrefour.
Where to go first:
Near the house next door to Jazzve stands a monument to the homeless man Karabale . He came from a wealthy family, but in the Soviet Union their property was nationalized. Karabala went to prison in the 1930s, and upon his release he had nowhere to go. He eventually became homeless and began selling roses on Abovian Street. Women received flowers from Karabala for free. According to legend, the homeless man died of hypothermia and his burial place remains unknown.
Republic Square is the main square of the city. During protests, protesters gather here, but usually locals and tourists stroll near the fountain.
One of the buildings on the square is the Museum of History of Armenia. There are exhibits from the stone age, traditional ceramics, costumes, jewelry, carpets, and there is also a hall devoted to the Armenian genocide. If this kind of leisure is not very interesting for you and you want to save time, you can just run your eyes over the virtual tour of the museum.
Not far from Republic Square is the Vernisage, the main vintage market in the city. Here you can find handmade goods, from silver jewelry to carved furnishings. To save money, it's best to come on a weekday from 10 a.m. to 4 p.m., but if that doesn't work out, be sure to haggle. If you see bored vendors playing backgammon, don't hesitate to ask to play in the next batch.
An alternative to Vernisage is the Dalan space. It has a souvenir shop, a jewelry store, a gallery, a restaurant and a picturesque courtyard. We recommend snacking here with an oriental bun gatha, and with a full meal, wait until the next food location.
Swan Lake. Despite the name, there have been no swans here since Soviet times. But Kanye West and a hundred of his fans swam here during the rapper's free concert in 2015. It's unlikely you had time to buy water from that event, but you can always imagine what the atmosphere was like here during the concert.
Northern Ave. The street by vibe is similar to Moscow's Arbat – there are a lot of stores and musicians around. The only difference – the passer-by is not surrounded by small old mansions, but by tall modern buildings.
Lunch: One of the restaurants that the Kardashian family visited in Yerevan was "Dolmama". The main dish of the restaurant, as you can guess from the name, is dolma. It's meat minced with rice wrapped in vine leaves, but they also serve a vegetarian version of this dish. Both variants cost 7,000 drams (about 1,100 rubles). Another traditional Armenian dish that "Dolmama" is proud of is khashlama, a stew with vegetables. It costs 9,000 drams (about 1,500 rubles).
If you can't afford such a meal, try the shawarma shop at 32 Tumanyan Street. The prices here are much lower – depending on the size the shawarma will cost from 1,000 to 1,900 drams (about 165 to 315 rubles).
What's next:
You may have already noticed that in Yerevan, the arches between courtyards and streets are almost always painted. These passageways and at the same time objects of street art are called dalans . It is hardly possible to see all the arches, but you can search the approximate addresses of the most remarkable ones in social networks.
Most of the museums in Yerevan do not work until the evening. So be sure to go to the Museum of the Armenian Genocide before 16:00. It is farther away than all of the other sites in the guide, and its visit is the most emotionally difficult. However, you need to go here to understand better the culture and life of the Armenian people. After viewing the exposition, you can catch your breath on the roof of the museum, with a view of Yerevan and Ararat.
If you want to know more about the Armenian genocide, you can easily go to Yerevan bookstores – "Epigraph", "Noyan Tapan", "Bookseller", "Zangak" and ArtBridge. The latter has a separate shelf with historical works and fiction about the Armenian genocide in Russian, English, and Armenian. There are also Armenian travel guides and local authors' works in Russian translations.
At the end of the busy day program go back to Swan Lake and from there walk through the square to the Opera Theater, a building that is often printed on postcards and magnets. Behind it is Place de France , where several important traffic arteries of the city intersect. It was for this reason that Armenian politician Nikol Pashinian and his supporters began a sit-in and then a rally here in 2018. Thus began the velvet revolution in Armenia that made Pashinyan prime minister.
Dinner: Before it gets dark, head to the small Falafel Al Darwandy on the corner of Marshal Baghramyan Avenue and Stepan Zaryan Street. There, get a falafel roll with cheese for 1,250 drams (about 200 rubles) or a burger with a falafel patty for the same price.
With falafel in your bag, hurry to greet the sunset on the enormous sand-colored staircase called Cascade . Walk the more than seven hundred steps or take the escalator, which is on the left inside the exhibition space, in peace. On weekends, however, the latter method does not work. Either way, all your misery and knocked down breath will be rewarded with a beautiful view of Ararat.
Day 2
Breakfast: We suggest starting the new day with breakfast on Saryan Street, where there are many good restaurants. There are plenty of options: combo of coffee and croissant at Coffee Centre for 1200 drams (about 200 rubles), bowls with salmon, chukha and quinoa at Avocado Queen for 4800 drams (about 800 rubles), cheesecakes in the courtyard of Gouroo for 2500 drams (about 410 rubles) or khachapuri in Tajarian style at ZaNaZaN for 1500 drams (about 250 rubles). If you're lucky, you can get a standing table at Voch Luys Voch Mut coffee shop to drink a small cappuccino for 1200 drams (about 200 rubles).
Where to walk:
A 450-meter pedestrian tunnel connects the city center to the Hrazdan Gorge . The entrance is between Aram Street and Pavstos Buzand Street just behind the parking lot. At the end of the tunnel – half-abandoned Children's Railroad, where trains run according to a schedule known only to them. But against the backdrop of a mini train station and a thicket of trees more and more often there are active events, raves, or festivals.
If you don't go down and go further along Saryan, you can wander into the old Kond neighborhood with just three streets and a hundred dilapidated houses. There's lots of street art among the slums, and on Simeon Yerevanci Street there are the remains of a 17th-century mosque where people now live.
Not far from Kond is the house museum of film director and artist Sergei Parajanov . The spacious and cool courtyard with its many unusual sculptures and a huge photo of Paradzhanov immediately set the tone for the entire walk through the museum. Here are works from different periods of the artist's work: early collages like The Last Supper, the poster painted in prison for the cult film Shadows of Forgotten Ancestors, the fabric doll portrait of Lilya Brik and the recent three-dimensional collages of broken and torn objects.
The only functioning mosque in Yerevan, the Golubaya Mosque, is a ten-minute walk from the museum. It is surrounded by a nice spacious yard with mulberry trees. The mosque is open every day from 10:00 to 13:00 and from 15:00 to 18:00. From 13:00 to 15:00 they have namaz here.
Lunch: Opposite the mosque is one of the points of the cafe chain Tashir Pizza. The prices are democratic: for the cheapest whole pizza on thin dough you have to pay 1920 drams (about 320 rubles), and for the most expensive – 2460 drams (about 410 rubles). We also recommend trying cream soup with mushrooms for 650 drams (about 110 rubles) and tabbouleh for 720 drams (about 120 rubles).
If you want something more interesting, the vegan cafe Future diner is a little further. A tofu sandwich costs 1,500 drams, the most expensive pizza with vegan cheese costs 2,300 drams (about 380 rubles), and burgers cost from 1,700 to 2,000 drams (about 280 to 330 rubles). You can add a combo of fries and a soft drink to the latter dish for 600 drams (about 100 rubles).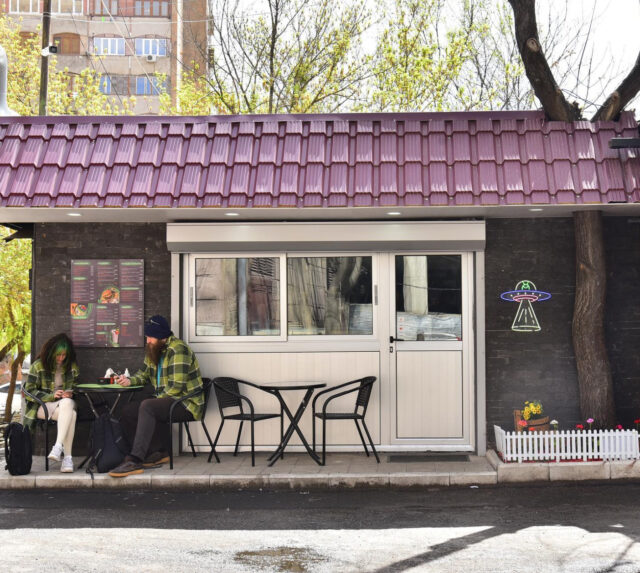 Fucha diner.
Where to go next:
Take a walk under the constructivist building of the HayArt Cultural Center . In sunny weather, you get beautiful pictures under the cylindrical housings.
Across the street is the Museum of Modern Art, the first such space in the Soviet Union. In addition to domestic authors, the museum also exhibits foreign artists, mostly of Armenian origin.
Continue to explore the art of Yerevan in the square named after Yerevan's chief architect Alexander Tamanyan. At the foot of the Cascade during the day you can see grotesque sculptures by Colombian artist Fernando Botero – a woman with a cigarette, a naked warrior and a black cat. Also in the square are Peter Wojtuk's Blue Kiwi, moved from New York, Man of Letters and Meditating People by Catalan sculptor Jaume Plens, and the leaping antelopes of British artist Saraj Guha.
Dining: In 2022, Mama Jan Café has become more than just a place to eat: it hosts English conversation club meetings, plays concerts and hosts charity events to support the victims in Ukraine and Artsakh. No matter whether there is an event or not, try the homemade hummus with pita chips for 1500 drams (or about 250 rubles), vegan chahohbili for 1900 drams (about 315 rubles), bruschettas with mushrooms for 1700 drams (about 280 rubles) and any "elixir of Armenian herbs" for 1100-1300 drams (about 180-215 rubles).
Yerevan rules – everything you need to know about traveling to the Armenian capital in 2022
The transit en route is a punishment from heaven for some and an adventure for others. Having made my choice, on my way from the Crimea to Istanbul, I made a trip to Armenia, where I spent a few magical days.
The preparations were done in my lap. On the way to Sochi, I scoured online publications and blogs in search of the right information. The online stories were filled with real facts, and this cocktail I am ready to share with you.
How to get from the airport, where to look for lodging in Yerevan, what to see, where to eat and other top-priority questions before traveling to another country on your own.
I put all the clues, passwords and landmarks on the location map in Maps.me . As you know, it is a mapping support for our guides and travel guides.
We'll figure it all out. Let's go!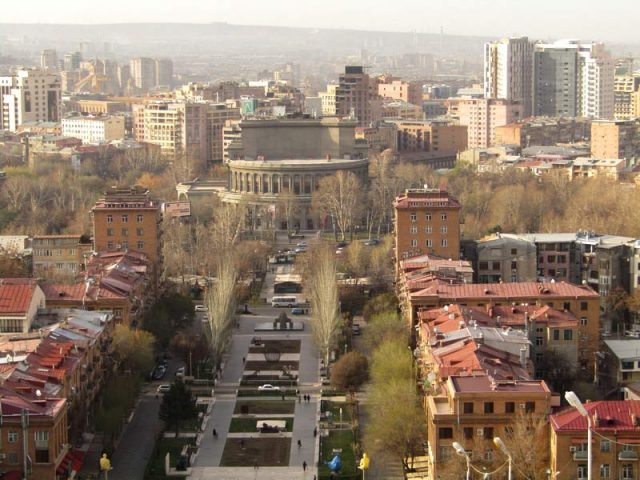 Yerevan and Everything
Yerevan is the capital of Armenia with a population of just over 1 million people, located in the northeastern part of the Ararat Valley.
Despite the valley, the average height of the city is 1 km above sea level. You can look at the city from above from one of its observation decks.
In Yerevan you are attracted by history, architecture, Armenian cuisine, as well as cultural and nightlife. For a Russian it is easy to breathe here.
The Russian language is present in the streets, the Russian MIR cards are in circulation, and the rubles can be exchanged for Armenian drams in any exchange office.
Yerevan is the starting point for most of the routes in Armenia, and the main attractions are located no more than 2 hours away. You rent a car and go!
As you can see, you won't be able to miss Yerevan in your life.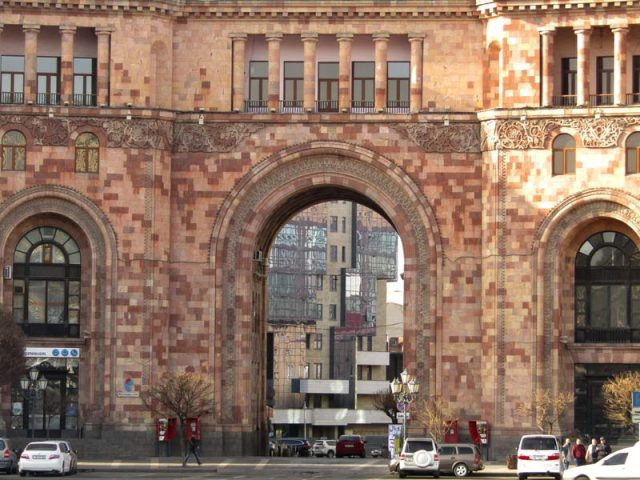 How to get to the city
In our article about Armenia we told you that you'll fly to the airport Zvartnoc EVN. It is located just 12 km from the capital.
You can get to Yerevan from the airport by bus (during the day) or by cab (around the clock).
If you have far-reaching plans, you can rent a car here. For more information about driving in Armenia, parking, etc. scroll down this page.
Bus number 201 runs every half hour from 7:00 to 21:30. The fare is 300 drams.
The schedule is at t-armenia.com.
Stops are well visible on Yandex.Maps
Cash and cards Visa, MC , so do not forget to exchange rubles for drams at the airport. There you can also buy a local SIM card.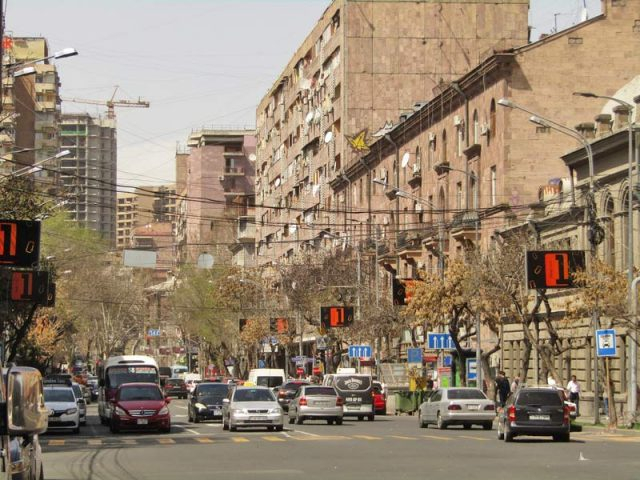 But for me, all this wandering with the bus is an unnecessary hassle. Yandex.taksi in the city center costs about 200 rubles. (Even cheaper back). Yandex.taksi will bring you directly to the hotel, and the calculation online tied to your account card.
There are three things to call a cab:
You need internet. There's WiFi in the airport building, but it's gone when you get off at the gate.
Entry to the airport is only free for 10 minutes . Call a cab when you get even with the border guards and luggage.
Do not listen to any drivers "I am Yandex Taxi! ". Order only through the app, so as not to overpay.
In the evening I got to the center in 15 minutes, but on the way back it is better to leave in advance.
I had an accident on the way and we drove almost 1 hour. I arrived at the airport 35 minutes before departure. Fortunately, they took pity on me and let me on the flight. But things could have been different!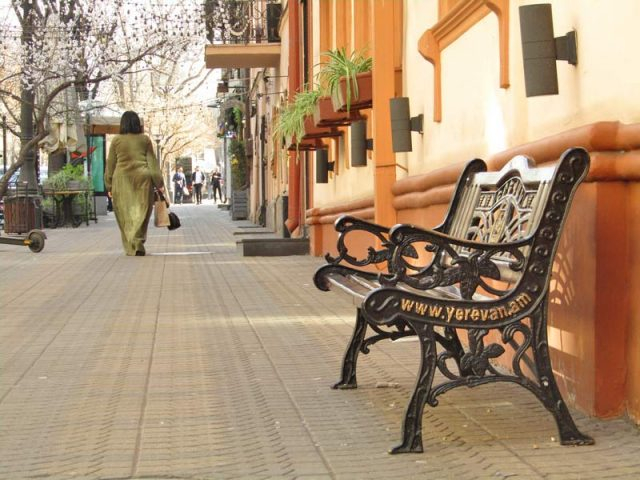 How to Get Around in Yerevan
Friends, before we solve the everyday problems let's find out where and what is located in the central part of Yerevan. All the main landmarks on the map are here.
For that we will need colorful felt-tip pens and a compass. At least the felt-tip pens…
In blue – the central, ring within which you should look for accommodation, navigate on foot, walking around the city
Pink – centers of attention and dislocation of tourists: Republic Square, the Opera House, the Cascade Stairs
Blue Arrows – epicenter of 3 streets: pedestrianized Northern Avenue, historic Abovian Street, pulsating Tumanyan Street.
Blue Rings – interesting neighborhoods for walking,
Blue Rings – partying Pushkin Street with bars
Now Yerevan should become clearer and more logical.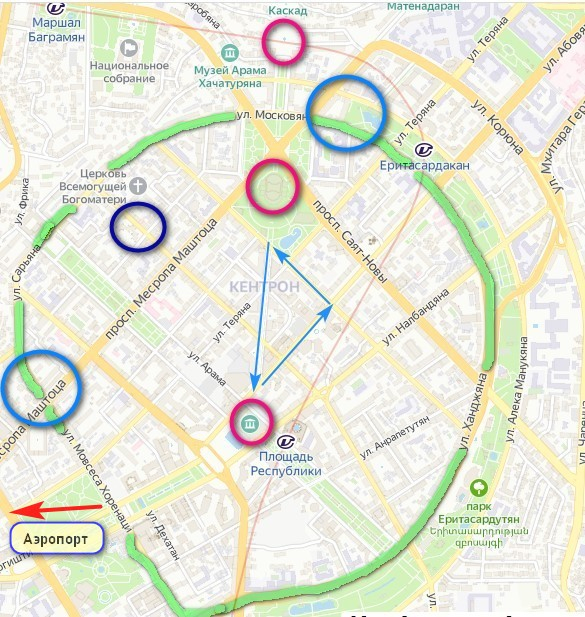 Local transportation
It is affordable: the fare is only 100 drams and is represented by buses (trolley buses) and the subway.
Buses. The fare is paid with 100 dram coins, without any change. Do not forget! The names of streets and bus stops are in Armenian. Such an entertainment.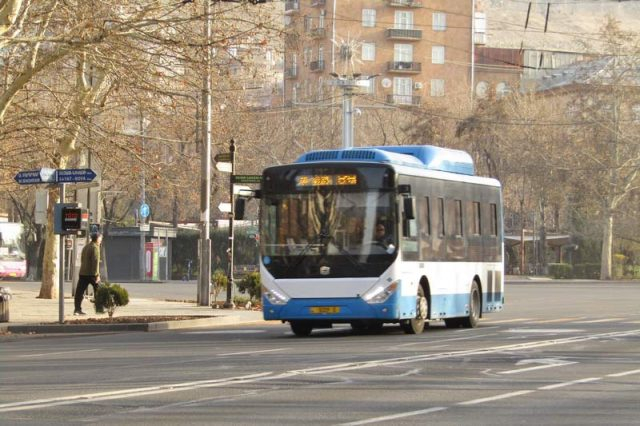 Metro . Pay with a token, which is taken at the ticket office. There is only one shallow branch of the subway in Yerevan, which is of little use to tourists. The only thing you can do is to get bored and ride around.
The metro stations and carriages remind the Soviet era and the style of the stations in Kiev or Moscow, but without the proper scale.
Given the penny price for a cab, I would choose it for moving around the city + on foot. A cab within the city costs 600-900 drams, that is up to 150 rubles .
Many of the attractions are located on the heights, so I booked a cab to the hill and then descended on foot.
Where to live? – Hotels
Since Booking, for obvious reasons, dropped out of sight, then we are left with 3 search engines for overnight stays:
Yandex Travel – the usual search engine, where it is easy to read reviews.
Ostrovok – a major competitor to Bookings
Daily – apartments and flats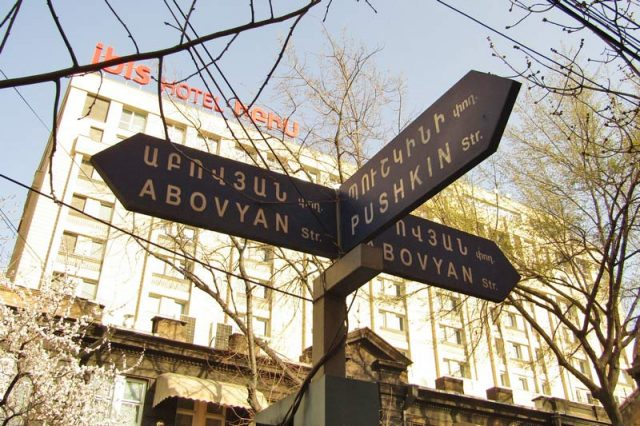 Choose lodging inside the central ring first if you plan to actively explore the city. If you need it only for spending the night, it's cheaper to find an apartment-hotel outside the ring.
Given the summer rush, prices are at their highest right now and range from 3,000 to 5,000 rubles per night.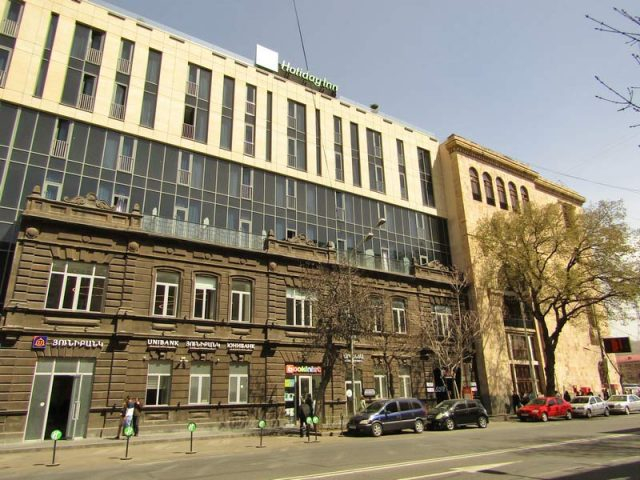 Three chic hotels:
Holiday Inn Express 3* – a decent hotel from a well-known chain company, although the level is still a bit lower than in Moscow or St. Petersburg.
Double Tree by Hilton 4* – rich and expensive, SPA, breakfasts and in good weather you can see Ararat from the rooms above the 5th floor.
Grand Hotel Yerevan 5* – if you want to live across the wall from the politicians and oligarchs of Armenia, you can afford a room in the hotel.
If you need simpler rooms, you can choose an apartment at the site Supra.ru or two proven host-houses Bonjour Guest House and Praha.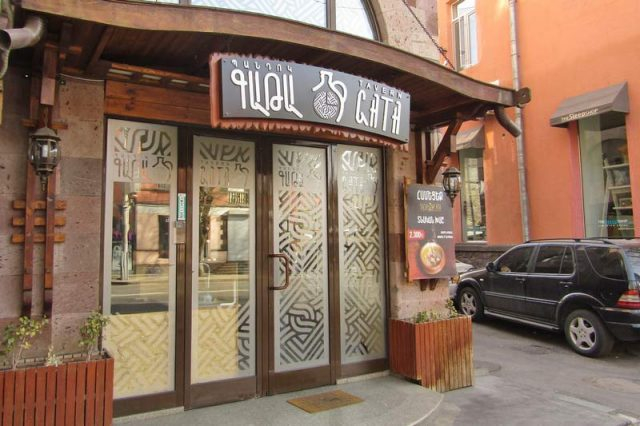 I stayed in Praha, which is next door to Gata Tavern on Tumanyana 22 and was very pleased with it:
excellent location on Tumanyana street in the center of the events and most of the attractions are within walking distance
breakfasts are homemade, different every day with oriental coffee and fresh pastries in the Gata restaurant.
kind-hearted hostess Lilit, which will not leave your holiday without proper comfort.
The price in April was 2500 rubles.
She told me everything about exchangers, MIR cards, stores, and also found me a driver late at night for an individual tour of the outskirts of Yerevan.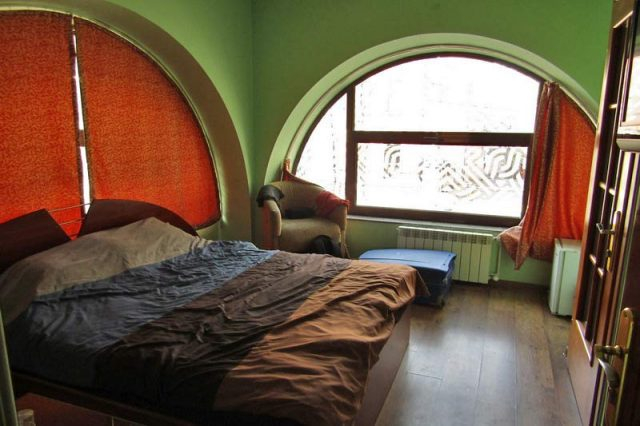 The rooms are simple and without frills, but clean, there is air conditioning and a refrigerator, and a comfortable bed.
Got here by chance and am glad I did.
When looking for lodging, then, like me, you will come across a lot of negative reviews. There were none so I decided to check my Russian card and… accidentally booked a room!
In general, here are the guidelines. I paid for the room in cash the next day.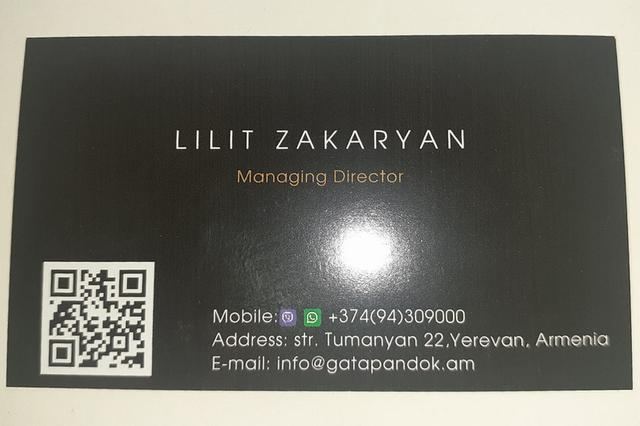 Where to eat – cafes and restaurants
In Armenia it is difficult to eat expensive and tasteless, because the general price level, even in the capital Yerevan is lower than in Russia. Even if you just drop into any tavern as you walk, it's hard to miss.
Still, I'll give a few pointers. Start with them and make your culinary discoveries further on your own.
Keep in mind that cafes and restaurants in Yerevan include a 10% tip in the price of each check. Something goes to the waiter and something to the host. This varies from place to place.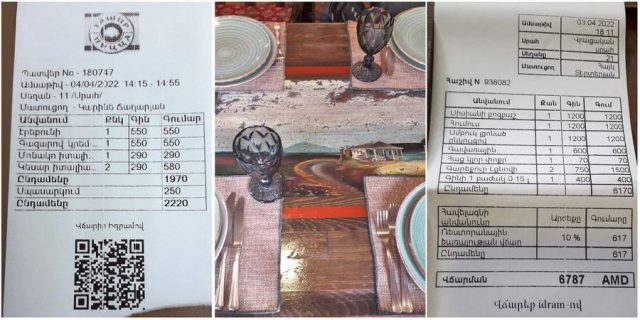 Average Prices
The prices are the same everywhere.
The tavern "Gata" (Tumanyana 22) in the Praha mansion, where I stayed. Tasty, homemade, big portions. Live music at weekends in the evenings.
The tavern "Kavkaz" (82 Anrapetunya Street) – nice atmosphere, but without any frills, as in the following restaurants. But the prices are the cheapest of all.
Khinkalaya on Tumanyanya (Tumanyanya 21) – reminiscent of an English pub. The main hit is khinkali, but there are also other dishes.
The restaurant "Caucasian Captive" (Amiryan, 6) – Incredibly colorful atmosphere with characters from a familiar movie. There is music in the evenings.
The "Yerevan" tavern (Amiryan St. 5 and two other addresses) – You won't get through in the evening without reservation. Tasty, big portions.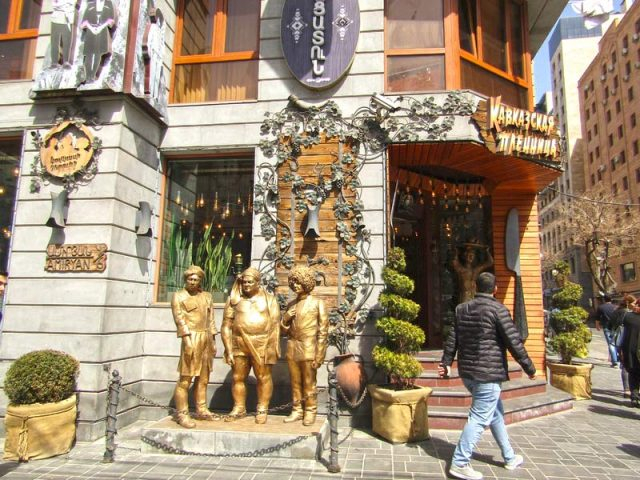 If you pass by Sakharov Square, check out the family tavern in the basement at the intersection. From the Armenian name, I only catch the 1919. Reviews on the internet are quite complimentary.
The interior of the restaurants in Yerevan is striking. This is not high-tech or minimalist style with fiberglass. Everything is made with passion, and sponsors a pleasant pastime at meals.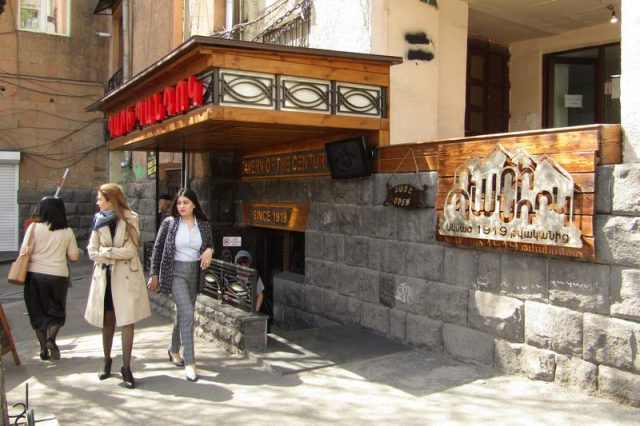 Cheap and sour
If your aim is not to discover all the nuances of Armenian cuisine and the best restaurants, but to eat modestly and on a budget, you have a solution.
Tashir Pizza is a network of cafes around Yerevan that serves not only pizza, but also soups, salads, burgers and sushi. There is bottled beer and wine. You can eat in the cafe as well as take-out, and you can also order delivery. I recommend it. Here's the website .
Artlunch is a café-diner reminiscent of St. Petersburg's, but with a broader menu that includes khachapuri and tasty desserts. It is a chain, but personally I have only been to the cafe on Nalbandian, 19. Website .
Lahmajun Gaidz (Tumanyan 9) is a fast food cafe, where they make fresh delicious lahmajuns. It is a thin flatbread with ground beef and additional fillings. There are salads and non-alcoholic drinks.
And don't forget the pastries, which are sold in bakeries and stalls throughout the city. You can also get ayran, juice, and tea and have a snack on your feet in no time.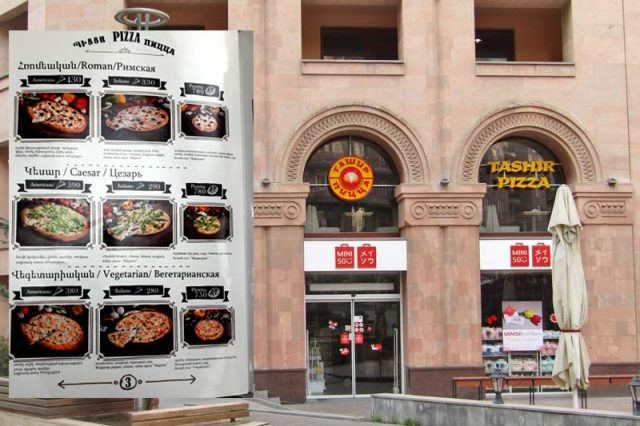 In Armenia there is a cult of coffee, so it is served in every cafe and from every stall in the street. But there is one big minus: the price. A cup of coffee in a cardboard cup costs from 90 rubles, which is typical of my Sevastopol.
In comparison, a glass of wine or beer in a restaurant can be taken from 100 rubles.
I do not like coffee specialties and for me the espresso-cappuccino line is enough. But here you will find a lot of variations in taste and color.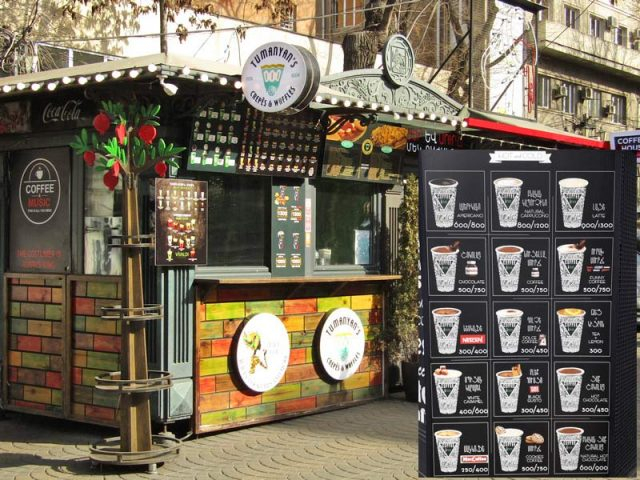 For 100 drams you can get coffee in a coffee machine . It's quite bearable if you're out early and the coffee machines are still asleep after a night out.
But the best part is the local water. You can drink it right from the tap. If you don't want to drink from the tap, drink from street fountains that are located all over the city.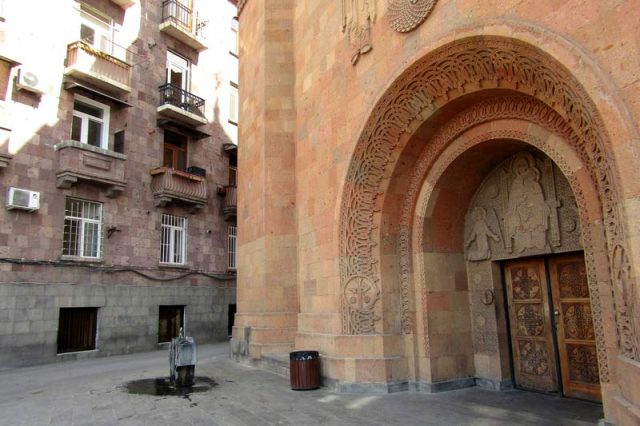 Where to go to hang out in Yerevan
If in the morning and in the afternoon people sip coffee at every corner and at every table, in the evening everyone switches to local alcohol.
In the evening the main traffic is at the foot of the Cascade. If you don't want to look at a map of the area, feel free to walk there and you will find a place to your liking.
But if you want to hang out like the locals, then go to Pushkin Street. There's a selection there for all occasions:
Beatles Pub Yerevan (60 Pushkina St.) – an English-style pub with live music, soccer, and a good selection of draft beer.
Malkhas Jazz Club (Pushkina, 52) is a good-quality popular jazz club in Yerevan. The food and drinks are top-notch.
Simona (80 Arama Street) is a great place for cocktails and DJs.
If you have a free evening, then join a noisy company of local partygoers. Pub Crawling will show you the main bars and discos of the capital in 4 hours and will also offer you a drink. Make up your mind.
Well, if you do not feel sorry for the whole day, then I recommend this route.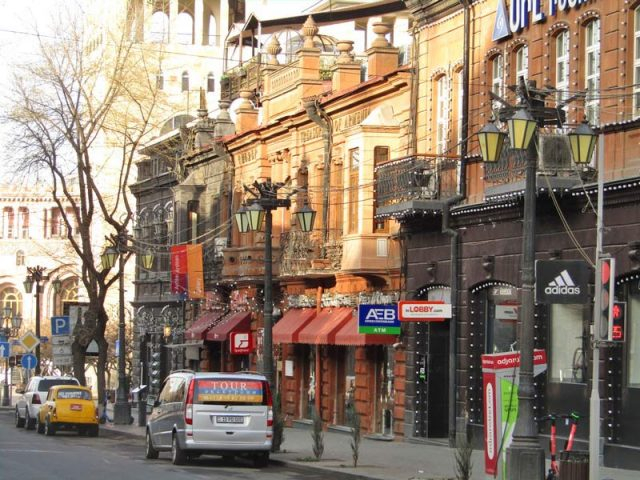 Cultural Recreation
In addition to parties and evenings in bars, there are many theaters and even an opera in Yerevan. I will list the main locations and add them to the Maps.me map, and you decide for yourself:
The National Opera and Ballet Theatre of Spendiarov is a must see. You can find the poster on the official site, and the ticket booth is nearby.
Aram Khachaturian Concert Hall – performances of the National Philharmonic Orchestra of Armenia and famous guests. Shares the same building with the opera house. Official website .
Sundakian National Academic Theater is the country's main and largest theater. Instagram .
The Kaplanyan Drama Theater is another famous theater in Yerevan. The plays are in Armenian. Website .
Stanislavsky Drama Theater is a Russian theater in Yerevan with classical productions. Repertoire on their website .
Arno Babazhyan Concert Hall – where you can often see visiting foreign artists. Page on Instagram.
Hakob Paronyan's Musical Comedy Theater – broadcasting in Armenian. Playbill on the website .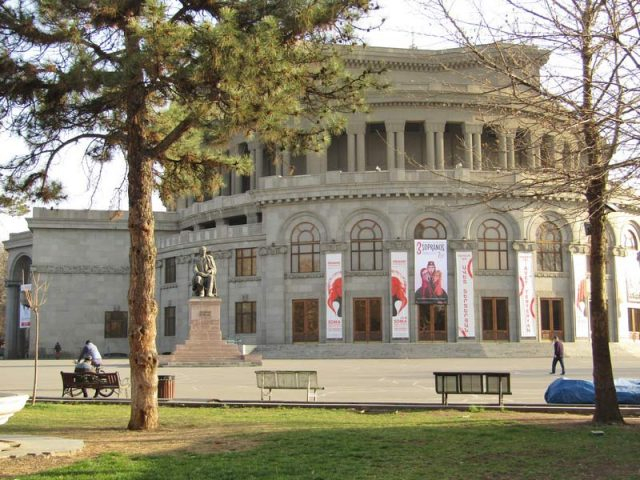 For information on all concerts and performances in Yerevan there is a website tomsarkgh . Locals also buy tickets there, although the service is not so good for tourists. It is better to buy tickets at the box office.
If you have children or you yourself don't mind going on rides, then you should go to Yerevan Park for the whole day.
Tickets are not cheap 14,000 drams (children up to 90 cm free), but it is unlimited on all rides. Keep in mind that in winter many of them may not work.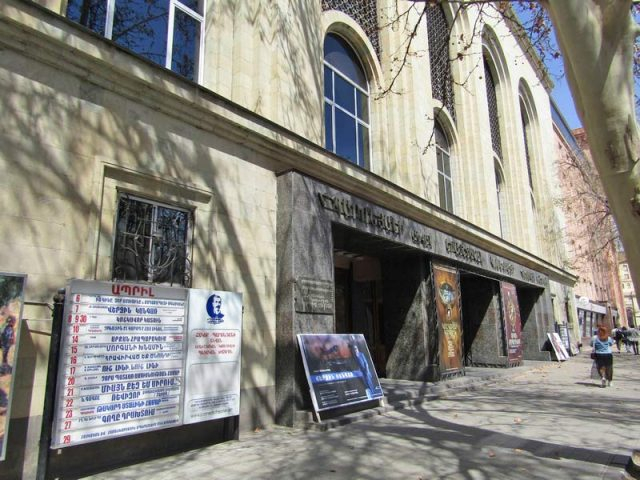 Friends, I think now with the trip to Yerevan you will have no questions. In the next article we will look at the local attractions and find out where you should run first and what you can skip.
If you still have questions and suggestions, I am waiting for you in the comments box . Have a great trip and a great rest!