12 things you should know before you come to Japan
Frankly speaking, Japan is a very fascinating place. Here you will find an unusual mix of old traditions and new technology. You'll also discover magnificent natural landscapes just a short train ride away.
From the glittering, sprawling cities and loud bustling shopping malls, a short distance away you can already see quiet neighborhoods full of unique features. Japan is the kind of place where people will wait patiently in line for water after a natural disaster, but don't dare accidentally offend them, you won't like the consequences. With such a culture and language, it's hard to list all the things you should know before you go to Japan.
We could spend hours describing the country's great cuisine, listing the best places to get ramen, sharing all the hidden gems, and explaining the various ways you might accidentally offend someone. For now, though, we're sticking to the basics: everything we think you need to know to make your trip to Japan fun and bring only pleasant surprises.
Oh, and hopefully we can help you save some money along the way. Here are 12 things every traveler should know before going to Japan.
1. it's safe.
One of the best things you can say about Japan is that it's safe. Repeatedly ranked in the top ten safest countries in the world, Japan is a great place for solo travelers.
That doesn't mean you can be careless at all. As in any other place, you as a foreigner need to be vigilant, avoid shady areas, avoid flaunting money, and avoid provoking anyone into conflict.
2. Money rules.
Cash rules in Japan. Employees are usually paid in cash, and most businesses and services, including restaurants and stores, only accept cash. Your hotel and some large department stores will usually take cards, but always check for the presence of cash first.
So make sure you always have plenty of yen in your wallet to avoid awkward conversations that can easily get lost in the transfer. Tip: If you find yourself without money, head to 7-Eleven to use an ATM. Not only is your bank card guaranteed to work every time, but it's also open 24/7.
3. Buying a train ticket is totally worth the money spent.
A Japanese rail pass can help you save a lot of money, especially if you plan to travel through a particular region or the entire country. You can buy an unlimited pass valid for a particular region. This will give you access to super high-speed passenger express and JR-branded commuter trains, buses and ferries.
Often for the same price as two separate train tickets. Keep in mind that passes are valid for a certain number of days in a week, 14-day or 21-day period and cannot be used on Nozomi trains. JR tickets should also be purchased prior to arrival in Japan, although you will still need to confirm them at the JR office with your passport and voucher.
4. The subway is not open 24 hours at all.
It may seem shocking that in a country filled with so many amenities, there is no 24-hour train and subway system, but it's true — even in glittering Tokyo. When planning your night, expect to make a mad dash for the last train. Depending on where you are, you'll have to get through the doors somewhere between 11:30 a.m. and 1 a.m. Missing the train can be an expensive (albeit adventurous) mistake that will cause you to splurge on an expensive cab. (Make sure your hotel or destination address is clearly printed or written before you leave.) Another option? Go to one of the karaoke nightclubs and sing until the early morning hours. It often comes out cheaper than a cab.
5. You'll probably see a lot of drunken businessmen on trains.
It's not the biggest part of Japanese culture, but it happens often. While much of Japanese society is soft-spoken, you will probably also encounter a lot of drunken Japanese businessmen. Part of the indomitable Japanese work culture is that businessmen drink a lot after work and get very drunk.
Don't be surprised if you walk on the train around 7 p.m. and the smell of booze and obviously drunk men in suits wafts over you. We've even seen a few men pass out (imagine one shoe off, shirt not tucked in, and a briefcase a few feet off the station floor).
6. Learn a few phrases and learn how to recognize key words.
We always recommend learning a few basic phrases in the local language when you travel. But this is especially important in Japan, where etiquette is most respected and demanded. Make sure you are familiar with how to say "thank you," "please," and "excuse me."
Even if you have to write them down phonetically. You may also want to write down a few translations for your personal needs, including bathroom words, ramen, karaoke, exit (trust us) and some toiletries.
7. Tattoos are considered taboo.
While your tattoos may be an artistic way to express yourself, in Japan they tend to be associated with criminals, specifically Yakuza gang members. This is especially important to think about if you are interested in visiting a traditional Japanese onsen.
They will most likely ask if you have tattoos before you are allowed entry. And don't think about fibbing – most onsens require bathers to be in good shape.
8. Most Japanese love Americans and American culture.
Given some of the dark history of America's relationship with Japan, it may come as a surprise that Japanese locals are passionate about Americans and American culture. Not only are they happy to meet people from the U.S., you'll also find several American-style bars and many Japanese versions of American items, especially food.
Although to be honest, they often use the wrong recipe altogether, so it's not uncommon to see cheese, strawberry and whipped cream sandwiches or pizza with mayonnaise and sweet brown sauce or clams.
9. Not keeping your shoes in certain places is very frustrating.
Leaving your shoes at the entrance to someone's home is a major sign of respect. As in many other parts of Asia, it is absolutely necessary to remove your shoes when entering a home. It is also the norm for some restaurants, so be sure to check to see if you should take your shoes off or not. Oh, and you will have to take off your shoes before entering most dressing rooms.
10. You don't need to tip.
Speaking of restaurant etiquette, you do not need to tip in Japan. In fact, if you do, there's a good chance that the service that served you will work to pay you back the money you accidentally left.
Waiters are paid a living wage in Japan, so don't feel guilty. This rule also applies to hotel staff and other service personnel you encounter during your trip.
11. Don't wait to find any Hibachi restaurants here.
We have bad news for fans of luxury Japanese restaurants where they cook in front of you, juggle knives and set fire to stacks of onions. Hibachi restaurants are a Western invention.
The closest you'll find here is a teppanyaki restaurant, but the chef doesn't dice the food. In Japan, you will prepare your own table for the meal, which is actually no small pleasure.
12. You won't always find an English translation.
Speaking of eating out, be prepared to encounter menus and signs with no English translation. If you are in tourist areas, especially Tokyo, this will not be a problem. However, when you go outside of the major tourist hot spots, you may only see Japanese people. This is where your list of Japanese words comes in handy, especially in restaurants.
Although many places will try to fix this with pictures, it's still hard to tell what miso katsu is. If you don't have a list and no pictures, you can always choose a place with plastic versions of the menu sections displayed in the window and at least specify what you want.
Immigration to Japan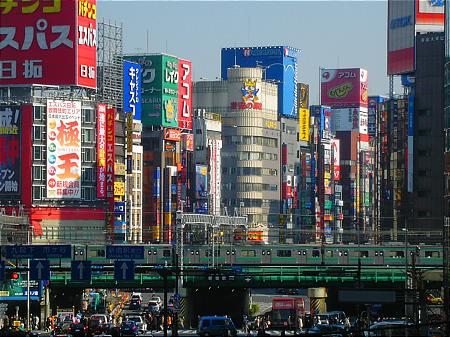 The desire to emigrate from Russia is quite common among young people looking for various options for personal development and realization of their creative potential, as well as among the older generation who want to expand the range of their entrepreneurial opportunities, and just change life for the better. Countries of the East are very popular among Russians who want to immigrate. Japan is one of them in the first place. This country is characterized by high quality of life. Japan is incredibly developed and maximally adapted to the comfortable life.
However, for those wishing to go to live in Japan will be overshadowed by the fact that this country does not support immigrants. Japan is one of the most closed countries for immigrants. It has fairly stringent laws and regulations for foreign visitors, as well as a system of severe penalties for staying in the country illegally. Thus, if a foreigner was deported for illegal stay in Japan, he would be prohibited from entering the country as much as 10 consecutive years.
But the desire to live in the land of the rising sun is not lost. Most still dream to move to Japan permanently. How to go to Japan with minimal risk and no problems in the future? The answer to this question may have several options.
Unskilled work
One of the most popular desires of everyone who wants to go to a developed country is to start a job. And of course the most in demand among immigrants is unskilled work. However, the interests of the Japanese government are radically at odds with the desires of immigrants. It is unskilled labor that the Japanese authorities do not welcome.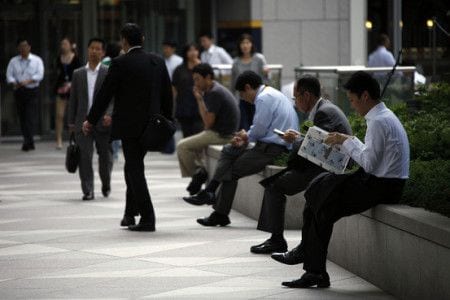 Officially, only two types of foreigners can take unskilled jobs: students and interns. However, government bans are often circumvented. Especially by small business owners in Japan. Entrepreneurs cannot afford to hire their compatriots, as the latter have high requirements for working conditions even in unskilled jobs, which cannot be said of immigrants from economically weaker countries. Thus small business owners employ immigrants illegally.
Getting a higher education in Japan
One great way to move to Japan permanently is to get an education followed by an internship and a job. However, a well-paid job in this case is a nice and expected, but rather long term prospect.
Students and interns are not officially allowed to work more than 4 hours a day. And the education system in Japan is quite rigid, requiring a serious commitment to the educational process.
Highly Qualified Specialists
Despite the rigid policy of the Japanese immigration service, the government is still interested in foreign workers. This applies to highly qualified specialists who not only have completed higher education in a reputable educational institution and have impressive work experience, but also have a perfect command of English, and at least conversational Japanese.
For qualified professionals who come to live and work in Japan, the government of the country develops special programs. They include:
Continuing education and improvement of professional skills.
Professional retraining according to set requirements.
Improving management skills.
Obtaining entrepreneurial skills from a course of study programs.
Japan remains most open to skilled professionals and neighboring countries such as China, Vietnam, Thailand, the Philippines, and Indonesia. Similarities in languages and mentalities of eastern countries play a big role here.
Marriage Registration
Getting married to become a permanent resident in Japan is the riskiest venture. Immigrating to Japan this way is not very popular. The thing is that, unlike most other countries, people in Japan do not recognize fake marriages. They find it offensive and low. The Japanese have always honored tradition and are considered one of the most upright nations.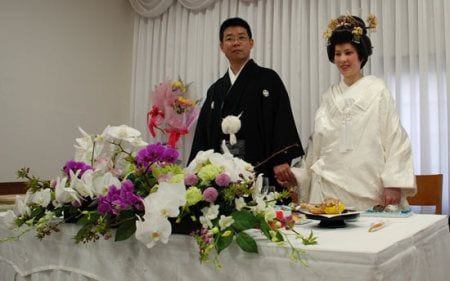 Therefore, the authorities literally protect their citizens from entering into fictitious marriages. For this purpose, many years ago, special services were established to check every new marriage concluded with a foreigner. Frequent visits are made to the newly-married family, and if signs of a sham marriage are detected, the spouse or spouse is immediately deported from Japan.
It is worth noting that in some cases a fake marriage is still possible. There are various dating services offering girls and guys to make contact with Japanese citizens. But with this kind of acquaintance you should understand that the Japanese will have no idea that the relationship is fictitious. And so this option for Japanese citizenship is not suitable for everyone.
Who can go to live in Japan?
Emigrating to Japan from Russia is complicated, but not impossible. In order to move without problems, of course, it is necessary to do everything officially. This process will be less profitable for the applicant, but it will reduce the risk of deportation and will guarantee peace of mind during your stay and employment in Japan.
In addition, the official employment will help you reduce the amount of time spent on drawing up all the necessary papers, as the employer will be your guarantor, will draw up all the necessary documents from his side, will most likely pay for their shipment, and in some cases will even cover the costs of obtaining a work visa and a flight.
In addition, the employer will prepare all the necessary documents in the shortest possible time. And the signed contract, which is issued even before the visa will be a guarantee of stable wages and transparent conditions. In most cases, the contract can not be terminated before the expiry date. Otherwise, the affected party is paid monetary compensation. Therefore, fulfilling your obligations under the contract, you can be sure that your stay in Japan will not end abruptly.
How quickly can I obtain a visa?
There are several basic types of visas, using one of which you can go to live and work in Japan:
Work Visa. A must have for every qualified foreign worker who wants to work legally.
General visa. This type is issued to all students and trainees. It is also sometimes called a student visa. The document can be issued for the term of 3 months or 1 year. In the latter case the visa can be prolonged for an indefinite period of time, if the visitor continues studying or officially employed.
Decree visa. It is issued for relatives, namely for spouse or children of a Japanese resident.
A diplomatic visa is issued by diplomats stationed in the country.
An official visa must be obtained by each official.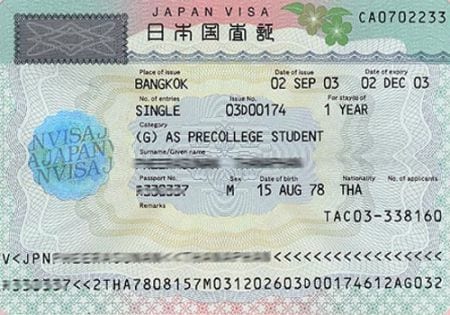 Japanese visa sample
Obtaining a visa to Japan is quite difficult for two reasons:
The person wishing to go to Japan to live or work in Japan must necessarily have a guarantor residing in the country. The guarantor must have the status of either a Japanese citizen or, if it is a foreigner, permanent or special resident status. The guarantor can also be a legal entity, such as an employer or tour operator. It is impossible to obtain a Japanese visa without a guarantor.
Japan is a very bureaucratic country. And so you have to work hard to collect all the necessary papers and documents for a visa, otherwise later you may encounter difficulties, up to and including deportation.
Immigration to Japan with a visa requires a large package of documents. The applicant must provide those papers that were sent by the guarantor, as well as their copies. For your part, it is mandatory to have a passport with a sufficient period of validity, 2 photos 4.5 × 4.5, 2 questionnaires filled out in English. The list does not end there. Applying to the Embassy of Japan, each applicant will be given similar instructions and advice on how to quickly obtain a visa, you may need additional documents.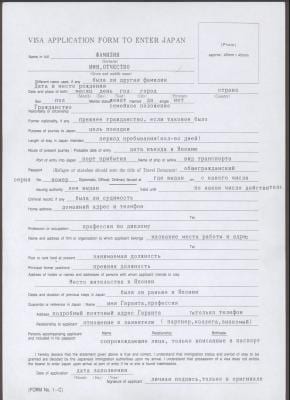 Sample of filling in the Japan visa application form
After the applicant submits all necessary papers to the Japanese embassy visa department, the committee will accept them for consideration. And you will be informed of the decision to obtain or refuse the visa within the stipulated time frame.
You can download a sample visa application form here
Who is forbidden to enter Japan?
Before you start worrying about collecting all the paperwork for a visa, you need to find out if you can cross the border of Japan at all. The country's laws are quite harsh on foreign visitors, so there are several categories of applicants whose immigration to Japan is forbidden.
These include:
Ex-convicts. This does not apply to lawbreakers whose sentence was less than one year.
Violators of the "Narcotic Substances Act." Japan has a strict policy against drug addiction, and therefore the entry into the country of people convicted of possession, transportation or distribution of narcotic substances is prohibited.
Deported foreigners. In most cases, this applies to immigrants who were deported less than one year ago. However, all situations are handled individually. For example, some foreigners are not allowed to return to the territory of the country for a full 10 years after deportation.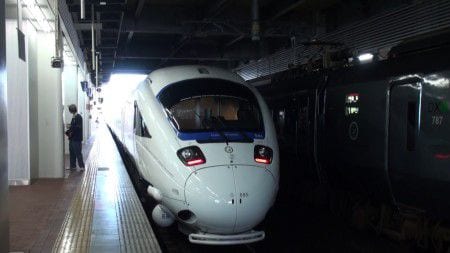 In all other cases, it is possible to move to live and work in Japan. Of course moving to this country can not be called the easiest, because a number of other countries have a less stringent immigration policy, including in relation to immigrants from Russia. However, the standard of living in Japan is worth the effort and the preparation of all the necessary papers. Because in order to live in such a developed and prosperous country, it is not enough to "want".