Tips and advice on a trip to Oman
Very much in the country is subordinate to the customs and traditional Islamic norms, so you should follow certain rules of conduct. In public places women should avoid excessively open or tight clothing and miniskirts, and men – shorts or sleeveless shirts. Wearing the local clothes is also frowned upon by Europeans, and though no one is likely to complain openly about this, it is not recommended to dress "like an Arab" either. Non-Muslims are forbidden to enter a mosque (limited admission is permitted at Sultan Qaboos mosque in the capital). Nevertheless, neatness in dress is very important.
Rules of Conduct and Traditions
At banks, call centers, post offices and other places there are separate windows for women. Women have the back seat in cabs and the front seat in minibuses.
Omanis are very sociable and can freely talk to a stranger, but the range of topics is quite strictly limited by certain rules – you should not talk about personal life (about family – all right), religion, local women, laws and manners. At the same time, asking a woman about her husband or the number of children she has is considered quite appropriate. The Sultan enjoys unquestionable authority in the country, so any remarks about him or his family might be received with at least hostility.
Men greet each other by shaking hands or kissing each other twice. To shake hands with a woman (and touch her in general) is allowed only if she or her husband took the initiative, but is not forbidden to greet a woman even with a closed face, honking a car horn or waving. The locals are not particularly punctual.
The hospitality of the Omanis is widely known. Refusal of an invitation to a guest can be regarded as a personal insult. At the entrance to the house should always take off shoes and follow the orders of the owner. Omani meals take place without tables and chairs – guests are placed on the floor, on special mats and cushions. The treats are usually very light (tea, coffee, fruit, sweets etc.), but quite plentiful (the cup will be constantly filled), but it is not customary to refuse it. Usually, to let the hosts know that their hospitality is received with due respect, but it is simply impossible to eat anything else, it is enough to shake the cup in your hands. It is not customary to take food with the left hand. Rice is taken by pinch, some paste-like dishes (hommus, mutabbel), you can take a piece of bread. A toothpick ("khatab asnan") or caraway seeds ("annut"), which are used to refresh the mouth, usually finish the meal.
Photography and videotaping
It is forbidden to film military and police installations, airports and the interior of mosques. In domestic photography you should also be very careful not to take pictures or even point the lens at men without their consent. It is especially not recommended to take pictures of women and clergymen, sometimes even police officers can actively prevent you from taking pictures.
Prohibitions
The country has rather strict environmental regulations. On the seashore of Ras al-Hadd – Ras al-Juneiz it is forbidden to collect shells and any other natural objects. Loud talking and flash photography is prohibited. Clothing must be dark. No more than 60 people can visit such protected areas at a time. It is also forbidden to visit nature reserves, collect herbs or take photos (or even get close to animals) during the mating season without special permission. The oryx antelope is specially protected by law.
It is strictly forbidden to pick up coral and shells from the bottom or trophies from shipwrecks. All fishing and diving must be done in an organized manner and must be licensed. Always consult the Directorate of Natural Reserves in Muscat before traveling to protected areas.
Safety
Oman is one of the safest countries in the world. The crime rate is extremely low. Even in the provinces and at night, you can not fear any trouble with the locals.
The general attitude to water is very delicate. Therefore, under no circumstances should you bathe in local reservoirs, openly pour water on the ground (even for hygiene procedures) or leave the tap open. Tap water is mostly artesian or desalinated, so it is perfectly safe for drinking, but due to the complete absence of mineral salts in it is not recommended for drinking – it is better to use bottled water.
The Danger of "wadis"
A separate problem are "wadis" – the beds of usually dry streams and rivers. In the rainy season, they quickly fill up with water, which rushes down in violent streams, sweeping away masses of earth and stones, and flooding completely dry areas before. The country has even introduced a special road sign, "Beware of wadis! (a vertical rectangle in the shape of an arrow crossed by three horizontal wavy lines).
Natural Hazards
Natural hazards include heat (sunstroke), high levels of solar radiation (you should use protective creams, goggles and clothing), the peculiar composition of local water and food. There are practically no dangerous wild animals. When diving one should be wary of sharks, barracudas, stingrays, numerous coral fish, whose thorns are poisonous enough, as well as sea urchins, whose needles get stuck in the human body for a long time. In the south of the country are strong enough currents and surf, which makes diving in an unknown place quite dangerous activity.
Toponymy
Oman has a rather confusing system of designating streets and houses – most of them have no names at all – only the number or name of the district. Some districts have "local" names, which are not listed in any guidebooks, but are actively used in everyday conversations. More confusion is caused by abbreviations, which are usually pronounced together and have acquired the status of separate words (for example, the word "eichoup" refers to the police, "emkyu" – the capital district of Madinat Sultan Kabus, etc.).
Hotels
Most hotels and restaurants are licensed to sell alcoholic beverages, which must be consumed on site, no takeout. Taking alcohol on the street, drinking in public places, driving drunk and carrying alcohol are punishable by law and are punished quite severely (up to imprisonment). Alcohol prices are high. Alcoholic beverages are not sold during Ramadan. On Wednesday and Thursday evenings, many restaurants are crowded.
Restaurants
In some restaurants and cafes there are no menus in the traditional sense of the word – dishes are ordered orally or according to the principle "the same as at that table. However, the owners of such establishments usually come to the aid of a foreigner if they see that he cannot place an order.
Tipping
In most places it is not obligatory to tip. Expensive restaurants add 15-17% to the bill for service automatically, but in case of good service it is recommended to leave the staff 5-10% of the bill. Tips are not accepted in cabs, as the cost of travel is negotiated in advance. In hotels a local tax of 15% is added to the cost of service. In markets and private stores you can haggle, in large stores prices are fixed.
Visiting museums
Museums and other attractions are free.
Electricity
The electricity grid is 220 V., 50 Hz. and the outlets are mostly British standard – three prongs with a ground connection. Adapters are available in stores.
Measuring System
The system of measures is metric, but local or British measures of weight and length are often used at the bazaar and in small shops. Temperature is measured in degrees Celsius.
Going to Oman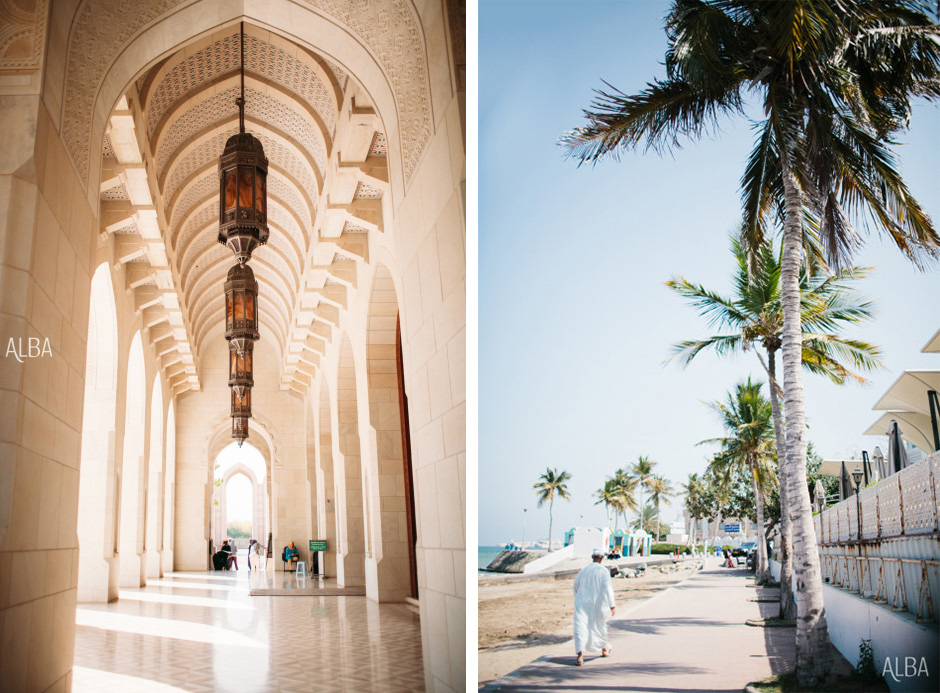 I have known about the existence of a country like Oman since childhood, as any self-respecting atlas owner would. However, the first time I heard about Oman as a travel destination was literally 3 months before the trip itself. On my way to the Rila Lakes in Bulgaria, I crossed paths with two girls from the Czech Republic who were going there in a couple of days. From the stories, Instagram photos, and additional research, it became clear that Oman was not only the most mysterious, but also the most accessible and least conservative country to visit. Specifically:

The most important item on the list is a simplified visa regime!

Undiscovered by many Arab culture and national flavor.

Kind and hospitable locals.

A high level of security for travelers.

A liberal attitude towards women (important for girls who want to run away to the Gulf, but are afraid of the local mores).

Incredible nature.

Fabulous climate in the winter.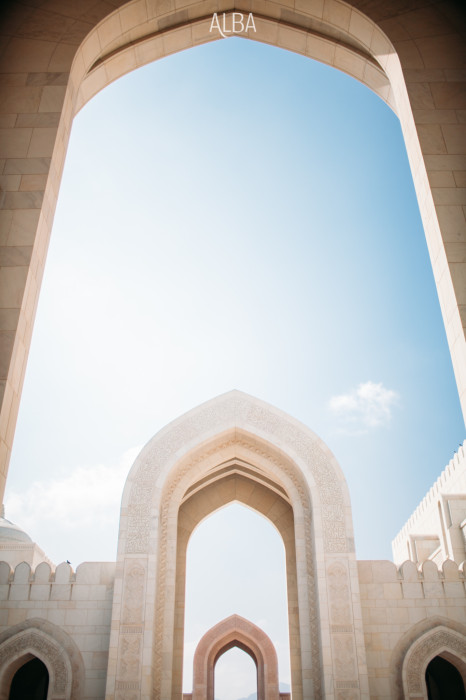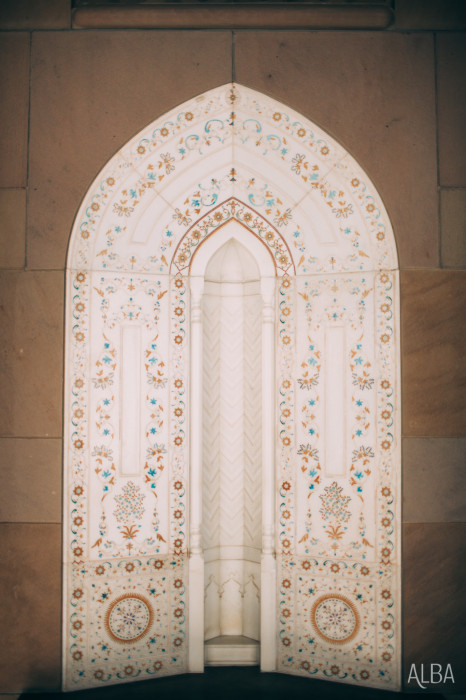 How to get there?
There is no direct flight to Muscat from post-Soviet countries. From Moscow you can fly with AirArabia via Sharjah or FlyDubai via Dubai. The round trip ticket price will be around € 340-370. I chose cheaper and more interesting option – flight to Dubai with a stopover for 3 days and a bus ride to Muscat. It was € 270 for direct flight from Moscow with FlyDubai plus € 22 for round-trip to Muscat (about 6-7 hours of driving, including border control). Sometimes you can catch cheaper deals on flights to Dubai. You can also rent a car in Dubai and cross the border with it.
Since October 2017, local authorities have simplified visa rules for non-Schengen countries. Russians, for example, can now freely enter Oman without any prior visa or even customs applications. You only need an open Schengen visa or any other tourist visa for "reliable countries", the list of which includes the U.S., Britain and Canada. And don't forget to set aside some money for the visa fee – 20 Omani rials (€ 42). The other way is through a travel agent's travel voucher.
At the border, they didn't ask me about my insurance or hotel reservation (but it's better to have them with you just in case). The only thing that might seem strange is the luggage checking process. The local customs officer puts all the bags in one pile and drives a sheepdog around it.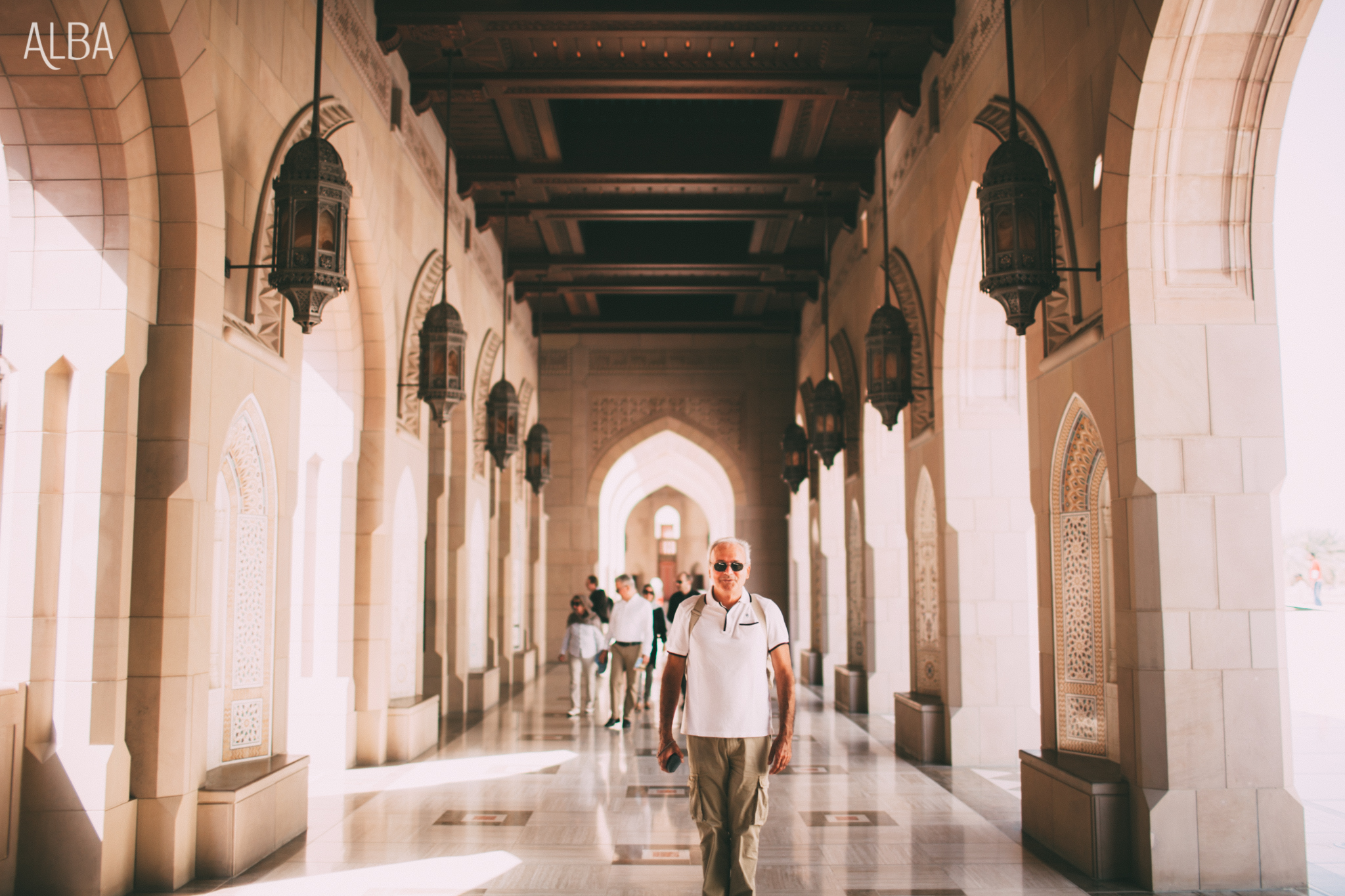 Where to sleep?
There is a big problem with budget accommodation in Oman. Not because the locals want to take as much money as possible, but because cheap accommodation in this country is not in demand! Omanis are used to travel on a grand scale. People were very surprised after my stories about Couchsurfing, asking why I did not stay in a hotel. If you arm yourself with the familiar Booking and Airbnb, you'll find hotels from €25 per night per person in the former and rooms from €15 per person (in Muscat) in the latter.
Couchsurfing works very well in Oman. In my experience, Oman is one of the few countries where you don't have to send inquiries. Just leave a public trip that you're going to Oman to experience the local culture and nature, and the locals themselves will write to you. So I got about 20-25 requests, and I still had to choose who to explore this amazing country with. I ended up spending the entire Omani trip with a local couchsurfer. Of the 4 nights, I spent the first two nights in a tent by the Gulf of Oman, and the rest at my host's house, soaking up the life and mores. The car issue also fell away this way.
Culture
Oman is a country of traditional Arab culture with unique national characteristics. The locals still prefer to wear dishdash in everyday life, different from the UAE or Kuwait. All buildings are in Arabic style – even new constructions do not look like dull business centers or soulless skyscrapers. The population is dominated by the Omanis themselves. This is especially noticeable in contrast to the same Emirates or Bahrain. If you're a fan of Oriental bazaars, if you want to explore the lifestyle and customs of the peoples of the Persian Gulf and still puzzle over how to understand Arabic and write from right to left – you're going straight to Oman!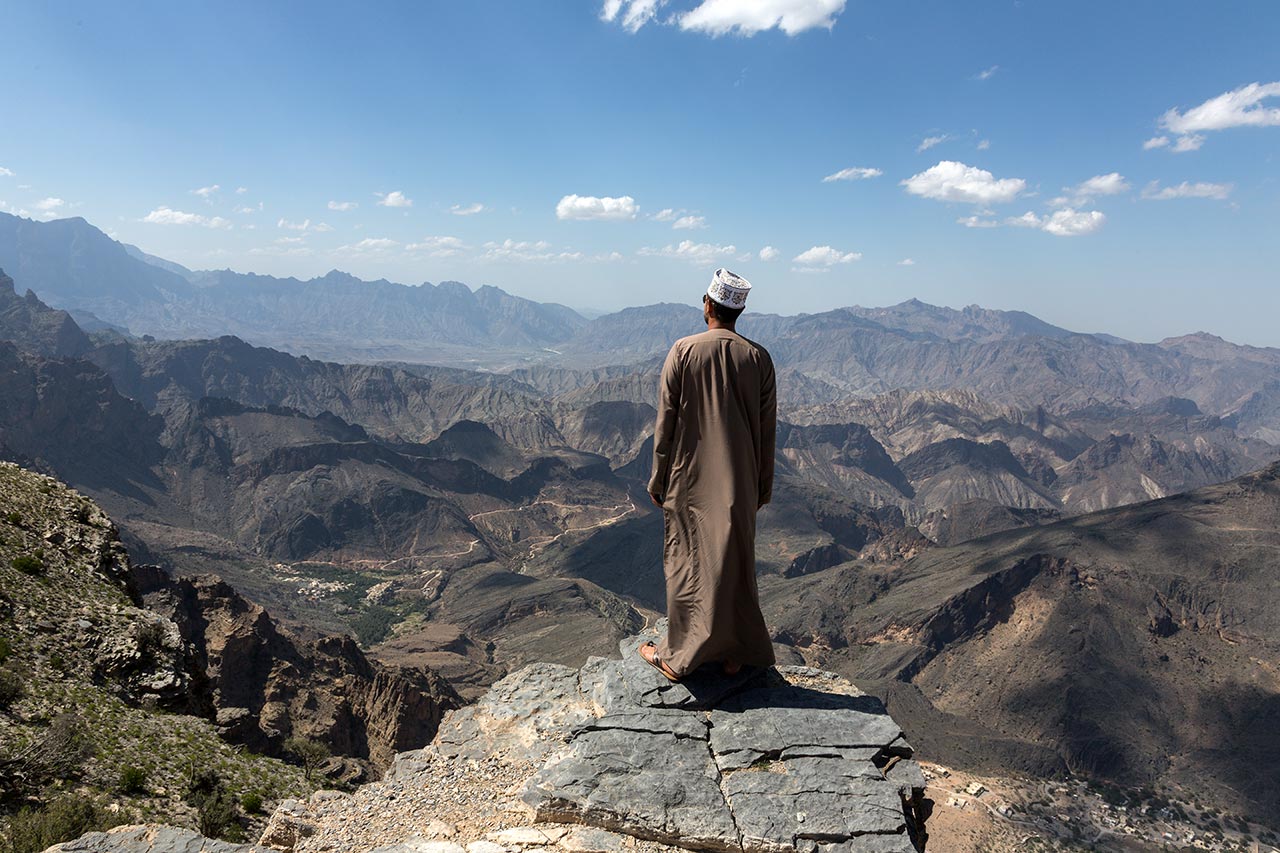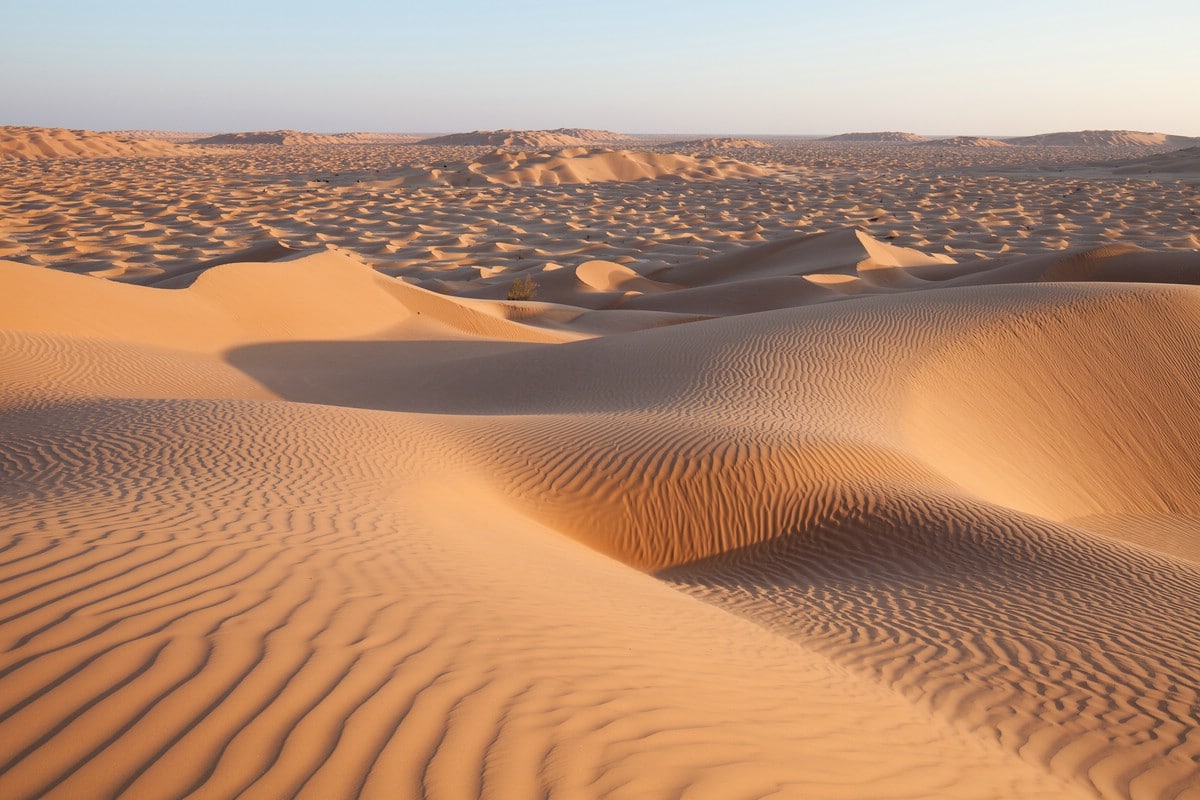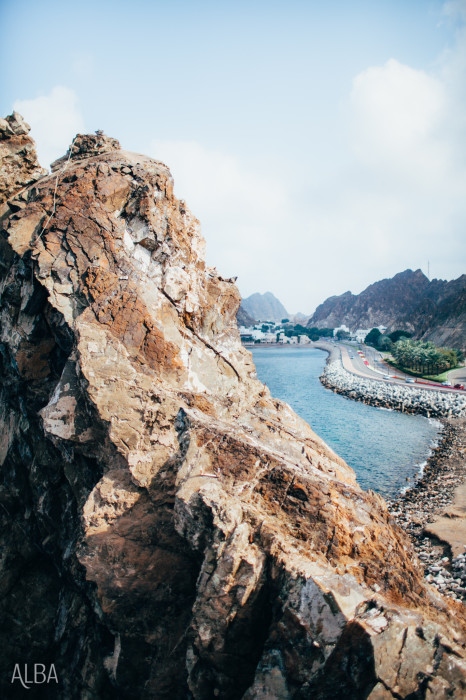 Curious travelers are welcome anywhere in the country. Recently, Oman is trying to get rid of the "oil needle" in the economy, starting to actively develop tourism as an alternative. That's why people are very interested in making you like it here. No one will criticize you for wearing shorts and a T-shirt, for being of a different religion or for being an atheist. The headscarf for girls is also optional.
"There's nothing to be afraid of in Oman. The locals are already many times richer than you are thanks to oil."
The life of a typical Omani is measured and relaxed. However, it is a myth to say that Arabs can enjoy the blessings of nature without working. Oman has educated people who mostly speak English. Every local has a job, and 5 days a week a person is busy working (just like you and me).
Yes, locals from birth have many privileges from the state, such as free land per person, free education and employment. Oman is one of the five safest countries in the world according to the World Economic Forum (WEF). And in practice, it really is! Of course, that doesn't mean you can leave your car open or sleep in a hotel with the door open. But in Oman there is nothing to be afraid of. The locals are already many times richer than you thanks to oil, and the newcomers are afraid to break anything because of the severity of the local laws.
Sightseeing
It's better not to stay long in Muscat. Oman is one of those countries where hanging out in the capital is not enough to get to know it. Muscat itself is not a bad city, but all it has is two mosques, a bazaar and a small promenade. The city is empty both on weekdays when everyone is at work and on weekends when the locals leave for camping in nature.
Nature is Oman's greatest treasure for the traveler. In general, all of Oman is a perfect highway in the middle of the mountains. Mountains without fertile soil, where not a single blade of grass will grow. But it looks amazing: you have a feeling that you are on the moon. And this is just the central part of Oman! The nature of this country is in principle diverse. On the Musandam Peninsula, which is separated from Oman by the Emirates, you can see fjords and compare them to those in Norway or Iceland. In the south of the country, in Salalah, you'll plunge headlong into the tropics and see green streets with waterfalls, palm trees and crystal clear water on the beaches. Important: To visit some of the sights of Oman, you need not just a car, but at least a crossover. I will write the top 3 places I managed to visit.
Wadi Shab . Wadi are dry riverbeds that fill up during heavy rains. This is a natural wonder that few places can be found. First you spend 40 minutes walking along the dried channel, then swim to the cave through several small lakes, separated from each other by rocks. Once you reach the cave, you scramble up the rocks through ropes, and by the end you realize how cool it all was.
"All of Oman is a perfect highway in the middle of the mountains."
Misfat al Abreyeen is a village atop a mountain ridge with a unique panorama of neighboring villages. In the village itself there is a traditional way of life. Saddle donkeys run up and down the steps and local children jump into the pool-like, palm-fringed well.
Nizwa Souk is a small and cozy oriental bazaar in Nizwa. Inside the bazaar there is also a rather beautiful fort, but entry for foreigners costs 5 rials or €12.
In Oman I went to the Gulf Cup final where the local team met the UAE. This is the 23rd time the Cup has been played among 8 national teams, but Oman had only won once before this final. And they won the second time. There are no words to describe what my new local teammates and I saw on the streets. It was similar to how I got to Moscow in 2008 the night after Russia's victorious match against the Netherlands. Flags in the streets, national songs, honoring the team the next day with songs and dances. That day was definitely worth all the unvisited places in the country. I learned from this trip that traveling to any country for the main event of the year multiplies your experience by a factor of three. In general, go to Prague for Christmas, to Diwali in India, to Songkran in Thailand, to the final of the World Cup in the finalist country and you will be happy.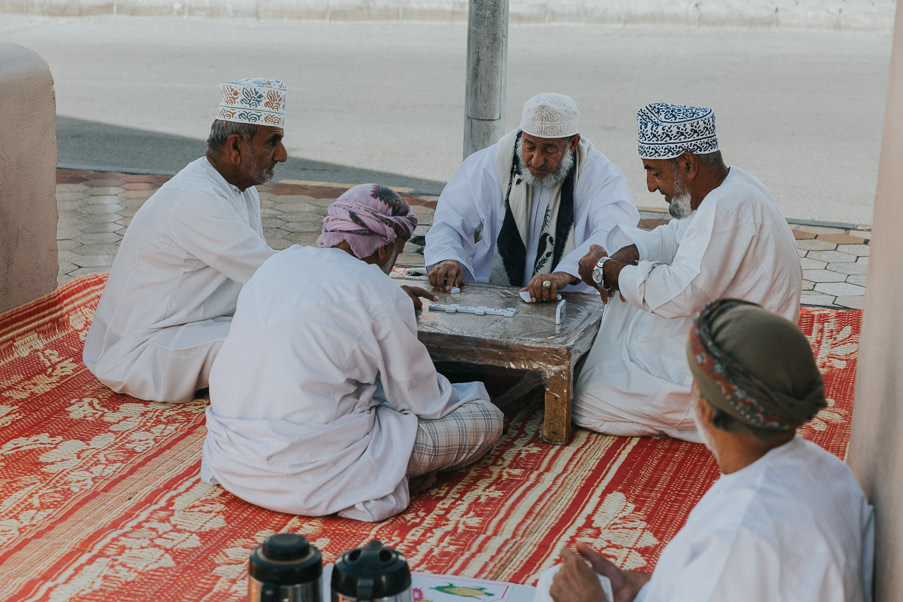 1. the official days off, as in other Arab countries, are Friday and Saturday. The main reason is that Friday is considered a day of prayer. Pay attention to this fact when making your itinerary by day.
2. The country has been ruled by the same Sultan for 48 years. In Oman (officially the Sultanate of Oman), Sultan Qaboos bin Said is an unshakable personality. The man is said to have made from a country with nothing but desert and mountains a rich country with a stable economy. Keep that in mind when you start talking to a local about politics.
The Omani rial is considered one of the most expensive currencies in the world, worth $2.6 or €2.13. The purchasing power of this currency is so high that the government has to issue 1/2 and 1/4 rial paper bills, and the number of local "pennies" (bais) in one rial is a thousand, instead of the hundred we are used to. Don't be frightened when exchanging currency and shop carefully.
4. Locals live mostly in villas on several floors. In Oman, it is customary for each room to have its own restroom – as a personal space for the person who lives in that room. Thus, you can find 6 rooms and 6 toilets in a typical villa.
5. Find either a local or a similar traveler from another country to join your company. Alone (-someone) can spend too much money, and in general it is worth getting to know better what kind of people live in Oman.
6. Bring your own toilet paper, as they just don't use it in Oman: every restroom has a shower faucet.
7. Don't book hotels – instead, bring a tent with everything you need and rent a car. Oman is the perfect place for camping.
8. Yes, be sure to rent a car or go with a local. It's not good in Oman without a car.
9. Do not visit Oman from April to October – it gets so hot that even the locals sometimes can't stand it and leave en masse for the tropical belt in the south of the country.
Of course, Oman is not the country that absolutely everyone should visit. There are many places in the world with a rich culture, beautiful nature and the possibility of low-budget trips. It's just that there are hundreds of stories from your friends and tons of information on the web about these places, while we rarely think about places like Oman when planning our next trip. And it's worth it.