Slowness and accent. You are in Estonia if.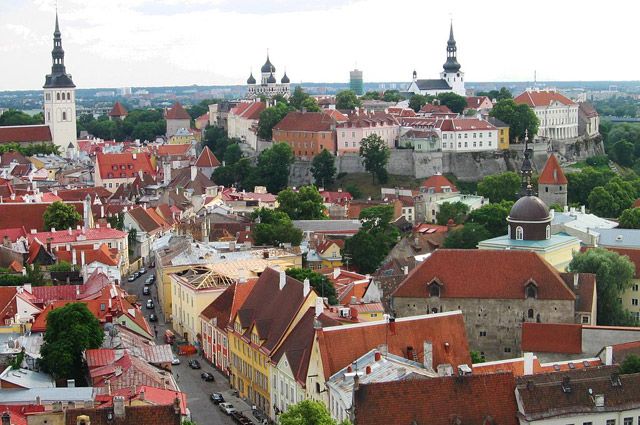 1. You understand that the famous Estonian accent from the jokes is not a myth, but a brutal reality. There is a real soulful stretching of the vowels, they say "f" instead of "v" and "t" instead of "d" (at least, that's what it sounds like to a native Russian speaker). There are no jokes about how Russians speak Estonian in Estonia. They are not forbidden, I found out on purpose.
2. It rains outside most of the time in the summer. You look out the window in the hotel in the morning – the whole street is covered in colorful patches of umbrellas. At first you think you are in a typical July-August in Moscow, but it is not so. In the houses here air conditioners are very rare, because – what for? It's cold anyway. There's a very popular joke in Estonia – "it was summer, but I was working that day. True, the same joke is popular in Siberia. And in Moscow now this year – be sure.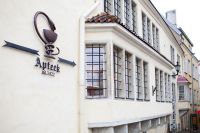 3. Beer – the most expensive of those varieties that at different times you have met in the former Soviet Union. The quality, however, is excellent. On average, a glass of amber joy will cost a chilled Estonian tourist in the summer of 4 euros (280 rubles), and this is absolutely unbearable – for in neighboring Latvia and Lithuania to treat beer costs about 2 euros. In general, prices in Estonia, closer to the Finnish, and this fact, of course, can not like – especially after staying at the "cheap" neighbors.
4. There are crowds of drunken Finns hanging around everywhere. They come here by ferries from Helsinki (these ferries are called "vodka"), with the sole purpose to drink from the heart, and take more delicious drinks. In Finland, alcohol costs a lot of money, and is not sold on weekends. That's why Finns go to Estonia, and eat there vodka and beer in such quantities that it's just amazing how they walk after that. Estonian lovers of alcoholic beverages go to Latvia for a case of "whites" – it's cheaper and there is more choice.
5. You spend a lot of time trying to figure out what Estonian cuisine is. This is a scary and difficult quest. At first glance, the subject is a mixture of Soviet (olivier and kebabs), German (pork in grandiose quantities), and Finnish (salmon – smoked, stewed and fried). Tallinn's restaurants bake their own bread, cure their own venison ham, and in general, lots of people come here from Europe as gastronomic tourists. Many chefs, having worked in the EU, have now returned home and opened their own establishments in Estonia. They do their best, there's even "roasted forest moss" on the menu. Tasty, by the way.
6. Among people over forty, everyone knows Russian, and they speak it quite willingly. However, you may find a man in a bad mood who will tell you in terrible English – saying, I don`t speak Russian. If you speak English well, tell him in response a colorful rant (any, even a quote from Shakespeare). Guaranteed – the object is terribly confused, and instantly remember Russian. He is not angry, apparently, he just has difficulties at work today.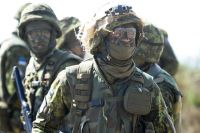 7. You're surprised that driving in Estonia is exotically passionate and hot, pouring water on poor pedestrians from puddles, and speeding despite the cameras. At first you think you've come to the Caucasus by accident, but you're not there at all. You have already heard about the extreme slowness and slowness of Estonians, and the dullness of the national character. All this changes when a proud Estonian gets on an "iron horse". Traffic jams in Tallinn in the evenings are wild, and the five kilometers to the airport can be quite a 30-40 minute drive. Slowly, Estonian style.
8. Nothing reminds you of the Soviet Union. For 26 years after the Soviet Union collapsed, Estonia has become quite a Western European country, which can not be said about Latvia and Lithuania. You feel like you're in Sweden or Finland. The only difference is the noticeable confrontation between the Russian-speaking and Estonian-speaking population of Estonia. They openly don't like each other because of the idiotic decision of the local authorities not to give citizenship to the Russians whose ancestors didn't live in the republic before 1940. Now they are making attempts to smooth tensions, but if they have been building up for 26 years, obviously the irons are not enough to smooth them over.
9. You wonder how well-preserved Tallinn's old town is, and you ask yourself an intimate question – why didn't you come here during the Soviet era? It's true that the local fortress wall boasts gates and towers, and the houses themselves weren't built before the harsh 14th and 15th centuries, when there were no fineries and gildings of the Baroque and grand Empire. Tallinn was a member of the Hanseatic League, and it can be seen in the various buildings of that time – of course, in the oldest are open tourist restaurants. Besides the drunken Finns, hordes of sober, excited Chinese with cameras are everywhere. Estonians, however, say that Tallinn is best in winter. In summer, the weather is bad.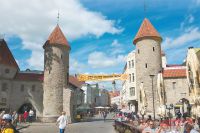 10. In cafes and restaurants (and in stores), you constantly come across dishes from game – elk pate, elk soup, and even elk cold cuts, plus occasionally the local venison. The imagination draws a vast territory, covered with gloomy virgin forests, where herds of severe moose roam, ready to sell a hunter his life dearly. But the country is tiny, where to get them, if you drove two and a half hours, and already the border? It turns out that the door opens in a simple way – all moose and deer are farm animals, they are bred in pens. Technically, they are not considered game, unless you try to make them angry before cooking.
Myths and tall tales about Estonia. Myth one: the slowness of Estonians
Everyone has heard jokes about the slowness of Estonians, something like: "The longest project in the world – Estonians count the Chinese". I had heard all this too, and when I went to Estonia, I prepared to encounter the slowness that our rumors attributed to the Estonian people. Only I found something quite different.
Rakvere. Drinking water from a spring in the city center
Yes, it's not customary in Estonia to drive down the streets at breakneck speed, and no one thinks life has gone downhill if you overtake. Yes, the overall impression is that Estonians are in no hurry: no one fidgets in line at the ticket office when the person ahead is delayed, no one wants to hurry to get on the bus or through any door. In general, there are no obvious signs of hurry, nor any vanity that is so characteristic of our everyday life.
Rakvere. On the city streets.
But is it slowness? After taking a closer look at Estonians in motion, so to speak, I soon notice that cars don't drive sluggishly, and people walk quite energetically, not in a lurch.
Rakvere. Mass Run. September 2013.
And, by the way, they don't speak slowly – in their native language, of course!
Rakvere. Wesenberg castle. View from the East
The Russian-speaking residents of Estonia talked to me (in Russian, of course) at the same pace as we do, so I listen to the "Estonians" and immediately realize that they speak Estonian at about the same pace as we do in Russian, or even slightly faster.
Rakvere. In the courtyard of Wesenberg Castle.
Naturally, "Estonian-speakers" speak Russian more slowly! As someone who has learned more than two languages in my short life so far, I can say with certainty from my own experience: speech mistakes are almost inevitable when speaking a foreign language, and if you want to be understood correctly, you need to speak slowly.
Rakvere. Walking on the square the day of the race
In general, there is no noticeable general slowness of Estonians! But, another characteristic is noticeable, as it seems to me, most pronounced among those whose native language is Estonian, but noticeable among all residents, including the Russian-speaking. It's a calmness in any situation, it's an imperturbable, indestructible nervous system. It's not just iron nerves, worthy of special forces, they have nerves of natural alloy steel! Here are a few examples.
Rakvere. A motorcycle backwards and forwards.
A philatelist friend of mine asked me to buy new Estonian stamps of interest to him, if possible. With that in mind I went to the post office in Rakvere, a small town in Northern Estonia.
Rakvere. Perfectly neat place as in the picture
Upon arriving at the post office, I found virtually no visitors and, after waiting for just one person, asked the postal clerk to show me the current year's stamps. Fascinated by the choice of stamps, I didn't notice either the time or the fact that a local woman was already waiting her turn behind me.
Rakvere. Trinity church. View from the park
I ended up with lots of stamps, and it took me a long time to choose them, as if it hadn't taken half an hour… In my enthusiasm I noticed too late that I was already abusing my position as a customer – I hope I forgive this inattention! As much as I regretted the inconvenience to the local woman, I couldn't help but marvel at her patience: while I was occupied with my work, she didn't make me aware of her presence!
Rakvere. A pond near Trinity church
…An intercity bus in the north of Estonia, a regular trip. During the trip someone is talking on the phone and the passengers are also talking to each other and I involuntarily pay attention to the "linguistic ratio" of all those conversations, which is about 1:1. They were talking now in Russian, then in Estonian, then in Russian, then in Estonian. This was while the bus was going!
Rakvere. Park behind the church of the Holy Trinity.
But as soon as one encountered an unforeseen stop – long enough to phone about the delay – the "language ratio" changed radically.
Rakvere. Behind Trinity Church. Unfrightened ducks.
One or two calls in Estonian, and then all phone calls and all conversations only in Russian! The "bilingual" bus turned into a Russian-speaking bus: all the nervous phone calls like, "Oh, Katya, I'm stuck!" only in Russian, all remarks like, "When do we go?" – in Russian, too.
Rakvere. Fearless birds.
You'd think something like that would have been said in Estonian, and I just didn't understand, because I don't speak the language, but that's just it, there wasn't a word in Estonian! They just sat there and waited in silence! Probably nobody, even in their heart of hearts, would assume that a problem could be solved immediately, just because they personally wanted to…
So, are some of the myths about Estonians starting to dissipate a little bit already?
© Grigory Kazachkov, specially for the Roads of the World website, 2014. Copying of text and photos is forbidden. All rights reserved.
Related posts:
Thank you for sharing this post with your friends on social media!
Share on social media
Yes, impatience and irritability seem to be a Russian national trait. I, similar to the described scenes, observed in supermarkets in France. The cashier can easily talk to a customer for 5-10 minutes, while the entire queue stands silently without any annoyance and waits for them to talk. In our country, under similar circumstances, they would learn a lot about themselves.
About the Russian national trait personally I'm not sure. )) Russians are all very different too. Some are irritable, some are quiet. You shouldn't lump everyone into the same category. The other day I stood in a line, where a vendor and a customer talked for 10 minutes – and no one was angry! So it depends.
Although, in my opinion, of course, it's not very polite to communicate when there's a whole line waiting.
Maybe in quiet places all is better with people's patience, but in a grocery supermarket near my house there are always a lot of people, more than 30 cash registers and lines at all, before the store you have to find a basket in the parking lot, in the store everyone jostles, you will get nervous, I try to go there as rarely as possible, but products are an essential, and new high-rise buildings are built and built around.
Yes, Elena, of course, it also depends on the area. Our southerners are more active, hot-headed, they turn on at the drop of a hat, but when we came to the middle belt, I was surprised how calm and polite people are there!
It also depends on the size of the populated area. In our small towns people are also not fussy, and, frankly, I feel very comfortable where life is quiet and measured. But here in the city life is always in a hurry… Alas! It's a different scale, a different pace of life! Our drivers drive like crazy, everybody notices it, those who come to us from other cities. And how I would like the Estonian politeness and calmness. I'm a very calm and polite person myself :), I don't like any fuss or rudeness…
But all the same behavior depends more on the people themselves. Everyone's nature and upbringing. Although yes, you're right, if they push, insult, it is difficult to remain polite. So the environment affects, of course. There are many contributing factors, it is not the nationality alone that is to blame for us being like this. ))
Jelena, it must be a foreign trait – to chat with customers in the supermarket I also see it, too, and annoying terrible, especially when you're in a hurry and ran for 5 minutes to buy something quick. But, understandably, I pretend to be polite .
It's a funny trait. But very annoying. We probably have foreign women working in some stores, too ))