What is difficult to understand for a foreigner in the life of the Chinese?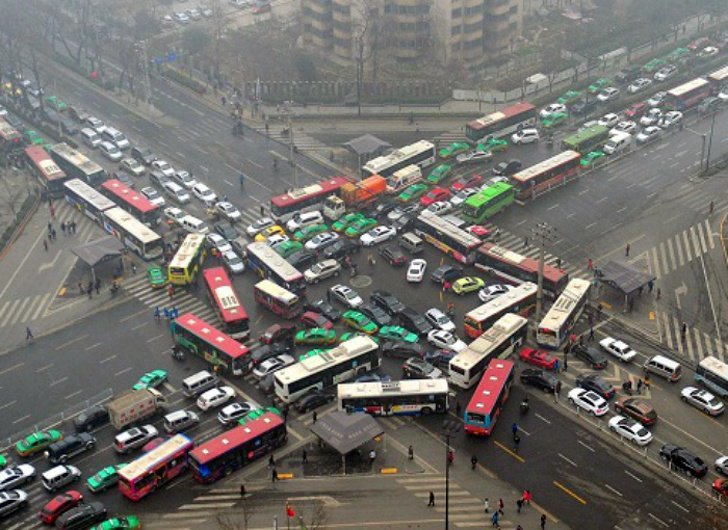 Many people in China are forced to wear medical masks because of the highly polluted air. In order not to be bored, they turned the mask into a real fashion accessory.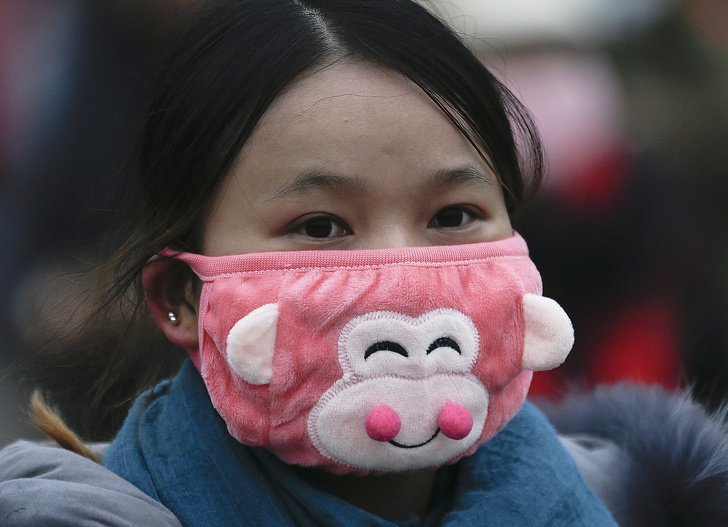 China is the king of fakes and never ceases to amaze with its creativity.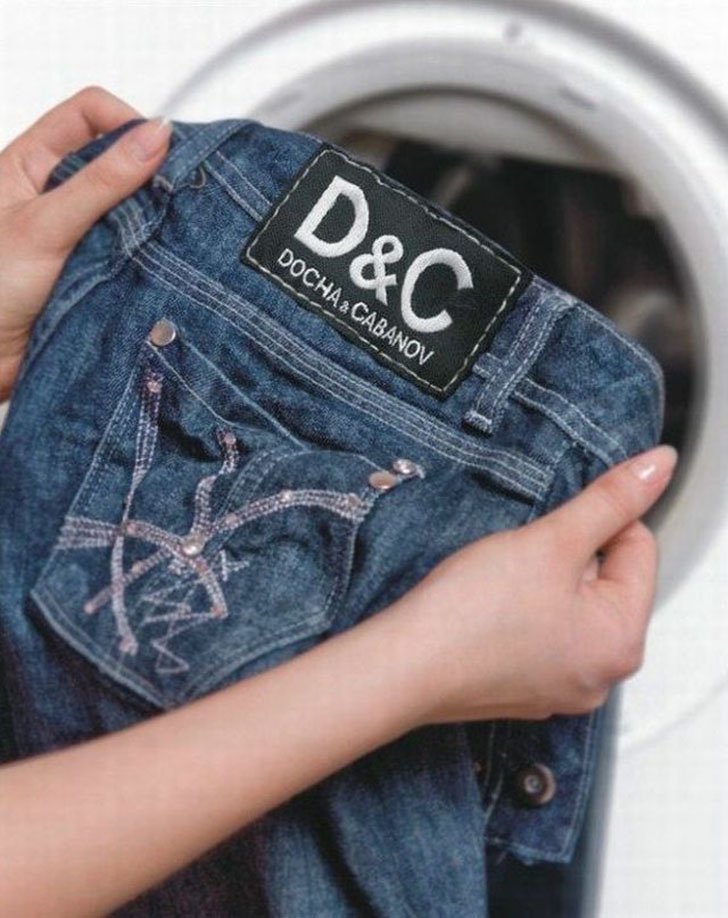 When sewing this piece, 700% of materials were used. This way 100% quality is created!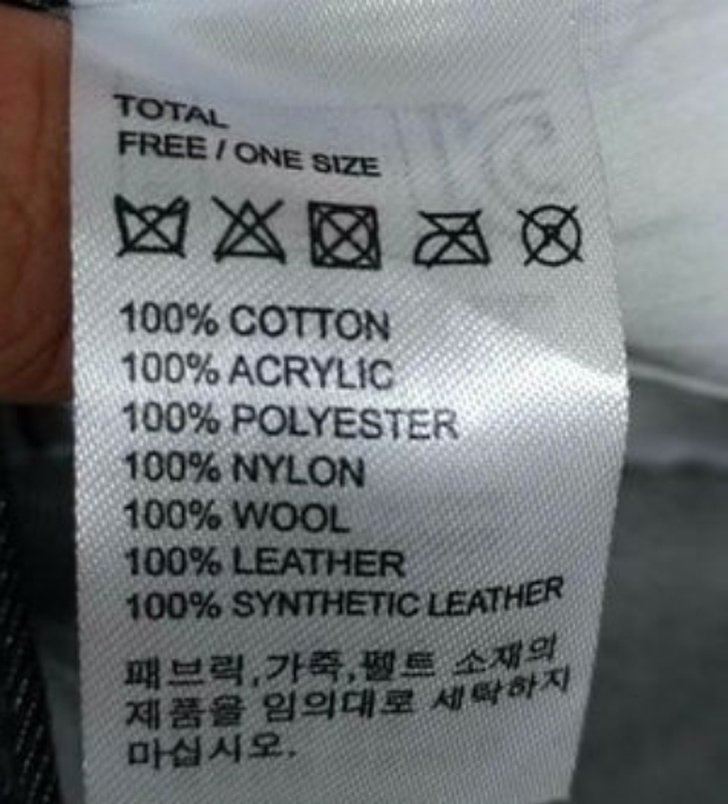 To be toned, the Chinese are helped by collective exercise in the air.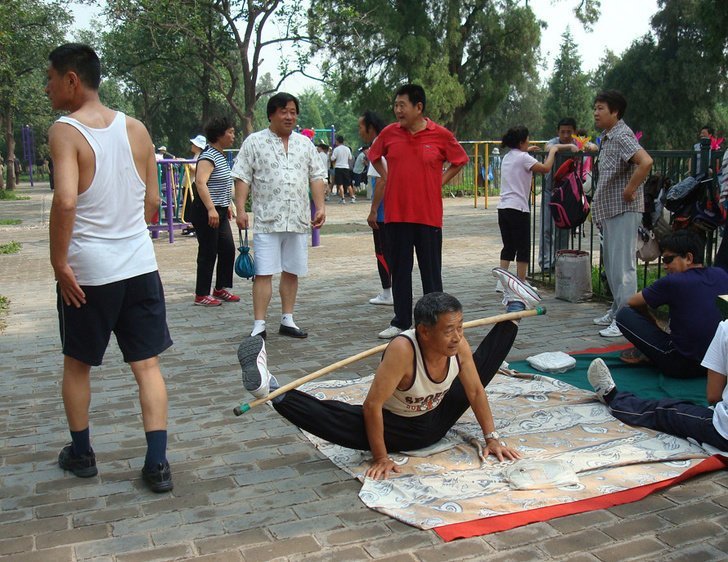 No one is surprised if a person exercises while waiting for a bus, or actively stretches while walking.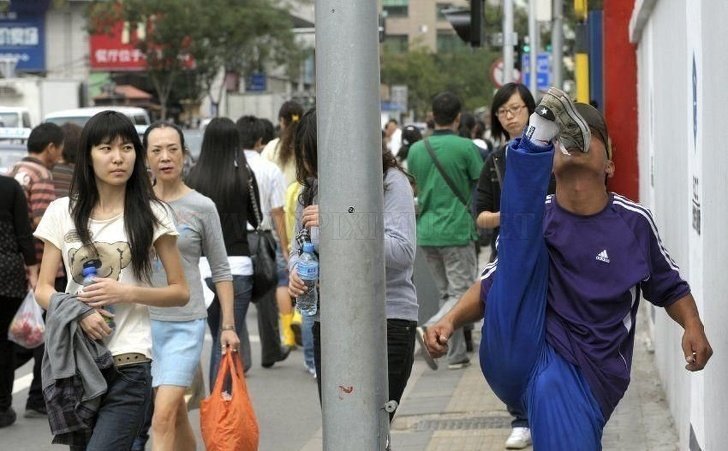 If you get a manicure, every finger should shine!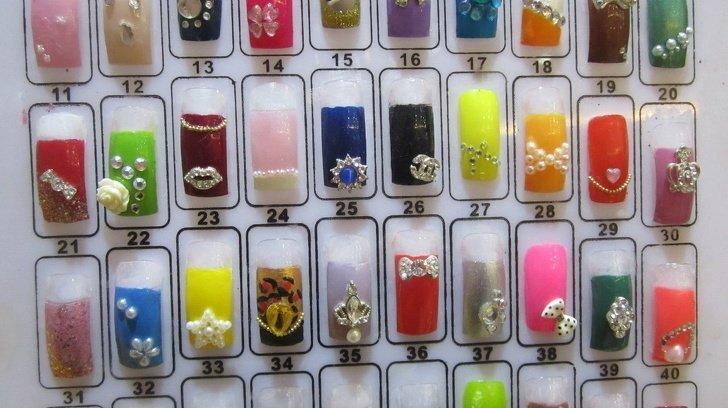 After the work week, many Chinese may put on their pajamas until Monday.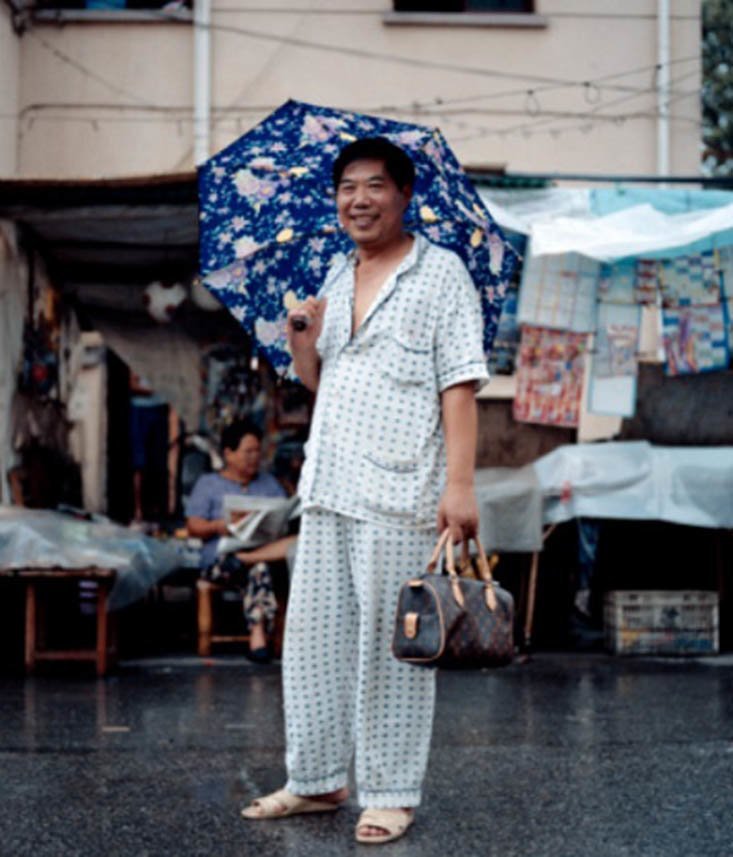 This is called a weekend regimen, which includes walking, shopping, and restaurants.
A show with the rarest animals! Chinese advertisers go all out to attract an audience.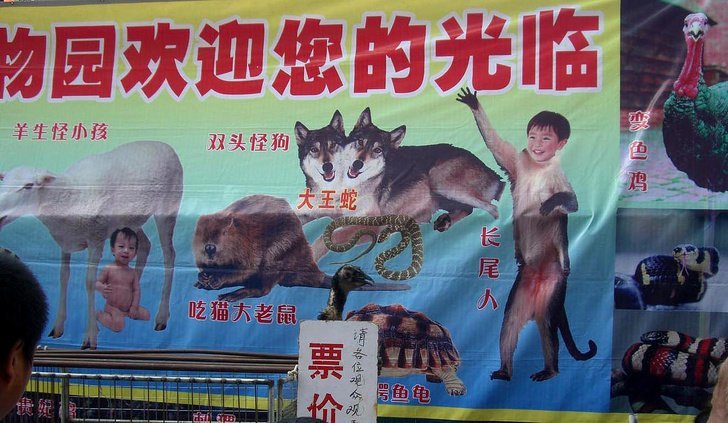 The Chinese carry a thermos of boiling water with them everywhere.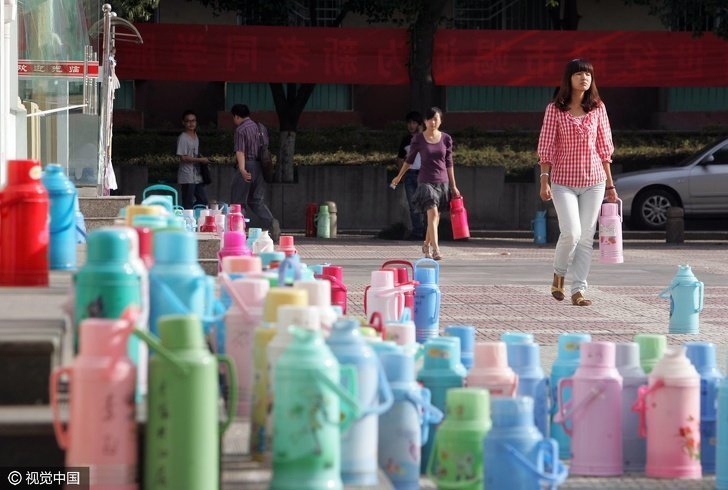 Drinking hot water means preventing a number of illnesses. And if you do get sick? Drink the water!
Few people care about comfort in China.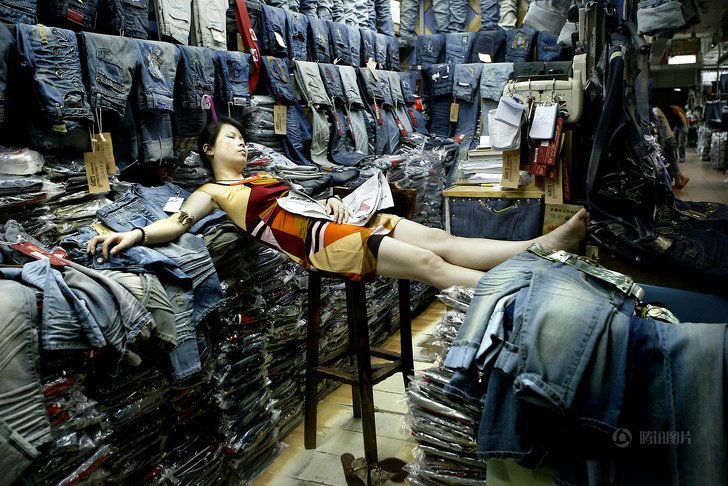 Even on a long-distance train, you can get a "no seat" ticket.
Street food is very exotic. How about scorpion on a stick?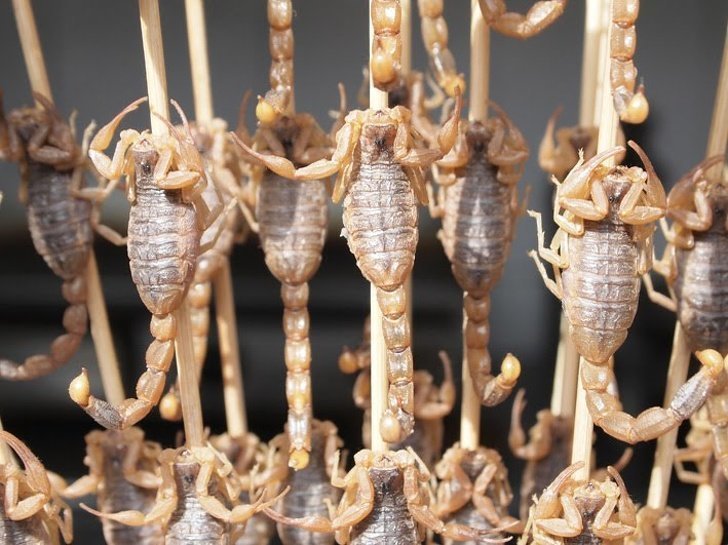 Although any Chinese food is exotic to a European.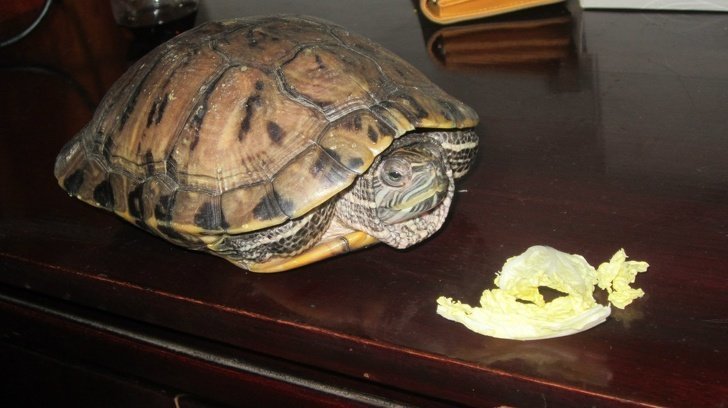 We bought this turtle in a supermarket, and the price tag said it was fresh turtle meat.
Legumes are also revered on the Chinese table.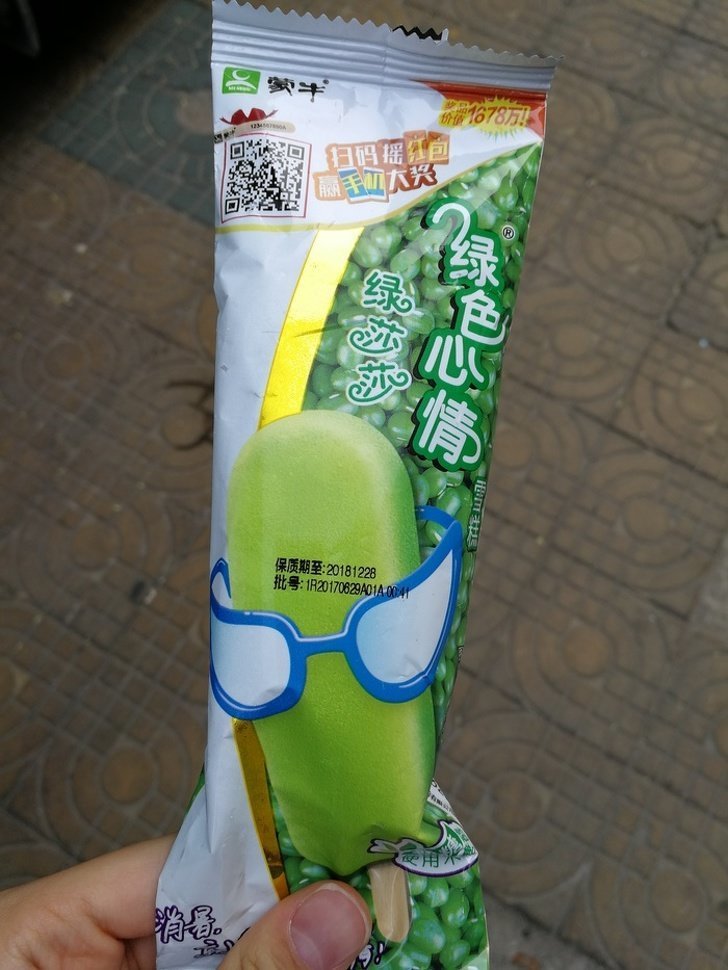 Green pea ice cream is almost a national treat.
They massage very intensely. Redness is possible.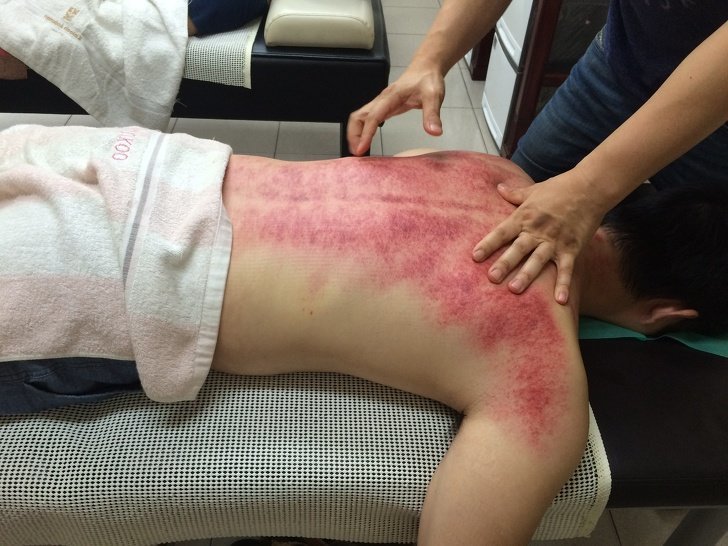 For relaxation is also not necessary to go to the spa.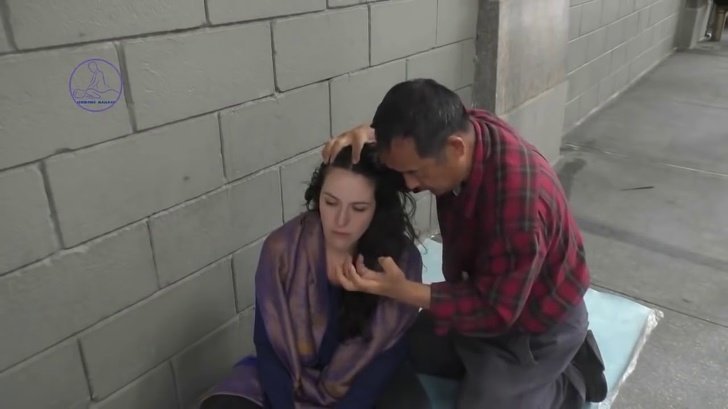 Massage therapists are waiting for their clients everywhere.
Mister, are you sure you're a hairdresser?!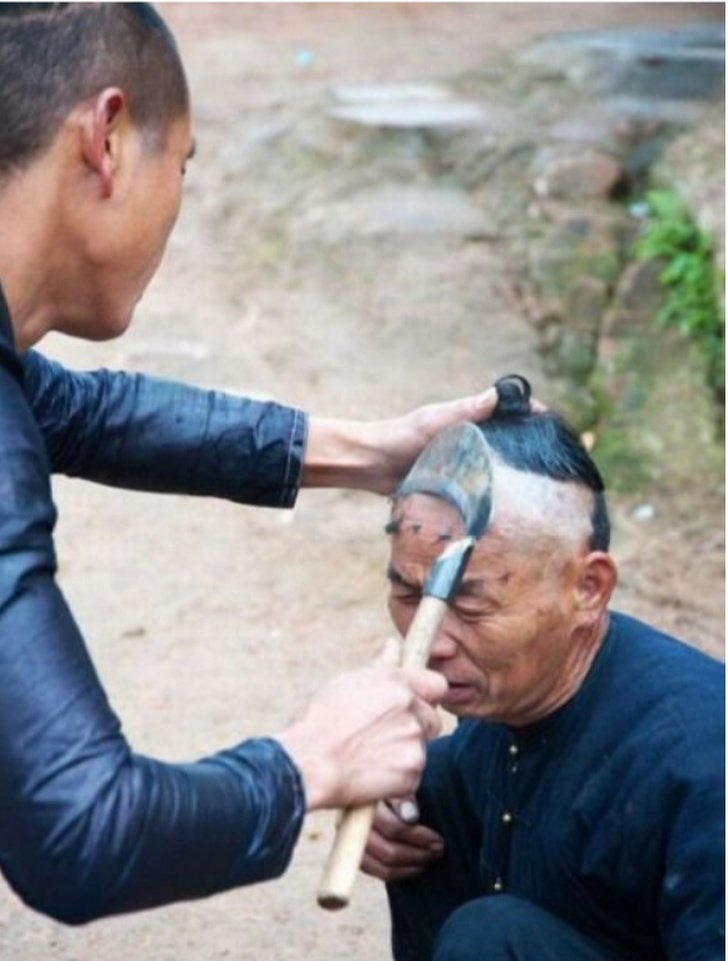 The Chinese can do haircuts with a sickle, hot pliers and even a bolt cutter. And you don't need a room for a barbershop.
But this does not hinder the flight of fancy.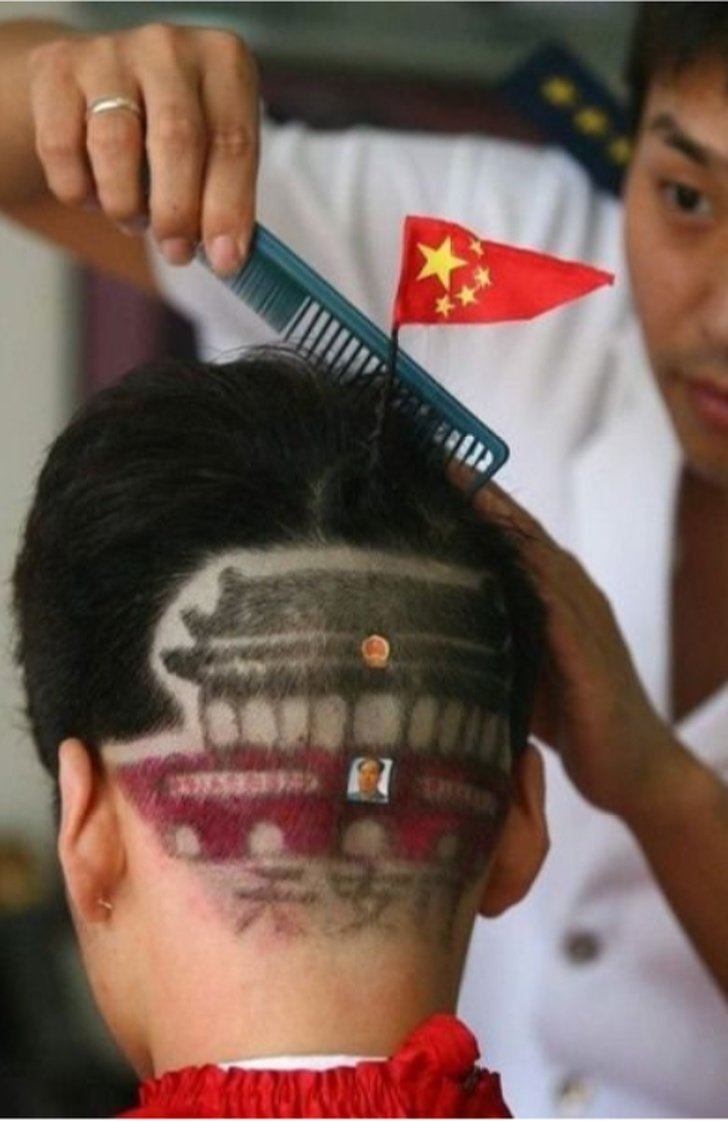 In China you can participate in competitions where people have to eat hot chili peppers while immersed in a bathtub with them.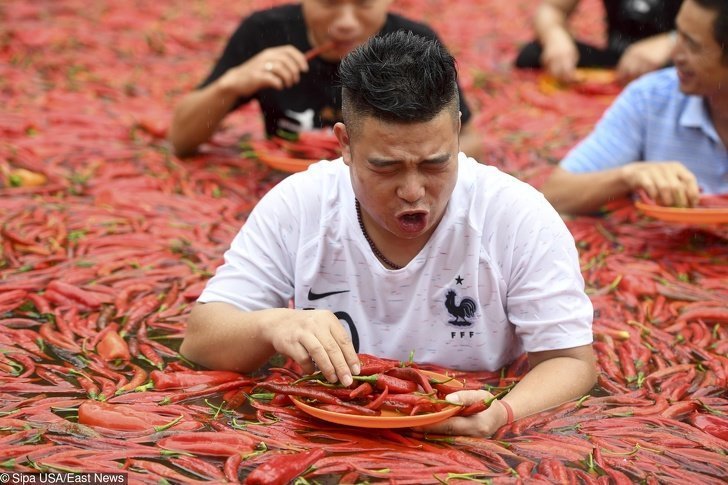 We hope the prize is worth the suffering.
Did we mention that there are a lot of Chinese people? Yes, there are a lot of them. And this is a picture from the resort.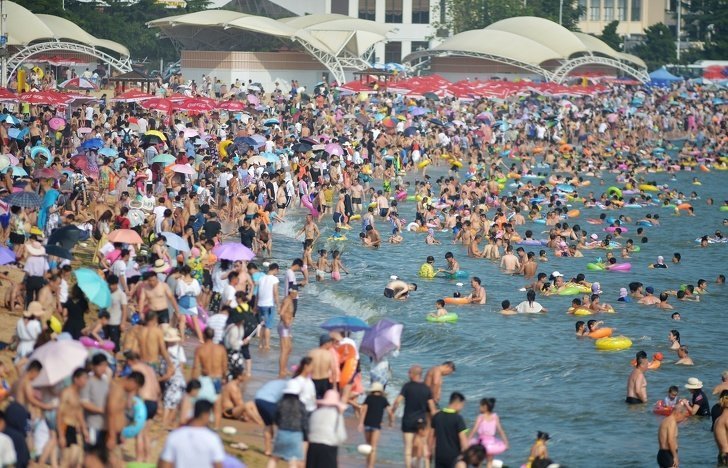 A popular flash mob in China is to wear fish in the hollows of your collarbones to show those around you how thin you are.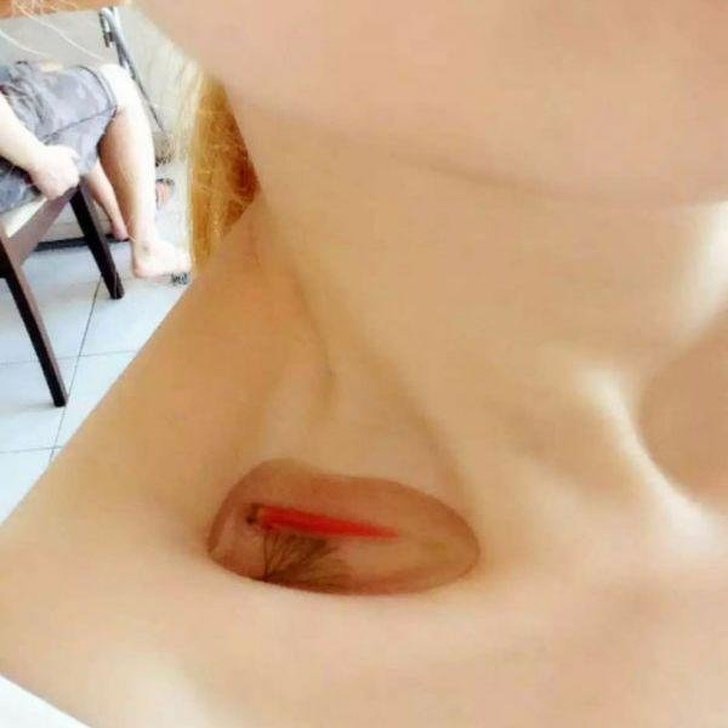 An unusual trend that has come to the Asian people's liking is the fashion for "vampire teeth".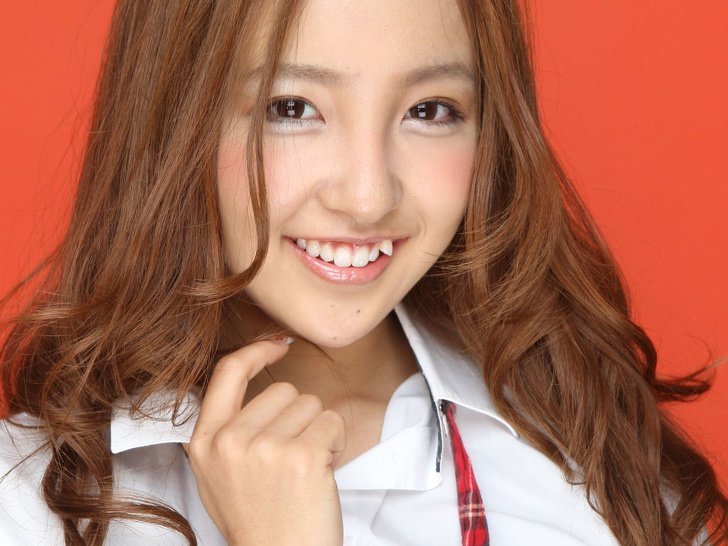 If nature did not bestow you with sharp fangs, then you can easily correct this in the dentistry.
The wave of bans on smoking in public places has passed over China.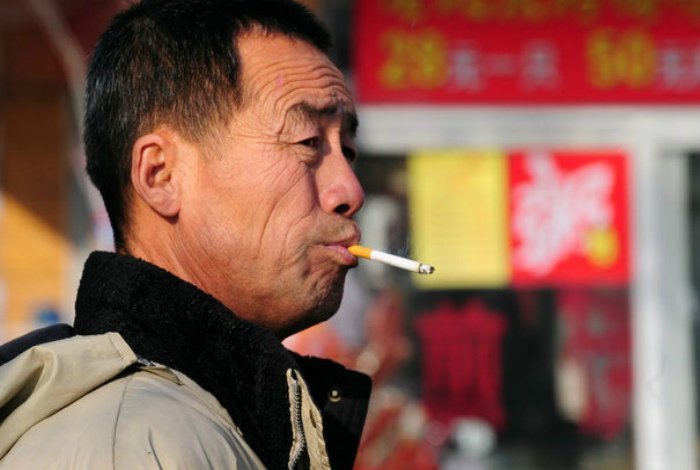 People smoke everywhere. Don't be surprised if your neighbor pulls out a cigarette and smokes on the bus – it's normal.
Because of the increasing number of suicides at work, the owners of large companies decided to put up a netting under the windows.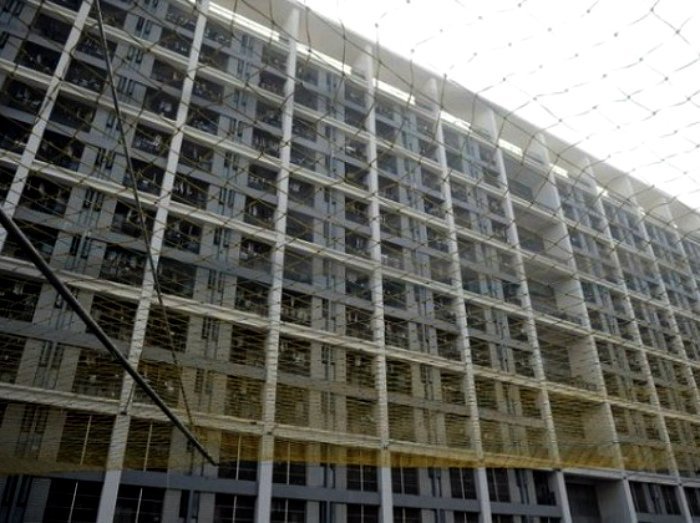 This will prevent a person who decides to end his life from crashing, and then psychologists will take care of him.
Due to overpopulation, China is experiencing huge problems with land resources.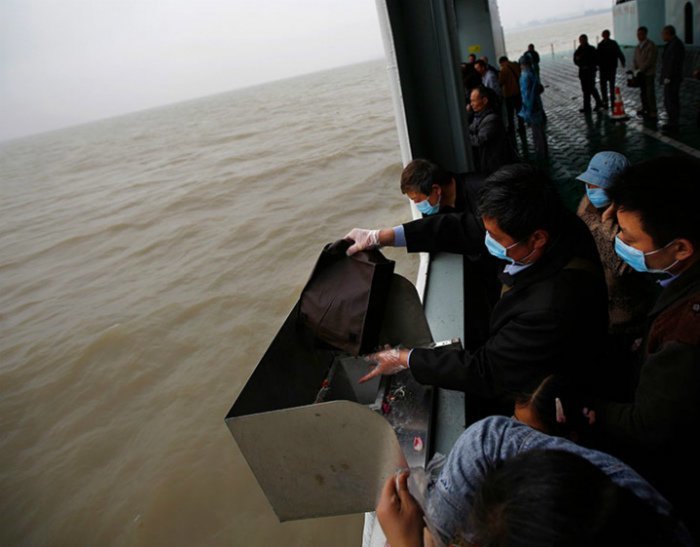 In some cities there is simply no place to bury the dead. Therefore, the state offers the elderly to give up burial in the ground for a fee. After death, the bodies of the deceased will be cremated and their ashes scattered at sea.
It is difficult for foreigners to realize that the Chinese treat animals as a way of making money.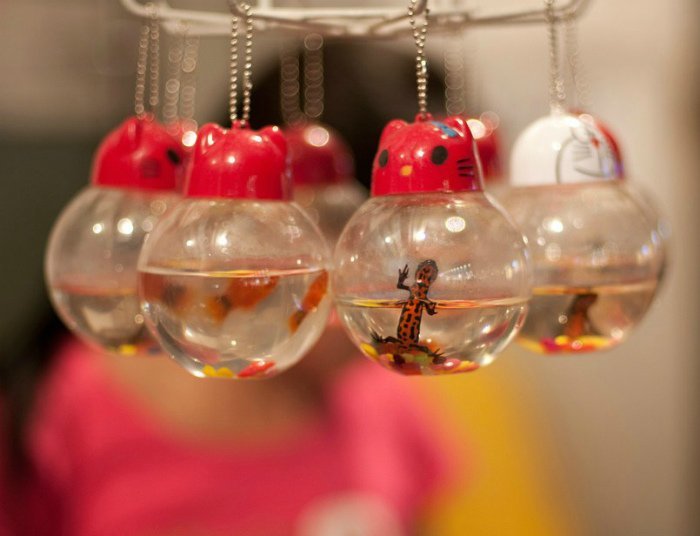 Insects and small rodents are food in general. And exotic species here become souvenirs for tourists. For example, at the market in China you can buy a keychain with a live newt inside and watch the poor guy just suffocate inside.
The Chinese are for naturalness, so they prefer the unusual open pants to diapers.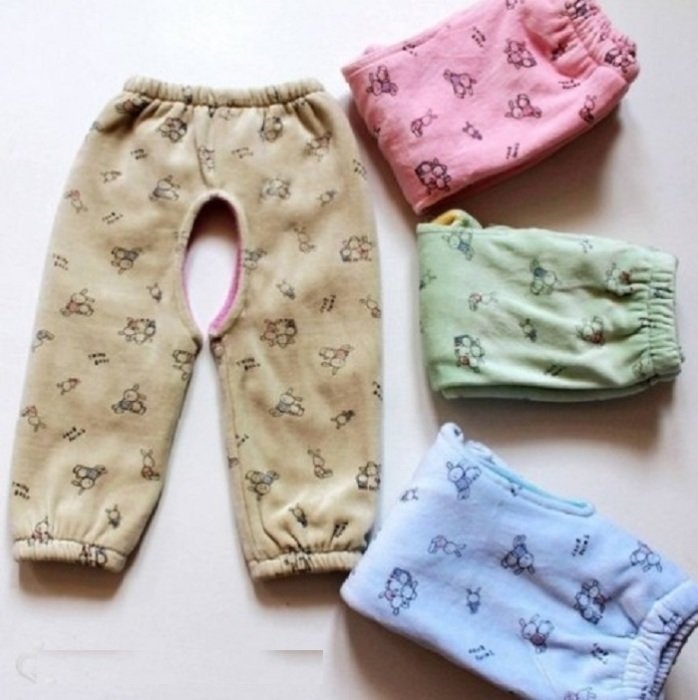 They allow for uninterrupted air circulation and allow babies to go to the bathroom when they need to. So don't be surprised if you see a baby "squatting" right in the middle of the street.
What the rest of the world calls uncultivation is a habit for the Chinese.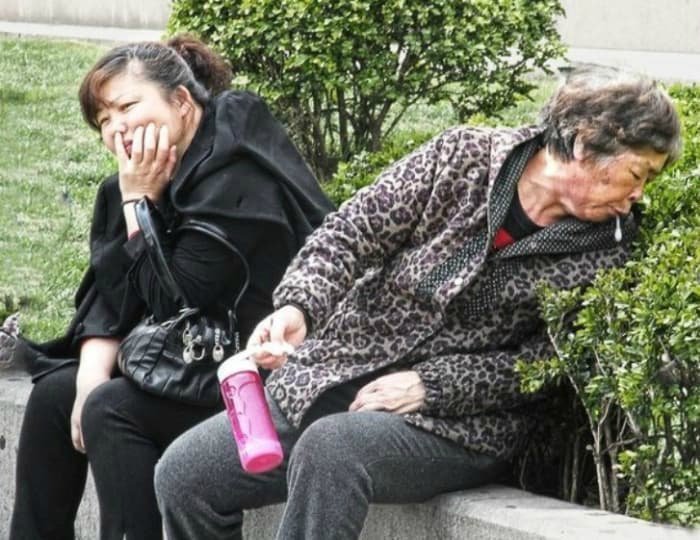 We are talking about spitting. More than once in China, you will meet people who spit right in the middle of the street. The people of China are absolutely sure that swallowing saliva and mucus is harmful. That's why they don't hesitate to spit out everything they've accumulated.
In any Chinese park, you can find old people (sometimes middle-aged people) walking rhythmically down the alleys, with their backs to the front.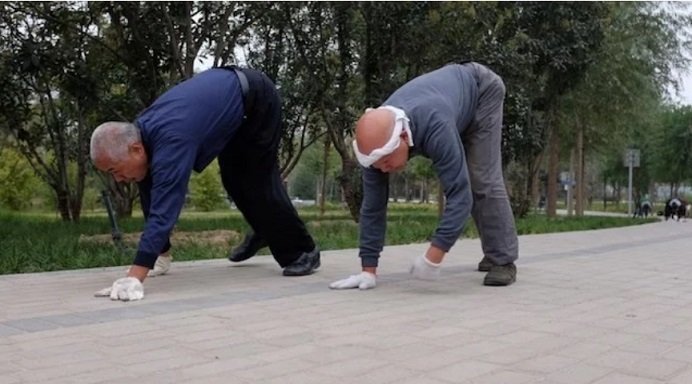 Often they can clap their hands either in front of them or behind them. No, they're not crazy. They just take care of their health. First, walking backwards is thought to reduce strain on the lower back muscles and reduce pain. Second, because it is a less familiar mode of locomotion, it requires more brain activity and therefore stimulates neurogenesis, which is a prevention for many senile dementias.
In the Western tradition, going to the theater is a social event that requires a certain dress code and standards of behavior.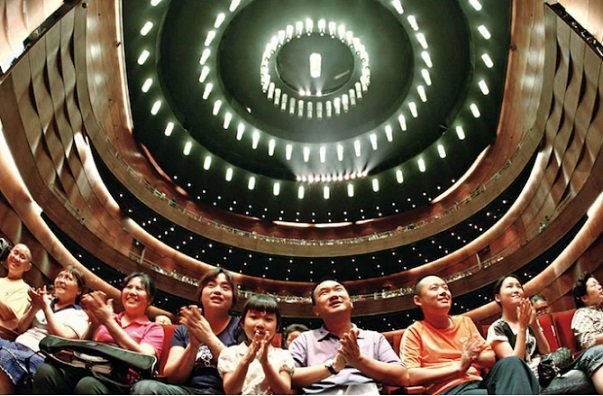 In China, theater was traditionally part of the entertainment of tea houses and gambling houses. The action could go non-stop, and the viewer was not required to "sit through" the entire performance from start to finish. And while for us Friday or Saturday night is the most prestigious theater time, in China a full house could easily be assembled on Sunday afternoon or weekday evening.
Squatting.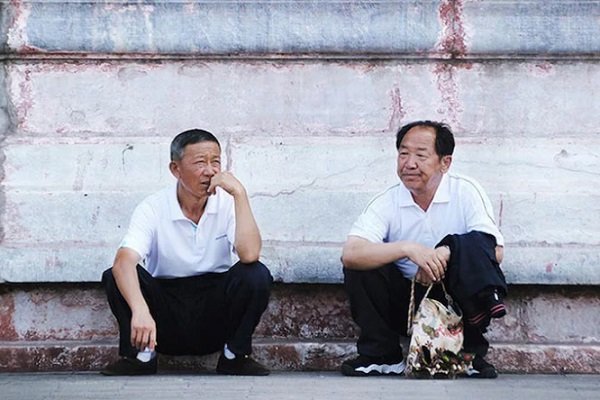 The Chinese, like many Asians, are not spoiled by the chair. Back in the late '90s, floor toilets were used all over the place: it's cheaper and easier to clean. That's why people still climb on the sitting toilet with their feet for hygienic reasons, especially outside the big cities (although in Shanghai it's also a sin). This is fought hard, and gradually Chinese grandmothers choose comfort, but the skill remains. Even for the elderly Chinese, squatting is comfortable. And with the proper habit of doing housework, eating and just communicating in this position is the most ergonomic solution. Although for young residents of Chinese metropolises, this pose is as much a sign of "peasant" origin as a tan.
If you see a young man holding a purse, do not be surprised.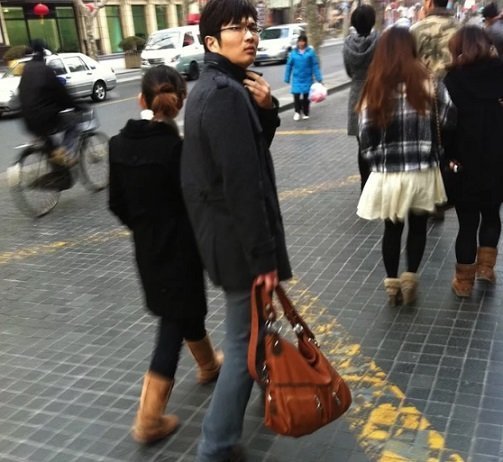 For Chinese men, this is a normal way to show concern for their girlfriend or wife. Maybe in our culture a purse in a man's hands is an exceptional phenomenon, the Chinese are far from machismo ideals, and the attractiveness of the opposite sex is determined rather by economic indicators and residence permit.
About life in China – pros and cons
The Celestial Empire is a country with its own peculiarities of life unusual for Europeans, unusual national traditions, with each visit opens to travelers from different sides. Some tourists fall in love with China and emigrate for the purpose of spiritual enrichment.
Russians are attracted to living in China because of its stability, economic growth, and great opportunities to realize their potential. But despite the world's leadership in manufacturing and the high standard of living of the local population, life in the Celestial Empire combines both positive and negative aspects.
The standard of living in China
Studies by foreign monitoring commissions show that the standard of living in the Celestial Empire is improving every year. The rapid growth of productivity, the ongoing modernization of the economy, the influx of foreign investment – these factors only have a positive impact on the well-being of the people of China.
Aspects of Chinese policy aimed at improving medical care and education also play an important role in living standards. Indigenous people enjoy all social services free of charge. Attention is also paid to the construction of affordable housing and the development of transport infrastructure.
Although Chinese wages vary greatly (depending on the regions), they have been increasing everywhere in the past few years. At the same time, the cost of food, household appliances, clothing and personal goods is quite reasonable, and significantly lower than in Japan and America.
The interest rates on loans in China are quite low for locals. Mortgages can be taken out at 5% per annum, consumer loans 6.5-7%.
All of these factors have a positive effect on the average standard of living.
Is it expensive to live in China?
The eastern part of the country has the largest cities, which are major industrial, financial and commercial centers. Residents of Beijing, Shanghai, Hong Kong earn rather high wages, varying from 10,500 to 25,000 yuans per month, but the cost of apartment rent is prohibitively high here.
In remote Chinese provinces the monthly income is 3,500-4,000 yuan. The average salary in China is 7,200 yuan.
Citizens of southern and northern provinces can live without poverty even on 5000 yuans for a family of 3 persons, but the middle class in megacities needs 2,5-3 times more money to live.
Where to Live in China
The choice of where to live in China is based on the main goal pursued by emigrants. If it is work or study, there is no better place to live than the administrative centers of eastern China.
Shenzhen, the electronics development center, is a good place for software developers and engineers to live. There are great prospects for them to find high-paying jobs because companies always need high-level specialists.
People who are used to a measured pace of life can settle in Suzhou and Nanjing, cities that are unusually quiet for China.
Those who dream about the active rhythm of life surrounded by an incredible number of skyscrapers, live in the Asian financial center – Shanghai. The beautiful Chinese city offers a million opportunities for foreigners to realize their talents. But when choosing Shanghai, you should consider that the crazy pace of the city is not possible for everyone.
One of the most expensive major cities is Beijing. It is equally comfortable for native Chinese and foreigners. The Chinese capital has the largest concentration of emigrants from all corners of the world. Here are the main offices and representative offices of leading Chinese and foreign companies, so there is an opportunity to find an excellent place of work, implying further career development.
In territory of Celestial Empire allocate 4 most perspective places for a life: Hong Kong, Shanghai, Tianjin and Beijing. Here the highest standard of living is observed.
Features of life in China
Chinese mentality is a mixture of religious beliefs and patriotic upbringing.
The local population strictly adheres to ancient traditions and strives for collectivism. This mentality is very different from European values, which focus on individualism and self-expression.
The Chinese are quite superstitious, so when building houses, equipping apartments, pay great attention to the proper arrangement of things, adhering to the doctrine of feng shui. A large number of Chinese superstitions are associated with money.
Inhabitants of the Celestial Empire pay special attention to food. Including the topic of food in your conversation, you can always find a common language with the locals. National dishes, tea ceremony – this is an integral part of life of the Chinese.
Chinese people spend the main period of their life in the workplace, so they value every free minute and know how to organize their leisure time. The Chinese are used to having a good time. Even simple walks in the park are combined with sports training or breathing exercises.
Ordinary life in China is very noisy and goes at an accelerated pace. The feeling that the vast territory of the Celestial Empire is frozen, is created only once a year during the Chinese New Year. For the entire period of celebration, official holidays are announced, and the everyday hustle and bustle diminishes.
How ordinary Chinese people live in China: life, income
Most of the Celestial Empire residents (2/3) live in big cities and administrative centers. Many residents of provinces where agriculture and tourism are developed tend to move to megalopolises. The main purpose of such migration is a better chance of finding a high-paying job that allows them to buy their own apartment in China, good quality clothes, and fashionable gadgets. The average salary of a mid-level specialist is 10,000 to 12,000 yuan. Programmers have the highest incomes – up to 22,000 yuan and English teachers – up to 20,500 yuan. The lowest salaries are for doctors – about 8,500 yuan and nannies – up to 8,000 yuan.
The Chinese are very hardworking people, so the "crazy" pace of the metropolis does not scare them. Most businesses open at 7:00 – 7:30. Classes at schools and institutes of higher education begin at 7:00.
A typical day for an ordinary Chinese begins at 5:30 – 6 o'clock in the morning. Many people don't have time to eat breakfast at home, so they do it on the way to the subway or while waiting for the bus. The working day in the Celestial Empire lasts 8 hours, but in most cases it lasts 2 hours longer. Almost all Chinese enterprises start their lunch break at noon. Its duration does not exceed 60 minutes. Chinese employees also have time off in the afternoon, usually starting at 6 p.m., but it is not as long. At 8 o'clock yesterday, the bulk of the workers' working day ends.
The whole Chinese family gathers at home at 9:00 p.m. – 10:00 p.m.
Life in China for Russians
When watching Chinese soap operas and movies, Russians think of a happy and easy life in the Celestial Empire. This is what foreign nationals who immigrate to this country expect from their new life. The Chinese immigrant is often confronted with a number of things that are unfamiliar to him, many of them surprising, and some surprising, while others surprising to the eye.
Many of them are surprising, and some are shocking. The difference in mentality and language barrier plays an important role. Even if they know how to speak Chinese and know how to write Chinese characters, Russians have trouble understanding the Chinese. After all, there is a dialect in every region of the country, and the pure language can be heard only from TV screens. The patriotic upbringing of the local population, instilled since early childhood, also amazes Russians.
Over time, the Russian person gets used to it, and when shocking things become quite common, new acquaintances appear and life gets better.
Russian diaspora – how many Russians in China
Ethnic organization, uniting all Russian immigrants into one community, does not exist in China. Russian diaspora is represented by small unions formed on a territorial basis.
In China, there is only one place where Russians are a priority part of the population – Enkhe – Russian National Volost (Inner Mongolia Autonomous Region), which consists of 8 villages. One of the villages (Shiwei) has an Ethnographic Russian Museum.
In the capital of China, Russian immigrants live and work in the area of Yabaolu Street. In many phrasebooks this area of Beijing is referred to as Russiatown.
The Russian community in Shanghai consists of businessmen and university students. There is a Russian Shanghai Club in the city and there are several Internet resources in Russian.
English teachers, models, and artists from Russia make up the Russian community in Hangzhou province.
In the border cities of Heihe, Harbin and Hunchun, a high percentage of Russian emigrants are pensioners. They have opened several centers where they engage in amateur activities and help each other to adapt more quickly to the peculiarities of Chinese life.
A small number of Russians live on Hainan Island, Hong Kong and Guangzhou.
How Russians live in China
The friendly Chinese people are rather friendly to Russian immigrants. During the first acquaintance locals are sure to pay compliments on the appearance and knowledge of Chinese, express admiration for Russia and the President of the country. They will offer help and teach you many everyday things.
Despite the friendliness of the Chinese, there are a number of local subtleties regarding employment of emigrants. When hiring foreigners, they have to face exorbitant requirements: master's degree, at least 5 years of work experience, and a knowledge of the language confirmed by a certificate. Even if you meet all the requirements, it is difficult to get a job in the Celestial Empire.
According to the Chinese labor code, preference in selecting an employee is given to locals, even if they have a lower skill level. Quite often interested in highly qualified Russian employees, company directors prove the need for this particular employee to their company to the authorized bodies.
It is quite difficult for Russians to get used to the absence of familiar news channels and social networks. In China, local equivalents are used instead.
The food also causes special difficulties. It takes time to get used to the new dishes, which have a specific smell and very spicy taste. In addition, the local population is not squeamish about using insects, snakes and, unaccustomed to the Russian people, animals during cooking. But, as they say, everything takes time.
China covers a vast territory, so the nuances and cost of living depends on the specific region.
The cost of living in China for Russians
When deciding to emigrate to the Celestial Empire, many Russians wonder how much money they will need to live? The price of the question depends on which city or province the Russian emigrant chooses.
China is no different from other countries: in the major administrative centers the level of wages is much higher than in the provinces, but also the prices of food and housing are several times higher.
The main part of Russians emigrates for the purpose of earnings and interesting life, and only large cities are suitable for these purposes.
Wages for mid-level foreign employees in cities like Beijing, Chengdu are 8,500 to 10,000 yuan. It is 1,000 to 1,500 yuan lower than Chinese people in the same positions. That's not much for a normal life in a big city, just a month's rent for a 1-bedroom apartment not in the center costs 2,000 – 3,500 yuan. To save money on rent, you can try to find a neighbor and rent a 2-room apartment in half, and then the amount of payment will fall to 1500-2200 yuan per month. Add to this the utilities, an average of 400 yuan per month.
Do not forget about mobile communications. There are only three cellular companies in China: China Telecom, China Unicom and China Mobile. Their pricing is not much different, with a minimum package costing 30-45 yuan per month.
Buying food, including meat, milk, vegetables, fruits (without delicacies and excesses), for 2 people will cost 2000-2200 yuans per month.
The only thing you can save on is transportation costs: if you have a short commute to work, buying a bicycle is very profitable; in other cases (bus, subway) it is better to buy a transportation card.
Not unimportant is also health care – for immigrants all services are paid, so it is better to immediately arrange an insurance policy.
As a result, an average family of 2 will need at least 15,000 – 17,000 yuan per month.
Pros and Cons of Living in China
On the map of the globe, there is not a single place where life would have only positive aspects. Everywhere there is at least a little bit of negatives.
The positives of life in the Celestial Empire include:
simplified program for starting a business;
a lot of jobs;
The real estate market offers enough apartments for rent. The cost is different and will suit emigrants with different incomes;
wide range of goods, most are produced in local factories and plants, so the prices are low;
the work of public transport at a high level, in addition, the fare is very cheap;
courier delivery. In the Celestial Empire there are no goods that cannot be ordered at home.
Negative sides of life in Celestial Empire:
The environmental situation. Breathe clean air can only inhabitants of areas remote from metropolitan areas. In industrial centers there is often smog, and residents are forced to use masks and respirators;
failure to respect the rules of the road. Car drivers behave quite noisily, do not let pedestrians pass and quite often do not pay attention to the color of the traffic lights;
rather slow work of bank employees leads to the formation of numerous queues, even if there are a large number of banking institutions;
lack of centralized heating in multi-storey buildings;
the employers' failure to comply with the labor code: only 4 employees out of 10 can get a vacation, and at many enterprises, even weekends are a rarity;
slow work of the Internet;
specific and very spicy dishes. Many products contain a large number of harmful chemical additives.
The biggest minus for Russians is the cavalier behavior of the Chinese on the street. Quite a long time Russians get used to the fact that Chinese mothers can unashamedly sit their child to go to the toilet in the middle of the street or even in the sales area. Our compatriots are also surprised by the fact that the Chinese often spit a lot on the streets.
Although life in China has a sufficient number of disadvantages, they are offset by great opportunities, amazing experiences and many positive emotions.