Festivals of the world worth visiting at least once (22 photos)
The most colorful and fun festivals of the world that are worth visiting at least once in your life: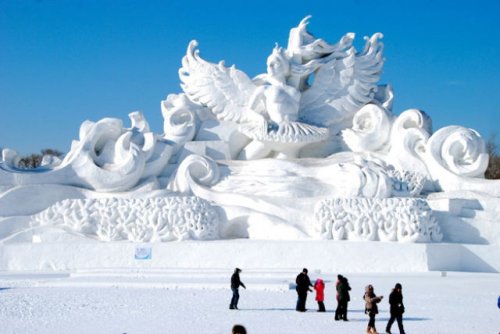 1. Snow & Ice Festival – Harbin, China When: January 5 to February 5 Where: Harbin City, China Why visit: Harbin Festival is the biggest snow and ice festival in the world. There you can see various figures carved out of ice, some up to 6 meters high. There you can see entire buildings built from giant blocks of ice.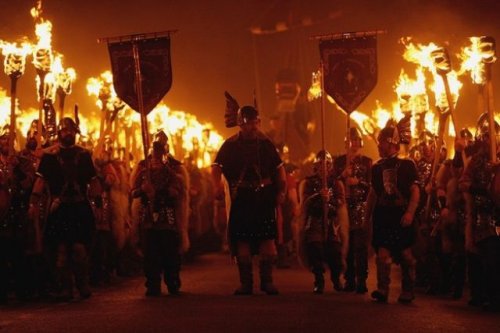 2. Up Helly Aa Fire Festival – Lerwick, Scotland When: Last Tuesday in January Where: Lerwick, Scotland Why attend: The largest fire festival in Europe in which a full-sized Viking ship is burned. Is anything else worth adding?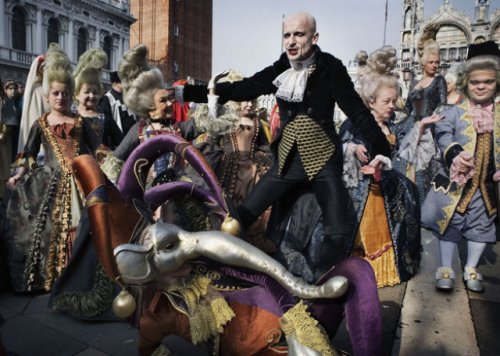 3. Venice Carnevale – Venice, Italy
When: February 14 to March 4 (for 2014) Where: Venice, Italy Why attend the festival: The Venice Carnevale is a Venetian tradition since the 13th century. People flock from all over the world to take part in the costume celebration, which is quite possibly one of the best parties on Earth.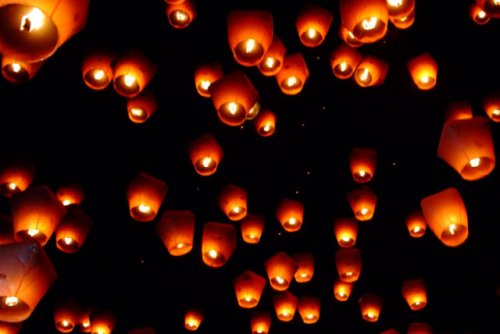 4. Lantern Festival – Pingxi, Taiwan When: February 23 (for 2014) Where: Pingxi District, Taiwan Why attend this festival: You can watch the sky light up during one of the largest lantern festivals in the world. If you want a little magic, there's nothing more surreal than a sky blazing with thousands of air lanterns.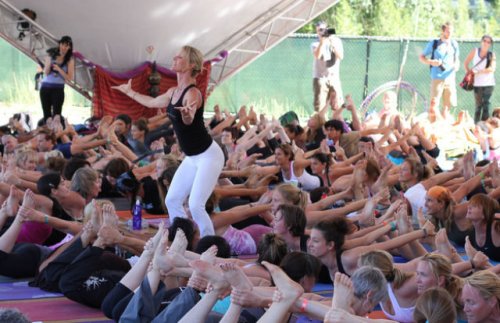 5. Wanderlust Yoga Festival – Oahu, Hawaii When: February 27 to March 2 (for 2014) Where is it held: north shore, Oahu City, Hawaii Why attend this festival: Get a glimpse into the yoga lifestyle and find your soul harmony while relaxing on the beaches of Hawaii. If you've ever been interested in yoga, the Vanderlust Yoga Festival could be your Mecca.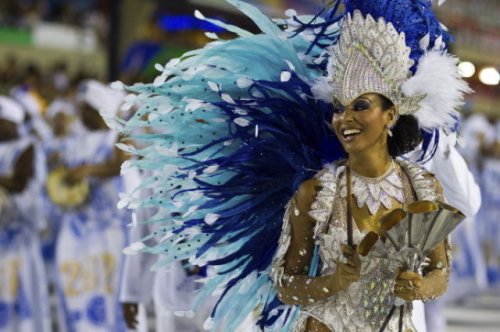 6. Carnaval in Rio de Janeiro (Carnaval) – Rio de Janeiro, Brazil When: February 28 to March 4 (for 2014) Where is it held: Rio de Janeiro, Brazil Why attend this festival: Like the Mardi Gras in New Orleans or the Venice Carnival in Venice, the Carnival in Rio de Janeiro is a nonstop party with a special Brazilian theme added in. Carnival is filled with samba music, colorful costumes and truly huge parades.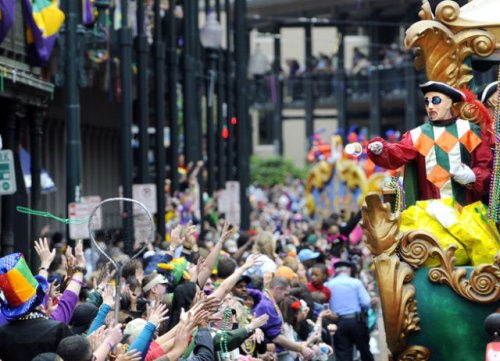 7. Mardi Gras Festival – New Orleans When: Tuesday before Ash Wednesday, March 4 (for 2014) Where is it held: New Orleans Why visit this festival: The reputation of the Mardi Gras festival speaks for itself – if you want to party like you're living your last day on Earth, you should definitely go to New Orleans.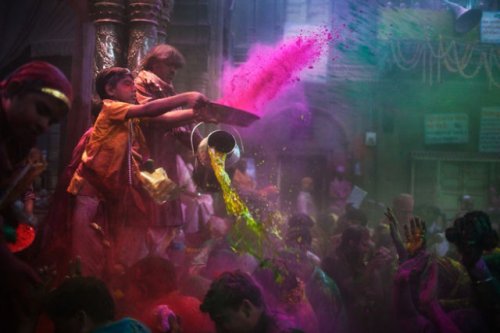 8. Holi – This festival is celebrated by all followers of Hinduism in the world When: March 27 (for 2014) Where: India, Nepal, Sri Lanka, and other Hindu-speaking regions Why attend: Holi, also known as the flower festival, marks the end of winter and the beginning of spring. It's a fun, safe and free festival. Just remember to bring your own different colors.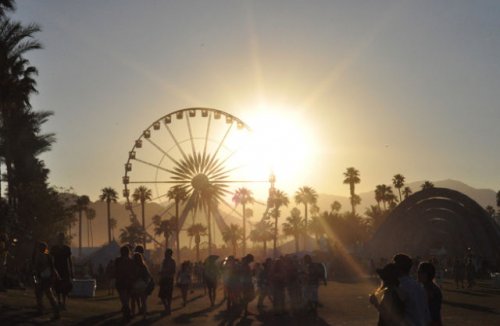 9. Coachella Festival – Indio, California When: April 11 to 20 (for 2014) Where is it held: city of Indio, California Why attend this festival: Every year Coachella boasts some of the biggest names in the music world, not to mention the huge number of Hollywood celebrities that come here. Plus, you get to spend a weekend with friends in a tent city in the middle of the desert.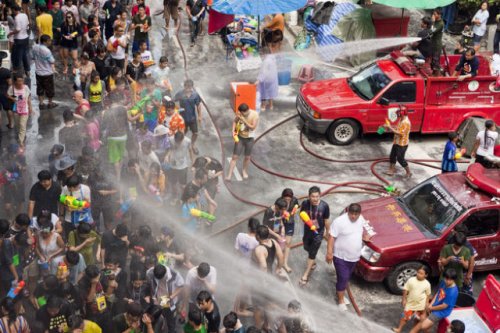 10. Songkran Water Festival – Chiang Mai, Thailand When: April 13-15 (for 2014) Where: Chiang Mai City, Thailand Why attend this festival: It's your dream water fight, so pack up your water guns, balloons and water bottles and head to Thailand for a wet and wild adventure.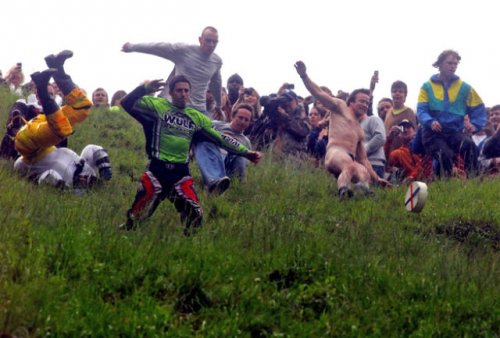 11. Cooper Hill's Cheese Rolling Festival – Gloucester, England When: May 26 (tentative date for 2014) Where: Gloucester, England Why attend this festival: If you've ever wanted to watch hundreds of men run down the hill for a head of cheese, you're in luck – because the Cooper Hill's Cheese Rolling Festival not only exists, it's also incredibly popular.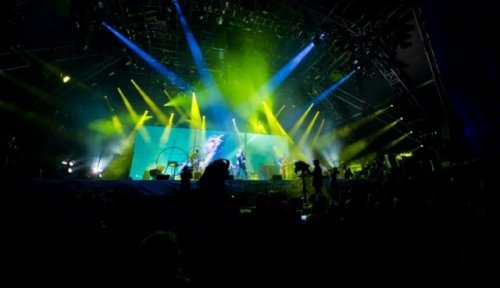 12. Glastonbury Festival – Glastonbury, England When: June 25-29 (for 2014) Where: Glastonbury, England Why attend this festival: In addition to the incredible music you'll get to hear at Glastonbury, you can run through the mud in galoshes while relaxing in nature with your friends. The Glastonbury Festival is loud, dirty and wild, just the way a music festival should be.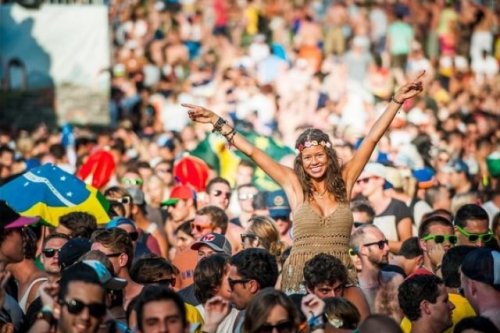 13. Tomorrowland Festival – Boom, Belgium When: June 27 to 29 (for 2014) Where: Boom, Belgium Why attend this festival: The Tomorrowland Festival has quickly gained popularity as the largest electronic dance music festival. Every year more than 100,000 visitors flock to Belgium to dance the day and night away.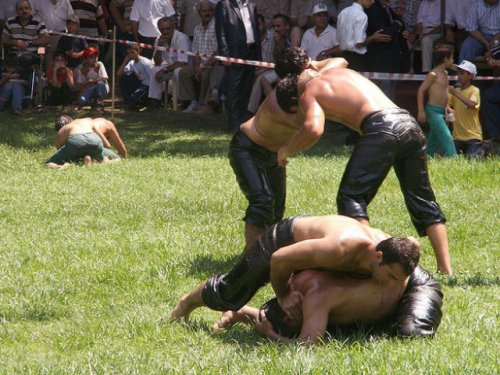 14. Kirpinar Oil Wrestling Tournament – Erdine, Turkey When: June 29 to July 5 (for 2014) Where: Edirne, Turkey Why attend this festival: Strong men fighting each other while covered in oil. Is there anything else worth adding?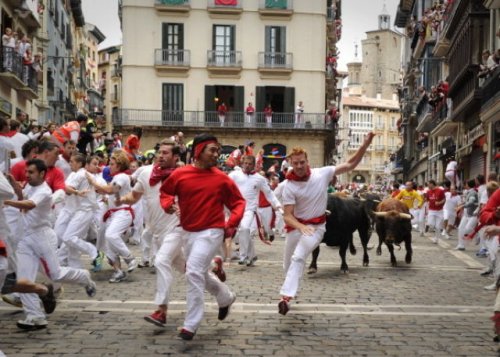 15. Encierro (Running of the Bulls) – Pamplona, Spain When: July 6 to 14 Where held: Pamplona City, Spain Why attend this festival: Let's be honest – who doesn't love to see people make fools of themselves? Encierro is an ancient Spanish tradition that will definitely get your adrenaline levels up, whether you're running away from the bulls yourself or just watching others run away.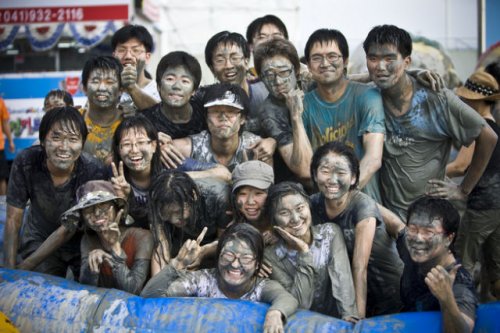 16. Boryeong Mud Festival – Boryeong, South Korea When: July 18 to 27 (for 2014) Where: Boryeong City, South Korea Why visit this festival: Korea is famous for many seemingly random festivals, but the mud festival is probably the most famous. It's held right next to Daecheon Beach, so you can easily get mud all over yourself and then jump in the ocean and wash it off.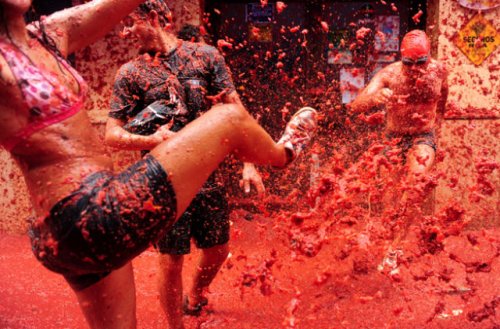 17. La Tomatina Festival – Buñol, Spain When: last Wednesday of August Where: Buñol Municipality, Spain Why visit this festival: As crazy as it sounds, this festival is held every year purely for fun, which means it is not tied to any ancient tradition. In 1945, a few locals started throwing fruits and vegetables during a parade – and the tomato-throwing festival has been born ever since.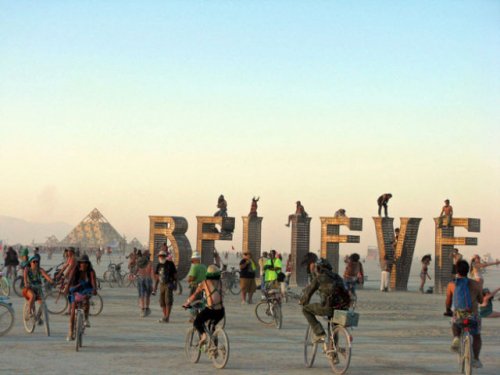 18. Burning Man Festival – Black Rock City, Nevada When: August 25 to September 1 (for 2014) Where: Black Rock City, Nevada Why attend this festival: The Burning Man Festival is where people throw off the shackles of conventional norms. If you feel like participating in something out of the ordinary and really having fun all day long, then head to the Nevada desert.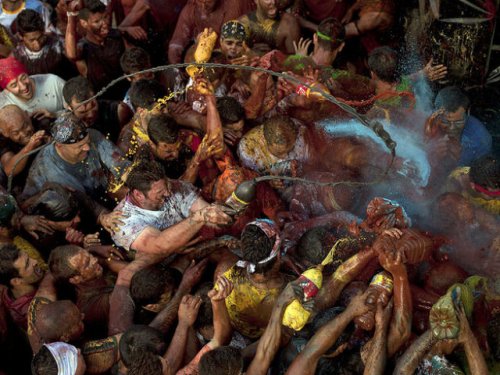 19. Cascamorras Festival – Baza, Spain When: September 6 Where to go: Baza, Spain, in Granada Why attend this festival: Every year hundreds of Spaniards cover themselves in fat and act out a scene of the theft of the famous statue of "Our Lady of Mercy" (Virgen de la Piedad) which occurred over 500 years ago. The funniest thing about this festival is that a great and huge party is thrown after being covered in grease.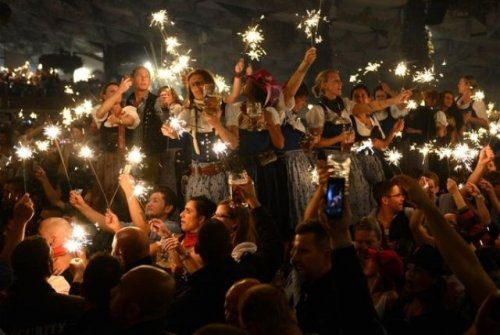 20. Oktoberfest – Munich, Germany When: last weeks of September to first weekend in October Where is it held: Munich, Germany Why visit this festival: Although there are small festivals similar to Oktoberfest around the world, Munich's Oktoberfest is the original and largest beer festival in the world. In 2013, a total of $96,178,668 worth of beer was served each day.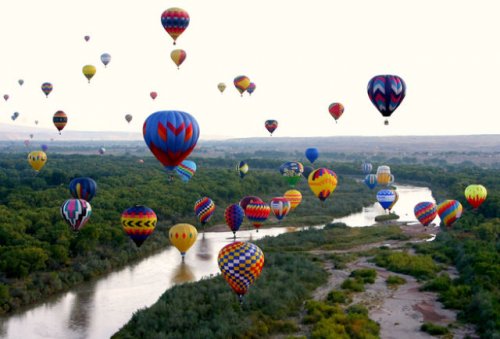 21. Albuquerque International Balloon Festival – Albuquerque, New Mexico When: October 5 to 13 (for 2014) Where is it held: city of Albuquerque, New Mexico Why attend this festival: The Albuquerque International Balloon Festival is the largest balloon gathering in the world. It's basically like the cartoon "Up," only better.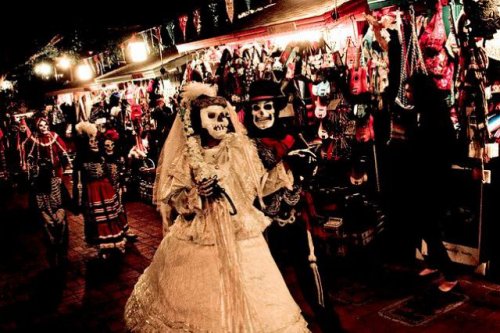 22. Day of the Dead (Dia de los Muertos) – Celebrated by Mexicans in the United States, Canada, Europe and Mexico When: November 1 Where is it held: Celebrations are held by Mexicans all over the world, but a few of the larger celebrations take place in Mexico City and Los Angeles. Why attend this festival: The Day of the Dead or "Dia de los Muertos" celebrates All Saint's Day, a day to remember all deceased relatives and friends. You never want to miss the riot of colors and colorful costumes of the Day of the Dead.
Europe's Summer Festivals (and What to Do Afterwards)
Europe is full of amazing music festivals, and summer 2018 is no exception. Pack your glasses, flip-flops and glow sticks and check out our best deals for summer festivals in Europe!
Jump to section
Bestival
Rock, pop, indie, folk, RnB and electronic bands come together for Breakthrough at the festival. This fun four-day festival in the south of England offers an eclectic lineup for 2018, including London Grammar, First Aid Kit, Grace Jones, Django Django, Charlotte DeWitte, Kelela and more.
Thinking about going to London before or after the festival? We've got something for you to see!
Sonar
Great creativity, new media and technology combine with music at Europe's biggest electronic music festival! Get ready for a lineup including 2manydjs, A-Trak, Absolute Terror, Agoria Live, Cornelius, Cyber, Dabrye & Kadence, Bonobo and more.
From Gaudi's creations to chocolate museums, see what else you can do in Barcelona
BBK Bilbao.
Get ready for Alt-J, Aneguria, Anteros, Temples, Yonaka, Let's eat grandma, Noel Gallagher, Eme, Florence + the Machine, Sophie and more at this year's show. Bilbao BBK. This festival is full of hot live performances and attracts a diverse crowd, and the views of the city from its hilltop location are stunning.
Before you leave, make sure you see Bilbao's other star, the Guggenheim. We've even put together a handy guide so you can easily discover the rest of the Basque Country
Rock in Rome.
Not so much a music festival as a music event, Rome hosts a month-long music festival featuring local and international artists. The diverse and quality lineup for 2018 includes Mannarino, Macklemore, Fabri Fibra, Post Malone, Killers, The Chemical Brothers, Caparezza Prisoner 709 Tour, Pink Floyd's Roger Waters and more.
You'd be crazy to leave Rome right after you win back. From the Colosseum to the Vatican, you'll soon see why all roads lead to Rome.
Rock en Seine.
Expect Fauve, Justice, Macklemore, Thirty Seconds to Mars, Post Malone, PNL, Die Antwoord, Blackstar, Mike Shinoda and many more. an eclectic rock festival ready to hit the huge garden on the edge of Paris. Well organized with great performances, it gets more and more popular every year, so join soon!
You can't choose a better city for a festival break. Fill your days before, during and after Rock en Seine with as many museums and attractions as possible. We'll take care of you Paris!
Lollapalooza Festival
As Germany's largest open-air festival In 2017, the Lollapalooza Festival in Berlin will be held for the fourth time. Join over 85,000 festival-goers at Olympiapark to enjoy acrobatics, art and installations, street theater, and attend shows by The Weeknd, Kraftwerk 3D, Imagine Dragons, KIZ, The National, David Guetta, Casper, Dua Lipa, Liam Gallagher, Rag Russian Man, Years and Years, Tretman and more.
From the TV Tower to LegoLand, see what else you can do in Berlin!
Sziget Festival
Head to the emerald green island of Obuda to see the Arctic Monkeys, Dua Lipa, Gorillaz, Lana del Rey, Kendrick Lamar, Kygo, Shawn Mendes, Liam Gallagher, Mumford & Sons, Lykke Li and more in 2018. Sziget Festival attracts more than 1,000 people each year, just 2 km from downtown Budapest.
From spas to pinball to ruin bars, there's plenty of Budapest to discover before and after Szihget.
Tomorrowland
Tomorrowland has become so popular in the last few years that you can soon expect the same in the U.S. and Brazil. In Belgium, however, expect the same crazy decorations and lineup, including David Guetta, Disciples, Alessandra Roncone, Alesso, Alison Wonderland, Ben Nicky, B-Front, 16 Bit Lolitas, Caspar, Cedric Gervais and more!
Thinking of going to Antwerp afterwards? We got some ideas up for grabs!
As you can see, Tiqets will help you no matter where the music takes you or what summer festivals you head to!
Check out Tiqets to see where else we live or read the blog for more travel inspiration.