The all-you-can-eat system
How Chinese tourists are received in Russia and why they became a problem
Last year, about 1.25 million tourists from China visited Russia. This is about 1% of the total number of Chinese who went abroad, but in the domestic market they are significant players. Shadowy hospitality industry for citizens of China has been actively developing for four years, but at the federal level it drew attention only in September after the "Chinese collapse" in St. Petersburg museums. "Kommersant" looked into how this business works.
The Forbidden City on Frunzenskaya Street
In the first half of the day on the Frunzenskaya embankment in Moscow you can meet dozens of tourist groups from China. There are no special attractions in the area, but the entire street is jammed with buses. The Chinese are brought to the jewelry stores, of which there are six on the street.
Only one of them is not part of a tour group. The guards do not let anyone go to the others, saying they are a private gallery and only accept "by request. Or silently hang a sign "account". The windows of the stores are covered with opaque film. Locals claim that these stores, like the crowds of tourists from China, appeared in 2017.
Stores "for Chinese only" exist in St. Petersburg, too. One, for example, operated for two months within the walls of the Peter and Paul Fortress. Right above the Amber Museum, after visiting which the Chinese were taken to the second floor for shopping. The prices there were much higher than the average, and the amber jewelry cost several million rubles. As the local media wrote, the owner was a Chinese man known as Yasha Li.
In August 2019, the Central Bank for the first time called Chinese tourists leaders in total spending in Russia. At the same time, experts noted, the official $264 million that the Chinese left in the first three months of 2019,-is not more than 40% of the actual amount spent by them. The rest remained in the shadows.
Kommersant sources working with Chinese tourists pointed to the two most common violations in establishments "for their own" – unrecorded turnover of cash, including Chinese yuan, and transactions through the Chinese payment systems WeChat Pay and Alipay. Such transactions are not recorded by the Russian tax service.
According to Kommersant sources, on average one such store receives about 400 tourists a day. Some sellers pass off artificially raised stones as natural, while gold and amber of low quality are billed as high-priced goods. Bills of sale and receipts are given, but the quality of the goods does not match the price. The Chinese only find this out when they go home and return the jewelry for examination.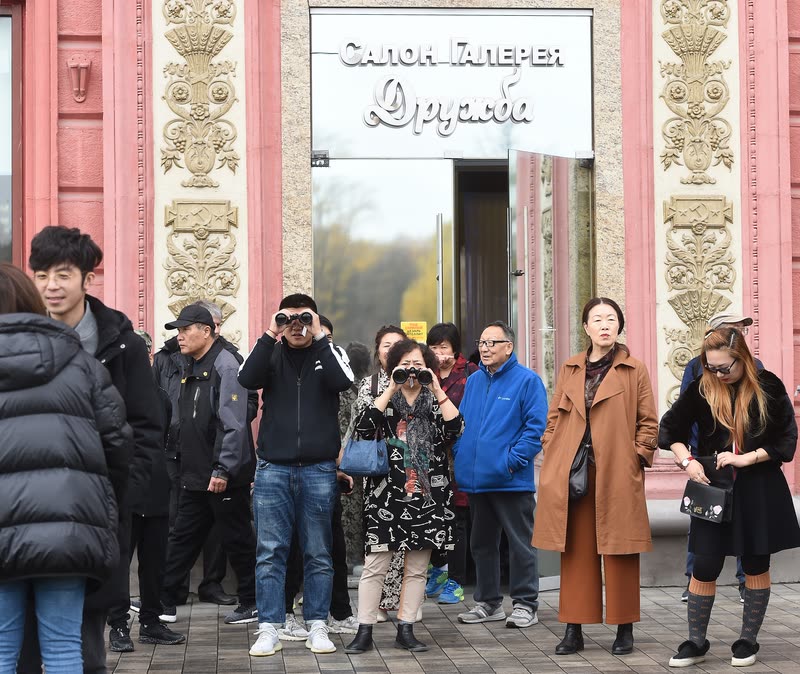 Tourists near a store on Frunzenskaya Naberezhnaya in Moscow
Russian tour operators claim that these facilities are rented for the season. They are registered in the name of Russians, but in fact they are run by a Chinese citizen.
"Kommersant checked some of the stores on Frunzenskaya. There are in total seven registered jewelry businesses here. Some of them have no trade names, which is illegal.
Stores "for their own" in Moscow
The store on Frunzenskaya Naberezhnaya, 46, was called a private gallery by the security guards, who did not let the reporter inside. There are three registered stores at this address. Only Russky Souvenir LLC, registered in 2016, trades in precious metals. Revenues in 2018, according to SPARK-Interfax, amounted to 48.4 million rubles. The general director – Irina Chigoydakina, the founder – Alexei Poshekhonov.
House 34 housed salon gallery "Druzhba". Also, according to the guards, receiving only tour groups. Eight operating companies are registered at this address. None of them are related to the field of art. As of 2018, this address is home to Vryntsy LLC, which is engaged in gold and gemstones trade among other things. Revenues in 2018 were 23.4 million rubles.
Another large jewelry store on the embankment is Zoloto Gostar. Registered in 2017 as a foreign property and owned by Liu Qingen. In 2018, sales totaled 128.1 million rubles. The Kommersant reporter was not able to get inside.
Oktyabr LLC at 36/2 is officially engaged in jewelry trade. It was registered in 2018. The owner is Xin Pei, the general director is Sergey Potapov. Revenues in 2018 – 45.1 million rubles. The reporter was not allowed inside.
For comparison, a total of 818 companies selling jewelry are registered in Moscow. The average revenue of such companies in 2018 – 120.5 million rubles.
"Kommersant" was able to speak on condition of anonymity with an entrepreneur who works with Chinese tourists. According to him, the shares of shadow turnover that appear in the media are greatly exaggerated. Now the bulk of payments in major stores – it is cashless payment by cards of the Chinese payment system UnionPay, an analogue of Visa and MasterCard.
The interlocutor points out that over the past few years tax controls have become stricter, and the Chinese working in Russia are afraid of seriously violating the law. He explains the choice of Chinese tour operators as partners in outlets owned or operated by the Chinese by their great trust in their compatriots.
"The 'Chinese' store can work at a loss for two years, because it has a safety cushion – administrative resources from China, from where they will send him groups. The Russians have no such thing. A Chinese company can prohibit tourists from visiting a certain store, and they won't go there. The Chinese care about reputation: as long as they like us, they come to us. At best, the Russian store will sell its share to the Chinese, at worst it will go bankrupt," says the Kommersant interlocutor.
According to him, shopping in Russian stores makes up about 10% of the Chinese tourist travel budget.
Tourist mahjong.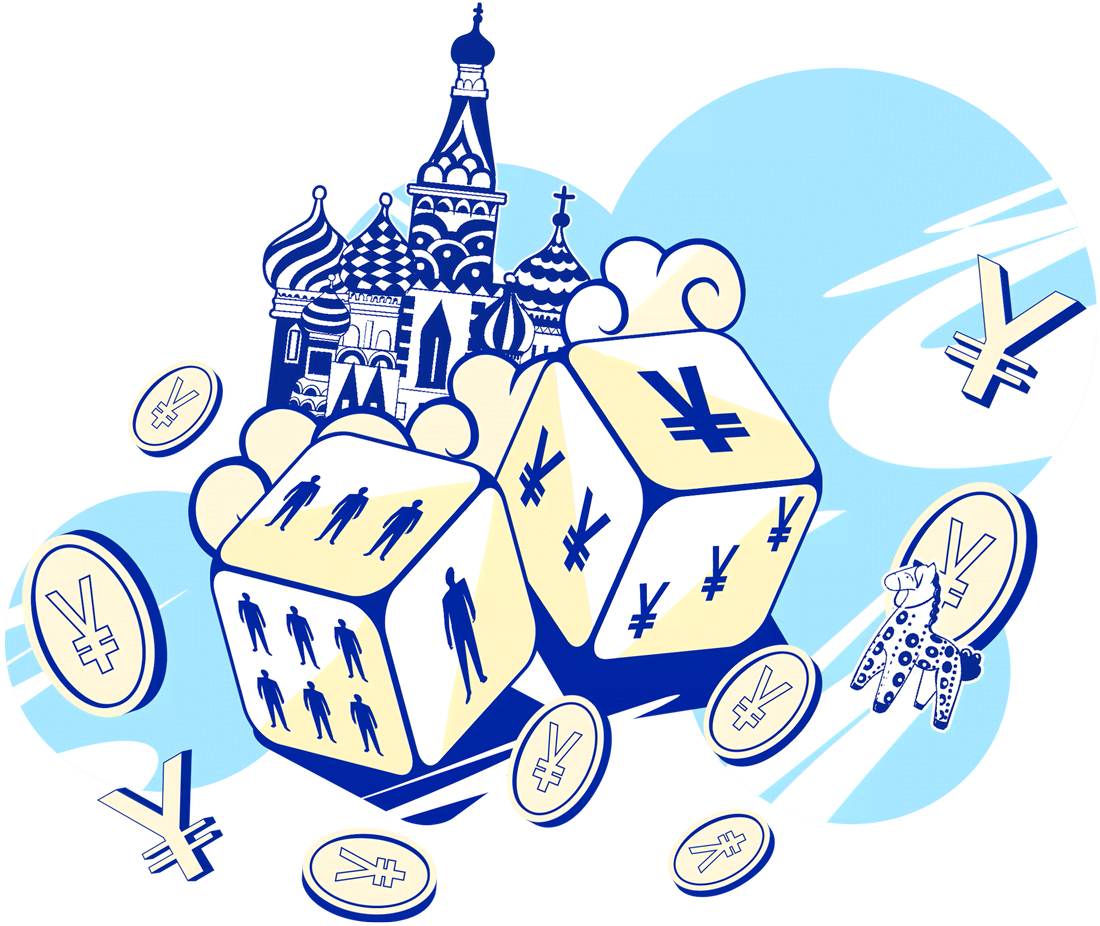 While the tourists are watching Swan Lake, tour guide Li (name changed at the request of the hero) is waiting for them in a café opposite the Mariinsky Theater. On his neck hangs a large amber ornament. Many Chinese guides wear such. There is a legend in the Celestial Empire that the stone is curative and brings good luck.
Li's job as a tour guide is not legal. He is not a registered guide and does not have permission to work in museums. He works with an "unofficial branch" of the Chinese tour operator UTour. He gets tickets to Tsarskoe Selo and the Hermitage through resellers, and no one on the street asks him for a work permit.
How to become a tour guide in Russia
According to decrees of the Moscow and St. Petersburg governments, guides-interpreters and tour guides are required to receive state accreditation for their work. To do this, you have to take paid courses and pass an exam on the history of the city in a foreign language in the city's tourist information center. The courses cost about 60 thousand rubles.
Then, you need to get a permit to work in museums – the so-called license or museum badge. It's a voluntary procedure, but museums don't allow guides to work in their territory without a special permit. To get it, you must take a course at the museum. This system has been in place since the mid-1990s.
How much do museum permits cost:
Hermitage. Primary license – 25 thousand rubles, renewal for a year – 5.5 thousand rubles.
Peterhof – 2,3 thousand rubles for a year
Pushkin – 1,8 thousand rubles for a year
Peter and Paul Fortress – 1.3 thousand rubles for two years
St. Isaac's Cathedral and the Church of the Savior on Spilled Blood – 3 thousand rubles for three years.
Lee came to Russia with his parents from Beijing back in 2000, his father was opening a restaurant in St. Petersburg. He graduated from a Russian school and received degrees in linguistics and management. And almost immediately, he started working as a tour guide. In 2007, when Lee was 18 years old, his average monthly income was already $3 thousand (or about 75 thousand rubles at the exchange rate at the time). He has a residence permit in Russia and is not going to give up his Chinese passport.
Illegal guides like Li do not receive a salary or a fixed fee. They pay an unofficial Chinese tour guide themselves to start working with the group. The one-time "fee" is usually $15,000. There is also a so-called commission or head tax that the guide has to pay from each person in the group. Prices per tourist range from $10 to $25. Museum visits and lunches for the group the guide also has to pay for himself.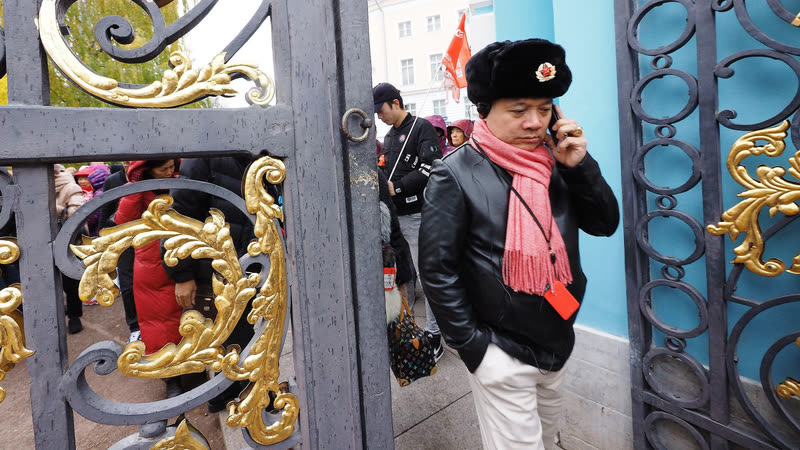 Chinese guide in Tsarskoe Selo in St. Petersburg
Guides earn money on additional services (for example, paid tours) and a share of the amounts spent by tourists in stores such as those described above.
The store gives 30% of the proceeds from his group to the guide. The guide divides the money he receives in half with the tour leader, the representative of the Chinese tour operator who accompanies the group. Half of their share each gives to the company, which took the group in Russia. As a result, the guide can get 7.5% of the amount spent by his group.
The scheme has been in place for the past three years. For guides, according to Lee, it's a lottery. If the group buys a large amount of merchandise, you win. If not, you lose. But for the Chinese tour operator, it's always a win-win lottery.
"One group may buy 5-6 million rubles worth of goods in the store, or they may buy nothing. In 2015-2016, the money just fell. The ruble fell, and a lot more tourists came. I earned at least 10 million rubles in a year then," recalls Lee.
He was able to go to China for almost a year, play his wedding there, come back and open his own Chinese restaurant in St. Petersburg. He now has two small children. He rarely works as a guide. He spends most of his time on the restaurant, which also takes organized groups.
Lee is afraid of the increased competition. According to him, there are already quite a few establishments in St. Petersburg working for the Chinese and owned by the Chinese.
It all started with lists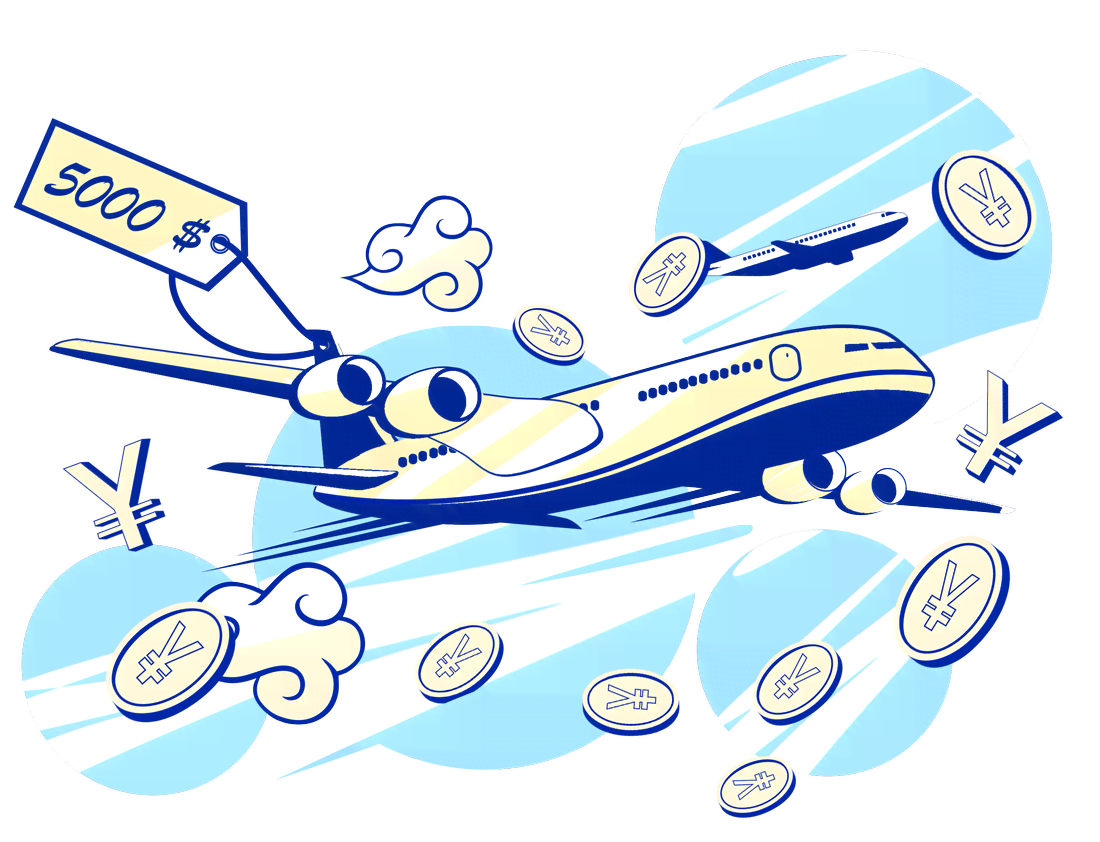 Tourists from China went to Russia en masse in 2015. Two factors played a role: the weakening of the ruble and the expansion of charter flights.
In 2015, it was possible to fly from China to Russia from ten Chinese cities. By the end of 2019, according to the World Without Borders Travel Association, 24 cities in China already have direct flights to Russia. The Russian-Chinese bridge is served by 23 airlines (10 Russian, 8 Chinese, 5 from other countries).
What is interesting for tourists in China?
There is an important question in the minds of all tourists, which not even all realize. It goes like this:
"And why should I spend my vacation exactly in (here substitute the name of any country), and why is it better than other options?"
We do not aim this article to advertise China as a tourist destination, we are not paid for that yet. We'll objectively tell you about what it is interesting for tourists, and you decide how China appeals to you.
China for tourists is an experience of color and unique culture.
On the surface it may seem like China is no different from any other country. The roads are driven by European cars, the houses are not much different from ours, people look like us, only the eyes are slanted, and the hotel room will have quite a European style.
But the more you interact with the surroundings, the more color you will see. The first unusual thing is, of course, the Chinese cuisine.
In China it is difficult to find European restaurants, they are common only in hotels. Prices in them "bite", and the tourist is much cheaper to eat in ordinary Chinese cafes and restaurants.
The first important difference of Chinese cuisine is its crazy variety. The Russians are probably only familiar with "Peking duck", "meat in sweet and sour Chinese sauce" and traditional noodles. But the number of dishes in China runs into tens, maybe even hundreds of thousands.
One of the most interesting experiences is when you go to a restaurant in China, sit down at a table, take the menu, and you suddenly realize that of all the dishes you know one or two. Everything else seems mysterious and for many tourists even frightening. We advise not to be frightened, and to order something you do not know. If you don't like it, that's okay.
Especially bright impressions among Russians are caused by Chinese alcohol. Not everyone even finds the courage to try it.
Chinese markets evoke different feelings in tourists – from admiration to panic. Many Russians can't imagine a long shopping street, where only tea is sold. We will not dwell on this phenomenon in detail, but recommend our review of the tea market on Malindao Street.
Imagine a fast food place two kilometers long. A long street, from beginning to end occupied by stalls with ready-to-eat food. Thousands of types of noodles, pastries, sweets and drinks. In China, this is a common phenomenon called "night markets. Our website has a great overview of the market on Wangfujing Street in downtown Beijing, on this page we have collected descriptions, photos and videos.
The unique ancient architecture makes a lasting impression. For the most vivid experience, you should go to the Forbidden City in the heart of Beijing. You will visit the largest palace complex in history, where the emperors of the last two dynasties – Qing and Ming – lived.
Each period in Chinese history has given us a unique style in architecture. Just compare the style of the Tang period (exemplified by the Great Wild Goose Pagoda in Xian) and the Three Kingdoms period (exemplified by the Yellow Crane Tower in Hubei Province in Wuhan City). They are so different in style, but each is beautiful in its own way.
For those tourists who are interested in the way of life of people in other countries, China will be very interesting. Many vivid impressions can be obtained by simply walking the streets of Shanghai or Beijing.
Posh hotels and business centers may be adjacent to ancient Buddhist temples, small stores may sell things you never expected to see. For example, on one of the main streets of Wuhan we entered a sewer manhole store.
Perhaps the color is the main reason to come to the "Celestial Empire".
China is 6,000 years of history for tourists to touch.
China is a record-breaking country in the number of ancient monuments. Only Egypt can somehow compare with China by the number of ancient structures. The first cultures of the Bronze Age existed in the Celestial Empire for another 4,500 years BC.
The Great Wall of China is 2200 years old. Of course, it is not as old as the Great Pyramids in Egypt, but 300 years older than the Colosseum in Rome. However, the Chinese wall is actually a little older than the official age. In 220-210 BC, it was not built, but rather joined different sections that had been built earlier. It is difficult to establish the exact age of this structure.
Each era has left its own monuments in China, which you can see and touch by touching ancient history.
History is not just about large structures. It is bronzes, ceramics, seals and coins.
You can see it all in China's historical museums. The National Museum of China – the largest and most famous of them is located in Beijing on Tiananmen Square. The world's most famous collection of ancient ceramics is, of course, the Terracotta Army in Xi'an.
Equally interesting is the Shanghai Museum of History and Ancient Art. Especially notable there is the collection of coins and seals. The Hubei Museum in Wuhan boasts treasures from the tomb of Marquis Yi (pictured left is an exhibit from the collection). It contains an ancient bell instrument, the only one of its kind still intact today.
Every city in China has its own museums with their unique exhibits, and history buffs will be interested in any Chinese province. For mass tourism, of course, the most interesting are the Great Wall of China and the Terracotta Army, these sights are "advertised" more than others.
China for tourists is a year-round resort – Hainan Island
Hainan Island is often called "paradise. Sea water temperature does not drop below 24.5 degrees, even in January. Summer and fall on the island are sometimes rainy, but there are almost no strong hurricanes and downpours. Many tourists come to the island for beach holidays during these seasons.
For residents of Siberian regions of Russia, Hainan is one of the top beach vacation destinations along with Thailand. The flight time to China from Novosibirsk and Irkutsk is short, and Hainan is much closer to tourists than Turkey or Egypt.
The flow of tourists to Hainan from European regions of Russia is not large, but it tends to grow. Tour packages, which combine beach and sightseeing kinds of rest are very popular. Usually it is one week in Hainan and one week in Beijing or Shanghai. In Hainan, the beaches of the resort of Sanya are of particular interest, but the sights in Hainan are not very interesting.
By the way, most Chinese people dream of vacationing on the island. We have many Chinese friends and almost all of them say they want to fly to Hainan, but their financial capabilities do not allow.
We should not think that the Chinese are very poor, they just have a different scale of values. They are not willing to spend as much money on vacation as the Russians do.
China is a great shopping destination for tourists.
The list of things that can be brought from China to a tourist is huge. It includes souvenirs, clothing, jewelry and luxury items. The Yabaolu Market in Beijing is very popular, where many merchants speak Russian and even accept Russian rubles in addition to the Chinese yuan.
Many people go to China just for the low prices, but not always the right decision. Or rather it is necessary to know in advance where to go for what kind of goods in China.
If you want to buy an international brand cell phone, then mainland China is not the best choice. Apple or Samsung phones here cost as much as they do in Russia. For this purpose it is better to visit Hong Kong or Macau, where there is no VAT.
If you want to buy clothes and shoes of famous brands cheaply, the situation is ambiguous. On the one hand, such things in the boutiques in China are cheaper, but no one will protect you from the fakes.
You have to go to China for those goods that are truly Chinese. These are silk and clothing of local brands, technology of Chinese brands, tea and tea-drinking accessories. All this can be bought here cheaply and of very good quality.
China for tourists is an opportunity to see the achievements of science and technology
Modern China is an advanced country in many areas. Ten years ago the Chinese science could be called backward, but now everything has changed. In the field of everything new and high-tech tourists have a lot to see.
China has the fastest type of public transport on our planet – the Maglev Magnetic Cushion Train. Every tourist can ride it and it is the most convenient way to get from Shanghai airport to the city center. The speed is mind-boggling – 470 kilometers per hour.
In the Pudong district there are Shanghai's famous skyscrapers – Jin Mao and the Shanghai World Financial Center building. Next to them stands the second tallest building in the world, the Shanghai Tower, which opened on May 17, 2015. All of these skyscrapers have observation decks. From a great height you can look at the city, seeing how huge Shanghai is – the megalopolis with the largest population in the world.
China has built the most advanced network of high-speed railroads. The speed of trains reaches 360 km/hour. Many tourists go to other cities to see more sights on the trip, and this is a good chance to take a ride on the famous Chinese "high-speed".
The longest bridge in the world is on the way from Shanghai to the city of Ningbo. If you decide to visit Ningbo, take the bus and you'll have a chance to ride the 38-kilometer bridge.
It's hard to imagine that there is an exit right in the middle of the bay in the middle of the bridge. This fact makes a lasting impression on tourists due to the effect of surprise.
China is actively developing its energy industry. Three of the five largest hydroelectric power plants in the world are being built on the Yangtze River in China. If you want you can see them, although you will have to travel far enough away from the main tourist routes.
Also in China is a technical wonder of antiquity – the Great Canal. Looking at its waters, it's hard to imagine that it was dug 2400 years ago by people with wooden shovels.
Are you interested in China or not? Decide for yourself, we just told you about everything that can interest a tourist here. Read more interesting information in our articles (links below).