What and where to eat in Lampedusa, Italy: 10 typical dishes and the best restaurants
Lampedusa is an island in the middle of the Mediterranean Sea, closer to the African coast than the Italian, although it belongs to Sicily. Although not very expansive, it offers visitors spectacular scenery and postcards, making it an ideal destination for all types of travelers. This is obviously Sicilian land, but it has been influenced by other cultures over time, so the food here is truly unique, which in turn will make you experience a journey of travel. Shrimp and mint salad.
This is one of the most famous and favorite appetizers . This recipe originated from the island, then spread throughout Sicily, with obviously different variations. It is a fresh dish, perfect for hot summer days. Or as an appetizer, or even as a separate dish if you're not too hungry because of the heat. The main ingredient in this recipe is shrimp, which is usually accompanied by celery or lettuce, always seasoned with a little lemon. The dish should be kept in the refrigerator for half an hour before serving, and then add some chopped parsley and, of course, mint leaves before serving.
Spaghetti alla Bottarga.
Let's start with the first one, let's start with these spaghetti. The main ingredient , obviously, is bottarga amberjack, then accompanied by lemon juice, first cold-pressed olive oil, basil and wild fennel, and spaghetti is used as pasta. Bottarga, used mainly in Sicily, Sardinia and Tuscany, is not a common ingredient and is quite a specific ingredient: it is obtained by salting and drying tuna roe. It has a very strong, salty and slightly bitter taste that may not appeal to everyone. But believe me, this dish is really delicious and worth trying at least once, and what better way to enjoy it than at a restaurant in Lampedusa.
Spaghetti alla Bottarga.
Pasta with mullet the Lampedusan way.
This is indeed a very popular dish on the tables of the island's restaurants, reminiscent of Sicilian seafaring traditions. It is inspired by Palermo sardine pasta and can be made with both long pasta, such as spaghetti, and short pasta, such as penne. Obviously, the protagonist of this dish is the mullet, which is not very easy to prepare. In fact, they need to be well cleaned, scaled, filleted and blanched and then added to a sauce made with fennel and tomatoes. Then they are fried together with pasta and a little first cold-pressed olive oil.
Couscous with fish and vegetables
In fact, it can be considered a single dish of Arab origin and today it is one of the traditional dishes of the island. It is a recipe that requires a lot of time and effort, especially for couscous. Also in this case, one of the main ingredients is fish. Lampedusa's version usually includes pieces of sea bass, Lampedusa capers, olives, cherry tomatoes, some chili peppers and oregano, and various vegetables such as potatoes, peppers, eggplant, zucchini, celery and carrots. That's right, you can't say you've been to Lampedusa without trying couscous.
Couscous with fish and vegetables
Linguini with seafood
The main character is fish, always fresh . In fact, all restaurants have a catch of the day item on the menu. And if you're sitting in a restaurant craving good pasta, you can't help but order seafood linguini, which every restaurant has and are always great. You've probably already had them somewhere else, but on the island they're a must. For those who don't know, it's a first course based on linguini and seafood such as clams, clams, sea truffles and others, seasoned with a little butter, parsley and, to taste, a little chili pepper.
Linguini with seafood
Swordfish
In Lampedusa you can find swordfish everywhere, on both the first and second courses. The recipe for this dish requires the fish to be very fresh, of excellent quality, freshly caught and washed in clean sea water. It is then cooked in a pan without oil, which allows it to drain the water it absorbed during washing, and you need to turn it until it is dry. Then add lemon juice, garlic, parsley, oregano and a little olive oil.
Swordfish
Ziti with sardines and fennel.
This is a classic in Lampedusa cuisine as well as in Sicilian cuisine. The recipe usually uses pasta ziti, bucatini and percatelli. Fennel is one of the main ingredients in the culinary tradition of the island, in fact is used in many recipes. It grows everywhere on the island, even in the most unexpected places. But it is not only used for food: here in Lampedusa they make fennel liqueur, a real natural digestif with a wonderful flavor. It's still homemade, as it once was.
Ziti with sardines and fennel.
Catch of the Day.
If you're having lunch or dinner on a beautiful terrace overlooking the sea, you can't miss the catch of the day . Many restaurants offer this dish, so it changes every day depending on what was purchased or caught at the restaurant.
Cannoli
This is one of the most favorite sweets in all of Sicily and you will find it everywhere, in the big cities, villages and small islands. It doesn't take much introduction , of course, almost all of us have tried at least one in our lives. They are crispy waffles with a creamy ricotta filling. Perfect to eat at any time of day, in the morning for breakfast, as an afternoon snack or midday snack and, why not, also as an ending to lunch and dinner.
Cannoli
Granita and Brioche.
You can't help but have a classic granita and bun for breakfast at least once. It's a real institution and the best way to start the day. It may seem like a strange combination to some, but trust me, you'll love it. Granita is nothing but a cold dessert of water, sugar and fruit. Pistachio, coffee and lemon are also very good. For breakfast, as a snack or any other time of day, try it accompanied by a Sicilian yeast egg dough bun flavored with vanilla or citrus.
Granita and Brioche.
Where to eat in Lampedusa: cheap restaurants, typical bars and street food
On this island of only 20 square kilometers, there is obviously no shortage of restaurants . Indeed, you will find solutions to suit every budget. Most of the restaurants are located mainly on the waterfront in the port area and in the city center, especially along the Via Roma, the point of reference for its nightlife. The busiest beaches always have at least one place offering bar and restaurant services, and some have no services at all, in which case you have to make yourself a packed lunch. Don't forget to enjoy an aperitif at sunset at one of the bars on the west side of the island, it will be an unforgettable experience. Here are the best places to eat in Lampedusa:
Where to eat inexpensively in Florence
Florence is known the world over for its wonderful Tuscan cuisine and at the same time for its rather high prices. Nevertheless, even in the historic city center you can find budget cafes.
Information about where to eat in Florence inexpensively and deliciously will be especially relevant for tourists planning a trip to the Tuscan capital for the first time.
The 9 best inexpensive eateries in Florence
I' Girone De' Ghiotti is a cozy eatery near Piazza della Signoria and Dante's house that offers typical Italian panini sandwiches. The toppings are varied: Tuscan ham, cheeses, and salami. You can buy a medium-sized panini for 3.5 € or large ones for 5 €.
>>> Rent a car in Italy. The secrets of renting a car, features and tips
SandwiChic is a great place with very tasty sandwiches for 3,5-5 €. The sandwich shop is so popular in Florence that the queue of those who want an inexpensive snack is lined up in the street.
Salumeria Verdi-Pino's Sandwiches – here you can not only eat sandwiches but also pasta with meat and vegetables for 9 €.
Amici di Ponte Vecchio Da Stefano – a pizzeria near the city center where you can get a slice of delicious pizza for only 4 € or a double portion for 7 €.
All' Antico Vinaio is a little place in the Uffizi, where they make a huge sandwich (like schiacciata or la favolosa for 5 €) with traditional Tuscan bread and toppings of your choice in front of you. A sandwich like this is enough to satisfy your hunger for a long time.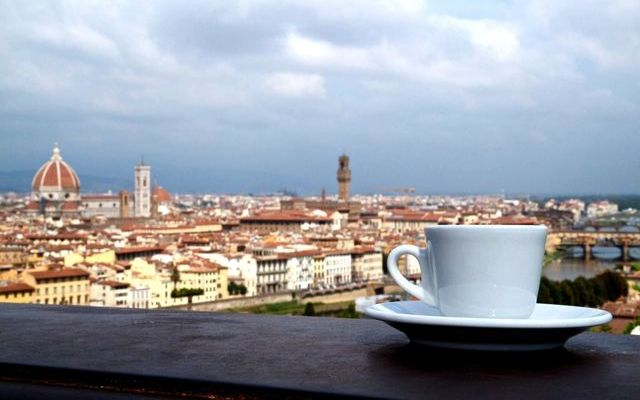 'ino Firenze is another budget establishment in the Uffizi that offers an inexpensive meal in Florence. It offers classic Italian sandwiches: panini, bruschetta, and focaccia, a wheat flatbread with a filling.
Semel is a sandwich bar 10 minutes walk from the center, next to Sant'Ambrogio market. The owner makes the most delicious and original paninis for 4 €: with pear and truffle, prosciutto of wild boar, with anchovies and oranges.
Il Coccolo is a cozy, atmospheric mini-café with cheap and delicious doughnuts, seafood cocktails and Tuscan deep-fried snacks. You can also eat great pasta there inexpensively for 7 €.
Nobile Bistrò is worth a visit for its lampredotto (€4), a popular bun in Florence stuffed with boiled rennet – cow's stomach.
In a year in Florence, about 80 tons of lampredotto are eaten by tourists and locals. This famous Florentine sandwich has been known since the XV century. To this day it enjoys unwavering popularity among fast food lovers.
Budget Cafes in Florence
Despite the rather high prices of food in Florence, there are quite a few interesting establishments in the city that offer delicious dishes in the best Italian traditions at quite a budget price.
Gustapizza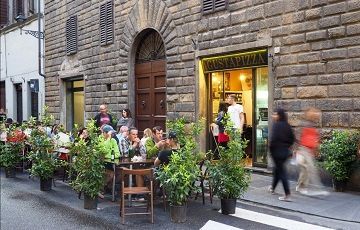 This small pizzeria near the Ponte Vecchio, near the city center, is considered one of the best in Florence. The pizza is cooked in a wood-fired oven, which is located here behind the counter. Everyone can watch the baking process. The taste and aroma are just divine! The cost of pizza – from 5 to 8 €. The only drawback – you can't pay with a bank card, only cash.
There are no waiters. After getting your pizza, you can sit comfortably at the high round tables. Of course, if there is room, because in Gustapizza there are usually a lot of students, tourists and neighborhood residents. Alternatively, you can get pizza to go and eat nearby, in Piazza Santo Spirito.
Gustapizza pizza menu
Trattoria il Contadino
When sightseeing in Florence's Santa Maria Novella neighborhood, check out Trattoria il Contadino. Here you will not meet many tourists, but you can plunge into the usual everyday life of ordinary Florentines – they often come here to eat inexpensive traditional Italian food.
The trattoria's atmosphere is simple and understated. Wooden tables close together, black-and-white tiled floor, paintings with images of historical scenes and local temples on the walls. All this gives the place an inimitable Italian flavor.
Trattoria il Contadino's main feature is set lunches and dinners. For 9 € during the day and 13,5 € in the evening you can choose any main dish with a side dish. It comes with 2 small bottles of water, a glass of house wine or a soft drink. Various types of pasta, lasagna and risotto are offered as a main course. Of meats, the Florentine favorite is boar, Florentine-style tripe, rabbit, and others.