10 tips for those wanting to attend Oktoberfest
Wear Lederhosen, take your children with you, book accommodation in advance… and other useful tips for those who want to participate in "Oktoberfest" from Joe Steinge. Pivo.by publishes a translation of the material.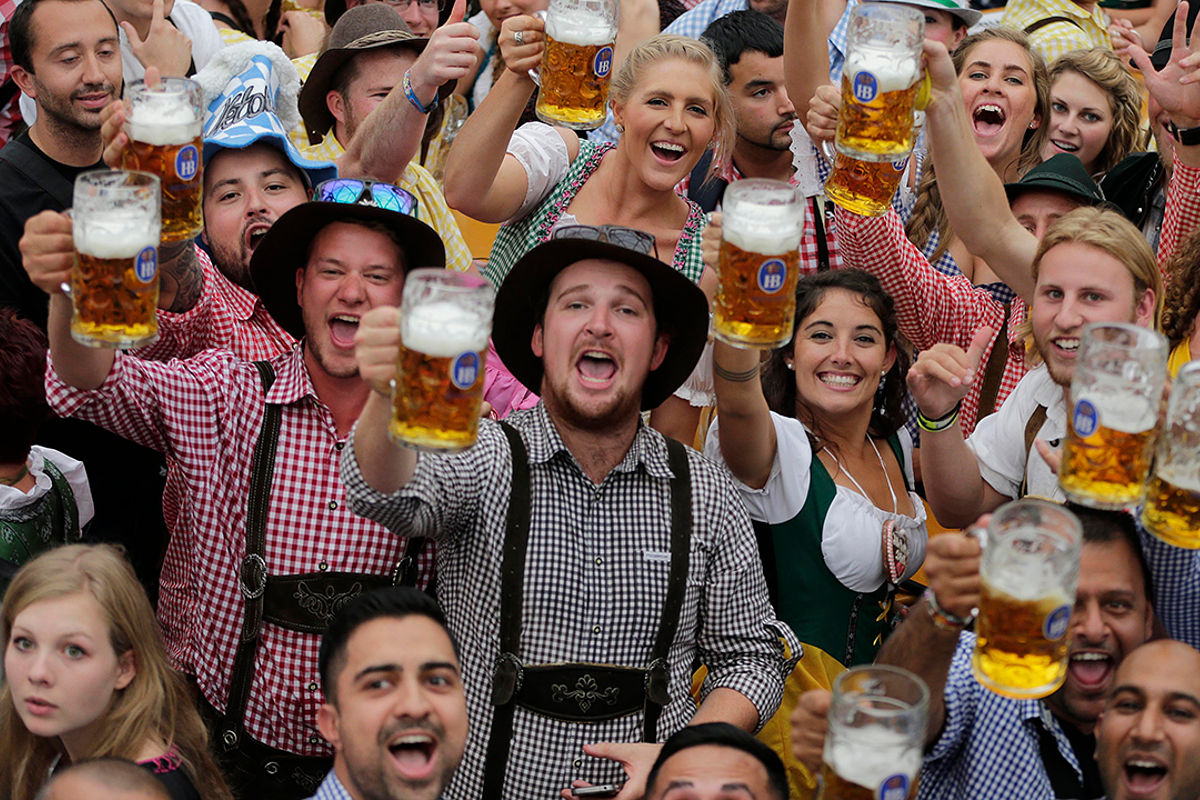 Photo: WSJ
When I first started writing this article, Oktoberfest – not the one held in your city, but the real grand holiday in Munich – was already coming to an end. But you can already plan your next trip if you want to return to this beer paradise. Perhaps for some, a visit to Ockoberfest is on the list of those cherished desires for which you don't know which way to go: "I'll definitely go there, but how to organize everything? Make a vacation on a budget or spend a fortune? Wear a traditional Bavarian costume or do without all the extravagance? Slowly sipping a beer, gradually absorbing the atmosphere, or immersing yourself in it, having a good time, consuming liters of beer until your stomach is full, and riding a merry-go-round until the excess beer itself will not leave you"? As you can see, there are many questions. Yes, there are both good and bad ideas, as well as certain risks and hidden dangers to your body. I've been to Oktoberfest twice, at different stages of my life, and both times I did things differently. Today, from my experience, I can safely give you 10 tips on how to "survive" Oktoberfest in a mature way. Follow them or ignore them – the choice is yours.
"Oktoberfest is how you understand it . People have stereotypical ideas about it all the time, as much as we don't want them to. Take, for example, the movie Beer Fest. "Oktoberfest is a cliché and a real walking stereotype, except that in reality it is too grand and colossal to label. After all, we're talking about the world's most famous two-plus-week-long mega-party, attended by some six million people. Imagine a huge elephant being touched by thousands of blind people, drawing completely different animals in their minds. And you're among those blind people, but with a little help from us, you can figure out what kind of animal it is, or what part of it it is. You know what I mean.
Yes, it's a big boozefest (if you feel like it) . Do you want to see a real booze show? Want to be a part of it? Easy. Scenes of alcoholic "intoxication" are most often seen in the evenings, although in fact some begin to show such "performances" much earlier. Such behavior at Oktoberfest, however, is never condemned. After all, everyone understands that this is one big party. If there is no aggression, rudeness or boorishness in your actions, your self-destructive behavior will never meet with disapproval from others. If you are standing on the table, trying to drink a liter of beer, people will only encourage you. Well, if you don't succeed, you'll be booed off.
But it doesn't have to be a binge (unless you want it to be) . Technically you can, of course, drink five liters of beer at 6% strength in a few hours, but that doesn't mean you have to do it. Common sense principles apply everywhere, even at Oktoberfest. It's unlikely that someone overcome by an excruciating thirst will drink five liters of water at a time, so why should you experiment with beer? (I did a similar stupid thing about seven years ago. If you decide to do it too (better not, OK?), avoid the subsequent ride on a chain carousel that keeps spinning in circles. Believe me – I know what I'm talking about.) Start with small portions, and you'll have a lot more fun. One liter of beer, drunk fairly quickly, is enough to give your head a little buzz. Two liters is guaranteed to give you that feeling, and some will get you intoxicated. It seems to me that three is the cherished number to stop at, but then again, I have a rather large build. So, two or three liters will be more than enough, and don't try to pour more into yourself. After all, it's so nice to wake up the next morning in great health and spirits, ready to enjoy another day in one of the great beer capitals of the world.
Do more than just hang out at the beer tents. In addition to beer there are many carousels and a whole gastronomic extravaganza. Enjoy! After all, it's a real holiday. Don't just sit around, there's so much to see and do. And don't forget to take a walk through Munich now that you have the chance. Head straight for the Old Town, a well-known neighborhood in the center of the Bavarian capital. Be sure to visit the Augustiner and Hofbräu breweries, and also the more distant historic districts such as Schwabing and Heidhausen, to really get to know the city from the inside. Have a cup of coffee, go shopping, or stroll through the Englischer Garten.
Don't try to drive or park in the center of Munich during Oktoberfest . You might be able to do it, but it's not worth it. You will save yourself a lot of nerves and money. If you're driving, look for covered parking lots at the entrance or exit of the city – such as, Kiefergarten, where parking costs €1.50 per day and which is in close proximity to the subway. It will take you to the city center in about 15 minutes. Buying tickets is easy – all machines are equipped with a special button to display instructions in English. And even better – take a local train, which will take you directly to Munich Central Station.
Book lodging in advance . There are many hotels in the city, but they all jack up prices during the Oktoberfest. Finding free rooms at the last minute is possible, but it's better not to take the risk and start looking in advance and you'll have a much better chance of finding a reasonable accommodation with an ideal location. Do it now or, say, over the Christmas period, when, for example, your father-in-law instructs you, as the acknowledged biergik in the family, to organize a family trip to next year's Oktoberfest.
Book tables at the beer tents in advance. This is relevant if you are going in a group. Choose any day of the week, except weekends, because the regulars at Oktoberfest buy out tables on weekends in a matter of days. Follow this link to find the tent you like. If you're traveling as a couple, you don't have to make a reservation. Just show up at the opening and wait at the entrance, chatting amiably with the staff until seats are available. It's a risk, of course, but a lot of people do it year after year, and it seems to work. Anyone can walk into a beer tent to see what's going on inside, but it's one thing to walk in and another to sit at a table for a couple of hours, enjoying a delicious beer and the atmosphere around you.
Do not limit yourself to Munich. This is your chance. Plan a few days to visit Franconia or Upper Bavaria before or after Oktoberfest, where you can taste authentic Kellerbeer, Rauchbier or zeugle and catch the end of the Hallertau hop harvest. Or head to the alpine villages. Either way it will be quieter and cheaper, and the beer is much more interesting and tasty.
Take your children with you if you have them . This may seem like a rather idiotic idea. What's there to hide: I myself at first thought it was completely crazy, and I'm one of those brave dads who regularly takes his kids to the bar with him. My wife was a little uncomfortable, too. We were both afraid that some drunken jerk (who would remind me of myself seven years ago) would throw up on our kids after riding the merry-go-round. But our fears were unfounded. At Oktoberfest, you'll meet a bunch of kids, especially during the day. After all, it's not just some mass drinking party. It's first and foremost a fair, a carnival. There are driving ranges, pony riding lawns, puppet shows, parking lots for strollers and designated baby care areas. Even the beer tents offer non-alcoholic drinks and snacks while enjoying the music and fun. All in all, lots of things to do. The number of children in the daytime is definitely more than in the evening, but even in non-children, it would seem, there are a lot of them. After all, for the locals Oktoberfest is also a family holiday. All in all, it largely depends on whether you want to act like a parent or not.
Dress up in traditional Bavarian costumes . I remember at my first Oktoberfest seven years ago, I thought that traditional attire was exclusively the prerogative of the locals, for whom foreigners trying to imitate their attire was a rather unpleasant and even disrespectful spectacle. It turned out that I was deeply mistaken. They even like it. After all, it is a party after all. When you go to a Halloween party, you wear a costume, and at a rodeo, you're sure to flaunt cowboy boots and a hat. It's all about the spirit of the event, and all that paraphernalia is just part of the show, as are you yourself, dressed even if only in ridiculously cheap costumes you bought at the train station. That's okay. After all, we're talking about a country which is ready to accept thousands of Syrian refugees. Do you really think that Bavarians would be against a bunch of tourists in a lederhosen? Quite the opposite. The only thing they might really dislike is boorishness, rudeness, and hooliganism. Have as much fun as you can, but treat those around you with respect, and you'll be welcomed with open arms.
What do you think? Too much for your untrained mind? Well, you always have a choice: stay home and go to that nice "Oktoberfest" party next door. The beer should be pretty good…