Italy: In the footsteps of Saint Valentine
Of all Catholic saints, St. Valentine is one of the most enigmatic and shrouded in the gloom of obscurity figures. First, he is not mentioned at all in the early Roman lists of Christian martyrs, and second, it is not entirely clear whether St. Valentine's deeds belong to one person or several, and what kind of deeds Valentine actually engaged in is also not entirely known.
The popular (and this epithet is not synonymous to the word "reliable"!) legend says that Saint Valentine lived at the time of the Roman Emperor Claudius II of Gotha, who ruled very briefly, from 268 to 270. Allegedly this emperor, about whose reign not much is known today, forbade his warriors to get married, that they were not distracted from war by all kinds of amorous nonsense. Valentine, on the other hand, was a priest and secretly married couples in love, for which he was later executed.
It sounds beautiful, and most importantly – clever, if only it were not for one "but", this legend was spread only in the Middle Ages, and it appeared, according to historians, whether in France or in England. Regarding the location of the relics of St. Valentine, even churchmen do not agree. This claim to it, and the Carmelite Church in Dublin, and the Cathedral of Rockmore in France, and the Cathedral of St. Stephen in Vienna, and the temple in the Polish town of Chelmno, and the basilica in Balzan in Malta, and the Church of St. Peter and Paul in Visegrad, and even the Greek Catholic Church of the Nativity of the Blessed Virgin. In Italy, the resting place of the patron saint of all lovers is the town of Terni in Umbria with the Basilica of St. Valentine, where, according to Italians, are hidden the real relics of the saint. Is it just there, though? Let's walk through the places of St. Valentine in Italy.
THROUGH THORNS TO SAINT VALENTINE
Every city in Italy has its own patron saint, his day is traditionally a non-working day, and, of course, Italians would not be Italians if they did not organize on this day a variety of festivities. In this regard, the inhabitants of Terni in the region of Umbria are incredibly lucky. Their official Saint, Valentine of Interamnese, is one of the main contenders for the role of the very Valentine, the patron saint of lovers, and his official day, yes, yes, February 14.
Pictured: Terni, decorated for Valentine's Day
Although Valentine of Interam's hagiography is silent about lovers, the locals more than make up for this minor lacuna with a variety of legends. The most popular local legend says that one day a quarreling couple passed by the house of St. Valentine and gave them a rose and offered not just to take the flower, but to put their fingers on the rose so as not to be hurt by the thorns. The couple reconciled, then married, and soon the priest Valentine was known throughout the neighborhood for reconciling lovers.
Pictured: a stained-glass window illustrating the legend of the lovers
The beautiful story described above, unfortunately, is not reflected in the official hagiography of the saint, but it tells how he healed the son of Roman nobleman Kraton from a dangerous disease through prayer, converted the whole town of Interamni (the ancient name of Terni) to Christianity, and was beheaded because he refused to offer sacrifice to the pagan gods. In short, somehow or other, he was a good saint and his relics are now housed in the city's basilica that bears his name.
Pictured: St. Valentine's Basilica
Every year on February 14, St. Valentine's Basilica turns into a place of mass pilgrimage for lovers from all over Italy, and it must be said that the administration of Terni promotes this as much as it can. For example, couples in love can apply in advance and take part in a mass ceremony to renew their marriage vows, and those who are unlucky in love, leave notes in the basilica and ask the Saint for happiness in their personal lives. In addition, like the post office of Giulietta in Verona, in Terni there is also a post office of St. Valentine, where you can write about your difficult or, conversely, happy love story. If you want to write, you can send letters or cards to the address via Papa Zaxxaria 12 05100 Treni Italia or by e-mail to treni@carmelitaniroma.it. It is said that all letters are collected by Carmelite monks, the e-mails are printed and then they take the received correspondence to the relics of the saint. So if you have no luck with your personal life, now you know where to go.
MONSELICE – THE SAINT'S WAY
However, if it so happens that instead of central Italy you found yourself in northern Italy, more precisely, in the region of Veneto, then here too there is a small and not so well-publicized, but its own little town of St. Valentine. I mean small and neat little Monselice, which is located an hour away from Venice by high-speed train.
In the photo: the town of Monselice
Monselice – the town is simple, but cozy, the Italian village, where you do not see tourists, and the locals speak a dialect with each other. The sights include the fortress on a hill overlooking the town, the local castle, where the Italian TV series "Borgia" was filmed, and the Holy Way – a road that the health-minded residents of Monselice often use for evening jogs or walks, which is uphill, so for a brisk cardio hour is ideal.
Pictured: St. Valentine's Church in Monselice
This is exactly the road we need! There are seven small churches on it, and the eighth, the Oratorio di San Giorgio, is believed by locals to contain the relics of the real St. Valentine. They say they were brought here from Rome along with other relics in 1651, by the way, the church itself is also very curious, it is decorated with frescoes by Tommaso Sandrini. The relics of the local Saint Valentine are on public display, one could say, and on February 14 in Monselic there is also a festival with the obligatory blessing of all couples in love and also of small children, only unlike in Terni the rites here are not performed by Carmelites, but by Benedictine priests.
MEATBALLS AND LOVEY-DOVEY CARROTS.
Another iconic place to celebrate Valentine's Day in Italy is the commune with the telling name of San Valentino-Torio, in the Campagna region. Here, too, the saint is highly revered, and in February there are street food festivals, with purpetta meatballs and wild purple carrots pastenaca as the main dishes.
Pictured: meatballs purpetta.
Grandpa Freud! Close your eyes and don't ruin my enjoyment of the meal with your lewd explanations of what these dishes might symbolize!
SAINT VALENTINE – BRING AN ORANGE DOWN THE MOUNTAIN
The town of Cuero, also in the Veneto region, again has the Church of St. Valentine, built on top of a hill, but it is not this that makes the town curious, but the strange ritual that is practiced here on Valentine's Day. St. Valentine's Church was built in the seventeenth century, but when exactly appeared a local custom of February 14 after the solemn Mass in the church to consecrate oranges and throw them down the road to the parishioners caught the sacred fruit, is not known precisely. But the tradition is still observed to this day!
AND NOT JUST ONE DAY, AND NOT JUST IN FEBRUARY, AND NOT JUST FOR LOVERS
Curiously, Valentine's Day in some areas of Italy is celebrated not in February. For example, in Sardinia, in the municipality of Sadali, which is located in the region of Cagliari, the month of St. Valentine is in October. In principle, this makes sense, because residents of Sadali consider Valentine the patron saint of weddings, and celebrate weddings in Sardinia is best just in October.
On the photo: Valentine's Day in Verona
In the locality of Dzoppola, St. Valentine is credited with a miraculous ability to influence the weather, it is believed that the saint can prevent storms and hail if you put him a candle in the week in which his day falls. But for street festivals to celebrate Valentine's Day, you should go to the town of Limana in Belluno province and to the commune of Quinto di Treviso – Veneto region. In the latter the festivities last a whole week, and in the finale the residents hold a masquerade – well, they love carnivals in Italy, what can you do. And of course, Verona! The main Italian romantic city could not miss the Valentine's Day. On the eve of February 14 here is traditionally organized charity half-marathon, though it is not named after Valentine, but Romeo and Juliet. Who would have doubted that!
How do they celebrate Valentine's Day in Italy?
It's that time of year when travel operators are flooding their customers with offers of trips to paradisiacal corners of the world, store counters are turning red with the sheer number of Valentine's cards laid out on them, and flower vendors are contacting their suppliers. And so it is: the whole world is getting ready to meet Valentine's Day.
According to tradition, it is February 14 on the streets there is a cluster of lovers and enthusiastic couples with gifts in their hands and smiles on their faces. And how do you prefer to celebrate this day in Italy?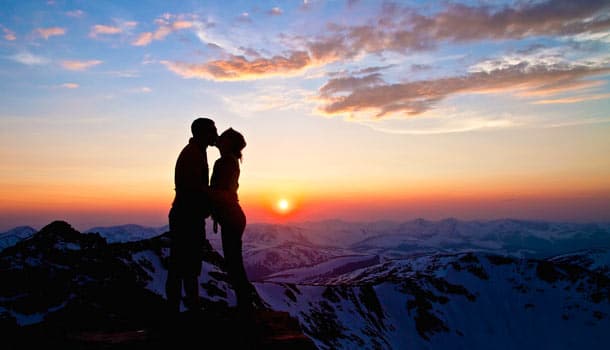 As a rule, the inhabitants of the country in whose territory, according to legend, St. Valentine was born, do not miss the opportunity to widely celebrate February 14. However, their traditions concerning this date have changed slightly over the past decades. An important feature is that originally Valentine's Day on the Appenine peninsula was considered a holiday of spring. That's why most of the festivities were held outdoors.
The favorable climate of Italy allowed its inhabitants to go out and walk in the gardens to listen to music together or just talk and dream.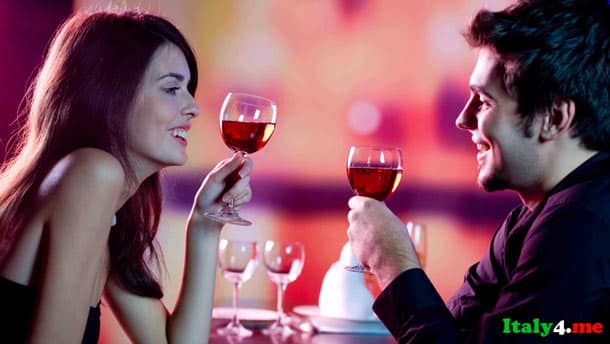 And only some time later couples in love began to meet on this day in gazebos and parks. However, not so long ago this romantic sort of "ritual" fell out of fashion, and then was completely forgotten.
As for the local traditions and customs associated with Valentine's Day, here special attention should be paid to Turin (Torino), where young lovers preferred to announce their decision to get married on this day.
The Italians did not do without beliefs either: the girls believed that the first man they would meet on this day would be their betrothed.
And that's why young girls did not sleep well on the night of February 13 to 14: they looked out into the street since morning, looking forward to their fate.
Throughout the history of Valentine's Day Italian ideas of how to celebrate it have changed more than once. Today, Italians stick to a tradition that came from America. Valentine's Day is now celebrated solely by people in love, and friends and relatives do not receive gifts. On the evening of February 14 you'll hardly find a single empty seat in the city's coffee shops, cafes and restaurants: they are occupied by couples, who can't wait to exchange gifts and please each other.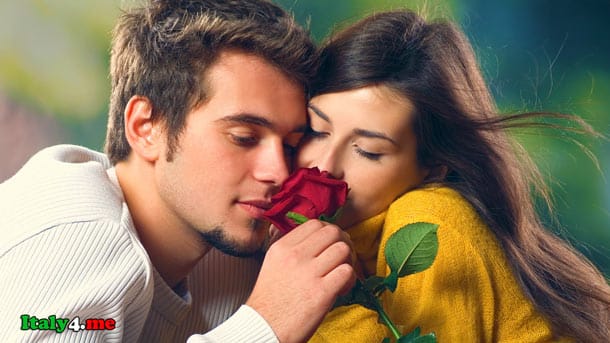 On this day, Italians prefer to give their beloved spouses roses, perfume and diamonds. However, the most popular gift, without a doubt, are flowers. As previously reported by the largest association of agricultural producers in the country Coldiretti, more than 35 percent of lovers go to flower stores for gifts. Their owners look forward to mid-February, when their sales skyrocket on the 14th.
According to Coldiretti, every year Italians buy tens of millions of flowers, most of which are roses.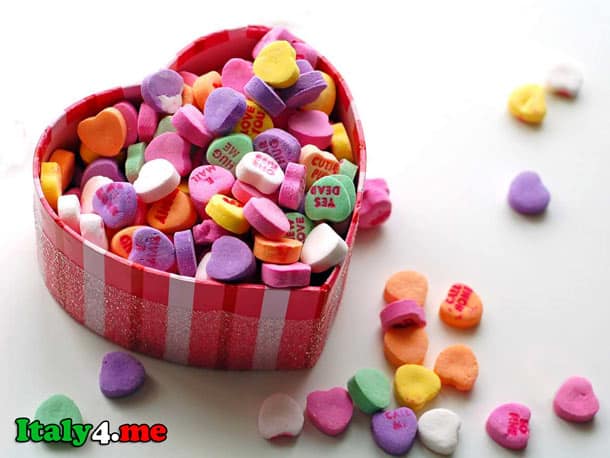 Valentine's Day in Italy is called "sweet" day. And no wonder: every fourth Italian lover gives his or her soul mate chocolate and other sweets. On this day, the most popular candy is Baci Perugina. Inside which are love letters in four languages of the world. And only 19 percent of the population gives their loved ones clothes, while another 19 percent go to jewelry stores looking for a gift.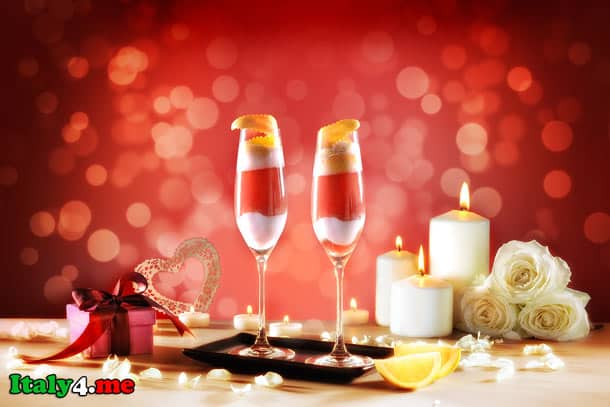 This year, one of Verona's wine companies decided to surprise lovers with unusual bottles of Mara Valpolicella Ripasso Superiore. On the corks lovers of romance will find a heartfelt love messages, which can be dedicated to their beloved.