Holidays in Spain with children – 2022: the best resorts and hotels
We tell you about rest in Spain with children in 2022: where to rest best, what hotels to choose, how much tours and packages cost, what to visit and where to go. We analyze reviews of tourists about vacation in Spain with a child – 2022, we give advice and recommendations on the trip.
The article consists of several sections:
What resort to choose
Best hotels for kids
Prices for tours in Spain
Tourist Reviews
Tips and tricks
How to buy an inexpensive trip to Spain? Use Travelata service – it compares prices from all tour operators and finds the best options. See also 8 secrets of buying a cheap tour.
Where to vacation in Spain with children in 2022
There are several resort regions in Spain, which are usually a part of the coast (e.g., Costa Brava) or an island. Each of these regions usually has 2-3 popular resorts and many small towns.
Below you will find an overview of the regions where the best vacation in Spain with children is possible.
Costa Dorada .
This area is close to Barcelona, so transfers will be short. This is important if you go on vacation to Spain with a small child – the baby will not get tired of the long road.
The Costa Dorada is characterized by a warm mild climate and lack of debilitating heat. In his reviews tourists often name it the main advantages for a holiday with children in the Costa Dorada.
All the beaches in the region – municipal, you can freely rest on any of them. The beaches in this part of Spain are sandy, long and wide. Most have an international certificate of purity "Blue Flag". The bottom is shallow, easy to enter; the shallow water is quite large.
Some of the most popular resorts in Spain for holidays with children are La Pineda and Salou .
Where to go with children in the Costa Dorada:
Port Aventura, the largest amusement park
water parks;
Aqualeon water park safari;
Play and entertainment centers;
carting clubs;
museums;
various festivals;
The luminous and singing fountains.
Video from the Port Aventura amusement park:
Costa Brava
Where is the best place to go to Spain to the sea with a child? One of the best options for a holiday in July and August is the Costa Brava.
The region is located north of Barcelona. Many of the Costa Brava resorts specialize in family vacations, they have a special certificate for that.
The climate is the "coolest" on the entire Spanish coast. The average summer temperature is 25C˚, so, the Costa Brava will be a good choice for recreation if you or your children can not stand the heat.
The region has both sandy beaches and shingle beaches. Many of them are awarded the "Blue Flag". Almost every beach is equipped with playgrounds for children.
In this part of Spain, the best resorts for holidays with children at sea are Tossa de Mar and Blanes.
The Costa Brava has a lot of entertainment and activities. What to visit with a child:
water park;
amusement park;
botanical garden;
butterfly park;
museums: history of toys, dolls, "Cat's House";
rope park.
How to spend less money on a trip?
The Travelata service has provided discounts for our readers:
AFU500ASIANWAYS – 500 rubles on trips from 40000 rubles
AFU300ASIANWAYS – 300 rubles on all packages starting from 20000 rubles.
Read here where and how to enter a promo code to get a discount.
Photo: Costa Blanca © Nicolas Vigier / flickr.com
Costa Blanca
This region of Spain is famous for its salubrious air and mild climate, which has even been erected a monument.
The Costa Blanca offers one of the most important conditions for a successful family vacation – clean and long beaches with fine sand and shallow transparent sea. You can rent umbrellas and deck chairs on the beaches.
In addition to beach holidays, in the region a lot of active and educational entertainment for families with children:
Tenerife
Tenerife is the largest of the Canary Islands. The weather there is good all year round: +20 … +26 C˚ in winter and +23 … +29 C˚ in summer.
If you have children, the best place to stay is in the south of Tenerife, as it rains a lot and it's slightly cooler in the north.
Also in the south are the best beaches. The sand can be imported light or black volcanic. But the main feature of this part of the island is the lack of waves, so for a holiday with a child this place is the best.
Where to go and what to visit with children in Tenerife:
sea animals show;
water parks;
museums;
Volcano Teide;
zoos;
theatrical jousting duels;
eagle park;
submarine tours.
Read more about all the regions in the article Where to vacation in Spain in 2022.
The best hotels in Spain for holidays with children
In every resort in Spain there are many good hotels and hotels for family vacations. We have chosen a few hotels that get the best reviews from tourists.
Where to book? Look for trips through the service Travelata – it compares prices from all tour operators, allowing you to choose the right option. If you're going on your own, use Booking to search hotels and Airbnb to find private accommodation from owners (2100 rubles off when you register at the link).
Cleopatra Palace Hotel – 4 stars, Tenerife
Hotel is located on the beach, 17 kilometers from Tenerife airport. To the tourist center – just 500 meters.
Cleopatra Palace Hotel is part of a modern hotel complex with many sports fields. For children there is a children's pool and a mini club.
Families with children note a good beach, delicious and varied cuisine, animation, as well as a disco for children in a nearby hotel.
Best San Francisco 4* – Salou, Costa Dorada
The hotel is located 2 kilometers from the center of Salou. In 2015, a complete renovation was carried out. The rating of the hotel is 8,6/10 .
For those who came to rest with the whole family, there is a children's pool, high chairs in the restaurant, children's entertainment program, babysitting services.
From the hotel to the equipped beach – 250 meters. In their reviews, guests note a fairly shallow sea, the presence of Russian-speaking staff and a convenient location (near bus stops).
Photo: Best San Francisco Hotel / onlinetours.ru
Kaktus Albir 4* – Albir, Costa Blanca
The hotel is located 50 meters from the beach, on the first coastline in the small town of Albir. It is less than 2 kilometers to the center of the resort.
The beach is pebbly, a child may need special shoes. The hotel has a children's pool and a playroom.
Guests note that both the hotel and the city is quiet, peaceful and very comfortable. Many vacationers leave good reviews for the good food and live music.
Hotel Beverly Park & Spa 4* – Blanes, Costa Brava
This luxury hotel is located in the popular resort of Blanes, away from the tourist hustle and bustle. A sandy beach with a clear sea is 200 meters from the hotel. Rating by tourist reviews – 9,1/10 .
There is a children's playground with slides and swings, a separate pool, a children's club, various types of animation during the day.
Tourists with children who vacationed in this hotel liked the large amount of fruit in the restaurant and a daily range of ice cream.
Video about the hotel Beverly Park & Spa 4*:
Prices for vacations in Spain with children
The cost of a week's rest in Spain for a family of three (2 adults + child) starts at 65000 rubles. For example, for that amount you can relax in the hotel Vilade Calella 3 * in Calella (without meals, 200 meters from the sea).
For tours in Spain with a child in five and four-star hotels will have to pay more. For example, the rest in the hotel Best San Francisco 4 *, discussed above, costs from 108000 rubles.
Rest with children in Spain – 2022: all inclusive prices
Prices for all-inclusive tours to Spain start from 90,000 rubles for a three-star hotel. For example, a trip to the Hotel H Top Gran Casino Royal 3 * 500 meters from the sea in the resort of Lloret de Mar costs 112000 rubles.
The cost of an all-inclusive vacation in Spain in hotels of 4-5 stars starts from 100000 rubles. So the rest at the Blaumar Hotel 4*, which is only 100 meters from the beach, will cost 120,000 rubles for 7 days.
Photo: Hotel Blaumar / blaumarhotel.com
Reviews about rest with children
Many tourists who vacationed in Spain with children, return there again. In their reviews, they most often name the following pluses of a vacation in Spain with a child:
not very long flight (if you go on your own)
a mild and comfortable climate
Spacious beaches with a clean, warm sea
delicious and varied cuisine
high level of safety in the country
friendliness of the locals
extensive sightseeing and entertainment program
When choosing places to eat and spend time in Spain, we advise to read reviews of real tourists about cafes, restaurants and entertainment on the site TripAdvisor – there is a lot of useful information.
Tourists rarely point out the disadvantages of vacationing in Spain, but they still exist. As a rule, called such minuses:
Spaniards are very noisy and sociable people, but the walls in the hotels are quite thin
Not all locals speak English, especially in small towns, so sometimes it is difficult to communicate.
Fast service is not their forte. The Spaniards are quite slow and lazy.
Also, the disadvantage is that all beaches in the country are municipal – umbrellas and sun loungers must be rented at an extra charge.
Photo: © Gabriel Gonzalez / flickr.com
Tips and tricks
If you are traveling to Spain with children, you can take advantage of the tips of tourists who have been in the country.
Spain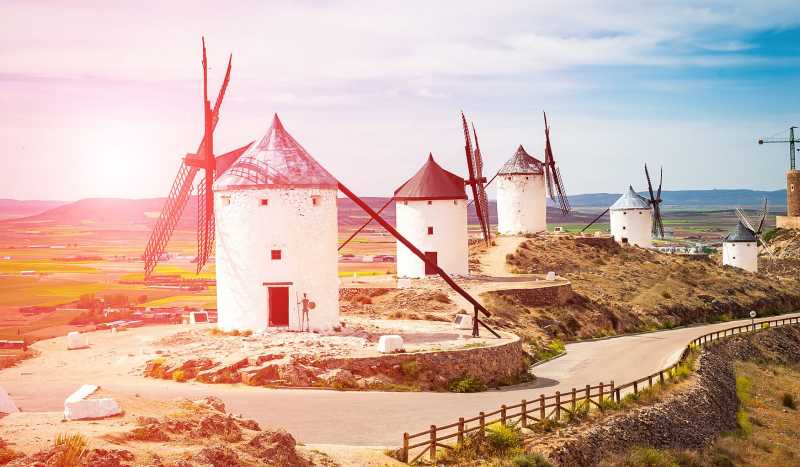 How do we imagine Spain? As colorful as the mosaic in Guell Park. Passionate, like a flamenco dance. Enigmatic, like a painting by Dali or Picasso. Impregnable, like the pine-covered slopes of the Pyrenees. Romantic, like Lorca's poems and orange blossoms. Noisy, like a continuous fiesta.
This is a country with several languages and different cultural traditions, a combination of snow-capped peaks and the warm sea, this is European civilized acquaintance with African exoticism – a puzzle of Spain can be assembled, looking at each piece with love. And for families with children, this is a country where everyone will find a comfortable (and surrounded by sightseeing objects) place under the sun.
Family vacations in Spain may have different duration and orientation. But leave here with a desire to return and continue to get acquainted with this warm country. Balm for the soul of spontaneous travelers: vacation with children in Spain will be successful, even if not prepared for it – tourism is well thought out in detail. Well, if everything is carefully planned, and the beaches, and museums, and flamenco, and gazpacho with paella, then you get a real, typically Spanish holiday of life.
Where is Spain?
The Kingdom of Spain – a state in southwestern Europe, located on the Iberian Peninsula. The territory of Spain includes the Balearic and Canary Islands, the cities of Ceuta and Melilla in Africa. The Mediterranean Sea washes the sea from the south and east, while the Atlantic Ocean bathes part of the northern, western and southern coasts. The central part of the territory is occupied by the Pyrenees mountain system.
Spain has borders with France and Andorra in the north, Morocco and the British possession of Gibraltar in the south, and Portugal in the west. The area of the state is 504.8 thousand sq km. The population is 47.4 million people. The capital is Madrid.
Spain is part of the Schengen area; therefore a Schengen visa is required to enter the country. Citizens of Ukraine hold biometric passports allowed visa-free entry into the country for up to 90 days.
Rest with children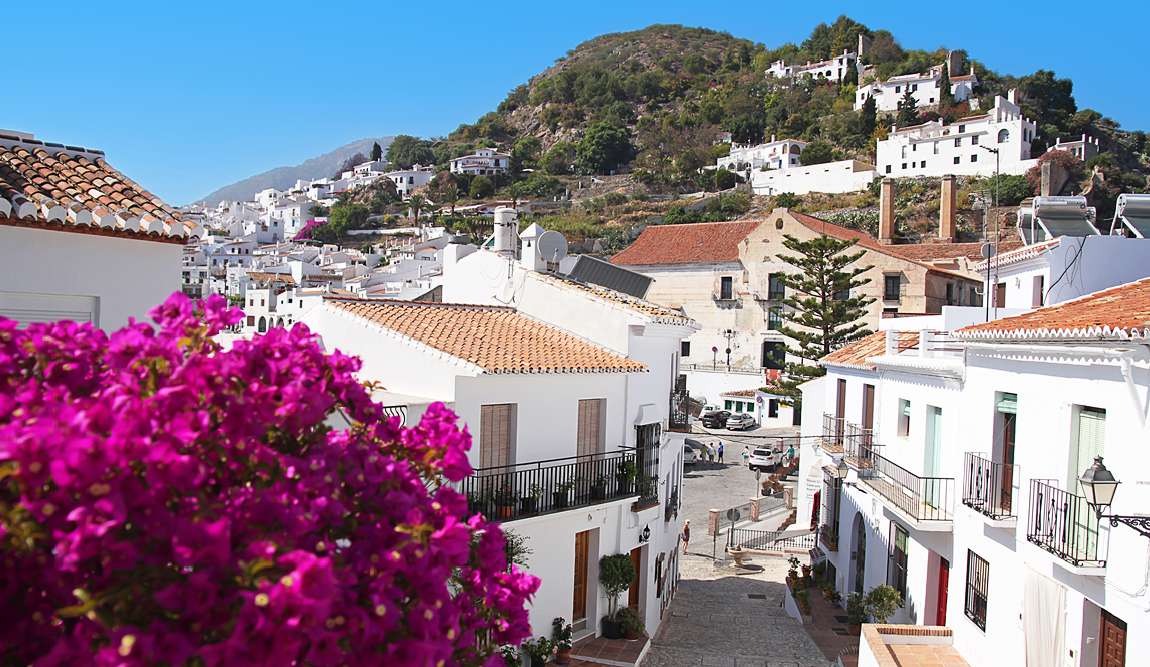 Reasons to go to Spain with children a lot: a long summer, beautiful beaches, warm sea, an incredible amount of entertainment, easy transportation. Want to get some sun, or wander the old cities, or visit famous museums, or come down to earth in the amusement park – all this can easily fit into one, even a short trip.
The main reason for the popularity of family holidays in Spain is the full care of travelers with children. Family tourism has been particularly developed in recent years. For example, in Catalonia, there are resorts certified for holidays with children.
And it should be noted that in this country there are almost no hotels with all-inclusive and with an extensive entertainment program: Conditions for a good holiday with your child create resorts, not hotels. Spain has everything for children to make little travelers squeal with delight, whether it is the famous amusement parks or the usual playgrounds.
But the creation of conditions for a vacation with an infant is the concern of both hotels and the authorities. Crib in the room, ramps, elevators and places for strollers in transport, corners for changing and feeding babies in museums and restaurants, a large selection of baby food in supermarkets – you quickly get used to this convenience.
If you have more than one day to get to know Spain, our advice is not to neglect the siesta. It is not always possible to neglect – at the hottest hours of the day stores, cafes, even some museums are closed. At this time, it is better to refrain from walking and from staying on the beach.
When it's best to go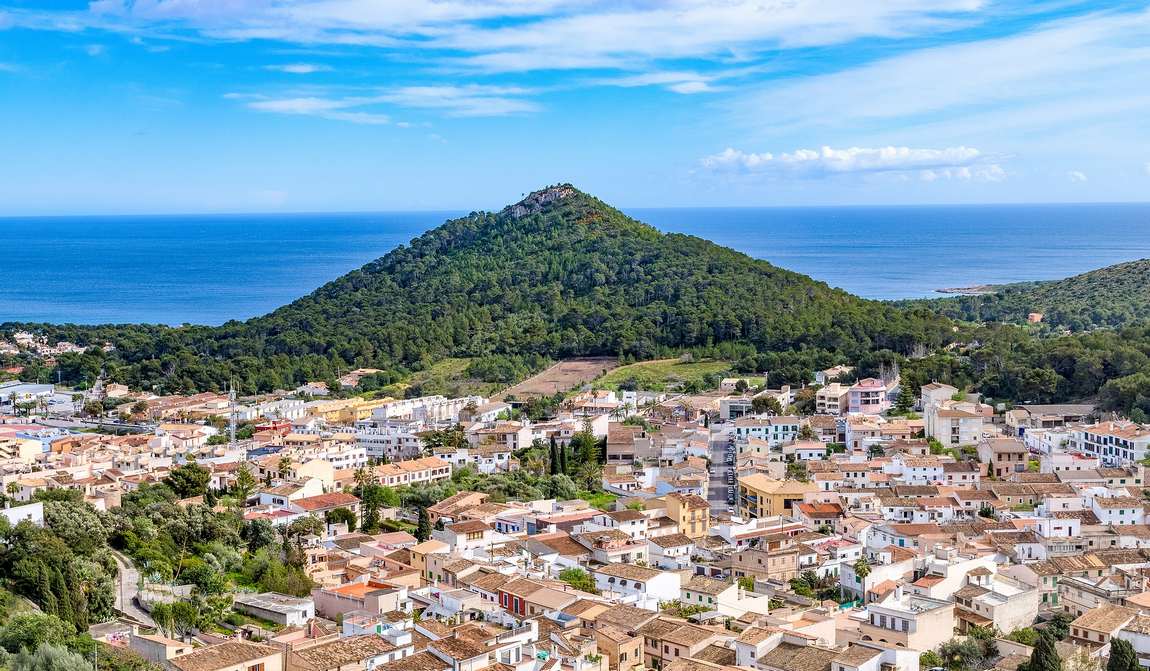 The tourist season in Spain goes through ups and downs, but it's not easy to find at least a week when hotels are empty and you can't hear the multilingual buzz in restaurants. Summer is the time for beach holidays, winter for skiing, spring and fall for soccer and bullfighting, and all year long for holidays and festivals.
But the bathing season in Spain is shorter: the water gets warm only by mid-June and stays warm until mid-September, although in some places – in Tenerife, for example, you can bathe until late autumn. Therefore, vacation in September in Spain is considered the most popular
The highest wave of holidaymakers pounces on the coast in July and August. About accommodation for this time is worth taking care well before the trip, and for a holiday with a baby in Spain is best to choose small resorts, rather than large cities.
And when it is better to go to Spain to see something other than beaches? Oh, there is a lot to choose from.
In Spain, the solemn and fun celebrations, whether it be a grand carnival or the day of the saint – the patron saint of any city. The main events that take place with a special scope are Christmas, Carnival in February, Semana Santa, the holidays "Moors and Christians" and "Fires of St. Juan" (the last two occur in summer).
The soccer season opens at the end of August: fans, rejoice at the chance to warm up on the beach and see Barça, Real Madrid or Sevilla play live.
The start of the bullfighting season is in March, but most of the performances are in May and October. We recommend that you buy your bullfighting tickets well in advance, as the Spaniards themselves are quick to snap up tickets for the bullfights.
If we are talking about a busy tour program, a holiday with a child is best to plan for the spring or fall. Weather in the off-season is slightly different in different regions, so about this – more.
Weather and Climate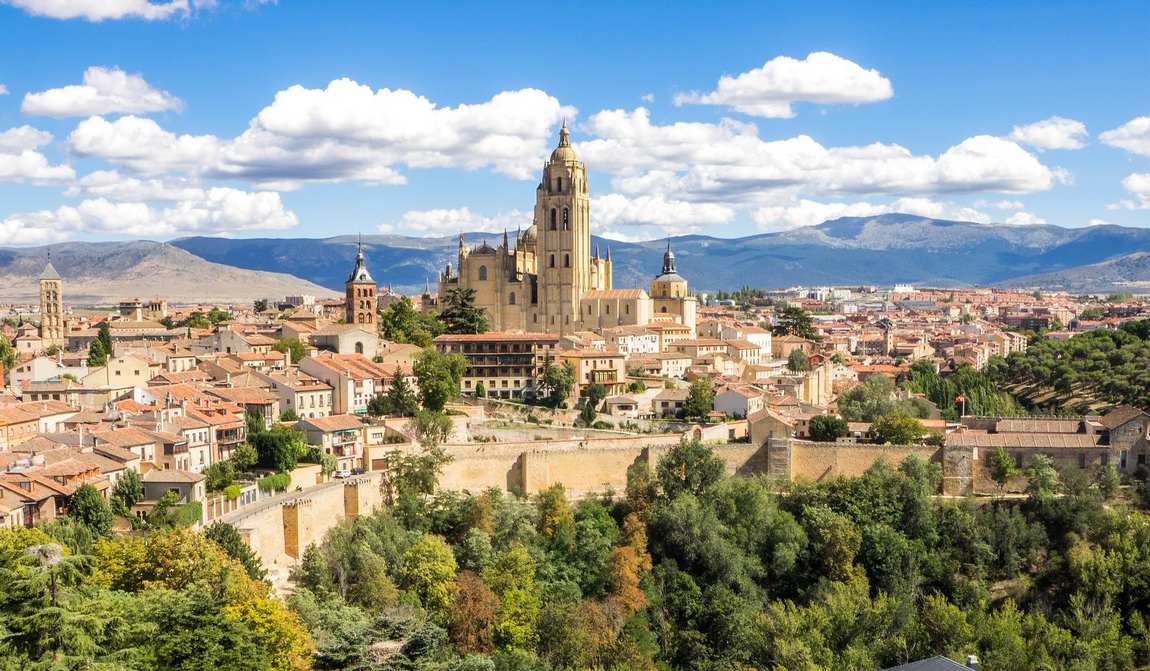 The climate of Spain has a scientific characteristic – "Mediterranean", but it is much better described by other words: "sunny", "warm", "dry". It has long summers and mild winters, and the sun shines 300-320 days a year.
Still, that description is too general, as the weather varies from resort to resort. For example, the summer heat on the coast is always less than in cities away from the sea. The Canary Islands have a special climate, where there is neither winter nor summer, but only a warm spring.
The winter weather is also different. If on the coastal resorts keep positive temperature, in the mountains the temperature drops below zero and there is snow – so Spain is known not only for sea resorts, but also for ski resorts.
In general, the resort season in Spain is from May to September . At the end of spring air is heated to +20-24 ° C, in June to +25-28 ° C, and in July and August the temperature differences become very significant: from +28 ° C in Tenerife to +40 ° C in Seville. On the coast the summer temperature generally does not exceed +30 ° C.
Autumn in Spain can also be different. On the Costa Brava resorts may cool to +20 ° C as early as mid-September. In Costa Blanca the whole month of September is +25-28 ° C. The Canary Islands are just developing the best conditions for recreation at sea. And in the main city of Andalusia thermometer columns and did not fall below indications of +30-34 ° C. Planning a vacation in Spain at this time, be sure to check the weather forecast.
In early November almost all resorts are in low season, which lasts until March and April. The air temperature during this time does not exceed +10-15 ° C, it often rains. The only exception is the Canary Islands, where even in winter the thermometers show +20 ° C.
On the contrary, at the ski resorts the end of fall is the time of season opening. From November to April in the mountains the temperature ranges from -3 ° C to +2 ° C during the day and -5-10 ° C at night. Snowfalls are frequent in winter, so the snow cover stays good until mid-spring.
March and April are the short off-season in Spain. For a holiday at the sea is still too cool, as the air barely has time to warm up to +15-20 ° C. But the spring is perfect for sightseeing trips to Madrid.
Nights in Spain are cool even in summer. As soon as the sun goes down, the temperature drops to 16-20 ° C, in May and September-October overnight air cools to 14-17 ° C.
At what time falls the best vacation in Spain with children? It depends on the purpose of the holiday, and from the region:
to the sea we recommend going at the end of August (Costa Brava), in September (Costa Dorada, Costa Blanca, Costa del Sol, Costa de Almeria, Mallorca) or in July-October (Tenerife);
For city tours in April-May and September;
optimal conditions for skiing are in January-March.
Sea temperature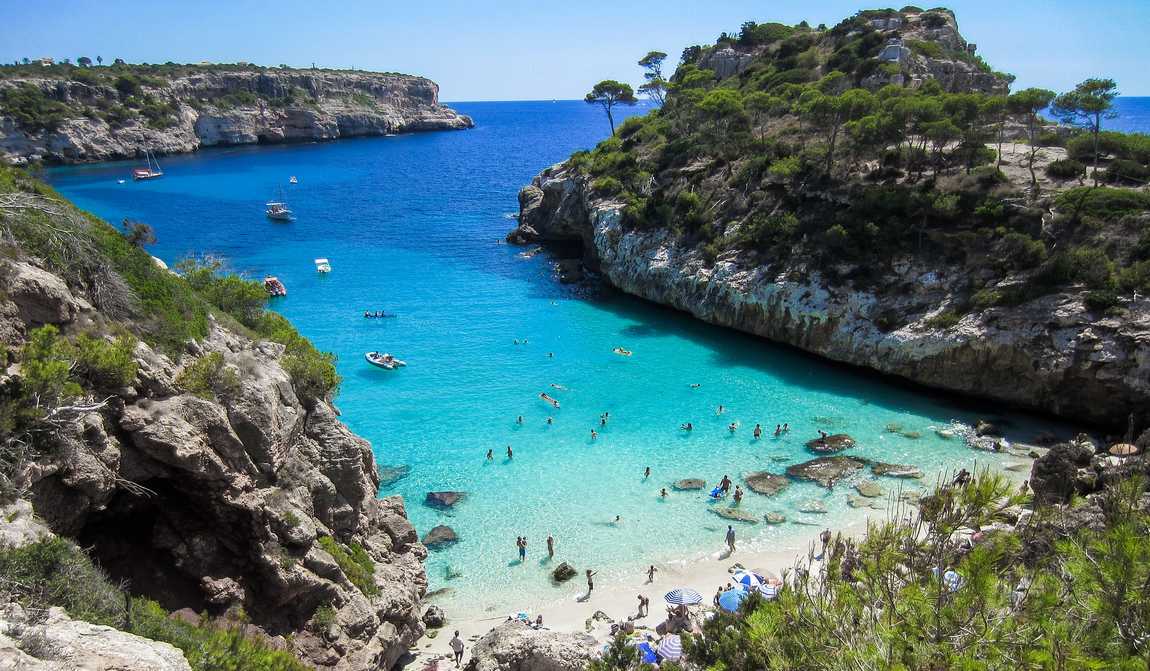 The beach season in Spain begins in May, and by June the heat and beckons to freshen up in the sea. But do not hurry: in most resorts the sea temperature in early summer is only +20-22 ° C.
By July the sea is warm in all resorts. In Costa Dorada, Costa Blanca, Costa de Almeria water is heated to +24-26 ° C, and on Majorca the water temperature sometimes reaches +28 ° C.
Water is a little colder in the Costa Brava, Costa del Sol and Tenerife. The summer maximum is only +22-23 ° C. With the advent of autumn, the water temperature in Spain almost does not change, and in Tenerife, it even becomes higher: the warmest sea in the Canaries – in September and October. In most resorts you can swim all of September and even in early October, only in Costa Brava and Costa del Sol bathing season ends in the second half of September.
Nutrition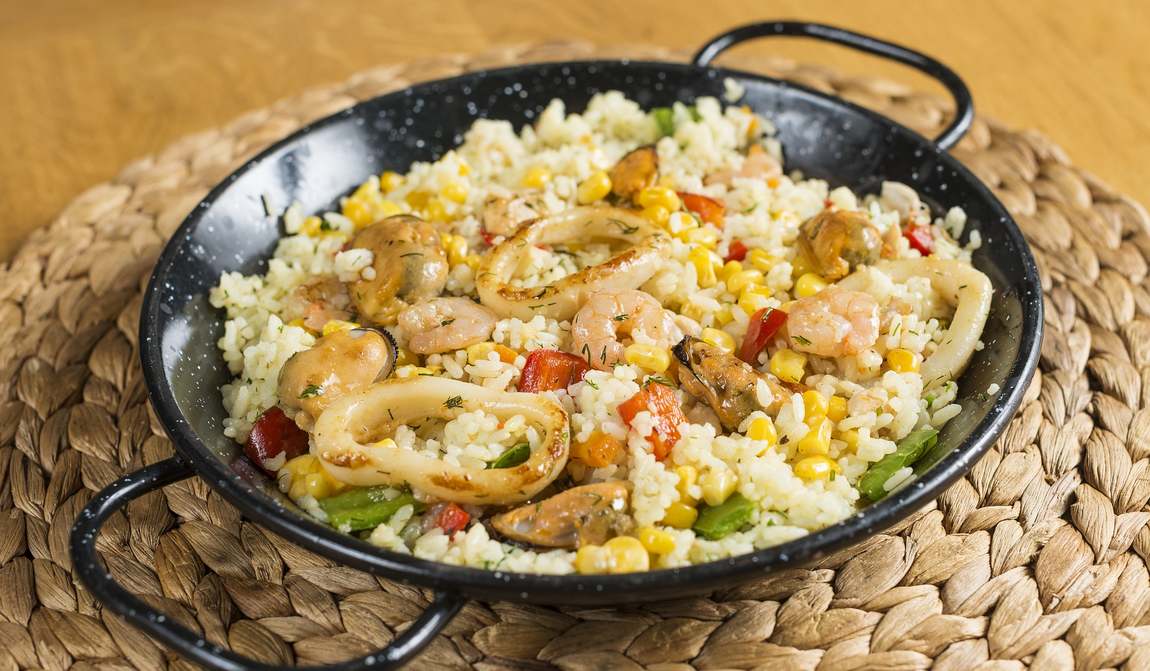 Tourists who have already vacationed in Spain are surprised when they hear about the existence in the country of hotels with an all-inclusive system. All the time to eat in a hotel restaurant – means to lose an introduction to one of the best aspects of Spanish culture. Paella, gazpacho, tortilla, pa amb amb tomake, and other local culinary delights can be sampled at any of the many restaurants, or in the street on feast days (which is almost always).
And what about the pastries there – you can't drag children away by the ears. So we recommend you don't look for a hotel with full board, and get acquainted with Spanish culinary traditions. If you come to Spain with a baby under a year, it will be enough to ask for a kettle in the room to prepare baby formula and porridge. In family hotels you will certainly be given a sterilizer for bottles, and other necessary things for taking care of a toddler.
Note that many catering establishments, especially in large cities, are equipped with a children's corner. While the food is cooked, the kids are busy playing and do not languish in boredom. Another reason to stop by the nearest cafe is if your child has to pee. There are not many public toilets in the country, and the owners of food outlets will take it kindly if you run into them not to eat, and to visit the bathroom.
If you are planning an independent holiday in Spain with children, then all the necessary things, including cheese, ham, fresh fruit, you can buy on the markets, in supermarkets or specialized stores. Baby food in Spain are sold in pharmacies and supermarkets.
Before the weekend stock up on baby food: Saturday at the stores is a reduced working day, and on Sunday is a day off.
In the stores you'll find all the usual products: milk, dairy drinks, cottage cheese, cereals, meat, fish, vegetables. At the markets you can usually buy the freshest seafood and fruit. And you can also eat at the markets after hours – for example, the famous Boquería in Barcelona opens its doors from 6 am.
The small family stores are the best places to find real delicacies. Flavorful pastries are sold in bakeries (panadería), and if you want sweets more sophisticated, look for a pastry store (pasteleria).
Seasonal fruits, vegetables and herbs can be bought in the fruteria. Cheeses and jamon are sold in the charcuterie, there is often a tiny cafe, where a sandwich with toasted bread, rubbed with half a fresh tomato, will be made for a child.
Transportation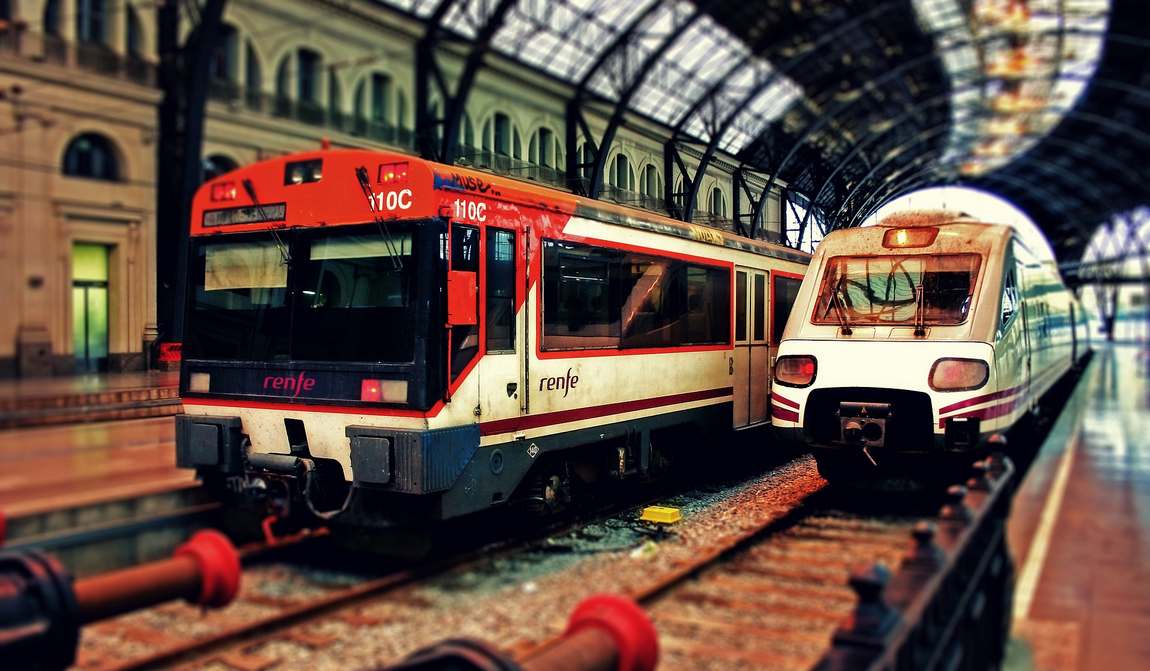 Since the area of Spain is large, and the interesting places are scattered throughout the country, transport plays a significant role in traveling. Tourists are met by major airports, and comfortable buses and trains take them to their destinations.
Buses are one of the most convenient and cheapest ways to travel around Spain. There are several carriers in each region, and between regions mostly run buses company ALSA. The schedule can be found at bus stations or on the websites of the carriers.
Travelling by train is more expensive than by bus, but sometimes more convenient. For example, high-speed trains from Madrid to Barcelona by AVE take 2.5-3 hours, and buses – 6 hours. As for prices, the bus ticket costs less than 35 euros, while the train ticket – 85-115 euros. Public transport in Spain is only in major cities (small resorts can be bypassed on foot or by tourist train).
The fare is 1.5-2.5 euros, and it is always better to buy a pass for multiple trips. Passes for children cost half as much as tickets for adults.
To save on travel and sightseeing, it is advantageous to buy travel cards (for example, Madrid City Pass, Barcelona Card).
With these cards you can use unlimited public transportation, travel around the city on a sightseeing bus, visit museums for free or get a discount on the purchase of admission tickets.
An alternative to public transport in Spain is a car rental. Restless and curious tourists can not do without a car, and there is only one recommendation: obey the traffic rules to avoid heavy fines.