How to have a cheaper vacation: tips from a Polish tour operator
Harsh working conditions, inflation, household worries and other troubles have become commonplace in recent times. But no matter how the circumstances, to relax from all this is necessary. However, it is not uncommon for a family or individual to put off vacation all year, but when the time comes, it turns out that prices have risen again, and the trip is in jeopardy.
One major Polish travel agency gave some advice on how not to lose a vacation. What to do to save money on vacation? Where and when to go? What details to pay attention to, so as not to spend too much? Answers to these and other questions in this article of the "Polish consultant.
A few words about prices
"One big travel agency", which gave these tips, is obviously a commercial structure, and distributing these or those tips, also pursues its own interests. We will take the liberty not to name this company in order not to advertise it.
However, the prices indicated in the article are quoted by that particular structure and have not been checked with other sources. We ask readers to take the above prices as indicative and check them at a particular time with concrete examples.
Vacation Plans
It is common to save for a short-term vacation throughout the year. Beginning to save, they are guided by one rate, and by the time of purchase it sometimes turns out that the prices for travel are unpleasantly surprising. According to the suggested tips, people do not have to abandon their plans – just change them a little.
Tip 1 . Reschedule your vacation for September-October
For travel in September-October, tens of thousands of offers can be found on profile sites. At the time of publication (July 2022) it was possible to find a package for about 1000 PLN for a week with a flight and two meals a day. For example, for such a price you can vacation in October in Bulgarian Sunny Beach in a four-star hotel.
There are many advantages of an autumn vacation, such as half-empty beaches, restaurants and attractions. At the same time the weather in many places is still quite comfortable, and waters and pools may still be warm (according to a travel agency, the comfort of rest in September-October is much higher than in spring).
The disadvantages are just as obvious, and the main ones are related to school-age children. If the school year has begun, and the possibility of distance learning is absent, then such trips are unlikely to be possible.
Moreover, during the September-October period, prices are not the same all the time, and the farther away from the beginning of autumn, the cheaper the vacation will be. Actually, this is the main tip. The rest are somehow related to it.
Tip 2 . Choice of holiday destination.
Where to go on vacation in the fall? The Mediterranean and the Balkans will have beautiful weather. The farther south, the warmer, but if the vacation is more focused on sightseeing and getting to know the area, you can find places closer, and therefore cheaper.
Hotels from Spain to Turkey are open in September and October. If the criterion of choice is price, then again about Bulgaria (about 1000 PLN for a week). For a trip to Spain, for example, costs a little more – a week in a three-star hotel with two meals a day in October will cost just over 1320 zlotys .
Another option – the peninsula of Halkidiki in Greece – here for seven days of vacation in a four-star hotel with breakfast and dinner, you can pay less than 1400 zlotys. You can also count on good prices in Crete in October – a little over 1440 PLN per person in a three-star hotel with half board.
You can find tours to Mallorca and Malta (three stars, two meals a day) for up to 1500 PLN. If you can afford to spend more than 1500 PLN per person, you can opt for a trip to Croatia, Corfu or Montenegro. If you increase your budget by a few hundred PLN, but do not exceed 2,000 PLN per person, you should consider such destinations as Turkey, Ibiza, Northern Cyprus or Sicily.
Tip 3 . Buy in advance
Popular some time ago "hot tours" – very inexpensive offers unsold in time tickets – unfortunately, are a thing of the past. Now, the closer to departure, the higher the prices . Already last year this trend was observed everywhere – at the last moment it was possible to find a lot of travel offers, but the same trips booked a few weeks earlier were cheaper than just before departure, sometimes even by a thousand zlotys per person.
For the fall period, especially for October, it is now possible to find many offers with discounts of almost 40% . However, it is advisable to be careful, and carefully study the offers: various dishonest schemes, unobvious expenses and other unpleasant surprises travel agencies can plant plenty.
Tip 4 . Choose trips with local airports
This year offers with flights from local airports are quite a lot. In this respect we can talk about a return to the pre-pandemic times. Why use this option?
First, the journey from home to the airport can be much shorter and therefore cheaper.
Second, prices for flights departing from smaller airports tend to be lower than those departing from the largest.
Third, travel agencies base some of their offerings on low-cost airlines (which often use smaller airports), so you can take a trip similar to a self-guided one, but with all the benefits of a package offered by a travel agency.
In the latter case, it is a matter of contingency protection. In a situation, for example, when the flight is suddenly cancelled or it turns out that the hotel does not accept tourists, the tour operator is obliged to provide alternative services of the same or higher level or refund the money.
If you buy the flight and accommodation on your own and pay for them separately, there is no such protection. If a flight is cancelled, you usually lose your hotel reservation, and if it turns out that the accommodation facility is closed, you will have to look for another one on your own.
Conclusion .
According to many vacationers, fall travel has a certain "magical power". They allow you to extend the summer and enjoy the sun, sea and carefree at a time when the weather in Poland begins to be less comfortable.
It's really not a bad time to vacation without the crowds, when it's easier to see and experience everything most associated with a given place. Finally, it's a time when you can vacation for much less money, which is very important to many people right now.
Guide to Poland

Poland is the beaches of the Baltic Sea, and unforgettable excursions to the dunes, it is tours to rest on the Masurian lakes, it is the Polish Tatra Mountains with their healing mountain air.
What money to bring?

Morgana
The official currency of Poland is the Polish zloty, denoted by the abbreviation PLN. Paper banknotes depict the former rulers of the Polish state. There are also coins – groschens. One hundred groschens is one zloty.
Stores and other institutions usually only accept zloty. If you want to pay in euros or dollars, you may encounter exchange rates which are so exorbitant that they turn out to be unaffordable. This is why if you are planning to spend your vacations in Poland or be on the road and buy something, you should see to getting some Polish money beforehand. Zloty can be bought both at home and in Poland in exchange offices (they are called there "Kantor"). Although with this you need to be pretty careful. I will explain why.
You can find a lot of small exchange offices in Poland, where the rate is set by the owners. And sometimes it is very different from the official one. In addition, the large tourist centers often resort to various tricks to confuse the buyer and "make a profit" even more. For example, at the scoreboard with the rate may be shifted zeros after the decimal point, or may be in small print at the bottom signed by the cost of the fee for the transaction. From personal experience, I made sure that the exchange of currency for zloty in Poland should be treated with the utmost rigor. So, I'll point out a couple of nuances, which can save you from unnecessary costs and fraudulent exchange.
What resort to choose?

Elena
In the northern part of Poland there is situated an amazing ethnographic and at the same time historic region, which includes vast lands with more than four thousand natural reservoirs. The area is also often called the Land of 1000 lakes and some of them are connected by canals, locks and rivers. The whole area is also called Masuria Lakes. Masuria is in fact a unique and amazingly beautiful Polish lake region. It is located in the northeastern part of Poland and is bordered to the north by the Kaliningrad region of Russia, to the south by Piska Puszcza, and to the east by an area such as Suwalki. It is possible to get from this paradise place by water practically to any point of the country.
The earliest information about the area of the Great Masurian Lakes and its navigation can be traced back to 1379. It was just at the time when the Master of the Teutonic Knights had made his journey by boat through these lakes to the town of Malbork. Well and in the city itself in the ancient chronicles of Elblag was found a record that back in the fifteenth century from wood Piska Forest here in this place were built ships. At the end of the second half of the eighteenth century, by order of Frederick II, canals were built to connect the lakes from Węgorzewa to the Pisza River. The name Masuria appeared only in the 19th century, and at the same time, it can be said that the Great Masurian Lakes are the most important part of the complex….
Visa to Poland

Iriska
From October 15, 2014, changes to the list of documents required for Ukrainian citizens to independently obtain a Schengen visa to travel to Poland will come into force. Requirements and a list of documents to be submitted will be similar to those for issuing a visa to any country in the Schengen area. These documents will be:
– An invitation or a document confirming the purpose of the trip;
– proof of source of income in Ukraine (certificate of employment, bank account statement):
– availability of sufficient funds for the trip:
– payment of hotel reservation or confirmation of other accommodation in the country of stay;
Trips in Poland

Alexandro
Among the attractions of Poland I would like to tell about a small town Wadowice .
Not so long ago it was quite an unremarkable little town, one of many such in the Małopolska province. It became famous on October 16, 1978, when a new head of the Roman Catholic Church was elected at the conclave.
And it just so happens that it was that Karol Jozef Wojtyla.better known as Pope John Paul II.
As I have already noted, Wadowice is quite a small town, with the population of almost 20,000 people. It is located on the River Skawa, at the foot of the Beskids, in a very picturesque place. Actually, it is not far from Krakow, about 50 kilometers.
The first settlements in this area appeared in the late tenth century, and in documents the town of Wadowice was first mentioned in 1325.
During its existence, Vadovice has had a difficult history, including the horrors of World War II, when a Jewish ghetto was organized there.
But the most important history of the town began later. Namely after 1978 when Vadovice received the "status of the Birthplace of the Pope" (so to speak). And this led to a rapid growth of tourism.
Not surprisingly, the main source of income of the city is the visit of tourists to the John Paul II house-museum. This is the same house where Karol Wojtyla was born in 1920.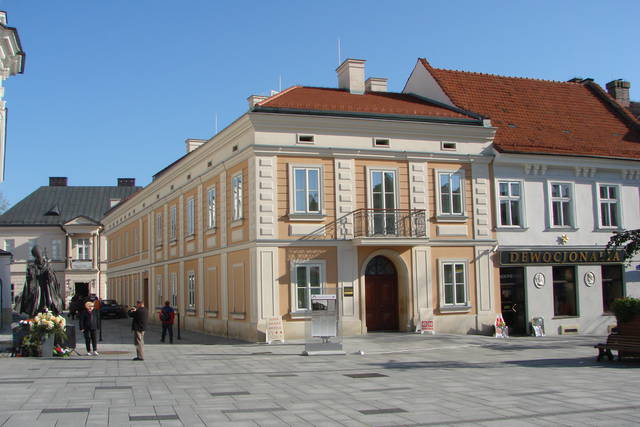 The house of birth of John Paul II can be accessed only as part of a guided tour.
Shopping in Poland

Aliona
Poland is not much different from other European countries in terms of shopping. There are many specialty stores and unique stalls. The ideal place for shopping is the capital of the country, not lagging behind the port city of Gdansk (I know from my own experience). A perfect option for many may be a combination of vacation and shopping. Modern malls and stores are gradually replacing the old stores of Warsaw. But it is in these shops you can buy unusual souvenirs, useful and beautiful at the same time. It is worth buying as a souvenir a strong liquor "Goldwasser" with particles of gold. It has been produced in the country since the 16th century. And it is paired with Krakow sausage.
Exclusive products can be purchased in a variety of stores on Marszalkowska Street. You can pick up clothes and shoes at various prices. There are many more shopping centers in Warsaw: Sadyba Best, Smyk Building and others. Many products in Poland are much cheaper than in Europe, not inferior in quality.
An amazing place for shopping is in Gdansk. This is the Fashion House Outlet Centre. Its peculiarity lies in the fact that here you can buy brand clothing at significant discounts, with no need to doubt the authenticity of the purchase.
A nice feature of shopping in Poland is a partial refund option Tax Free, or as many tourists call it a "wath". It is carried out only if there is a check for more than 200 PLN and filled out form Tax Free.
Useful Information

Savelius
Poland is a beautiful, joyful country, a country of many remarkable historical sites, idyllic landscapes. Surprisingly, here the tourist from Russia practically will not encounter a language barrier, although he will see a lot of unusual things.
What language to speak with Poles?
Poland is a former country of the socialist camp, and previously Russian was studied here forcibly. Now all employees of tourist services know it sufficiently to communicate with clients. Employees of hotels, catering establishments, and all major roadside establishments will easily understand you. Besides, Polish is quite close to Russian.
How do Poles treat Russians?
Russian tourists often pay attention to the unkind attitude of Polish staff. Poles have a long list of grievances against Russia, and their reasons should be respected. However, you will never feel any real discomfort because of your nationality.
What to expect from Polish hotels?
Polish hotels are treacherous. Under the same three stars can be both excellent conditions – fresh repairs, perfectly well-educated staff, perfectly functioning room systems, and the Middle Ages – dirty sheets, cramped beds and barely warm water. If you do not want surprises, make inquiries, look for reviews on the particular hotel where you intend to stay. I would like to take this opportunity to point out that the three-star "Palace Magnate" in Torgina is a smelly and damp ruin, where you will be given large, unventilated rooms… read in full