25 great hotels in Berlin with an unusual design
Just two and a half decades after the fall of the Berlin Wall, the troubled past of this unique city has become a fading memory, and Germany's capital city has taken on an enviable outlook. Many international designers, architects and artists were drawn here by the promise of an exciting new era. Today, the city is edgy, trendy and hedonistic, and many of Berlin's buildings reflect this fresh atmosphere.
Some of the world's most unique hotels can be found in the German capital, and to help you start your search, here's a compiled list – in no particular order – of the coolest, trendiest, most unusual and downright quirky hotels in Berlin.
Hotels in Berlin
1. Hotel Bikini.
The exceptionally-rated, playful new four-star Hotel Bikini has a stylish urban jungle complete with long leafy plants hanging delightfully from the ceilings. In addition to quaintly decorated bedrooms, an in-house bakery, a bar with a DJ corner, and a rooftop restaurant with spectacular panoramic views of the capital, the hotel has free mini-car and bicycle rentals. If that's not enough, an Airstream street food truck is permanently parked outside. Prices from € 80 per night.
Berlin hotel prices
2. the MichelBerger.
This unique Berlin hotel was invented by a group of friends who wanted to create comfortable budget rooms where guests would feel as if they were staying overnight at their cool buddy's house. The result is a stunning hotel with a super-fashionable, yet laid-back vibe that perfectly captures the spirit of artistic rebellious Berlin. The high-ceilinged rooms, housed in an old factory building, are decorated with kitschy wallpaper, flea market finds, TVs built into recycled industrial boxes and … there's a huge book collection! Prices start at €70.
A hotel in Germany
3. the Nhow Hotel.
The Nhow Hotel, located in the ultra-fashionable area between Friedrichshain and Kreuzberg, where bars, cafes, restaurants, stores and clubs are part of the lively center, is considered the first European music hotel. The place has quickly gained an excellent reputation for great design, vibrant art and cool music.
Along with 304 futuristic rooms, the Nhow Hotel provides recording suites with keyboards, guitars and music managers available on a 24-hour menu. Even the hotel's staff are music college graduates. The rooms have state-of-the-art stereos and digital interfaces. And don't miss the impromptu performances on the hotel's rooftop. Cost from €60.
4. Lux Eleven.
This designer apartment hotel caters to a trendy, individualistic crowd. Lux Eleven has skillfully created a modern oasis that has quickly become a favorite of Berlin's creative scene of musicians, DJs, and celebrities. It is located in the Mitte district, among galleries, cafes, bars and restaurants. White geometric, immaculately decorated, the suites have more in common with apartments than hotel rooms-all with fully equipped kitchenettes and chic four-star amenities. Prices start from €70.
accommodation in Berlin
5. Hotel Amano.
The elegant, spacious Hotel Amano is located in fashionable Mitte County. It is decorated in its signature modern purist style – with herringbone wood floors and monochrome walls framed by plush dark curtains. The bistro on the first floor serves Israeli-influenced French cuisine, the bar on the sixth floor has huge windows overlooking the Reichstag, and there's a rooftop bar, too. Prices are reasonable everywhere!
photos of hotels in Germany
6. The Circus Hotel.
This popular budget boutique hotel is centrally located right on the northern edge of Mitte. It offers individually decorated rooms with bright, quirky decor, air conditioning, free Wi-Fi and satellite TV. Choose one of the apartments, and you'll find two to three bedrooms with fully equipped kitchens and separate living rooms, perfect for large groups, extended stays or families. Circus is an unusually attractive option for those looking for a little style and space in Berlin for the right money. Expect to pay around €60.
Berlin hotel prices
7. Lulu Guldsmeden.
This exceptionally rated, modern Berlin hotel has 80 individually styled rooms and 6 suites with signature four-poster beds. Lulu Guldsmeden operates with an eco-sustainable approach and has an elegant Scandinavian-style design. The apartments feature unusual details like swings, hammocks, iPod docking stations and balconies. Breakfast is an organic buffet. There is also a restaurant offering simple Nordic cuisine with local produce. Cost from €60.
A hotel in Germany
8. Ku Damm 101.
This elegant design hotel has competitive prices, a stunning futuristic lobby and ultra-modern industrial suites. Ku Damm 101 is located at the end of Kurfürstendamm Boulevard. The hotel is thoughtfully designed – functional, clean, trendy, but not overbearing. Each room offers designer furniture, complimentary Wi-Fi, and a cool white-tiled bathroom. Ku Damm also has a sunny breakfast room high above the rooftops of Berlin. Rates start at €50.
9. Ellington Hotel.
The 1931 theater has been transformed into the modern boutique Ellington Hotel. It's a chic place with a combination of spacious and inexpensive rooms with televisions, minibars, and smart Internet. Some suites include full-wall windows and separate living rooms. But whichever room you choose, the Ellington prides itself on providing comfort and courteous service. It costs from €65.
accommodation in Berlin
10. Hotel Ackselhaus.
The cozy decor of the cozy boutique hotel Ackselhaus, with its magnificent courtyard gardens, has attracted rave reviews from all over Europe. It has four stars and is located in a perfectly restored 19th-century building in the charismatic Prenzlauer Berg district of the German metropolis. Each mini-apartment resembles an elaborate set combining a mix of exotic, colonial and nautical styles. Be prepared to spend at least €100 per night.
hotels in Germany
11. weinmeister Hotel.
The stylish four-star Weinmeister is considered one of Berlin's most popular hotels. Pleasing the trendy crowd, it offers modern rooms, a wellness spa, a chic city lounge and a cool rooftop bar with 24-hour food and drink service. Spacious suites feature oversized designer beds, trendy interior details, hand-crafted lamps and a black-wall shower with rain showerhead. Choose an upgrade and you can expect a bathtub and even a quirky room dedicated to a British pop band. Prices start at €65.
Berlin hotel prices
12. Sir Savigny Hotel.
The four-star Sir Savigny is nestled in a literary corner of Berlin and has curated this little slice of the city's history. Don't worry, you won't need to quote Goethe at check-in, but there are gentle reminders of the building's cultural origins throughout the hotel. The small boutique hotel, with only 44 rooms, is an oasis of tranquility away from the hustle and bustle of the burgeoning bohemian Charlottenburg.
The staff here prides itself on excellence, and the decor is a master class in elegant chic with signature linens and toiletries, not to mention gourmet cuisine and a stunning garden where you can sip beer, surrounded by the delicate scent of orange trees. Prices from € 80.
A hotel in Germany
13. Ostel.
The Ostel perfectly captures the nostalgia of the former communist days in East Germany and packs it neatly into a fun budget hotel. It is located in lively Friedrichshain. A comfortable one-star guesthouse combining modern kitsch and the old days, it offers rooms of various sizes lovingly decorated with bright 1970s wallpaper, chintz lamps, and short transistor radios. By the way, the original GDR furniture is more than sentimental, it's for those tourists who like their stay to be a little different. Price € 35.
14. Arcotel John F Berlin.
This hotel's rooms are modern and spacious, with lots of surprisingly quirky details — chic beds with huge tufted headboards, hand-carved rocking chairs, and elegant light fixtures inspired by Jackie's ball gowns. The superior suites have a kitchenette and floor-to-ceiling windows. Arcotel has a spa and a 24-hour gym. Rates start at €60.
accommodation in Berlin
15. Motel One Mitte.
Popular for thrifty travelers, the ideally designed Motel One offers comfortable rooms at two-star prices. All rooms are decorated in turquoise, gray and white signature colors and feature flat-screen TVs and stylish granite bathrooms. The downstairs foyer is decorated in a retro spirit with dark wood floors, cube-shaped leather stools, tufted rugs and collectible seventies swivel chairs. Cost from €60.
photos of hotels in Germany
16. Hotel Bleibtreu.
The minimalist Bleibtreu lives in an elegant 19th-century townhouse on a quiet street near Kurfürstendamm. All romantically decorated rooms are equipped with all the usual modern comforts. Othal also places great emphasis on wellness. Naturopathy, massage, acupuncture, reflexology, osteopathy and a personal trainer are all available on request for those looking for a little more relaxation than a Turkish hammam and steam room. Accommodations will cost €55.
Berlin hotel prices
17. Hotel Q.
More daring than other design hotels, the Q has a stylish monochrome interior, courtesy of the Graft Group. It has exceptional scores and prides itself on the smallest details. The lobby is filled with the sounds of the latest funky tunes, the white-washed hallways are artistically lined with red tufted carpets, and the young, black-clad staff is generous with prompts. All rooms at the Q feature elegant design, spacious modern bathrooms and intriguing tilt-up beds built into the wall. Expect a fashionable and glamorous crowd and prepare to shell out a minimum of €80.
A hotel in Germany
18. Gorki Apartments.
The upscale and uniquely decorated Gorki is located in a distinctive residential building built in the early 1900s. The quaint, pet-friendly apartments feature wood floors, high ceilings and impeccable decor with elements of eclectic accents. Amenities include free Wi-Fi, satellite channels and a kitchen with a handy Nespresso coffee machine. Choose one of the two penthouses, and you can count on extra rooms and rooftop terraces. Price tag from €120.
19. the Arte Luise Kunsthotel.
This unusual structure is more of a living art gallery than a hotel. The Arte Luise Kunsthotel is located in a beautifully restored neoclassical mansion, a short walk from the Reichstag. Each of the 50 rooms has been individually designed by a renowned artist, providing guests with a unique experience. Prices start from €50.
Where to stay in Berlin
20. Titanic Chaussee.
Well, hello, Mr. Michelin Star! The four-star Hotel Titanic Chaussee has made it into the Michelin catalog, thanks to the countless fine dining options on offer. No matter what your gastronomic needs are, Titanic Chaussee seems to cover them. But there's more to this fabulously chic Berlin hotel than just the food! It has homely rooms and a fantastic location, right on the edge of the central creative center of Hackescher Markt. Other hotel amenities include a very elegant spa, a great indoor pool, and a gym. And if you want to enjoy a view of the city, choose a room with a balcony. The cost is € 95.
photos of hotels in Germany
21. Garden Boutique Hotel.
The elegant little hotel, with a touch of colonial nostalgia, occupies a restored historic building from 1845. Residents enjoy well-reviewed rooms with historic interiors, ultra-glossy decor, wood floors, stucco ceilings, gilt-framed paintings and wrought iron beds.
The biggest attraction of the Garden Boutique is the lush Mediterranean-style garden with delightful pathways and bridges, century-old trees, a pond with goldfish, a fountain, magnificent antique statues and lashings of ornate ivy. The cost of accommodation from € 70.
Berlin hotel prices
22. Max Brown Hotel.
Everything in this retro/modern Berlin abode exudes elegant eclectic class and successfully combines the old with the new. The 70 bedrooms are equipped with everything the tourist needs for an easy stay in the new city. The 24-hour front desk staff is always ready to help arrange tours and excursions, and the brightly decorated bar and lobby offer a respite from a busy day of sightseeing. Children under 12 stay free – nice! Prices from €65.
A hotel in Germany
23. Quentin Design Hotel.
This popular low-cost design hotel is surrounded by cool alternative cafes, lively nightclubs and the beautiful streets and squares of Schöneberg. The Quentin occupies a historic building, but its rooms are modern, tastefully decorated and furnished with black-and-white photographs and smart TVs, and the luxurious bathrooms have rain showers. Superior suites have balconies overlooking the garden. Prices from €40.
24. Generator Mitte District.
This very popular, art-oriented hostel is for the young (and young at heart) traveler. It puts forward one of the best deals in town. At Generator, you'll find interesting creative touches like art installations, sculptures, an outdoor patio, a library to relax in, and private dorm-style rooms and apartments. Are you on a tight budget? You can't find much cheaper than this! Prices from € 30.
accommodation in Berlin
25. Casa Camper.
Try a chain hotel and you will be impressed! Casa Camper is ultra-modern, quirky and colorful, with amazing amenities and friendly staff. The hotel has only 51 boutique rooms, which means it can maintain a personal touch. The apartments are clean and comfortable, with nice little design elements. But the most wonderful aspect of the hotel is the shared mini-bar concept. The Tentempie Buffet is located right at the top of the hotel complex and is open 24 hours – guests can order drinks and snacks at no extra charge. It's a great place to relax after walking around the city and meet people without being awkward. Prices from € 110.
15 of the most unusual hotels in Germany
A standard double room with a bath, a junior suite or a family room – bed, bath, couch, TV – this is what a typical hotel room looks like for a trip to Germany.
But for many travelers, this is no longer enough. After all, on vacation you want special experiences, and overnight stays can be a bit unusual.
So we will show you the most unusual hotels in Germany. A night in one of the themed hotels will certainly be an unforgettable experience.
The Igloo Hotel on the Zugspitze
Spending a night high above the clouds sounds like a dream at first, doesn't it? In the igloo village on the Zugspitze, this dream becomes a reality.
Where the view over the four countries and the breathtaking panorama of the Alps opens up, you will spend the night in a village made up of different igloos built especially for the winter season. Next season: 28.12.2021 – 10.04.2022
And you can't do without comfort here.
You sleep on beds covered with thick sheepskins, wrapped in thick sleeping bags.
You can also choose a room, comfortable for you category, and find the right offer for a holiday in the village igloo.
For a romantic time for two, there is also a romantic suite consisting of three igloos with their own jacuzzi.
The igloos in this unusual hotel are decorated with works of snow by various artists and sculptors and create a beautiful atmosphere.
The igloo village also has a sauna and a bar made entirely of ice.
Iglu-Dorf Zugspitz, 82475 Garmisch-Partenkirchen, Germany
2. the Chocolate Inn
Do you like chocolate?
Then you should definitely spend your vacation in Germany's first chocolate hotel.
The Voss chocolate hotel opened in Westersted, Lower Saxony. Everything here really revolves around chocolate.
You stay in double rooms of the categories Chocolate, Praline, Truffle, or Truffle Deluxe.
You can also define your own type of chocolate. At the nearby wellness center, you can treat yourself to a variety of chocolate treatments. On the other hand, at the hotel's own chocolate factory, you can look over the shoulder of a chocolatier.
And of course you can buy the delicacies produced on site in the hotel store and take them with you as a chocolate souvenir or eat them right away.
Voss – Schokoladenhotel – Bahnhofstraße 17 26655 Westerstede Deutschland
3. Hotels in the trees
You sleep high up in the treetops in small, often very well equipped lodges. The biggest advantage, apart from the magnificent view: you are on your own here.
An overnight stay at the Treehouse Hotel is the perfect place for a romantic getaway for two.
A Treehouse vacation is also an unforgettable experience for families with children. And above all, it's a real adventure for kids. Sit on your own terrace at high altitude and listen to the sounds of nature. Your treehouse hotel may even have its own sauna or hot tub.
However, treehouse hotels are not always placed at dizzying heights. Depending on the nature of the trees, they also stand on stilts, blending in with their surroundings.
They are open mostly in the summer season.
Baumhaushotel und Ferienhäuser Kriebelland, An der Talsperre 1A, 09648 Kriebstein, Germany
Baumhaushotel Uckermark, Gut Gollin 1, 17268 Templin, Germany.
Baumhaushotel Oberbayern, Schulstrasse 26, 85305 Jetzendorf, Deutschland
Baumhaushotel Seemühle, An der Seemühle 1 97782 Gräfendorf Deutschland
Wipfelglück Baumhaushotel, Am Brunnweg 63933 Mönchberg Deutschland
Baumhaushotel Wildparadies-Tripsdrill-Straße 2, 74389 Cleebronn, Deutschland
Robins Nest Baumhaushotel, Berlepsch 1, 37218 Witzenhausen, Deutschland 4. Hotels in hay
If you come from the countryside and had the opportunity to run in the hayloft as a child, you remember the feeling that the hayloft evokes.
You feel safe, at the same time it's a little mysterious, and sleeping in the hayloft was definitely a real experience.
Even if you have grown up or come from the city, you have the option of sleeping in the hayloft.
Some hotels in various states of Germany offer this unusual type of lodging.
You can build a cozy camp in the hay with a sleeping bag and blankets and enjoy the wonderful smell of fresh hay. This is ideal especially for vacations with children.
And, for allergy sufferers, many hay hotels offer regular hotel rooms or construction trailers for overnight stays as an alternative.
Heu-Ferienhof Altkamp, Altkamp 1, 18581 Putbus, Deutschland
Scheunenherberge, Berliner Chaussee 1, 15910 Unterspreewald, Deutschland
Heuhotel beim Gnadenhof, Vorderwestermurr 30 Heuhotel Murrquelle, 71540 Murrhardt, Deutschland
Heuhotel Grüne Kuh, Profener Hauptstraße 11, 06729 Profen, Deutschland
Heuhotel Schleifmühle, Liftweg 2, Unterammergau, 82497 Garmisch-Partenkirchen, Deutschland
We recommend the unique crime hotel in Heilersheim in the Eifel district to crime fans.
Each of the hotel rooms is dedicated to a different crime story from a book or movie. So how about an overnight stay in an Alfred Hitchcock or Murder on the Orient Express double room?
Suites are also available for more comfort, for example with sonorous names such as "Inspector Barnaby" or "Rosa's Name".
By the way, it is no coincidence that the crime-thriller hotel is located in the Eifel town of Hillersheim. From Hillersheim on the Krimi-Wanderweg you can visit the sites of some crime novels yourself and also try to solve the crimes yourself.
6. Suitcase Hotel
Germany's smallest hotel is located in Saxony. It is easily recognized by its appearance, namely by the shape of a suitcase.
So pack yourself in a suitcase and stay in this unusual hotel in Germany.
The interior of the carefully designed case is only 2.10 meters high, 1.20 meters wide and 2.80 meters long.
If you suffer from claustrophobia, you should think twice if you dare to climb into this suitcase.
By the way, you will be sleeping on a bunk bed.
The suitcase also has its own bathroom and a small terrace.
So if you get too crowded, you can easily get out there.
Kofferhotel Kofftel, Burgstädter Str.1 09328 Lunzenau Deutschland
7. Hotel with caravans
Are you planning a camping holiday, but still want to enjoy the advantages of a city vacation?
We have the perfect solution for you.
Spend the night at Berlin's first caravan hotel, the Hüttenpalast in Neukölln. Hobrechtstraße 65-66, Neukölln, 12047 Berlin, Deutschland
In the old factory in Neukölln you will find lovingly restored mobile homes in two halls.
They are decorated in the style of the time and exude a special charm.
In addition, one of the halls is equipped with rustic wooden huts for hotel guests.
Here, you enjoy shared baths, separated, of course, by the floor.
A third area of the hotel also has hotel rooms with private bathrooms.
But who would want to sleep there when they have the opportunity to sleep in a real design classic from the GDR and the FRG?
So you have a choice between the Dübener Ei or the Puck.
After a restful and unusual night out, let's head to the best sights in Berlin.
8. The unusual Propeller Island City Lodge
In the world's most avant-garde city, Berlin, you'll find the strangest hotel
Check-in: today + must be an integer.
Check-out: today + must be an integer.
This artistic hotel has 30 rooms, and they are all devoted to very different themes.
For example, anyone who would like to sleep in a coffin or in a mine has a chance to make that dream come true.
Don't expect to find a concierge or a spa here. The bathrooms here are public.
The main motto of the hotel is not to copy anything and always be original. And the entire interior conveys this philosophy of the creator.
Propeller Island City Lodge – Albrecht-Achilles-Straße 58, 10709 Berlin, Germany
9. Hotels with Wine Barrels
In various regions of Germany you can stay overnight in wine barrel hotels.
The offerings vary from hotel to hotel, but they all have one thing in common: you sleep in a large wine barrel.
Since most of the wine regions are in the south and west of Germany, you'll find wine hotels here as well.
The wine barrels contain comfortable double or single beds.
Depending on the hotel, sanitary facilities are available in the immediate vicinity or in a second barrel next to your wine barrel.
Some hotels also have wine barrels with a sauna or Jacuzzi.
In this way, you can perfectly enjoy your stay.
NATURAMA BEILNGRIES – Naturparkcamping und Fasshotel – An der Altmühl 24, 92339 Beilngries, Deutschland
Campingplatz Aichelberg – Bunzenberg 1, 73101 Aichelberg, Deutschland
Schlafffassdorf Klingenbrunn – Bergstraße 44, 94518 Spiegelau, Deutschland
10. Hotel-train
In this hotel you can enjoy a stay in the full sense of the word. At the Gasthof Dückinghaus Eisenbahnhotel near Osnabrück, everything is connected to the romance of the railroads.
You sleep in historic train carriages in your own compartment.
You can get to your sleeping place from a specially built platform.
There you will also find plenty of details and information about the railroads.
The best thing about sleeping in your private sleeping car is that you are guaranteed not to be awakened by the noise of the train. A sleepover in a train car is definitely a great adventure for kids.
There are a total of five carriages with nine compartments and 19 berths.
You can sleep in a 1950s German Wine Route wagon or a 1928 Donnerbuchs.
Gasthof Dückinghaus mit Hotel Bahnhof Lechtrup-Merzen, Osterodener Weg 20, 49586 Merzen, Germany
11. Hotel with pickle barrels
You can find a particularly unusual place to stay in Lubbenau in the Spreewald.
There you will spend the night in the mini-hotel "Übernachten im Gurkenfass" ("Spend the night in a pickle barrel" in huge pickle barrels, as you have already guessed from the name.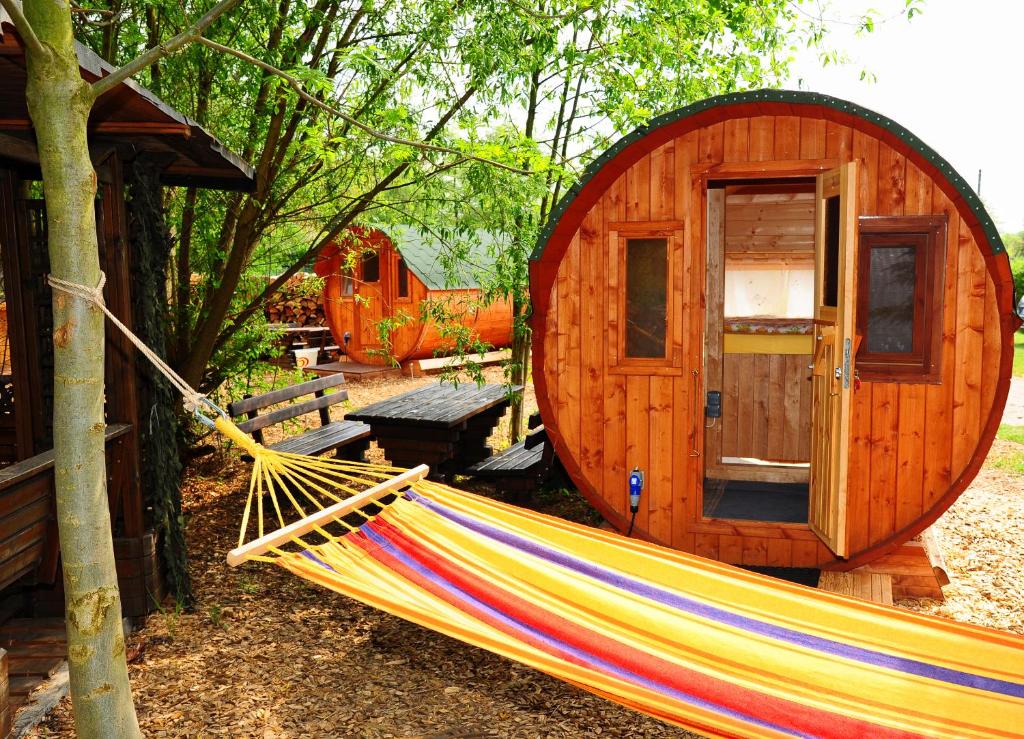 There are a total of five barrels, each accommodating two adults.
They have a double bed, and under the bed is another place to sit.
A few steps away from the cucumber barrel in a separate building you will find a bathroom and shower.
An overnight stay in this adventurous hotel goes perfectly with a holiday in the Spreewald.
Not for nothing is the unique landscape with its many small rivers and streams one of Germany's natural wonders.
Mini Hotel Übernachten Im Gurkenfass, Dammstraße 59A, 03222 Lübbenau, Deutschland
12. V8-Hotel
This is where the hearts of car enthusiasts beat faster.
In Böblingen, near Stuttgart, the V8-Hotel revolves around cars, motorsports, tuning and classics from automotive history.
You'll stay in stylishly furnished and themed double rooms or suites.
You can choose between the "Scheunenfund", "Le Mans", "Made in Germany" or "Flugfeld" rooms.
The beds are designed in the design of different car models.
If that's not enough for you, you can sleep in the V10 Junior Suite or the V12 Mercedes Suite.
The theme hotel fits perfectly into the region of Stuttgart, where Porsche and Mercedes Benz automobiles are based.
Both companies also have their own museums in Stuttgart, which car lovers should definitely visit.
V8 HOTEL Classic Motorworld Region Stuttgart, Graf-Zeppelin-Platz 1, 71034 Böblingen, Deutschland
13. Overnight accommodations in beach garbage cans (Strandkorb)
What can be more pleasant than waking up in the morning to the sound of the sea in your ears and the first rays of sunshine?
You can experience both up close and personal with a night on a lounger in the Bay of Lübeck on the Baltic Sea or in Büsum on the North Sea.
You spend the night for two in your own private lounger, which also protects from heavy rains thanks to a waterproof roof.
But you can also leave the top open and admire the starry sky and the sea.
Sleeping overnight in a chaise lounge is especially suitable for couples in love, because the area for lying in baskets is only 1.30 meters by 2.40 meters.
Toilets and showers with cold water are in close proximity.
For total romance, you'll have to compromise a bit on comfort.
You can only book a night in a lounge chair from May to September, when the temperature is kept within reasonable limits.
The next morning, however, nothing will stop you from taking a refreshing dip in the sea at one of Germany's most beautiful beaches.
Schlafstrandkorb auf dem Hof Herzleuchten – Hartkoog Weg 1, 25836 Garding, Deutschland
Schlafstrandkorb mit Seeblick am Kransburger See Kransburger Str.1, 27639 Kransburg, Deutschland
Schlafstrandkorb Hotel Lindequist 1 Von-Lindequist-Weg, 18586 Ostseebad Sellin, Deutschland
14. Bubble Hotel
An overnight stay outdoors with a beautiful view of the starry sky seems like the perfect place for many people.
So how about an overnight stay where it's all possible and you're still dry and warm?
At a bubble hotel, it's possible without a problem.
You have an entire area just for yourself, and no other guest bothers you with prying eyes.
In addition, you have access to a hot tub and a sauna.
So a night in the "bubble" is guaranteed to be unforgettable.
Depending on the hotel, a transparent bubble may be included in the apartment, so you can escape to a solid four walls if you wish.
Your own bathroom is in a separate building in all Bubble hotels.
In Germany, you can find this unusual hotel near Gerolstein.
5 Millionen Sterne Bubble-Übernachtung-Optional mit Hot Tub 29 Thiersteiner Straße, 95691 Hohenberg an der Eger, Deutschland
Bubble-Hotel, Ortsstraße 2, 54595 Orlenbach, Germany
15. Hotel-prison
Sleeping behind Swedish curtains: your worst nightmare might come true at the Knast-Hotel Fronfeste prison hotel in Bavaria.
But your visit to the prison hotel is far more likely to be unforgettable.
You'll spend the night in a double room, a theme room or a suite.
True to style, of course, with louvered windows that, unlike the original, can be opened.
On arrival, you will receive bread and water in your room. But don't worry, you can come and go as you please.
In the theme rooms, you can choose between a guard, a chapel, a doctor, or a high-security wing.
There is also a warden's quarters for added comfort.
Knast-Hotel Fronfeste Fronfestgasse 8, 92224 Amberg, Deutschland