Ukrainian cuisine
One of the most favorite and frequently encountered products in the recipes of the national cuisine of Ukraine is lard. It is eaten not only salted, but also sweet, with molasses. This is not an anecdote, but a historically developed gastronomic peculiarity. As Pokhlebkin wrote, the Ukrainian Cossacks began to cultivate the use of pork fat in spite of the "Basurmans." However, for the same reason, some products, such as eggplants, which matured beautifully in Ukraine, but were "Basurmanian," were neglected. So, let's have a bite.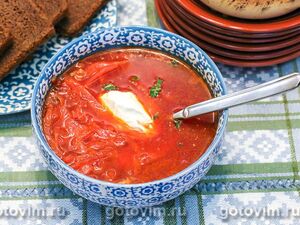 Borsch with pickles and brine
We tried to cook borsch with brine, and it turned out to be unexpectedly delicious. That is, borsch remained borsch, no hint of pickles, but the bright beet color was preserved without adding more acid. One cucumber brine was enough. In this.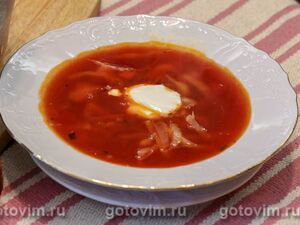 Borscht on brine.
It's time to try borscht with the addition of brine. Any brine will do – from cabbage, cucumbers or tomatoes. You can even use not brine, but marinade. I added 250 ml of cucumber brine to a 2-2.5 l pot. Beets perfectly preserves the color.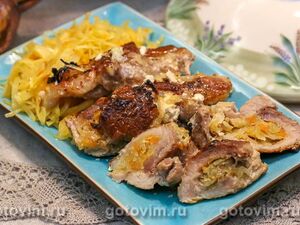 Wolyn Kruchenky of pork with cabbage, baked in sour cream
Volhynian Kruchenky are meat rolls with cabbage stuffing stewed with cucumber brine. The spiciness of the brine is dampened with sour cream, in which the slightly fried rolls are stewed until tender. As a result, you will have soft meat with a juicy beginning.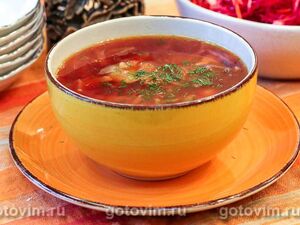 Borscht with celery root
Root celery has a very bright taste, which remains even after boiling. All the more interesting to try a new combination of vegetables for such a classic dish as borscht, in which I added, in addition to the traditional beets, cabbage and carrots, chopped.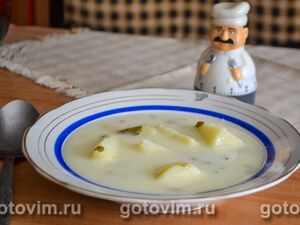 Potato soup with sour cream in Zakarpattya (Pidbyvani krumpli)
I suggest cooking one of the famous, everyday Zakarpattia potato soup. This soup is called "Pidbyvani krumpli". Pidbyvani is a dressing made of sour cream or yogurt, and krumpli means potatoes. So, you get potatoes with sour cream dressing.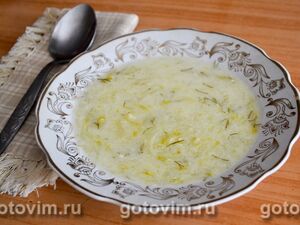 Zakarpattya zucchini soup with sour cream
There are several recipes for zucchini soup. This one is one of the easiest zucchini soups to make, with the addition of flour chatter with sour cream and kefir. Zucchini soup can also be made from frozen zucchini, grated on a coarse grater in advance. .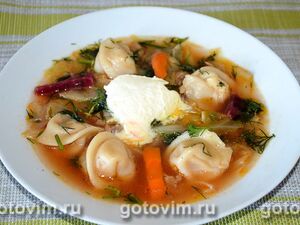 Borsch with dumplings
Borsch is cooked according to a hundred different recipes. For example, borsch with dumplings is cooked as an ordinary borsch with cabbage and beet and tomato dressing, but at the end of cooking add dumplings. Of course, ideally for such a soup make homemade dumplings. But if you buy.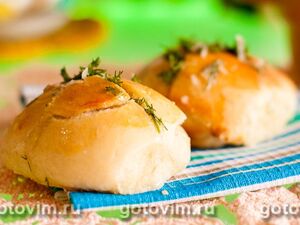 Garlic pampushki in the bread machine
Pampushka with garlic is a small bun from Ukraine. It is traditionally served with borscht. But you can also eat pampushki without following the tradition. This bun is a wonderful appetizer for any first or second course. And it is delicious on its own. Podr.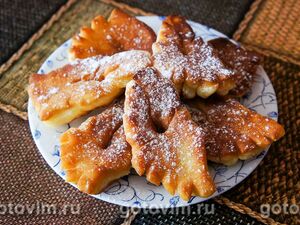 Fluffy Kefir Puffins
Werguns are fluffy baked goods with kefir. If you knead the dough with 2 cups of kefir, you get a whole mountain of delicious curls, sweet and fluffy. The recipe for werguns is simple and quick and easy to make. Cut a hole in a lozenge of dough, pull the cher.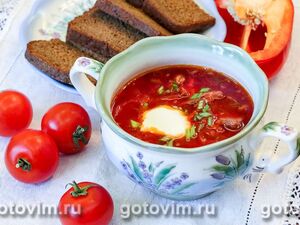 Borscht with sauerkraut
Borscht rich ruby color can be made not only with fresh, but also with sauerkraut. Of course, the taste of the soup will be different from the traditional, but this borscht recipe has the right to be. If the cabbage is too sour, before putting it in the pot e.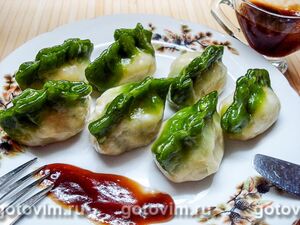 Steamed bicolor spinach dumplings
A recipe for amazing two-tone dumplings, with a pretty green twist, glossy sides, and a tasty filling. They are steamed with green dough on spinach juice and regular, custard-cooked dough. The potato filling is here l.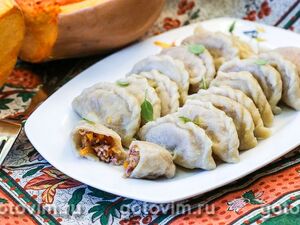 Pumpkin and Bacon Dumplings
A recipe for hearty dumplings with pumpkin and bacon. You can make a whole bunch of these dumplings, freeze them, put them in canvas bags, and store them in the freezer. When you need to prepare something for lunch, boil a portion in salted water and serve it in mountains.
Dumplings with Pumpkin and Meat
There are lots of recipes for dumpling fillings. Today we are going to cook dumplings with meat and pumpkin, stuffing with raw pumpkin and then fry in butter with chopped onion. It turns out unusual and delicious. Vareniki can be with.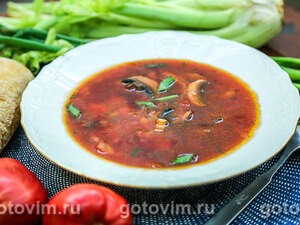 Borsch with champignons
Boiled borscht with mushrooms in the meat broth. If you want you can make soup without meat, but it will still be delicious. For borscht take a rich set of vegetables – potatoes, celery, sweet peppers, cabbage, beets – so with the addition of mushrooms taste with.