Tropical Forests Waterfalls Beaches and Blue Hole
Travel east of Central America to enjoy the great Caribbean culture and cuisine of Belize. Admire the magnificent scenic beauty of the hundreds of islands called the Cayes and explore the rich biodiversity of the vast Belize Barrier Reef. Visit Belize's jungle to see ancient Mayan ruins. Swim heartily on Ambergris Cayes and engage in fun water sports at various beaches and cayes. Snorkel with sharks and rays at Hol Chan Marine Park and snorkel at the Big Blue Hole. Get up close and personal with Belize's wildlife at the Belize Zoo and take an exciting hike to a waterfall.
What we do on the tour
Belize City
Ambergris Caye
Hol Chan Marine Reserve
Shark Ray Alley
Kaye Caulker
Big Blue Hole on Lighthouse Reef
Belize Zoo
Coxcomb Basin Wildlife Sanctuary
Bokawin Rainforest
Bocavina Falls
Hopkins Beach
– Cruise with dinner and drinks at sunset
– Snorkeling/diving in the Big Blue Hole
– Snorkeling with nurse sharks
– Swimming with stingrays
– Hike to Antelope Falls
– Rainforest walking tour
– Caribbean Sunshine on the Beaches
Itinerary
Day 1. BELIZE CITY – AMBERGRIS CAYE
Arrive at Philip Goldson International Airport in Belize City before noon. Meet and greet your tour leader and the rest of your group. Freshen up a bit, then get ready for a 20-minute flight to Ambergris Caye – San Pedro Island. Admire the stunning views from the flight and prepare yourself for the most dazzling natural images. Quench your thirst with a scuba dive on Belize's most significant island, Ambergris Caye. Relax for a few hours on the beach, then take a sunset cruise with dinner and drinks on Ambergris Caye.
Activities Included:
Flight to Ambergris Caye Island
Sunset dinner and booze cruise
Meals Included:
Accommodations:
Day 2. SAINT PIERRE – CAYE CAULKER
Take a great snorkeling trip to Hol Chan Marine Reserve, Caye Caulker and Belize's Shark Stingray Alley. Explore the marine biodiversity of coral reefs, swim with stingrays and ferocious sharks, and experience vibrant marine life up close at Hol Chan Marine Reserve. Snorkel with harmless nurse sharks at Shark Ray Alley. Spend a couple of hours touring Caye Caulker and relaxing on the beach with rum cocktails before heading back to San Pedro Town.
You can head to San Pedro Town.
Activities Included:
Snorkeling with baby sharks
Caye Colker Island sightseeing
Meals Included:
Accommodations:
Day 3. THE BIG BLUE HOLE
Discover the dazzling beauty of the Blue Hole at Lighthouse Reef Atoll on your Belize tour. Dive into the azure funnel and admire the beautiful limestone stalactite formations underwater. Relax on the white sand beach by the sparkling turquoise waters and have a great time. Go snorkeling or diving in the Big Blue Hole, a diver's paradise that spans 318 meters and is about 124 meters deep. The snorkeling tour at Great Blue Hole starts early, around 6 a.m., to give tourists enough time to explore the biodiversity of the sapphire-blue waters.
Great Blue Hole tour .
Activities Included:
Optional Activities:
Excursion to the Great Blue Hole ($200)
Meals Included:
Accommodations:
Day 4. BELIZE CITY TO HOPKINS.
Return to Belize City by plane and then travel to Dangriga in the Stann Creek area. Take a break from your trip and visit the famous Belize Zoo. Watch Belize's national animal, the tapir, at the zoo, and see spider monkeys, white-tailed deer, white-cheeked peccaries, kotimundi and feral cats. Take a tour of the zoo and then head out again along the scenic Hummingbird Highway until you reach Cockscomb Basin Wildlife Sanctuary, the most famous jaguar sanctuary in the world. You can even take a night hike through the sanctuary or relax at the hotel.
Activities Included:
Optional Activities:
Coxcomb Basin Wildlife Sanctuary / Jaguar Sanctuary visit
Meals Included:
Accommodations:
DAY 5: TROPICAL BOCAVINE FOREST – HOPKINS
Take an exploratory tour of the trails that wind around the rainforest near the resort. Climb to the top of a waterfall through the lush rainforest, home to thousands of birds, animals and trees, with your guides. Give your strained nerves and muscles a much-needed rest with a dip in the turquoise water at the top of the falls. Enjoy views of the blue Caribbean Sea and tropical rain forest and take the long walk to Bocavina Falls from the tropical resort. A little later, head to Hopkins to relax on the beach and bask in the glorious Caribbean sun.
Caribbean Sun .
Activities Included:
Exploring and hiking in the Bocawin Rainforest
Meals Included:
Accommodations:
Day 6. BELIZE CITY.
Tour to Belize ends with breakfast at the hotel, followed by check-out at 11am. Say goodbye to your group members and don't forget to take one last photo with everyone. Hopefully, you captured the best moments on camera and collected many memories of the trip to take home with you. After you check out, head to the airport and catch your afternoon flight. Don't forget to stay in touch with your group and start planning now for another great vacation.
Vinsky's Forum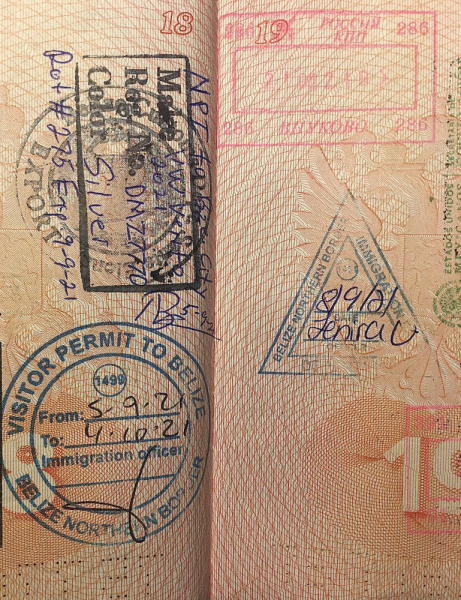 In a time of general psychosis, when everyone goes crazy in their own way, the possibilities for travelers are severely limited. This is especially true of covid dissidents, to whom I can certainly include myself, since I'm not going to get stoned just for the sake of travel. But fortunately, the whole world has not yet fallen into marasmus, and there are countries which are soberly assessing the situation. Of course, Mexico is one of those countries, and that is where the choice was made. Practically everything is open, there is no need to do PCR on arrival. When flying on a normal airline, which I think of Turkish airlines, you don't need a test when transiting through Turkey either. In fact we got only one test for the entire trip on arrival home, which cost 670 rubles. Mexico turned out spontaneously, as originally another country in South America was planned. But it was not possible to coordinate the route with the organizer and it was decided to change the direction. Since there was a roundabout route through Mexico, Belize fitted well into the trip. In addition, Belize is the only Central American country that requires a visa to visit. Current U.S. and Canadian visas made it possible. And, in light of current events, there is no telling when the next ones will be obtained. South America is not Europe where you can rent a car in one country and drive around the rest. The rental office has to make a permit for each individual country. Therefore, the search for a car began by sending letters to rental companies with a question about the possibility of crossing the border. A positive answer was given only by Europcar. According to information I got, there was another company, which issued a permit for Belize, but there was too much negative information about it, so I did not even write to them, and decided to stop at Europcar. I rented new cars in Mexico City airport for 22 days (mileage 2700 km) and Chihuahua for 2 days (mileage 94 km). Drove a total of about 9,000 km. Due to the fact that the speed limit is not controlled by anyone then outside of populated areas could move any speed, which depended only on engine power and road conditions. Therefore it was possible to cover significant distances in a fairly short time. But in populated areas, the average speed was even much lower than the allowed speed, thanks to the huge number of "speed bumps". However, on the penultimate day in Chihuahua, I already ran up a pretty penny. There was little time, I had to get a car at the airport, drive 300 km and have time to see something else on the day. A police car stopped us at the bypass. We got straight down to business. We talked through an interpreter, as they didn't know a word of English. The dialogue was going like this: "You were driving much faster than the speed limit and we have to pay a fine of about $50 USD for that. – We draw up a protocol and take away your license to guarantee payment. – Did you have a record of this somewhere, I want to be sure. – No, we were following you, that's enough. – If you don't want an official record, you can pay us and keep driving. This is where I made a strategic mistake that I still can't explain to myself. Instead of saying that I did not have any cash, I would withdraw it from my card and be sure to pay, I pointed my finger at the expiration date of my driver's license and said that in six months it would expire. So, keep your license, I will not pay such an amount, and for 15 dollars I will get a new license at home for 10 years.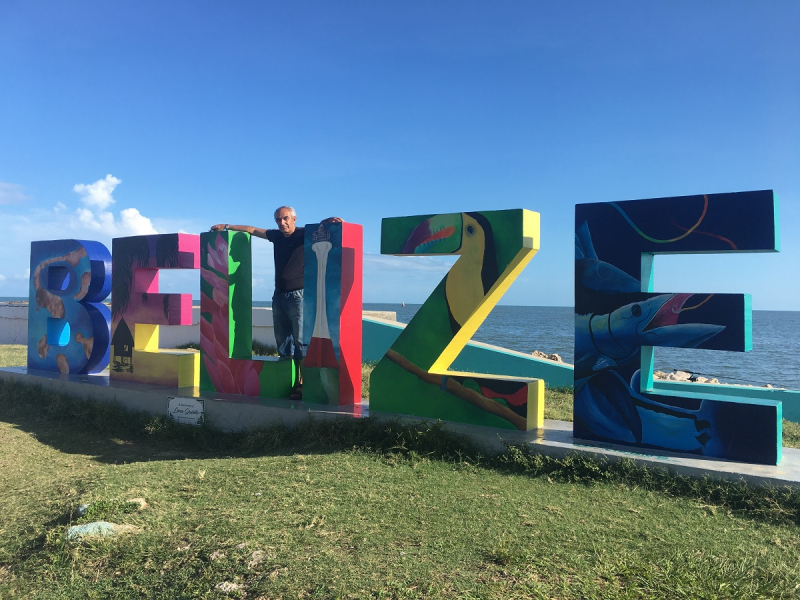 If I had answered as I should have, I would have probably gotten away with a minimal sum. But my answer pissed them off, and they suggested that I follow them to the police station. There, the relevant services would check my car and the legality of my stay in the country. I understood that this was a specific scam, but the real lack of time for a showdown was not good enough. I had to give them the required amount and drive on. Although as my personal experience shows, a request to call the Russian embassy, because their citizen was detained, quickly sobered up the hotheads. Let me tell you a little secret, as this is a forum and here it is customary to share information. And to use it or not here everyone decides for himself. In countries other than Europe and America, I drive on my left driver's license, which cost me no more than 1000 rubles. A foreign document which a person sees for the first time is difficult to determine its authenticity. If the greedy policemen ask for a sum of money bigger than the searched one, I part with this laminated piece of paper without regret. Over the past few years, I have left a couple of such papers in Africa and one in our former republic. Of course, in case of an accident there is a normal document. But I ran out of levak a long time ago, as well as ran out of all the African countries I passed, so there was no point in ordering new ones. Please do not read the moral because it is not relevant to the topic, and will only litter it. Finishing with the philosophy and move directly to the journey. As I wrote above, to get into Belize by car you need permission from a rental company. We left early in the morning from near Cancun and covered more than 300 km in three hours, we arrived at the office of Europcar in Chetumal airport. We had to pay $20 a day for the permit to Belize. Paid for three days, although we could have limited it to two, no one controls that. Went to the customs crossing. Upon arrival, it turned out that the wrong one, we had to go to another one a few kilometers away. It was easy to get out of Mexico, no passport control, just a check of the stuff. We arrived at the checkpoint in Belize. And then we got the good news that today is Saturday, a short day, and the registration of foreigners is carried out only until 12 o'clock, and tomorrow you can come at 8 o'clock. It was 12:30 on the clock. Good thing they didn't make Sunday a day off. We drove back to Chetumal. We entered Mexico and drove back, just to check things in. Checked into the hotel. In over two weeks of racing, this was the only incomplete day of rest for me. The next day by 8:00 am we were at the crossing. The employee, after checking our visas, said we needed a stamp to leave Mexico. This was only the second time I encountered such a situation. Usually no one cares about exit stamps of a neighboring state. The first time was when leaving Guinea for Senegal. Without entering the Mexican checkpoint by car, they went in and put the exit stamps. I will dwell a bit on the rules for entering Belize by land. In connection with the anitcoronovirus measures, you need to book a minimum of three nights a hotel from a list approved by I do not know what ministry. Then you can stay at any hotel. They are not on the list, but they all work. In addition, if I don't have a car, I have to get to the hotel by special transport. In fact, it's a cab. With everyone going crazy in their own way, this narrative began. I researched these requirements before my trip. The list of hotels was pretty cluttered, it was hard to flip through the many pages and compare it to the bookings.
But one inexpensive hotel, compared to the others, I still noticed. I even contacted the hotel beforehand. The hotel offered to book on their website without prepayment, and if we couldn't check in, it would be possible to cancel. But we decided to take the risk and booked a cheaper hotel that didn't require an advance payment. Whether it was on the list or not, it took us a long time to find it. We filled out a lot of paperwork. Including health, where we filled out a bunch of all sorts of data. Including an employee pointed out the temperature, pre-measured. And with the hotel did not work, had to book another, which was on record. The Internet was kindly provided and the hotel was hastily booked. Before booking, we showed the staff that we had chosen this hotel. The choice was approved and we were invited to go on. At this point, it turns out only a preliminary check, the paperwork is further on, a couple of kilometers later. According to information we learned, PCR is required to enter Belize by land border. By air, it seems not necessary, if there is a document of vaccination. Moreover, they do not trust other people's tests, you have to do directly at the border. The cost is 50 USD, payment only in cash. Although other payments are possible by card. It took a long time to clear the entry of the car. Although the official language in Belize is English, I had a hard time understanding the official who was processing the car. Having the documents for the car, he kept asking me the year of manufacture, color, number, etc. It was good that I filled it all out during the trip. In the stamp in the passport all this data was written down with a pen. In addition to all of this there was also a lot of other things added.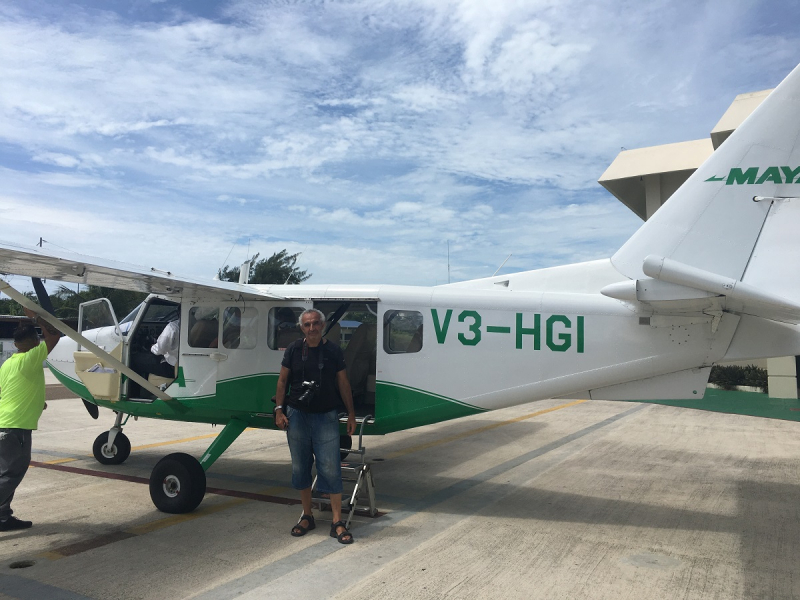 There was also an attempt to impose Belizean insurance, but I safely avoided this. No one looked at my belongings, they limited themselves to an interview. In total, with no queue, crossing the border of Belize took three hours. So it was clear why they stop processing so early. But it is interesting, that at the exit of Belize they work 24 hours a day, after driving 150 kilometers, checked into a hotel in Belize City. Before that, we went to the hotel booked the first time, and I explained the situation. The employee said no problem, don't write anything and just cancel. Asked for the internet and immediately cancelled. There was nothing much to do, so we just walked around town. I do not have any special attractions in the city, just a few pictures, which I do not see the point in posting them. I did not see much point in posting them, so we just walked around the city.
The main thing we wanted to see in Belize was the blue hole and something else for the rest of the day: pyramids, waterfalls, etc. as much as we could. A local airline flies an eight-seat plane four times a week to the blue hole from San Pedro Island. All the information is here:https://www.mayaislandair.com/the-great-blue-hole-tour Although the departure was the next day, all eight were available. Took a seat next to the pilot. There is a ferry from Belize City to San Pedro Island several times a day. Tickets can be purchased online, but it is better to do it on the spot. Online roundtrip is more than 10% more expensive. And it's better to buy round trip tickets at once, as they are valid for three months. To avoid standing in line in the morning, we bought tickets while walking around the city. All information is here: https://belizewatertaxi.com/ For information, in addition to the Belizean dollar freely floating U.S. dollar. The exchange rate is one dollar for two local ones. In the morning we took the ferry safely to San Pedro. In addition to us, a European couple took a tour to the Blue Hole. They did not book online, and paid directly on the spot. In the usual sense there are no boarding passes, instead a colorful strip of laminated paper with a picture of where the plane flies. As usual on small planes, before boarding everyone was weighed to make sure everyone was properly seated. There is not much more to write, photos will show you everything.
San Pedro Island from the plane:
On the way to the hole:
And here's the blue hole we drove here for.
After the flight was over, there were a few hours before the return ferry, which were devoted to a little walk around the center of the island and swimming. Swimming was the second and last time of the trip, the first was the day before during a visit to the cenotes in Mexico. On the island, mostly locals and tourists move around on quad bikes, of which there is an incredible amount.
The next day we decided to visit the archaeological site of Shunantunich, located 130 kilometers from Belize City, near the border of Guatemala and on the way back Thousand Foot waterfall. Chunantunich was only a few kilometers from the border, so I had the idea of crossing the border and driving to Tikal, the most famous archaeological site in Guatemala, which was only 50 kilometers from the border. To that end, we left early. I wanted to cross the border, take a cab, and drive to Tikal and back, taking minimal time. The Belizean test was still valid, and I had a hotel reservation, so I hoped that on our return there should be no problems. After arriving at the checkpoint, I put the car in the parking lot and walked across the border. The officer was not able to make the decision herself and took me to the chief officer. Who looked at my passport and said that I could only leave with my car. But unlike me, he cannot forbid my companion to cross the border. But just the fellow traveler was in Tikal and didn't plan to visit it a second time. It was useless to prove anything, so I returned to the car and went back to the previously planned plan. At first we visited Shunantunich.
Then drove to Thousand Foot waterfall. It is impossible to get close to the waterfall, you can look from the observation deck, and we had to drive more than 25km on an unpaved road. And at one point I drove with great difficulty. Judging by the book of visits, on the day of our visit, there was no one else. On the previous day, only four people.