Manarola. Cinque Terre. Italy (photo essay)
It is worth noting that all five towns are connected by hiking trails. On one of them, the most dangerous Monterosso-Vernazza, I had the temerity to go, which almost cost me my life (for details on this "walk" read here).
For less desperate people with a normal mind there is a unified tourist ticket for the electric trains. Trains run very frequently. With this ticket you can travel between these towns for a whole day for a small fee (about 10 euros). The travel time by train between them is 2-3 minutes, but on foot the distance can take several hours.
1. Train station of Manarola. Note the inclination of the carriages, it is not an optical effect. This is the way the road is intentionally laid:
2. The small town itself can be seen on a cliff, you can get there through a pedestrian tunnel running parallel to the railway:
3. Here it is, from the side of the town:
4. After passing through the tunnel we get to one of the central streets of the town. To call it a street is not really helpful. It is interesting that almost all towns in Cinque Terre are forbidden to enter by car:
5. No cars, but for that each house has its own boat parking:
6. On the bridge there are pictures of Manarola from different times. Tourists can see what the city is all about:
7. The city is famous for its local wine; the vineyards are located on the slopes of the cliffs:
8. All the houses of the city have bright colors. This is a distinctive feature of all five places in Cinque Terre:
9. Well, in the meantime, we come out to the bay of Manarola, where the views are spectacular. Now take note of the trail along the cliff. This is the beginning of the hiking trail to the nearby town of Corniglia:
10. Here, in the cove, is the only descent of numerous boats into the sea:
12. Well, we walk a little further, to the place where the flag develops on the rock. This is where all the "postcard" views of Manarola are filmed:
13. I'll show you some photos. They are all taken from a different distance along this trail:
Don't you agree, it's beautiful!? You can order a ready-made photo painting of Manarola with this view in my online store at solomatin.su baguette studio. Convenient online payment by bank cards and other electronic money, delivery all over Russia. A great gift for yourself and your loved ones: Order link: http://solomatin.su/p65509103-fotokartina-bagetnoj-rame.html
If you want to get a large 59x130cm baguette frame poster, you need to follow this link to order. In this case we will send you the poster in a special tube to any place in Russia by mail. Poster proportions:
Well and to finish the advertizing block it would be desirable to note, that you can order as a picture any photo from this post by writing us the letter and having addressed on address info@solomatin.su having specified number of a photo in post and the desirable size.
16. If you go around the cliff at the transition opens up a view in the direction of the next town – Cornelia, and a little further away already visible Monterosso:
18. Traditionally, Cinque Terre is famous not only for winemaking but also for fishing. In any restaurant you will always be cooked a fish dish from a fresh catch:
20. I really like this shot:
21. Here you can see how the trail goes around the rock:
22. We will go back to Manarola after all. If you go up just above the trail, you can come across a cannon like this on another observation deck:
23. The view gets a little more voluminous:
24. We return to town, walk through the streets and look at the other side of the coast from Manarola:
25. A nice bench:
26. Drying laundry:
27. Souvenirs. Note the left side of the frame. In Europe it is customary to indicate the sexual preferences of the owners of the establishment. If in cafes and bars it is clear, but with the stores not so much. Maybe it's some kind of clever marketing move.
28. Manarola is all up in the hills:
30. I don't know what the figures on top are. I can only assume they're playing in the wind:
31. At the bottom of the frame you can also see these figures. If you know what role they play, write in the comments:
32. Let's look at the roofs. The rooftops are imposed by heavy boulders:
33. It looks unusual:
35. Sometimes there are narrow streets like this:
36. Or this. Prospect:
37. And this is the view from the hill to the train station where I started the post:
38. Here's the train:
39. A lone bird:
40. Here is the view of the trail from which the shots at the beginning of the post were taken. At the far end of the frame is Monterosso:
41. Next to the flag, which is to the left you can see the cannon from the 22nd photo:
42. Manarola is one of the oldest towns of Chiquet Terre. The photo shows the church of San Lorenzo, which was built in 1338:
45. And to finish, a lime tree:
That's it! Have a nice day and be in a good mood).
If you liked the photo report you can tell me "thank you" by transferring any sum, which will be spent only for improving the quality of future photos and discovering of new photogenic places in my blog! Use the form:
Add as a friend . I promise lots of interesting travels!
I invite you to my Facebook and VKontakte accounts. It is very convenient to follow the publication of my new posts, especially for those who have a large Friendly in Zh Zh Zh Zh. In Facebook and VKontakte (with geotags) also have albums of photos, which were prepared, but were not included in my photoreports in this magazine. If you want to see all my photos from different trips, you can use the magic tag of my LiveJournal – PHOTOREPORTAGE.
Review: Tour of Manarola (Italy, Liguria) – Italian Five Lands: Manarola
Manarola continues and simultaneously completes my series of reviews of the Cinque Terre Italian National Park on the coast of Liguria. It's not my favorite national park town, and I didn't spend as much time there as I did in Corniglia, but I still want to share my impressions.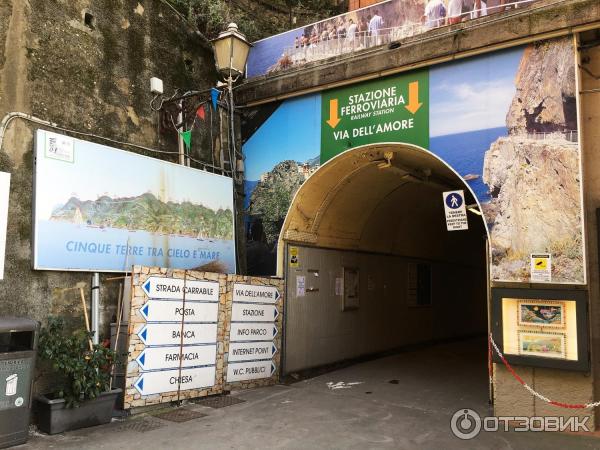 First, let's start with some basic information: how to get here? The easiest and fastest way is by train. If you are traveling from Genoa, then Manarola will be the fourth destination. Manarola will be fourth in your list, and second if from La Spezia. From Corniglia and Riomaggiore to Manarola by train is 2 or 3 minutes, no more. Alternatively, walkers can walk to Manarola. I haven't tried it myself, I didn't have that much time, but maybe you can try it and then write your review and share your experience).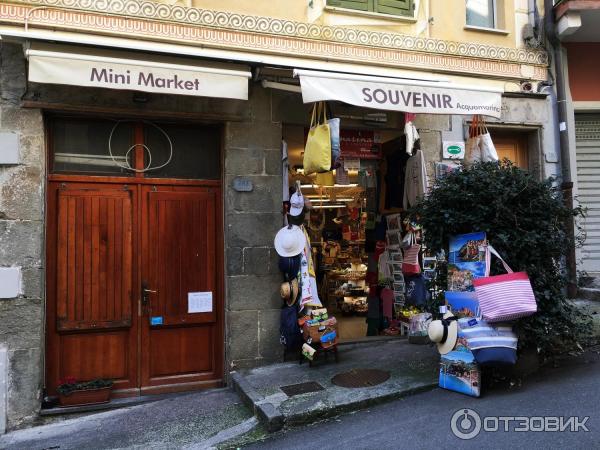 Note this: the schedule of trains between cities is better to check in advance. If you are too lazy to do it, then at least at the station, when you come to Manarola, see when the next train to your desired city. Because it may happen that you will miss the right train (will be a minute late), and because of that will be stuck in town for an hour and a half (as I was stuck in Cornilla). It's cool, of course, but a) Manarola is so small that there's nothing to do there for an hour and a half) b) you have time?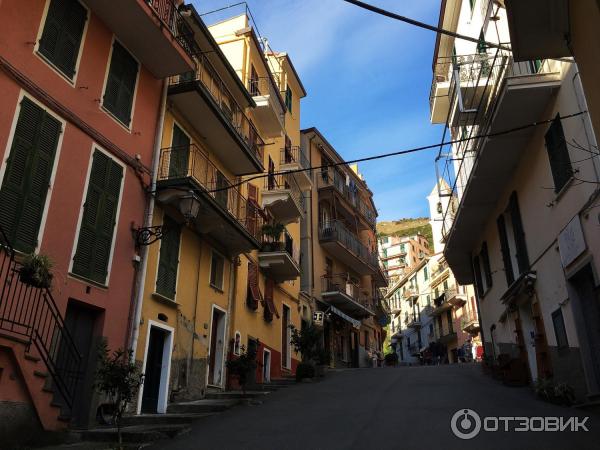 As for shopping, I myself in Manarola did not get anything at all, because most cafes were already closed, and the souvenirs here seemed to me quite expensive. This, after all, is a very touristy place. Even in the center of Genoa, you can find souvenirs at more reasonable prices.
As an example of souvenirs – here's a picture: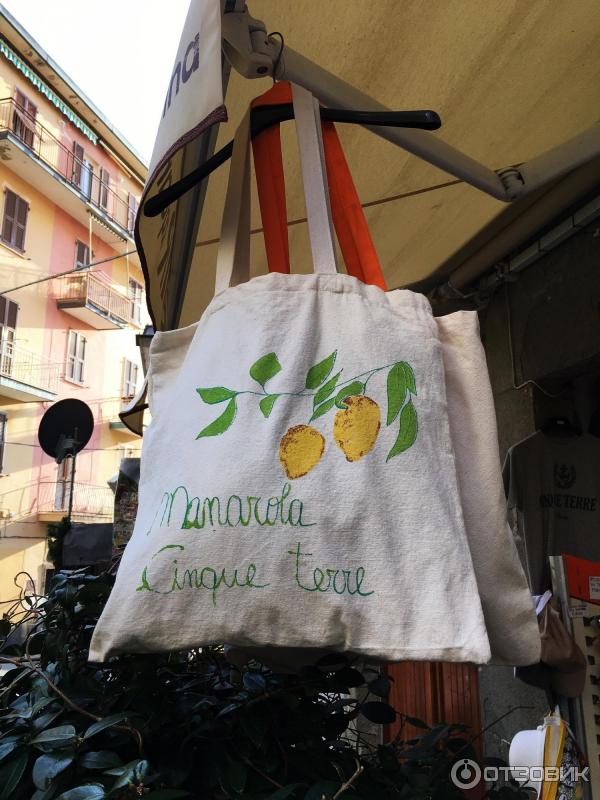 Why did I like Manarola slightly less than Cornilla, Vernazza and Riomaggiore? The fact is that the above cities seemed to me personally brighter, more interesting, more colorful. There was something in each of them, some detail that I directly remembered. In Manarola, I personally did not find anything like that. But all travel in this world, as they say, is for aficionado.
For taste and color there is no comrade.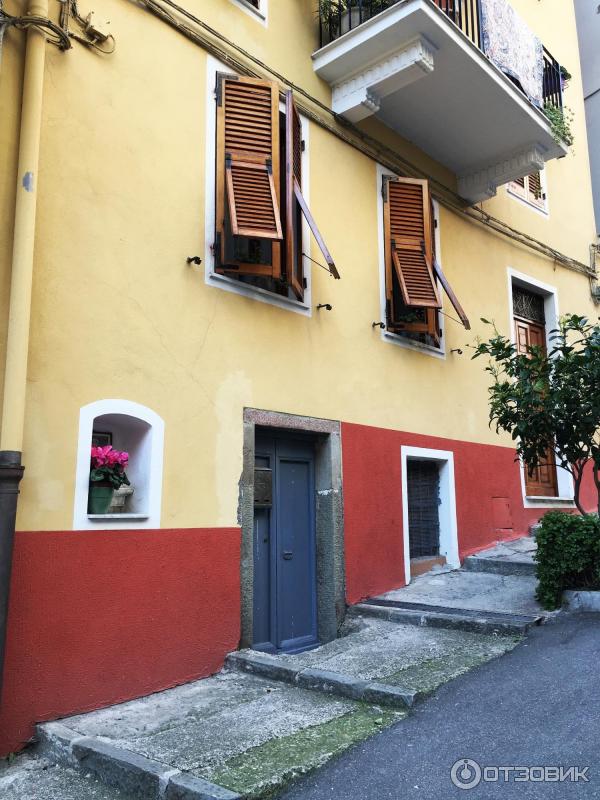 What I liked was that Manarola does not lag behind its brethren in cleanliness and grooming. The city is beautiful and has an Italian atmosphere that is unmistakable. Special thanks to the architecture – narrow Italian streets and colorful houses.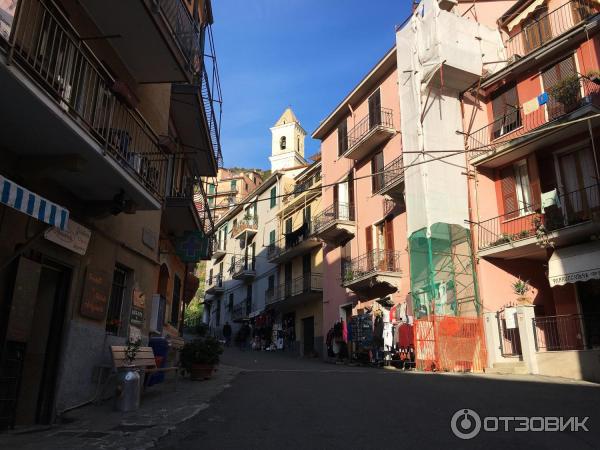 If you've never heard of Cinque Terre before and wonder how much time you should spend in Manarola, an hour is quite enough, unless you decide to have lunch or dinner here, or – moreover – just sit on a bench and relax. One hour is enough to get to know the city. Manarola is tiny. It is not even a city. It is a settlement. A settlement.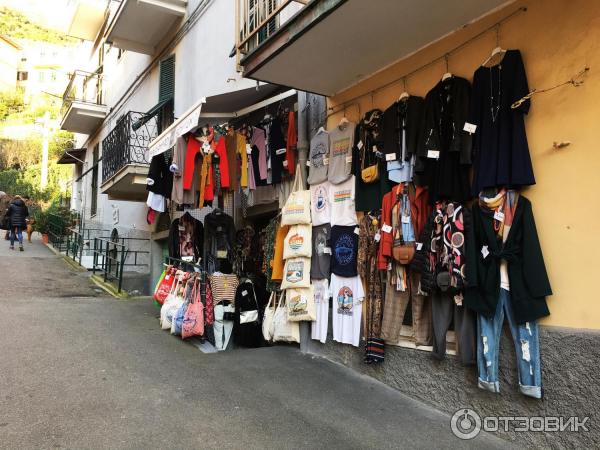 As my friend told me, in Manarola (as in other cities in the Five Earths), I want to photograph every corner, because every house is a work of art). In fact, it is difficult not to agree with this. See for yourself: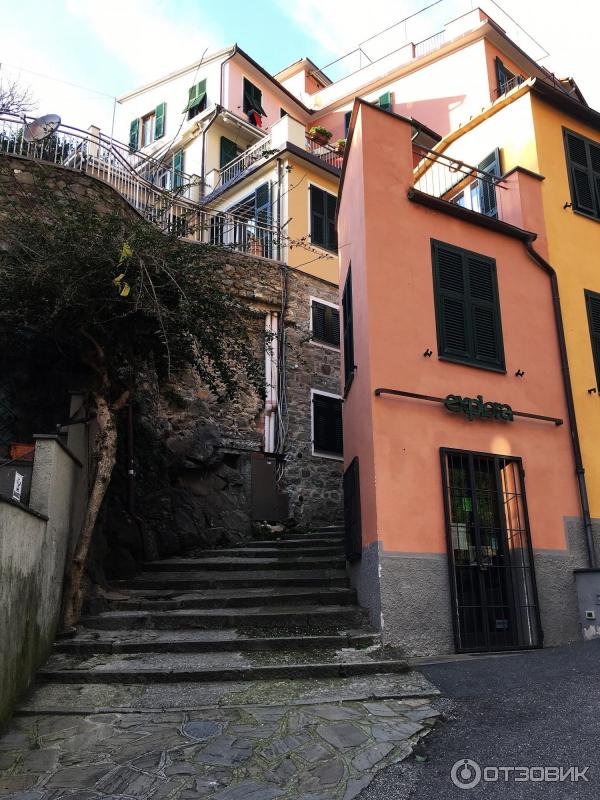 What can be remembered of Manarola?
First of all, it is the ancient city of Cinque Terre. Secondly, there is a very beautiful church of San Lorenzo, which is worthy of attention. Thirdly, in Manarola you can find a big wheel – the mill wheel. It is said that it gave its name to the city).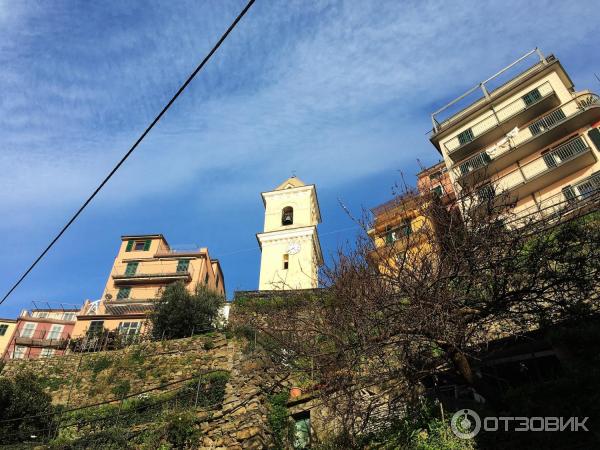 About the weather. When is the best time to go?
As I wrote in one of my reviews, it seems to me that the weather should not affect the travel (or rather not the weather, but the season). I was in Manarola at the very beginning of March. The day was sunny and warm. I arrived in Manarola in a coat, but then took it off because it was very hot! Although I was told that in early March in Italy it's usually so cold that you don't want to go anywhere). If someone tells you something like that, don't believe it. In Italy you always want to walk and travel, even in early March).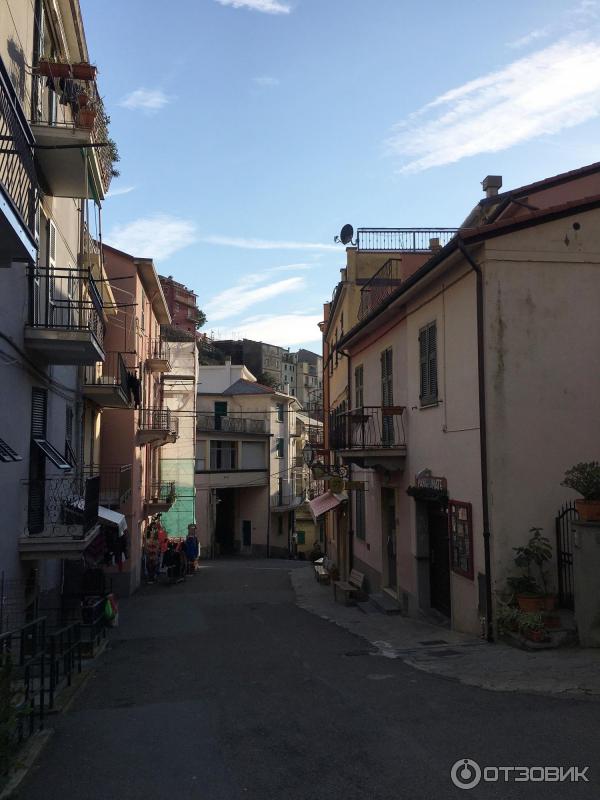 If you wonder if there are a lot of restaurants, cafes and coffee shops, then I hasten to rejoice you – yes, there are indeed a lot, although the opening hours are better to check in advance on the Internet. It can be different on different days.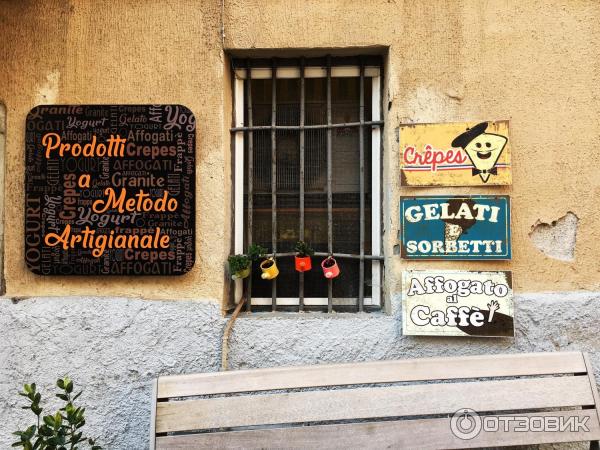 About the free city wi-fi: alas and ah. No wi-fi. To be exact, I found several available wi-fi networks in Manarola, but I never managed to connect to any of them. Somewhere I needed a password (which I didn't have) and somewhere I needed a phone number for them to send me a code to register. My number didn't work in Italy, so my phone didn't accept any text messages. That's sad. Cinque Terre is a touristy place, after all. Why not help poor tourists and set up a city wi-fi for them? Manarola's authorities should know that.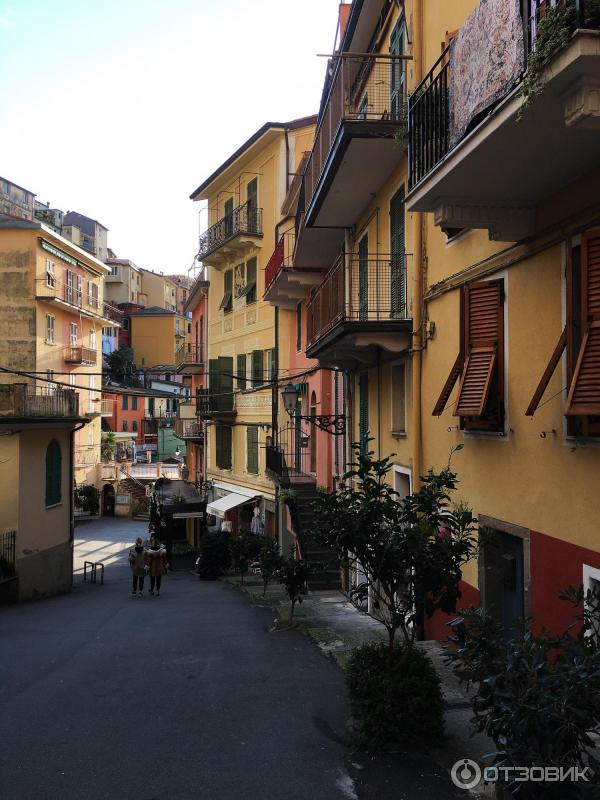 I have a few more photos taken in the city that I'd like to share. The photo just below, for example, was taken near one of the souvenir stores – all of which were open when I arrived in Manarola. I liked a lot of them, a lot of stylish things, but to me, they were too expensive. It's better to find souvenirs from Cinque Terre in Genoa, they are cheaper there).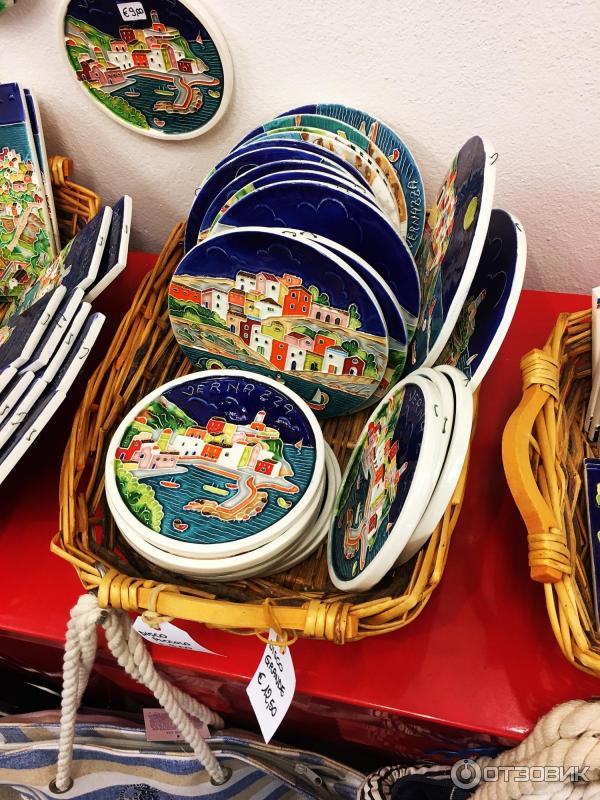 I also want to note that not all souvenirs in Manarola are Chinese souvenirs, there are local products – things that just want to buy and bring home. As an example I show you the following picture – isn't it beautiful?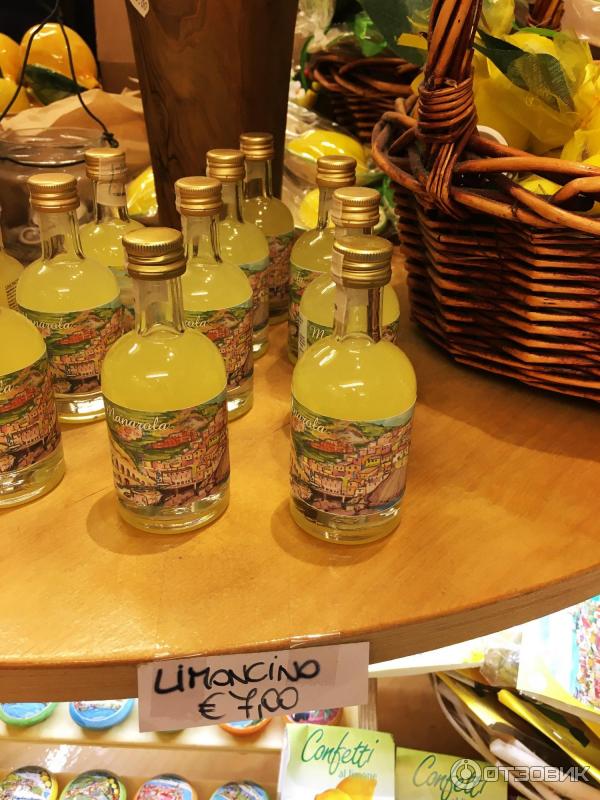 From the station of Manarola to the village – just a minute walk. You can not get lost, even if you really want, for two reasons: a) Manarola is too small to get lost here. b) There are signs everywhere, and the signs even have a translation into Russian!
Look, you're shown where the "village" is, and just below that, a "map of trails". It's magical!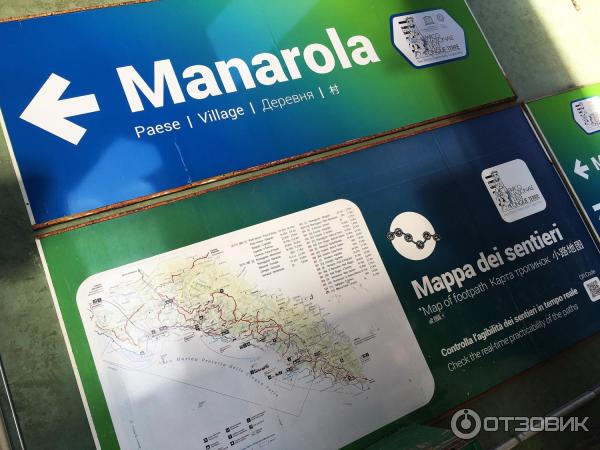 You can buy a ticket from Manarola to any other town in Cinque Terre right at the station. Either at the ticket office or at a vending machine. I'm not personally friends with vending machines, but I had a rather funny experience: the machine took the money but didn't give me a ticket, but that, as I understand, happens very rarely, I was just unlucky. See for yourself, as you are more comfortable.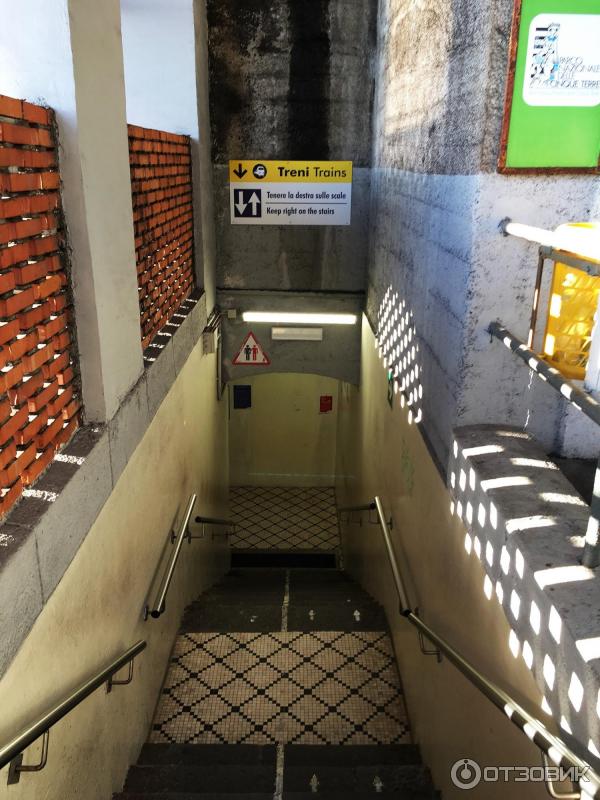 To go or not to go? That is the question. I'd say go. I will not lie – I liked Cinque Terre, but I expected more. The photos online were brighter than reality). But to come to Liguria and not visit Cinque Terre is strange. Coming to Cinque Terre and not visiting Manarola is even weirder. So I wish you a pleasant trip around Italy after the quarantine, give her my regards. I am pleased.