Tour of Legoland in Denmark, 4 days
Tour with flight to Billund or Copenhagen, transfer to Legoland and tickets to Legoland Park. Immediately upon arrival in Denmark, we will meet you at the airport and drive you to Legoland. A daily visit to Legoland Park is included in the price. In your free time you can go to the Lalandia water park or the Givskud zoo. A rich and interesting program for children in only 4 days in Denmark!
Itinerary
Copenhagen / Billund – Legoland – Copenhagen / Billund
Excursions
LEGOLAND park ticket for 3 days sightseeing tour of Copenhagen * water park Lalandia * Givskud zoo
The price includes
accommodation at Legoland hotel 4* (3 nights) breakfast at hotel ticket to LEGOLAND park for 3 days transfer Copenhagen airport / Billund airport – hotel – Copenhagen airport / Billund airport
Dates and availability
1 2 8 15 16 22 23 29 30 6 13 20 27
6 7 13 15 20 21 27 28 4 11 18 25
12 13 19 20 26 27 17 24 31
2 3 9 10 16 17 23 24 7 14 21 28
7 8 14 15 21 22 5 12 19
Program of the tour
1 день: Биллунд / Копенгаген – Леголенд Прилет в Биллунд. Встреча в аэропорту. Трансфер из аэропорта в отель (5 минут) . Прилет в Копенгаген. Встреча в аэропорту. Трансфер из аэропорта в отель (ориентировочно 3-3,5 часа). При заказе обзорной экскурсии трансфер из аэропорта Копенгагена в Биллунд будет после экскурсии, а заселение в отель вечером. Обзорная экскурсия по Копенгагену (доп. плата). В Копенгагене множество интересных мест и достопримечательностей на любой вкус и интерес — и большинство из них находятся в нескольких минутах ходьбы от центра. Три наиболее известные достопримечательности города: парк развлечений Тиволи, статуя Русалочки и свободный город Христиания. Но Копенгаген может предложить намного больше! Городу около тысячи лет, и он полон исторических памятников, значимых зданий и интересных достопримечательностей и музеев. Обязательно посетите дом королевской семьи Дворец Amalienborg и торговую улицу Стрёгет. Размещение в отеле. Свободное время или посещение парка Леголенд. Время работы парка >.
Day 2: Legoland Breakfast at the hotel. The whole day can be devoted to a visit to the Legoland Park in which almost everything is created from colorful LEGO bricks, attracting families with children from all over the world. The park is divided into 8 thematic zones, each designed for children of different ages: Miniland, Duplo Land, Pirate Land, Imagination Zone, Legogredo Town, Adventure Land, Knight's Kingdom, Polar Land. Miniland features cultural and art monuments from the United States, Germany, Norway, Sweden and Denmark built from LEGO cubes. Miniature cars move quickly through the streets of the park, ferries fidgetily maneuver in the port, and an airliner taxis to the runway. Duplo Land is a paradise for the youngest visitors, as their favorite Lego Duplo toys, enlarged 15 times larger, are on display here! Playful houses (farm, police station, hospital) are waiting for their little visitors. A ride on a Duplo train and a "flight" in a Duplo airplane are sure to leave a lasting impression! Pirate Land has everything a little pirate could dream of: treasure hunts, pirate sword fights and sea battles. Imagination Zone – a world of underwater fun and travel in 4D. Legogredo Town – a corner of the Wild West where cowboys, gold diggers and Indians play with children. Knight's Kingdom – a world of knights and princesses. In a huge castle from the Middle Ages, built of Lego, children will meet knights and Vikings, will ride a dragon. Adventure Land is designed for thrill-seekers. You will ride breathtaking rides from the fun water to the roller coaster and cable car. In 2012 a new area of the park was opened where the two poles meet – Polar Land . Navigating the slides between icebergs, through ice and snow, you get to the frozen lake. The ice of the lake cracks and … 5 meters of free fall will end in … a polar bear den!
Day 3: Legoland Breakfast at the hotel. Start the day with a trip to Givskud Safari Zoo (surcharge), one of Denmark's most popular zoos. It is more like a traditional zoo than a zoo. There are no iron fences and deep moats. In Givskud you can feel yourself a part of the animal world and touch nature, see zebras, giraffes and many other animals walking freely in the park. Then continue to explore the stunning Legoland Park.
Day 4: Legoland – Billund / Copenhagen Breakfast at the hotel. Free time to visit Lalandia Water Park (extra charge) Transfer to Billund or Copenhagen airport.
Extension of the program for the desired number of days. Hotel accommodation for a longer period is charged separately.
Excursion to Legoland (Denmark, Billund) – reviews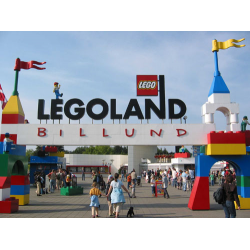 The entire text of the review could fit into a succinct "Unforgettable Impressions". Maybe because Danish Legoland is in close proximity to the LEGO factory, maybe because it's in Billund (that's how it's pronounced in Danish Billund) that everything.
For young children.
When we were choosing which park to take our son to, we already went to Disney Land. Of the famous ones, the choice fell on Legoland. We chose this park in Denmark, because it is original and the first. Here was founded factory.
Once you can go.
I want to tell you about my own experience of visiting Legoland, located in Billund, Denmark. I should say right away that my view will be a little off the beaten path, because we have acquaintances in Denmark who know some of the nuances and local life-hacks. So.
An unforgettable trip.
Hello today came across an article about a lego park in Denmark, my memories took over and decided to share my impressions with you. Was in a lego park in 2011godu even a child (through the eyes of a child) of course is probably already much has changed.
Economical variant of a trip to Legoland
You can go to Legoland a little cheaper than the travel agencies offer (where prices are off the scale). When you travel on your own, you can walk in the park not 1-2 days, as in the tour package, but as long as you want.
Cheap trip still can not be called. You will not be able to save many times as much as you would if you had a tour. There are a lot of costs, which you do not know in advance (eg toll bridge, etc.).
A year ago planned to go with my sons in Legoland, just in Denmark, as it is the first and largest. Considered different options how to get – through other countries, trains, buses. But for the price, how.
Great fun for kids and adults
Another place recommended to visit with children in Scandinavia, is of course Legoland in the town of Billund (Denmark). We got there by train from Copenhagen. But this is not the only way. In Billund, not far from Legoland, is located.
The best thematic park!
Arriving at the park first thing everyone goes to a paid parking lot, but behind the parking lot, which is located in front of the park, we parked for free (at your own risk since the parking lot for car builders. There is a ticket office in front of the entrance.
Only positive emotions.
Just got back from Legodend. While fresh memories, I want to write a review. Emotions are through the edge, and not only children (though the trip was originally planned for children's recreation), but we, adults. Buying a ticket.
A great place for Lego fans.
Legoland was the highlight of our trip to Scandinavia in the summer of 2018. Our oldest daughter is 4.5 years old and a fan of this wonderful constructor. The park has lots of activities for kids of all ages and preferences. The amateurs, of course, will especially enjoy it.
I wasn't expecting this one.
Very large and interesting place! The whole area is divided into zones, the largest is Miniland, in it Lego buildings are built, people walk, cars drive. There's also Duplaland, where you can ride on the racetrack with signs posted everywhere.
Very interesting and beautiful! It is a fairy tale for kids and adults!
Terrific place for kids and adults! All is clean, well-groomed and hospitable! Last spring I worked there for a while and I know how they try to make the rest as comfortable as possible for the guests! I can't tell you the atmosphere of joy and fun! The rides, the shows.
great
Went to Legoland from Germany, by train, then by bus from Esbjerg. The roads are great, the bus (typical) is such that even Putin would be happy, moving from Barvikha to the Kremlin. Arrived in the morning, the month of August, warm and sunny, just lucky.
Great amusement park for families.
I liked it very much. There are rides for both very young kids and teenagers. There are places to eat, sit, walk and relax in the
Wonderful fairytale world
Travelling through Denmark, in May 2008 we were in a small town Billund, our friends took us there and showed us this fabulous place – Legoland. To be honest, I didn't know what exactly Denmark is.
It's a super expensive place for kids and their parents!
A park-dream of every child who is into LEGO constructor. Go there on purpose I would not advise, especially if you are not ready to spend your last savings on this vacation. Denmark is an expensive country, and Legoland can be visited in.
All super.
I would recommend it to my friends) I would love to go there and have fun!
It is exciting and very interesting.
Visiting Legoland I was delighted! I really enjoyed the sculptures made of lego and the many entertaining games for children and adults. And the price of the tour is reasonable. I liked the water park as well.