Traveling in Vietnam – Ho Chi Minh City
Vietnam's largest city Ho Chi Minh City is located in the south of the country. At the time of French Indochina, the city was called Saigon. Originally, there was a small fishing village on the site of the modern metropolis. Over time, the village evolved and expanded; and reached its peak at the time of French colonization. Only in 1976 was established a city of Ho Chi Minh City, which was named after the ruler of the same name. Today it is impossible to imagine modern Vietnam without Saigon, foreign investment in which elevates the city to the level of Singapore or Bangkok.
Despite the rapidly developing metropolis, the appearance of Ho Chi Minh City has retained its traditional traits and characteristics. Visitors to Ho Chi Minh City should consider its two seasons. The dry season begins in December and ends in April. The rest of the year you can become an unfortunate observer of the rainy season, which will spoil most of the excursions. However, the most memorable time to visit the city will be during the celebration of the Eastern New Year. It is during this time that the city flourishes. Throughout Ho Chi Minh City there are festivals, holiday concerts and mini shows representing the culture and traditions of Vietnam.
Travel in Vietnam – Ho Chi Minh City
The main attraction of Ho Chi Minh City is the Reunification Palace whose gate was rammed by a Vietnamese tank in 1975 to mark the end of a grueling war. The bloody and senseless war is well represented at the War Relics Museum. The museum previously displayed collections of photographs depicting the war crimes of American soldiers. The courtyard is the custodian of the already rusty trophies captured from America's warriors.
Travel in Vietnam – Ho Chi Minh City
No less popular among tourists is the Jade Emperor Pagoda. The pagoda building is painted pastel pink on the outside, but the inside is filled with paintings depicting the tortures of hell. The pagoda was erected in honor of the Taoist Jade Emperor Hoang in 1909. However, the most beautiful and ancient pagoda of the country is considered to be the pagoda Zyakla, the construction of which dates back to 1744. The interior of the pagoda has 113 statues of Buddhas and more pillars and columns. Here is the so-called Tree of Wandering Souls, which gathers thousands of people every day to offer prayers for the health of relatives. For the prayers to be heard, leaves with the names of those suffering are attached to the tree.
A suburb of Ho Chi Minh City is known for its underground labyrinths that were dug by the Vietnamese people during the war with the United States . Amazingly, at two hundred kilometers long, the tunnels were dug by hand. For the lovers of serene entertainment in 1996 in Ho Chi Minh City was built the best water park in Southeast Asia. The park was built with the support of the authorities in Hong Kong.
Travel in Vietnam – Ho Chi Minh City
The park has many playgrounds and slides of different heights and shapes. There are several swimming pools, differing in their water and depth. Saigon offers opportunities for full-fledged shopping. Local markets and large malls offer the purchase of goods of different categories. The city is famous for its silk products, for which it is logical to go to the silk market.
Vietnamese cuisine is more fully represented in the restaurants of Ho Chi Minh City, whose menus offer not only the well-known national dishes, but also unique delicacies of individual provinces of the country. Despite the fact that the capital of Vietnam is Hanoi, Ho Chi Minh City can easily claim to be the heart and soul of the country. Ho Chi Minh City has always been and still is the legislator in political, economic and cultural matters in Vietnam.
Ho Chi Minh City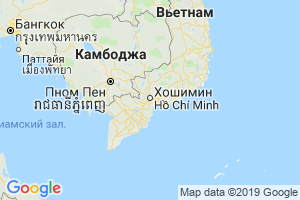 Vietnam's largest city and economic capital. Many industries are developed here; it is estimated that 40% of Vietnamese exports come precisely from Ho Chi Minh City.
The city was founded in 1698. With the arrival of French colonists in 1859 became the administrative center of the colony of Cochinchina. Until 1975 the city was called Saigon, but it had never been the capital, except for the puppet Republic of Vietnam, which existed only 20 years. In Vietnamese, the name of the city in the Latin alphabet is written as Thanh Pho Ho Chi Minh (abbreviated TPHCM), and reads "Thanh Pho Ho Chi Minh".
Ho Chi Minh City has a population of 8,426,000 and is growing steadily thanks to newcomers from various provinces and other cities. The city spreads over a large area on the right bank of the Saigon River, near the coast of the South China Sea and close to the Mekong Delta, so the altitude is very low – about 2 to 15 meters above sea level.
In the architectural appearance of the city is a mixture of many traditions and styles – this Indo-Chinese, and Western European, and classical Chinese, and others. In addition, Ho Chi Minh City is home to a large number of ethnic Chinese in a large neighborhood, annexed to Saigon in the early twentieth century. Now it is a huge district of Sholong in the west of the city, famous primarily for the lively trade.
In Ho Chi Minh City you can see many interesting buildings – colonial buildings, the Cathedral of Our Lady of Saigon, Buddhist temples and pagodas, the Presidential Palace, mosques and much more.
Founded: 1698 Area: 2096 km 2 Population: 8 426 000 (2016) Currency: Vietnamese dong Language: Vietnamese Official website: http://www.hochiminhcity.gov.vn
Flight time: from Moscow – from 9 hours 30 min. from Saint-Petersburg – from 16 hours 5 min. (1-3 connections) from Kazan – from 17 hours 50 min. (1-3 connections) from Ekaterinburg – from 17 hours 35 min. (1-2 connections) from Novosibirsk – from 12 hours 30 min. (1-2 connections)
From Ho Chi Minh City you can also easily get to the neighboring province Tai Ninh with a lot of beautiful Kaodai temples and the Mekong Delta.
How to get there
From Domodedovo Airport regular flights to Ho Chi Minh City are operated by Vietnam Airlines, the main air carrier of the country. In Ho Chi Minh City the planes land at Tan Sonnyat Airport. Vietnam Airlines' Boeings have all the conditions for a long comfortable flight, including many technical aids like screens embedded in the backs of the seats, etc. During the flight all passengers are offered two hot meals and a certain amount of alcohol. It is also worth noting that "Vietnam Airlines" has special fares for residents of other Russian cities who can thus get to Vietnam much easier with a connection at Moscow Domodedovo Airport (if flying from Vladivostok – connection in Seoul).
Representative office in Moscow: 1, Frunzenskaya str. 1, tel. 5892450, fax 5892552. Office at Domodedovo airport: Room 512, 5th floor, office hours: 14:00-20:00, tel. 9268661, fax 9268661, E-mail: vnmow_ope@breezz.ru.
"Transaero also flies to Ho Chi Minh City, their frequency is conditioned, first of all, by the season, so one can fly to Vietnam with this airline during the period from December till April. Flights take off from Domodedovo Airport.
S7 Airlines ("Siberia") also has regular flights to Ho Chi Minh City, but not from Moscow, but from Novosibirsk. The flights are operated with the frequency of once in two weeks.
Connecting flights
Cathay Pacific from Moscow with connection in Hong Kong.
Thai airlines from Moscow with connection in Bangkok.
Qatar Airways from Moscow with connection in Doha. Qatar Airways can often be convincing with very economical rates.
Asiana from Khabarovsk and Yuzhno-Sakhalinsk with connection in Seoul (Incheon Airport).
Korean Air from Vladivostok, Irkutsk, Moscow and St. Petersburg with connection in Seoul (Incheon Airport).
Japan Airlines from Moscow with connection to Tokyo, Narita Airport.
There are more difficult variants – with two connections. However, they are worthwhile during sale periods because of the attractive prices. For example you can get to Ho Chi Minh City with Air France from Moscow and St. Petersburg with connections in Paris and Bangkok.
It's worth remembering that long flights are associated with certain health risks for passengers, who are poorly tolerated such loads.
We compare all available flight options at your request, and then direct you to the official websites of airlines and agencies for purchase. The airfare you see on Aviasales is the final price. We've removed all the hidden services and tick boxes.
We know where to buy airline tickets cheaply. Airline tickets to 220 countries. Search and compare airfares among 100 agencies and 728 airlines.
We cooperate with Aviasales.ru and take no commissions – the cost of tickets is absolutely the same as on the site.
Get to your destination without changing flights. When traveling with a travel companion you won't have to worry about lines and hours spent waiting at the station.
We work with Blablacar and don't charge any commissions – the fare is exactly the same as on the website.
Showing transfers from Ho Chi Minh City
We cooperate with kiwitaxi and do not charge any commissions – the rent is absolutely the same as on the website.
Ho Chi Minh City climate & weather
Weather forecast
Ho Chi Minh City weather by month
Temperature during day, °C
Temperature at night, °C
Precipitation, mm
January
32
21
26
February
32
22
10
March
33
23
15
April
35
25
50
May
35
25
200
June
33
24
325
July
33
24
300
August
33
24
275
September
33
24
325
October
33
23
225
November
32
23
100
December
33
22
50
Reviews by Month
Transport
Tan Son Nhat International Airport is the largest international airport in Vietnam. After a relatively.
Ho Chi Minh City Photos
What to see in Ho Chi Minh City
As for attractions, there are several very interesting places for tourists in the central part of the city.
By following the links in the text, you can get more information about a particular site (description, location on the map, entrance fees, opening hours, ways to get there, photos, tourist reviews, etc.). If you are interested in attractions of Vietnam as a whole, without dividing into cities, there is a special section for this.
The Presidential Palace is a model of European influence in Ho Chi Minh City's architecture. During the war with the U.S., this palace housed the heads of South Vietnam, the allies of the Americans. There are two tanks on pedestals in the palace, one Soviet and one Chinese. It was these tanks that were the first to break through to the palace during its assault in 1975.
This is one of the most interesting and most visited museums in Ho Chi Minh City. Numerous exhibits (different types of weapons used during the war, documents describing the horrific actions of American troops, etc.) tell the whole story of the inhumanity of the American-Vietnamese massacre in the best way possible. It is worth noting that this museum used to be called the Museum of American War Crimes.
This area is remote from the center of Ho Chi Minh City, but nevertheless often visited by tourists. The fact that here is preserved system of underground passages and mazes, which were used by the Viet Cong to penetrate from the jungle to Saigon and to carry out various sabotage in the city. For a fee, tourists can shoot at targets with a Kalashnikov assault rifle and an American M-16 rifle.
The zoo contains more than 520 individuals of 120 species, among which there are many rather exotic to Europeans animals.
In the Botanical Garden on an area of 20 hectares there are 1830 different trees and plants, some of which are over 100 years old. For example, there are 20 species of orchids, 32 species of cacti and 34 species of ornamental dwarf trees.
This is the largest market in Ho Chi Minh City and at the same time one of the most expensive in the world when it comes to the rental of retail space. The market is very often visited by tourists, even those who come for a short time on a cruise ship. Here you can buy a variety of clothing, exotic goods, souvenirs, etc.
Where to go in Ho Chi Minh City
The Presidential Palace is a model of European influence in Ho Chi Minh City's architecture. In this palace during the
The zoo is home to over 520 animals of 120 species, many of which are quite exotic to Europeans.
This is one of the most interesting and most visited museums in Ho Chi Minh City. Numerous exhibits (various species of weapons.
This area is remote from the center of Ho Chi Minh City, but nevertheless often visited by tourists. The fact is that here.
Ho Chi Minh City Museum of Fine Arts is located in a mansion built during the colonial period. According to the value of the collected.
This small patriotic museum is dedicated to President Ton Duc Thang. The exhibits reflect the life and work of the president. Here.
Interesting places in Ho Chi Minh City
Also.
Private guides in Ho Chi Minh City
Russian private guides will help you to learn more about Ho Chi Minh City. There are 3 registered Russian guides in Ho Chi Minh City on Experts.Tourister.Ru.
What to do
If you come to Ho Chi Minh City in summer, from mid-May to late August, you can catch the "Southern Fruit Festival" held here every year. During this time you can learn a lot about the most exotic fruits grown in Vietnam, and buy any variety at very democratic prices (discounts of 20-40% compared to the market price).
Ho Chi Minh City always celebrates Catholic Christmas and New Year in a big way. Since these holidays fall in the dry season, the number of tourists on these days increases significantly. There are parades, fireworks, street dances and other festivals.
Shopping
About shopping in Ho Chi Minh City you can read in our article "Shopping in Vietnam".
Communications
For calls to other countries in Vietnam there are special intercom stations, as well as street pay phones. Residents of hotels can make calls directly from there, but it is quite expensive.
To call from Russia to Ho Chi Minh City you dial 8-10-84-8- telephone number, if you dial from a cell phone, replace "8-10" with "+". To call from Vietnam to Russia dial: 007-code of the city-subscriber's number.
There are no problems with cellular telephone service as all three major Russian operators – MTS, Beeline and Megafon – have agreements with Vietnamese companies. Vietnamese operators: MobiFone, VinaFone, S-Fone, G-Tel, Vietnamobile, Viettel Mobile. A SIM card of the Vietnamese operator costs about $ 5, which includes 30 minutes of talk time.
In many hotels you can get on the Internet, there are Internet cafes.
Useful Phones
| | |
| --- | --- |
| Police | 113 |
| First Aid | 115 |
| Fire Protection | 114 |
Security
One of the most serious crimes a tourist may encounter in Vietnam is pickpocketing, which occurs more or less regularly. In this regard, it is advisable not to carry cash and documents in your back pockets of pants. The best option is to keep them in the hotel safe, and carry a small amount of money and a photocopy of the passport. In addition, tourists should be careful when paying, as the Vietnamese are sometimes not bent on swindling visitors.
You must be careful when dealing with local "mistresses of love," who often do not mind to take advantage of the purse of their clients. Gambling foreigners can play only in special institutions, and an attempt to involve local residents in them may result in criminal prosecution. Especially strict punishment is applied to everything related to drugs – possession, distribution, use. Penalties in such cases are most severe, up to the death penalty. This is a traditional practice in Southeast Asia.
Tourists should exercise caution during vacations. In particular, this applies to the use of alcohol, as a "too much" tourist in Vietnam can easily get into trouble, to become a victim of robbery, etc.. When swimming it is worth watching out for the ocean surf, which can be a source of danger.
As for health care, before coming to Vietnam, you should consider getting medical insurance (regular or extended). You can also pay a fee to International SOS and use the medical services they provide at their offices in Vietnam. The address in Hanoi is 31 Hai Ba Trung in the central part of the city. The phone number is 9340555.
You should be careful when ordering dishes of Vietnamese cuisine, which is quite unusual for Europeans because of its spiciness, abundance of spices and exotic foods. If you overestimate your strength, you are likely to have stomach and intestinal problems.
Where to stay in Ho Chi Minh City
The company Ostrovok.ru offers for booking more than 5310 hotels in Ho Chi Minh City. We have various filters to help you find the perfect hotel in Ho Chi Minh City: hotel category, price, location, reviews of people who stayed in our hotel, availability of WiFi and more. Go to the Ho Chi Minh City hotel selection and reservation service.
The most recently booked hotels in Ho Chi Minh City
For a list of hotels in Ho Chi Minh City, check out our website, which lists amenities in the rooms and grounds of the hotels, as well as photos of both hoteliers and tourists. You can see it all and read tourist reviews in the special section "hotels in Ho Chi Minh City" .