What to occupy a child in the plane, train, car: 45 ideas for games on the road
All moms know that only babies who are sound asleep act perfectly on the road. To children's whims most passengers are sympathetic. However, practice shows that parents rarely manage to avoid negative remarks to their address. In order not to waste nerves and get maximum pleasure from the trip, parents should think in advance how to organize and what to occupy their child during the flight. Of course, all children are different. They are different in age and temperament, and their interests. We bring to your attention 45 ideas for how to occupy your child during a trip by plane, train or car.
Travelling with your child on an airplane: 15 games and activities for kids on a flight
15 interesting activities and games for kids on the plane
The first entertainment that will obviously interest any child is the introduction to a new space. Tell your child about the airplane, show and let him touch everything that surrounds the little passenger. After takeoff, you can show your child around the cabin, telling them where the pilots sit, what the stewardess does, etc. This way you will not only distract the child, but also allow him to get used to the new territory.
Now you may be surprised, but food can be a great entertainment on the plane. Of course, a child can't chew something the whole flight. But for some time, mashed potatoes in a beautiful jar can distract him. Passengers with children are allowed to take liquids into the cabin – juice, water, formula. It is also possible to take on board fruit and dried fruit. Parents of older children may bring a couple of "Chupa-Chups," which are very helpful during takeoff, when the ears stick up. Children under a year old usually have no such problems.
Prepare little surprises for your baby that babies just love. But you have to take them out and present them to your child gradually. For example, first you take out of his bag – a set for drawing or coloring. Of course, along with pencils. For half an hour, if not an hour, little artists will definitely not bother anyone. Detailed and simple picture instructions for drawing animals will help parents quickly teach children to draw a bear, tiger, turtle and other representatives of the animal world.
Then you can take out of the bag, a box, which will lie small, fun things like: bracelets, rings, beads or toys, constructors from the "Kinder-surprise. Take on the plane need only a plastic container with a toy, a chocolate egg is better left at home. Kinder-surprise toys can interest not only children but also adults.
Remember, in Soviet times there was a slogan: "The best gift is a book. Take a couple of small but interesting books with you on the plane. A new book with bright pictures is sure to captivate your child for a while
A simple sheet of paper in a confined space can also be great fun. Show your child how to make an airplane out of paper. Fly the plane and "construct" the plane yourself. By the way, finished paper airplane can be painted.
Entertain, distract and permanently interest the child will help finger toys. With them you can put a whole play, on the fly (or rather on the fly) coming up with all sorts of stories.
Some airlines give young travelers special sets that include puzzles and jigsaw puzzles.
Teenagers are much easier to captivate, they are happy to watch a movie from the repertoire of the air cinema, play games on a tablet, listen to music, etc.
When buying toys for the trip, pay attention to the people Ugi, which have suction cups on the hands, feet and head. As a rule, kids are happy to play with these toys.
You can buy an army of soldiers and on a hinged table arrange a real battle. The main thing is that the baby did not see these toys in advance.
Do not forget to take the most favorite toy of the child on a trip. With it he will feel more confident.
Excellent entertainment can be a massage. For this, parents need to buy a massager ring Su-Jok at the drugstore. This ball is very useful for the development of speech baby. It costs inexpensive, and kids really like it.
Many children love all kinds of stickers, so for them it is worth buying a special book, in which small stickers are pasted.
And, of course, any child for a while will distract the tablet with cartoons.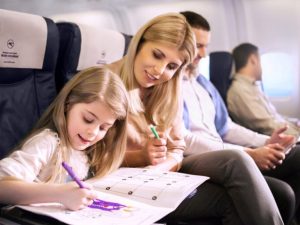 Traveling by plane with a child is problematic, because flights can be quite long, and you can't go for a walk (for obvious reasons). Parents should think ahead and prepare for such a trip.
What to occupy babies and older children on the train: interesting ideas
What do parents need to do so that the child is not bored on the train? How to prevent aimless walking down the corridor of the car, the endless whining, causing irritation to the neighbors in the compartment? Of course, the long road tires even adults, let alone children with their inexhaustible energy? If you are going to travel by train with a child, you must also prepare for it carefully.
15 ideas for activities with your child while traveling by train
Once in the compartment, sit your child by the window and tell them about the railroad. After the train moves, give your baby some time to look out the window with him.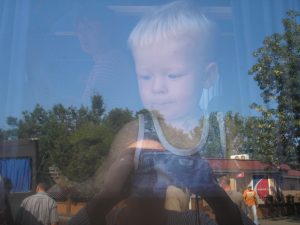 Make up interesting stories about the people who live in the houses, about different animals that live in the forest, by which you are passing. Your baby will be interested, and for some time, he will enjoy looking at the scenery outside his window.
When he gets tired of sitting in one place, give him a tour of the train. Perhaps your child will find a fellow traveler, and he will not be so bored to endure the long road.
Colored pencils, felt-tip pens and a sketchbook – these supplies will also distract your child for a while. Ask him to draw a train, railroad, houses, forest, etc.
Irreplaceable helpers on the road at all times were books. Read to him or let him look at the bright pictures in baby books.
Take your alphabet book with you and start learning letters. At home, as a rule, there is not enough time for such activities.
According to many moms, an indispensable attribute in any trip will be finger toys. With them you can show a real performance. Children are happy to take part in it directly.
With older children, you can play board games, put together puzzles.
Amusing games like "Words" or "Cities" will keep your child occupied for a long time. Each word must begin with the letter that ends with the previous one. For example, car – antenna – bus – plane, etc. Cities: Moscow – Anapa – Astrakhan – Norilsk, etc. Of course, the choice of game depends on the age of your child.
Older children are happy to solve riddles. So they can buy special books. Solving puzzles and crossword puzzles with pleasure engaged in teenagers.
Teenagers with a great pleasure to play "Monopoly". This economic game is great for developing logical thinking.
Battleship – an old, but very addictive game will also help pass the time on the train.
Kids on the road you can buy new toys – prefabricated small cars, soldiers, a fortress, which must be collected.
And if my mom takes with them on the road color paper, scissors, glue and stocked patience, her child will be hard at work cutting and gluing.
A great salvation for parents will have a DVD player with a screen. All children love cartoons, without exception. Many kids love kind cartoons, cars, etc.
If your child gets acquainted with other children on the train, the "watch" of entertainment can be shared with another mother. One hour you entertain the children in your compartment, one hour she does.
What to occupy the children on the road in the car: 15 ways
A long trip in the car can greatly tire little fidgeters, because their movement is limited, they can not run and frolic. What do they have to do? Of course, to be naughty and capricious.
How to travel by car with children: doctors' advice
According to psychologists, a trip in the car for children from 1.5 to 3 years old can be a real stress. At this age, it is difficult for children to be strapped into a chair for a long time. That is why doctors recommend making a stop every two hours, and giving the baby the opportunity to move around and take a walk.
Children over 3 years old are usually eager to travel in the car, for them it is an interesting adventure. And yet, after looking out the window for a while, they require attention and entertainment. So what can you do to entertain a child in the car?
15 Ways to Make a Car Trip Exciting for Your Child
Despite the widespread opinion about the harm of tablets, psychologists do not see in such entertainment anything bad. Everything depends on the parents' choice of games, cartoons, movies and the time a child will sit "bored" with the tablet. Doctors recommend that children under the age of three years to determine the viewing limit – 20 minutes a day. Older children no more than an hour and a half a day.
A great entertainment for children can be an audiobook.
Small children can listen to songs, children after the age of three are very accepting of audio tales.
Teenagers eagerly listen to audio plays and audiobooks.
Toddlers love hanging toys in the car.
For a long time, young children play with soft toys.
Children over the age of three enjoy looking at picture books.
You can entertain your child in the car by playing interactive games with him. For example: "who will be the first to see a yellow car, a bike, a red house, etc." A child can be given the task of counting roadside poles or following the appearance of the traffic police.
With teenagers can be engaged in the study of car brands. As practice shows, from such interactive lessons they love it.
Excellent activity and in the car can become a game of words.
You can organize a competition for the most interesting story about the car journey.
Forgotten by all Rubik's Cube will be just a cure-all for travelers.
In the car you can also draw. Of course, it will be quite difficult for a child to depict something, but he easily draws a "squiggly". The goal of mom to create an artistic masterpiece out of this "scribble".
For a long time, a child will be distracted by a play performed with finger puppets.
If there are several children in the car, you can compose a fairy tale one by one. The first child speaks one sentence, the second child continues the narration, etc. Such storytelling therapy will relieve stress and calm you down.
The road will become an interesting adventure for the child, if parents take the time to communicate with him or her and think in advance about how to spend the time on the road in an interesting and useful way. Dear parents, treasure every minute you spend with your children. After all, they grow up so quickly!
What to occupy the child on the road: TOP-10 interesting activities
Everyone who went on a long journey with a child knows that in order to travel without excesses, it must be well prepared. After all, sitting buckled up in a chair – it's so boring! Even adults, not to mention little fidgeters, who certainly need something to do on the road. We offer you TOP-10 useful tips on how to entertain your baby on the road. 1. Aluminum foil.
Universal thing! Kids love to crumple and smooth the foil, tear it into pieces and make balls, and older children can make rings, bracelets and different figures
2. Matching cars.
Have each passenger name his or her favorite color, and then everyone count the cars of "his or her" color. Whoever counts more wins!
Reusable stickers are a real salvation on a long trip! They can be stuck in a notebook, on your hands, on clothing, on the seat or on the window, and when you arrive at your destination – carefully removed, leaving no trace of glue in the car.
4. Multimedia monitor.
If you do not have the opportunity to deal with the child on the road – for a while you can entrain him to cartoons or video games. Tablet or phone – not the best option – when a child sits, bent over the screen, he spoils the posture, tired back and neck, and the sides of the child seat no longer protect him. But a monitor which is fixed to the front seat headrest is quite another matter – the child is sitting upright while watching it. The best option would be a monitor with a remote control (for example, NEOLINE Cinema HD), so that your child wouldn't have to reach for the monitor to control the screen.
5. A box with various small things
This is suitable for younger children. Put a few small items in a box with a lid: a doll, a car, cocktail straws, pebbles or balls, a small piece of colored string, and other little things dear to the child's heart. The child will be very happy to take their treasures out of the box and hide them back.
6. Stationery clips.
Show your child how you can clutch different colored paper clips together. Make beads, bracelets, and just long chains and hang them in the car.
Eating on the road is so much fun! Put nuts, small cookies, dried fruit, and cereal in a container – anything you can eat with your hands without fear of getting dirty. And to keep the snacks from getting mixed up, build dividers of crispbread in the container.
8. Plastic tray.
If you don't have a recliner in your car, grab a regular plastic tray. Better if it's rubber coated and rimmed, so toys, books, and food won't slip to the floor.
9. "Thimbles.
A harmless version of the well-known game of chance develops attention and coordination. We take three plastic cups, cover one of them with a ball, then we move cups and try to guess where the surprise is hidden. If the kid is under three years old, it is better to use colored cups so that it was easier for him to concentrate.
10. Oral games.
If a child gets seasick on the road, it is better to play oral games with him. With younger children you can play "Echo" – you say some set of sounds or clapping in a certain rhythm, and the baby has to repeat it. Then swap roles. With older children you can play "Guessing Game": think of some object and let the child ask you questions about it. Questions may only be answered with "Yes" or "No"!