Rhodes: vacation tips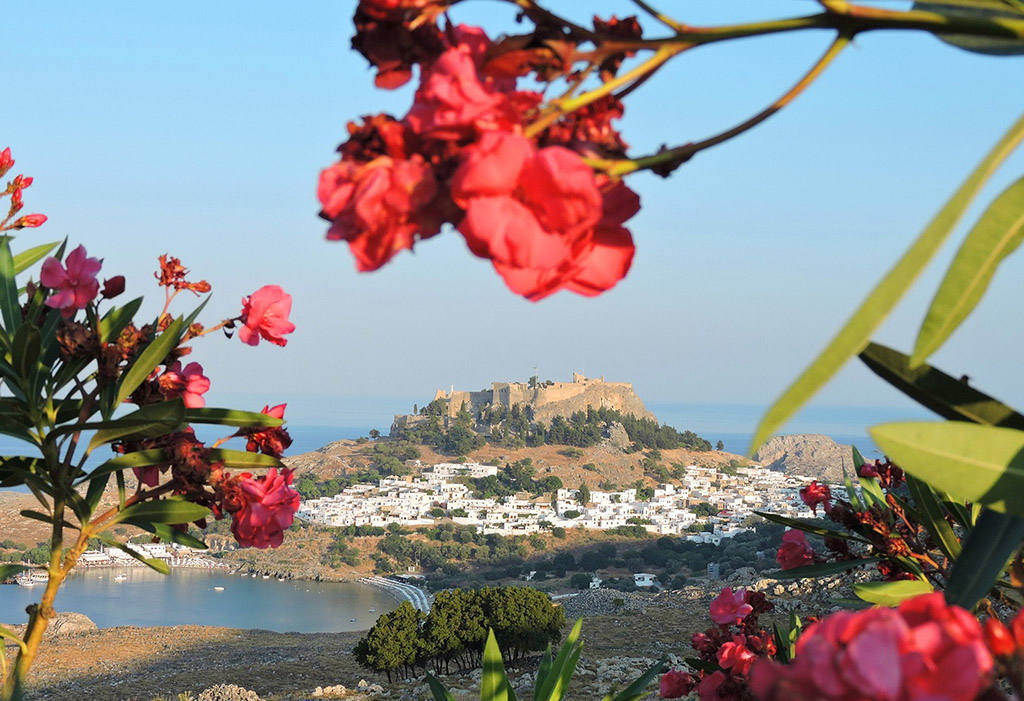 We went to Greece – we loved it! Check out our tips and review about vacation in Rhodes Island. Collected prices for food, tickets, hotels, tours, rentals in 2022. Find out how to save money, when to go and what to see.
Content:
Rhodes Tour Prices – 2022
Tours to Rhodes and other resorts in Greece in the summer are inexpensive – in a hotel 1-2* they cost at least 21000 rubles for two people for 5 nights without meals with departure from Moscow.
We at the end of June 2019 flew from Moscow for 5 nights for 27000 rubles for two. We chose a trip more expensive, because the cheapest tour in fact has disadvantages: the transfer from the airport is not included, the hotel in the middle of nowhere or with bad reviews.
We bought a last minute tour online on Travelate 4 days before our flight. The tour operator was BiblioGlobus. We stayed in Rhodes in the popular resort of Faliraki in a wonderful family hotel Artemis Studio 3*. We liked both Greece and Rhodes, and we liked the hotel – it was an excellent trip!
Check out what the prices are for holidays in Rhodes in 2022 during the high season (June to August):
| | | |
| --- | --- | --- |
| Stars | Price for 7 nights, ₽ | Hotel example |
| Hotel 1-2* | from 30 000 | Посмотреть >> |
| Hotel 3* | from 36 000 | Посмотреть >> |
| 4* Hotel | from 43 000 | Посмотреть >> |
| 5* hotel | from 86 000 | Посмотреть >> |
| All Inclusive Hotel 4-5* | from 65 000 | Посмотреть >> |
How to save money? The lowest prices for tours to Rhodes in May, September or October. Look for a hot tour without meals or with breakfasts, and choose a hotel on 2-3 lines from the sea. Read our 7 tips for buying tours online – they will help you buy a cheap hot tour.
The optimal month is September, especially with children. Not so hot, not so expensive and not so crowded!
The best all-inclusive hotels in Rhodes on 1 line from the sea:
Mitsis Grand Hotel in Rhodes City;
D'Andrea Mare Beach Hotel in Yalissos;
Esperos Mare , Mitsis Alila Resort & Spa , Amada Colossos Ultra All Inclusive Resort and Grecotel Rhodos Royal in Faliraki village;
Princess Andriana Resort & Spa and Rodos Princess Beach Hotel in Kiotari village;
Sirene Beach Hotel and Oceanis Hotel in Ixia;
Lindos Princess Beach Hotel in Lardos;
Porto Angeli in Archangelos village;
Iti Asterias Beach Resort in the village of Afantou.
You can buy tours to these hotels on the service Travelata.
(Photo: Manolis_D / pixabay.com)
Airfare prices to Rhodes
Prices are per person round trip ticket.
The cheapest way to get to Rhodes is from Moscow – during the high season tickets starting from 14000 rubles, during Vacation – from 12000 rubles. From St. Petersburg in May you can fly for 16000 rubles, in summer – from 17000, and in September – from 16000.
How to save money? Look for cheap tickets with flights also from neighboring cities. Buy your tickets in advance and fly light so you don't have to pay for luggage. Check how much the tours cost – it is often more profitable to fly to the resorts. For example, our tour with flight, accommodation, transfers and insurance cost 27000, and for the tickets alone we would have given the same amount at best.
Look for cheap tickets on Aviasales – it compares prices of all airlines. Learn the secrets of finding cheap airline tickets.
Visa to Greece
To travel to Greece you need a valid Schengen visa (type C). In 2022 it costs 35 euros + 1470 rubles (service charge). You can apply for it with a package of documents at one of the GVCW visa centers or at the Greek consulate.
You can arrange your insurance online at Compare.ru or Cherehapa – they compare prices of all major insurance companies. The cost of the policy – from 300 rubles for a week.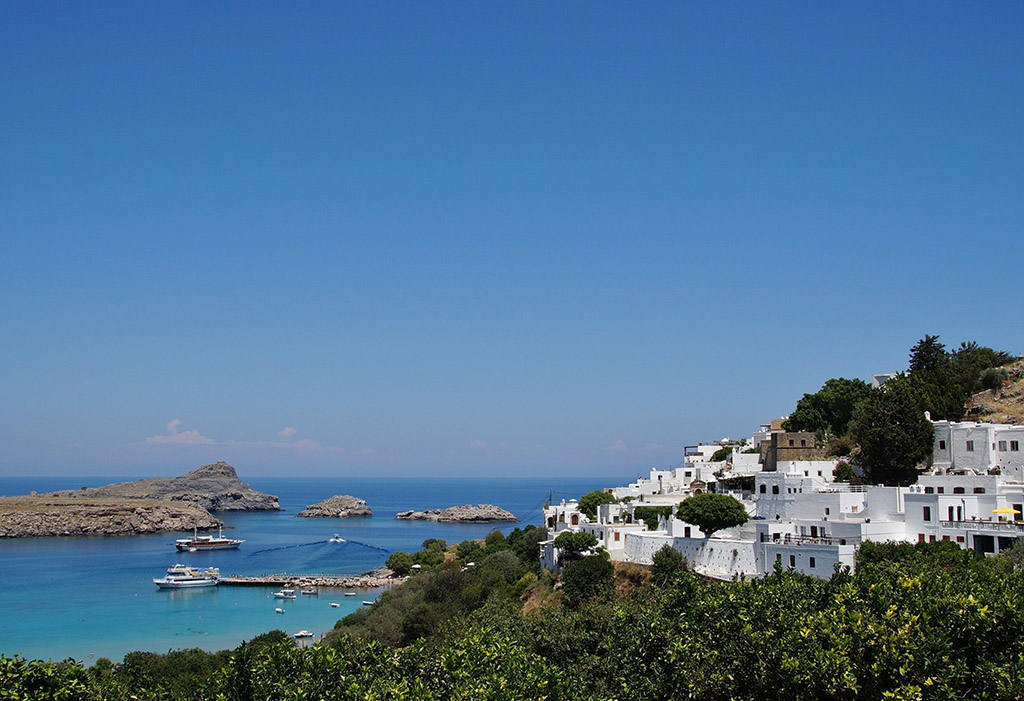 (Photo: ivabalk / pixabay.com)
Hotel prices in Rhodes – 2022
Look for discounted hotels on Rumguru. Here are the top rules for finding hotels.
Minimum prices per night for a double room in 2022 Rhodes during high season:
| | | |
| --- | --- | --- |
| Hotel type | Price per night | Example |
| Hotel 1-2* | from $30 | Anthula Sun |
| Hotel 3* | from $30 | Modul Hotel |
| 4* Hotel | from $70 | Hotel Riviera |
| 5* hotel | from $140 | Lindos Village Resort and Spa |
How to save money? If you are going to Rhodes in the high season, book hotels at low prices in advance. According to tourists' reviews, during the low season, hotels are up to twice as cheap. It is also cheaper to live farther from the beach.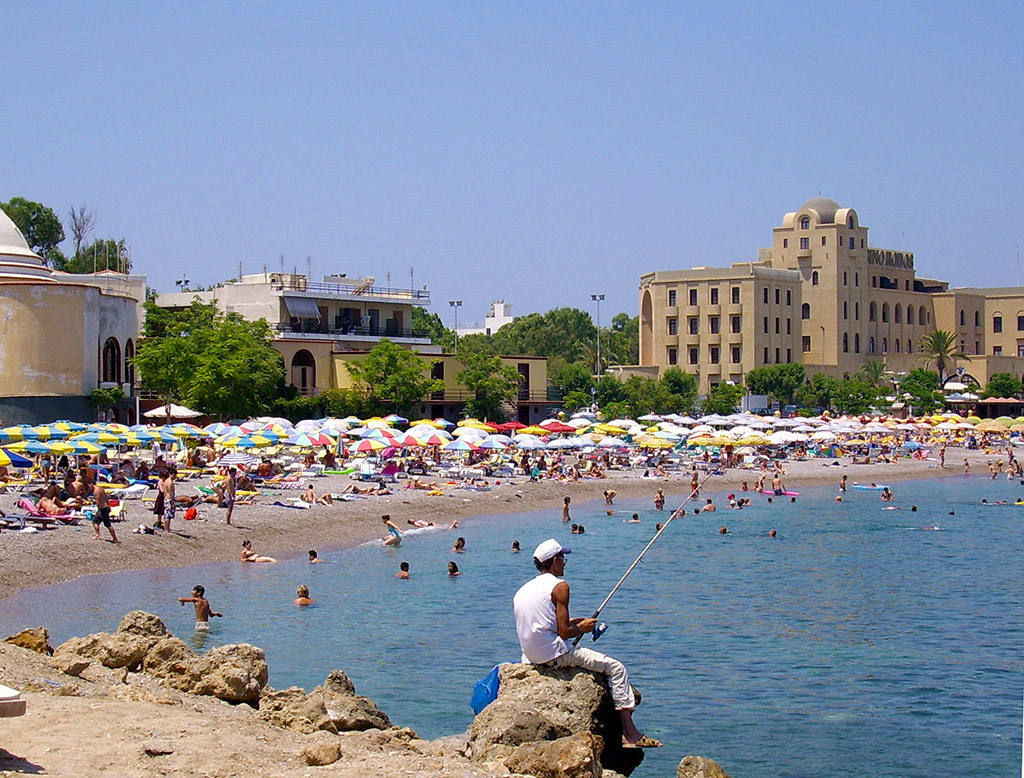 (Photo: evolverphoto / flickr.com / License CC BY-NC-ND 2.0)
What to see in Rhodes.
There are no world-class mind-blowing sights in Rhodes. Mostly ruins, fortresses, temples, parks and beaches. We advise you to rent a car to see the island on your own. For example, we took a bike and in two days drove around the entire island.
Viewpoints: on Mount Tzambika, Mount Filerimos (the "path to Calvary" leads to it) and near the Monolithos Castle. Against the view of the sea – many shades of blue and blue – you can take great pictures.
Beautiful beaches: Anthony Quinn Bay, Tsambika and Agathi beach, the kiss of two seas – Prasonisi.
For families with children: Rodini Park, Butterfly Valley, the water park in Faliraki and a walk in the nature reserves of Rhodes.
Antiquities: Rhodes Fortress and the Old City of Rhodes, as well as the ancient town of Lindos with its acropolis.
Temples: Tzambika Monastery, Mount Filerimos and Monastery of the Virgin Mary, Moni Tari Monastery and Suleiman Mosque in Rhodes City.
Excursions. From Rhodes town, take a day trip to the neighboring island of Symi by ferry or book an excursion.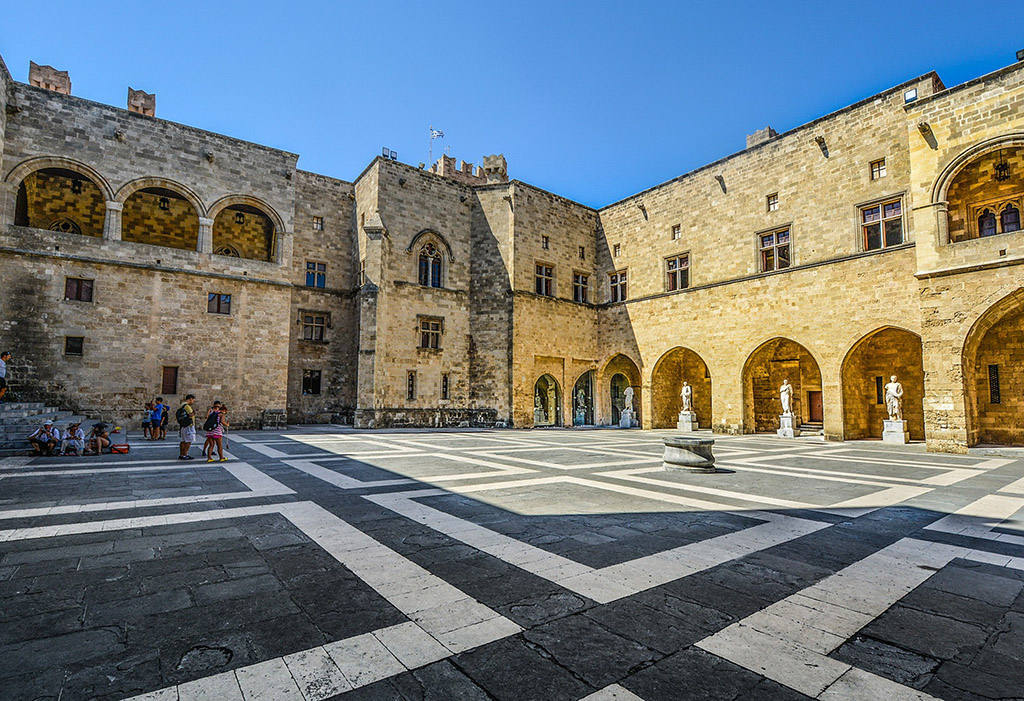 (Photo: kirkandmimi / pixabay.com)
When is the best time to vacation in Rhodes?
We vacationed in Rhodes in mid-June: the heat was scorching, but softened by the wind. In the morning and after sunset the temperature dropped to around +25°C, and it was comfortable.
The season in Rhodes lasts from March to November, when the temperature is between +20°C and +30°C. Tourists swim from May to October. The mildest months are April, May, September and October.
Based on reviews, most tourists prefer to go on vacation in Rhodes in high season. At this time, the prices of accommodation, tours and airline tickets are higher. Many people like the velvet season – during this time the heat goes down and prices go down. If you are interested in sightseeing in Rhodes, come in the low season.
(Photo: Manolis_D / pixabay.com)
Rhodes Beaches
The island's coastline is 251 kilometers long. Those who prefer more rough waves and wind choose the beaches of the Aegean Sea, while families with children choose the Mediterranean.
Anthony Quinn Cove . We liked the beach. It is a pretty place in the middle of rocks and pine trees, 15 km from the capital of the island and not far from Faliraki. Come here only until 9 am, before the crowds of tourists roll in! Entrance is free, but sun loungers and umbrellas are not.
Cape Prasonissi. This place on the south, where the Aegean and the Mediterranean meet, is called the kiss of two seas: you will see how the waves differ in color – due to the different density, temperature and degree of salinity. Extremely popular with water sports enthusiasts!
Mandraki Harbor is where the Colossus of Rhodes, one of the Seven Wonders of the World, is said to have stood. Now you will only see a deer and a stag at the entrance of the harbor and, of course, ferries and yachts!
The beach of Agia Agathi . Located next to the village Haraki. It will be appreciated by those who like to have a calm holiday with their families.
Tzambika . In addition to the beautiful beach, visit the monastery of Our Lady of Tsambiki, which is legendary for its miracles of helping childless women, and admire the view from the mountain.
Lindos is made up of typical Greek white houses. There is an acropolis and a beach with clear azure waters. You can get there by bus, car or boat from Rhodes town.
(Photo: Amaniero / flickr.com / CC BY-NC-ND 2.0 license)
Holidays with children in Rhodes
Some hotels provide tourists with children's animation services, but it is better to clarify in advance.
We found all-inclusive hotels for holidays with children in Rhodes. All hotels have good reviews, have animator services, playroom and children's playground.
Delfinia Resort and Lydia Maris Resort & Spa in Kolymbia;
D'Andrea Mare Beach Hotel in Yalissos;
Mitsis Alila Resort & Spa and Evita Sun Resort in Faliraki.
You can buy tours to these hotels on the service Travelata.
Food Prices in Rhodes – 2022
You can eat relatively inexpensively while vacationing in Rhodes. Even close to the beach, we found institutions with inexpensive food. In general, the farther from the tourist spots, the lower the bill will be. Choose tavernas and cafes where Greeks eat lunch and dinner.
Breakfast of coffee and pastries costs up to 4 euros. We had breakfast at the hotel with what we bought in the supermarket – flan with tea and nougat. It was very cheap!
At lunch there are lunches for 14 euros, but this is rare. Lunch includes a salad, a second and a drink. Take one for two, because there is a lot of meat.
You can have dinner in a restaurant for 30-40 euros. For example, we at a restaurant in our hotel had fish and seafood with potato salad, two glasses of white wine and ice cream for 31 euros for two.
We are very thirsty in the heat. In the cafe an ice cold beer 0,5-0,6 l costs from 3 to 4 euros, and they bring water to the food for free. Local coffee is 1,5-3€.
How to save money? If you don't eat much, like we did, you have enough Greek salad and one dish for two. The portions are very large, especially in non-tourist places. Plus, they bring free tortillas and sometimes fruit! Count your strength, we almost always couldn't finish our meals.
In small villages like Archangelos, eating and drinking coffee is much cheaper than in popular Lindos or Faliraki.
Organize light breakfasts and dinners! We bought our groceries at AB Food Market and Discount supermarkets in Faliraki. An impromptu dinner on the hotel balcony of wine, cheese, olives, jamon, fruit and berries cost 14 euros for two versus 30 in a restaurant.
Prices in the supermarkets:
prosciutto (kg) – 26€;
Sausages – 8-15€;
Jamon – 14€;
brie cheese (kg) – from 14€;
feta cheese (kg) – 7-9€;
Hard cheese (kg) – 6-14€;
Yoghurts, flans and desserts from 1€;
Cherries (kg) – 3 – 4 €
Bananas (kg) from 1,6 €
oranges (kg) from 0,7 €
peaches (kg) – from 1,3 €
apples (kg) – from 1,4 €
pears (kg) – from 1,7€
mango (kg) – from 2,6 €
watermelon (kg) – from 0,5 €
tomatoes (kg) – from €,50
water (1,5 l) – 0,87 €
A bottle of wine – from 4 to 17 €
A bottle of wine – from 4 to 17 €; a bottle of rye – from 1,9 €;
Local beer (0,5 l) – 1 €.
(Photo: Daniel PERRIES / flickr.com / License CC BY-NC-ND 2.0)
What to try in Rhodes
The Greek food is excellent, we loved it. You can't find such a delicious Greek salad anywhere else! Try as much local food as you can – it's healthy and hearty and the seafood is very fresh.
Try it on vacation:
olives and olive oil;
Locally produced cheeses, including sheep's feta cheese;
Greek salad;
Moussaka, a casserole of minced meat and eggplant in a béchamel sauce;
tzatziki – thick yogurt with cucumbers and garlic;
lucanica choriatica – homemade sausages fried or stewed with vegetables;
melidzanosalata – baked eggplant salad;
spanakopita, a Greek pie filled with spinach and feta cheese;
pastizio – casserole with macaroni and minced meat under cheese and béchamel sauce;
gyros – flatbread with meat stuffing;
Fish and seafood: mussels, octopus, etc;
Retsina, aniseed vodka ouzo and grape vodka rakija.
(Photo: ohhenry415 / flickr.com / License CC BY-NC-ND 2.0)
Transportation on the island.
Rentals. Almost all tourists drive around Rhodes by car. There are plenty of rental shops, you can also rent a car at Localrent.com. The price of a car – from 15 euros per day, and a liter of gasoline costs 1.7-1.8 euros.
Many tourists rent bikes, quads and scooters. We rented a bike for 20 euros a day.
You can even rent a donkey! They are near the attractions, for example, they can go up to the acropolis of Lindos.
Buses. Towns are connected by air-conditioned buses. At the stops hang schedules, but the buses rarely follow it. The price of the ticket depends on the distance. We went from Faliraki to Rhodes, and the ticket cost 2.4 euros per person one way. You can buy from the driver.
Cab. On average, a 3-kilometer ride in a regular cab costs 4-7 euros: 3.6 euros for boarding and 1 euro for each additional kilometer. You can get from the airport to the city of Rhodes for 16 euros. Book a car at Kiwi Taxi and it will take you straight to your hotel.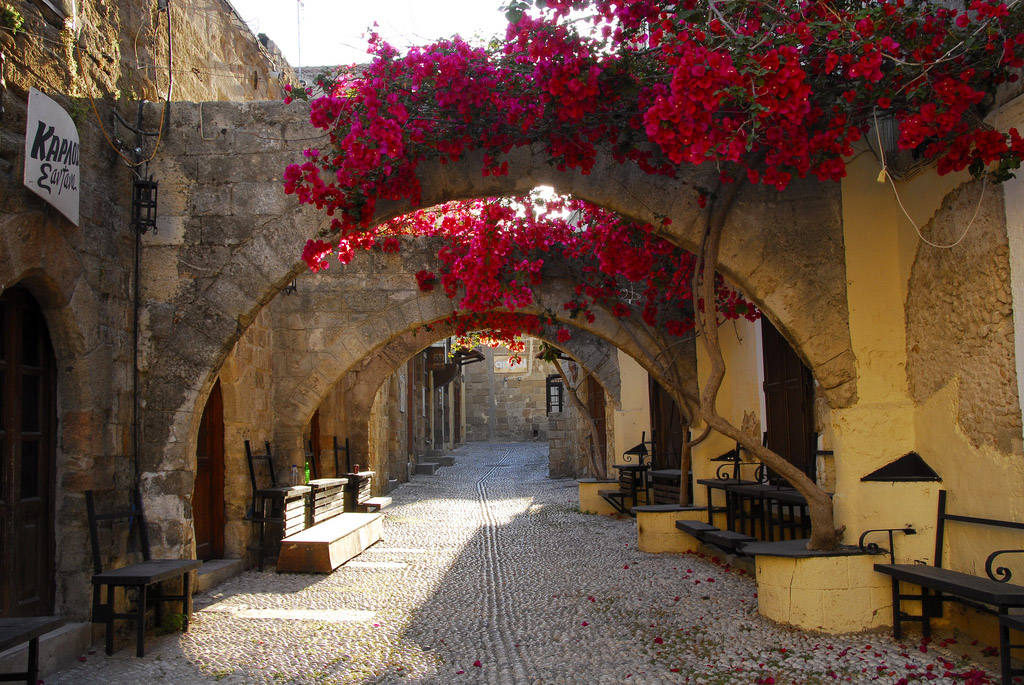 (Photo: Chris Ruggles / flickr.com / CC BY-NC 2.0 license)
Money and ATMs in Rhodes
If you're carrying cash, it's best to take euros. However, dollars will do. There are plenty of exchangers, no problem.
We withdrew money from Tinkoff card without a commission at Attica ATM in Rhodes.