All you need to know for a trip to Finland
Finland is beautiful at any time of year, but in the autumn and winter it turns into a fairy tale! The icy Finnish lakes, Gothic churches and ski resorts are what attracts tourists.
I will give some tips on how to get to the nearest cities in Finland, what you can, what you categorically should not, and what every tourist should do in Suomi.
By the way, the Finns call their country Suomi.
Look for last minute trips on the search engines Onlinetours and Travelata. With the help of these sites you can compare offers from more than 120 tour operators at a time. Read the secrets of how to find the best deals on package tours.
Visa and insurance (what you need to travel to Finland)
The first thing we do, going to go to Finland (or any other European city), we prepare the documents: passport, visa and insurance. If a travel agency does not offer assistance in preparing a visa, or you're flying "savage," then the Schengen you need to take care of yourself. You can fill out the application form on the official website of the service and visa center. There you will also find a number of restrictions on the import and export of cash, personal belongings, purchased alcohol, souvenirs, etc.
Finland is considered a country where crime is a very small percentage, but it is safer to travel when you are insured against unpleasant situations. There are a lot of health insurance companies. I advise to choose the basic options: 24-hour hotline support, insurance against bruises and fractures (if you plan to ski) and other cases that you think might happen to you.
Where to go
Start your trip with the capital of Suomi, Helsinki. You arrive at the airport, which is a 15-20 minute drive from the city. Helsinki strikes you from the first minute with its medieval architecture – the Finns are careful to look after their churches and castles. The best New Year's fairs are here! Many Russians come here for "shopping" during sale weeks. The street Aleksanterinkatu, where famous brand stores and souvenir shops are concentrated, is considered a real attraction of the capital of Finland. Here you can spend a good time, buy the symbols of the country as a present to your loved ones – figurines of moose and Moomin-troll, relax with a cup of coffee on the terrace of an outdoor cafe (in warm weather, of course).
© @tap5a / unsplash.com / CC BY 2.0
A castle that's in the top 10 places to tour is Sveaborg. An ancient building from the 18th century. It was once captured by the Russian army. The territory of Sveaborg is quite extensive: there are both museums and a prison of not the most severe regime.
Tampere. Do you know where the valley of Moomin-troll is? In Tampere you can visit the characters from the cartoon and also visit the museum of Chief Lenin. For the younger members of the family, there is an amusement park on Laiturikatu.
Lapland. Relevant for a visit during the Christmas vacations. Santa's homeland each year becomes the center of the family vacation. Lapland occupies an entire region. There are several ski resorts, Santa Claus, lakes, forests and waterfalls.
The port city of Turku. Here fresh seafood, tours of Turku islands and "wild" camping.
A novice traveler may say that all cities in Finland are similar to each other. I am attracted to this country more and more each time, I want to go farther and farther. I plan to see the town of Tahko, where the skiing championships are held, the Åland Islands, etc.
© Motopark / commons.wikimedia.org / CC BY 2.0
Look for cheap airfare on the Aviasales and Skyscanner search engines. These services compare prices of all air carriers. Learn the secrets of finding the best airline tickets.
How to get to Finland, how much to drive
If you want to get to the country on your own, it is worth looking for suitable tickets on the search sites. Pay attention to aviasales.ru and tutu.ru. Convenient when in one place collected the cheapest deals on trains, planes, buses.
You can get to Helsinki by plane from major cities: Moscow, St. Petersburg, Yekaterinburg, etc. Travel to Finland is carried out by Aeroflot and other companies like Finn Air. From Moscow, fly about 2 hours.
Travel by train. By train "Lev Tolstoy" (from Moscow through Peter) will be cheaper, but travel time from Moscow – from 14 hours. The high-speed train wins in this case – travel time is about 4 hours.
Travel to Finland by ferry. A great way to spend more than 12 hours in a romantic setting. In the warm season, you can contemplate the delightful scenery from the deck. You can go on the ferry without a visa, but without going ashore. There are such excursions "there and back" for one day.
It takes about six hours to travel by bus. Carrier companies organize comfortable trips over such distances.
The most unpopular way is by car. It's a long way and you have to think of a lot of things.
© Morozov L.N. / commons.wikimedia.org / CC BY 2.0
Regular tours, bus tours, sightseeing tours, prices
Looking for a tour to Finland from Moscow. I go to the Onlinetours website to find out how much a trip to Finland costs. There are several offers for the upcoming dates:
Excursion tours – walks in the capital of Finland, no less than 7 ancient fortresses with a unique history, the valley of mummy-trolls, visiting historical monuments, churches in the rocks, acquaintance with local cuisine. Such a tour usually lasts up to 1 week, and the most inexpensive I have found for 28,000 p.
Treatment in Finnish sanatoriums . I think you can get rid of many diseases, if you spend at least 2-3 weeks among the mountain lakes and forests. Usually such facilities have real bathing complexes, herbal baths, water parks. Such a tour for a few days can be purchased from 50,000 r. Do not forget that in Finland the currency is in euros. Tour prices will change along with the exchange rate changes. Start booking tickets for December and January as soon as possible if you plan a budget trip.
Where to go in winter? Active recreation / sports – Finnish ski resorts are very popular throughout Scandinavia. However, come here, mostly not very experienced. Extreme slopes are few here. Many ski resorts in Lapland, another famous resort is Vuokatti. Tourists are sometimes invited to raft down the violent rivers.
Even in winter, they buy ferry cruise tours. For 3 days you can have fun on a cruise liner and run through Helsinki. The price for such a trip from 5000 p.
© Tommi Saltiola / commons.wikimedia.org / CC BY 2.0
Search for good hotels on Hotellook, the site compares prices from a variety of booking systems (Booking too) and finds the best one. Read our guide on how to find a good and inexpensive hotel on your own.
Accommodation
In Finland it is not difficult to find a simple hostel or city hotel. In addition, in a country where there are a lot of Michelin restaurants, there are also hotels of the highest category. You can see and book a room on Booking or Roomguru.
Accommodation prices vary:
a bed in a hostel in a good neighborhood – from 60 euros,
a room in a 3 star hotel from 75 euros,
in a 5-star hotel from 90 euros per night…
Save money on lodging by renting apartments from locals in Finland with Airbnb. Get 2,100 rubles as a gift on your first booking.
During the winter vacations, tourists occupy hotels and lodges at tourist bases in the Rovaniemi area. In these parts you can check into a hostel from 50 euros, heated cottage with all conveniences for about 60 euros per night.
If you want something unusual, Finland will find something to surprise you. Have you ever slept in an ice hotel? Or a glass house on a rock? In Finland, too, it is not forbidden to sleep in tents or sleeping bags. You will find quite a few places specially designated for this purpose. Fresh air and safety.
© timo_w2s / commons.wikimedia.org / CC BY 2.0
– unusual excursions from locals. – Inexpensive group tours.
Russian speaking guides only.
What else to see in Finland
If you think that you have seen almost everything in Helsinki, I advise to go outside the city…to an island. I mentioned the fortress of Sveaborg. It is also called "Swedish". Here is what information about this place I learned from the Internet. The fortress has been listed by UNESCO and is located on several islands. By the way, right on Mustasaari island is a small hostel.
Museums of Suomi. Not far from Helsinki is a scientific center-museum "Eureka" (functions since 1989). The museum has almost 100 exhibits that clearly show how some scientific discoveries were made. Children and adults alike will enjoy it.
In Tampere, there is a textile museum and a museum devoted to espionage.
Weather
Weather conditions are almost like in Russia. Except that the summer is hotter. The maximum minus temperature in winter is -10. A Russian person will be used to it. The winters here are quite snowy. That's why I try to plan a trip in winter or late fall to go snowboarding on low slopes.
In summer, it's a special time here – white nights. Tourists take long walks, hiking, ferry rides, fishing.
Tips
What you need to know not to get into trouble, especially if this is your first trip to Finland:
Travel to Finland for the first time: tips for first-time travelers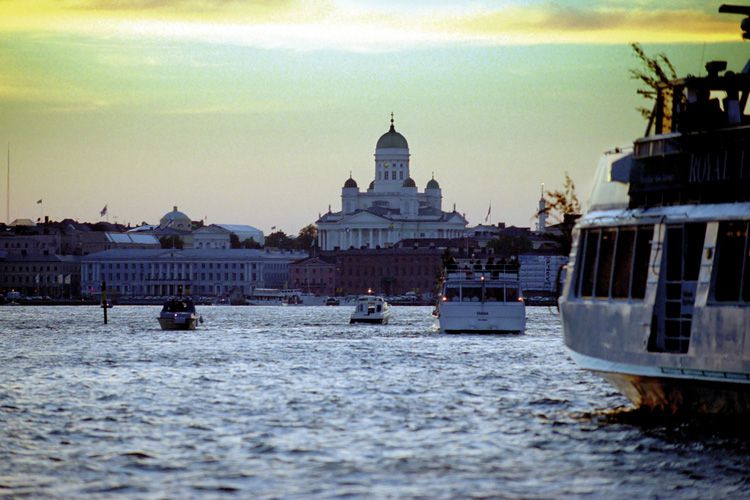 Photo: myhelsinki.fi
Tips for the traveler: we tell you how to drive, where to stay and have lunch in Helsinki.
How to get to the country
For residents of St. Petersburg, the cheapest way to get to Helsinki is by bus. In the offseason, bus carriers often arrange sales (for example, on "black Friday") and leave the capital for 600-700 rubles. You can catch cheap tickets if you start to monitor them a couple of months before the trip (here is the golden rule: the earlier, the better). The most expensive tickets are on New Year's Day and May holidays. To find out about discounts and promotions, subscribe to the pages about budget travel in social networks. It's also convenient to get to Helsinki by minibus. The fare will cost from 800 to 2,400 rubles.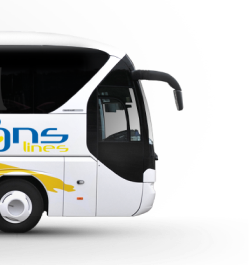 Daily trips from St. Petersburg to Helsinki
Comfortable buses or minibuses
Reservations by phone +7 (812) 501-82-10
Cost from 1600 rubles
Blablacar drivers are ready to bring you to the capital of Finland for 700-800 rubles.
The cost of a ticket for the train "Allegro", which will take you from St. Petersburg to Helsinki in three and a half hours, depending on the season, day of the week and time of departure of the train. So, for the dates from January to March 2018, the cheapest ticket will cost 39 euros (2700 rubles).
A ticket for a flight St. Petersburg – Helsinki costs from 5,600 rubles one way. The best way to buy an airline ticket is to use the Aviasales and Skyscanner websites (you can also download an app on your phone). Here the same logic applies as with the bus: the earlier you buy a ticket, the cheaper it is. You should not expect cheap tickets for New Year's and May holidays.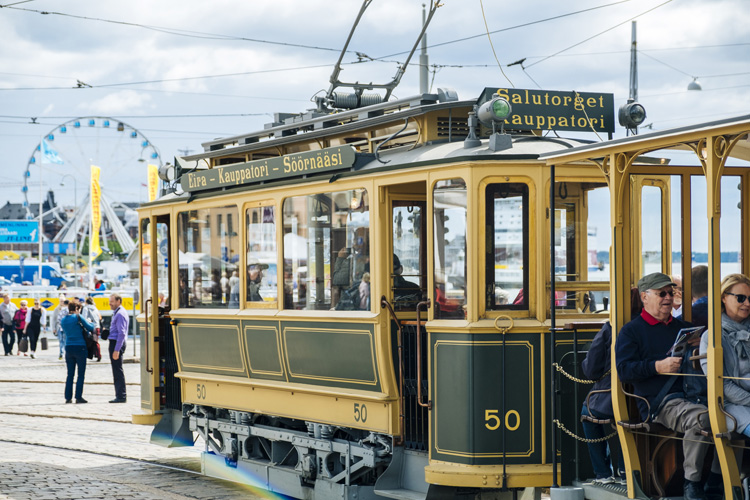 Photo: myhelsinki.fi
Where to stay
We recommend searching for a hostel, hotel or apartment through the online Booking service or the Skyscanner app. In Helsinki, the price for a double room (with shared bathroom) in a hostel starts at 50 euros. The cheapest apartment costs 60 euros per night. If you come to the Finnish capital for a couple of days, then choose a hostel and a hotel. For a long term (a week or more) makes sense to rent an apartment. This option is also great for traveling with children or a large group. Apartments are apartments with a kitchen, so you can cook for yourself. The savings are substantial – the average bill in the capital's restaurants is 30-40 euros. The disadvantage is that when you move in you will have to adjust to the owner of the apartment, and, for example, to move in at night or early in the morning will be problematic. On all these points it is necessary to agree separately.
Apartments can be rented through the already mentioned Booking, as well as with the help of Airbnb. Prices for housing are almost the same. The advantage of Booking is that there is a free cancellation option and the cost of accommodation is usually paid locally. When booking through Airbnb the money is taken from your account immediately, and the cancellation policy depends on the specific host (even if you can cancel your reservation for free, you will not get a refund for the Airbnb services). This service is convenient in that it allows you to rent not only the entire apartment, but also a separate room. If you're traveling alone, it can help you save money.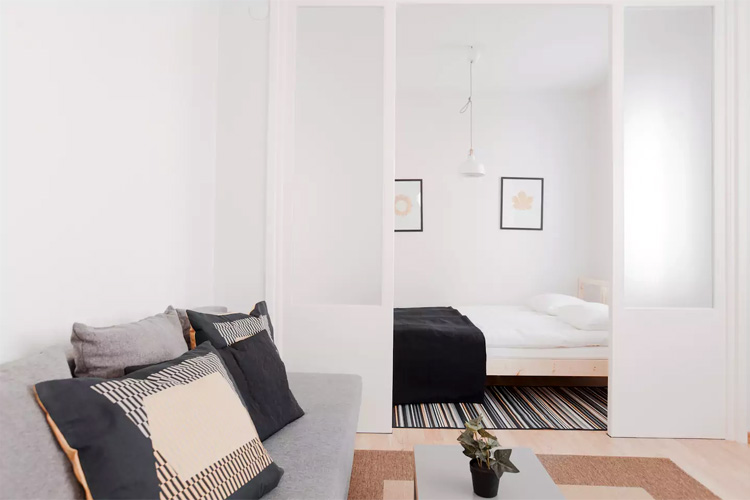 Photo: airbnb.ru
You can find free housing with the help of couchsurfing. Read about how to do it in our article.
When traveling for a couple of days, of course, it's convenient to stay downtown. If you are not afraid of the prospect of using public transport, you can live in districts far from the center, near the subway – such options are usually cheaper.
Do not forget to bring a printout with the address of the hotel or apartment, or write it on your smartphone, as at the border may ask exactly where you'll stay.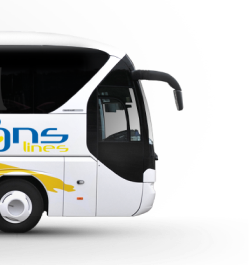 Day trips to Finland from St. Petersburg
Comfortable buses and vans
All popular destinations
Price from 750 rubles
Tips for tourists
So, the visa is arranged, tickets are bought, accommodation is booked, what else do you need to know before your first trip to Finland?
Finns speak English very well, especially the young people, so that knowing this language, you will feel quite comfortable here. In large shopping malls, tourist information office and museums you can be served in Russian.
Make sure you have apps to help you on your travels. For example, an application with free offline maps from around the world Maps.me and currency converter XE Currency.
A free map of the city is available at the Information Office (Pohjoisesplanadi 19).
Bicycles are a popular mode of transportation for city dwellers. Finns ride them all year round, in Helsinki there are bicycle parking lots and bike lanes everywhere. To rent a bike, go to the stores Ecobike (Savilankatu 1b), Greenbike (Bulevardi 32) and Bicyclean Helsinki (Luotsikatu 14). The Citybike service charges 5 euros per day and 10 euros per week.
You can connect to Citybike's free Wi-Fi network. For a map of Wi-Fi spots click here.
If you're planning to explore the city in depth, you'll want to buy the Helsinki Card. You can buy the card for 24 hours (46 euros), 48 hours (54 euros) and 72 hours (66 euros). Its price includes visits to nine museums, including the Ateneum Art Museum, Kiasma Museum of Contemporary Art and the Sinebrychoff Art Museum, a tour of the Suomenlinna Fortress, a bus tour of the capital and free travel by public transport. More information about the Helsinki Card can be found here.
A good way to save money on your cultural program is to schedule a visit to the city's museums on days when admission is free for all visitors. See the list of free days and a short description of the best museums in Helsinki in our article.
Learn about interesting events happening in Helsinki at http://www.visithelsinki.fi/ru.
The lowest prices on groceries are at German chain Lidl and Prisma supermarkets.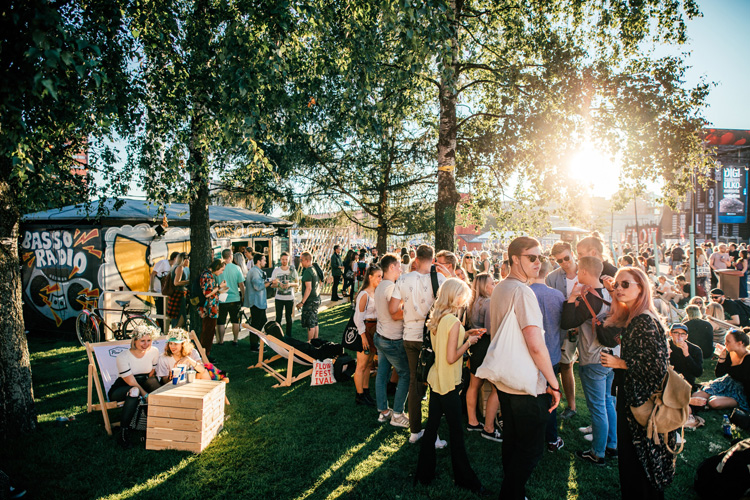 Photo: myhelsinki.fi
Olga Korka, a resident of Helsinki, told eFinland.ru about first-time visitors to Helsinki:
– The city center is compact and can be easily navigated on foot. Use of public transport is also convenient: it runs strictly on schedule, the ticket is valid for an hour on all types of transport. I recommend using the public transport route planner website reittiopas.fi.
– Cab costs at least 20 euros, the price depends on the distance and the carrier. A trip to the airport usually costs 40-50 euros.
– I advise to walk along the Esplanade, Helsinki's central park. Walk along the embankments, go to the Old Market, have a coffee and eat a fish sandwich or cinnamon bun. Climb to the observation deck of the Assumption Cathedral and see the city from above. You can go to the areas dominated by Northern Art Nouveau, either the Katayanokka neighborhood, just behind the Cathedral of the Assumption, or the Eira neighborhood, which can be reached by streetcar number "2" or "3".
– You can eat lunch wherever you see the word lounas – that's business lunch in Finnish. Standard time for business lunch is from 10.00 to 14.00 or 15.00, the cost is from 10 to 14 euros.
– Be sure to try the fish. Most of all Finns appreciate white wild fish caught in the wild.
– If you are traveling with a child, in any cafe can safely ask to heat a jar with baby food, a bottle of formula or milk.
– No need to spend money on bottled water. In Finland you can drink tap water everywhere, in every public place.
– If we talk about the nature of the Finns, they differ from Russians in that they value personal space more. So try not to approach closely in a queue, at a bus stop, in transport. It is not customary here to talk loudly, waving your hands.
Where to eat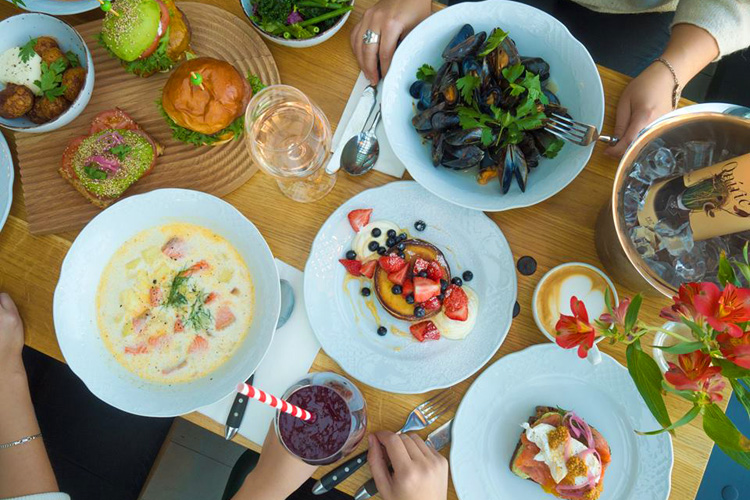 Photo: facebook.com
Helsinki is hard to call a cheap city, so good food for pennies is not possible here. Business lunches and special lunch offers can be a tourist's salvation. Below is a list of proven addresses of cafes and restaurants in the capital.
1. Ekberg An old bakery, pastry shop and cafe in the city center. Try the brioche (€3.30) with cappuccino (€4.40), for a more substantial lunch you can choose a salad (€6.90-14.50) or salmon soup (€11.50).
Address: Bulevardi 9 Opening hours: Mon-Fri from 7:30 to 7:00 Sat from 8:30 to 17:00 Fri from 9:00 to 17:00 Fri
2. Cafe Bar ¹ 9 Big portions and nice prices. On the menu: Caesar salad with chicken or smoked salmon (€12.50/13.50), woki (€10 each) and burgers (€10-16.90). This place is popular with locals.
Address: Uudenmaankatu, 9 Opening hours: Mon-Fri from 11:00 till 02:00 Sat-Sun from 12:00 till 02:00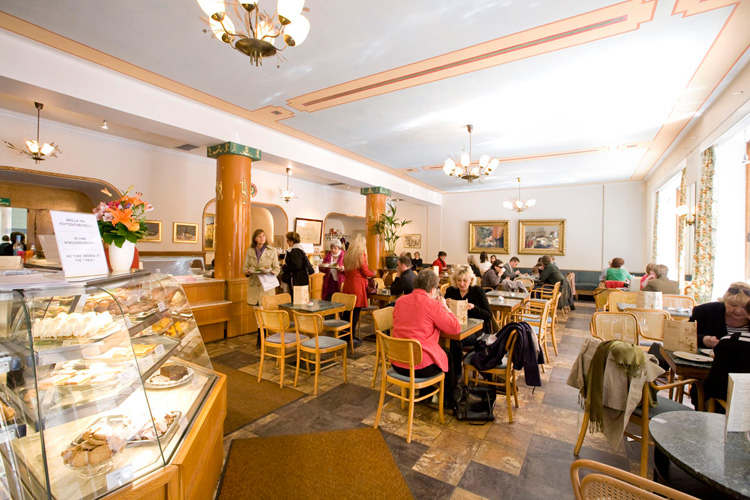 Photo: helsinkithisweek.com.
Fazer Café The legendary Fazer Café on the eighth floor of Stockmann Department Store offers lunch for reasonable prices by Finnish standards. A salad bar will cost from 9.90 to 14.20 euros, and a full lunch costs 13.50 euros. For this money you get a salad (or an appetizer, your choice), soup, main course and a drink.
Address: Aleksanterinkatu, 52 Opening hours: Mon-Fri from 09.00 till 21.00 Sat from 09.00 till 19.00 Fri from 11.00 till 18.00 Fri
4. Tiedekulma Café University art space Think Corner. Good coffee (cappuccino €3.50) and the freshest desserts (local hit is a banana cake for €4.90). At lunchtime there is a salad bar and you can order soup of the day.
Cafe is open Mon-Fri from 08:00 till 21:00 Fri, Sat, Wed from 10:00 till 18:00 Fri.
5. Kappeli In the menu you can find traditional salmon soup (15/20 euro), meat dishes (22-42 euro) and green salad Kappeli (from 9 euro). Desserts, like crème brûlée and cloudberry panacotta, cost about 10 euros.