Vinsky forum
Alone in Lebanon. July-August 2021. Most important
This forum is currently Viewed by: no registered users and guests: 1
Like it:
Alone in Lebanon. July-August 2021. Most important
Pycanorca " August 05, 2021, 22:10
I was back just before the anniversary of the bombing, although there were protests on the roads as early as August 2, when I was being taken to the airport. I will describe the most important things.
– I took tickets there with an 11-hour layover in Antalya. I had an hour connection in Antalya on the way back. You can go into the city, and you do not need to show the tests in Turkey if you are a transit passenger.
– PCR tests are needed only in Moscow. At the check-in at Domodedovo the girl was looking at my negative test translated into English very carefully. She asked me to download some Lebanese tracking app and make sure I registered there. In Lebanon, no one looks at any app, does not check the tests, and does not ask for self-isolation. That's why I took the app off.
– At the passport control in Lebanon, a polite man asked a few questions about the purpose of my visit, my job, my lodging, my plans. He asked to see my reservation. I had a screenshot of my reservation from the AIR BNB. I ended up just suggesting that he talk to my host. They chatted for a couple of minutes and he stamped and some writing on my passport.
– Lebanon airport has free wi-fi, but they only give it for half an hour (according to the locals). It was enough for me.
– After passport control, the medics catch you and shove sticks up your nose (yes, ptsr test in place). They write your name and phone number on the tests – and let you go in peace. – Money. Bring only dollars. Never change money in a bank! Only at the window with a yellow Money Exchange sign. When I arrived, the exchange rate was very good: $ 1 = 21,500 lira. By the time I left, it had dropped to 19,000 (which is also very good).
– Prices in Lebanon are very, very low – for food, cabs, beaches, entertainment. It's all because of the crisis. So now is a good time to go there.
– Cabs. Download Bolt, which has a green icon, and it's a great app. It has never failed, the interface is understandable, drivers speak English, and the prices are great – sometimes cheaper than in public transport in Moscow. I always leave a tip, otherwise it's just embarrassing. There's an Uber, but I wouldn't advise using it. When I was going to pay with a driver in liras, he got very angry and insisted that I pay with my credit card in the app and in dollars. There will be no such thing with Bolt. You can also catch a cab on the street, but more often than not they slap on the price. I have met some nice people who said, "Madam, how much will you give me, and that's how much will you take me? You can take a cab to Byblos or Batrun, and it will be cheap, but keep in mind that from there Bolt is no longer valid. So make arrangements in advance with the cab driver or ask for the phone number of his colleagues to pick you up. I was given a couple of phone numbers by locals, and I was taken home to Beirut after the parties.
– Car Rental. Even though I don't drive, but I strongly advise against it. First of all, the country literally gives gasoline by the hour and there are 3-hour lines at gas stations. Secondly, cabs are so cheap that you can take them even to Baalbek for the price of a Moscow cab.
– Public transportation. It exists, but I'm not sure you want to use it. They are such loafs from the 60's, unmarked, that you can't find and you can't understand where they go. But if you're an avid backpacker, you can handle it. I'll tell you about my trip to Baalbek in a loaf. I wanted to travel by public transport to feel the local color. After all, in the south, everything is different than in the center, and Hezbollah was scary. I asked the cab driver to take me to the station where the buses to Baalbek depart from. He stopped me next to a loaf with 4 people sitting in it. The driver said – yes, yes, Baalbek, get in, honey, I'll bring you a breeze (it was in sign language). As a result, in 20 minutes the car stalled and the guys were pushing it together with the passengers. In another half an hour we ran out of gas, and the driver was running around looking for it. We lost another 30 minutes. Then there was a stop for "a drink of water." Then the road to Baalbek somewhere near Zahle was blocked and we had to go back to choose another route. Then the driver dropped me off midway and said, pointing to another bus – "You go with him, and I'm not going any further." How so? He promised to take me straight to Baalbek.) Anyway, I got to Baalbek in 2.30 or 2.40.
Back was almost the same situation. The driver dropped me off halfway and switched to another driver. He also stopped every 10 minutes and yelled "Beirut, Beirut, who wants to go to Beirut". By the way, Baalbek has a completely different picture than Beirut. Most women walk covered from head to toe, yet everyone smiles at you on the street and tries to give you something to eat. A funny story happened to me in the bus on the way back. Before the trip, I bought a variety of baklava to try each type. I asked people if the bus was going to Beirut. Everyone was very nice and tried to understand and help me. I served baklava to the whole bus, I only got 1 piece, but everyone was very happy. There was a family sitting there – the mother, two girls about 25 years old, and a boy about 14, covered from head to toe. The girl through Google translator texted me "We invite you to our house, be our guest." I smiled, said I had to go to Beirut (they lived in the Baalbek area), and they said "And you can sleep over at our place. It was very nice when they came out, sent me air kisses.
– I didn't like the food in Lebanon. For me everything was somehow sour and incongruous, although I ate in simple places and in good restaurants. But I'm fresh out of the virus, my taste has only recently begun to recover, but I still haven't had a sniff for more than a month. Perhaps that's the reason.
– I advise to buy souvenirs in Byblos. There's an old bough there.
– I went to a couple of malls, the same brands as we have, and the prices are high.
– The weather – hot of course, but not as hot as I feared. We had a lot of clouds in the sky, but the humidity was very high and you could always walk wet and wash your clothes all the time.
– The temperature of the sea – ohhhh, such a warm sea I have never met in my life, at least throw a tea bag and brew. This is why in Lebanon it is popular to stay in hotels with a pool (without accommodation). Usually you pay 100 lira for the entrance and take a chair by the pool with cold water, exit to the beach is also usually available.
– Safety in general. Safe. People are very kind and polite. There are shootings at the border. And when I was vacationing in a hotel in the south, there was a terrorist clan shooting in that area a couple of days later with 5 casualties. No civilians were hurt. The media wrote about it.
– Safety for a single woman. Respect, attention, elegant treatment and all manner of gentlemanliness is what a woman traveling alone in Lebanon will encounter. Even if you stand naked on the highway – you will not be offended, will offer a ride to get acquainted very elegantly, no one will impose companionship against their will. I went to Lebanon at the invitation of my distant acquaintances. They didn't promise to always be with me, but they showed me everything I could need, gave me useful advice, introduced me to people. Plus I had wonderful neighbors, through whom I also made a lot of acquaintances. And also couchsurfing – about it I will write separately. Traveling alone, you can always count on local help at any time of day and night.
– Couchsurfing in Lebanon is probably the most active and effective. All I did was post the dates of my trip. I ended up receiving more than 50 invitations to show me the city and take me to beautiful places. Eleven people offered me private accommodations for the entire trip. I declined as I prefer hotels and AIR BNB. But I even got a little tired of answering everyone and thanking them for the offer.
Thanks to the surfers I went to many interesting places and danced at the most fun parties. Everyone I met are lovely, cultured, polite people – both Muslims and Maronite Christians.
– About the parties – boozing and partying is the main value of the local population. Even if you're the hardest nerd, you can not resist when you get into a bar or club with a disco, especially when you see the locals throw up their hands when they hear the familiar Arabian melodies. – I read advice from the Internet that you should not talk to Lebanese about politics and religion. I didn't, but those are the main topics (and the crisis) that the Lebanese will talk to you about. They can go on and on about these topics for so long that sometimes you even get tired. And as for religion – don't be afraid to offend anyone with some immodest questions. Some were happy to fill me in on the intricacies of local religions, while others admitted that they were non-religious and did not care about the topic.
– Electricity. In Lebanon there is indeed a problem with it, they give it for a couple of hours in the morning and in the evening. But the hotels and apartments with AIR BNB have generators, so there will be no problem. Except occasionally the power goes out for a couple of minutes and then comes back on.
– A local SIM card. I advise you to buy, most importantly do not go to the down-town, where you will be asked for $ 20. Lebanese girlfriend sent me to a place PhoneZone, if I'm not mistaken, near the American university, where for 55,000 pounds I was given a sim card with a lot of gigs. This is not the only place, of course, just ask around, go to such stores.
That's all I remembered of the important stuff.
Pycanorca newbie Messages: 38 Photo: 3 Registration: 01/23/2013 City: Moscow Thanked (a): 1 time. Has thanked: 18 times. Age: 40 Countries: 25 Reports: 1 Gender: Female
Why you urgently need to go to Lebanon. Part 1
There are many reasons – covid restrictions, the incredible boom of Middle Eastern cuisine, and its praise in numerous video blogs, and fatigue from traveled through and through Turkey and Egypt, and even hyperinflation raging in Lebanon, which makes a trip here quite unburdening for the wallet. But it is a fact that tourists are flocking here, so hurry to be among the first to arrive. And I'll tell you everything briefly, but in detail. With an emphasis on the local food, of course, the fact that it really is one of the best in the world.
When to go: April-May and September-October. In summer it's too hot, and in winter it can pour heavily. How to get there: You can fly into Lebanon every day with a connection in Istanbul, and Aeroflot flies direct from Moscow twice a week. Covid: You should have both vaccination and fresh (48 hours) PCR and do PCR on arrival at the airport. Money: Bring cash dollars (euro is more difficult) and ask at the hotel or cab drivers where you can change it. No cards – the exchange rate for them is fixed, long in the past. Say, in early January I was changing $1=28,000 lira (and it's definitely more now), and the official rate is stuck at 1,500 lira per dollar.
Routes:
You have to live in Beirut – it's conveniently in the heart of the country, but there's not much to see here except a couple or three museums and a few Roman ruins. So be sure to take a cab (bargain, they are not cheap) and head north, along the very scenic road to Byblos (crusader castle and the ruins of an 8,000-year-old city), south, on the not so scenic road to Sidon (a still inhabited medieval Arab city), and the Bekaa Valley (to the wineries and Baalbek, the largest Roman buildings in the region). This is a minimum program, but there are also caves north of Beirut, one of the most reputable wineries, Chateau Musar there, Tyre and Tripoli – two more ancient Phoenician cities, a few surviving cedar forests and God knows what else.
We have taken care of the obligatory program, we move on to the free gastronomic. In Lebanon – incredibly delicious. Everywhere, from street food to fancy restaurants. The alcohol laws here are more liberal than in India, which means that they pour (and sometimes very good wine) everywhere, except for the orthodox Muslim taverns (but there will certainly be the crappy coffee). So, here are my favorite places in Beirut:
Raji Kebbe.
El Soussi
A restaurant legend . In operation since 1890, since 1975 at its current location, 365 days a year from 7:00 a.m. to 1:30 p.m., and feeds only breakfast – and has been voted by a million guides, magazines and TV channels as the best breakfast place in the world.
The menu is the same all the time: hommos bi tahina (hummus that is), ful (beans with spices, garlic and olive oil), fattes (croutons with yogurt, chickpeas and pine nuts), avarma (scrambled eggs with lamb stew), liver in pomegranate syrup.
Greens, pickles, vegetables and bread are brought to every order. It's unreal tasty, but when Raji Kebbe (there he is, on the photo) – a rather old (and unfortunately, not very chipper) chef – tastes five times better, so I hope you're lucky, he's not in place every day.
Le Chef
Anthony Bourdain's favorite restaurant, badly damaged in the port explosion (the icons above the bar still have the blood of one of the owner brothers) and restored with Russell Crowe's money.
The menu changes every day, according to the products and the chef's mood: hummus, labneh, cauliflower with tehina and other appetizers, fish and meat stews, rice, stuffed eggplants and things like that. Be sure to have the excellent flan for dessert. They serve simple wine and arak, but they go great with this meal.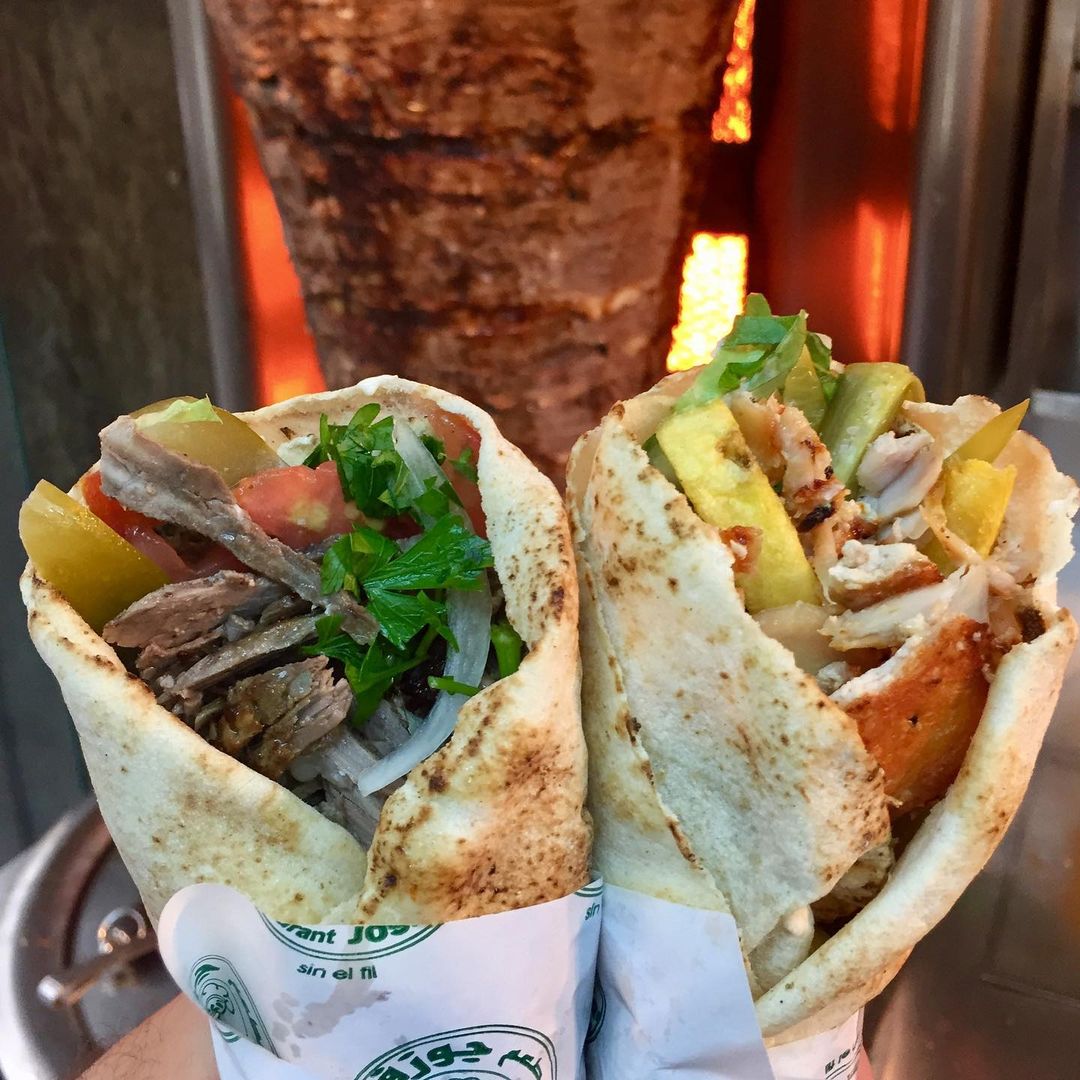 Joseph
The legendary shawarma in the Armenian neighborhood. Two varieties: chicken and potatoes and lamb and tomatoes (the second is juicier and tastier). A crowd of people, incomprehensibly arranged queue – so just keep pulling the vendors and poke them with the check. There are also some salads and kebabs, but no one seems to take them at all.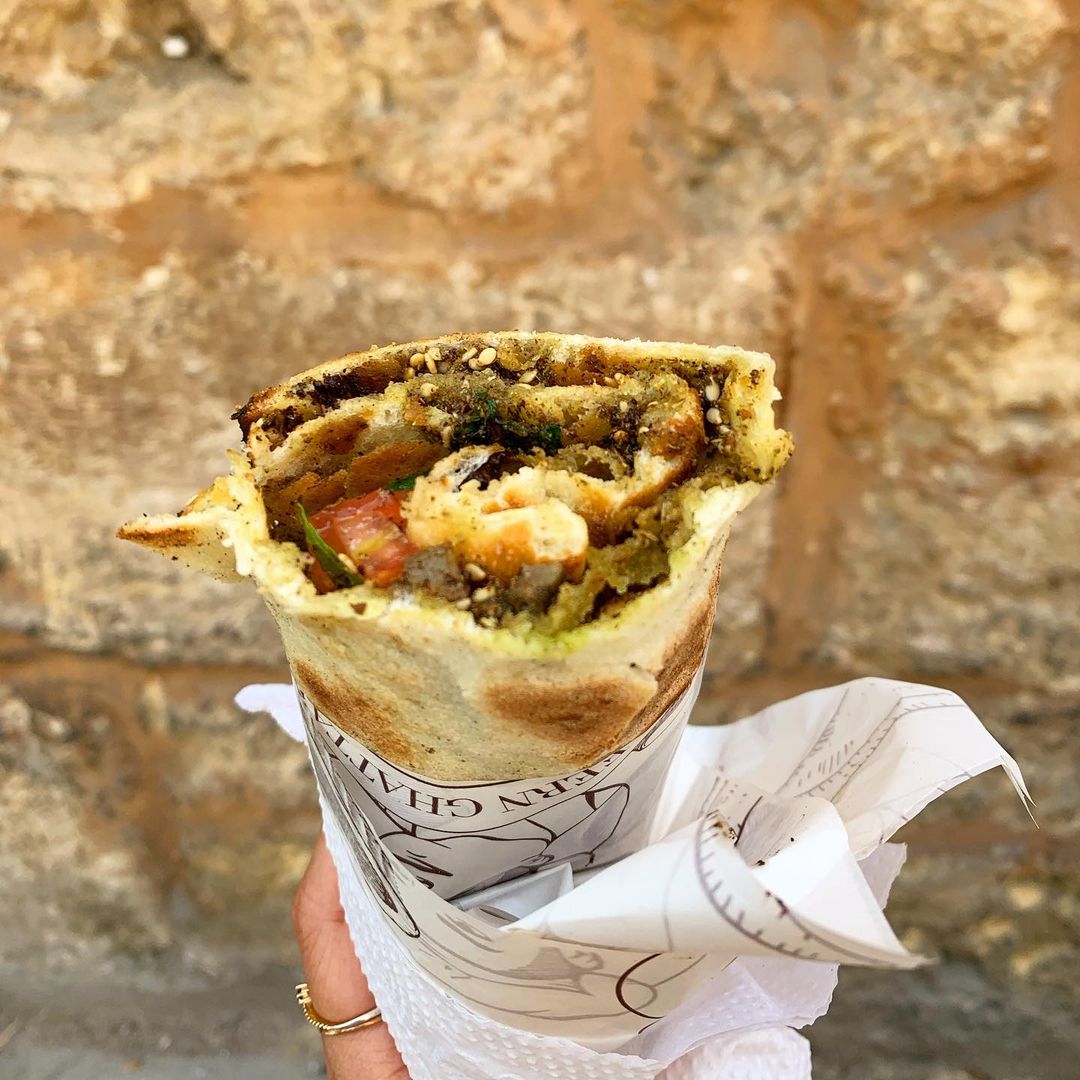 Fern Ghattas
A bakery near the church on Armenia Street (further toward the center there's a natural vertep of bars). Here they bake manush – flatbreads with toppings, in the manner of pizza. The classics are za'atar (a mixture of thyme, sesame and olive oil) and cheese, but you can also get lahme, say, with minced meat and pomegranate syrup.
Falafel Sahyoun.
A plot for a sitcom: two brothers had a fight to the death and opened two falafel shops with the same name door to door. From time to time, sarcastic comments are added to the window: "no, that's my falafel original, number 1," "no, that's not me, that's my neighbor the health inspector fined for being unsanitary."
The recipe is the same, too: flatbread, three falafel balls, radish, herbs, tomatoes, and tehina. But the taste is completely different. To me, the unsanitary "number 1" is much better. And cheaper, by the way. But you make up your own opinion.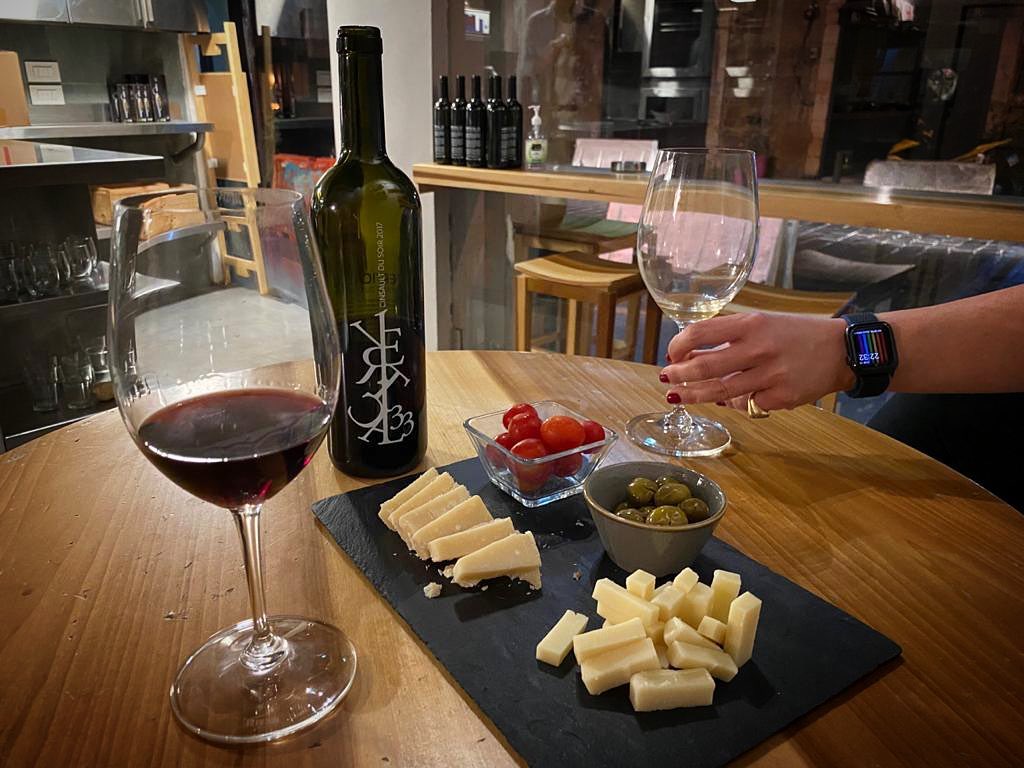 Vertical33
This is a trendy (i.e. organic and natural) winery in the Bekaa Valley . It's also its own bar in Beirut: chambery, cozy, with plenty of all sorts of educational content: maps, wine guides, and clear boxes of soil from different vineyards. The wine is the best I've had in Lebanon , especially the red Senso. And take the cheese plate: three varieties of Lebanese aged sheep cheese, young goat cheese wrapped in grape leaves, fermented labneh with butter and all sorts of pickles and olives. You don't have to go anywhere.
The best (at least the most aesthetically pleasing) bar on that very bar street in Armenia. You can recognize it by the barrel with a sign in front of the three-story old mansion "Beyt – upstairs. Upstairs there is a quiet courtyard immersed in greenery and a large old apartment (mosaics, columns, carved doors, balcony – everything is with it), which, in fact, and turned into a bar. Entrance through the kitchen, then several halls, where you can drink, and you can buy clothes, cosmetics and food (about this in the next part). Get stuffed olives and other pickles, cheese and wine, but the pizza, though all with local flavors, is so-so.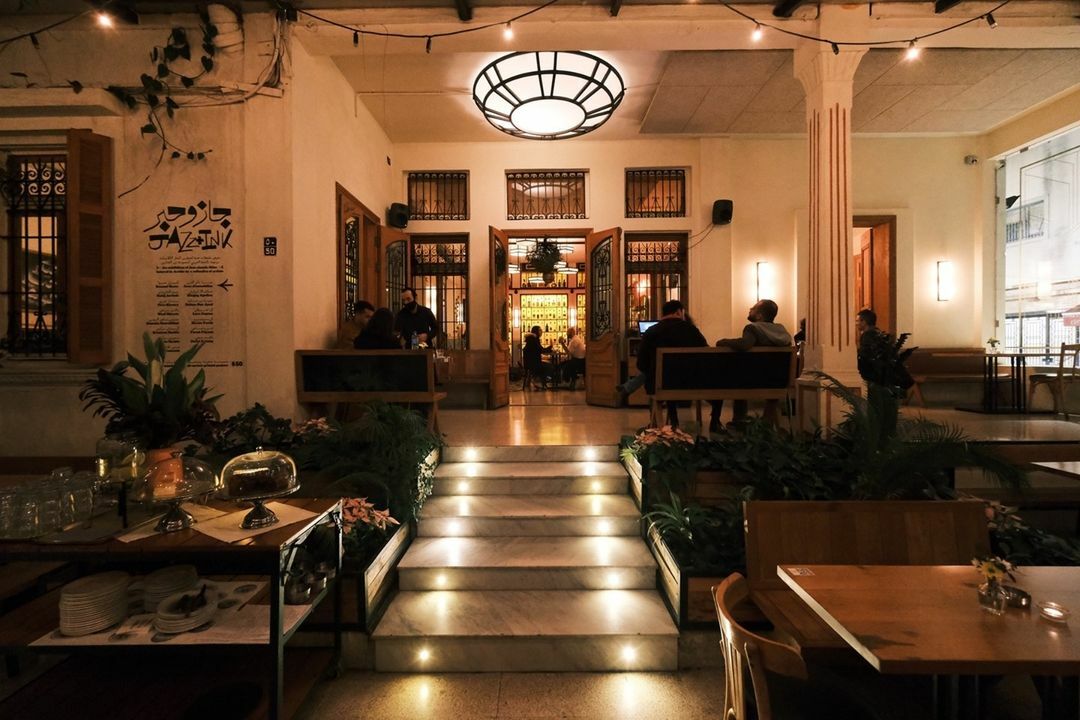 Salon Beyrut
Another terribly aesthetically pleasing bar, converted from an old interior home. Chic shakshuka, great tabbouleh, great coffee and decent cocktails. The wine – of the local obaidi variety, for example – is also decent.