Lanzarote
The blackest canary island, almost without forests. Known for its Martian landscapes, great surf spots, black hole vineyards and the creative experiments of the great Cesar Manrique.
Lanzarote – the island of fire-breathing mountains
Lanzarote, the fourth largest island of the Canary archipelago, is located 125 kilometers off the coast of Morocco and 2,000 kilometers from the Spanish mainland. Also referred to as the "island of fire-breathing mountains", Lanzarote is home to three hundred volcanoes.
Travelers are mesmerized by the local and unusual scenic landscape, a truly "lunar landscape". Much of the island is covered in molten lava with towering between the lava fields colorful volcanic cones of different sizes.
My report on Lanzarote
What time to go to Lanzarote?
The extraordinary landscapes of Lanzarote
The best time to go is September or October. But other months are also very comfortable. The average annual temperature ranges from +20 ° C in winter to +26 ° C in summer. The water temperature is 20-23 ° C, the warmest in September and October.
Island beaches
Caleton Blanco sandbar (photo: Joseba Palacios Sáez)
Of the 250 km of coastline, the beaches with white, black and red sand cover 30 km. They are all municipal and free. The best beaches with crystal clear waters and snow-white sand are in the bay of Papagayo on the south coast of the island. Windsurfers will love Playa de Famara with its constant winds.
Caleton Blanco, a sandbar on the north coast, is great for children. Nudists can sunbathe near the resort of Playa Blanca on Playas de Papagayo beach.
Cities and resorts in Lanzarote
Arrecife
Arrecife is the capital of the island. The city is located in the eastern part of Lanzarote. It is a commercial and passenger port where commercial ships and cruise ships are moored. The city grew up on the site of a settlement founded in the 14th century by the Genevan merchant Malocello. Arrecife has long been a haven from storms for travelers and pirates.
Here are the main historical sites of Lanzarote – the old fortresses of San Jose and San Gabriel. The coast of Arrecife has several excellent beaches, awarded by the EU "blue flag". In the city's restaurants you can enjoy dishes from fresh fish caught by local fishermen and taste wine from vines grown on volcanic lava.
Costa Teguise
The resort town of Costa Teguise (photo: zbiada)
Costa Teguise is a cozy resort town 10 kilometers from Arrecife. This resort in the seventies of XX century was built specifically for tourists. Cesar Manrique has participated in the architectural design of Costa Teguise. His main creation is the center of the town – a stylized fishing village of Pueblo Marinero with restaurants, bars and a traditional weekly fair. In Costa Teguise is one of the residences of the Spanish king. The entertainment here includes golf courses, tennis courts, water sports training centers, and a water park.
At the end of February, there is a wonderful carnival with processions in medieval costumes.
Puerto del Carmen
Puerto del Carmen is the tourist capital of the island (photo: belperskelter)
The tourist capital of Lanzarote is Puerto del Carmen. It stretches for seven kilometers along the southeastern coast of the island. On its main street Avenida de las Playas, packed with restaurants, nightclubs, hotels and stores, life is in full swing day and night. Around the harbor is the old city center with a maze of streets. This area retains the atmosphere of the small fishing village of La Tignosa, where the present resort began. Around Puerto del Carmen, you can visit the Zoological Garden "Rancho Texas".
At the end of July, the Fiesta de Carmen, a colorful celebration dedicated to the town's patron saint, is held here.
Puerto Calero
Puerto Calero Resort (Photo: Robert)
Puerto Calero is a quiet and peaceful resort. Here there are no crowded beaches, there is no usual evening entertainment for European resorts. This is an exclusive village, built for respectable vacationers. Puerto Calero port serves as a parking lot for private yachts, the starting point for marine excursions and recreational diving on the yellow submarine. There is a whale and dolphin museum (Museo de Cetáceos de Canarias).
Playa Blanca
Playa Blanca is the southernmost resort in Lanzarote
Playa Blanca is located on the southern coast of Lanzarote. It is the newest and most actively developing resort on the island. Playa Blanca is ideal for family holidays: its beaches are suitable for young children and for fans of active water sports. Developed infrastructure of the resort will appeal to holidaymakers of all ages. From the local port, you can make an excursion to the island of Fuerteventura.
Las Coloradas
Las Coloradas resort village (photo: darekw)
Las Coloradas is a village located near Playa Blanca. A 400-meter strip of beach, covered with volcanic sand, stretches along the coast. Above the beach towers a monument of military architecture – the fortress of the 18th century Castillo de las Coloradas. Along the coast of Las Coloradas is a beautiful, romantic promenade with welcoming bars and restaurants. Within walking distance of Las Coloradas are the most beautiful wild beaches of Lanzarote – Playas de Papagayo.
La Santa Sports
La Santa Sport Resort
In the northwest of Lanzarote, close to the picturesque La Santa lagoon, you will find the sports resort of La Santa Sport. This place is a paradise for active people. Regardless of age and ability here everyone can find something to their liking. The resort has all necessary conditions for practicing numerous kinds of water sports, martial arts, sports games (badminton, tennis, golf, basketball, volleyball, handball, soccer). In addition, there are areas for fans of athletics, fitness, aerobics, Pilates, yoga. There are numerous routes for hiking and biking. And of course La Santa Sport has all the necessary entertainment of the resort area: stores, restaurants, bors, swimming pools, discos, beaches, spas.
Attractions in Lanzarote
Timanfaya National Park
Timanfaya National Park
In the western part of the island is the main attraction, the Timanfaya National Park (Parque nacional de Timanfaya). Its unusual landscapes enthrall every visitor. The highlight is a visit to the unique restaurant El Diablo located at the top of the active volcano where they cook mouth-watering dishes on a volcano grill. Read more…
Lake Charco de los Clicos
To the south of the village of El Golfo there is a wonderful lake with an unnatural acid-green color, Charco de los Clicos. Like frozen waves, it is surrounded by bizarre cliffs. On the black pebble beach, tourists can be found looking for olivine (chrysolite), an olive-green semi-precious stone. Read more…
Volcanic Caves of Jameos del Agua
The Salt Lake in the Cave of Jameos del Agua
The complex of volcanic caves Jameos del Agua is a unique landscape that consists of underground tunnels and grottoes. This complex became a tourist attraction thanks to the initiative of the artist Cesar Manrique. The first cave with a luxurious tropical garden and an artificial reservoir is called Jameo Grande. A little further is Jameos del Agua, a concert cave with unique acoustics and the entrance to the crater called Jameo de la Cazuela. The animal life of Jameos del Agua is interesting, the most famous representative of which is the white blind crab, which has become the symbol of this cave complex. Read more…
Cueva de Los Verdes
Los Verdes Cave
The Cueva de los Verdes (Los Verdes Caves), which are more than 6 km long, appeared several thousand years ago. At one time in its intricate galleries local residents fled from the pirates. Today, the tourists can enjoy the kilometer long part of the tunnel with the winding corridors and spacious high halls. Learn more…
Cesar Manrique House Museum
The César Manrique Foundation
This amazing house of the famous artist, built and decorated by the artist himself, is currently the office of the Fundación César Manrique and the museum of the famous artist, which houses his works as well as his personal collection of Tapies, Miró, Picasso. Read more…
The Mirador del Rio
The Mirador del Rio
The Archipelago of Cinijo can be appreciated from the observation deck of the Mirador del Rio (470 meters above sea level). Read more…
La Heria Vineyards
La Heria Vineyards
La Geria is a famous wine region with vineyards that climb even the slopes of volcanoes. Today it is a protected area, positioned, at the initiative of César Manrique, as an example of the harmonious coexistence of man and nature. The locally grown Malvasia is used to make a surprisingly delicious and fragrant wine which you can taste and buy in the local wineries. Read more…
Cactus Park
Park of Cacti (photo: tartandart)
The Park of Cacti (Jardin de Cactus) is an extraordinary park set in an amphitheater in a former volcanic ash quarry. It is located in the village of Guatiza. There are many unique representatives of the cactus family with a variety of shapes and colors. Read more…
Texas Ranch Park
Rancho Texas Park (Photo: Ute & Hans)
Rancho Texas Park is a zoological garden decorated in the style of the "Wild West", where you can see various representatives of the animal world contained in aviaries. Especially interesting for visitors is the birds of prey show with huge birds diving spectacularly in the pond. Read more…
Costa Teguise Aquapark
Costa Teguise Aquapark (photo: pipol)
The Aqua Park Costa Teguise in the resort town of Costa Teguise is most appreciated by children. Bright trampolines, inflatable "Castle Games", "Lake for Kids" with a variety of shapes and colors of slides, captivate children for the whole day. There are also water attractions for adults, such as "Eight Tracks". There are also souvenir shops, cafes and a cozy restaurant. Learn more…
Lanzarote maps
Interesting things about Lanzarote:
Do I need to rent a car in Lanzarote?
Public transport on the island is very poorly developed and many beaches and places of interest can only be reached by car. This is why I strongly recommend renting a car as soon as you arrive.
After the pandemic there is an acute shortage of rental cars, because of this the price of rental cars has increased. Prices are comparable with those in Europe. There is also a high probability that there will be no available rental cars on arrival.
I recommend renting a car 1-2 months before your trip. In this period optimal prices and a choice of car classes will be the best.
Do I need an SUV in Lanzarote?
If you look at the non-satellite images, it will seem to you that without an SUV you will not go anywhere. In fact, you will not be allowed there. For tourists are available mainly only paved roads. Therefore, even the smallest car will take you to any point on the island. I recommend the VW Polo class.
Where to rent a car in Lanzarote?
Avoid Pluscar and Goldcar, despite the attractive prices I get a lot of negative feedback from readers. Find the right size and price car to rent with these services:
Pay attention to additional insurance. I recommend taking full coverage with no deductibles when ordering online. There's a little bit of a tip. Take an additional WWI insurance policy for a year to rent a car from any company.
How to get to Lanzarote
There are no direct flights from Moscow to Lanzarote. You must fly to Tenerife, the largest of the Canary Islands, from whose airport there are flights to all the islands of the archipelago. From the airport of Lanzarote, near the island's capital of Arrecife, there are buses to all resort areas.
Beaches of Lanzarote top 10
The Atlantic Ocean is not very warm and gentle, but you can and should swim in it! So I offer you an article – The beaches of Lanzarote top 10. Let's break down the beaches "to the bone" and tell you everything! You will not find such rating in runet, it is not a template remade article, and it is collected manually by me, the author of a site. Talking about it gives me the right to the fact that I've twice visited Lanzarote and I know what I'm writing about!
Beaches of Lanzarote top 10
Before we begin, I want to recommend that you subscribe to my YouTube channel Aviamania not to miss any series about Lanzarote, and they will be a lot!
1. Playa de Papagayo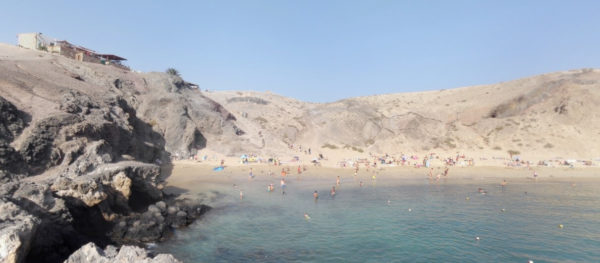 It's no coincidence that I'm doing a ranking of beaches and I put Playa de Papagayo in first place!
The thing is that under this name in the south of the island there is not one beach, but several.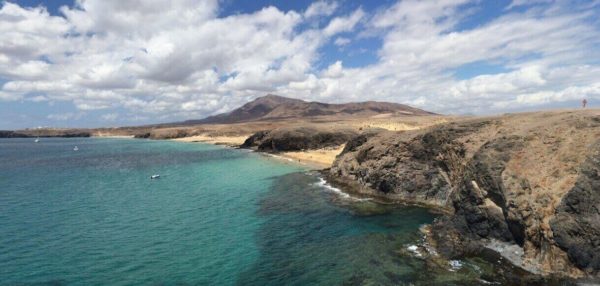 Moving from the resort of Playa Blanca, you will pass one by one beautiful secluded coves hidden from the wind.
But since we are doing a ranking here, I am including a very specific beach – the last bay of Papagayo.
Trust me, you will recognize it and it will win you over!
Hint: there are two cafes on the mountain on the corner of the beach.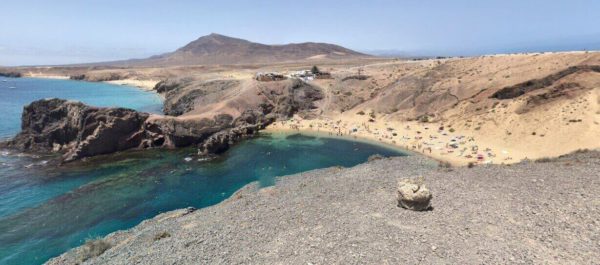 Papagayo on a map
How to get to Playa del Papagayo
There are at least three options:
Walking from Playa Blanca (a resort in the south of the island of Lanzarote)
by car
by water cab
Advice if you go on foot:
The way will not be easy: the distance is about 7-8 km (depending on which road you choose). It will take you at least 1,5-2 hours, add to that the hot Canarian sun and rest stops and you will spend half a day for walking and resting there. But, if you don't have plans and you like walking, why not!
Playa del Papagayo by car, tip:
If you rent a car and are going to go to this beach, keep in mind that the road is unpaved, so it is more comfortable to go by jeep/ off-road vehicle.
Water cab to Papagayo:
I have already written about it in the article Lanzarote Canary Islands: Puerto Del Carmen resort, so I am posting a screenshot: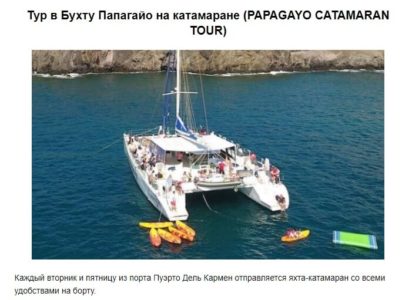 2. Playa Chica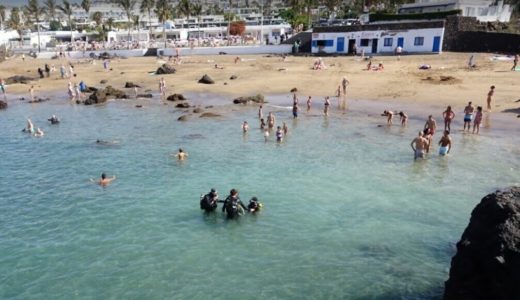 This beach is located on the most popular resort of the island of Lanzarote – Puerto Del Carmen. Its length is less than 100 linear meters, but it is considered the best in the resort and one of the best on the island.
This beach is very popular due to the fact that there is a diving school right on the coast. Therefore, all lovers of diving from the shore adore this place.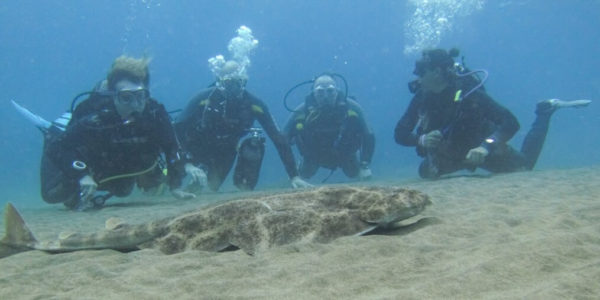 Well, and ordinary tourists beach like the fact that it is sheltered from the wind (located in a bay between the rocky lava rocks), which means the water is warmer than many beaches on the island.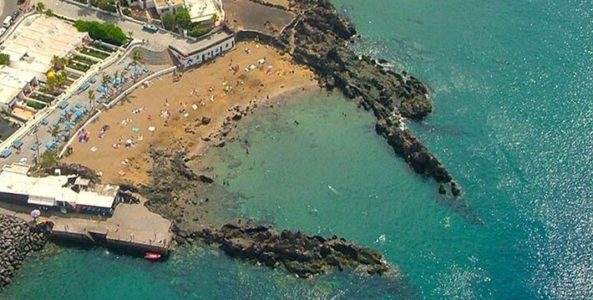 Playa Chica on the map
3. Beach Famara (Playa de Famara)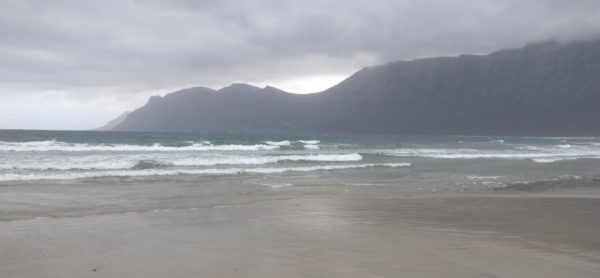 This is the beach of surfers and people who are active and free. The landscape resembles Los Gigantes in Tenerife. Anyone interested is welcome to my article about our visit to Tenerife, namely the article Tenerife black sand beaches .
Here you can find inexpensive hotels, eat unreal delicious paella in a fish restaurant on the coast. Surf schools and equipment stores, all this is on the beach Famara.
The beach is long and picturesque. Entrance is comfortable but, as you probably guessed, the beach has waves and wind. Here not many families with children, as waves of the Atlantic Ocean is not sheep in the Mediterranean Sea, with a circle not frolic…
The bulk of holidaymakers – young people.
Beach Famara photo:

Playa de Famara on the map
4. White beaches Orzola (Playa Caletón Blanco)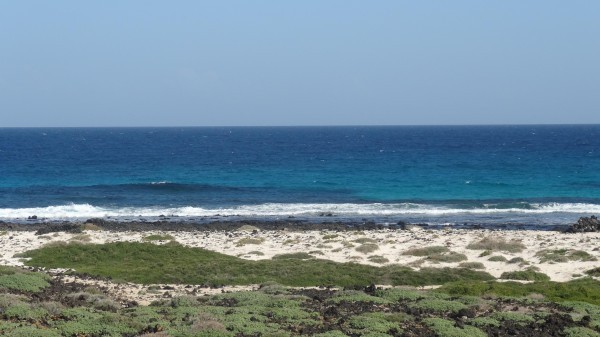 The beach is located in the North of the island of Lanzarote and not everyone comes here.
There are several reasons:
Not many people stay in the settlement of Órzola during their vacation, perhaps it is more correct to say almost no one. It is not a touristy place.
from the first reason follows the second – it is a long drive to the beach
Not everyone knows how picturesque it is, not everyone knows that it exists. Many people think that all the remarkable beaches are located in the south. This is not always true.
Órzola's Caletón Blanco beach
South of Orzola is Caleton Blanco
North of Orzola is Playa De Orzola
Caleton Blanco beach pictures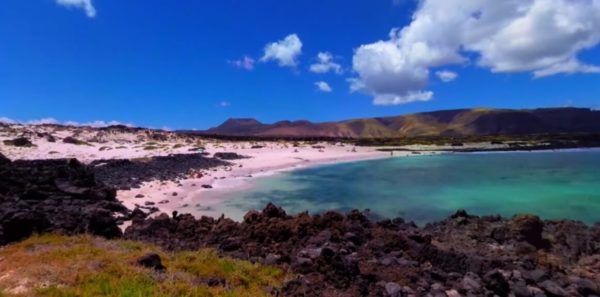 Playa De Orzola beach photo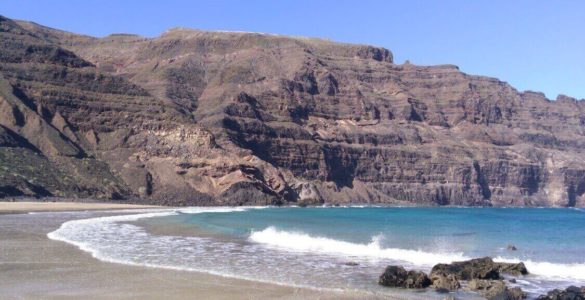 Caleton Blanco is a very picturesque beach!
Its main feature is the green hills of grass powdered with white sand from the Sahara. Yes, yes, do not be surprised. The wind across the ocean carries the sand, which settles here, forming white dunes among the bright green vegetation. And if you add the blue waters of the ocean to all that, it feels like you're in a fairy tale.
But let's be honest: admiring and swimming are different things!
So, I want to warn everyone who is already pulling on a swimsuit that there is not a good entrance to the ocean, a lot of rocks. And if the water is not calm, the rocks, waves and wind can ruin the swimming at all. Be careful. But come to admire it for sure.
Playa De Orzola – a beautiful beach (small Famara)
I didn't include this beach in my rating, and here's why.
It is very beautiful (rocks, waves, ocean. But it reminds me something of Famara beach, which I told you about before, only Playa De Orzola has no such civilization (restaurants, surf schools, etc). So, if you want solitude, you will like it, but I will not repeat myself)
Playa Caletón Blanco on the map
5. Playa Flamingo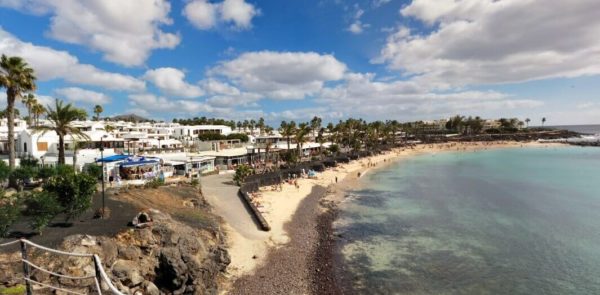 If you are staying at Playa Blanco resort, don't rush to walk 8 km to Papagayo Bay!
Visit your resort's beach first:)
Summer in the Canary Islands is very hot. The sun does not spare anyone! In this sense, the presence of civilization near the beach can play a decisive role in choosing a place to rest and swim. Beach Flamingo just as such. It is not very long (about 200 meters), but it has everything you need.
Terrace restaurants and a beautiful promenade will diversify your holiday. And if you also order a bottle of Yaiza wine… mmmmmm… But about that later, in another article. Wine in Lanzarote is a separate topic.
Playa Flamingo on the map
6. Playa de Mujeres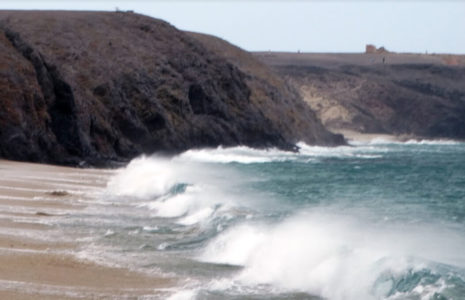 To be honest, I do not know how to pronounce the name of this beach in Russian).
It is located in the south of the island. And the choice of this beach is somewhere between Papagayo Bay and Flamingo Beach. At least it's about the location. That is, it is halfway down the road from Playa Blanca to Papagayo. Mugueres is the first beach of Papagayo. So it also belongs to this group. Its popularity is partly due to this. But besides the loud name, it still has positive features.
You can be welcomed here and the rough waters of the Atlantic and calm water, both are normal for the Canaries, take all sorts of goodies and headgear and enjoy.
There is also a quarry and a World War 2 limestone bunker that travelers love to explore. I'm really not a fan of that kind of fun, at least not without a Geiger counter in hand)
Photo of the facility on the beach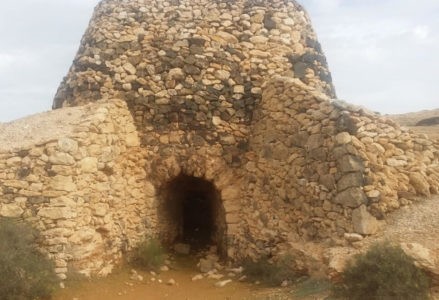 Secret Coves Mujeres.
If you're not afraid or vice versa, at low tide in these areas you can look for coves that you can't reach by land.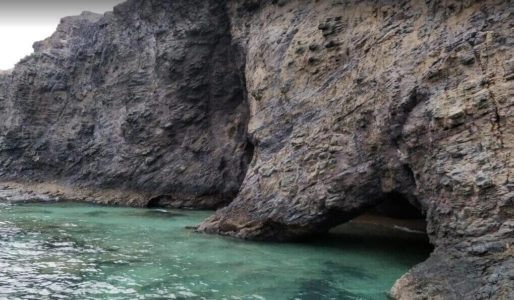 Playa de Mujeres on the map
7. Beach with olivines (Playa de Janubio)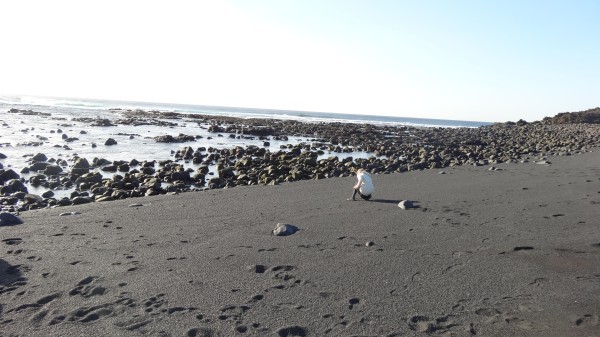 Miracles happen at every turn here on Lanzarote. Right on the beach you can pick up a handful of emerald-colored semi-precious stones. Twice a day, at high tide, they are thrown on the shore from the ocean, and knowledgeable tourists collect the stones.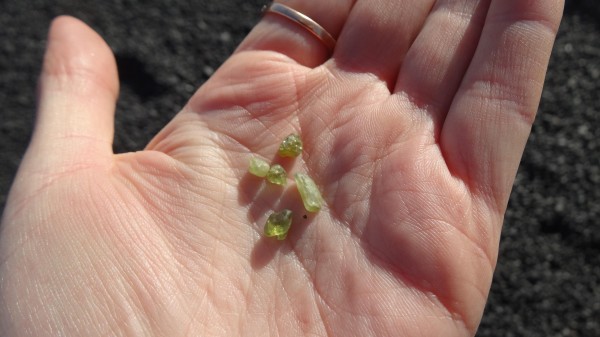 This is the main attraction of this beach. Swimming here is difficult because of the often strong waves and large stones, but it's very nice to walk on the black sand along the ocean, picking olivines.
In addition, behind the beach is a place of salt extraction in Lanzarote – Salina De Janubio.
Playa de Janubio on the map
8. Beach at Lago Verdi – Charco de los Clicos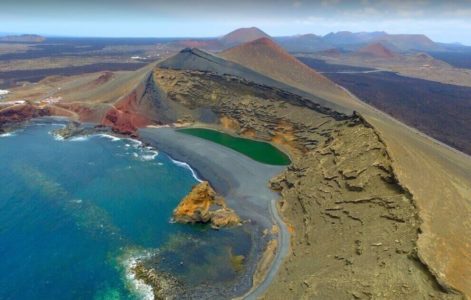 In the photo you see a lake of green color. This is El Lago Verde. I have already written about it in details. And right next to it there is a beach. It does not seem to be particularly remarkable, however, you can have a few pleasures at a time by visiting it.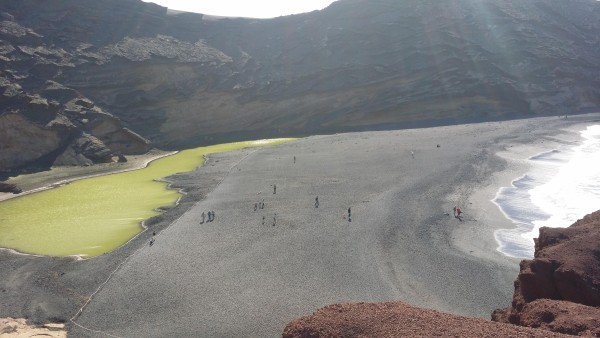 Why Charco de los Clicos:
Go swimming in the ocean.
See a lake of green
Dine at the best oceanfront fish restaurants
El Lago Verde and Charco de los Clicos photos: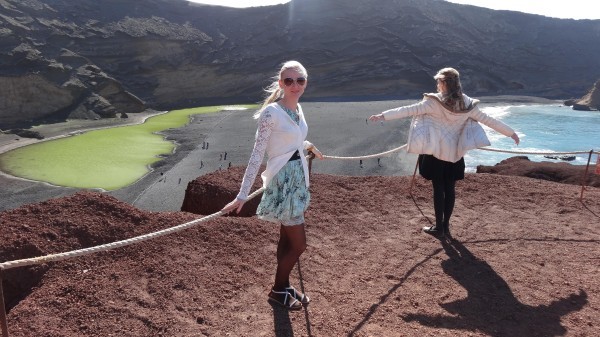 But that's not all!
If you like unusual places and thrills, I recommend taking a swim on the way to Lago Verde at El Golfo beach or at least taking a picture. This is the beach in the photo below, where the boats are standing. Except that it's not quite normal;)
El Golfo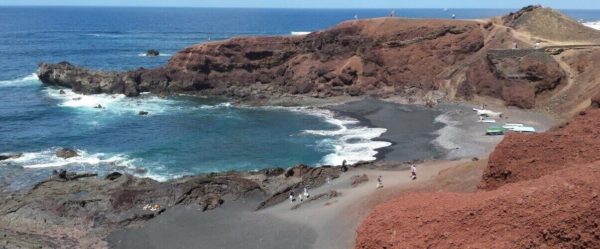 The thing is that this beach is a volcano crater, which is now a beach))) I would swim in the crater, and you?
Charco de los Clicos on the map
9. Playa Del Risco beach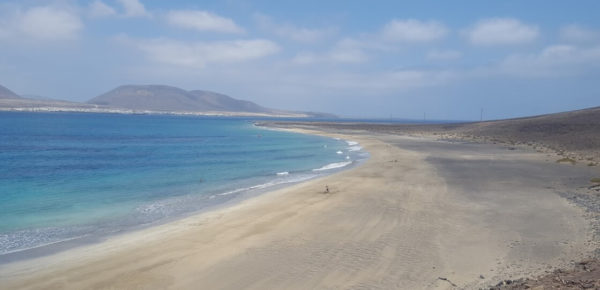 Friends, "dropping the subject" because I just can't keep quiet…
Why do I have to include in my top the usual beaches of the most popular places that everyone knows about and which in fact, absolutely ordinary and unremarkable. I want to write to you about such places that uvidzhiv you remember me with kind words and write good reviews on the site and YouTube channel Aviamania)))
Beaches of Lanzarote Top 10: Playa Del Risco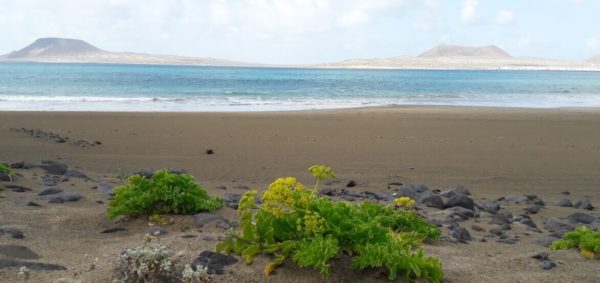 After seeing one of Lanzarote's main attractions, Mirador Del Rio, don't be in a hurry to leave. If you go down, you will reach one of the most beautiful beaches on the island.
From here you have a beautiful view of the neighboring island of La Graciosa, the water is beautifully colored and there are rarely waves.
The minus is the long tedious road down and then up. (somewhere around 45 minutes one way). Water, headgear and comfortable shoes to help you!
Many people consider Playa Del Risco as the most beautiful beach of the island of Lanzarote!
Playa Del Risco on the map
10. Playa Francesa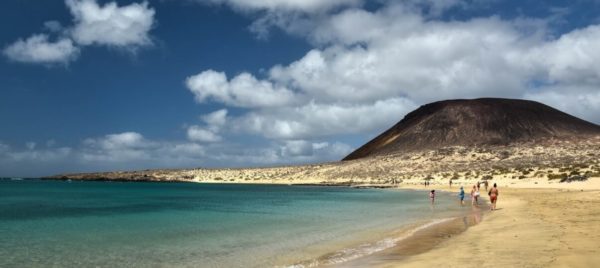 This beach is not located on the island of Lanzarote itself, so why do I include it in the rating?
The reason is that in winter it is not very comfortable to swim in Lanzarote, but there is a secret!
Inhabitants of Lanzarote go swimming in February on the neighboring island of La Graciosa. It is quieter, beautiful, without crowds of tourists and the water is warmer!
The ferry carrier Líneas Marítimas Romero
Found on their website at https://www.lineasromero.com/en/ferries/.
Travel time by ferry is 30 minutes.
Departure point Orzola isle of Lanzarote
Departure point Caleta de Sebo isle of La Graciosa
The cost is 11 euros per adult, under 3 years old free of charge, from 3 to 11 years old – 7 euros.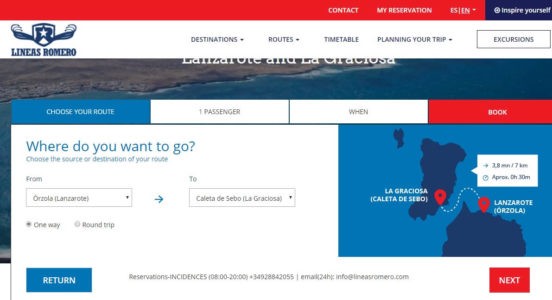 On arrival in the capital of the island you must walk 45 minutes to the beach.
It is of course possible to rent a bicycle and reduce the time, but it is up to you.
Playa Francesa on the map
I got so excited when I was telling you about the beaches, that I told you not about 10 beaches, but about much more. But I'm not greedy for information, so I'm happy to try for you!
If you liked the article, I would love to hear from you – write feedback under the articles)))
There are so many more interesting things to come.
You may also like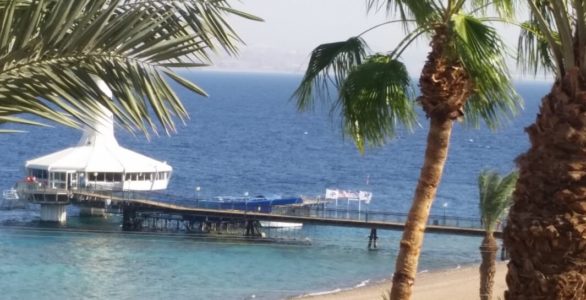 Israel Red Sea resorts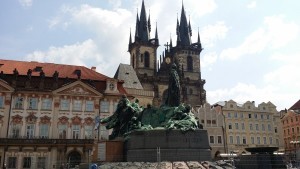 15.08.2017
Old Town Square in Prague photo: what to see and how to entertain yourself!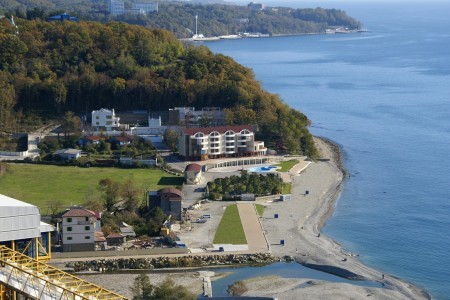 02.06.2014
Nebug reviews of holidaymakers: photos and description of the resort
This post has 3 comments
Liked it and informative. i'm the first one thinking of going to the Canaries and choosing an island.
Thanks!!! Every island is good in its own way. You have to understand why to go so you won't be disappointed with your choice.