Cheap and not angry: Top 8 places in Moscow where you can eat for 200 rubles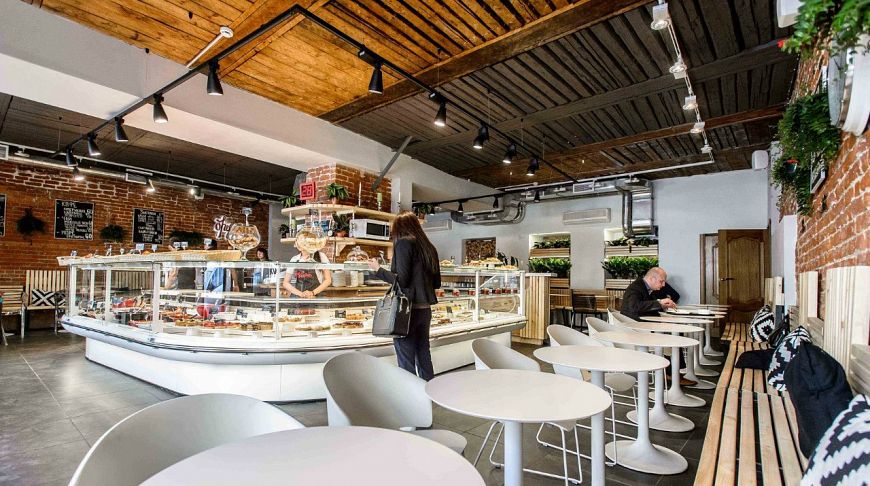 Meals are a significant item of expenditure. You have to eat out on different occasions. At lunchtime, the city's cafes are crowded with students, white-collar workers and tourists. But is it possible to eat a hearty meal for 200 rubles in Moscow? In our article about inexpensive establishments with quality cuisine
Funky Lab
This cozy gastrobar with a steampunk interior is located in the center of Moscow, near Tretyakovskaya subway station. Creative idea of the restaurateur Alexander Viazhsky is like a construction set – both in design and in the questions of dishes design. For example, borsch is served in two plates: separately thick broth and separately broth. It is up to the visitor whether to eat them alternately or to mix them. The same goes for salmon tartar and even ice-cream.
The cook at the Funky Lab is a real Frenchman, so the menu offers such dishes as beef Burgundy, a variety of steaks and sauces. The "golden" time in the gastrobar is from 12:00 till 16:00. Exactly in these hours in the institution you can try an inexpensive soup of the day and a tasty budget salad for 120 rubles.
Location: ul. Bolshaya Polyanka, 7/10, bldg. 1
Open: from 12:00 to 00:00, seven days a week.
Photo: Funky Lab Photo: Funky Lab Photo: Funky Lab 2
"Dining Room 57.
It would seem that the time of canteens is irrevocably gone. But not in the case of this authentic culinary establishment, where dishes are prepared exclusively from a recipe book of delicious and healthy food. Popular with Muscovites and guests of the capital "Stolovaya № 57" is located in one of the main stores of Moscow – GUM. Probably the owners of the place are very generous and hospitable people because they often organize special offers during which you can save a lot of money.
Besides traditional meat and fish dishes the canteen offers a rich vegetable, fruit, Lenten menu and bakery to order. Themed dishes (for example, potatoes like a soldier, biscuit "Strawberry Heart") wait for visitors during calendar holidays. Many people come here for a sip of nostalgia for the Soviet past. The price for a dish varies from 60 to 80 rubles.
Location: GUM, 3rd line, 3rd floor
Opening Hours: from 10:00 to 22:00 daily
Photo: otzyv.ru Photo: anothercity.livejournal.com Photo: gastronom.ru
"Domozhilov
Named after the brand-chef Ivan Domozhilov, the original buffet with 70 seats is located at Artplay Design Center. The huge panoramic windows of the studio overlook Syromyatnitskaya Embankment. Instead of a menu there is a window display with dishes. Self-service and disposable dishes don't overshadow at all the rich assortment of pastries (about 140 varieties).
Among the dishes prepared in Art Clumba's kitchen are borscht with tongue, mushroom beef stroganoff with chicken, baguette with Tambov ham, nicoise with tuna, salads, soups, and cheese cakes, all at very reasonable prices. Special offers on the menu can be read on the LED ticker.
Location: 10, Nizhnyaya Syromyatnicheskaya str.
Opening Hours: from 10:00 to 22:00 without holidays
Photo: domogilov.ru Photo: "Domozhilov" Photo: "Domozhilov" 4
"Brusnika"
A cafe-culinary with a berry name is located in the very center of old Moscow – not far from Kitay-Gorod. The menu includes inexpensive homemade dishes: herring under a fur coat, bean soup, Greek moussaka, pancakes with meat, pirozhki, etc. – which can also be ordered in a takeaway container. Brusnika has a huge range of sweet pastries and desserts (from 60 rubles). One of the most popular drinks is chamomile tea.
The institution is also known for well-chosen music, so you can socialize and even whisper in a comfortable atmosphere.
Location: 6-8 Maroseyka str. 1
Opening hours: from 08:00 to 23:00, all days off
Photo: "Brusnika" Photo: "Brusnika" Photo: "Brusnika" 5
"Pastry and Plov"
This Uzbek restaurant is a creative project of a young restaurateur Maxim Agashkov. Its name tells about the dominant dishes. This inexpensive place with a simple cozy interior in white and red colors is located near "Taganskaya" metro station. The sales hits are: samsa, pirozhki, chicken broth, manti with lamb, lagman. But the restaurant's main dish is pilau, cooked in a huge 80-liter cauldron (for 150 servings) by Uzbek chefs. It's one step from maximalism to minimalism: "Pastry and Plov" can seat only 12 diners.
Расположение: 1-ый Гончарный переулок,
Every day from 8:30 to 22:00.
Photo: Vera Mishurina Photo: the-village.ru Photo: the-village.ru 6
"Marukame".
Noodle parlors of a popular Japanese chain Marugame Seimen (udon noodles with a variety of additives are the brand dish) are a great option for a tasty and inexpensive lunch for 180-200 rubles. The Moscow cafe chain is modelled on the Asian prototypes: a small hall, a separate kitchen with a distribution line connecting the locations. All dishes are cooked on the spot: a large boiler in which the famous thick noodles sunuki-udon are boiled, the steam disperses like a mist all over the hall.
On the menu are kamaage udon (noodles with dashi broth sauce), ontama bukkake udon (noodles with soft-boiled egg), tonkatsu udon (noodles made of pork rib broth with pickled egg), etc., as well as salads and rolls.
Photo: Marukame Photo: Marukame Photo: Marukame
Location:
29 Pyatnitskaya St. Pyatnitskaya str.
Ul. Suschevskaya St. 27, building 2
47 Leningradsky Prospekt, building 2
Opening hours: from 11:00 till 22:00 without days off
"Vai Mae!"
Network of Georgian eateries with very democratic prices is very popular among Muscovites. Opening their own line of authentic fast food, Khatuna Kolbaya and Tengiz Andribava wanted to combine "proper" Georgian food and quick cooking, thus modernizing the tradition of multi-day Georgian feasts. The cafe is self-service. Satsivi, hinkali, khachapuri, pkhali, ajapsandali (65-100 rubles), as well as a vegetarian menu and pastries on gluten-free flour – all this is sustained by the concept of healthy, affordable food.
Lovers of meat gastronomy can also order specialty kebabs of chicken or lamb on the spot, to take away or for delivery. In total, there are about 50 items of national cuisine.
Photo: "Vai Mae! Photo: "Vai Mae!" Photo: "Wai Me!"
Location:
Gzhelsky Lane, 19, building 2.
Pyatnitskii Lane, 8, building. 1
Leningradskoe Shosse, 16-A, pp. 4
Opening Hours: from 10:00 (09:00) to 23:00 (without holidays)
Ploveberry
Visitors to the Metropolis food court are well aware of the Ploveberry cafe, which operates on the principle of free-floating. A guest takes a tray, sets it on a rail and guides him along the counter, where he is offered plov, samosa, soups, chicken liver, potatoes, rice, etc. All the salads (at a fixed price of 60 rubles) are presented in one large station, located in the center.
The institution is a creative conception of brothers Vasilchuk known in Moscow for "Chaikhona №1" restaurateurs. The interior and the service are decorated with East Asian attributes. You may watch the cooking through the open kitchen.
Top 7 places for those who like to eat
Do you like food? And travel? Why not combine the two and snack on the go? A variety of dishes are served all over the world, you can discover them with a trip. There are several destinations on the list that are worth going to for gastronomy. All you need is a fork, ready-made taste buds and a willingness to explore
1) Mexico – the main product is corn
1) Mexico – the main product is corn
Mexican cuisine is known for a wide variety of flavors and colors. You will find traditional indigenous ingredients as well as much from European colonizers. Food is often associated with an important event, but it can also be a "simple" family gathering . Corn and beans form the basis of the dishes, with coriander, lemon juice, garlic, but above all chili peppers used for seasoning!
Mexican classics include corn and wheat tortillas, that is, tacos, burritos (tortillas rolled up in a roll with a filling) or quesadillas (tortillas interspersed with each other, most often with cheese). Sauces are also well known, especially avocado guacamole, tomato salsa roja, green salsa verde and traditional mole.
2) Laos soup for breakfast, lunch, and dinner
The food in Laos may surprise you. Although, who doesn't eat soup for breakfast, right. In fact, chowder is consumed throughout the day. Various broths are traditional, which are then filled with noodles (or even rice), they are usually meat-based and give a lot of energy in the morning. It is served with a bowl full of fresh herbs (lettuce, coriander, basil, mint, pea leaves and stems, bean sprouts). Then a side dish of soy sauce or fish sauce, salt, pepper, chili and shrimp paste is placed on the table.
2) Lao soup for breakfast, lunch, and dinner
Other dishes are based on rice cooked in various ways. For example, in large markets, the dining room can be easily recognized by the many cauldrons from which steam rises, with vegetables, meat, eggs, and other mixtures used with the rice.
3) China – the delicate taste of meat
3) China – the delicate taste of meat
Shanghai cuisine comes from eastern China in the areas of Shanghai , Suzhou, Hangzhou and Nanjing, dishes have a mild, sweet taste, dumplings and rice dough bags are popular.
Sichuan cuisine belongs to southwest China (Sichuan Province) and is rich in poultry and beef dishes, very spicy, seasoned with chili and Sichuan peppers, and usually smoked with spicy smoke.
4) Peru – go for the guinea pigs
Lomo Saltdado at Bachelor Dinner 4) Peru – go for the guinea pigs
Peruvian cuisine has a name, a very peculiar name, but connoisseurs of good food compare it to French, Chinese or Indian gastronomy. The most popular Peruvian dishes are anticuchos (meat skewers), pachamanca (meat marinated in a spicy sauce and roasted on hot rocks), ceviche (seafood salad), or humitas (porridge cooked in corn leaves).
5) India is a vegetarian's paradise.
The large number of Indian nationalities brings with it a huge variety of different types of food. Therefore Indian cuisine is very varied and does not leave any eater indifferent. The main features are: plenty of spices, dishes designed for vegetarians, the key ingredients are rice, grains, beans, dairy products and vegetables.
5) India is a vegetarian's paradise
When traveling in India, be sure to try dishes like chicken tikka masala, chicken tandoori, paratha bread, samosas, chapati, puri, kheer, vindaloo meat, chutney and others . The subcontinent really has something for your taste buds to appreciate.
6) Japan is boiling, but only a little bit .
sushi rolls set for japanese style party on black table 6) Japan – boiling, but only a little
The Japanese are justifiably proud of their cuisine and they really have something to be proud of. Light and healthy – so we can call the Japanese cuisine. Meals are prepared only from fresh products with an emphasis on minimal cooking (well, not all of them). Rice, vegetables, seafood and fish form the basis. Various sauces or pastes such as wasabi, soy sauce or umami are used as flavorings. The most popular dishes are sukiyaki, sushi, tempura, yakitori, tonkaku, shabu-shabu, soba, and udon.
7) Hong Kong – you can't do without tea
7) Hong Kong – you can't do without tea.
Their cuisine is found mainly in Guangzhou and Hong Kong and is one of the most popular cuisines in Europe; dishes are usually fried in a wok and have a mild, sour-sweet taste. Rice, fish, seafood, and various exotic meats (dog, snake, etc.) are used. In addition to the food itself, an important place in the Cantonese diet is taken by the tea culture. Without it, it is simply impossible to imagine a delicious meal.