10 Must-Do Things to Do in Thailand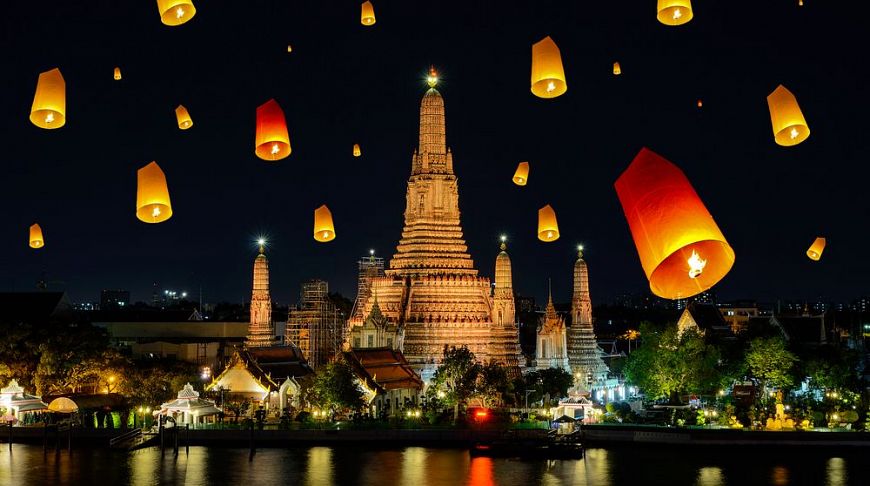 It's sheer blasphemy to think that all you can do in Thailand is lie on the beach sipping a cocktail. Besides swimming in the warm azure sea there are tons of activities that you just have to try! Ride elephants, eat fried insects, ask the Buddha for happiness, finally! Try to take from travel to the maximum, and you will love this country, and it is sure to return your feelings in return.
Rent a motorcycle
It is almost impossible to explore the Kingdom's countless islands and beaches on your own, and some of the most beautiful places are not accessible on foot. But with additional transport, the task no longer seems impossible.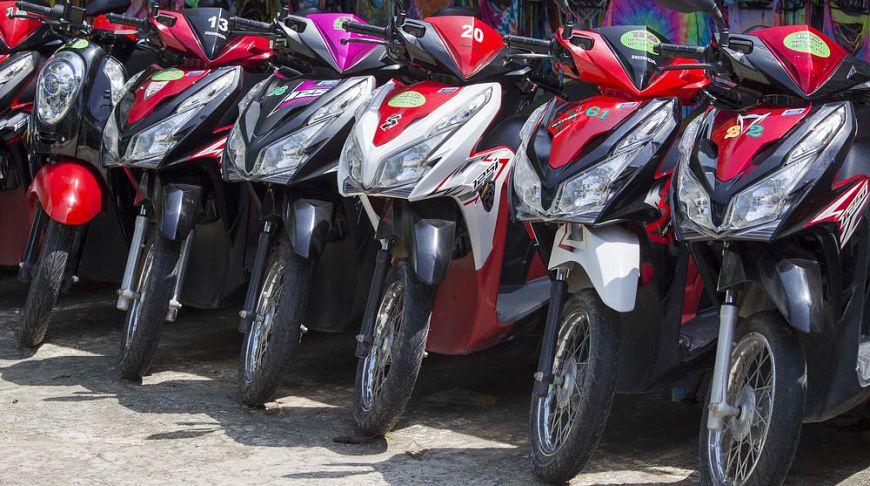 Photo: Shutterstock
To bring original photos from your trip, rent a motorcycle and ride through the jungle in the breeze. Or rent a jet ski to enjoy the seascape and jump on the waves. But be careful with rental cars! If you are not confident in your abilities, it's better to use motorcycle cab services.
Order Thai massage
In the salons are usually offered three types of massage. You will have a foot massage, and in addition – hands, shoulders, neck. Oyl – soft massage with aromatic oils, herbal compress balls, hot stones, wooden sticks.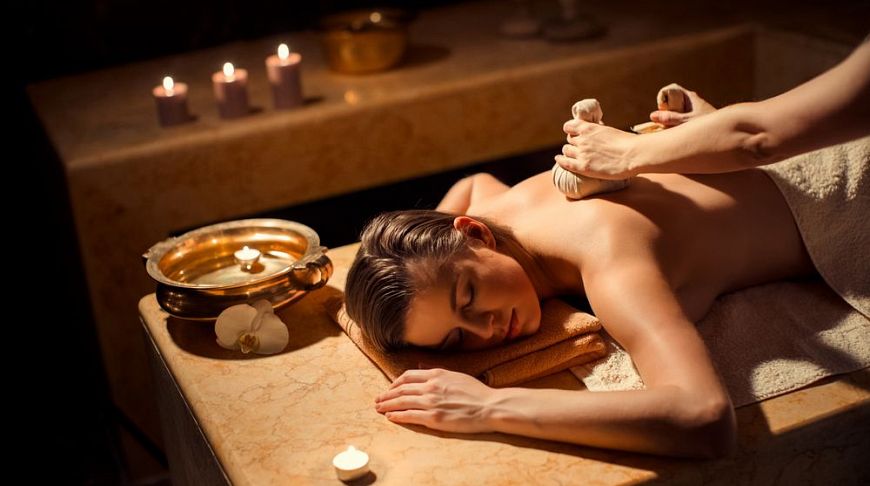 Photo: Shutterstock. And thai proper – the famous technique where you will be twisted, stretched, trampled, etc. It costs from 200-400 baht in a regular salon to 7000 baht in a luxury establishment. To avoid unpleasant situations, carefully examine the institution – it must be clean and neat. And massage therapists should not sit idle: a good specialist is always there clients. 3
Feed a crocodile
Crocodile farms in the Kingdom are many. In addition to the standard shows and tricks they offer tourists a fascinating attraction. For 50 baht you will be given a wooden fishing rod with chicken bait and you can feed the reptiles from a fenced area.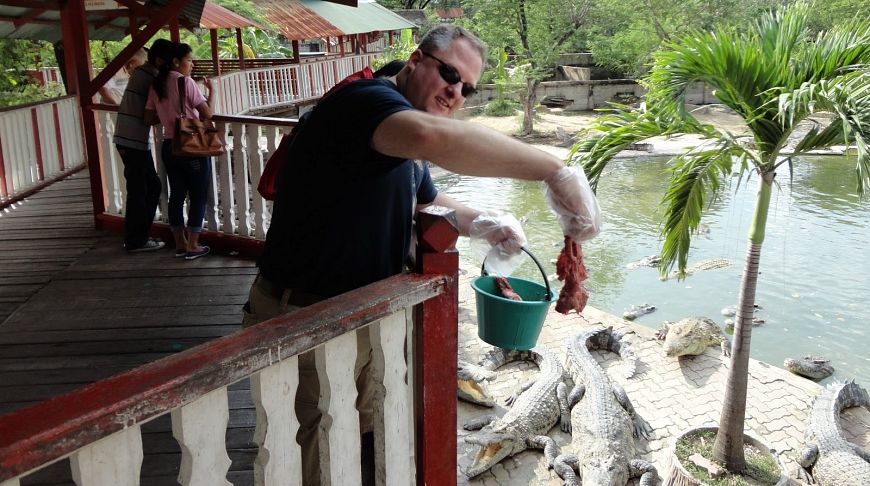 Photo: bkkguava.blogspot.com The most interesting thing here is not to let the crocodile immediately grab the meat, and first a little tease him. Predators' reactions are lightning fast, so the task is exciting. Just don't spend all your money on the chickens!
Try Thai Food
Street food, cafes, restaurants – you will find interesting dishes everywhere. If you're willing to risk it, try something exotic. Fried beetles, locusts, crickets, scorpions or spiders. Or head to a snake farm for a special cocktail. This drink has fresh snake blood and heart, plus some alcohol.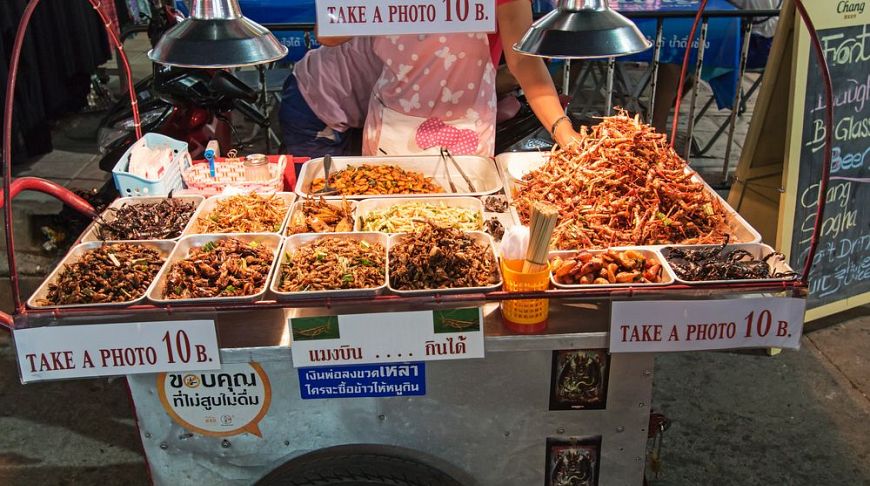 Photo: Shutterstock
For those with more restrained gastronomic tastes, we suggest Thai specialties. They include pad thai (rice noodles with seafood, peanuts and soy sprouts), som tam (spicy papaya salad with tomatoes, green beans, chilies and other spices), massaman curry (stewed meat and potatoes in coconut spice sauce), tom yum kung (traditional spicy soup with shrimp).
And don't forget about dessert! It's a sin not to try durian (better close your nose before tasting – just take your word for it!), mangosteen, dragonfruit and rambutan in Thailand.
Elephant rides
Almost every town and city in the Kingdom has an elephant village, park or farm. No wonder, because the Thais consider the elephant their patron saint. An hour ride on horseback costs from 600 to 1200 baht. But you won't forget it!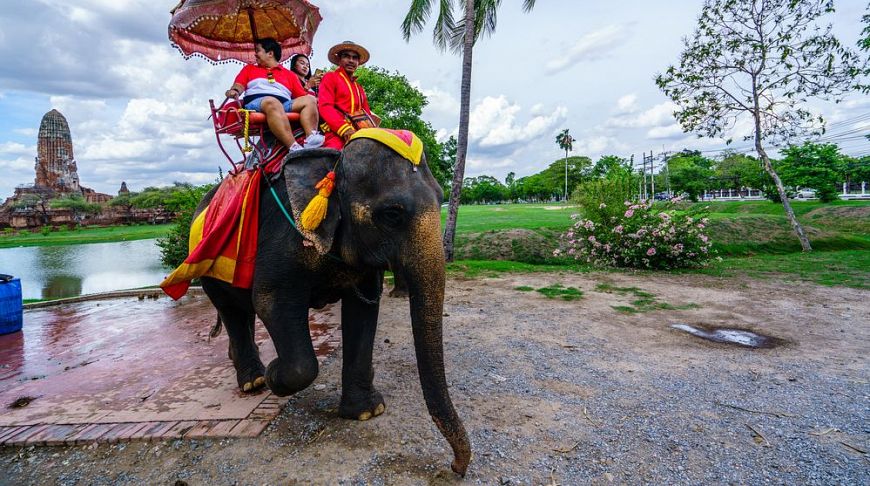 Photo: Shutterstock
Foreigners are especially delighted when an elephant walks across a river or stream. Then the animal takes in water with its trunk and, to everyone's delight, waters the people around it.
Having fun the Thai way
Thailand – the Land of smiles, so rejoice here to the fullest! We recommend you visit a monthly party on the island of Phangan – Full Moop Ragtu. Under the full moon crowds gather on the island, ready to dance all night. Music from local DJs for every taste and all-night bars – everything is made for a great party.
You can appreciate the local mentality and scope of celebrations in the Kingdom during the Thai New Year – Songkran festival. It is celebrated April 13-15. On these days, the Thais bring refreshments to the clergy and pour clean water over the statues of Buddha. The latter tradition has also caught on in the light – young people are staging real water battles in the streets!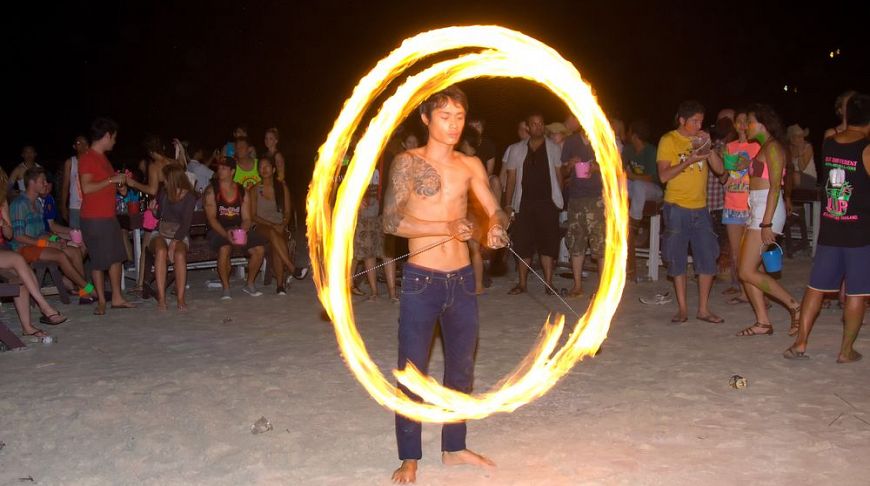 Photo: Shutterstock We shouldn't forget about the famous erotic ping pong shows and other spicy pleasures. If you're ready to dive into a whirlwind of Thai pleasure, head to Walking Street! 7
Watch Thai Boxing
Get a glimpse of the legendary sport in its natural habitat. The spectacle is not for the faint of heart, because in Muay Thai you can strike with your feet, knees, elbows. Moreover, only in the XIX century groin kicks and chokes were banned, and fighters were forced to wear gloves.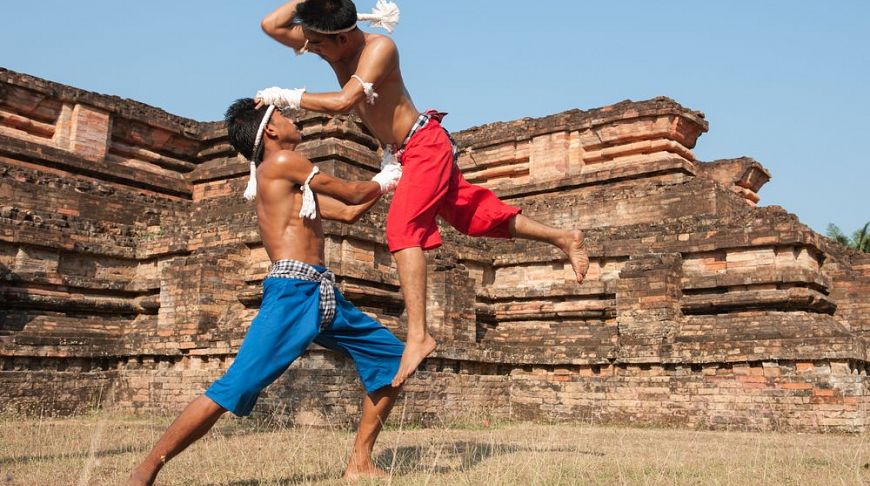 Photo: Shutterstock Before each fight boxers perform a spectacular ceremonial dance and recite special prayers. This helps them to concentrate and at the same time, to please the audience.
Shopping
Floating markets in Bangkok – a place you must visit! The canals are crowded with vendor boats with brightly colored signs, mountains of fruits and spices. Prices here are lower than in the mainland resorts and islands: if you want to buy souvenirs and gifts, this market is the best place. We advise to pay attention to coconut oil, Thai whitening toothpaste, blue tea, aromatic candles and sachets, wooden lamps, boxes, elephant figurines.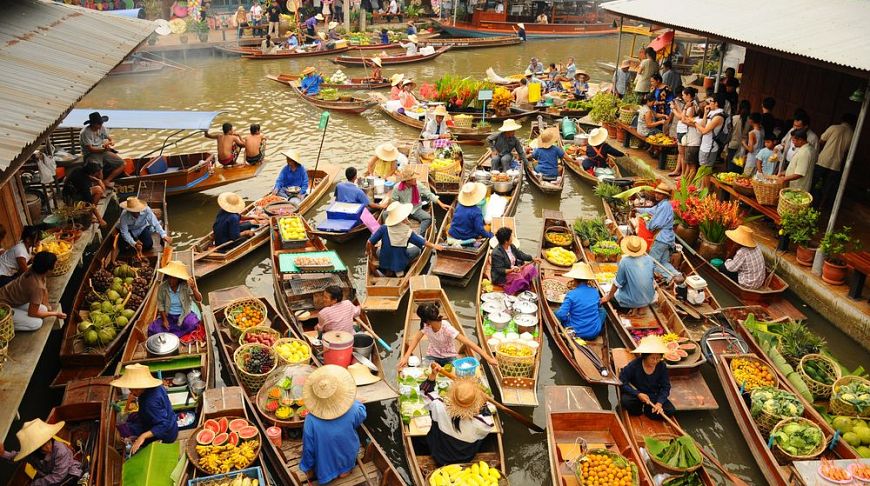 Photo: Shutterstock And don't forget the fabrics! Where better to buy scarves, stoles, robes, wide pants or a piece of material for a summer dress than at an oriental bazaar! The choice and colors will please even the most picky shoppers. 9
Visit a Buddhist Temple
There are many shrines in the Kingdom and they are all stunningly rich and beautiful. Take for example the Golden Buddha Temple in Bangkok where there is a 3 meter statue of Gautama made entirely of precious metal. The temple has an interesting tradition: you can buy at the entrance a thin plate of gold leaf and glue it to the statue during prayer. Each part of the body on which you place the plate will bring good luck in a certain area. For example, feet for a good road, hands for successful affairs, face for beauty, and heart for love.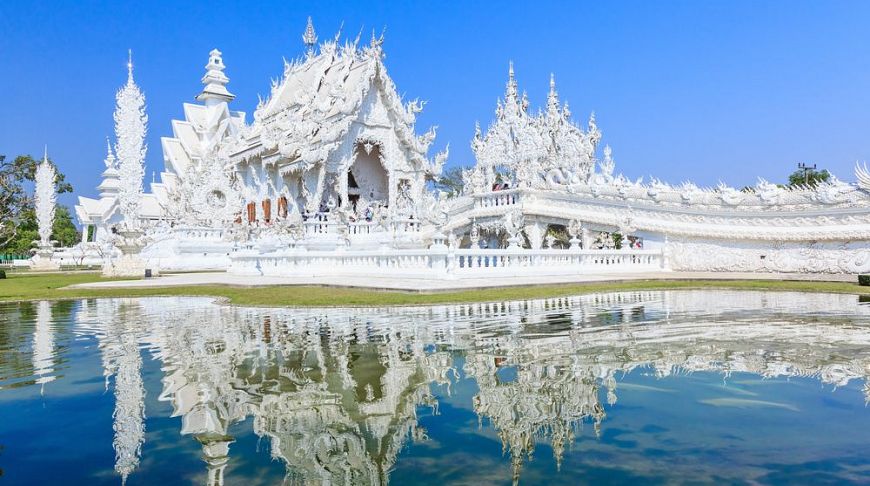 Photo: Shutterstock
We recommend visiting other equally beautiful shrines: the Tiger Temple in Krabi, the Truth Temple in Pattaya, the White Temple in Chiang Rai and the Emerald Buddha Temple in Bangkok.
Remember the rules! Buddhist shrines must be entered with covered shoulders and knees. At the entrance must necessarily take off your shoes, so choose shoes that are easily removable.
Take a photo with a tiger
Tigers, like elephants, are very revered in Thailand. How many monasteries and temples are dedicated to them! For example, Wat Pa Luangta Bua Yanasampanno, where monks cared for, bred and tamed the predators. After corpses of tiger cubs were found in the monastery in June of this year, it is closed and an investigation is underway.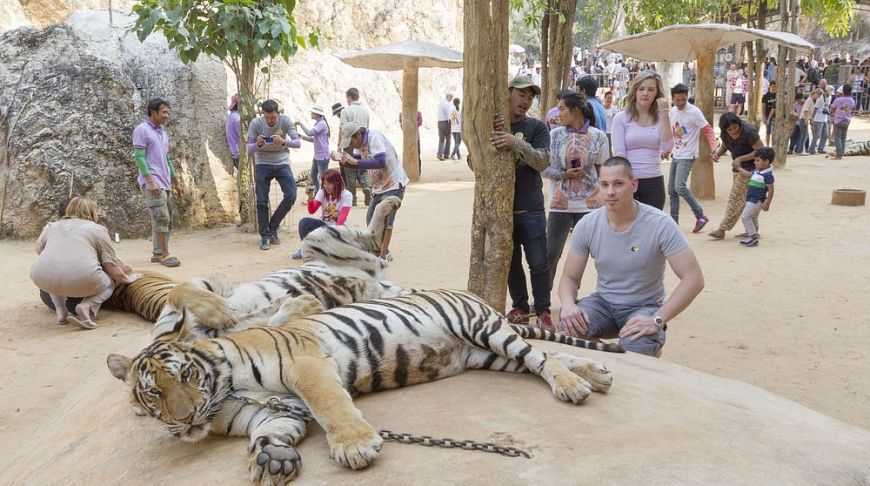 Photo: Shutterstock
Fortunately, you can also see the striped animals at the Tiger Zoo in Sriracha. Not only that, you will be allowed to pet them (under the supervision of an animal trainer) and take a few photos with the animals.
Bangkok's Entertainment
Entertainment is another bonus for those who visit Bangkok. Of course, the first thing they come here for the sights, but excursions, excursions, and rest too need, especially if you come with children, and they, truth be told, are not as interesting temples, palaces, or historical monuments.
List of things to do in Bangkok
What to do in Bangkok
Entertainment in Bangkok can be divided into those that are designed for the whole family and those that are suitable only for adults. The first category includes water parks, zoos, walks along the river, traditional Thai massage. And the second – bars, nightclubs and discos. All of this in the capital of Thailand in abundance.
Stand alone are the entertainment for single men. Go Go bars with striptease, massage parlors with body massage, various shows for adults, bars with girls. There you can find a girlfriend for the night or easily get all the carnal pleasures you can think of (including for people with a non-traditional orientation). The biggest clusters of hot spots are in Nana Plaza, Soi Cowboy, and Patpong.
In this section we'll describe all the things to do in Bangkok, but you're free to choose what you want to do and how you want to please yourself.
Tickets and excursions
If you're planning to visit different entertainment venues in Bangkok, you don't always have to pay full price. On this site you can find discounts to various popular places in Bangkok, as well as other cities in Thailand and, in general, SEA. The only thing you need to buy tickets a little bit in advance, as there is a reservation and an electronic ticket is sent to the post. Well, it is also a disadvantage that the site is in English.
If you live in Pattaya, many of the above places can be visited as part of the tour, it is often more profitable than on their own and separately. Itineraries are usually thought out in advance, included transfer. You will only have to get on the right bus. Prices for tours in Pattaya in different agencies may vary slightly. We recommend to look at this site.