The best places to relax with children in Warsaw and the surrounding area
Work is important and necessary, but do not forget about rest. Often there is a question of leisure with children, and it should be interesting, safe and preferably inexpensive, and better even for free. For everyone living in Warsaw or a short distance from the capital city, Polish Adviser has selected a few interesting family places which can be visited not only for relaxation and recreation, but also for learning new and instructive information.
Playgrounds and parks
Ordinary playgrounds in Warsaw are not uncommon and can be found in most courtyards. But if you are tired of seeing daily swings and merry-go-rounds, you can find more interesting playgrounds in the Polish capital. For example:
Fort Bema (Forcie Bema) . There are trampolines, a lot of different slides and sand catapults. Address: ul. Obrońców Tobruku, Warszawa – Bemowo.
The above mentioned places are located in Warsaw itself. However, if you want to go out of town. You can visit the playground in Powsinie (Plac zabaw w Powsinie, ul. Maślaków 1, 02-973 Warszawa – 4000 square meters of various attractions) or Park Tale in Błone (Parku Bajka w podwarszawskim Błoniu, ul. Kardynała Stefana Wyszyńskiego 10, Błonie – a huge park for the whole family with fountains, game attractions, etc.). It may be less convenient to get there, but the level of fun is definitely higher.
The slides and rope towers at Park Fairy Tale
Fountains in Fairy Tale Park.
Access to these areas is free. But renting additional equipment (such as a scooter or rollerblades) and additional activities (such as performances) can be charged separately.
Museums
Museums are not only interesting, they are also educational. Many Warsaw museums are interactive, which means that you can not only look at the exhibits, but also touch them and participate in experiments.
Among the most popular are:
The Copernicus Science Center (Centrum Nauki Kopernik). Physical and optical phenomena and paradoxes, presented in a clear and interesting way for children. Exhibits are described in Polish, English and Russian. There is a planetarium. Tickets should be booked in advance, purchase on the day of arrival is not always possible. Address: Wybrzeże Kościuszkowskie 20, 00-390 Warszawa.
As for prices, they range from 5 to 60 zlotys. However, the Ethnographic Museum, Copernicus Science Center and Smart Kids Planet offer discounts with Big Family Cards, the Museum of the Polish Army and the Museum for Children are free on Thursdays, and the Geological Museum does not charge on other days.
Dinosaur at the Geological Museum in Warsaw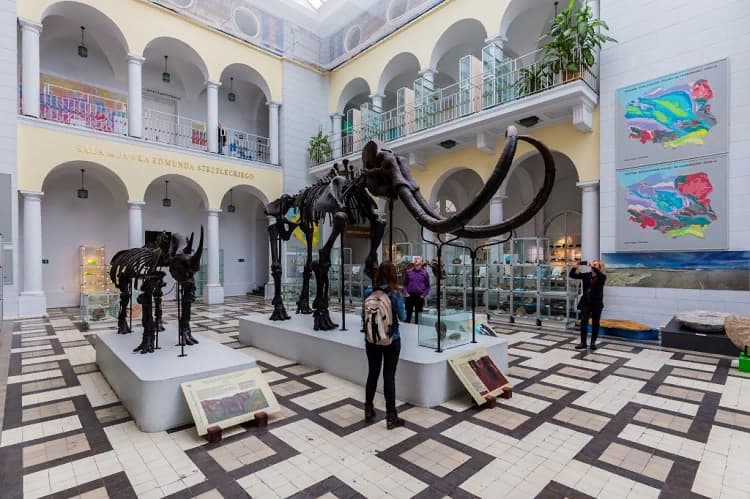 Mammoth Skeleton, Geological Museum in Warsaw
Waterparks
We have already discussed Polish waterparks in detail, touching on some Warsaw ones as well. In fact, there are many more, and apart from those mentioned in the previous article, there are more:
Aquapark in Szczęśliwice (Basen Szczęśliwice). Location: Ochota district, Warszawa, between Drawska and Włodarzewska streets.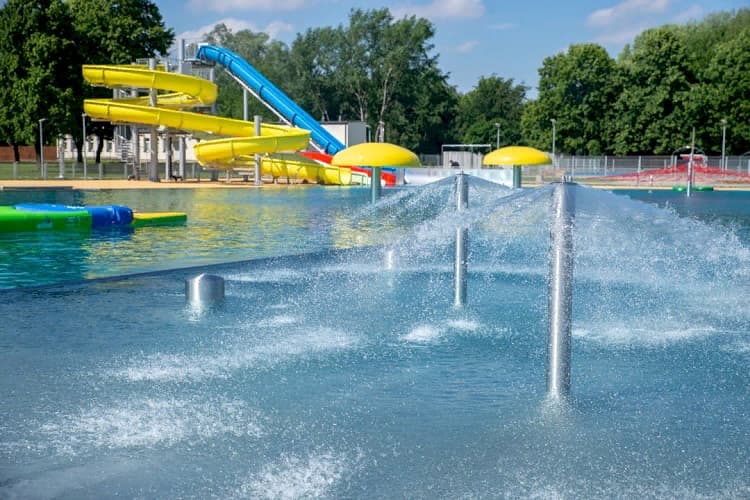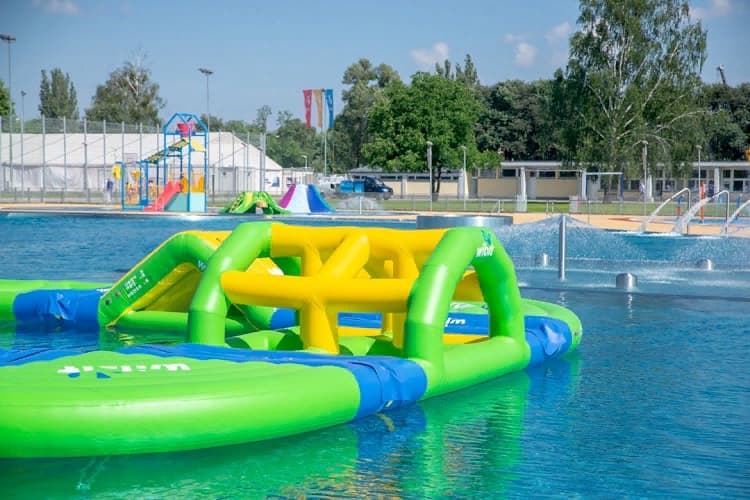 Water attractions of Mochidło Aquapark after reconstruction, 2021
The water parks have attractions for both children and adults. However, some pools are open, so they are seasonal. Ticket prices range from 10 to 30 PLN.
Trampoline parks
Very interesting entertainment for children, involving various jumps and tricks. Depending on the age of the child, the complexity and safety of the rides are set. You can have fun on your own or in special training groups. The most popular trampolines in Warsaw:
Trampoline Park Hangar 646 . In addition to trampolines there are slides, towers, obstacle courses and climbing walls. There are three locations in Warsaw: Gocław Wał, Miedzeszyński 646, Mokotów, Domaniewska 37A and Targówek, Dalanowska 29.
Entrance fee from 20 PLN. Adults can also take part in some entertainment or wait for children in the recreation areas.
Children's "flights" at Stacja Grawitacja in Warsaw
ropeway parks
Very interesting, educational and developmental rides in the form of various obstacle courses. These can be suspended bridges, stairs, ramps and much more. Designed for older children with good physical training, but the parks will find their entertainment for the younger kids as well.
Rope Park in Bielany (Park Linowy Bielany Warszawa). Note that the park does not have its own administrative address, as it is located in the woods. The nearest address is Gwiadzista 79 A. From the nearest bus stop Gwiadzista (buses 121, 122, 157, 185, 197, 205 to the terminus) 300 meters. No cars are allowed to enter the forest.
Parks can be located outdoors, such as in forests or squares. And may have indoor facilities. The latter is interesting in the heat or, conversely, in cold weather. Entrance fees start at 30 PLN (except for the park in Lomianki).
Rope tracks of the park in Łomianki.
Conclusion
We have selected the most popular and, in our opinion, interesting activities with children in Warsaw. If any reader knows more instructive, entertaining or recreational places in the Polish capital, write about them in the comments below the article.
What entertainments are there in Warsaw?
We are going to spend a week in Warsaw. Want to spend this time as interesting and memorable as possible. I will be glad to get any advice.

Take a look at
The Polish capital has a lot of attractions for all tastes. You can play bowling in a modern bowling club Arko. It is not even a club, but a full-fledged entertainment center. This club is situated quite conveniently not far from the city center. The club has 32 bowling lanes, which are located on two floors.
Perhaps the best winter entertainment is skating. To go skating, pay attention to the skating rink Torvar II, which is part of a large sports complex. It is not possible to skate every day, but mostly only at certain times on Saturday, Sunday and Thursday. You can either bring your own skates or rent them on the spot (I don't think many people go to Warsaw with their own skates).
The whole family can go to the Water Park, which is the center of aquatic entertainment. This center has several areas: sports, entertainment, and spa treatment area. There is a posh pool, measuring 50×25 m, which meets all international and Olympic standards. The park is open every day from 6 am to 10 pm.
In the center of the city is one of the most popular places to spend time in Warsaw – Warsaw Zoo. The zoo will delight you with elephants, hippos, bears and other animals. In some pavilions there is maximum contact between visitors and animals, you can even pet them. The zoo is open all year round, but in winter only from 9 to 15.
If you are a fan of opera, in Warsaw, you will have a great opportunity to visit the national Polish opera. The theater has two halls, which can accommodate 1,841 and 248 spectators. On the stages, you can find works by both Polish and world composers, as well as watch world-renowned ballets. In addition to this opera, there are other operas and theaters in Warsaw. It is just not a fact that you will arrive and you will be able to buy a ticket right away (some tickets are sold out more than a month before the performance).
There are many museums, galleries, exhibitions, nightclubs and other venues. The main thing is to have a desire to have fun and you will definitely find something you like.

Take a look at
I would recommend the multimedia fountain park. It's a very beautiful place. Fountain dancing to music is not a novelty. However, it is very interesting to watch the water dance.
We also visited the Copernicus Science Center. There is a planetarium here. The building is open until 10 pm. The entrance fee is 25 PLN. It's like looking at the stars and you can even see Venus, the Moon and a few other celestial bodies.
It is worth remembering about Zegrzyński Lagoon. It is situated 20 km from Warsaw. You can rent a yacht or go surfing.

Take a look at
You can see a lot of sights in a week.
First is the water park. You can spend a whole day there with the whole family – water slides, artificial river, jacuzzi, beauty salon, bathhouse, water pipes, swimming pools and many other attractions.
Also in Warsaw is an excellent zoo, which is loved by local residents (its total area of about 40 hectares). This area is home to about 5 thousand species of animals, many of which are rare and endangered, there are also many birds (there is a very interesting room where birds fly over the heads of visitors), when the animals are fed, arranged a real show, a spectator of which you can become a spectator.
There are many cafes, bars and restaurants in Warsaw, where you can enjoy the local dishes that we do not have in Russia. I think that once you get to a new country, you have to do it!
Naturally, one of the main things to do in Poland is sightseeing. Visit the Old Town, Castle and Market Square, the Royal Castle, etc. Just buy a map of the city, all popular tourist destinations are usually marked on it.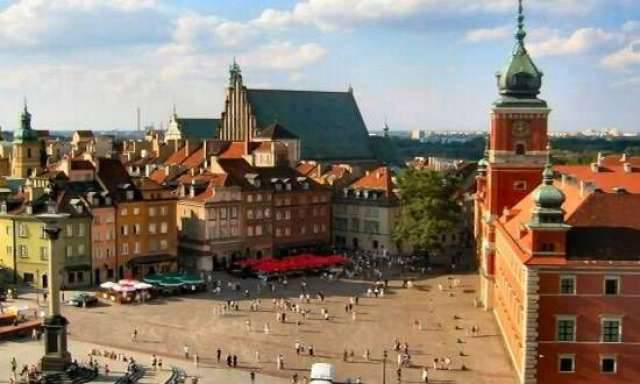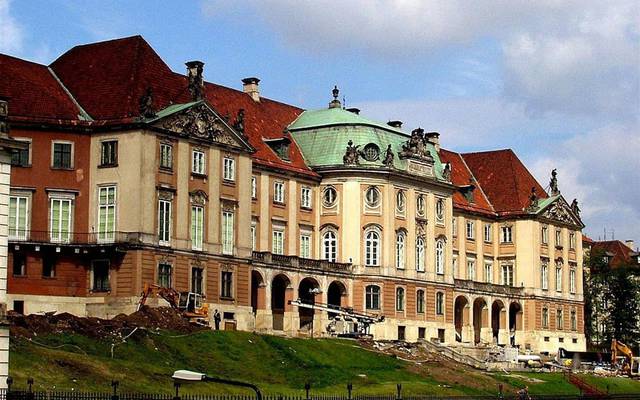 I also advise to walk around the local museums – Museum of Caricature, Chopin Museum, National Museum and many others are in this wonderful European city.

Take a look at
Warsaw is a very interesting city with lots of different attractions, ancient palaces, churches, and beautiful parks.
Visit the Warsaw Water Park, which is located in the south of the capital on the site of the former swimming pool "Warszawianka". The water park is equipped with modern technology and is an entire entertainment center. Here you can spend a whole day. In the water park there is a real Olympic swimming pool, outdoor pool, which works all year round, Jacuzzi, various slides and tubes, artificial river and paddling pools for children. Here you can visit the Russian bath, beauty salon, massage, and have the opportunity in a great room to play bowling or play squash on the courts. The water park is open daily from Monday to Friday from 6:30 to 22:00 and on Saturday and Sunday from 8:00 to 22:00.
A visit to the Warsaw Zoo will not leave indifferent neither adults nor children. It is located near the Old Town in a beautiful park on the banks of the Vistula. In the zoo in excellent conditions lives more than 5 thousand animals. You can visit the Hall of Free Flights, where birds will fly right above your head. There is also a "Fairy Tale Zoo" for the youngest visitors. Different interesting shows are held daily in the zoo. You can visit the zoo daily from Monday to Friday from 9:00 to 17:00 and on weekends from 9:00 to 18:00.
If you like billiards, visit the Challenge Club. There is a Russian billiards table in a separate room and six snooker tables in the common room. The billiards club is open daily from 11:00 until the last client.
It is worth a visit to the Warsaw Palace of Culture and Science. This tall building has 42 floors. There are the Polish Academy of Sciences, various offices, museums, cinema, libraries, theaters and the main concert hall of the country. You can visit museums, watch a movie in a theater or buy tickets for a concert or theater. Even if none of the aforementioned appeal to you, visit the observation deck on the 30th floor, which offers a beautiful view of the city.
In Warsaw there is a lot to see and do, so visit the Royal Łazienki Museum. This is a palace and park complex located in the center of the city on 76 hectares. Lazienki is a museum and a favorite stroll place for residents of Warsaw and tourists. In summer, on weekends at the Chopin Monument are free piano concerts. There are many sights to see in the park: the Palace on the Island, Myslewicz Palace, the White House, the Amphitheater, the Old and New Orangery, the Hermitage, the Egyptian Temple, the Diana Sanctuary, the Narutowicz House and the canton barracks. Also in the park a lot of monuments: a monument to Chopin, a monument to Jan III Sobieski, a monument to Henryk Sienkiewicz and other interesting monuments and sculptures.
In Warsaw and its surroundings there are many different palaces, churches, museums and other attractions, which will be interesting to visit. The city also offers a variety of excursions. The evening is always a good time to visit restaurants, theaters or clubs, of which there are many in Warsaw. Take your pick, and enjoy your trip.

Take a look at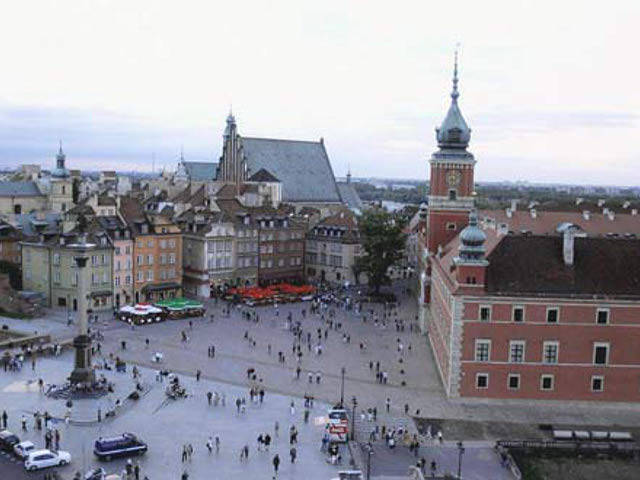 Warsaw has been the capital of Poland since 1596. During World War II, the city center was almost completely destroyed by the Nazis. But, after the war it was carefully and lovingly restored. Since then, UNESCO has put it on its list of World Heritage Sites as a model of scientific approach to restoration. However, apart from the restored historic buildings and excellent museums, Warsaw attracts visitors with its picturesque Vistula embankment, cozy cafes, charming architecture of buildings in the city center and even modern skyscrapers, recently growing in the capital city like mushrooms after the rain.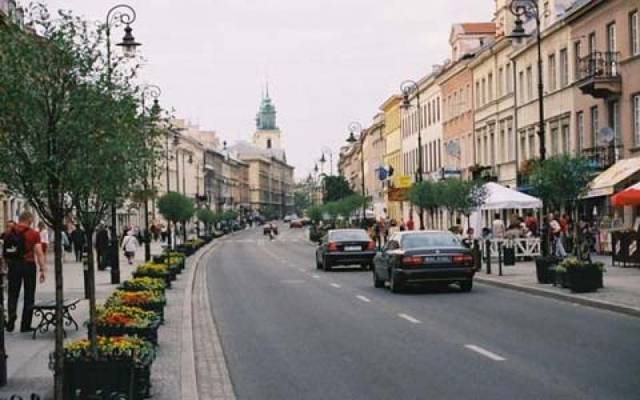 In addition, the capital has a lot of places and a lot of ways to entertain. In the southern part of the Royal Route (Warsaw's main boulevard), for example, there are student clubs offering a whole range of cultural events. These include poetry evenings, one-man shows, theater performances, as well as jazz and folk concerts. But still, the main place in the nightlife of the city is, of course, the discotheques.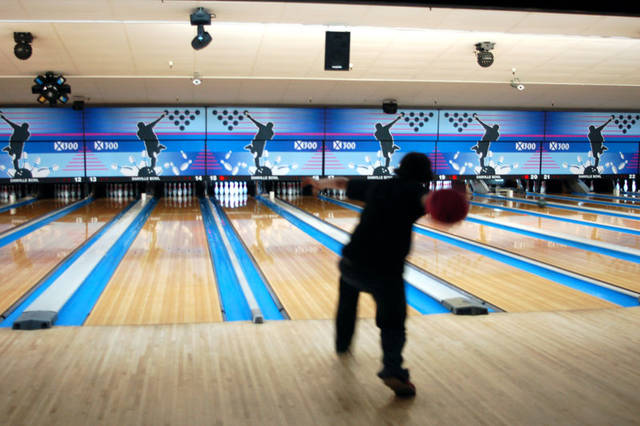 Arco" entertainment center is very conveniently located – not far from the city center. Its opening, which took place literally a few years ago, was a real gift to all lovers of bowling. The club is located in a building, built in futuristic style and painted dark gray. It was designed especially for the club. The interior has a predominantly bright red tones. In "Arco" there are 32 bowling lanes, which are located on two floors. Both professionals and amateur players will not be disappointed not only with the quality of ultra-modern equipment, but also with the highest level of service.
If you are a fan of such a sport as ice skating, you should definitely go to the Torvar II ice rink. This part of the huge sports complex is a very popular place in the city. At one time it was supposed to be a training center for future Olympic champions. Nowadays not only professionals but also amateurs can practice here. Particular attention is paid to the development of family sports. The area of 19,000 square meters has a total capacity of 5,000 people. Various sports competitions, large-scale exhibitions and grand concerts are often held there. You can go skating here on Thursday evenings as well as at weekends. Skate rental is available here.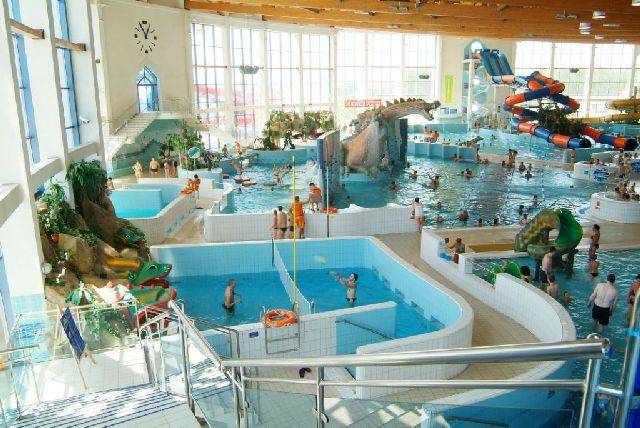 More recently, on the territory of the former swimming pool was opened water amusement center – "Water Park". Once it was opened, the park became the most popular place in the city. It is divided into several parts – entertainment and sports complexes, spa treatment department and fitness center. The main attraction of the center is the 50×25 meters swimming pool, which meets all current Olympic standards. For the youngest visitors there is a beautiful paddling pool, and for adults who want to enjoy swimming in the open air – an outdoor heated pool.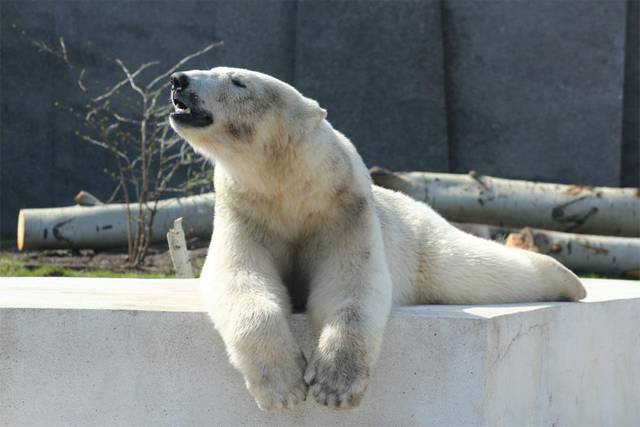 Both children and their parents will find it interesting to visit the famous Warsaw Zoo. It is located in the center of the city, not far from the Bridge of Spence and Dąbrowski, almost on the very bank of the Vistula. For the little inhabitants of Warsaw, this place is a favorite place to relax. The zoo is home to elephants, hippos, bears and many other funny animals. There are very rare species, such as pandas, which even have offspring here, which is very rare in captivity. Cheetahs, wild African pigs, camels, elephants, lions, rhinos, tigers and many others feel great here. Children and adults love the rich collection of reptiles, many of which are quite pleasant, and some rather resemble some monsters. There are special playgrounds on the territory of the zoo for small children, and older children can visit any of the educational programs, where they will learn a lot about the fascinating animal world.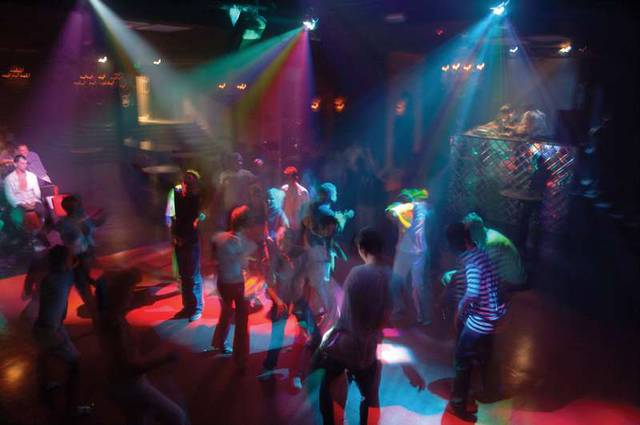 Disco lovers are invited to the Groundzero club, founded in 1993. Originally, the room where the club is now located was conceived as a bomb shelter. This is not surprising, after all it was the time of the Cold War. The designers have approached the decoration of the club very creatively and thanks to the decoration and the original interior, the lighting and the professional equipment the club has become one of the most popular places for leisure activities in the whole of Poland. Different styles are in perfect harmony with each other. A huge dome is placed above the central hall, and the shiny metal surfaces, made of stainless steel, are the main element of the decoration. The high level of service, professional equipment and excellent laser light effects all combine to ensure that as many new people as possible come to the club, as long as the regulars are also in attendance.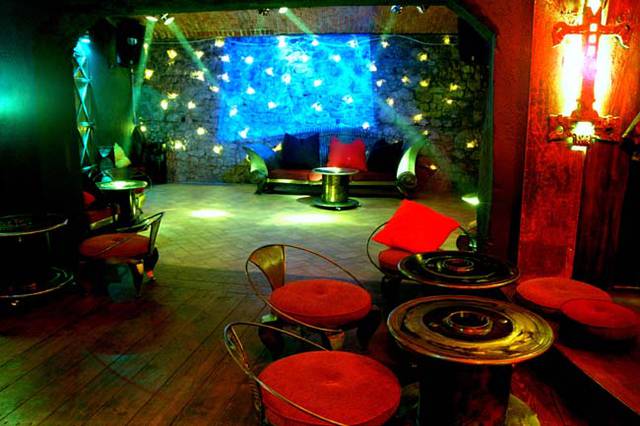 Another giant dance club is the "Labyrinth". Its interior is more like a confusing maze with mysterious corridors, flights of stairs and endless passages. The dance floors, bars, and bowling alleys are evenly distributed throughout the three floors. Each corner has its own special atmosphere and design in a particular style. Located literally throughout the club aquariums, drawings on the walls and luminous inscriptions create a fascinating and mysterious interior. "Labyrinth is not just one of the dance clubs in Warsaw, it is a place designed especially for successful and stylish people.
The only golf club in the country is just 25 kilometers from the center of Warsaw. The golf course is 65 hectares and is located on the banks of the Vistula River, in a picturesque valley. It is especially charming because of its century-old trees and beautiful lakes.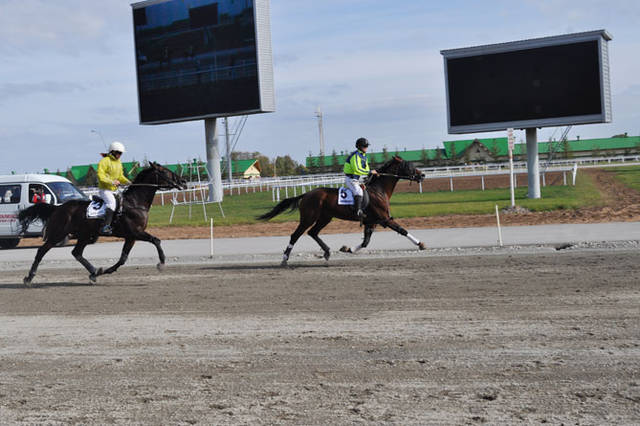 If you get tired of seeing all the sights in Warsaw and want to spend a day in the countryside, you should go to the Słuczewiek Racecourse, located just 20 kilometers from the city center. Visiting the stands and the club, unlike in other European capitals, is completely free.
Warsaw is truly beautiful not only for its parks, but also for its varied cultural life. Everyone can find something that suits his or her tastes and preferences. Fans of opera and ballet will appreciate the performances of the Warsaw Chamber Opera and the National Polish Opera. Theater lovers can visit the Theater Polski, the Sabat Theater, or the State Jewish Theater.

Take a look at
I loved the Royal Castle in Warsaw. It was an amazing historic building with its history, you will visit this place and you will not regret it! I can't wait to see it! It's a beautiful church called St. Anne's Church, it's a historical site, every tourist should see it and walk around its corridors, you'll love it! And in general, there are a lot of places in Warsaw where you can go, to each his own!