Top 10 places you must see the New Year at least once in your life
New Year's Eve is one of the most anticipated holidays of the year across the planet, it brings with it new opportunities, plans and achievements. Many of us celebrate New Year's Eve in a traditional home atmosphere among family and friends, but more and more often it happens that people decide to spend this holiday in a new and original place, where unusual scenarios are born by themselves. Here are 10 interesting places where you can go on New Year's Eve.
1. Sydney, Australia
The first and one of the largest cities in our list is Sydney, Australia. The city's main harbor (Sydney Harbour) will light up on New Year's Eve with fireworks and one of the original pluses of the celebration here will be the summer weather. The wonderful architectural arrangement of the Opera House and Harbour provides a very picturesque backdrop for the nighttime lights in the warm sky. If you are not a fan of street parties, an alternative way to admire the extravaganza in the night sky is to take a boat trip.
2. Tokyo, Japan
If you are planning to celebrate New Year's Eve in Tokyo, you should know that the celebrations there will last much longer than in our country and will last for a week (from December 29 to January 4). Most of the city will also be celebrating and resting, but many restaurants and bars will, of course, work to the delight of the holidaymakers. Fireworks, dancing and singing, and the traditional New Year's noodles (Toshikoshi Soba), whose long strings symbolize a long and healthy life, are the recipe for a successful New Year in Tokyo. In addition, only on January 1 (one of two days during the year) you have the opportunity to see the Imperial Palace, the doors of which will be open to all comers.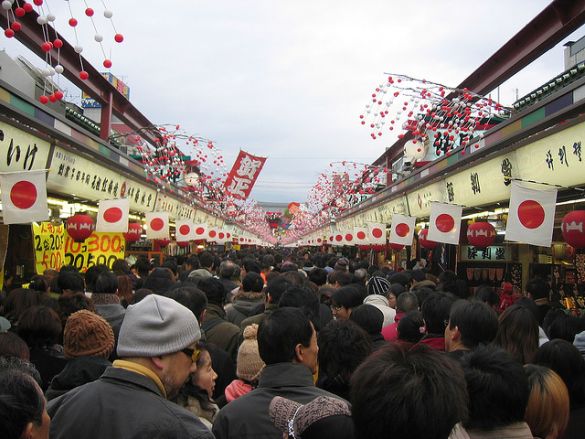 3. Ko Phangan, Thailand
If you're a fan of partying, then the best place to celebrate the New Year is the bustling island of Ko Phangan. Known all over the world for its endless dancing and party atmosphere, this Thai island traditionally gives the heat on New Year's Eve. Every year more than 50,000 people come here to plunge into the rhythms of the dance floors. The secret to the popularity of this resort for party-goers is its light and festive atmosphere, which permeates every inch of it. Don't forget to take care of all the local transport tickets in advance, at this time of year many Thais take their vacations and it will be much harder to do it locally.

4. Edinburgh, Scotland
Edinburgh can rightly boast of the uniqueness of its New Year traditions, here even the new year is called by the ancient word – Hogmanay. The celebration of Hogmanay lasts for three or four nights, starting with a grand torch procession on December 30 through the streets of Edinburgh, which has its roots in pagan times. Many Scots still adhere to the ancient tradition of "first come, first served" according to which the first person who enters your home should always be a man with dark hair (this tradition originated in Viking times, when a blond guest could bring trouble for him).

5. Paris, France
Paris is a city where there is always the perfect option for everyone. Looking for adventure? Then go to the Champs-Elysées and Montmartre: it's always crowded, fun, and with great fireworks. Can't get enough of the excitement? There are plenty of chic cabarets to choose from. For gourmets Paris offers a huge variety of places, where gourmet chefs meet any demands. The epicenter of Parisian street celebrations is traditionally Champs-Elysees. Paris is studded with bars, clubs and restaurants where you can drink and dance the night away.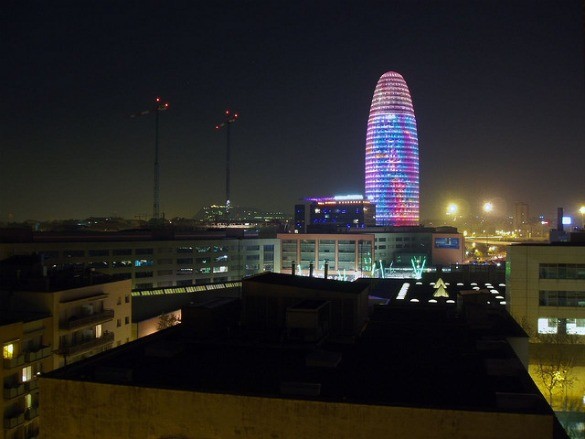 6. 6. Barcelona, Spain
Unlike in most countries, parties in Barcelona don't start until midnight and during the chime of the New Year's Eve it's customary to try grapes from the twelve and different clusters. Unlike many other major cities, in Barcelona there are no particular places where it is customary to celebrate the New Year. This has to do with the long-standing tradition of gathering on this night for a family dinner. Also a great option is to go to a restaurant. Be prepared for the fact that you will be offered a special New Year's Eve or a set menu at a higher price. After the holiday dinner, most of the city, especially the young people, head to the clubs and bars to continue the celebration, which will last until the next morning.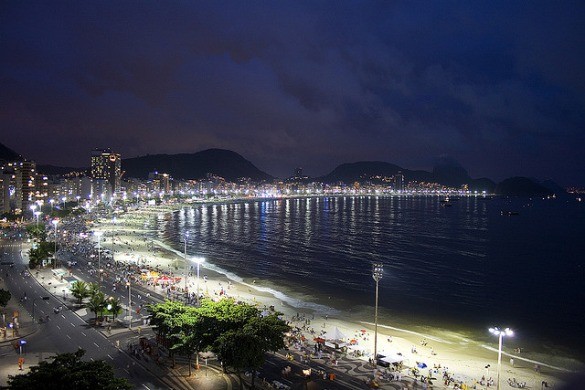 7. Rio de Janeiro, Brazil
Like many things in Rio de Janeiro, the New Year's Eve celebrations begin on Copacabana Beach. Unbridled parties at the top and bottom of this famous beach, a mix of different genres of music will make anyone party all night long. This year, in addition to the traditional 11 barges with 1,200 fireworks, there will be four and installation on the beach side, each with their own mini fireworks. This decade is very important for Brazil, by the lot of fate in the new decade here will be held at once two major sporting events – the World Cup (2014) and the Olympic Games (2016).So this New Year of Rio will be fantastic, noisy and fun.
8. Niagara Falls, Ontario, Canada
What makes this Canadian town's celebration unique is its gorgeous scenery with the famous Niagara Falls as a backdrop. Most people (about 30,000 thousand) on New Year's Eve make their way to Queen Victoria Park, one of the liveliest places. Live music and two rounds of fireworks (at 9pm for kids and a repeat at midnight for adults) await here. The headliner of the New Year's Eve concert will be the live rock legend Styx. If you don't feel like freezing outdoors, there are always plenty of options and cozy settings. The Niagara Fallsview Casino Resort offers entertainment for those who like a more secluded vacation atmosphere, and for families, there's a great option to spend time at Clifton Hill in addition to the rowdy festivities at Queen Victoria Park.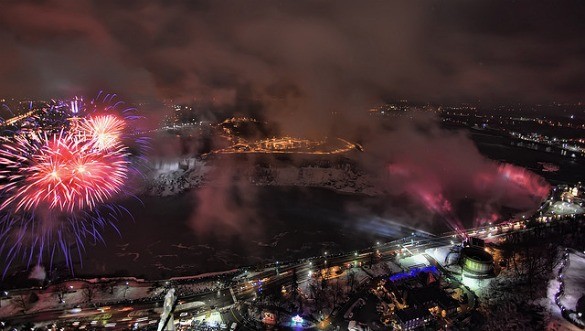 9. Las Vegas, Nevada, USA

During the New Year's Eve, the main roadway will be closed to traffic, and at midnight the sky will light up with a gorgeous fireworks display from the rooftops of seven hotels and casinos. In addition to the large-scale celebration on the main street, many clubs and casinos will offer a large number of their own parties. Each club and bar will traditionally prepare a special show program for their guests all night long (including one of the biggest Jay-Z and Coldplay concerts this year in the new Cosmopolitan of Las Vegas casino and resort. But the biggest Las Vegas party is happening right on the main streets of the city. Just after midnight and the fireworks are over, all the casinos will close their doors to those who aren't their guests, and getting into the nearest bar or club will be difficult because of the lack of available seats. As with all things New Year's Eve in this busy city, plan your itinerary ahead of time.
10. New York, USA
Well, of course, this list wouldn't be complete without the gorgeous city of New York. For more than 100 years people gather in Times Square to watch a super giant ball drop show. More than 1 million people attend this free event, twice as many viewers around the world watch it on TV. To get a good seat to contemplate this truly fantastic spectacle, people come much earlier. Passing with backpacks and alcohol is prohibited, so if necessary you can refill your supplies only at nearby restaurants, bars and hotels. If you stay for the festivities in Manhattan, there are a few restaurants and hotels in the area as well, where you can see the famous ball drop. New York City boldly offers entertainment for everyone's tastes, and New Year's Eve should be especially spectacular.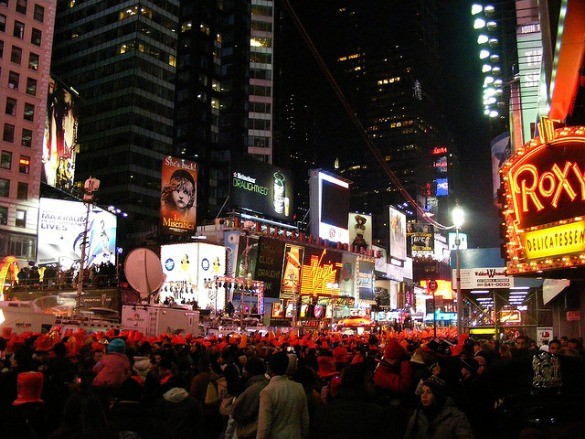 New Year's Eve is a special night for all of us. Something magical always happens on New Year's Eve, every continent in every country and city has its own peculiarities of celebrating this wonderful celebration. If you have a chance to join the celebration of the New Year in an unusual and new place, by all means take advantage of this opportunity, and you certainly will not regret it!
Top 7 Extraordinary Places to Celebrate New Year
If New Year's Eve is a holiday of miracles, then why not make it very special? An unusual trip is the best way to celebrate it, especially if you believe in the omen that how you meet it, so will you spend it. For those who want to spend a whole year in the most beautiful corners of the world – the best places to meet him.
Flocks of tropical fish instead of chimes
One of the most unusual ways to celebrate the New Year can be considered a night dive into the world of corals and octopus. You can do it in Thailand, where December is the second month of the dry season, and therefore the most comfortable for beach holidays and diving. Instead of eating olivier and herring under a fur coat, tourists dive into the ocean at night and by the light of lanterns admire the beauty surrounding them – is it not beautiful? The air temperature at this time of year even at night does not drop below 24-25 degrees, and the water is just perfect – during the day it can get as warm as 29 degrees, remaining quite warm even at depth and only slightly cooling off at night. Even after the dive is over, travelers do not necessarily need to retire to the hotel: Thais are happy and celebrate the European New Year with a wave of joy and a variety of shows. Memories of an unusual holiday with palm trees instead of trees and white sand instead of snow will remain with the tourists for many years. Snow House will gladly visit and Santa Claus, and Santa Claus If you want something more traditional and yet even more unusual, you can go to Finland. This is a good option for those who would like to celebrate New Year in nature, but are not ready for the traditional hardships of winter hiking. You do not have to endure the cold and hunger: you just have to comfortably get to Lapland and rent a warm glass igloo, where you can even all night New Year's Eve to admire the stars and northern lights. Well, the extreme can even spend the night in a real igloo, where it will still be warm enough – the guest receives a downy sleeping bag and the temperature is not below -4 degrees Celsius. Finns claim that it gives the strongest and healthiest sleep. And sleep is necessary, because from Lapland Santa Claus begins his journey around the world, so the igloo will look at the first – the main thing is not to forget to hang a sock. Weather in this part of Finland on New Year is usually unusually warm – somewhere -16-20 degrees Celsius, which means that before climbing into the igloo, you can walk around a lot, admiring the snow-covered beauty.
Rock out with the Scots in Edinburgh.
Everything is unusual with this nation – New Year's Eve celebrations included. While they celebrate Catholic Christmas and pagan Hogmanay more or less traditionally, they greet the coming year in such a way that it may be afraid to come at all. On New Year's Eve in Edinburgh, locals dress up in Viking costumes or whatever they can get their hands on and head out into the streets to drive away evil spirits so they won't show their noses at brave Scottish warriors. For the same reason, there are fire shows and huge fireworks that are worth seeing at least once in a lifetime. Despite the fact that December is one of the most uncomfortable months in Edinburgh – it's not so much cold (even at night the temperature rarely drops below -5 degrees Celsius), but there is a high probability of sudden rainfall and it's not less likely to understand why thick plaids are so popular in Scotland – the wind gusts are just piercing. But all this inconvenience is more than compensated by the stunning atmosphere and the opportunity to feel the national spirit.
Romance and charm of New Year's Eve Paris
You can argue as much as you want that Paris is banal and for the New Year you should look for something more exotic, but the fact remains that this city transforms in the holiday glow and turns into a truly fabulous and unusual place. The wealthiest tourists can book a table at the Eiffel Tower, but you have to do it very early. But just to admire its glow against the night sky – it's already beautiful. Say goodbye to the old year at the Arc de Triomphe, where a New Year's Eve show, which ends with fireworks. Here you can meet people in the most unusual carnival costumes and see the most interesting performances in all of Europe. Warm enough for winter December weather allows you to walk around the city all night, which the French and visitors to Paris do with great pleasure.
Carnival in honor of the Goddess of the Sea and the New Year
An exotic holiday in Rio de Janeiro is another option for hot vacationers who don't want to celebrate the holiday in snowy latitudes. New Year's Carnival is comparable in scale to the main event of the year, with the difference that on the night of January 1, Brazilians try to dress in white, as this color pleases the powerful ocean goddess Yamansha. It is very fortunate that her celebration coincides with the European New Year, so that tourists can join the locals to treat the beautiful goddess with champagne and give her a white flower thrown into the ocean waves. A New Year's Eve celebration spent on the beach, where Brazilians do ritual dances and, at the end, set off a grand fireworks display, is not something you can ever forget. The weather at this time is usually favorable to the festival – the thermometer rarely falls below 23 degrees Celsius, so you can wear the lightest dress and grab a white windbreaker just in case.
Riding a camel across the desert? Why not!
To do this you need to buy a tour for New Year in Morocco, whose residents offer European tourists a very unusual option for New Year. Having booked a seat in the caravan, you can in the New Year's Eve to admire the endless sands and the same boundless sky – this is not seen anywhere else in the world. And who can boast of crossing the most imposing desert on Earth on the main holiday of the year? After a preliminary briefing, the tourists get on their camels and go to conquer the sandy queen. A truly unconventional way to celebrate! It is said that the authentic atmosphere allows you to summarize the past year and set goals for the next, as well as to dream a lot. Gathering to make such an unusual trip, it is important to remember that the night in the desert is really cold – the temperature can go even to 9 degrees, so it is worth to warm up. And best of all, even when ordering a tour, ask what things you need to take with you.
The northernmost country in Europe, or the New Year in Iceland
Tourists who dream about maximum privacy can go to Iceland – its population is such that to be in a dense crowd is not possible even on New Year's Eve and with the greatest desire. But you will be able to admire the most unusual spectacle in the world – a city, which is surrounded by bonfires. For this you need to go to the capital, Reykjavik. On New Year's Eve here are immersed in a world of pagan customs and surround the city with a ring of bright fires – it is believed that on this day there should be maximum light. And also the noise – so Icelanders make a real stir, poured into the streets in masquerade costume. Who wants to meet the coming year in the country of trolls, elves and dwarves, you need to prepare for the fact that the temperature can drop to -5 degrees Celsius, and the fact that the daylight hours will be very short – about five hours a day. The rest of the time it will be New Year's Eve all around!