Attractions in Kuala Lumpur
Among the tourist countries, Malaysia ranks 9th in terms of visitors. To relax and have a good time, first of all go to the capital and the surrounding area. The top 27 most popular places, describing where to go and what to see in Kuala Lumpur for a tourist, will help you to rationalize your time.
What to see in Kuala Lumpur in 1 day
It is difficult to cover all the interesting places in 1 day in the capital, so tourists try to see the main attractions of the city – architectural monuments and modern buildings. Below are recommendations for the first things to see in Kuala Lumpur.
Menara TV Tower
This structure is one of the majestic ones in the capital. At a height of 0.3 km there are observation decks, from there you can enjoy a panoramic view of the city. Popular with tourists is the glass Sky Box, observation boxes which are put forward beyond the boundaries of the structure. The transparent floor and walls give the impression of being suspended.
Address: Jalan Punchak, Off, Jalan P Ramlee.
Visiting hours are from 9 a.m. to 10 p.m.
To get there: cab, metro – Pineapple Hill Station.
The Petronas Twin Towers
Kuala Lumpur's landmark and the first place to go. Two identical 88-story buildings erected in the center of the capital. Entry for tourists is limited, visiting is permitted only with a guide.
The towers stand on Vilaya Persecutuank Square.
The ticket office is open from 8-00 to 21-00, except for Muslim holidays, Saturdays and Mondays. They sell only 1,000 tickets a day.
Buses 300, 303, 402, 302, stop KL 94 KLCC, and cabs go in this direction.
Sri Mahamariamman Temple
An ancient temple of the 19th century Hindu religion. A central gathering place for Tamils to pray. The building is bright, with a colorful facade (drawings of heroic scenes involving deities). Kuala Lumpur landmark is open to the public.
Address: 163 Jln. Tun H.S. Lee.
Opening hours are 6:00 am – 9:00 pm, every day.
Take the subway to Pasar Seni stop, BET3, 770,180, 750, BET4,751, 772, 821 780, 781, 782.
See other places of interest:
Batumi
Tbilisi
Singapore
Jamek Mosque
Kuala Lumpur's main Islamic mosque, frequented by the city's worshippers and Muslims in the surrounding area. The attraction, built in the early twentieth century in the Moorish style. For a tour of the sanctuary, you need to be dressed according to the canons of the Quran.
It is located in Jalan Tun Perak square.
Open 9 a.m. to 4 p.m. except Saturdays and Mondays.
Masjid Jamek Metro Station.
Royal Palace of Istana Negara.
Until 2011, the national palace was the residence of the Kings of Malaysia in Kuala Lumpur. It is now a museum with the interior and decorations left in their original state. At the entrance to the city's landmark stand guardsmen and every day hold a ritual of changing the guard.
Location: Kalan Tuanku Abdul Halim, Bukit Damansara.
Visiting hours are from 9 am to 6 pm, daily.
There is a bus 11 to the palace.
Tian Hou Temple
The six-level structure is one of the colorful, colorful attractions. Inside the rooms are painted with Buddhist, Taoist symbols. Columns, bas-reliefs and ceilings are painted in red and gold. The intricate carvings with Confucian elements make the building the most exquisite temple in Kuala Lumpur.
Located at Thean Hou Temple, Persiaran Endah, Taman Persiaran Desa.
Open from 7am to 10pm.
Get there by cab.
Abdul-Samad Sultan's Palace
Kuala Lumpur's historical heritage with a patriotic theme. Here in '57 the country's independence from colonial rule was declared. The building was erected in Moorish style. The central figure of the landmark is the clock tower with a height of 43 m.
It is located in Dataran Merdeka Square, Jalan Raja.
Visiting from 10-00 to 16-00.
Metro Station Jalan Raja.
Where to go in Kuala Lumpur for a tourist, interesting places
In addition to historical monuments in Kuala Lumpur, there are no less famous places that visitors to the capital love to visit. These are parks, museums, shopping centers and squares. Below – a review of the most interesting sights, where the tourist is definitely worth a visit.
Textile Museum
In the galleries of the Museum of Kuala Lumpur shows national clothing, accessories and jewelry from prehistoric times. Examples of textiles, the raw materials used to make them, and the equipment used to make them are on display. The halls are equipped with video equipment, tourists are shown the very process of production.
Address: No 26 Jalan Sultan Hishamuddin.
Opening hours: 9 am – 4 pm, daily.
You can get there by Metro station LRT Rail.
Royal Museum of Police
A small building in the heart of Kuala Lumpur houses thousands of exhibits on display of the work of the National Police from pre-colonial times to the present day. On display are communications equipment, photographs, documents, uniforms, and types of weapons from the arsenal of different periods. The remaining space contains significant seizures to help trace the history of the Malaysian police.
Located: Jalan Perdana, 5, Chinatown, Brickfields.
Open 10 a.m. – 6 p.m., Tuesday-Sunday.
To get there from the city center take the ETS bus, stop Kmuter.
National Museum
The building is in the style of a Malay house, which in itself is a national landmark in Kuala Lumpur. The museum introduces the culture and traditions of the Aboriginal people from ancient times. On display are tools, cooking utensils, ethnic costumes. Scenes of hunting and wedding rituals are reconstructed.
Address: Muzium Negara, Jalan Damansara, Perdana Botanical Gardens.
The hours are from 9 am to 6 pm.
You can take a tourist bus (red line) or take a cab.
Museum of Islamic Art
This Kuala Lumpur landmark was founded at the end of the 20th century in a four-story building. The museum displays models of famous architectural monuments, ceramics, jewelry, Muslim religious paraphernalia. There is also a collection of manuscripts, Korans of different years of publication and male and female clothes. The museum has a shop with souvenirs and a restaurant serving national cuisine.
Address: Dataran Merdeka, Jalan Raja. Take the subway to Jalan Raja station.
Open 9:00 – 22:00.
To get there: Take the Metro to Pasar Seni Station or bus U504, 600, 652, U70 650, 671, and U76.
City Gallery
Informative, constantly updated exhibition tracing contemporary life in Kuala Lumpur. Photographs and newspaper selections show the city's achievements. Its landmark is a model of the modern capital with colorful illumination.
Address: No. 27, Jalan Raja, Dataran Merdeka, 50050.
Open for visits from 9 am to 6:30 pm.
You can take the subway to LRT Rail or Masjid Jamek.
Hibiscus and Orchid Park
Gardens with all varieties and species of orchids, hibiscuses, ornamental and flowering tropical plants. On weekends there are plants for sale in flower pots and you can buy the ones you like. The park has small fountains and pavilions immersed in the greenery.
Located: Jalan Tembusu, Tazi Perdana, 50480 Wilayah Persekutuan.
Opening hours are from 9:00 am to 6:00 pm. These are free seats.
Bus T851, stop JalanParlimen.
Zoo
Located 10 km from the center of Kuala Lumpur, this zoo is home to 500 species and more than 5 thousand subspecies of animals, reptiles, birds and insects. The national zoo has areas for each species of fauna. Here you can see an area with pandas, monkeys, reptiles. The most popular attraction in the city for tourists with children.
Address: Jalan Taman Zooview, Taman Zooview, Ampang, Selangor.
Open from 9 am to 5 pm.
Bus 253, 22, stop "Zoo Negara MRR2".
Lake Gardens Park.
A must-visit scenic spot located in the center of Kuala Lumpur. A key part of the park is a natural clear lake with a rainforest and mango gardens along its shores. There are rose gardens, squares with benches and gazebos on the grounds of the capital's landmark.
Address: Selangor Borders, Merdeka Square.
Open for visits – 7-00 – 20-00.
Take the metro to Muzium Nigar Station.
Butterfly Park
At first glance the sightseeing area of the capital resembles a tropical forest, but on closer inspection reveals that the park is man-made. It artificially created a comfortable environment for 6,000 butterflies (120 species) within Kuala Lumpur. Throughout the park, there are paths with bridges over ponds, where you can walk, enjoying the silence and the variety of insects.
Located in the eastern part of Perdana Botanical Gardens.
Open 9 a.m. to 6 p.m.
To get there take the RED, T820, BET6, stop Butterfly Park.
KLCC Aquarium
Located in the center of Kuala Lumpur, this 6,000 sq. m. facility is one of the five modern attractions in the capital. More like an oceanarium with freshwater and sea creatures.
There is a hundred-meter tunnel in the center, completely surrounded by water. From the structure you can watch the life of sharks, turtles, stingrays. There are also contact aquariums where you are allowed to feed the inhabitants.
Located: Convention Centre Complex, City Centre.
Visiting hours are 10 a.m. to 8 p.m.
By bus 402 to the stop The Binjai.
Bird Park.
This is a large aviary on an area of 8 hectares with a lattice wire netting over it so that the birds cannot escape. There are about 3 thousand inhabitants, each species is isolated in a separate area with conditions as close to the natural environment as possible. This Kuala Lumpur attraction is a world leader in the birdwatching community.
Location: Bird Park, KL Bird Park, Jalan Cenderawasih, Perdana Botanical Gardens.
Open 9 a.m. to 6 p.m.
Metro – Kuala Lumpur Station, BET 6, Jalan Sultan Hishamuddin stop.
Independence Square, or central
The administrative center of the capital with a large cloth of the national flag mounted on a flagpole. The site is surrounded by ninth-century buildings, which are among the historic landmarks of the capital. They house offices and government institutions. On the square Malaysians celebrate the independence day. For tourists, it is an ideal place for memorable photos, especially in the evening when they turn on the lights and illuminate the fountains.
Located in Dataran Merdeka (city center).
You can take the subway to Masjid Jamek Station.
Brickfields
Indian enclave with a preserved culture located near the center of Kuala Lumpur. Residents walk in ethnic clothing, there are shops with souvenirs, cafes, ethnic restaurants along the street. The sights of "Little India" is Tamil temple Sri Kandaswami Coville, the Church of the Holy Rosary, the Chinese temple of the Three Teachings.
Kuala Lumpur sights – 35 places
July 2018 (updated: 17.03.2022) 3
What to see in Kuala Lumpur? What are the sights of Kuala Lumpur you can visit on your own? Attractions of the capital of Malaysia can be divided into those in the city and in the surrounding area. The article tells about the most interesting places in KL with markings on the map.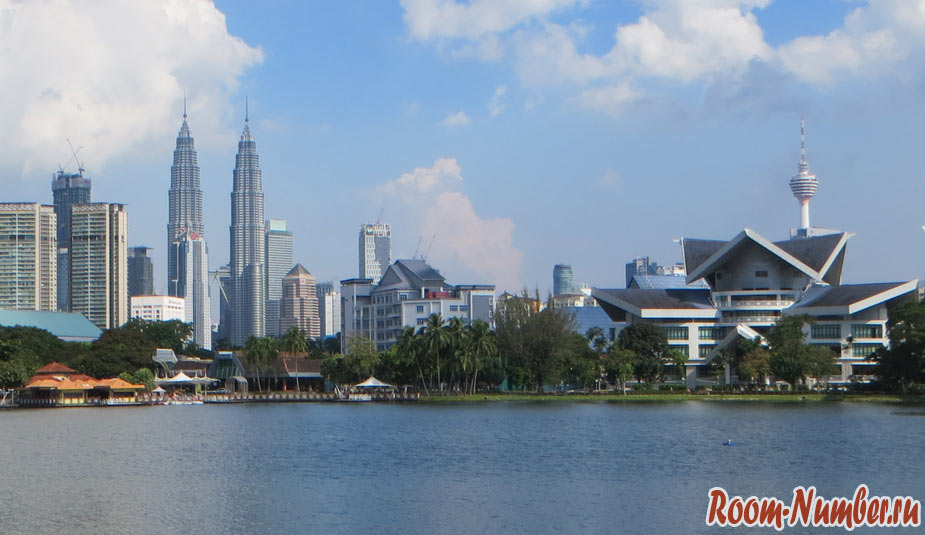 Kuala Lumpur and its attractions
Everything most interesting in Kuala Lumpur is located in the city center. All the main attractions are easily accessible by public transport. We recommend safely using the metro or the Grab taxi app to get around the city. For a stopover, choose hotels in the center with good reviews and a rating of at least 8.
City Center. KLCC Metro
The Petronas Twin Towers is Kuala Lumpur's main attraction and a symbol of the city. The first thing to see in KL. The observation deck is payable. Read more Discounted admission tickets
Kuala Lumpur Central Park. A nice place for a stroll. Located on the back side of the Petronas Towers. Walk in the shade of the trees and admire the towers from different angles. Admission is free. Read more
In the evening, it is worth watching the show of the singing fountains near the Petronas Towers. The fountains turn on around 8 p.m. as soon as it gets dark. Read more
An unusual museum dedicated to science and technology. You can touch everything, press buttons, experience it for yourself. Recommended for visits with children. The museum is located in the Petronas Towers. There is a charge for admission.
The large aquarium in KL is opposite the Petronas Towers from the park side. There is a fee to enter. It is not recommended to come on weekends. Buy a discount ticket
There used to be a TV tower. Now a whole amusement park. Aquarium, upside down house, restaurant. The observation deck at the Menara Tower is cheaper than the Petronas.
Masjid Jamek metro station area
Masjid Jamek – several attractions are nearby at once. There is an ancient mosque waiting for you right next to the subway. Go around it on the right side and take the glass bridge to Merdeka Square.
Independence Square and Sultan Abdul Samad building. At the back side of the building is a cozy little park with benches. A must visit! Learn more at
Take a picture with the "I Love Kuala Lumpur" sign. It's at the end of Merdeka Square near the Kuala Lumpur City Gallery. Photo for free.
The confluence of the two rivers Klang and Gombak. Towards evening they blow steam over the river and turn on the colorful fountains. Located near Merdeka Square.
The area near Pasar Seni metro
The oldest market in KL, works on this site since 1888. Nowadays it sells mostly souvenirs. Read more
Chinatown and the famous Petaling Street Market. Petaling Street is known as the best place to buy fakes. Otherwise, it's just an ordinary market. Messy, noisy, and crowded. Read more
Beautiful train station building with turrets and carved windows. The station is visible from the metro between the KL Sentral and Pasar Seni stations.
Negara Mosque or National Mosque, built in 1965. Kuala Lumpur's main religious attraction.
Muzium Negara is a museum for exploring the history of Kuala Lumpur. Open from 9 to 18 daily. Admission is chargeable.
KL Sentral Metro Station area.
Kuala Lumpur Bird Park (KL Bird Park) is the biggest bird park in Asia. Recommended to visit if you have never been to a bird park. There is a fee to enter. You can buy tickets online at a discount (price includes transfer from the hotel)
Perdana Park is a large and well-maintained park in the center of Kuala. We advise to walk here after the bird park. Bright tropical nature. You can see the varanas. There are always few people. Admission is free. Learn more at
Orchid & Hibiscus Gardens is located on a hill in Perdana Park. The place looks semi-abandoned, although the flowers are cared for. Not necessary to visit if you are not a fan of flowers.
Taman Rusa is in Perdana Park. It used to be better when you could feed a deer from your hand. Now you can only see deer from afar. It's free and not required viewing.
Great place to walk among the big butterflies, some even land on you. A bonus is the tropical insect museum. Interesting for both adults and children. Read more
Indian Street or Little India in KL is an interesting place to walk. Lots of Indian stores and restaurants. Read more
Bukit Bintang Metro Station area
The Alor Street Food Night Market will appeal to Asian food lovers.
Other Locations
The Batu Caves Temple and Caves is a popular sight and highly recommended by all travel guides. The impressions are spoiled by the crowds of Indian tourists and monkeys.
Национальный зоопарк Малайзии находится на окраине города и интересен тем, что можно увидеть панду. Работает каждый день с 9 до 16.30. Вход 80 рингит взрослые, 40 дети (20$<![CDATA[0$).
One of the best water parks in Malaysia and an amusement park with a zoo. At the water park is a hotel Sunway Resort & Spa 5 * Discounted admission
A non-touristy place in Kuala Lumpur. Titiwangsa Park is not in the center, so only locals walk here. If you have enough time in KL, you can visit. It is an interesting experience. Admission is free. Read more
Sightseeing near Kuala Lumpur
Interesting places near KL and in neighboring cities that you can get to on your own in a couple or three hours.
The city without people is the name of the administrative capital of Malaysia. The city was built from scratch a few years ago. We recommend you to visit it. Read more
A French village in the mountains. Another Asia in Malaysia. You can go for a day trip or stay in a hotel. Read more
Fraser's Hill is another mountain resort. It is a small town with European lodges. You can go trekking through the woods to a waterfall.
I City Park in Shah Alam is also called the "city of lights." A water park, amusement park, shopping malls, and the biggest mosque in KL. Read more
Firefly River is located in the city of Kuala Selangor. All travel guides recommend it. If you have seen fireflies in your life, it is definitely not worth going here on purpose. Learn more You can book a tour here
It is a cozy town with old houses and museums. It is a cultural capital of Malaysia. It is situated in 2 hours from KL. Read more
High mountain resort town 3 hours from KL. Interesting for its tea plantations. It makes sense to go with an overnight trip. Read more
The largest national park in Malaysia and the oldest tropical forest. It is located in Kuala Tahan city 3 hours from KL. Read more
Now you know about the major attractions of Kuala Lumpur. With this list, questions of "what to see in Kuala Lumpur" immediately fall away. 35 locations enough for a week of active travel in and around the city. And that's just the most interesting places. The list of attractions does not include dozens of museums, exhibitions, shopping malls, nightclubs.
Which of these places are the most interesting? If there is very little time and you need to see the most important things, where to go first? What to see in KL in 1 day? The minimum program is:
The Petronas Towers and the park with fountains near them.
See and take pictures of the Menard Tower, at least from a distance.
Merdeka Square and Masid Jamek Mosque
Take the subway without a driver.
All this can be seen in a few hours in Malaysia's capital city. Thus you can get a minimum impression of the city and the country. I would also add that if there is not much time, you do not want to waste it on Batu Caves and fireflies.