Heart-shaped islands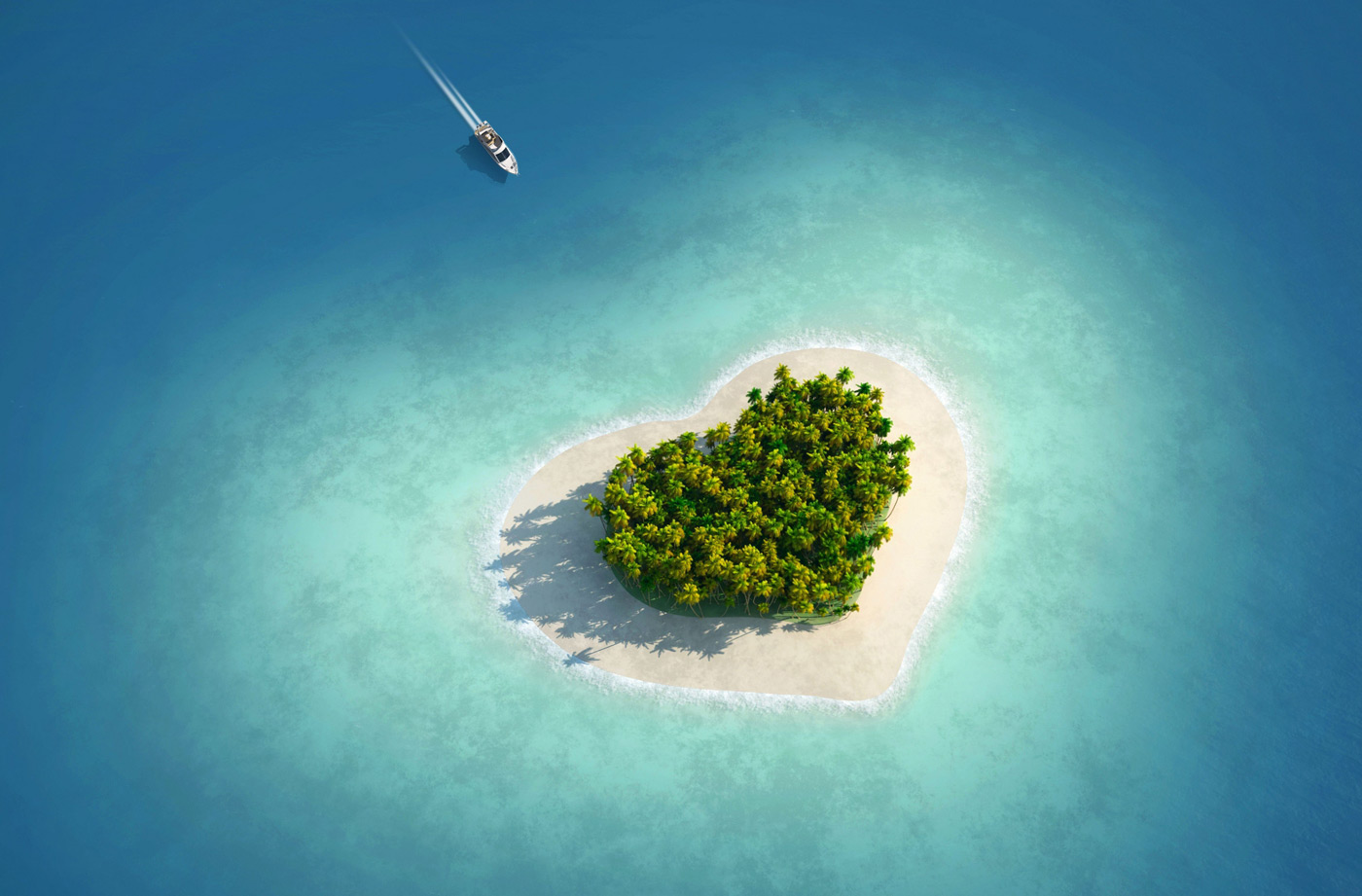 On our Earth there is an innumerable number of places that are considered the abode of love and beauty, whether they are created by Mother Nature, or the fruits of art and human hands in general. Usually they are either places stunning with magnificent panoramas, or historical sites shrouded in the mystique of love.
But the world regularly surprises us with new discoveries, surprising and unique. There are amazing islands scattered all over the world's oceans, which, when looked at from a certain angle, reveal strange and unexpected things about them. We present to you the extraordinary heart-shaped islands that nature has created.
Makepeace Island in Australia
Meikpis Island
Let's start with a dream island in far away Australia in Queensland. Do you know who its owner is? None other than Sir Richard Branson. A famous English entrepreneur, the head of a large corporation, the Virgin Group. The name of this "hearty" island is Makepeace.
This is where Branson's home is located, the ideal place to relax in peace and tranquility… This is truly an island paradise with diverse flora and fauna. From a private jetty and barge for secluded dinners to tennis courts and an outdoor movie theater, it has all the amenities for a luxurious vacation.
Galašnjak Island in Croatia
Galašnjak Island
And this is the kind of uninhabited dream island located in the Adriatic Sea in Croatia. It has been noticed not so long ago, the Internet users nicknamed it "the Island of lovers. The "heart" island is called Galeshniak. And of course, it also has an owner – Vlado Dzhuresko, who until the last guessed about the uniqueness of his island.
Thanks to its shape, the island is not so deserted and couples who get here, it is increasingly difficult to stay in seclusion. We must add that there is no tourist infrastructure on the island. But does that matter to lovers?
The Great Barrier Reef in Australia
The Great Barrier Reef
Back to Australia! Dream islands dominate this very continent. Look at this coral island. As if an unknown sculptor lovingly carved its outline … Of course, all the beauty of the Great Barrier Reef with the islands can only be seen from a bird's eye view. That's why lovers have long been buying in Queensland agencies hydroplane rides, so that flying over the coral island, without irony to say: "I give you a heart".
Tavarua Island in the Pacific
Tavarua Island
Tavarua Island in the Pacific Ocean belongs to the Fiji group of islands. "Heart" island belongs to one John Roseman, but anyone with a boat, boat or yacht can get here and enjoy a beautiful, heavenly vacation. Surfing enthusiasts flock here for the annual competitions. It is the island of Tavarua is very popular among couples in love.
Peninsula on Lake Vallchene
Peninsula on Lake Vallchene
And here's a green peninsula – the heart of the Bavarian Alps, in Germany on Lake Walchen.
Island on Waza Barris in Brazil
An island on Waza-Barris
This is the kind of miracle heart island found in the delta of the Waza Barris River, Brazil. Mangrove forests densely populate this romantic island.
Island on Lake Gutierrez in Patagonia
Island on Lake Gutiérrez
And to conclude our romantic voyage, a heart-shaped island on Lake Gutiérrez in Patagonia, Argentina. A very beautiful green island, best viewed from the east side of the lake.
And no wonder that such "hearts" have become a traditional pilgrimage destination for lovers from all over the globe! The shape alone, due to its symbolism, becomes a source of romantic atmosphere that envelops all visitors to this region.
All this confirms the fact that nature itself is in every way accompanies the union of hearts, often unbeknownst to the lovers.
Twelve islands of the most unusual shape
Do you have a habit of looking at clouds or shadows, or even cookie crumbs and guess familiar images in them? You can do the same with islands all over the world. If you look from different angles, you'll find that they resemble a seahorse, a helicopter, a heart, a turtle, and more.
We suggest flying over the islands, because it's usually when viewed from above that the bizarrely rugged coastline resembles something amazing. And no Photoshop!
Helicopter Island in the Philippines.
Photo: Left My Heart in Palawan
Dilumacad Island in El Nido, Palawan Province, attracts tourists because it looks like a helicopter without a propeller. It is covered with tall cliffs and dark green tropical forests. And the coastline is highlighted by a white sandy beach.
2. Turtle Island, Taiwan
Photo: Attractions in Taiwan
Guishan or Turtle Island is actually the only active volcano in Taiwan. It is also the largest and only inhabited island in the Yilan District. It is known not only for its turtle-like shape, but also serves as a great place for tourists who want to watch whales.
Heart-shaped island, Fiji
Photo: Jeff Divine
Tavarua is a heart-shaped resort near the main Fijian island of Viti Levu. It's a paradise for fans of surfing, sport fishing, diving, snorkeling, and kayaking. The island is surrounded by a coral reef.
4. Crocodile Island, Philippines
Photo: Philipines Travel Guide
The Philippines are known for their giant crocodiles and there is also an island that looks like this extraordinary animal. Crocodile Island is one of the best places for diving near the white sand beach and it is only 20 minutes, if sailing, from the beautiful Philippine island of Boracay.
5. Seahorse-shaped island, Galapagos, Ecuador
Photo: Earth Observatory
Isabella Island with an area of 4640 square meters is considered the largest island in the Galapagos Archipelago. It is younger than the other islands, it was formed 1 000 000 years ago by the merger of six active volcanoes. Isabella Island is inhabited by wild turtles. They are more abundant here than on the other Galapagos islands.
6. Smile-shaped group of islands, Malaysia
Photo: Wikipedia
Taking off from the Malaysian city of Kota Kinabalu, a bird's-eye view of the welcoming smile formed by the islands of Manukan, Mamutik and Sulug. When you see the smiley face, you know you're over the islands, known for their gorgeous beaches and coral reefs. They are especially popular with snorkelers. These are three of the five islands that make up the Abdul Rahman National Park. They are located at a distance of 3 to 8 kilometers from the city of Kota Kinabalu.
7. Crescent-shaped island, Hawaii, USA
Photo: National Geographic
Molokini is a crescent-shaped volcanic crater, partially submerged under water. It forms a small island located in the Alalakeiki Strait between the islands of Maui and Kahoolawe. Molokini is a marine sanctuary with a beautiful coral reef and marine life, over 200 species of fish and rarely visited whale sharks. Along the steep slopes surrounding Molokini, more than 50 species of plants grow and many species of seabirds roost.
8. Penis Island, Fiji
Photo: Mavuva Island
Yes, you read that right. The phallus-shaped tropical island of Mavuva exists in reality, and is located in a popular resort paradise. It lies off the north coast of Vanua Levu, the second largest island in the Fiji archipelago. Mavuva is surrounded by a coral lagoon inhabited by a variety of marine life and lies entirely within the world's third largest barrier reef.
9. Boomerang Island, Spratly Islands Group
Photo: Storm Crypt
This boomerang-shaped piece of land belongs to the Spratly Islands Group. They include over 750 coral reefs, islets, atolls, shoals, and islands in the South China Sea off the coast of the Philippines, Malaysia, and southern Vietnam. The boomerang-shaped island and others from the Spratly group are contested by several neighboring countries because these lands are interesting not only for their shape but also for their gas and oil deposits.
10. An island in the shape of a fish, Croatia
Photo: dasovicsalguero
Going on vacation in Croatia, do not miss the chance to admire the beautiful Brijuni Islands (Briuny). This is a group of fourteen small islands in the northern Adriatic Sea. The archipelago is known to be home to important archaeological and cultural monuments of world significance. For example, on one of the islands discovered 200 dinosaur footprints. And the island of Gas attracts the attention of tourists in the form of cute fish.
11. dolphin-shaped island, Italy
Photo: Pinterest
This is the dolphin-shaped island of the Li Galli archipelago, located off the coast of Amalfi in Southern Italy, between Capri and Positano. Li Galli is also called the Sirenuse Islands in honor of the sirens from Greek mythology who were here to seduce Ulysses on his way home with their magical singing. Now the island is filled with resorts and hotels. It is an ideal place for snorkeling.
12. pizza island, Portugal
Photo: Metro News
When viewed from above from a certain angle, the little paradise known as Vila Franca do Campo Island actually resembles a good slice of pizza with a huge pepperoni in the middle. On the island you can see the crater of a submerged volcano and an almost perfectly round lake in the center, communicating with the sea through a narrow channel. Vila Franca do Campo lies just off the coast of São Miguel Island.