World domination: 12 most popular rice dishes from around the world
Italians grow rice in the Po River valley and delta. For risotto, you need hard, starchy varieties like "arborio" or "carnaroli" (more on risotto – Assimilation "indus" ).
2. Paella
A traditional Valencian dish. Quickly fried rice stewed with different ingredients: fish, seafood, chicken, rabbit. Bomba" type of rice is recommended, because it absorbs moisture and becomes larger when stewed.
3. Jambalaya
USA, New Orleans
Creole dish resembling paella. White long-grain rice is stewed with vegetables, meat, and a Caribbean spice seasoning. Alligator, nutria, and turtle meat can be used as additions.
4. Spanish Rice
Rice is fried with onions, garlic and jalapeño peppers and stewed in chicken broth and tomato sauce. Rice was introduced to Mexico in the 16th century; the most popular rice here is white long-grain rice.
5. Koshari
Cooked rice which is layered with pasta, chickpeas, and roasted vegetables. A very filling and easy-to-make dish. Egypt is the 15th largest rice producer, and prefers Asian rice varieties to African red rice.
6. Jollof
Stewed rice, pre-fried with vegetables and spices. Serve with chicken or fish. Popular in West African countries. Traditionally local African rice from the Niger River Basin was used to prepare this dish, but in the last 20 years Asian varieties have been grown here.
7. Plov
Central Asia, Middle East
Depending on the region, there are two types of rice for pilaf, either cooked separately or cooked with roasted meat and vegetables. The first type is common in Iran, Turkey and Azerbaijan. The second type is typical for Uzbekistan, Tajikistan, Kazakhstan (more details about Uzbek pilaf here).
8. Idli
Steamed rice cakes are served for breakfast with chutneys, traditional vegetable or fruit sauces. According to statistics from the International Rice Research Institute, most Indians prefer long-grain white basmati rice.
9. Rice noodles
Cooked with rice flour and water in several variations: thin and wide, fresh and dried. Some types of noodles do not require long boiling: they are simply poured over with boiling water for a short time before consumption. Noodles are a universal base, and any sauces, meat, fish and vegetables go with them.
10. Banh Kyung
Cold rice cake is a traditional New Year's Eve dish. It takes a couple of days to prepare and involves several steps of 8-10 hours each. The finished rice and pork are wrapped in a banana leaf. Banh Tyung is made of white long-grain rice.
11. Rice pudding
Raw rice mixed with milk, cream, sugar and spices is baked in oven at low temperature for several hours. The pudding is made with round, starchy rice similar to what is used in Italy for risotto.
12. moti – rice cakes
To prepare them, glutinous rice is steamed, kneaded with a wooden pestle, and the resulting mass is shaped into round or square tortillas. The Japanese prefer to use short-grain rice, especially the moist, soft rice from the new harvest, Simmai, which does not require much water to boil.
Photo: Shutterstock (x11), Food And Drink Photos / Legion-Media
Material published in Around the World magazine #10, October 2015
Network publication "Site VokrugSveta.ru" Certificate of registration of the media EL №ФС 77-83686, issued by the Federal Service for Supervision of Communications, Information Technology and Mass Communications (Roskomnadzor) on July 26, 2022.
Founder of the online edition: Limited Liability Company "Shkulev Media Holding
The editor-in-chief: T.S. Menshchikova.
Copyright (with) Ltd. "Shkulev Media Holding, 2022
No part of this site may be reproduced without permission.
Contact information of editorial office for state bodies (including Roskomnadzor):
E-mail: digital_vokrugsveta@hspub.ru Phone: +7(495) 633-56-33 Fax: +7(495) 633-57-57.
Rice dishes: 20 delicious and easy recipes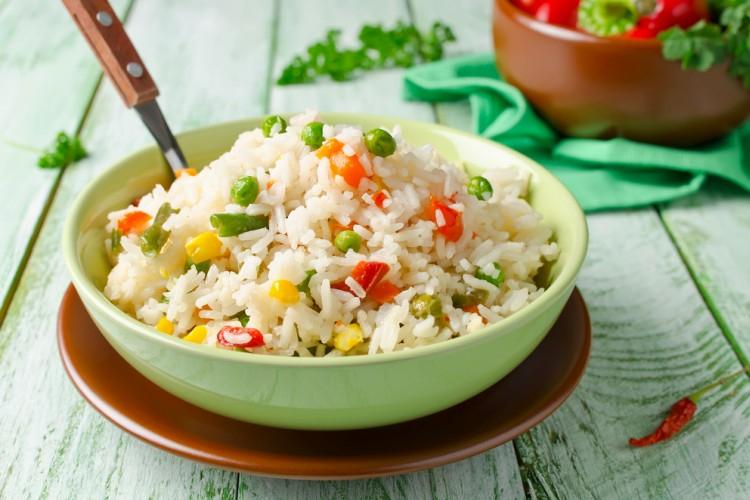 Photo: samarkand-city.ru
Plain boiled rice – it is, of course, good and useful. But even the most favorite side dish over time gets bored, and we want something new. Here are 20 simple and delicious recipes of rice dishes. Especially for you, we found everything from soups to desserts!
1. Rice and Zucchini Casserole
If you care about the figure – this recipe is for you.
You will need: 100 g rice, 1 onion, 1 zucchini, 3 eggs, 3/4 cup grated cheese, 2 tsp olive oil.
Preparation: Boil the rice, fry the onion and grate the zucchini and cheese. Mix all the ingredients, just leave some cheese. Season the mixture, put it in an oiled dish, pour the rest of the cheese on top and bake for 35 minutes at 180 degrees.
2. Rice with Chinese Egg
A great rice dish for breakfast or dinner!
You will need: 150g rice, 3 eggs, 2 garlic cloves, green onions, 2tbsp vegetable oil, 125g peas, 1tbsp soy sauce, salt.
Cook: Cook rice until almost cooked, then drain. Whisk the eggs in a saucepan, and lightly heat on the stove. Heat oil, add minced garlic, onion and peas, fry quickly, then add the rice, eggs, soy sauce and spices. Fry a couple more minutes until cooked through.
3. Squid stuffed with rice.
A very tender, beautiful and healthy dish for family dinner.
You will need: 800 g squid, 250 g rice, 3 onions, 5 tomatoes, 1 head of garlic, olive oil, 0.5 tsp. sugar, salt, pepper, chili flakes, spices.
Preparation: Peel and chop the tomatoes and garlic, add 1 chopped onion and sauté everything with 3 tbsp of olive oil until the sauce thickens slightly. Chop 200 g of calamari, mix them with spices, cooked rice, fried onions and spices.
Fry the stuffing and stuff it on the raw calamari. Secure with toothpicks, fry them on all sides, put them in a baking dish and pour the tomato sauce over them. Put the calamari in the oven for 15 minutes at 190 degrees.
4. Airy Caramel Rice.
Think you can only buy airy rice at the store? You don't!
You will need: 300 ml water, 150 g rice, 1 cup vegetable oil, 100 g sugar, 100 g marshmallows, a pinch of salt.
Preparation: Boil the rice in water until tender, put it in a thin layer on a baking tray and put it in the oven at 80 degrees for 2 hours. Heat the oil in a frying pan and fry the rice in small batches. Heat 50 ml of oil separately, melt the sugar and the crushed marshmallows until smooth. Stir the caramel into the rice, pour it into a mould and chill.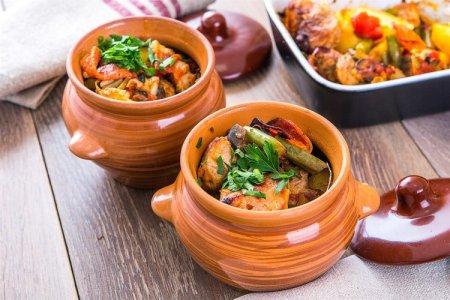 Pot dishes: 20 quick and delicious recipes
5. Cottage cheese snack with rice and honey
An unusual rice dish that can be substituted for candy and even dipped in chocolate icing.
You will need: 280 ml of milk, 100 g of rice, 100 g of cottage cheese, 2 tbsp of honey, 30 g of cocoa, a pinch of salt.
Preparation: Rice is washed and boiled in milk until porridge, salt and beat in a blender with cottage cheese and honey. Put the mixture in the fridge for 2 hours, roll it into small balls and coat them in cocoa.
6. Vegetable Salad with Rice
A fresh and bright salad that is very easy to make.
You will need: 1 cup of rice, 2 carrots, 5 radishes, 5 cherry tomatoes, half a cup of peas, salad mix, half an onion, herbs, nuts, 2 tbsp. wine vinegar, 6 tbsp. olive oil, spices.
Preparation: Boil the rice and cool, and in the meantime, chop the vegetables and lightly boil the carrots and peas. Mix all the ingredients and dress the salad with oil, wine vinegar and spices. Sprinkle greens and nuts on top.
7. Mexican rice and beans.
Use more spices and chili pepper flakes for spice and zest.
You will need: 480 g rice, 1 tbsp olive oil, 1 onion, 10 g chilies, 300 ml broth, half a can of red beans, spices.
Preparation: Fry chopped onion, garlic and spices in olive oil, add dry rice and stir for 2 minutes. Pour in the broth and cook the rice until cooked. Let it simmer under a lid for 5-10 minutes, add the beans and season.
8. Pumpkin puree soup with rice
An unconventional but simple recipe for a bright seasonal dish with rice.
You will need: 500 g pumpkin, 1 potato, 1 onion, 4 tbsp rice, broth, spices and herbs.
Preparation: Coarsely chop the pumpkin, potatoes and onions, pour the broth and boil until soft. Purée the soup with a blender, bring it to the boil again, add the rice and leave it on a low heat under a lid for 40 minutes. At the end, add spices and herbs.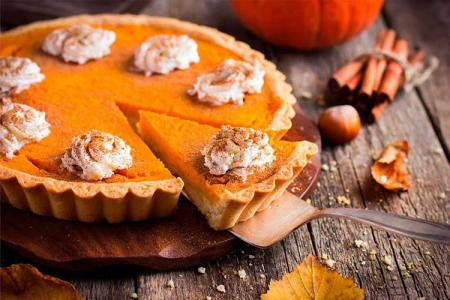 Pumpkin dishes: 20 best recipes
9. Rice Soup with Cheese and Greens
Rumor has it that this recipe came to us straight from Venice.
You will need: 5 cups of broth, 150 g of rice, 60 g of butter, 1 onion, 2 tbsp of chopped greens, 200 g of canned peas, 100 g of hard cheese, spices.
Preparation: Fry chopped onions in butter, season and add peas there for another 3 minutes. Pour them with broth, bring to a boil, add the rice and cook until tender. Before serving, add the greens and grated cheese to the plate.
10. Chicken and rice in the oven
Very simple and delicious dish, and you do not need to prepare a side dish separately.
You will need: 600 g chicken shanks, 600 ml water, 300 g rice, 1 tsp of adjika, 1 onion, 2 carrots, 4 cloves of garlic, spices.
Preparation: Rub the shanks with spices and adjika, and leave to soak, while you chop and roast the vegetables. Put the vegetables in a form, sprinkle with spices, put washed rice on top, pour water and put the chicken. Add the garlic on top, cover the form with foil and send it to the oven for 1 hour at 180 degrees.
11: Rice-Cottage Casserole
When serving, garnish it with coconut shavings, grated chocolate or jam.
You will need: 300 g rice, 200 g cottage cheese, 3 eggs, 2 tbsp sour cream, 40 g raisins, 2 tbsp sugar, a pinch of salt.
Preparation: Boil the rice and mix it with cottage cheese, raisins, sugar, salt, 2 eggs and 1 tbsp. sour cream. Whisk the remaining egg and sour cream separately. Pour the mixture into a greased mold and pour the filling on top. Bake for half an hour at 180 degrees.
12. Sweet rice with shrimp and arugula
Another unusual Asian rice dish recipe that is sure to diversify your diet.
You will need: 500 g shrimp, 500 g rice, 100 ml rice vinegar, 100 g arugula, 50 g sugar, 50 ml sesame oil, 12 garlic cloves, 3 tbsp fish sauce, 2 lemons, cilantro.
Preparation: Fry garlic in sesame oil in a frying pan, add fish sauce, vinegar, sugar and shrimp, and simmer until boiling. Add chopped coriander, arugula and almost cooked rice, stir and leave under a lid for 3 minutes.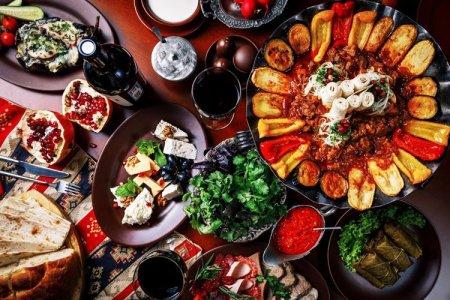 Armenian dishes: 20 tastiest Armenian recipes
13. Liver Casserole with Rice.
Almost a complete liver cake for the family!
You will need: 700 g liver, half a cup of rice, 2 eggs, 1 tsp soda, 2 onions, 1 tbsp vegetable oil, spices.
Preparation: Rinse and peel the liver, and chop it in a blender. Chop the onion and fry it for a while, boil the rice. Beat the eggs and combine all the ingredients into a liver dough, add spices and baking soda to it. Pour the mixture into an oiled mold and bake for 40 minutes at 200 degrees.
14. Stuffed zucchini with rice and meat
To make the dish juicier and more tender, use pork mince, and for a more dietary version – chicken.
You will need: 2 zucchini, 300 g minced meat, 300 g tomatoes, 100 g carrots, half an onion, 100 g cheese, 80 g rice, spices and herbs.
Preparation: Boil the rice until half cooked, grate the carrots, chop the onions and cut the tomatoes into thin slices. Roast the carrots and add them to the filling along with the rice and spices.
Cut zucchini in half and remove the middle, and put minced meat in the boats. Top with tomatoes, grated cheese and put in a baking dish. Pour 100 ml water in there, cover with foil and bake for about an hour at 180 degrees.
15. Quick rolls with rice and pickles
This is a peculiar variation of the Moldavian waresare patties.
You will need: 2 cups of flour, 0,5 cup of vegetable oil, 0,5 cup of brine, 450 g of pickles, 70 g of rice, 1 onion.
Preparation: Make dough from flour, brine and oil and leave it under a towel for half an hour. Grate cucumbers and squeeze out the brine, then fry them with chopped onions and add boiled rice. Divide the dough into 12 pieces, roll out thinly, spread the filling and wrap tightly. Send the patties to the oven for half an hour at 180 degrees.
16. Rice Pudding
This soft and delicate dessert has a subtle flavor thanks to the lemon zest.
You will need: 150 g of rice, 100 g of sugar, 1 liter of milk, 20 g of butter, 3 eggs, 1 lemon.
Preparation: Boil the milk, add the sugar, zest and rice, and simmer for 5 minutes, stirring constantly. For about an hour, send the mixture to the oven at 80 degrees. Cool the rice base, mix with the yolks and then with the whipped whites. Grease the molds with butter, spread the pudding on them and put in the oven for another 10 minutes.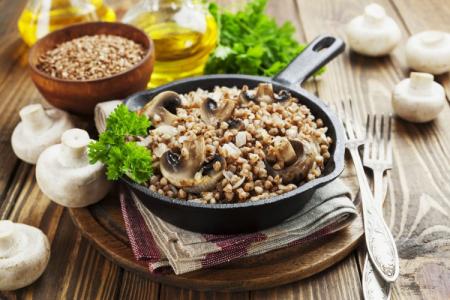 Buckwheat dishes: 20 quick and delicious recipes
17. Rice with tomatoes and feta
Pasta and cheese won't surprise anyone, but what about rice?
You will need: 340 g rice, cherry tomatoes, 230 g feta, 170 ml olive oil, spices.
Preparation: Boil the rice and let it cool. Cut the cherry tomatoes in halves or quarters, crush the feta and mix all the ingredients together. Season with olive oil and spices and leave to rest for at least 10 minutes.
18. A hearty rice soup with bacon
Light vegetable soups are most often made with rice. But we found a recipe for a heartier dish!
You will need: 2 carrots, 2 onions, 3 potatoes, half a cup of rice, 150 g bacon, half a bunch of herbs, spices, 1.5-2 liters of water.
Preparation: Separately fry chopped onion and grated carrots, and put it into a pot with boiling water. Add rice and diced potatoes to the pot and cook for 15 minutes. At the end, add fried shredded bacon and herbs.
19. Simple fish cake with rice
It doesn't take much time or effort to make a fish pie.
You will need: 180 g flour, 250 g sour cream, 50 ml vegetable oil, 7 eggs, 1 tsp mustard, salt and baking powder, 1 cup rice, 400 g canned fish, a bunch of green onions, spices.
Preparation: Boil 3 eggs and cut into cubes, boil the rice, chop the green onions and mash the fish, then mix everything together and season. Make a liquid batter from the rest of the ingredients and pour half of it into a mold. Place the filling, fill with the rest of the batter and bake for 40 minutes at 180 degrees.
20. Rice salad with smoked chicken and strawberries
Want to surprise your guests at the holiday table? Surprise them!
You will need: 1 smoked chicken breast, 150 g rice, 250 g strawberries, 2 cucumbers, basil, herbs, 2 tbsp balsamic, 5 tbsp olive oil, spices.
Preparation: Boil the rice until cooked and rinse with cold water. Cut cucumbers and strawberries into equal slices, season, drizzle with balsamic and mix. Add chopped chicken, herbs, rice, basil and olive oil.