Kuala Lumpur Sights – 35 Places to See
July 2018 (updated: 17.03.2022) 3
What to see in Kuala Lumpur? What are the sights of Kuala Lumpur to visit on your own? The sights of the capital of Malaysia can be divided into those in the city and in the surrounding area. The article tells about the most interesting places in KL with markings on the map.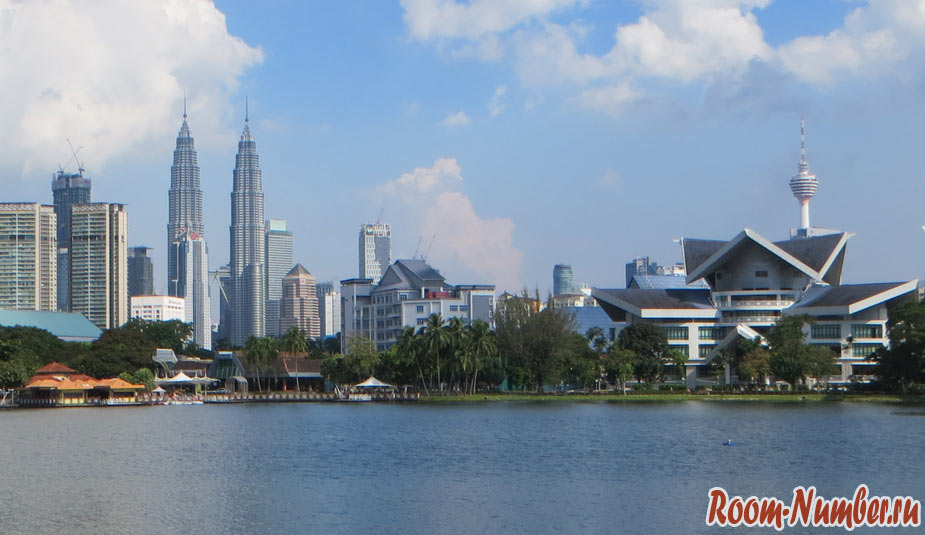 Kuala Lumpur and its attractions
Everything most interesting in Kuala Lumpur is located in the city center. All the main attractions are easily accessible by public transport. We recommend safely using the metro or the Grab taxi app to get around the city. For a stopover, choose hotels in the center with good reviews and a rating of at least 8.
City Center. KLCC Metro
The Petronas Twin Towers is Kuala Lumpur's main attraction and a symbol of the city. The first thing to see in KL. The observation deck is payable. Read more Discounted admission tickets
Kuala Lumpur Central Park. A nice place for a stroll. Located on the back side of the Petronas Towers. Walk in the shade of the trees and admire the towers from different angles. Admission is free. Read more
In the evening, it is worth watching the show of the singing fountains near the Petronas Towers. The fountains turn on around 8 p.m. as soon as it gets dark. Read more
An unusual museum dedicated to science and technology. You can touch everything, press buttons, experience it for yourself. Recommended for visits with children. The museum is located in the Petronas Towers. There is a charge for admission.
The large aquarium in KL is opposite the Petronas Towers from the park side. There is a fee to enter. It is not recommended to come on weekends. Buy a discount ticket
There used to be a TV tower. Now a whole amusement park. Aquarium, upside down house, restaurant. The observation deck at the Menara Tower is cheaper than the Petronas.
Masjid Jamek metro station area
Masjid Jamek – several attractions are nearby at once. There is an ancient mosque waiting for you right next to the subway. Go around it on the right side and take the glass bridge to Merdeka Square.
Independence Square and Sultan Abdul Samad building. At the back side of the building is a cozy little park with benches. A must visit! Learn more at
Take a picture with the "I Love Kuala Lumpur" sign. It's at the end of Merdeka Square near the Kuala Lumpur City Gallery. Photo for free.
The confluence of the two rivers Klang and Gombak. Towards evening they blow steam over the river and turn on the colorful fountains. Located near Merdeka Square.
The area near Pasar Seni metro
The oldest market in KL, works on this site since 1888. Nowadays it sells mostly souvenirs. Read more
Chinatown and the famous Petaling Street Market. Petaling Street is known as the best place to buy fakes. Otherwise, it's just an average market. Messy, noisy, and crowded. Read more
Beautiful train station building with turrets and carved windows. The station is visible from the metro between the KL Sentral and Pasar Seni stations.
Negara Mosque or National Mosque, built in 1965. Kuala Lumpur's main religious attraction.
Muzium Negara is a museum for exploring the history of Kuala Lumpur. Open from 9 to 18 daily. Admission is chargeable.
KL Sentral metro station area
Kuala Lumpur Bird Park (KL Bird Park) is the largest bird park in Asia. Recommended to visit if you have never been to a bird park. There is a fee to enter. You can buy tickets online at a discount (price includes transfer from the hotel)
Perdana Park is a large and well maintained park in the center of Kuala. We advise to walk here after the bird park. Bright tropical nature. You can see the varanas. There are always few people. Admission is free. Learn more at
Orchid & Hibiscus Gardens is located on a hill in Perdana Park. The place looks semi-abandoned, although the flowers are cared for. Not necessary to visit if you are not a fan of flowers.
Taman Rusa is in Perdana Park. It used to be better when you could feed a deer from your hand. Now you can only see deer from afar. It's free and not required viewing.
Great place to walk among the big butterflies, some even land on you. A bonus is the tropical insect museum. Interesting for both adults and children. Read more
Indian Street or Little India in KL is an interesting place to walk. Lots of Indian stores and restaurants. Read more
Bukit Bintang Metro Station area
The Alor Street Food Night Market will appeal to Asian food lovers.
Other Locations
The Batu Caves Temple and Caves is a popular sight and highly recommended by all travel guides. The impressions are spoiled by the crowds of Indian tourists and monkeys.
Национальный зоопарк Малайзии находится на окраине города и интересен тем, что можно увидеть панду. Работает каждый день с 9 до 16.30. Вход 80 рингит взрослые, 40 дети (20$<![CDATA[0$).
One of the best water parks in Malaysia and amusement park with a zoo. At the water park is a hotel Sunway Resort & Spa 5 * Discounted admission
A non-touristy place in Kuala Lumpur. Titiwangsa Park is not in the center, so only locals walk here. If you have enough time in KL, you can visit. It is an interesting experience. Admission is free. Read more
Sightseeing near Kuala Lumpur
Interesting places near KL and in neighboring cities that you can get to on your own in a couple or three hours.
The city without people is the name of the administrative capital of Malaysia. The city was built from scratch a few years ago. We recommend you to visit it. Read more
A French village in the mountains. Another Asia in Malaysia. You can go for a day trip or stay in a hotel. Read more
Fraser's Hill is another mountain resort. It is a small town with European lodges. You can go trekking through the woods to a waterfall.
I City Park in Shah Alam is also called the "city of lights." A water park, amusement park, shopping malls, and the biggest mosque in KL. Read more
Firefly River is located in the city of Kuala Selangor. All travel guides recommend it. If you have seen fireflies in your life, it is definitely not worth going here on purpose. Learn more You can book a tour here
It is a cozy town with old houses and museums. It is a cultural capital of Malaysia. It is situated in 2 hours from KL. Learn more at
High-mountain resort town about 3 hours from KL. Interesting for its tea plantations. It makes sense to go with an overnight trip. Read more
The largest national park in Malaysia and the oldest tropical forest. It is located in Kuala Tahan city 3 hours from KL. Read more
Now you know about the major attractions of Kuala Lumpur. With this list, questions of "what to see in Kuala Lumpur" immediately fall away. 35 locations enough for a week of active travel in and around the city. And that's just the most interesting places. The list of attractions does not include dozens of museums, exhibitions, shopping malls and nightclubs.
Which of these places is the most interesting? If time is short and you need to see the main things, where should you go first? What to see in KL in 1 day? The minimum program is:
Petronas Towers and the park with fountains near them.
See and take pictures of the Menard Tower, at least from a distance.
Merdeka Square and Masid Jamek Mosque
Take the subway without a driver.
All this can be seen in a few hours in Malaysia's capital city. Thus you can get a minimum impression of the city and the country. I would also add that if you don't have much time, you don't want to waste it on Batu Caves and fireflies.
Top 24 attractions in Kuala Lumpur
Kuala Lumpur is the capital of Malaysia, so the city has plenty of activities and attractions for tourists. The sights of Kuala Lumpur will be of interest to every tourist because of its wide selection.
The capital of Malaysia and its suburbs are home to 7 million people. The city is located at the confluence of the Klang and Gombak Rivers. The city's name means "muddy river mouth". In Malaysia, a mixture of Malay, Chinese and Indian cultures, which makes the city very colorful and attractive to tourists.
And also this country is beautiful with its attractions, which impress tourists the most. In Kuala Lumpur, a beautiful and unique nature, which amazes scientists and botanists from all over the world.
The fauna is not behind. In Malaysia, there are many animals, which can hardly be found in other foreign countries.
Petronas Towers
The twin towers, built in 1998, are the symbol of Kuala Lumpur. That is, the Petronas Towers are something like the Statue of Liberty. The tower plays a big role for the natives, without it it is difficult to imagine this country. Their height is 452 meters. On the 41st and 42nd floors, the skyscrapers are connected by a "sky bridge" which allows you to cross from one tower to another. In one of the towers is a shopping center where you can buy some souvenirs with the sign of the towers and take pictures in the photo booths. All in all, there are quite a lot of activities there.
Menara Kuala Lumpur
The Menara Kuala Lumpur TV Tower is one of the highest in the world, with a height of 421 meters. At the top is a revolving restaurant. The tower offers a beautiful view of the city, including the Petronas Towers.
This TV tower produces gorgeous photos that show the beauty of Malaysia.
Masjid Negara
The National Malaysian Mosque is the spiritual center of Kuala Lumpur. About 65% of Malaysian citizens practice Islam. The area of the mosque is more than 5 hectares and can accommodate 15,000 worshippers. While here, be sure to dress accordingly.
Tugu Negara National Monument
This 15 meter tall bronze monument commemorates the soldiers who fought for freedom in Malaysia. From here you can get a great view of the city.
Perdana Botanical Gardens
A chic botanical garden where you can see not only hibiscuses, the national flowers of Malaysia, but also orchids and many birds and butterflies. The Butterfly Park is home to 5,000 butterflies of different species.
The bird park is located in the Lake Gardens area. There are more than 3,000 birds of 200 different species. The birds are recreated in their natural habitat and fly slowly right over the heads of visitors.
Negara Planetarium
The National Planetarium of Kuala Lumpur is located in the Lake Gardens. Films about space are shown here every hour. Here visitors will see models of the solar system, made on a giant scale. It is also worth noting that the planetarium will appeal to tourists of all ages, from children to senior citizens.
Kuala Lumpur Oceanarium
The Kuala Lumpur Oceanarium is the largest oceanarium in Malaysia. On two floors there are areas where you can see sea turtles, stingrays, as well as smaller inhabitants of the sea depths. The 90-meter tunnel with sharks swimming over the heads of tourists is also impressive.
In general, this aquarium has a lot of advantages. For example, there are a lot of marine animals that are rarely seen in other environments.
Sultan Abdul Samad Palace
Built in the 19th century, this administrative building is a combination of several styles, which makes it majestic and attractive. It houses the Ministry of Information, Communication and Culture of Malaysia.
Chinatown
The main street of Chinatown is Petaling Street, where original handicrafts and all kinds of food are sold. In the Chinatown is the Hindu temple of Sri Mahamariamman, one of the most important monuments of Hinduism. The temple is richly decorated with gold, ceramic tiles and sculptures.
There is also a Buddhist temple, Shin Sae Si Ya, built in the second half of the 19th century. In general, there are many interesting sights in Chinatown, which are sure to interest the tourist. This can be ancient architecture (which is rarely found in other cities), national food, hotels with unique and themed designs.
Bangsar Market
The night market in Kuala Lumpur is the quintessential shopping experience. Souvenirs, magnets, fans, clothes and street food are all on sale until 4am.
This is only a small fraction of the goods that are sold at this market. Tourist can look at traditional items, buy souvenirs, in memory of Kuala Lumpur.
This market is also of interest because of its large size. It is quite interesting to walk around a large market and see traditional things, each of which has its own "twist", something different.
Tourists who like shopping will definitely enjoy such a large market, especially, Bangsar will like fashionistas.
The fact is that most of the merchandise is folk-inspired clothing. Some items are known to be sold only at Bangsar Market.
Bukit Bintang
The Bukit Bintang district is the main shopping area of Kuala Lumpur. It has a thriving nightlife. There are numerous shopping malls and Jalan Alor Street where there are food courts with Malaysian, Chinese, and Indian cuisines.
Batu Caves
The Batu Caves are located about 15 km from Kuala Lumpur. It is not far to go, you can be reached in about 20 minutes by tourist bus. The caves are Hindu temples. In front of the entrance is a golden statue of the deity Murugan, a height of 43 meters. There are more than 250 steps leading up to the main cave. When entering beware of monkeys stealing food and belongings.
Fun fact! If you pass all 250 steps for a certain time, all sins are redeemed. This legend is often told by tour guides.
And also there is another story, associated with the statue. According to the legend, if you make a wish at the statue, it will definitely come true. Therefore, you can often see tourists making a wish at the statue.
Malaysian Cuisine
Malaysian cuisine is multicultural, with Malay, Chinese, and Indian traditions. Roti chanai or "flying bread" is an Indian flatbread that is folded into a square and fried. It is most often served with curry sauce. Nasi lemak is the most popular breakfast dish. It is a handful of rice wrapped in banana leaves, with a hard-boiled egg and dried fish in a sauce.
Asam laksa soup is a national dish with a sour-sweet taste. As an appetizer, choose satay – marinated chicken on a skewer with peanut sauce. For dessert, try the bean ice – pounded ice with corn and red beans, topped with coconut milk and various sauces.
In Malaysia, people drink tea. Hot black tea with condensed milk or cold tea with ice and lemon juice is very popular. Coffee is drunk with sugar and the beans are roasted in palm oil margarine. Due to the fact that Malaysia is a Muslim country, there is a 100% tax on alcohol and beer and spirits are very expensive.
Museum of Numismatics
This is one of the most famous banks in the world. The exhibition is dedicated to collectible coins from Malaysia, some of them are single copies.
But despite the amazing collections, the museum is not famous for the coins. The fact that there is a statue, which attracts many tourists.
The Maybank Tower houses the museum, it is easy to see because of the unusual architecture that stands out among the other buildings.
Central Park
The park may well not be a landmark for some tourists, but Kuala Lumpur Central Park is worth mentioning.
There are jogging and sports tracks for morning exercise, amusement rides, small fountains, and more. Visitors will see the nature of the park highlighted by the fountains.
Tip. If a tourist comes with a pet, he can be taken to this park. A small path is built for walking with pets.
Aloy Street
This street used to have a bad reputation: burglars, peddlers fraudsters. But just recently, this street has been drastically changed, with new buildings built and old ones torn down. There is a small market here that sells souvenirs at low prices.
Butterfly Park
Butterflies are amazing insects that amaze you with their beauty. If you want something unusual and unique, tourists are offered a butterfly park. This entertainment is interestingly organized. In a large tropical garden, butterflies fly (that is, they are free, not in cages), and visitors can walk around this "greenhouse" and observe them.
"Hutong.
The best food court in Kuala Lumpur. The menu selects the best Malaysian dishes made by professional chefs.
Tourists are sure to love this option because the food court has no drawbacks. Low prices, large selection of dishes, fast cooking. What more could you want?
Fountain show
Many cities have an interesting entertainment – the Fountain Show. True, in Kuala Lumpur, the fountains have an unusual (and unique) appearance. Every day, at 8 pm, tourists come to the Petronas Towers to see this amazing spectacle!
A view of the "muddy mouth".
As you already know, the city was named after the confluence of the rivers, Gombak and Klang. Locals appreciate this attraction, so they built colorful fountains and a special device that blows steam nearby. It is best to come to this place in the evening when the lights are on. By the way, next to the "view of the muddy mouth" are markets that sell souvenirs with Kuala Lumpur. So if a tourist wants to buy things to remember, you can come to this place.
Merdeka Square
The square is important to the locals because it is a symbol of independence. Nearby, the Sultan Abdul Samar building is built, which has an unusual architecture. Tourists can walk along a small path and sit on benches.
Juma Mosque
Masjid Jamek is a place that has several attractions at once. For example, near the subway there is a mosque. And if you walk around the building on the right side and across the glass bridge, the tourist will come to the Merdeka Square.
It is very convenient that you can simultaneously visit several attractions and see the ancient architecture of the country.
Bird Park
There is not only a butterfly garden, but also a bird park. Interested in seeing species of tropical birds? Then this attraction will definitely interest the tourist.
Orchid Garden
A traveler likes nature and beautiful flowers? Why not go to the "Orchid Park" then? Orchids are beautiful flowers that are stunningly beautiful. The park has a wide variety of species that surprise the visitor in their own way.
The best time to vacation in Kuala Lumpur
The average temperature in Kuala Lumpur is 28 degrees C. There are two seasons: dry and rainy. The rainy season lasts from October to March, but that doesn't mean it rains all the time. You just have to stay in the hotel more often because it's raining. Therefore, it is better not to go in this season, most likely, most of the vacation will have to spend at the hotel, rather than on excursions.
The dry season is from April to September. Not to say that this season belongs to the good. Often tourists find the weather too hot, because the temperature is quite high. The best weather is in August and September. Therefore, professional tourists advise to go to Kuala Lumpur in autumn – it is the perfect season.
How to get from the airport to downtown Kuala Lumpur
The airport is about 70 km from the city. There are train and bus services from the airport to downtown Kuala Lumpur. The journey takes about 2 hours (sometimes less, depending on the bus you choose).
How to get around in Kuala Lumpur
Special purple tourist buses run around Kuala Lumpur, which refer to the main attractions. If a tourist went to Kuala Lumpur, he should try to ride this transport. And there are also subways, trains, and city buses. In general, the choice of transport is quite wide, so you can easily get to anywhere in Kuala Lumpur.
Where to Stay in Kuala Lumpur
A popular area to find hotels and hostels is Chinatown. Also, despite the good quality of accommodation, the prices are quite low. Here you can stay with your family, because the conditions are comfortable and convenient. Nearby are restaurants, shopping centers, a wide selection of hotels, travel agencies, etc.