Donna Bath: top 8 best hotel bathrooms
London's Savoy Hotel was the first hotel to offer its guests private bathrooms. It was back in 1889. In more than 120 years the hospitality industry has come a long way.
1. Atlantis the Palm, Dubai, UAE One of the world's most expensive and chic hotels spoils its guests with the Poseidon Underwater Suite, a three-level underwater suite with its own elevator that takes guests straight to the lobby. The whirlpool bath with panoramic windows allows you to take a bath with a view of the inhabitants of the sea depths: according to the hotel management, there are at least 65.000 of them!
2. "Hyatt on the Bund, Shanghai, China Standing on the Shanghai waterfront, the world-famous chain's hotel lures travelers with rooms overlooking the river. The view is particularly good from the bathroom. The room's panoramic windows open up the beauty of Shanghai to the traveler, but the suite is high enough that the opposite doesn't happen.
3. "Ponta dos Ganchos Resort," Governador Celso Ramos, Brazil The five-star hotel is on the oceanfront, within walking distance of the best beaches in sunny Brazil, but even this proximity to "big water" cannot deter guests from spending hours in the bathroom with panoramic windows and personal loungers to take other baths, this time, sunny.
4. "Six Senses Zighy Bay, Dibba, Oman A socially responsible hotel from Oman not only supports local schoolchildren, develops a recycling system and is a great advocate for the environment. Besides the preservation of nature, they are serious about preserving traditions and the appearance of the rooms provided for the guests is a direct proof of that. The bathroom is decorated simply and tastefully: a huge "golden" bowl framed by clay walls.
5. "Four Seasons Hotel Firenze, Florence, Italy A hotel in the symbol of the Renaissance decided to match the chosen style of Florence. The bathroom here is indeed a room: with dressing table, paintings and vases, banquettes, ornate chandelier lamps, and of course the mighty marble bowl of the bathtub.
6. "Hotel on Rivington, New York, USA For those who don't mind snacking on the Big Apple, the hotel suggests climbing higher to grab a bigger piece. Within walking distance of the Brooklyn Bridge and the Empire State Building, the Hotel on Rivington spoils the best views of New York's most cinematic sights in its bathroom windows.
7. "Alila Cha-Am, Cha-Am, Thailand The hotel offers its guests an escape from civilization. The shower jets come straight from the ceiling and a built-in audio system recreates the sounds of nature, particularly a tropical downpour.
8. "Sossusvlei Desert Lodge, Namib-Naukluft National Park, Namibia
The fourth-largest national park on the planet is home to a beautiful hotel that offers guests a rather creative approach to water treatment. Showers here are taken outside, surrounded by deserted sand dunes for miles to come, so there is no need to worry about privacy.
Recent articles
Looking for ways to diversify New Year's traditions with unusual locations
The answer, of course, is as simple as two cents – yes everywhere! But planning is not a bad thing, so our guide to interesting places in St. Petersburg will not be superfluous
5 best shelves for the bathroom
Shelf – a popular and useful element of bathroom decor. A variety of models, presented in stores, differ from each other in functionality and price. Let's talk about the best of them.
Do not forget to subscribe to our channel in Telegram.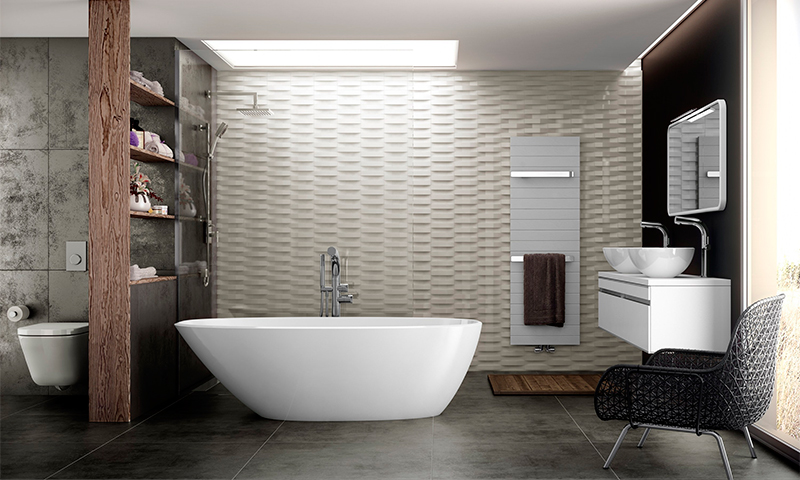 The best shelves for the bathroom
Stores sell floor-standing and hanging bathroom shelves. The former take up a lot of space and look good in spacious rooms. The latter rationally organize space and are suitable for small rooms.
Good furniture is resistant to humidity, the emergence of fungus and is easily cleaned from dirt. In addition, it plays an important aesthetic and functional role, allowing you to store the necessary things at hand and maintain order.
Metal three-tier shelf from the Turkish company Tekno-tel is resistant to corrosion and mechanical damage. Its surface does not bend, is not afraid of fungus, mold and quickly cleaned from water drips.
Reasons to buy:
The corner form doesn't take up much space;
matt surface;
capacity;
durability.
Tekno-tel is a three-tier stainless steel lattice structure designed for compact placement in the corner of the room. The bars with a diameter of about 4 mm form a stable surface, on which it is convenient to put toiletries and cosmetics.
For convenience, a rim is provided to prevent accidental dropping of bottles. Suspension design is suitable for mounting on the wall, shower partition, stall door. The grid lets the splashes through and the metal dries quickly.
The shelf made of stainless steel looks aesthetically pleasing and significantly exceeds the quality indicators of models made of other materials. It is not afraid of corrosion, so it will last for many years.
The set is made by an Italian company from Czech mirror cloth with a thickness of 4 mm. The modern model is not afraid of moisture and temperature fluctuations, so it is ideal for installation in a cramped bathroom.
Reasons to buy:
moisture-resistant surface;
reliable fastening;
environmentally friendly materials;
affordable price.
The large rectangular mirror is decorated with an elegant plastic frame in white or silver. Upper corners are neatly rounded and decorated with chrome inserts. The lower part has a shelf 10 cm deep for cosmetics and toiletries.
The mirror with the shelf adds an important touch to the interior, adds light and visually expands the space. The set is made in a concise manner, so it is easy to integrate into any size restroom. Taking care of such a design will also not be difficult.
The mirror is made on high-precision equipment and meets European quality standards. The product comes unassembled, packed in polyethylene and cardboard. All fasteners and instructions are included.
The IDEA shelf is a great choice for the bathroom, where you can't fit an oversized cupboard for towels and small items. The multi-level accessory is equipped with wheels for easy movement. The perforated shelves won't trap moisture, and the quality plastic won't warp.
Reasons to buy:
compact size;
reliable wheels;
food-grade plastic;
easy assembly.
Narrow plastic shelf rack offers three roomy sections. Perforated shelves prevent water splashes from accumulating and allow you to install additional hooks for washcloths and towels. High sides ensure the safety of your belongings.
Robust wheels move the model effortlessly in all directions. It is 18 cm wide and 60 cm high. The compact and handy bookcase is easy to assemble and take apart without taking up unnecessary space.
The high-quality plastic can be cleaned with plain water. We recommend removing difficult dirt with a standard non-abrasive cleaner.
Convenient hinged shelf is designed to hang towels and other personal hygiene items. The modern piece is equipped with numerous holders and hooks, allowing optimal use of bathroom space.
Reasons to buy:
functionality;
sturdy attachment;
impervious to moisture.
Rectangular shelf, made of brass, has good wear resistance and durability. Glossy silver surface is resistant to harmful microorganisms, corrosion and minor damage.
The model is equipped with a lattice plane for folding towels or toilet paper rolls, three double-sided hooks and a bottom tube. At the back are fasteners for quick and secure mounting on the wall.