20 facts about South Korea that you might not have known. For example, schools allow students to sleep in class, but not everyone

Bookmark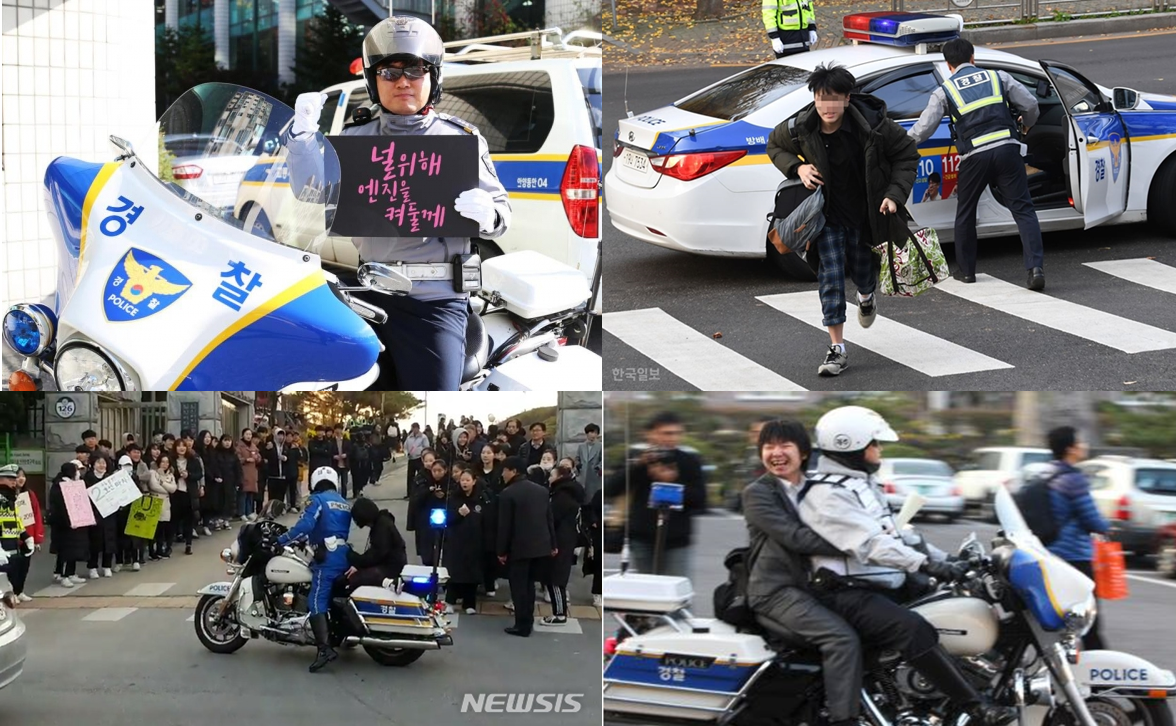 South Korea is a truly amazing country.
Until the late 1960s it was considered one of the poorest countries in the world. There was little running water, with 90% of the population using water from rivers and public wells.
Just a few years later, a period of rapid economic growth began, and citizens began to live much better, Western technology and customs migrated into the country and began to appear their own, which is unmatched in many countries even now.
Take a look at these unusual 20 facts and marvel with us.
1. The birth rate in Korea is low, which is why there are elderly people in schools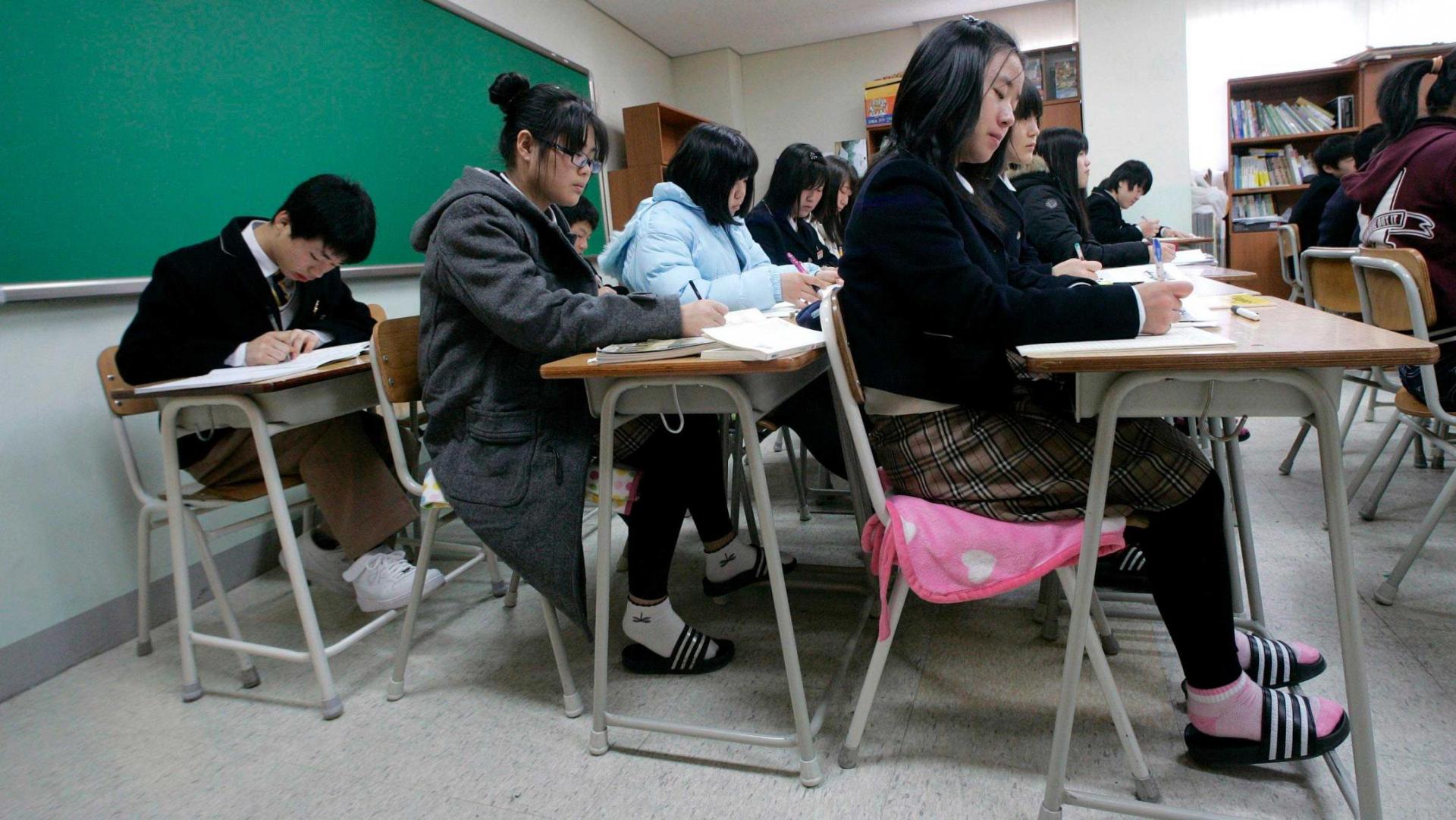 In South Korea, the birth rate has been declining in recent decades, and because of the shortage of students, many schools are facing a serious crisis. Daegu Elementary School in Ganjin County was among them, with a total of 90 students.
It was for this reason that the government approved a decision to allow elderly people who had missed school for various reasons during their childhood to attend schools with low enrollment.
2. The government sends food to people in quarantine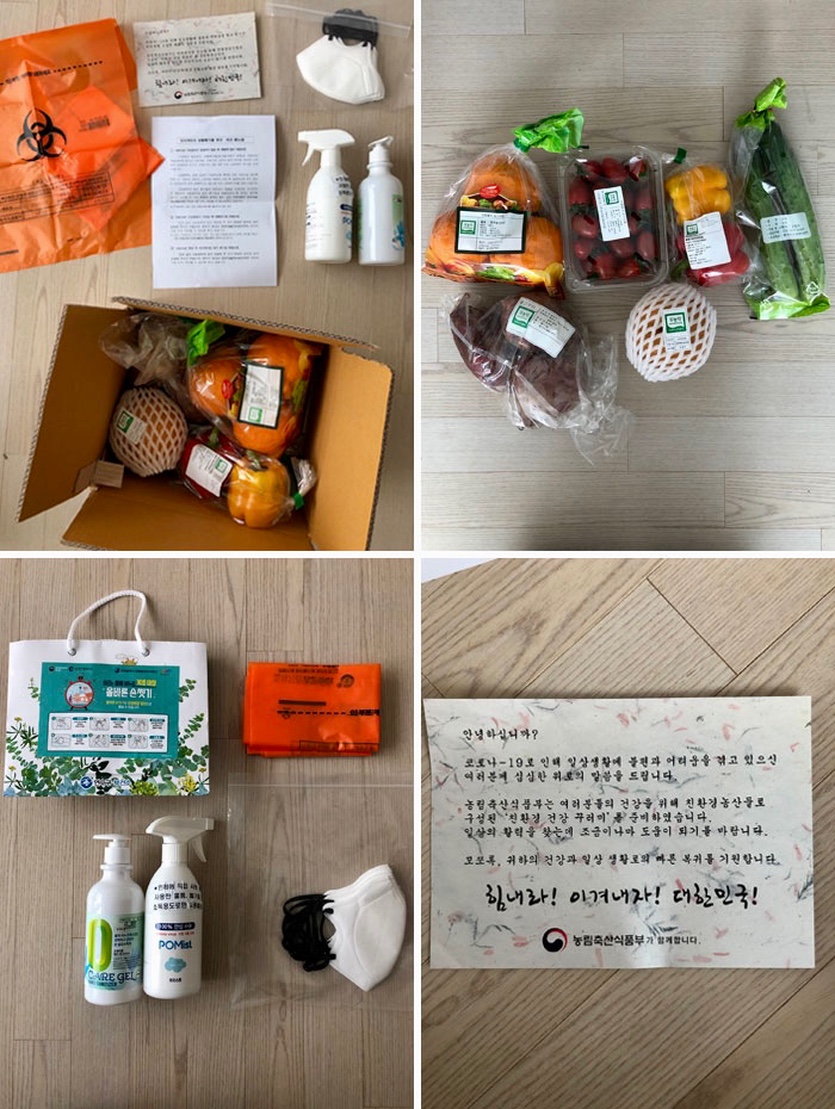 Such a rich array would be the envy of us
The coronavirus pandemic did not spare South Korea. For this reason, the government decided to take care of its citizens and sent them dry rations. And what they contain is surprising in its variety.
Not only are there different foods inside, including fresh fruits and vegetables, but also disinfectants. Well, and without the traditional ramen (instant noodles) does not do without.
3. Newborn puppies are shown on trains to reduce negativity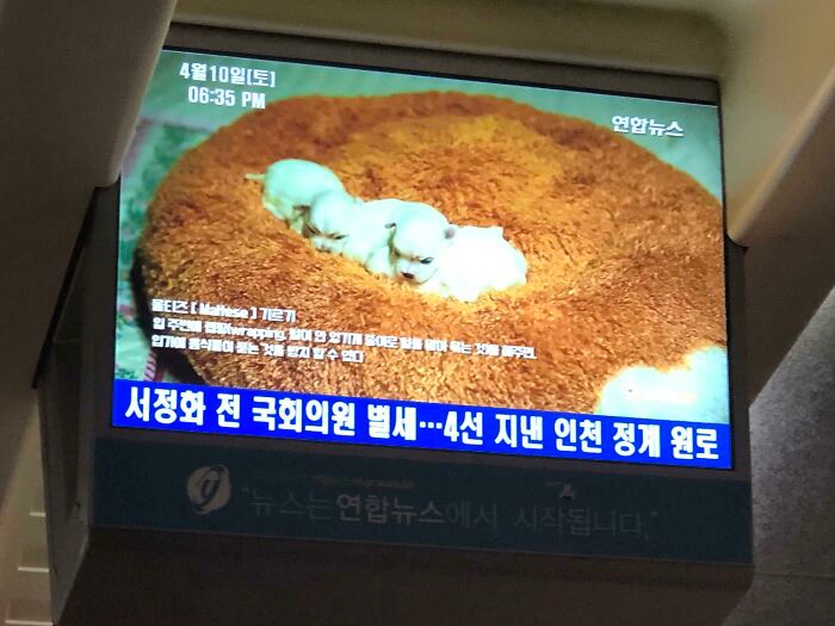 On some subway routes, photos and videos of newborn puppies are shown on screens for a few minutes at a time.
This is done to brighten the oppression and negative atmosphere in the subway. In this way, the government raises the mood of the citizens a little bit.
By the way, in Moscow they also showed similar videos for a while.
4. Boarding passes have a printed map to the exit.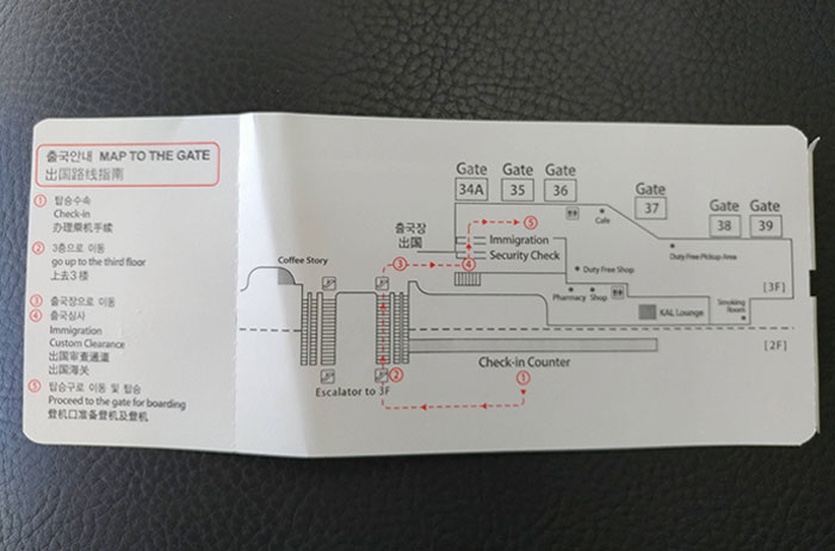 I wish it were like that everywhere…
Seoul airports take care of airline passengers.
On the back of the boarding pass is a printed map of the appropriate exit. This extra measure helps to navigate the building and speeds up the boarding process. Doesn't work with all airlines, but local ones for sure.
5. There are library cars on the subway.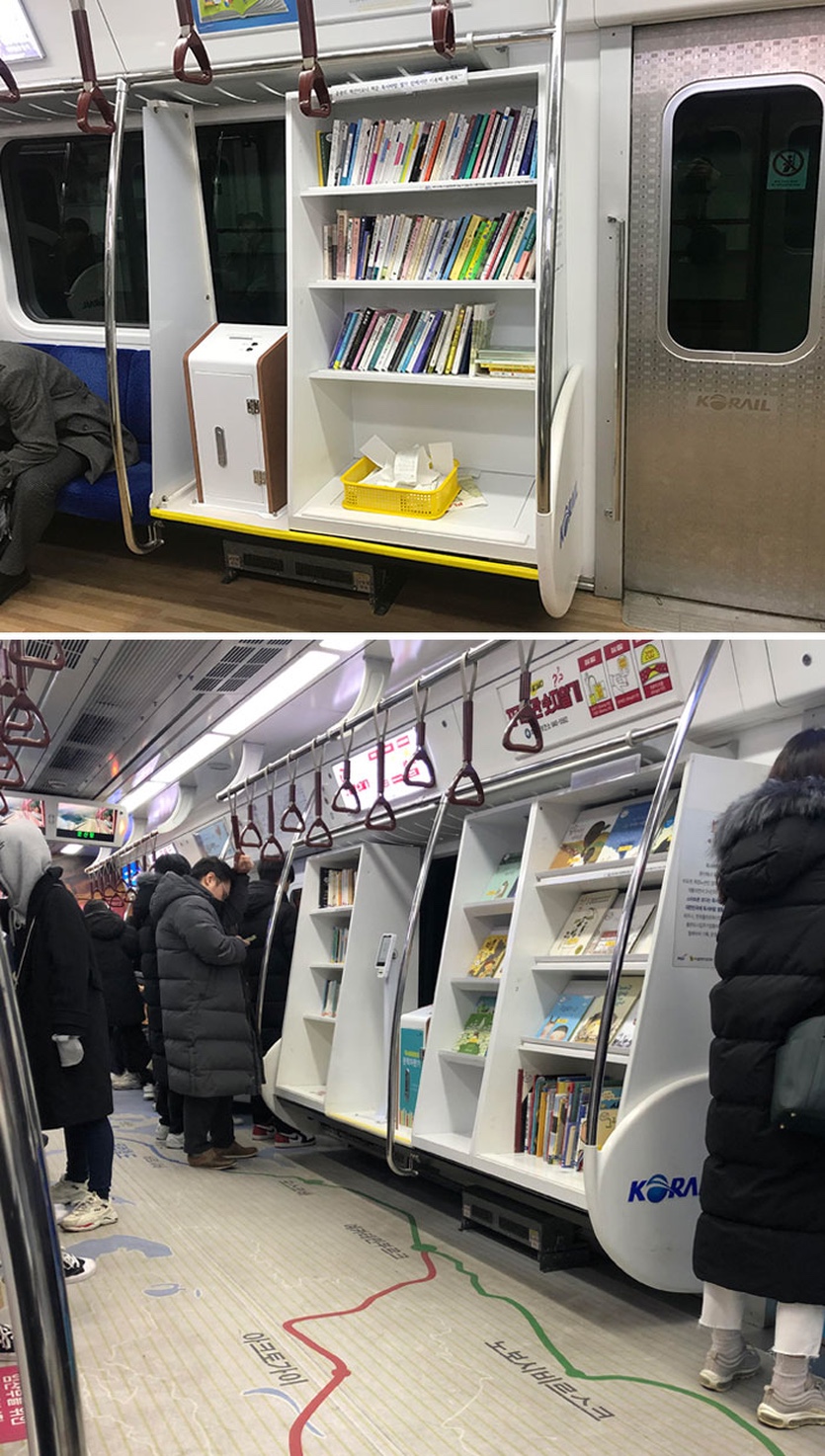 Koreans work very hard. The maximum number of working hours per week recently changed from 63 to 52, but it's still a lot. In Russia, for example, the norm is not to exceed 40 hours, while in the U.S. it is 47.
Although work-life balance has improved over the past few years, overtime is still quite common.
For this reason, the government has launched special library cars in subways. They contain racks of books for easy reading.
6. Cars are covered with film during the painting of residential buildings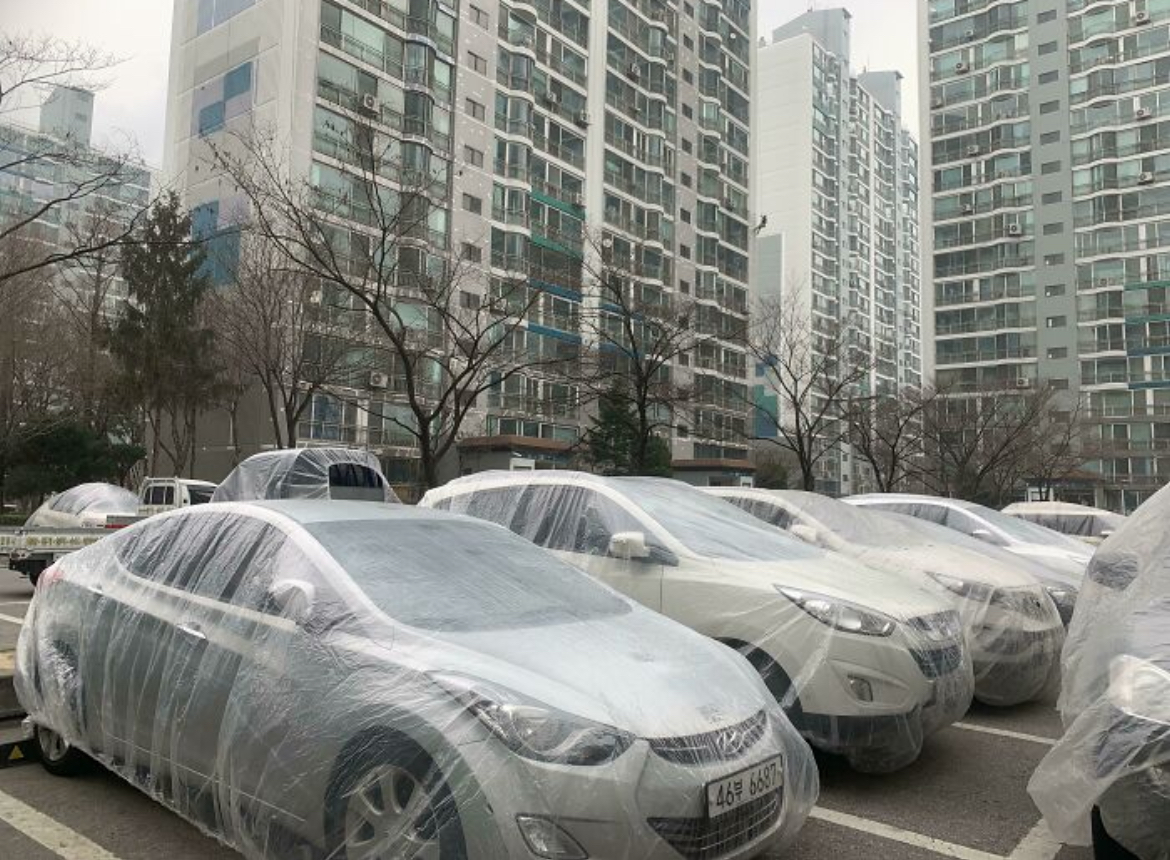 Not all companies in South Korea are doing this, but at least some of them are.
All buildings wear out over time and need maintenance. Different measures can be used for that, but most often once every year or two they are at least repainted.
The municipal services of a city in South Korea have decided that all nearby vehicles must be covered with a film during the work. This is done so as not to stain other people's vehicles.
7. Korea has a road sign that warns against cats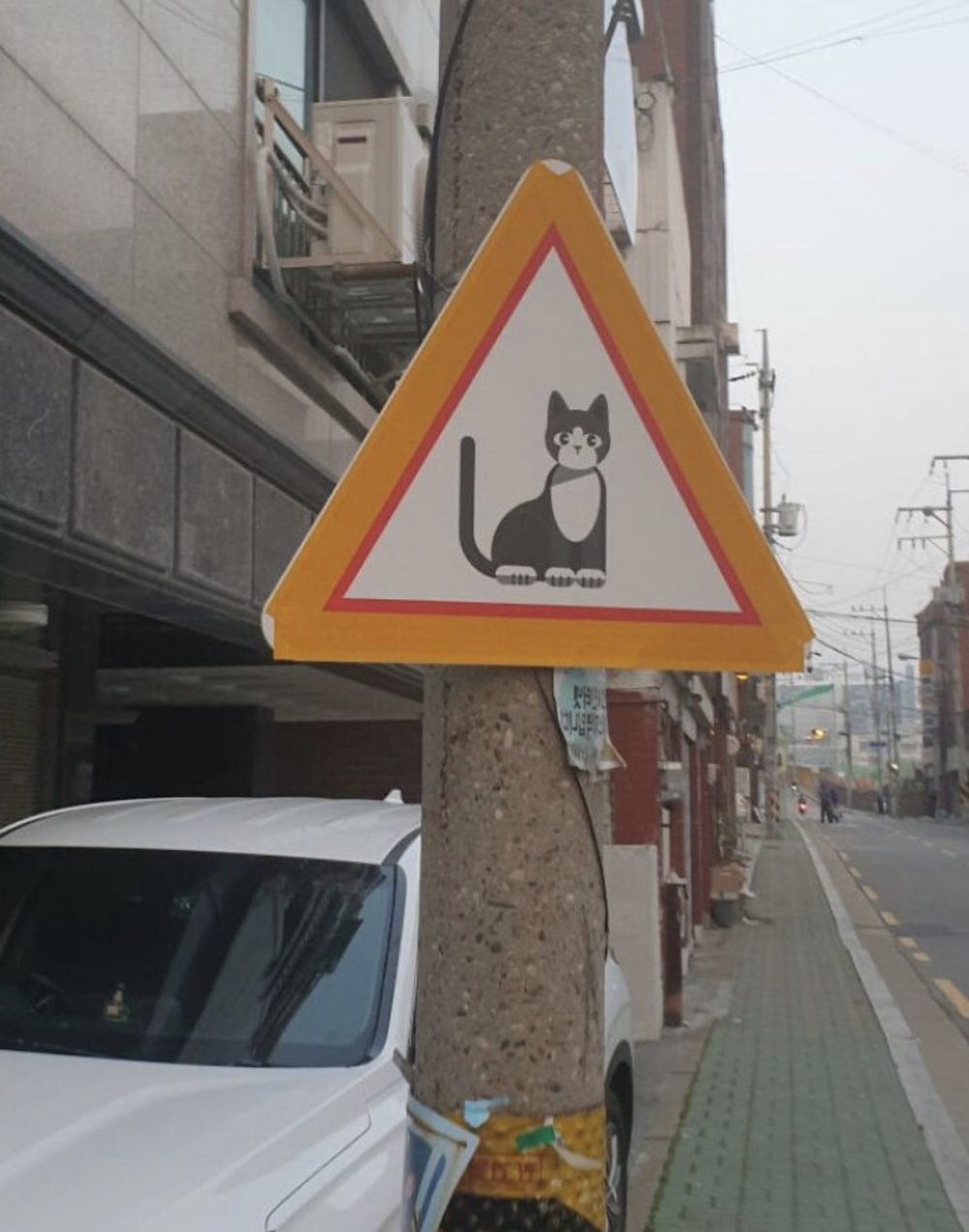 In the 20th century, Koreans treated cats with superstitious fear. Now many people in this country love cats, consider them cute and certainly do not want to hurt them – even accidentally. For this reason, South Korea can be found a road sign: "Beware: near a cat.
It represents a triangle with a cat placed in it. To be fair, it is worth noting that similar signs on the roads can be seen in other countries. For example, in the Czech Republic, Taiwan, and even in some parts of Russia.
8. On the streets of Seoul there are benches with USB and solar battery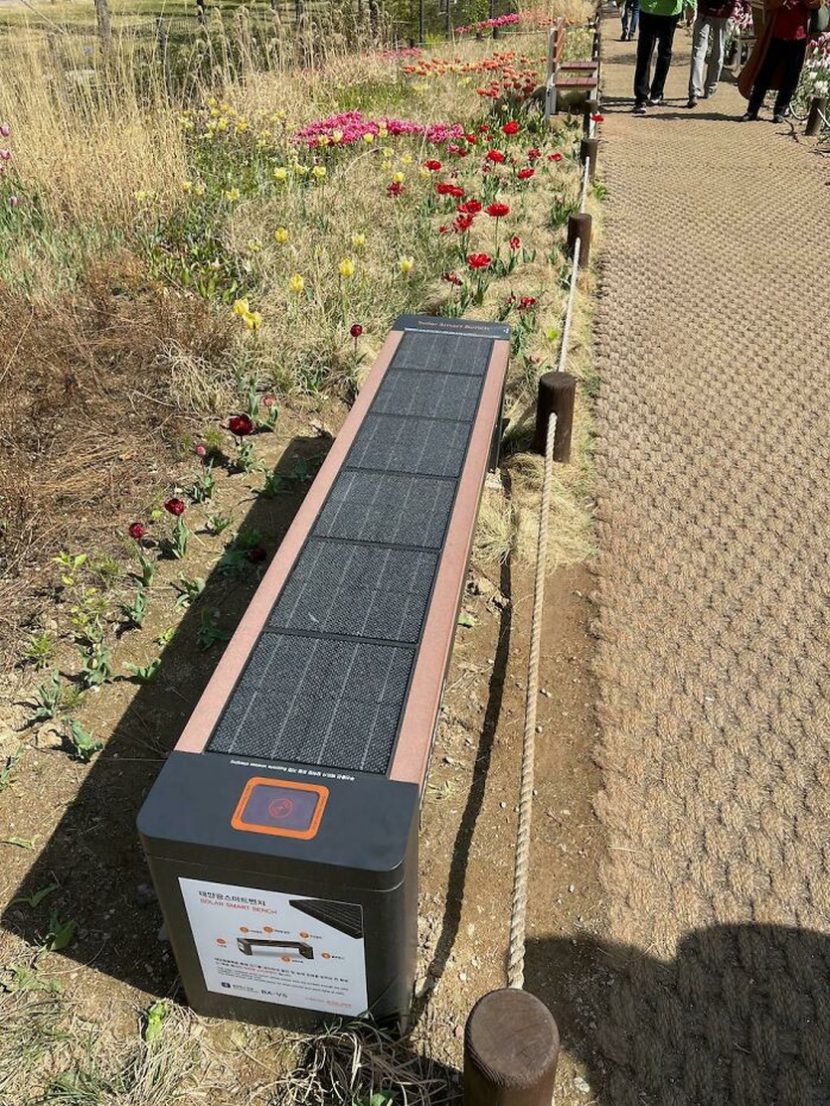 On the main streets of major cities in Seoul you can find unusual benches.
They are charged by solar energy and allow you to charge your gadgets from them. There are USB ports built into the furniture, and often there are also wireless charging pads.
Moscow has a similar practice, too. For example, since 2020, benches with solar panels and USB sockets for charging devices have been tested at VDNKh. But there are also them in other districts of the capital, for example, in Yakimanka.
9. Cities have crosswalks for gadget addicts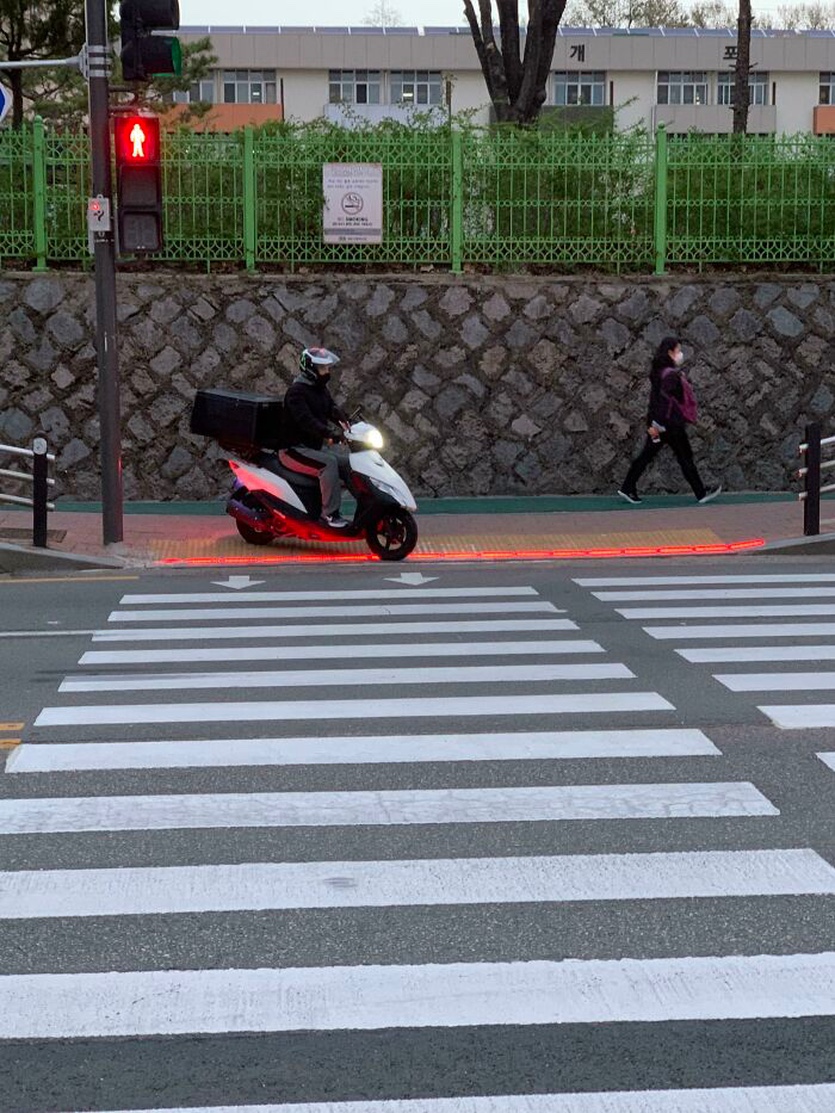 You can't miss it.
There are gadget addicts all over the world who spend most of their time on their smartphones, for example. They literally can't see what's going on right in front of them. South Korea is no exception to the rule.
For such people, Korean cities have begun to install special traffic lights. The point is that the red light of an ordinary signal device is duplicated in the form of a light bar along the curb directly under the feet of the pedestrian. Such a signal is hard not to notice, even if your gaze is down.
10. In Ansan there are "resting places" every 500 meters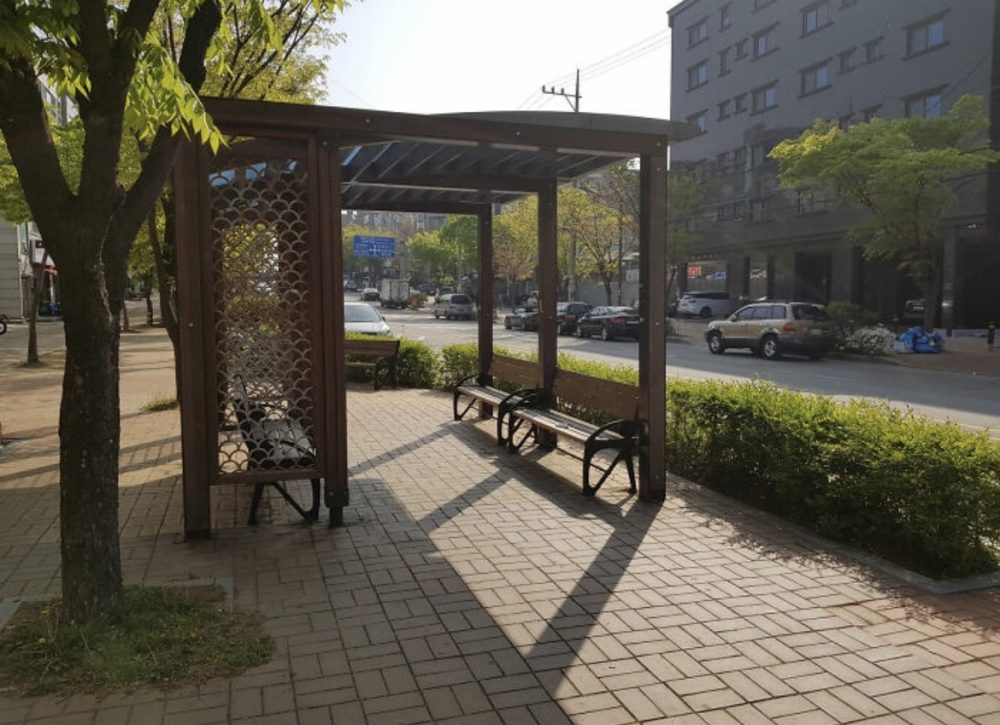 In the city of Ansan, south of Seoul, the authorities have installed special rest spots on the main streets.
These are small arbors with a passageway and benches where you can rest during long walks. They are located every 500 meters.
11. At the entrance to the beaches, visitors are given stickers showing their body temperature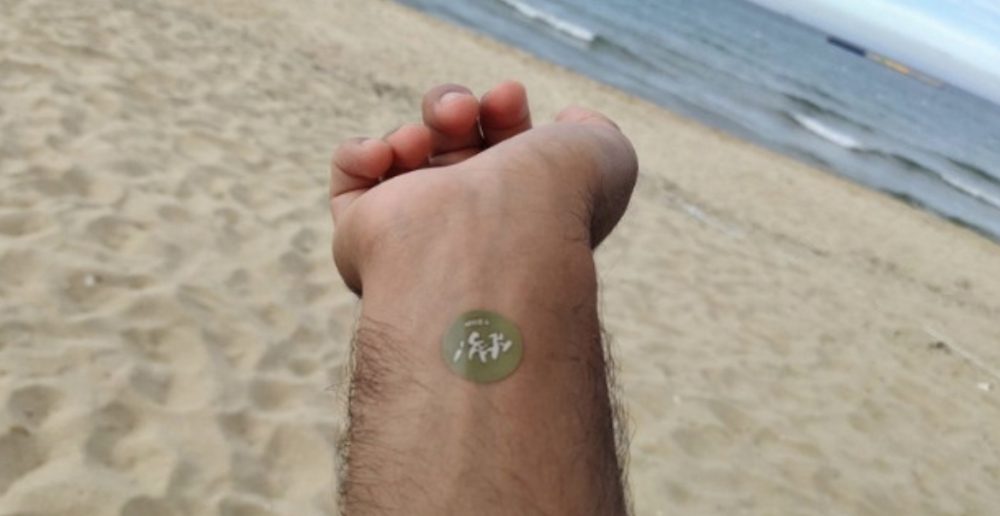 When entering the beaches in South Korea you need to put a special sticker on your hand and watch the color. If it suddenly turns yellow, you must go to a beach employee and take your temperature or call a special number at the medical service.
The yellow color may indicate that you have overheated or caught a virus.
12. In Korea they encourage you to use ladders in every way possible.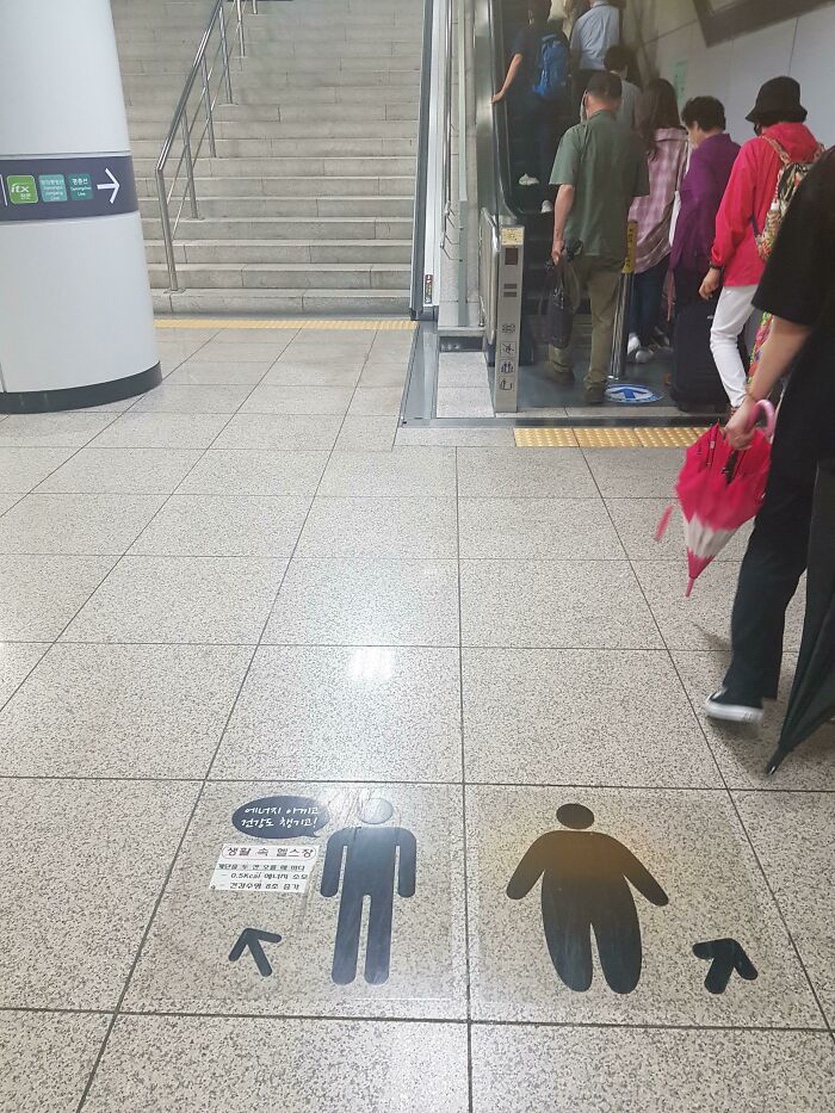 Do you think this is discrimination?
To encourage people to take the stairs more often they have placed signs on the floor of the Seoul subway. The message is clear: if you want to be fat, take the stairs, and if you want to be thin and healthy, take the stairs.
True, not all residents agree with this decision, because there are people with disabilities who in principle can not walk on the stairs or it is problematic for them to do so.
13. Disinfectants installed on escalators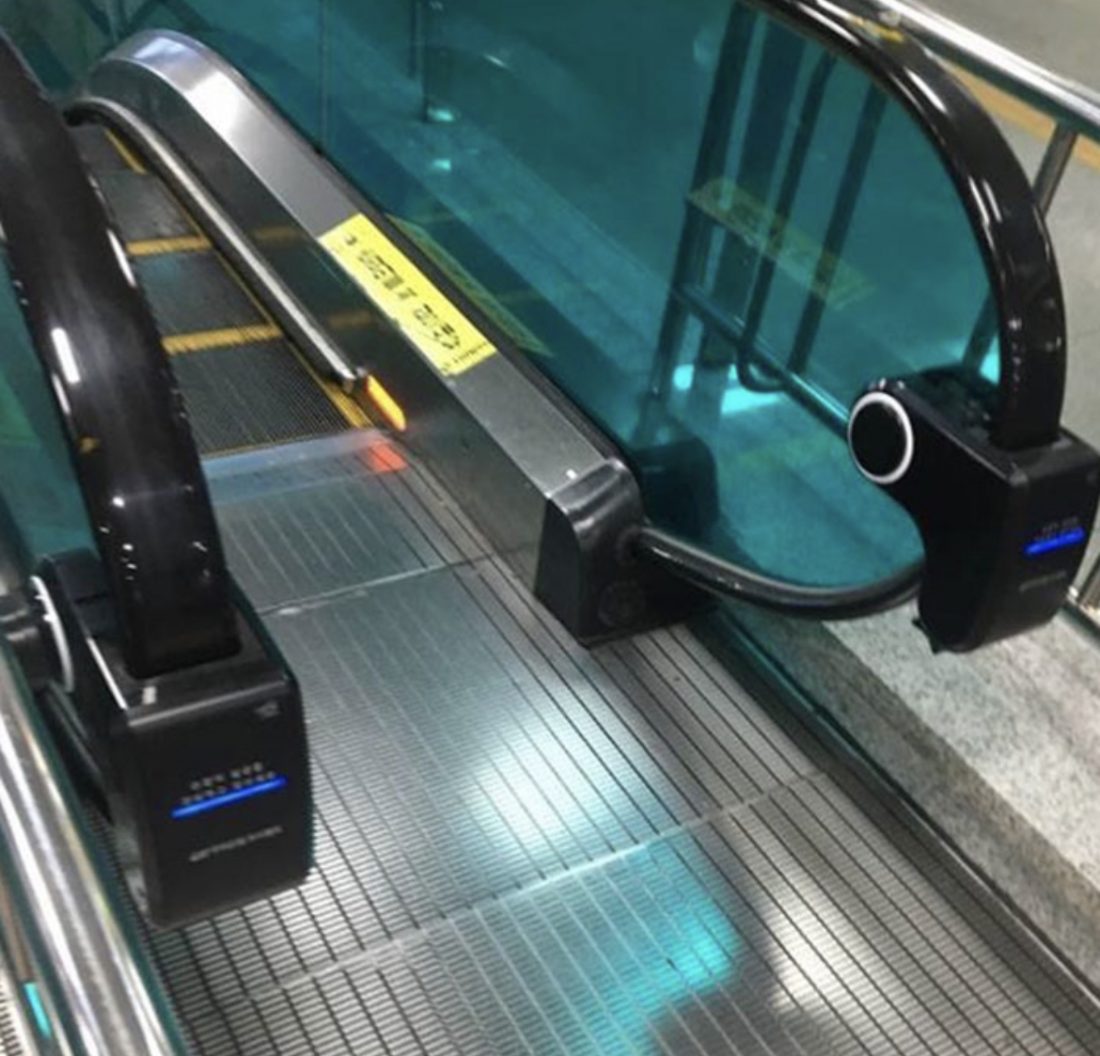 In the Seoul subway, the authorities decided to "pump up" the escalators.
To further combat the coronavirus, special devices have been installed at the end of each escalator to continuously clean the handrails of dirt and germs. This way, grabbing the handrails is always safe for your health.
14. Some major roads are equipped with a self-cleaning function.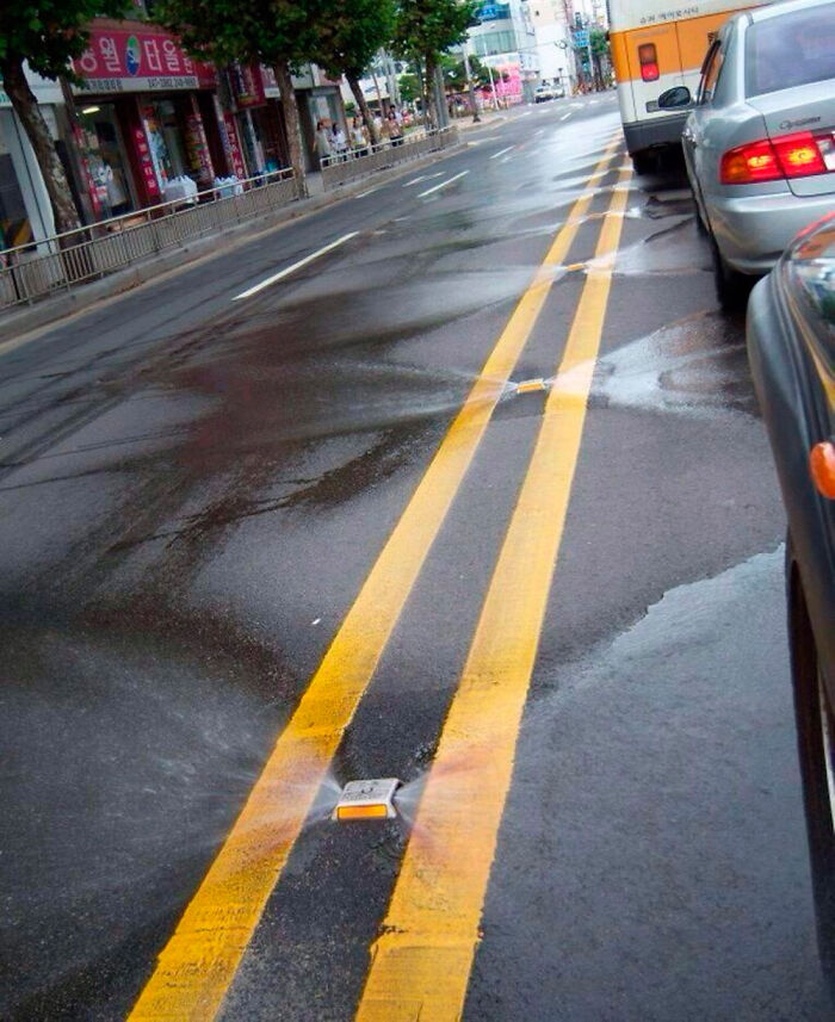 Their effectiveness is still questionable
There is nothing to add here. We don't know how these systems work in the winter. Probably not at all. However, useful at any other time of the year.
15. Supermarkets in Korea offer toilet paper samples for testing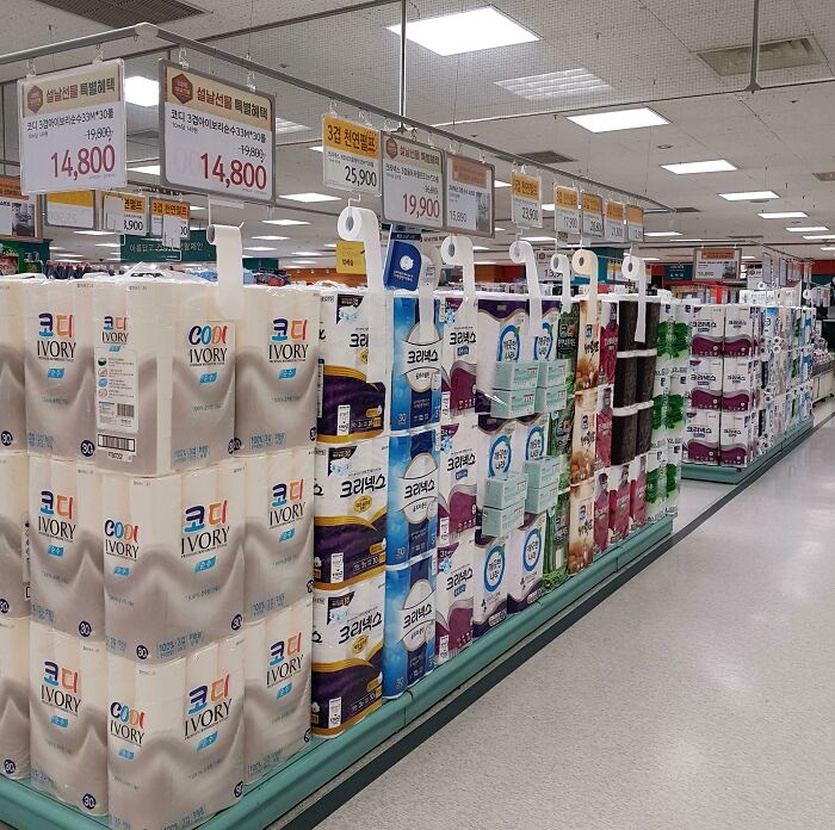 South Korean supermarkets have a practice of selling toilet paper with the opportunity to evaluate all of its qualities before you buy it.
Any of the papers on sale can be touched and smelled. The tester rolls that are hanging around help you do this.
16. Cakes in Korea are sold with free knives, but there are other bonuses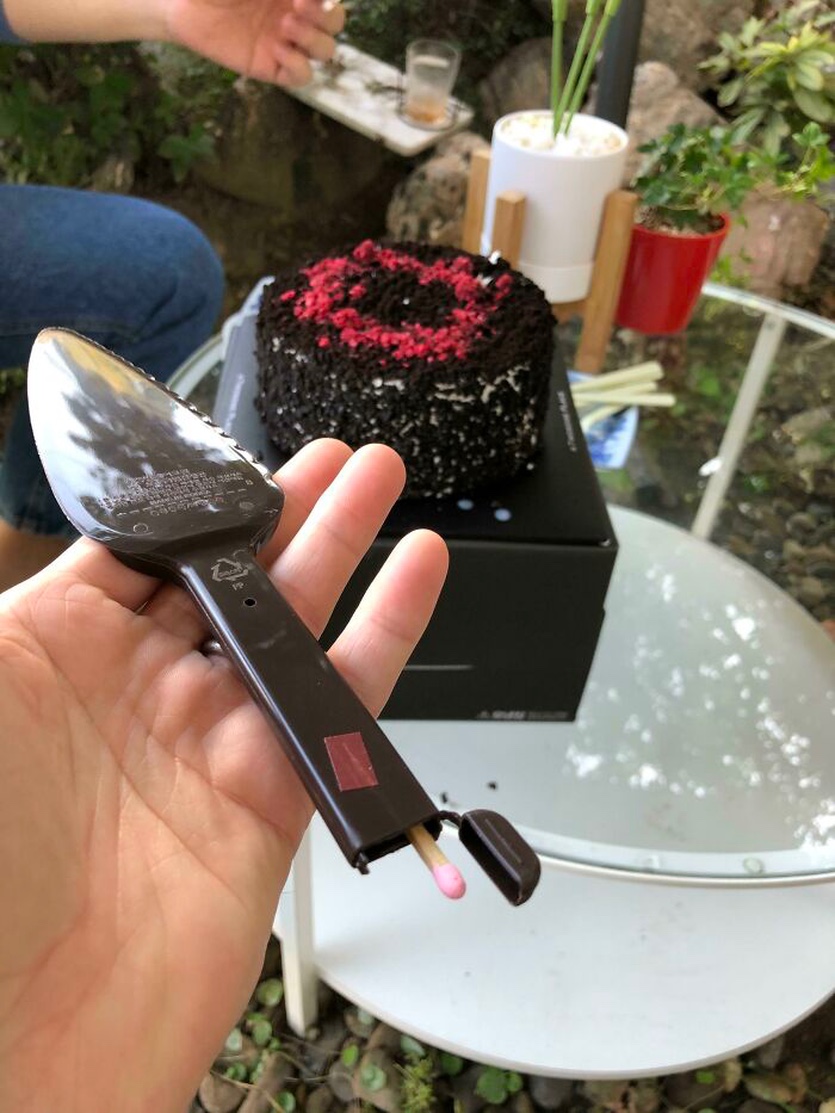 Cakes sold in South Korea come with free candles and matches hidden in a plastic cake knife.
More often than not, it is the knife that comes with the cake, but it depends on the store. For example, many bakeries will ask the visitor if he needs candles and how many pieces – they are free.
17. There are robots that show flight information at the airport.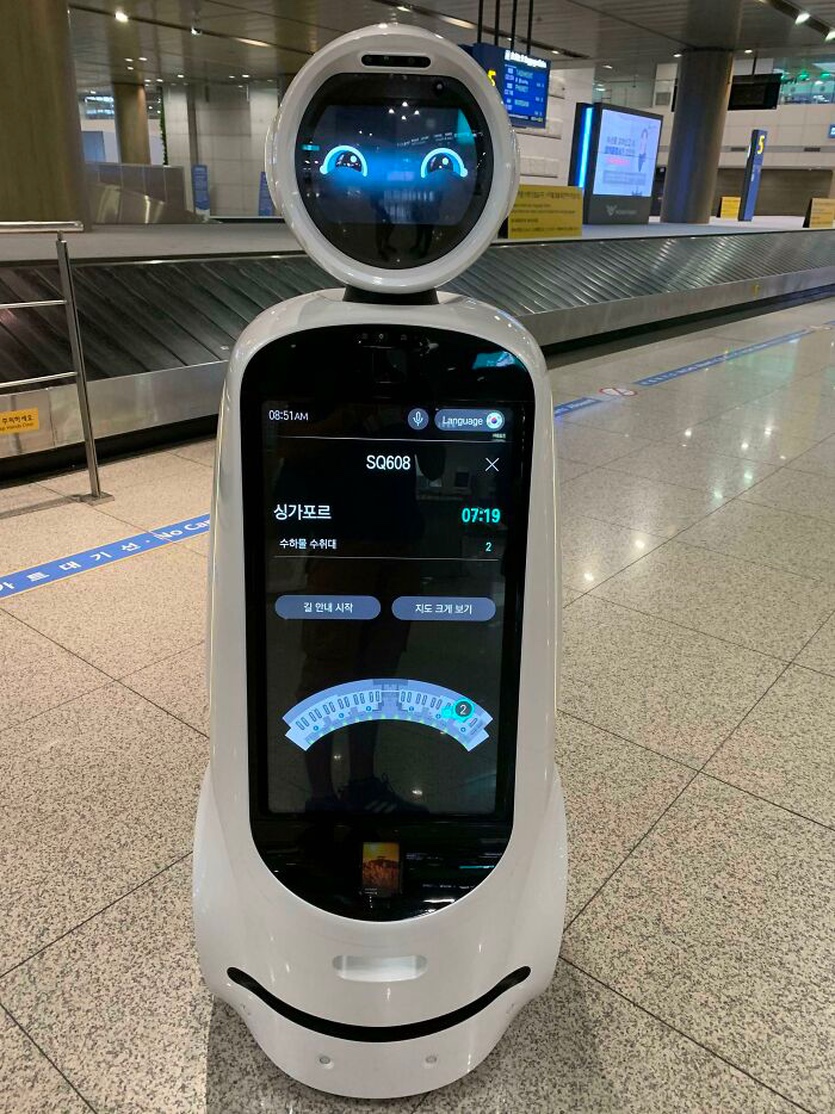 Such robots are often lacking in airports
At Incheon International Airport in Seoul, special robots ride around to help visitors.
It is enough to put a ticket or its QR code to one of them and it will show flight data, including the check-in desk, boarding gate number and so on.
18. Korea has a "1,000 Doors" house.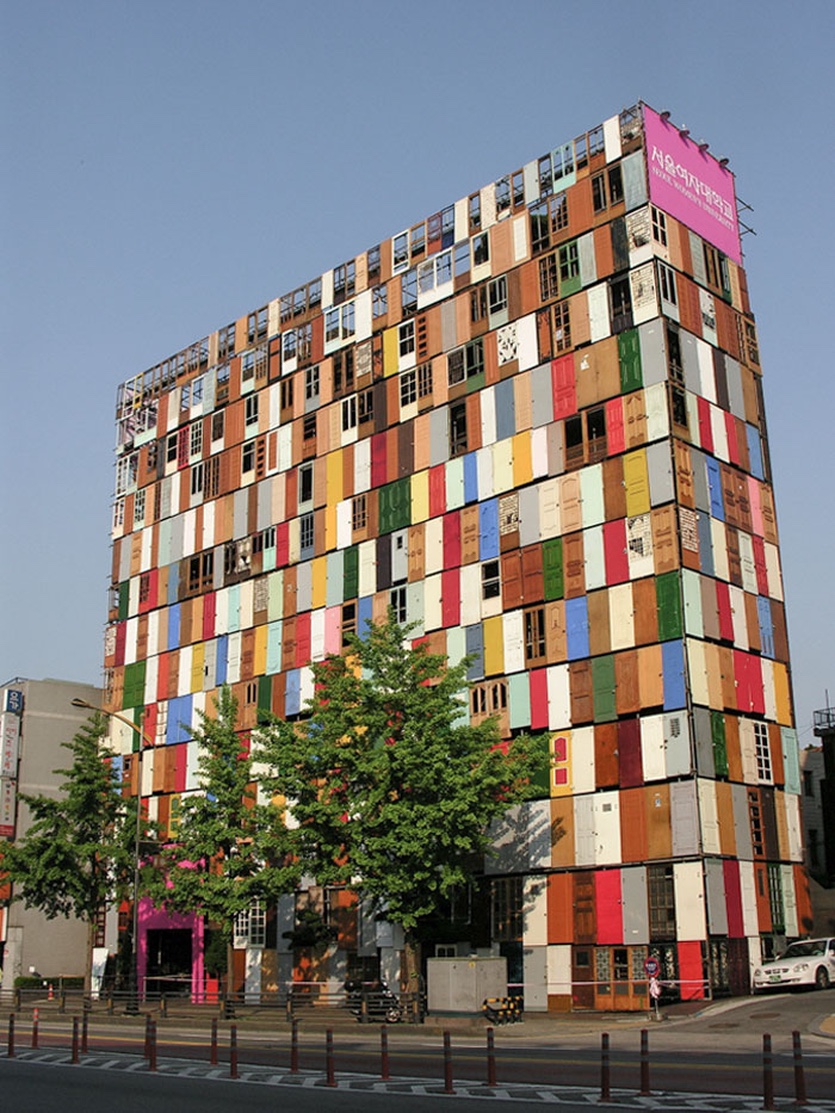 In 2014, Korean designer Choi Jung-hwa built a ten-story house of doors in Seoul. They were all previously used and were given a second life in a colorful art object.
It took more than 1,000 doors to build the house. With his construction Choi Jong-hwa wanted to show that contemporary art can be seen not only in museums but also on the streets of the city. And the objects themselves can play a functional role.
19. Korea is afraid of the number 4.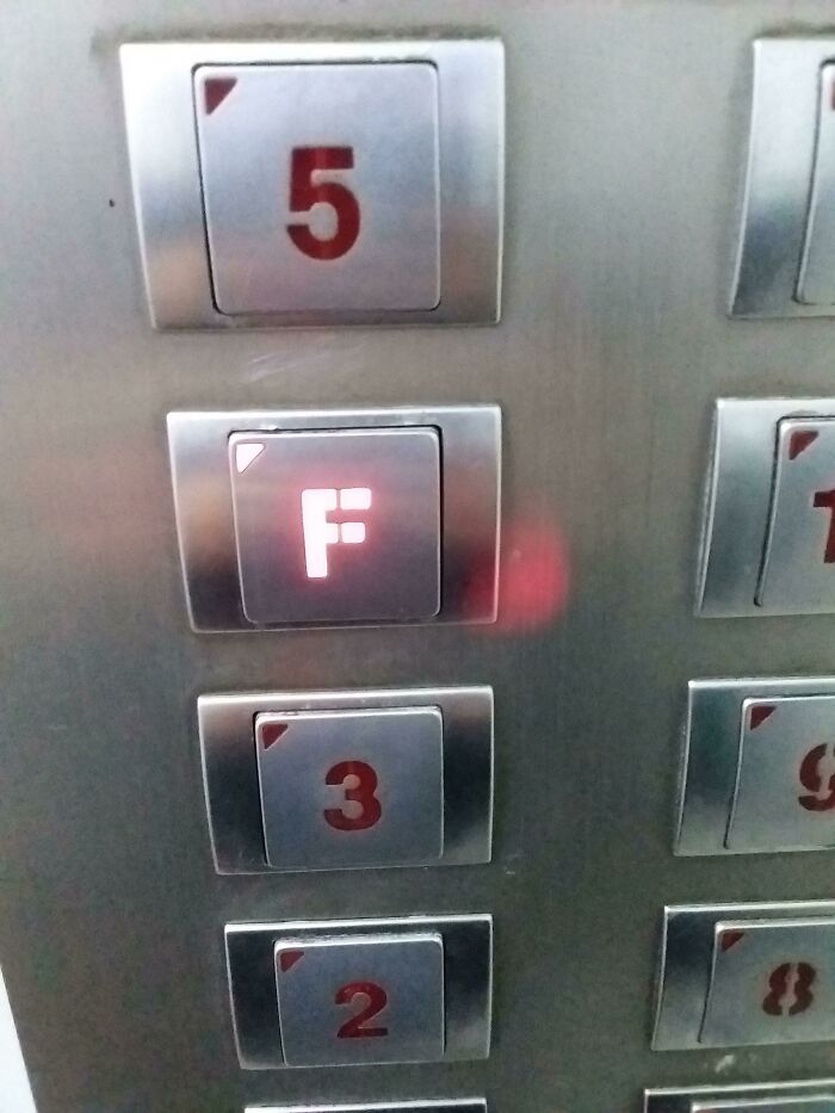 In many East Asian countries, including South Korea, there is a widespread belief about the negative effects associated with the number 4.
The fact is that the transcription of the word "four" [sa:] is consonant with the word death. For this reason, this number is tried not to be used anywhere. For example, in elevators it is replaced by the letter F.
20. Korea has the equivalent of the Unified State Exam, and the entire country contributes to its success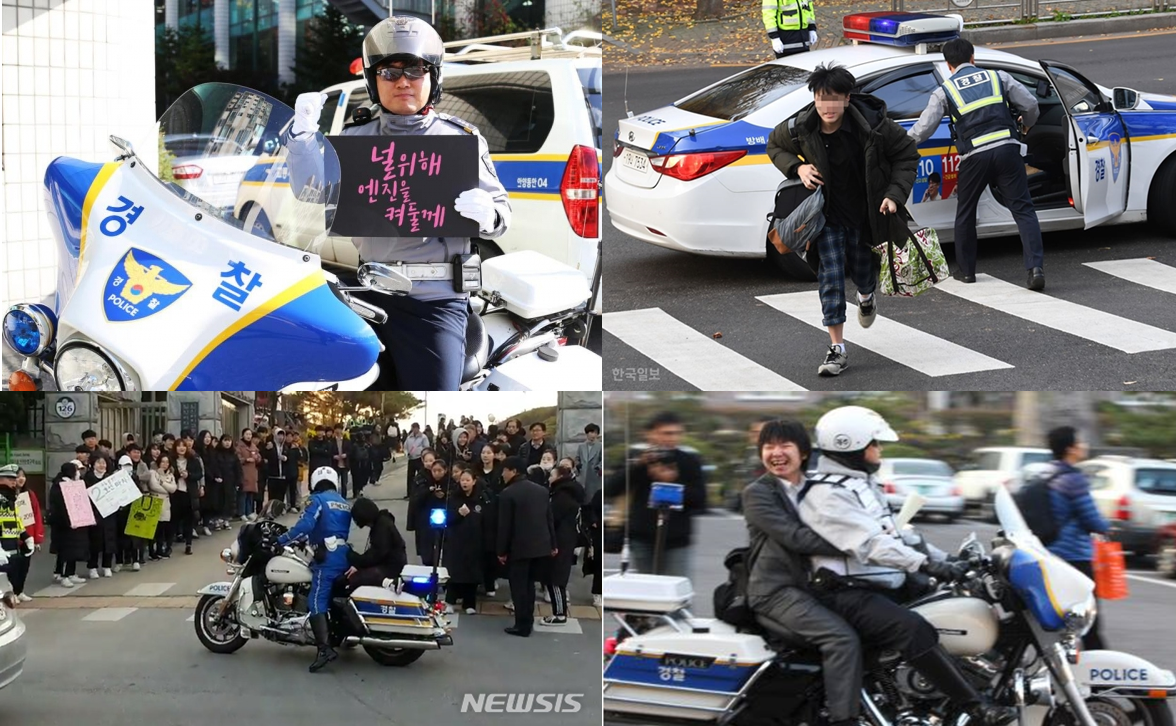 In South Korea, there is the Suneung (Suneung) exam, which is taken at the end of school. It is the "most important exam in life," which takes place all over the country on the same day and lasts all day – 8 hours in a row.
The exam is so important that on the day it is held, stores and offices open an hour later so as not to cause traffic congestion. And if a student is late, he can ask a police officer to drive him to school with his flashers on, and he has no right to refuse.
Because the exam involves listening to English, planes are prohibited from taking off and landing at this time so as not to create noise. Residents of nearby houses are asked to be as quiet as possible.
School leavers are given discounts at restaurants, stores, and movie theaters as support. And they are allowed to listen to music or even sleep in class during the remaining school hours after Sunun.
By the way, did you know that newborn Koreans are born as young as one year old?
Personally, South Korea managed to really surprise me. Some elements of their life I would like to see in Russia as well. For example, traffic lights for gadget addicts, library cars or information robots in airports.

Bookmark
"South Korea has opened up to Russians, and they live in a world of their own. What awaits tourists there?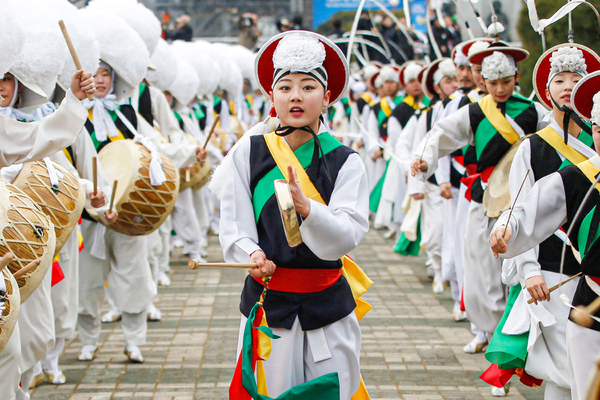 For those who have never been to South Korea, knowledge of the country is usually limited to popular stereotypes. K-pop music, doramas, dog dishes, kimchi cabbage and the acclaimed TV series Squid Game are probably all the associations that many people name on the fly. Meanwhile, a small Asian country has a lot to offer tourists: a long history, the careful attitude to the traditions, architecture as if from the future and dissimilar to anything else national cuisine. About how to get to South Korea and what to do there, – the article "Lenta.ru".
Closer than you think
Two and a half years after the start of the pandemic coronavirus South Korea began to return to normal life and open to international tourism. Thus, on April 1 the country resumed visa-free travel with Russia, and on June 8 it lifted quarantine for unvaccinated travelers. Another pleasant bonus is that in July some stores began accepting cards of the Russian payment system "Mir".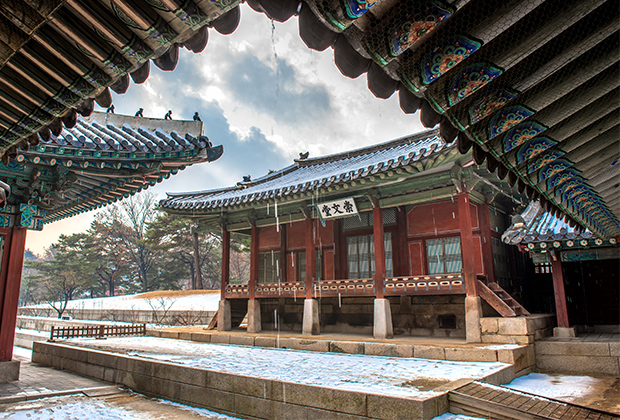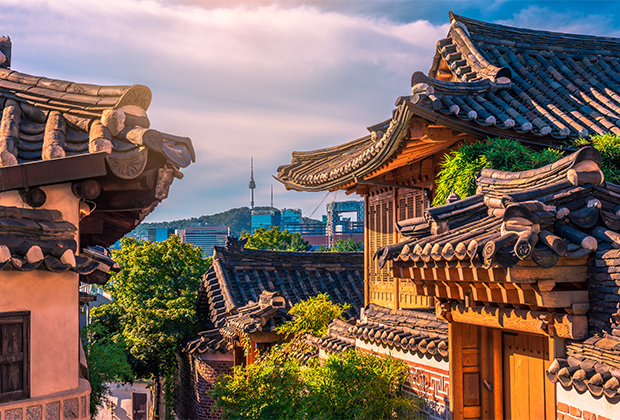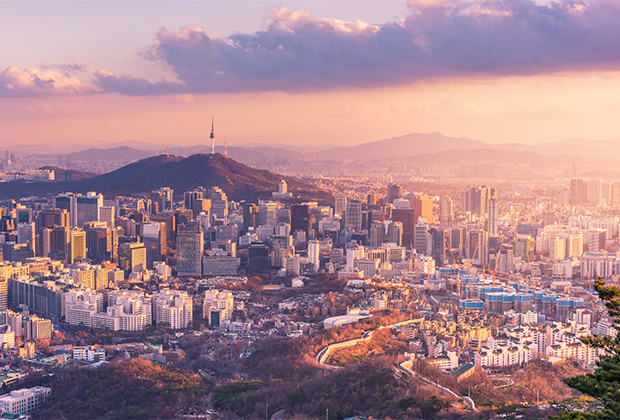 Photo: sayan uranan / Shutterstock
Nevertheless, some restrictions for arrivals still apply. Regardless of vaccination status, tourists are required to take either a PCR test 48 hours before entry or an antigen test 24 hours before arrival. In addition, to cross the border without a visa for up to 60 days, foreigners must obtain a special electronic permit (K-ETA) at least 72 hours before departure. Registration costs 10 thousand South Korean won (about 500 rubles), the document is valid for two years.
As in many countries, it is now possible to fly to South Korea only with a connection. According to the Aviasales service, in October the cheapest round-trip tickets from Moscow can be purchased for 75 thousand rubles, including baggage. The trip will take 17-20 hours on the wings of Etihad Airways and change in Abu Dhabi. A faster option is to fly via Alma-Ata for 105 thousand rubles round trip from Aeroflot and Air Astana. Convenient connections can also be found with Turkish Airlines via Istanbul, with Qatar Airways via Doha, and with Uzbekistan Airways via Tashkent.
Cheapest airfare to South Korea
Following the gradual opening of the country, Russian tour operators have announced several tour programs to South Korea. For example, the company China Travel offers a combined tour to Seoul and Jeju Island. The cost of a six-day trip is at least $ 2.4 thousand (about 145 thousand rubles) for one person without the flight. Overview tour with a medical examination of "VEDI Group" will cost $ 1.7 thousand (102 thousand rubles).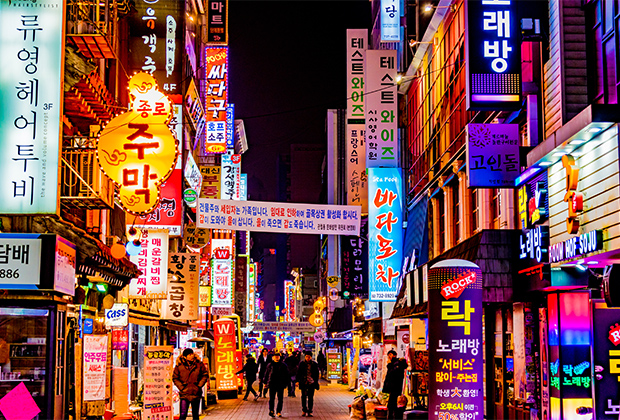 Photo: DiegoMariottini / Shutterstock
However, South Korea is still far from a budget travel destination. According to Maya Kotlyar, travel expert and owner of travel agency MAYEL Travel, the average cost of tours for seven days is two thousand dollars (120 thousand rubles), another 120 thousand for airfare. "Not every Russian can afford such expenses for a trip, so we can't talk about any mass demand for tours to South Korea. Among long-haul destinations Latin America and Africa are winning now," the specialist told "Lente.ru".
According to her, the reception of cards "Mir" also has little effect on demand because of the limited coverage – now you can pay with domestic plastic card not in all ATMs and only in certain places.
Wealthy people who actively travel have long ago acquired foreign bank cards in Dubai or Tashkent. For them, the Mir card is not the biggest motivation for travel
A City of Particular Subordination
Most tourists begin their travels in Korea in Seoul, the 10-million-strong metropolis that has everything: countless skyscrapers, palaces with pagodas, parks, bizarre art objects and markets. The city was founded in 18 BC and as only not called. It was first Viresong, the capital of the ancient Baekje State, and then passed into the possession of other rulers.
In the 14th century, the Joseon Dynasty, which ruled the land, made the settlement the capital of its empire. The city was called Hanyang and was surrounded by a seven-meter-high wall that protected it from enemies and wild animals. During the Korean War from 1950 to 1953, Seoul suffered a lot – many buildings were destroyed and the streets were filled with refugees. Now Seoul – one of the leading financial centers of East Asia, the main economic and cultural center of the country, which in documents is listed as a "city of special subordination.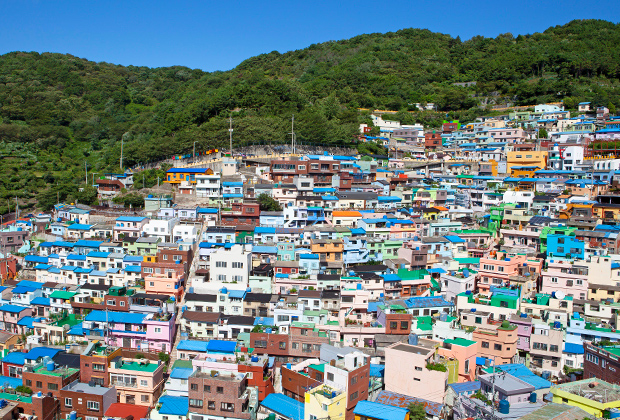 Photo: Martina Katz / imagebroker.com / Globalookpress.com
"Usually the minimum for every tourist includes at least one of the royal palaces of the Joseon Dynasty, Gwanghwamun Square, Bukcheon Folk Village and Cheonggyecheon Creek," says Seoul guide Elena Pinchuk, who has lived here for nine years. However, besides tourist classics, the Russian woman advises to pay attention to the monuments of modern architecture.
If you come to Seoul for the ancient streets and antiques – most likely you will be disappointed. For me it is much more interesting to look at futuristic new buildings which look more like giant blimps or alien ships.
One of the most impressive buildings is the Tondemun Design Plaza, designed by architect Zaha Hadid. The multifunctional complex, where exhibitions are sometimes held, was built on the site of a former stadium and can safely claim to be the brightest example of modern architecture in Seoul. The building combines everything that Koreans value so much – respect for nature with lawns on the roof and modern design.
A riot of color
According to the guide, Seoul has a strong sense of the changing seasons – at the peak of the summer season it is unbearably hot, and in winter it is wet, windy and slushy, so the best time to visit the capital are spring and autumn.
In March, South Korea's forsythia, plums, apricots, and peaches blossom, and the wild cherry blossom season begins in early April. At this time, many citizens and tourists go to Hangang Park, Thapsa Monastery, or Ssangsa with the most spectacular gardens. "The sakura, which is traditionally associated with Japan, is also found in Korea. We have a special name for it: potkkot. It's best to watch the blossoms in Seoul Forest, near Seokcheon Lake and in Yeoido Park, where wild cherry trees form a snow-white-pink tunnel of flowers," Elena Pinchuk advises.
In the fall, during the red maple season, the city looks very different. In early October, pink, cotton candy-like sakura crowns give way to fiery scarlet leaves of maples. For the most spectacular views, it's worth heading out of town to watch the bright red leaves fall against a backdrop of waterfalls and mountains. Korea's national parks are designed for such leisurely strolls, as they are easily navigated, landscaped, and most are easily accessible by public transportation.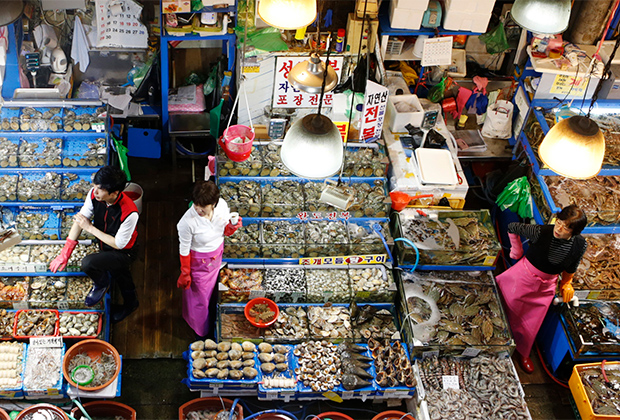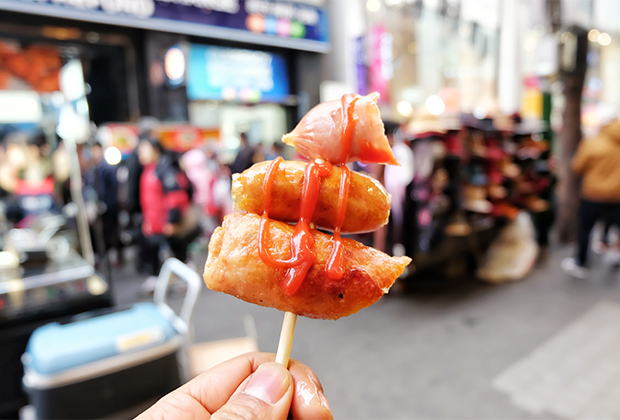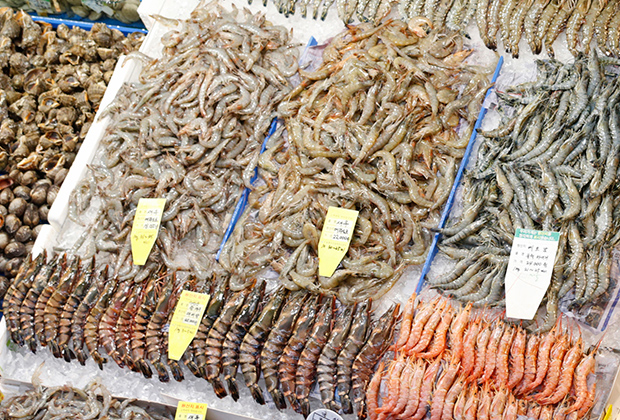 Photo: Lee Jae-Won / Reuters
The largest national park in the country, Soraksan occupies an area of 398 square kilometers. There are 30 peaks and dozens of hiking trails for different levels of training. One of the most interesting trails includes climbing Ulsan Bavi Mountain – the last 888 steps have to be overcome on a steep cliff.
Difficulties of translation
However, beautiful nature is not the only thing that strikes tourists in Korea. Another thing that shocks many Western travelers is the mentality and the local way of life. "Nowhere else have I felt as helpless as in South Korea. It's not a country for the faint of heart," says Alexei, who recently returned from a three-week trip across the country. According to him, even in high-tech and advanced Seoul, tourists face a lot of everyday difficulties, which sometimes pisses them off.
For example, almost no one in South Korea knows English or tries to learn it at the most basic level. The farther away from Seoul, the more likely it is that you will encounter a Korean who speaks at least a little English. In popular tourist places in 9 out of 10 cases, you'll have to resort to an interpreter – even staff at museums and airports may not know English. "The menu in a foreign language is out of the question," adds Alexei.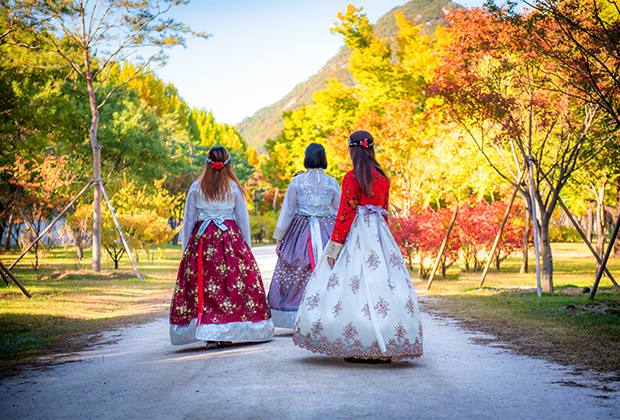 Photo: sayan uranan / Shutterstock
"A separate quest for me was the cab – without a local residence permit you can't call a car through an app like Uber, and you have to catch a car right on the street. I must admit, a week is annoying, "- complained the interlocutor," Lenta.ru.
Similar experiences shared with "Lenta.ru" Alena, who lived in the capital of South Korea for six months, an exchange student at Seoul National University of Science and Technology. Korean students seem very closed – she said that although they are happy to help foreigners in difficult situations and are happy to support the conversation a couple of duty phrases, to build a strong friendship with the locals is very difficult.
It's as if they live in their own world and don't let anyone in. Koreans are crazy about their culture, they love local food, music and traditions, but they don't conform to modern trends in the West.
Nevertheless, if you carefully prepare for your trip in advance – download various online guides, translators and clearly build an itinerary, as well as learn the mentality of the locals, a trip to South Korea will be remembered for a long time. Koreans are in awe of everything around them, and you can feel it in every detail. They think of every detail of space, protect their nature and make sure that every day the comfort of everyday life becomes more and more accessible.
According to Seoul student Seo Yoon-soo, many Koreans often don't even want to leave the country, because it's endless to travel around Korea and discover it over and over again. "We have everything you need for a happy life – high security, beautiful parks and architecture, the sea, mountains, a stable economy, restaurants, bars, and coffee shops open 24 hours a day, and 24-hour home delivery for every taste!"