We had a great time in Fes, Morocco.
Before the second day in Fez our attendant cheerfully announced that tomorrow will be "a grand crossing of the Medina" at a length of . The news was greeted with sluggish enthusiasm, for "the Russian tourist has rolled down the slopes of Maghreb" – we have already wandered through Morocco for a week and were pretty tired. On the timid questions – ("but is it possible to avoid such a march-throw, or walk around Fez by yourself?") – was received a categorical answer – no, because there is a chance to get lost. Because they will launch us into Medina through one gate, but we will come out of another one. So, no amateurism, and don't you dare fall behind! Reluctantly we followed. We soon realized that we would really have to be escorted through the huge city. And we could see the scale of Fez clearly – from the observation deck, where Medina was visible as in the palm of our hands. It really seemed huge. At the sightseeing point we passed into the hands of Moroccan guide who excitedly gesticulated and with oriental eloquence started his work. He began by informing us that Fez has three parts. It includes not one, as usual, but two Medinas!
Fez el-Bali is the so-called "Old Medina," surrounded by a medieval wall. The time of its creation is not even established precisely, so ancient is it. And Fes Jdid is a younger Medina, dating back to the 13th century.
And the third part of Fez is the New City, laid out in 1916, after the country became a French protectorate – for half a century, by the way. This is – pictured here – the more modern part of the city. And on the opposite side is the ancient medina of Fez el Bali. Which, by the way, since 1981 is listed as a UNESCO World Heritage Site.
It is this ancient Medina is considered one of the largest pedestrian zones in the world. Fes el Bali is so huge that to get lost in it – nothing to do. But the amazing thing is that its inhabitants know by sight almost all their neighbors within a radius of a few kilometers, and easily navigate even the most hidden corners of this huge "city within a city".
Our Moroccan guide (who grew up among the ancient streets of the Medina Fez el Bali) boasted that he could do an interesting experiment: lead him blindfolded in any part of the Medina – and he will determine his exact location by the sounds and smells. Of course, we had no opportunity to check all this, so who knows!
Before the serious "marching" we were humanely given to rest for about ten minutes and to admire the surroundings of Fez from above. And then we were off. Since it was our seventh Medina in Morocco – needless to say, I was fed up with all this "glitter and poverty", at least for me. There was a sense of having already seen and heard many times, as if nothing was surprising. Therefore I took out the camera only in the most interesting places. And comments, in principle, will be brief.
The bare walls of the Medina are occasionally, but quite nicely painted by local paintings.
"They don't let you in!" Behind these wrought iron walls a luxury hidden from the eyes of outsiders is an inner courtyard with fountains and pools.
It was either domes or lampshades. I listened to the explanation – I couldn't keep up with the local guide.
A carpet weaving workshop. We were forced to go there, but we got some bonuses too – a short rest from the race and a chance to drink green tea. Though, there were those who ordered the rugs themselves – Berber with geometric patterns and Arabic with flowers.
Goldware workshop – everything here just dazzles the eye. Another welcoming seagull – this time from the gilded bowls. Pottery workshop. No drinks were offered here. And understandably – not the same turnover that solid (by local standards) ceramic firm Poterie de FES, which I have already written about.
In general, there is a full order with ceramics in Fes markets: rows of clay pots and pots, bowls and lamps, plates and bowls – almost go over the horizon.
And now a little more detail – about the traditional Moroccan clothing (djellaba), a workshop on the creation of which also had to visit. It is a loose garment, similar to a long shirt with puffy sleeves. The difference between the male and female versions is that the male one has a hood. But the women's version is much brighter colored, has decorative patterns and beadwork. But its main difference is the belt. As a rule, it is weaved from gold threads or decorated with inlays of real gold – and therefore quite weighty. The future husband is obliged to present such a belt to the bride as a wedding gift and by it the groom's prosperity is estimated.
Of course, most of these products are handmade and therefore they are quite expensive. But there is "mass production", which is quite realistic to buy for 100 Euros, or even for 70-80 Euros. I do not remember exactly, but I remember quite reasonable figures. We were told that Moroccan women quite actively replenish their closet and annually buy at least one new caftan or dress. It is connected (first of all) with the fact that it is customary to wear only national clothes on most occasions. And accordingly, the jewelry.
. All of the above is not a complete set of crafts, which we were shown at the Fes Medina. And not a complete list of workshops. Frankly, I was so fed up with them that I just did not go into some of them. For various reasons. For example, the babushi workshop (a kind of local tortoiseshells) smelled very pungently of leather and all sorts of dyeing and tannins – I was immediately out of there. And in the workshop for making furniture from precious wood – I did not look at all. Why, if I'm not going to buy anyway? But here is the interesting thing – some members of our group managed to buy there heavy tables. A logical question: how to send them? By plane! Not ours, of course, but by cargo – the firm takes care of all that, the customer pays only for shipping.
By the way, this workshop makes not only furniture, but these wooden animals, as an advertising lure standing at the entrance. And here are the skins of real animals, which is extremely pathetic. Well, what kind of animal breeder would want such a beautiful creature?
By the way, it should be noted that although all kinds of "animals" are sold here, the spirit is not as heavy as, for example, in the Medina of Marrakech. And in general it is cleaner. Although wasps and flies swirl over the mountains of sweets in exactly the same way.
And if the Medina of Fez is "fragrant," it is only with the smell of paint and spices. By the way, there are not only rows of shops – and inside these fortress walls there are several architectural sights. And first of all the Bu-Inania mosque, which is considered one of the outstanding examples of the world architecture. It was built in the 14th century and differs from many others by combining in one building a mosque with a minaret, a school and a dormitory for students.
The madrasa is one of the few religious sites in Morocco that allows non-Moroccans in, however, only during "off" hours. There is a small entrance fee of 10 dirhams, about 1 euro. The buildings on the territory of the mosque are decorated with marble and onyx. The walls are "upholstered" with cedar, and what is interesting (if you get very close) is that they emanate warmth and palpable tingling, I personally tested. Powerful energy, that's for sure!
Next to the mosque there is a strange building, presumably of the same period – 14th century. As I was not attentive to the guide, I did not learn about the function of the building (the building, and not the guide, of course). But I caught a snippet of information that these 24 upper beams were there for a reason. In the old days, they served as clocks – you could tell the time by the way they were lit. Inside the Fes Medina we were shown several other religious buildings. But they could not be photographed openly, and I got frankly tired, because several kilometers around the Medina (albeit with a short rest in various shops) made me nervous. So when they finally let us out, it was freedom! How great it is to live outside the walls!
And the last thing we were shown in Fez was the Royal Palace of Dar el Mahzen. It was almost an exact copy of the palace in Meknes, so once again there was a feeling of "deja vu". The guide said that Dar el Mahzen was built in the 17th century, that the palace was 80 hectares in size. And that behind these gates and walls are ancient mosques, lush gardens and numerous buildings of "royal purpose". But what is the use of this information, if they still did not let us in?
To be honest, we didn't really want to go any more – fatigue was taking its toll. But, of course, Fez is not to blame for our condition – it is huge, beautiful, and clean enough – unlike some other cities in Morocco. It's just that you should take a week, no less, to explore it, not an unfortunate day and a half – most of which is spent on "getting to know the local crafts". Extremely beneficial to the holders of these workshops and local guides! It is unlikely that I would ever go back to Fez, but if I did, I would explore it leisurely. However, even after such a "race" – the city left a rather pleasant impression.
Fez is a disgustingly attractive city in Morocco. Review, pictures, useful information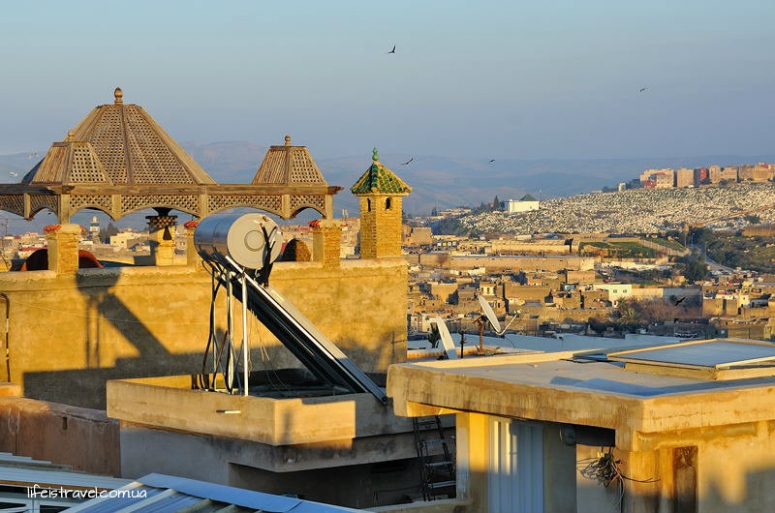 Review and useful information about Fez, one of the oldest and most amazing cities in Morocco. How to get by car, directions, peculiarities of parking and moving around the city, where to live and what to see, and where to buy Moroccan wine in Fez.
Fez – Myths
In many blogs and travel sites I read a lot of tall tales about Fez, such as the temperature and weather or that Fez is not a tourist town – for the latter fact I do not hesitate to put a kernel. Particularly pleasing is the information that the locals are unobtrusive. I will not list – a hundred and fifty more tall tales in the same vein.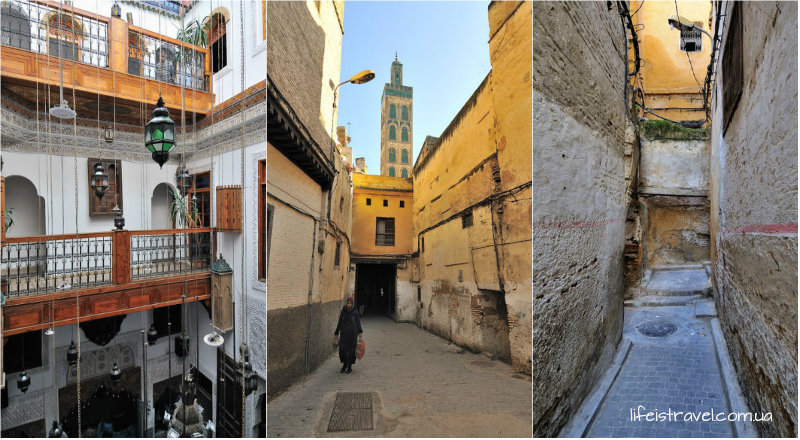 One gets the impression that most of the authors simply rewrote information from each other. In doing so, each understood everything in his own way. Some, obviously, were under the influence of Maghreb hash, inadequately perceiving reality. But this is a joke, of course.
Should we go?
No praise and pink snot about the fabulous Maghreb. Fez at first seemed not the most pleasant city. In some places it was disgusting. In some places it's amazing and appealing. No, we didn't smoke anything. Just local wine. Where to buy – I'll tell you at the end of the article.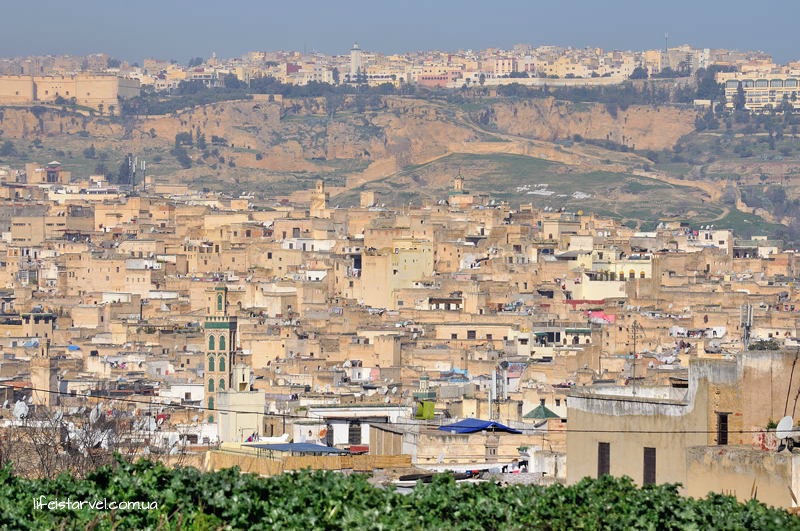 A lot of damp, mold, and in many places openly reeks of sewage. There is no filth on the streets, compared with the same Casablanca, for example. The city is firmly entrenched as the stinkiest city in Morocco. And this problem cannot be solved. How can you fix a sewage system, which is 500 years old and hidden under layers of multi-level and multi-layered residential and non-residential buildings, including the fortress walls!
Fez has the most disgusting molesting molesters. There are a lot of them, they are constantly whining and begging, offering their services – a guide around the city. Sometimes they try to make a primitive profit, but I can't seriously call it a scam. It's just child's play, that's all.
There's nothing to do here for more than two days, despite the tourist appeal of the city. Remember – no more than 2 days, and it's better to spend the night and the next day go further to the beautiful Chevchaouen or in the mountains, and then to the Sahara.
Fez has the oldest and most intricate medina in the world, which is several hundred years old. More than 6,000 streets, no one knows the exact number. It is what attracts tourists.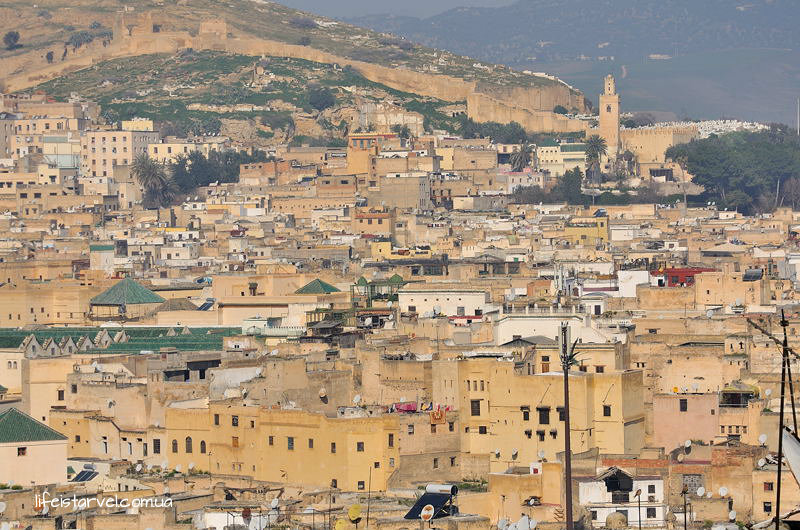 You have to go to Fez, although I can not guarantee that you will like this city. But only here you can see how the Moroccans lived five hundred years ago, only here is the most colorful market with almost no tourists – only locals. Many people just don't know about it, crowding into the New Medina, thinking it is the old one. No, I am not confused, I will explain below.
Fez is a must visit! For 1-2 days.
What to see?
The two medinas, the old and the new! The medina is the old center of the city in the Arab world.
The new medina of Fez – Fez el-Jdit is actually old, too, from the 13th century. It is the center of attraction for tourists. Near it there are riads, panoramic cafes and restaurants, street markets and everything looks very bright and colorful. You can also eat here. Cooked in front of you, the price of dinner – from 1 euro to 5 euros. Morocco has delicious meat dishes, try everything.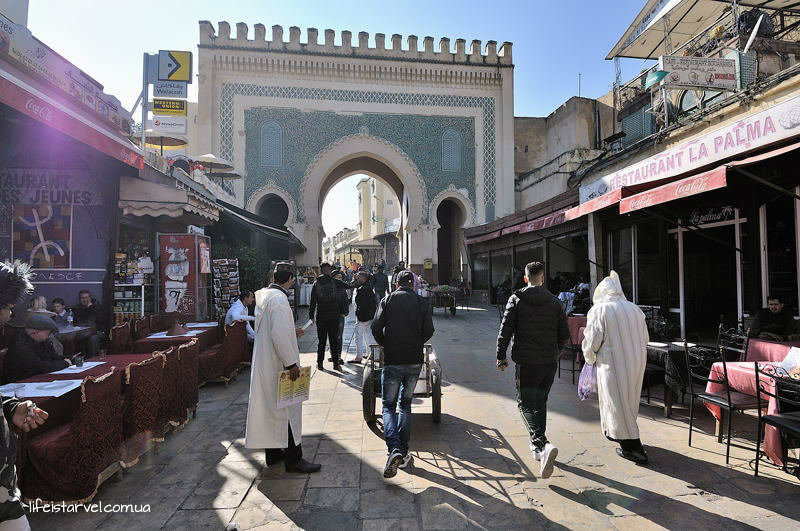 Many tourists think the new medina is the same old medina, enter through the gate and twist in a radius of two hundred meters and a few streets. It is impossible to get lost in the new medina of Fez, unless you are a complete geographical moron.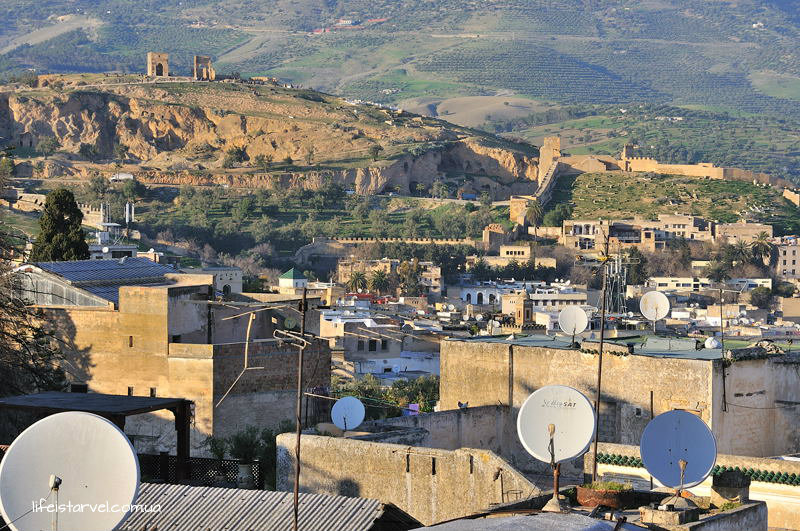 The old medina – Fes El Bali (11th century) is nearby, there are very few tourists. It is elementary to get lost. Even the GPS in your phone can not always find the way. When it fails – then the help rushes street urchins, who for 1-2 euros will take you anywhere. Looking for a guide is not necessary – just make a concerned face and look around. After a couple of seconds even on an empty street near you there will be at least a couple of helpers. They are harmless. Use their services or not – you decide for yourself.
The old medina is, according to different sources, 5 to 6 thousand streets. There are 14 gates, 200 mosques and about the same number of hamams. It is not necessary to be guided by these architectural marvels, they are almost all alike.
Mosques and madrassas can be viewed from the outside, but non-Muslims are not allowed inside.
There are two ways to explore Fez – on your own or with a local guide.
Just get lost in the old medina and after two or three hours of wandering you will come to your riad, I guarantee.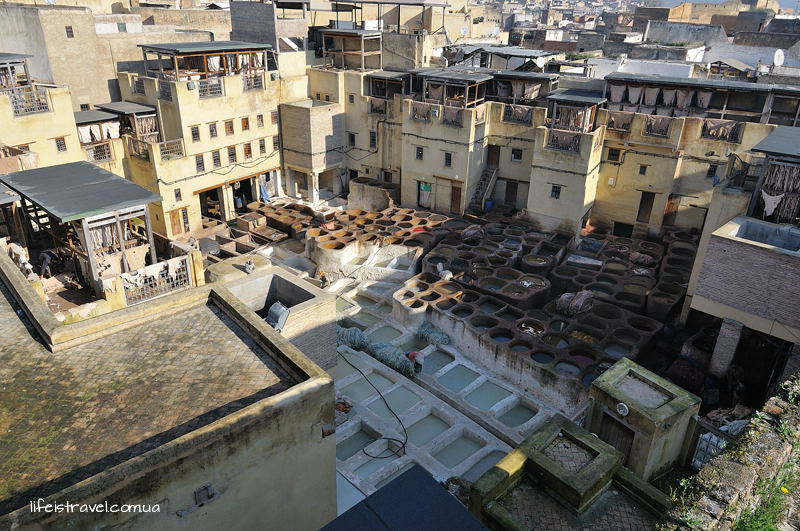 The guides, aka local boys from 14 to 28 years old will guide you through all the sights of Fez. You'll probably start at the tanneries – they still dye leather by hand in Fez. Admission is free, contrary to what bloggers sometimes write. The most famous dye house is at Hay Lablida Chouara, Fes.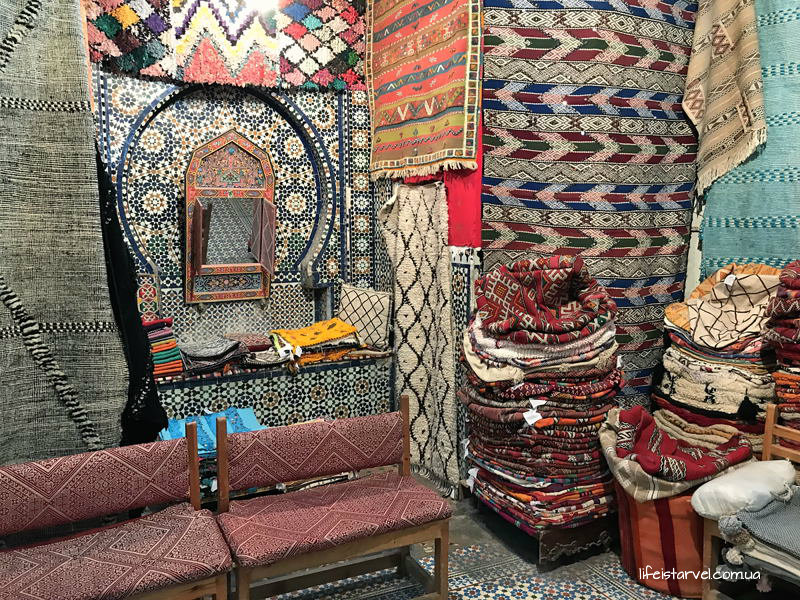 Also interesting are the quarters where carpets are woven, olive oil is pressed, and the pottery quarters – Morocco has very beautiful pottery, but not cheap.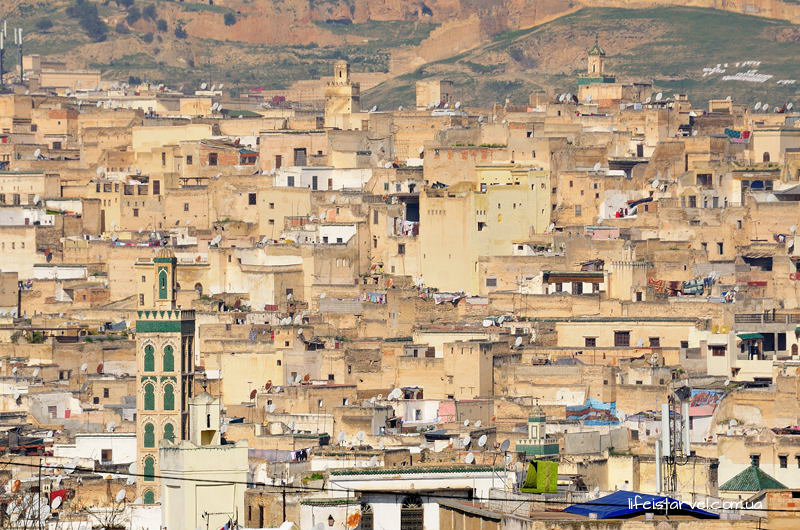 If you climb the hill opposite the old medina, you can see Fez from above. Don't mind the garbage dump nearby. This is Morocco, it is normal.
The market in the old medina of Fez is a must-see – it's five hundred years old and everything there is at the same level. Even the olive oil is pressed in a primitive mechanical way, using a mill and a press, which turns by hand. That's where they sell it.
How to buy fresh chicken in Morocco
Vegans should NOT read!
If a Moroccan wants fresh meat, such as chicken, he goes to the market in the old medina of Fez. He chooses a live chicken or a rooster. If you don't speak Arabic, just say, "I want this. In any language. You will be understood.
The seller then, in an elusive move, takes out a razor-sharp cleaver and decapitates the chicken in one fell swoop. The bird must not suffer. Before this procedure, the seller utters the obligatory word of prayer. He drains the blood, plucks and wraps the bird in a bag. It's done. It doesn't get any fresher than this.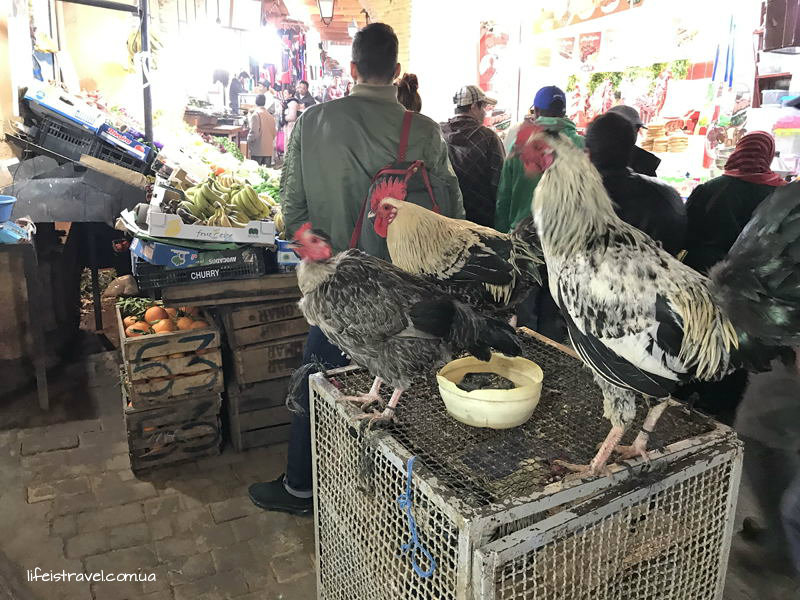 There are also traditional poultry or animal carcasses that look bright on the butcher's aisles, suspended by hooks.
Where to live.
Accommodation in Fez can be as beautiful as in Aladdin's fairy tale, but also of rather dubious quality. Do not really trust the reviews, be guided by your emotions and feelings from the photos on Bookings.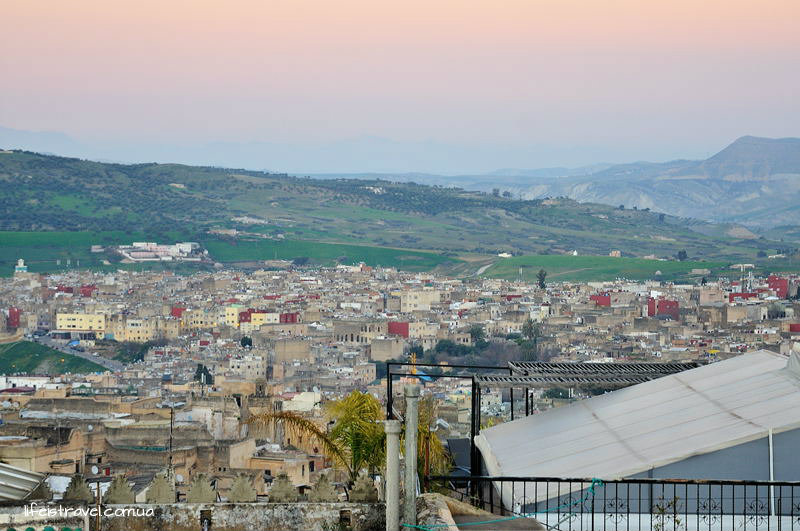 Many people are afraid to live in the old medina, which is quite confusing and live in riads or hotels close to the medina. Living outside the medina is a mistake. Only choose accommodation in the medina. Better, a nice riad with a roof terrace.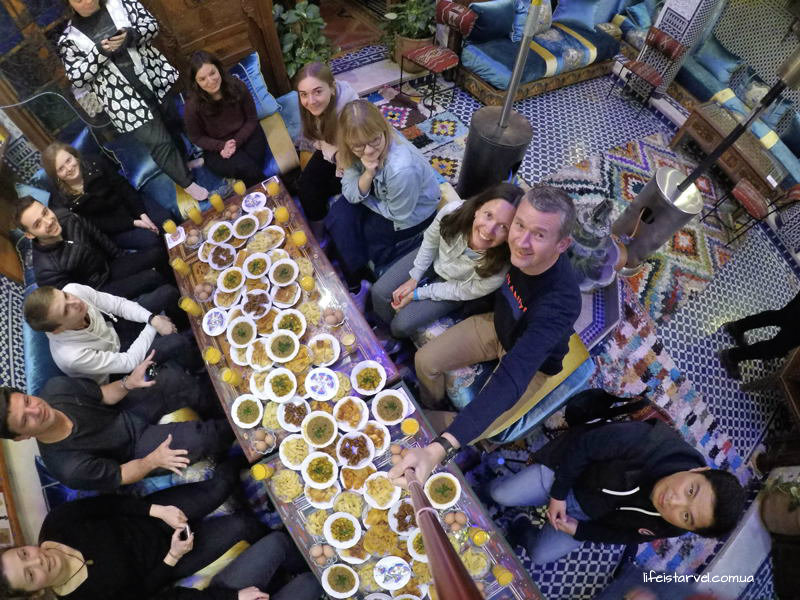 The riad, a traditional Moroccan tourist accommodation, can be as simple with rooms for 10 beds as it can be rich and comfortable. The price ranges from 20 to 50 euros per night for two.
Хорошие варианты по акции можно найти на агрегаторе Room Guru >>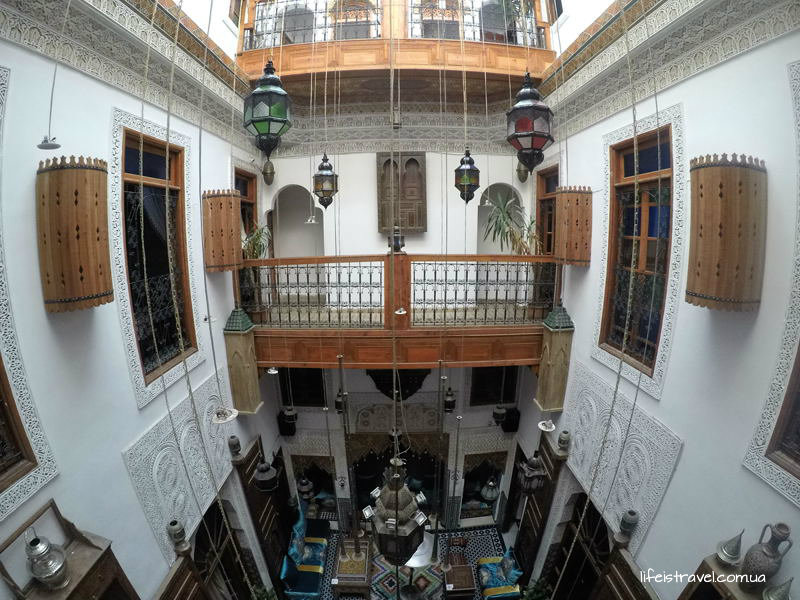 Of course, I advise to live in the old medina, in the riad. If possible, in a beautiful one. Even if it smells a little damp. But what an atmosphere! Just kidding – it's bearable, everything.
To Fez by car? Can you do that?
Another horror story I read on the internet before the trip. Another myth was that it is better not to go to Fez by car.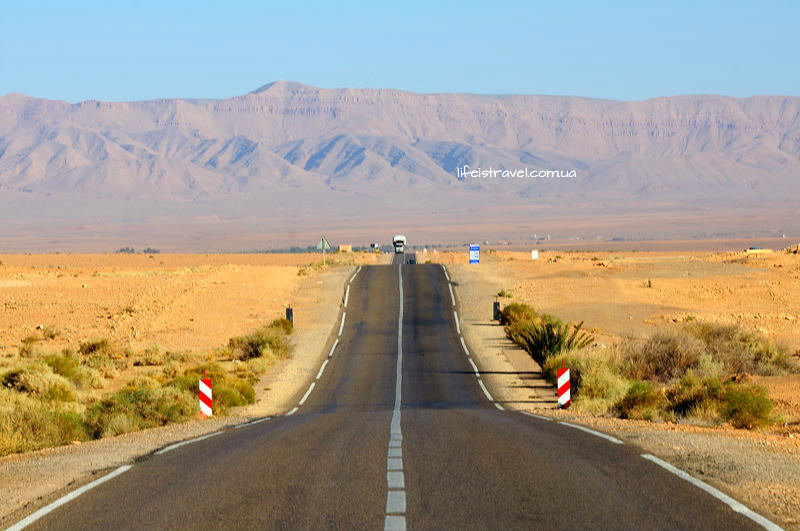 Strange advice to a man who grew up in the Kiev traffic jams and who has been through the crucible of Italian and Asian cities. One drives much more carefully in Morocco. The tourist-traveler in a rental car is as common as in Europe.
In Fez, we calmly arrive by car, a little loop to find the entrance to the medina, we go through one of the gates under the "brick" . It turns out that those who go to the parking lot can do so. You can consider it a tiphack – save half an hour of time.
The second tip – if you come to Fez by car and can not find the way, ask the local boys to show you the way. Put him in the car and in five minutes you will be there. The price of question is 1-2 euros.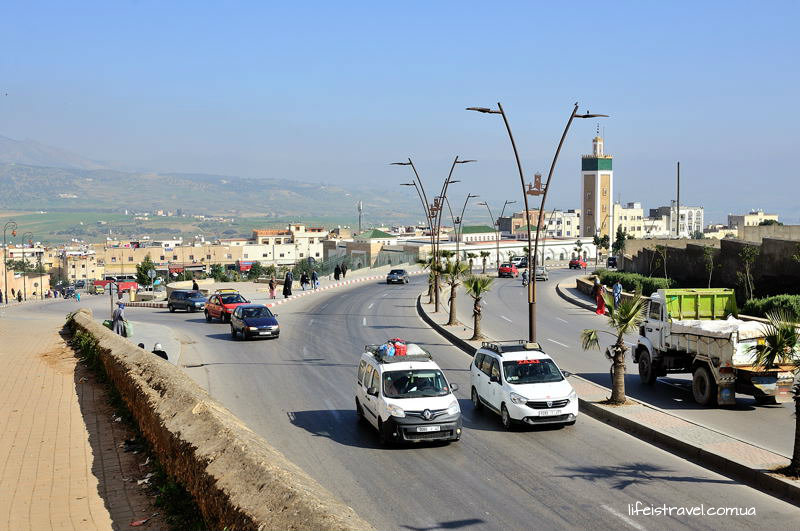 Our riad was in the old medina, the guarded parking was along the road, a hundred meters away. The price was 1.5 euros per night. The cost is written on the sign in front of the guards. Two nights, no problem. In the morning, a local man in a Mercedes even donated a clean cloth for cleaning windows, when he saw how I rubbed a paper napkin mirrors. Completely gratuitous, by the way.
Going to Fez by car is not only possible, but necessary. You save a lot of time that would be eaten up by the bus ride. That said, you won't see anything on the bus, they often go in the dark and don't stop where it's interesting.
The real journey is the road trip.
Moroccan wine in Fez, where to buy?
Suppose you didn't stock up on wine the day before and arrived in Fez. You can solve this problem in the old medina, but it's expensive. For a bottle of rose in our riad they asked for five times the price. Yes, now.
What to do? What do you do? Get in the car, switch on maps.me and go to the Carrefore supermarket, it's only 10 minutes away and it's open till 21 o'clock. By the way, another good use of the car while traveling. You can always go and solve small problems. The less minor problems, the more pleasant the trip.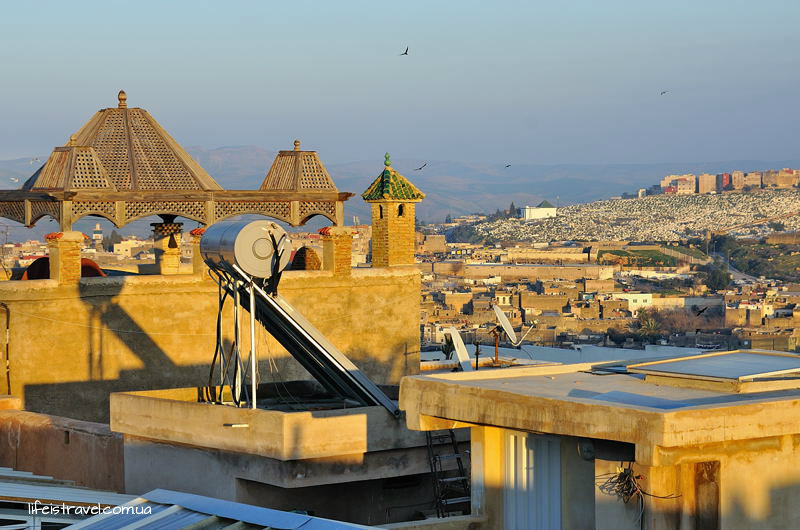 Carrefore has an excellent selection of any wine, including the famous Moroccan gray wines, and in fact local rosé.
Congratulations, you're ready to welcome evening Fez, which is beautiful from the rooftop of your riad hotel!
Where to rent a car in Morocco
There are two options.
The first way is to look for rental cars through the Rentalcars search engine – you are guaranteed to get a good car at a reasonable price from international companies. The disadvantage is a relatively large amount of deposit when renting. This inconvenience is resolved by having a credit card with a limit of 1-1.5 thousand euros.
The second way is to rent a car from local rental agencies. We used the services of mlbrentacar.com. Price of a new Dacia Sandero – 23 euros a day, plus full insurance 6 euros a day. I can recommend this company, reliable and punctual guys.
Where to buy cheap flight to Morocco
I will still write in detail about where and how to buy the cheapest flights to Morocco. There are several airports in the country and many airlines from Europe fly there, both traditional and low cost.
We bought tickets from Wizzair and Ryanair, we flew to Marrakesh through Budapest from Kiev, and from Marrakesh we flew to Kiev through Warsaw.
We look for tickets on the airline sites and search engines. Aviasales has an option – a price calendar, which also includes low-cost flights. It's very convenient and easy, give it a try.