Port of Batumi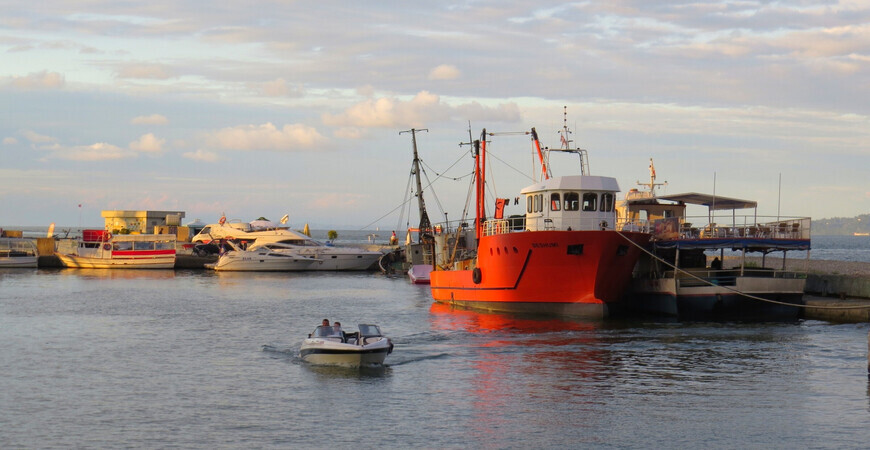 Batumi Sea Port is located in the central part of the city on Gogebashvili Street. This modern, well-equipped port in the southeast of the Black Sea is the most important transport and logistics hub of the Caucasus region, the deepest port in Georgia.
The port's infrastructure includes 11 berths, warehouses, transshipment facilities, intra-port automobile and railroad tracks, port fleet ships, repair shops, automobile transport, a sea passenger station and water supply systems.
Cargo operations and vessel staging in the port take place around the clock. Security is provided by the latest video surveillance system. The port also plays an important role in the development of marine tourism in the country: it is used as a mooring point for international tourist liners.
At present Batumi port (historical building of the sea station and the harbor for small vessels – boats and yachts) is one of the tourist attractions of the city, especially noticeable at night, when its building is beautifully illuminated.

History
Place, which is now located the port of Batumi, was used for this purpose since ancient times. Back in the first century AD the ancient Roman writer Pliny the Elder mentions the port with the Greek name Βαθύς (Batus), i.e. "deep". Over the following centuries the control of the port, as well as the city, changed several times.
In 1878 the port, built with the financial participation of the Nobel brothers, the Rothschilds and the Georgian entrepreneur Mantashev, was declared a free port (for the period up to 1885), i.e. a free port with the right of duty free import and export of goods. This fact had a favorable effect not only on Batumi port, but on the city as a whole.
In 1885, implementation of the project for the development of commercial seaport Batumi, the key idea of which was the transportation of oil, which gave the port an international economic and political significance. In the next 7 years in Batumi Bay was built oil-loading enterprise, 2 berths of 80 and 95 meters for receiving ships loaded with oil products. In 1892 the first British tanker "Murex" loaded at Batumi port.
At the beginning of the 20th century, Batumi was connected to Baku by a pipeline, and the port became one of the leading ports in the Black Sea in terms of its importance and cargo turnover. Over time, the port acquired 5 more berths for tankers and dry-cargo ships. After the revolution, the situation in the port has not changed, it continued to develop and in 1923 it received the status of the highest port (1st category) in the USSR. At that time, its cargo turnover exceeded 1 million tons.
In 1959-1962 years was built Sea Station building – now one of the symbols of old Batumi, and by 1967 in the port of Batumi was possible to receive heavy-tonnage vessels in the outer roadstead.
Thus, participation in oil transportation made the port the most important node of the Eurasian transport corridor and a major transport facility of international importance.

Batumi Port Schedule
Currently, Batumi has passenger sea connections with such cities as Sochi and Chernomorsk (Ukraine).
Between the ports of Sochi and Batumi runs the so-called "comet", which is a high-speed hydrofoil boat with a capacity of 114 passengers, reaching a speed of 65 km/h. One way trip takes about 5 hours, but because of weather conditions it can take up to 10 hours.
Kometa runs only in summer, the ticket price and schedule can be clarified by calling: +995 593 333 966 (Batumi), +7918 409 1296 (Sochi). It's also worth noting that you can't buy tickets in advance, you can only book them, and according to tourist recommendations, it's better to do it a few months before the expected date.
There is a regular (3 times a week) Black Sea ferry connecting Batumi with the Black Sea. The duration of the trip in one direction is about 36 hours. In addition to passengers, the ferry can carry cars, motorcycles, bicycles, containers, machinery, deck palletized and non-palletized cargo. You can check the current schedule and ferry ticket prices on the carrier's website.

Structure of the Port of Batumi
At present on the territory of the port of Batumi there is an oil terminal, a container terminal, a berthing complex used for servicing ferries, a terminal for handling dry cargoes, a passenger terminal (11 berths in total). The port employs over 700 people and its equipment includes: forklifts, trucks, grabbers, mobile bunker units, cargo tables, and truck scales. There are also tugs of different capacities (6 units), raid boat, bilge water collector, oil skimmer, diving barge and diving boat to ensure vessel entry, exit and safe anchorage.
As for cargo turnover of Batumi Sea Port, it is high as always, and the overwhelming part of it is oil and oil products transportation (about 80-90%).
Oil terminal
The terminal includes berths Nos. 1 (length – 200 m, depth – 12.2 m), 2 (length – 140 m, depth – 10.2 m), 3 (length – 165 m, depth – 10.2 m), free loading (depth – 15.5 m) and specializes in processing crude oil and other oil products: diesel fuel, gasoline, fuel oil, etc. Its throughput capacity is up to 15 million tons a year.
Container terminal and berth complex
This terminal includes berths Nos. 4 and 5 (length – 286 m, depth – 12 m), a ferry crossing (length – 36.5 m, depth – 8.9 m), as well as open storage space and modern transshipment equipment, which ensures safe handling of containers in direct and storage mode. The container terminal has the status of a customs warehouse.
The technical capacity of the complex for servicing the ferries allows it to accept sea ferries with deadweight up to 12000 tons. The throughput capacity of the container terminal is 100,000 TEU (twenty-foot equivalent units) a year; the berthing complex has a capacity of up to 1 million tons a year.
Dry cargo terminal.
Its throughput capacity is up to 2.3 million tons per year, and it includes four berths:
Berth No. 6 (length – 181 m, depth – 8.2 m) has an open storage area, its specialization – processing of scrap metal.
Berth No. 7 (length – 263 m, depth – 11.7 m, area – 6655 sq. m) is designed for large-capacity vessels and is specialized in handling bulk, dry bulk, liquid bulk, general and tare cargo with unit weight not exceeding 20 tons.
Berth No. 8 (length – 189 m, depth – 10 m, area – 5,630 sq. m) is intended for low-tonnage vessels and is specialized for handling bulk, dry bulk, liquid bulk, general and tare cargo with unit weight not exceeding 10 tons.
Berth No. 9 (length – 194 m, depth – 10.2 m, area – 3,371 sq. m) is intended for low-tonnage vessels and is specialized for handling of liquid, general and tare cargoes with deadweight of one piece not exceeding 6 tons.
Cargo operations at the terminal are carried out by portal cranes Aist, Ganz, Abus, Albatros, Sennebogen.
Passenger terminal
The passenger terminal is located in the center of the city, on the waterfront boulevard. The capacity of the terminal is about 180,000 passengers per year. Passenger berths Nos. 10 (length – 220 m, depth – 11.6 m, area – 3080 sq ft) and 11 (length – 194 m, depth – 8.3 m, area – 2716 sq ft) provide handling of passenger ships and cargo ferries (Ro-Ro).

Services
Batumi Sea Port provides a wide range of services:
reception and servicing of cargo vessels (including tankers);
loading, warehousing and storage of cargo;
passenger service with Sochi and Black Sea ports;
berthing of large cruise liners.
At the berths of the passenger terminal entertainment for holidaymakers is offered:
boat trips on yachts and boats;
Jet skiing;
hang gliding.
For newlyweds there is an opportunity to order separate programs – to organize a wedding walk, to celebrate the celebration right at sea.
Also in Batumi port you can see a lot of fishermen, especially they took a fancy to the yacht pier, in good weather there are often sold old books.
All in all, a walk around the port area available to visitors, to observe its life, the small and huge ships standing in it, will be an interesting option of spending time in Batumi, worthy of attention.
View of Batumi seaport from above – panorama on Google Maps
How to Get to Batumi Seaport
Thanks to its location in the central part of the city, it is easy to get to the port of Batumi. You can reach it by bike or on foot through the seafront, Batumi Boulevard, by walking or riding along the eastern edge of the promenade, or along Gogebashvili Street.
From public transport you can reach the port by any buses and fixed-route cabs that go along Gogebashvili Street, including:
You can reach the port of Batumi by car, by turning onto Gogebashvili Street from the central street of the city – Chavchavadze.
Another way to get to the port is to take a cab. You can order a car through a mobile app, for example, Yandex. Cab or Taxi Maxim.
Exploring Batumi on your own: detailed itinerary of main attractions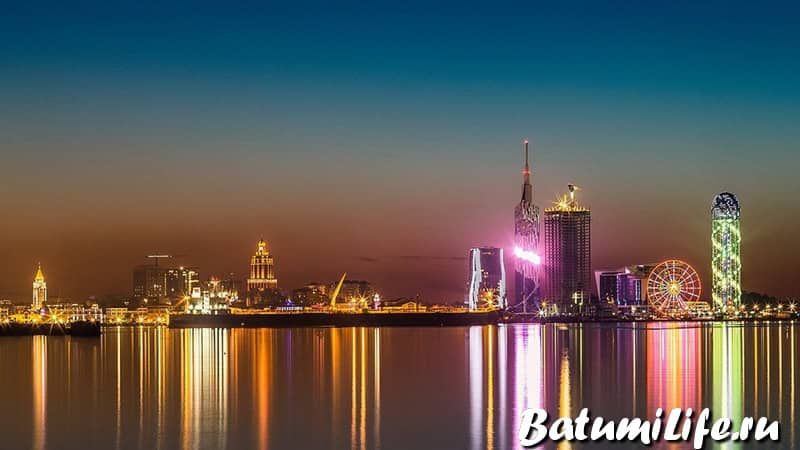 Batumi is beautiful, unforgettable, bright and unconventional. You can spend days and nights walking around the city and you will see something new and interesting every time.
For those who came here for a couple of days or more, we suggest to see our catalog of tours and group excursions from Batumi. And for those who are passing through Batumi, or have not enough time, or want to see the whole city at once, travel agencies offer quick trips.
They cost not expensive, but all these places you can without problems, fun and take your time, bypass on your own, we'll help you with the route.
Perhaps with a guide this tour will be more interesting and informative, but all the possible information we have managed to find about these places, we have already laid out on the site. If you read the articles about them, you will not need a guide.
The only thing we can recommend you is author's tours around the city, because they are held by creative people with an unusual route.
Selection of the best author tours:
The route of a self-guided tour of Batumi: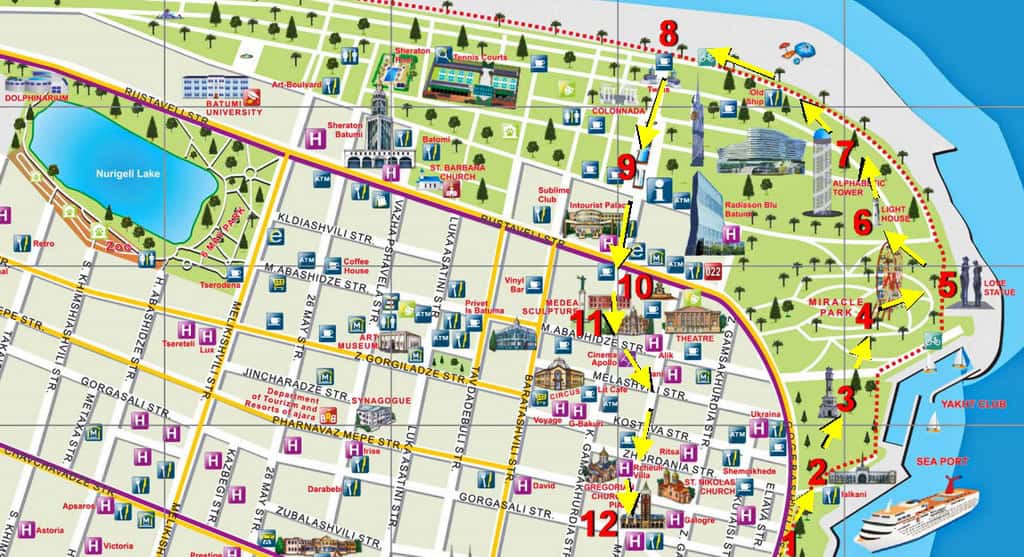 Itinerary on the map
Photo sights along the route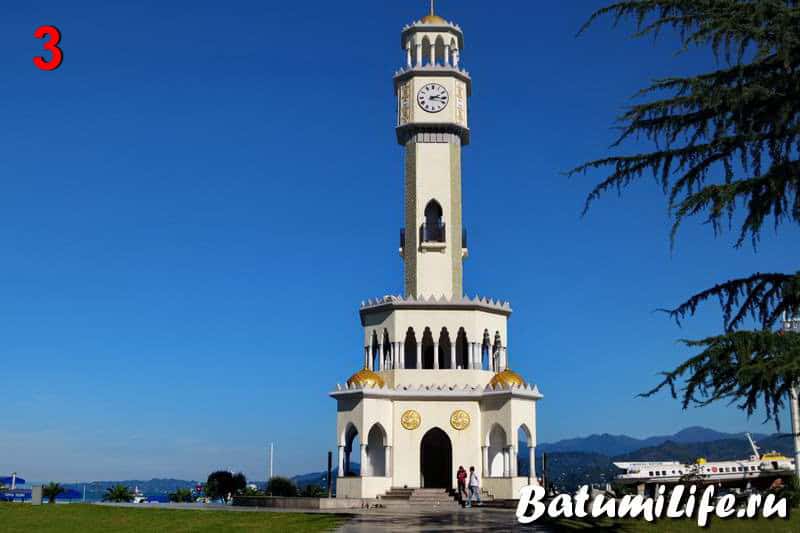 A little about recreation In today's world there are a huge number of diverse and extraordinary entertainment, but often
Healing properties of Surami Many have heard about the old Georgian health resorts in Borjomi, Bakhmaro, Tskaltubo, Abastumani
Thanks again, dear Natasha and Anatoly, for the wonderful organization of my and my husband's short trip to Batumi. In a day and a half we had time to see all the "masts", thanks to your plan. He was our guide. We couldn't find only the proverbial fabulous cafe from Love and Doves, it will be something to look for next time. Rode all over the boulevard on a scooter, to speed up the inspection. It's all very impressive. And you're right, you should walk there, not drive, everything interesting is somewhere in the back, cute original things scattered throughout the city, at one time they can not collect. We even climbed the alphabet tower: comparable to New York, the London skyscrapers, the Eiffel Tower in Paris, and other world towers. We have traveled around the world, but Batumi captivated us by its kindness, unhurriedness, and some kind of unpretentiousness. Here's the truth we read about this city: the youngest spoiled child in the Georgian family, which can fool around, and be lazy, and show off, and eat delicious food. It's like heaven in a nutshell! Happy for you for living in such bliss! Good luck to you guys, and thank you so much for what you do for all the traveling personalities. ✌
Add a comment Cancel reply
Larissa on Excursion to Kutaisi, Prometheus Cave and Sataplia Reserve : " Wonderful tour with driver Timur! He created a wonderful atmosphere and told what guides should say. But out was bad… " Sep 4, 00:10
Anatoly on Excursion to charming mountain Adjara with wine and chacha tasting in a private winery in the mountains: "Thanks a lot for the wonderful excursion program! We got a lot of pleasant impressions during our mini-vacation, and most importantly useful and… " Sen 2, 15:33
Aigul on Excursion to legendary Svaneti : " Good afternoon! I would like to thank Anatoly for the tour to Svaneti – wonderful organization! and the guest house came to my liking))) " Sen 1, 20:55
Olya on Excursion to legendary Svaneti : " Were in Saneti for 2 days! Probably the best thing that happened to me incredible beauty, challenging roads, delicious homemade… " Aug 30, 19:19
Olga on Excursion to legendary Svaneti : " Were on an excursion to Svaneti on August 27-28. Our driver Tornike was a very nice young man. Cheerful and friendly:) It was a wonderful … " Aug 29, 13:01
Full or partial copying of materials without the permission of the site owners is prohibited